Daffer's long FG as time expires gets ECU past Navy 38-35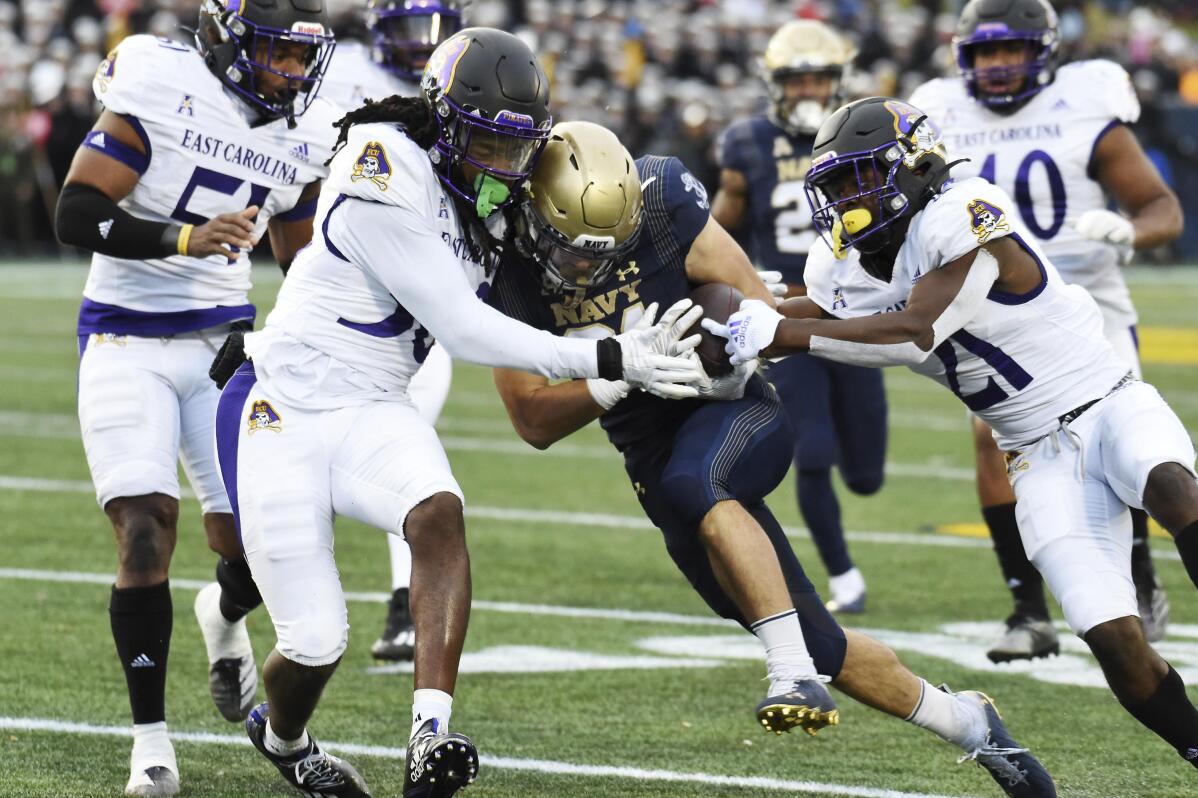 1 of 9

|
Navy's Kai Puailoa-Rojas collides with East Carolina's Gerard Stringer, left, and Ja'Quan McMillian on a run during the second quarter of an NCAA college football game Saturday, Nov. 20, 2021, in Annapolis, Md. (Paul W. Gillespie/The Baltimore Sun via AP)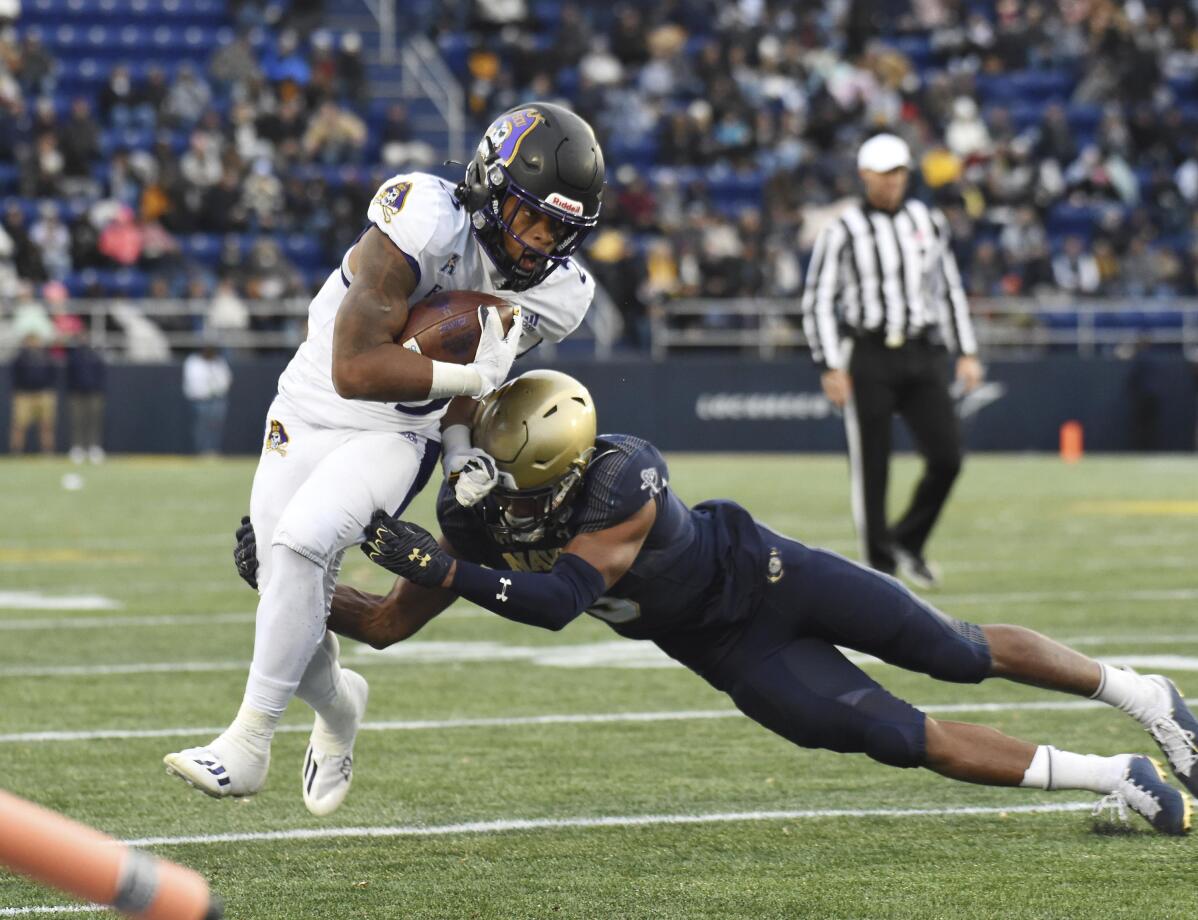 2 of 9

|
East Carolina running back Keaton Mitchell is forced out of bounds by Navy's Michael McMorris during the second quarter of an NCAA college football game Saturday, Nov. 20, 2021, in Annapolis, Md. (Paul W. Gillespie/The Baltimore Sun via AP)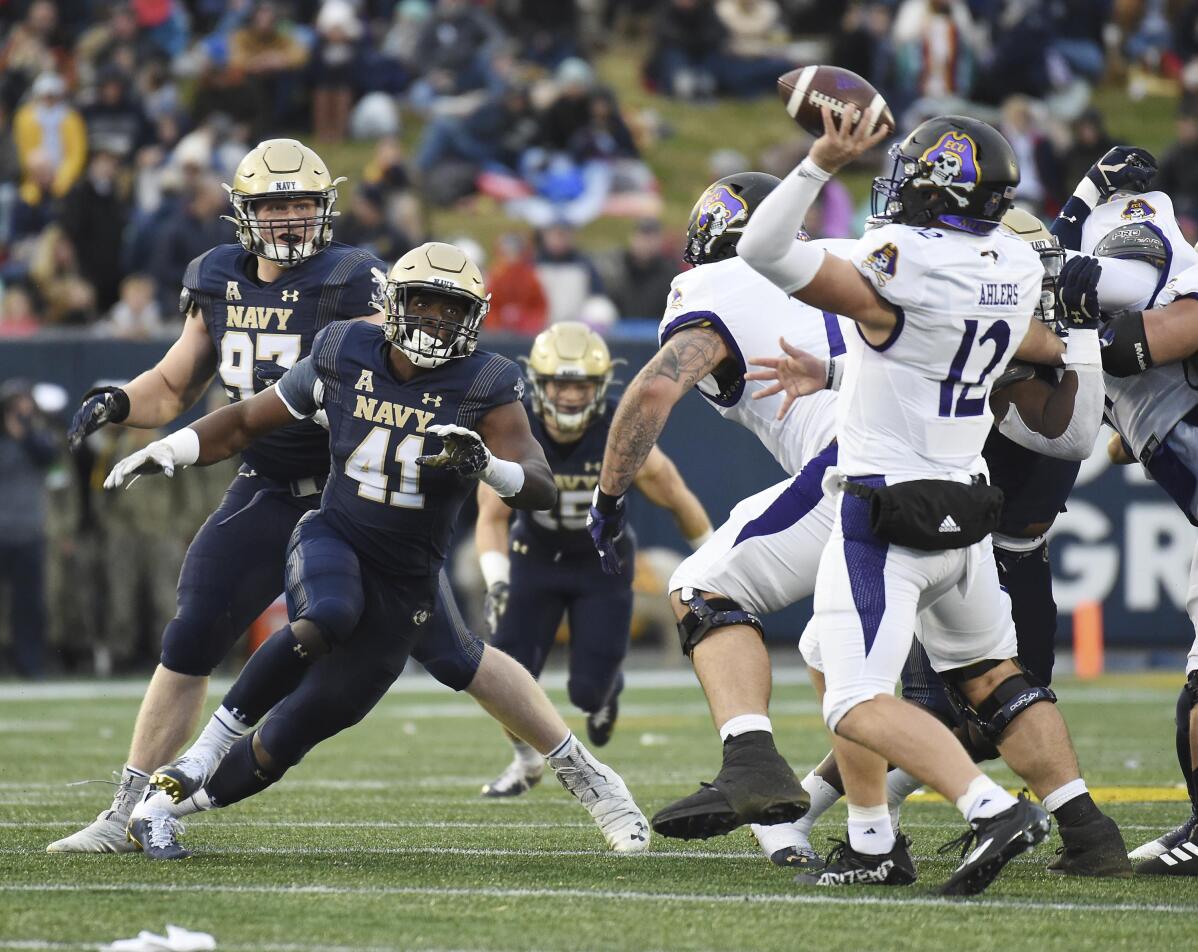 3 of 9

|
East Carolina quarterback Holton Ahlers gets the ball away before Navy's Terrell Adams can get to him during the second quarter of an NCAA college football game Saturday, Nov. 20, 2021, in Annapolis, Md. (Paul W. Gillespie/The Baltimore Sun via AP)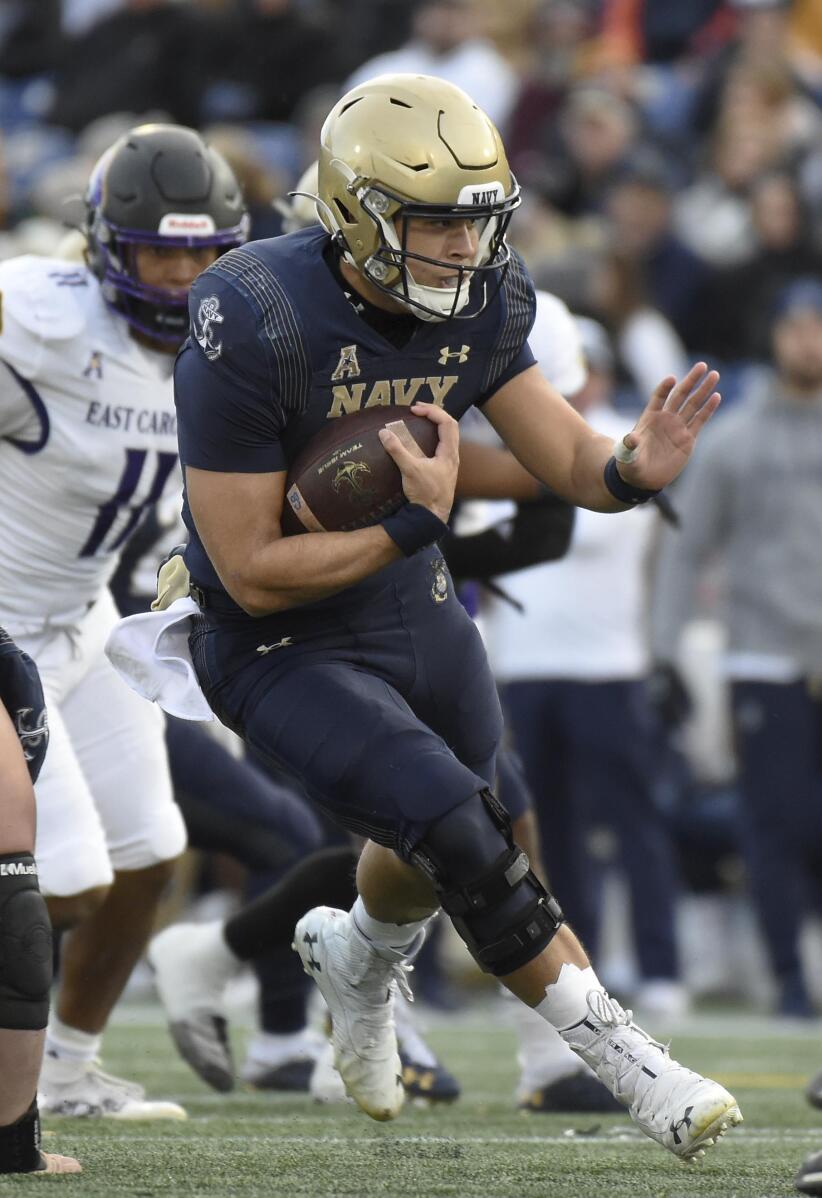 4 of 9

|
Navy quarterback Tai Lavatai carries during the first quarter against East Carolina during an NCAA college football game Saturday, Nov. 20, 2021, in Annapolis, Md. (Paul W. Gillespie/The Baltimore Sun via AP)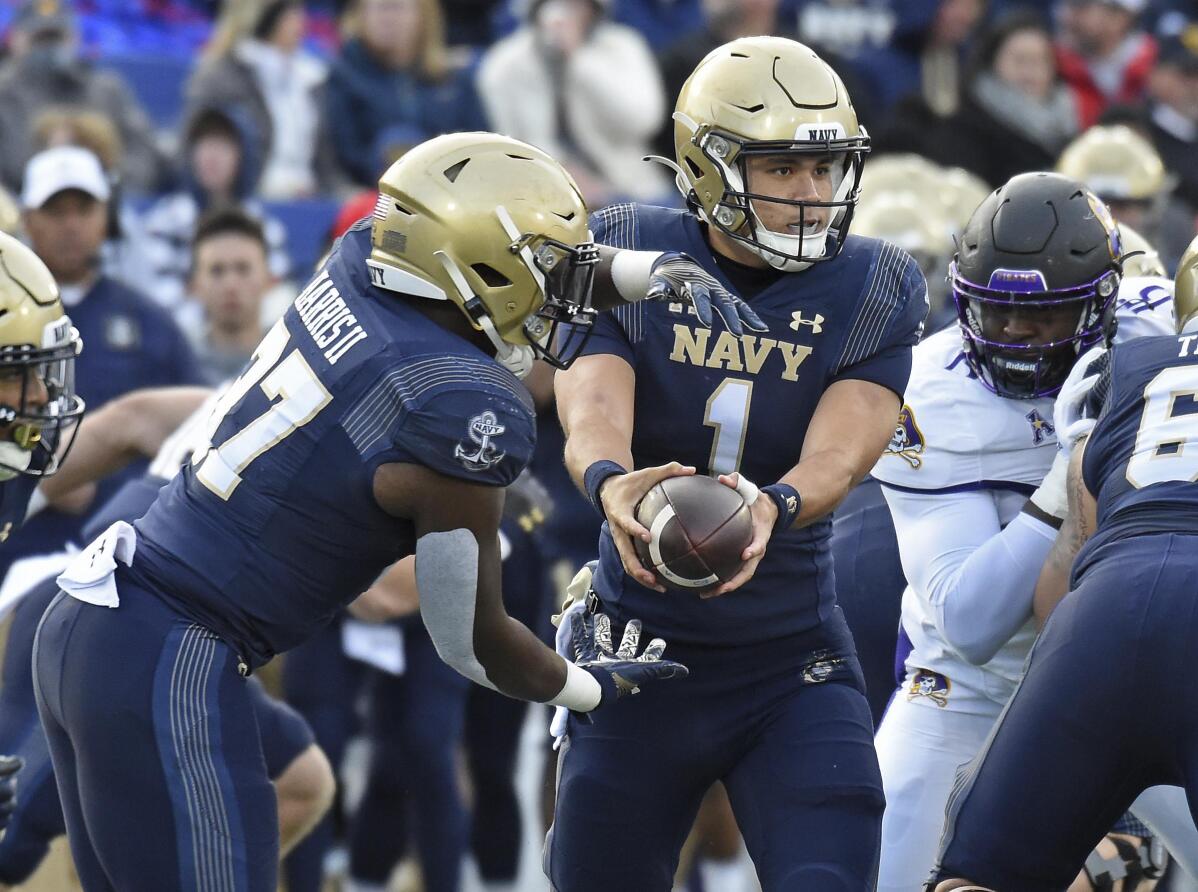 5 of 9

|
Navy quarterback Tai Lavatai hands off to James Harris II during the first quarter against East Carolina in an NCAA college football game Saturday, Nov. 20, 2021, in Annapolis, Md. (Paul W. Gillespie/The Baltimore Sun via AP)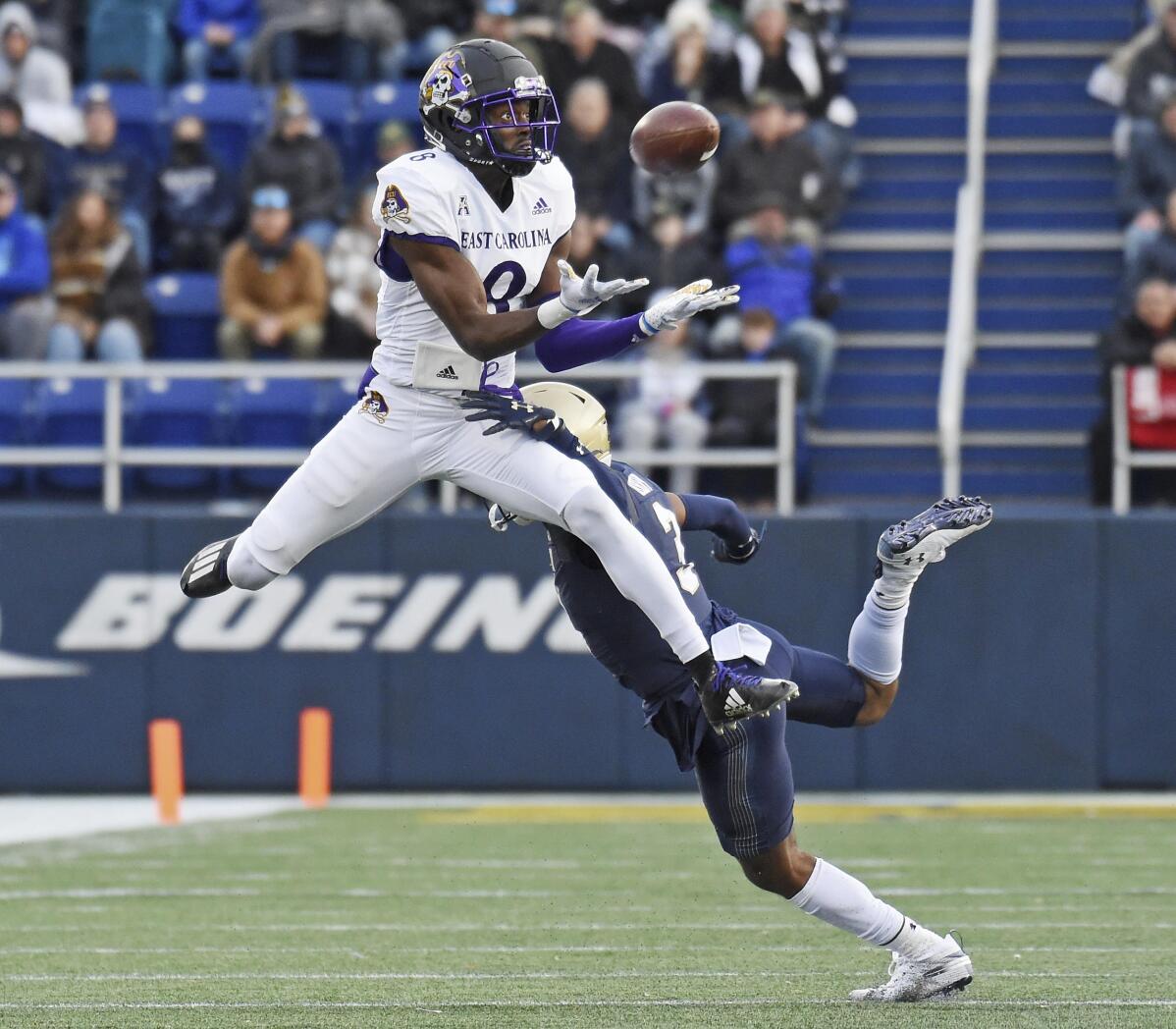 6 of 9

|
East Carolina's Audie Omotosho makes a catch in the first quarter against Navy during an NCAA college football game Saturday, Nov. 20, 2021, in Annapolis, Md. (Paul W. Gillespie/The Baltimore Sun via AP)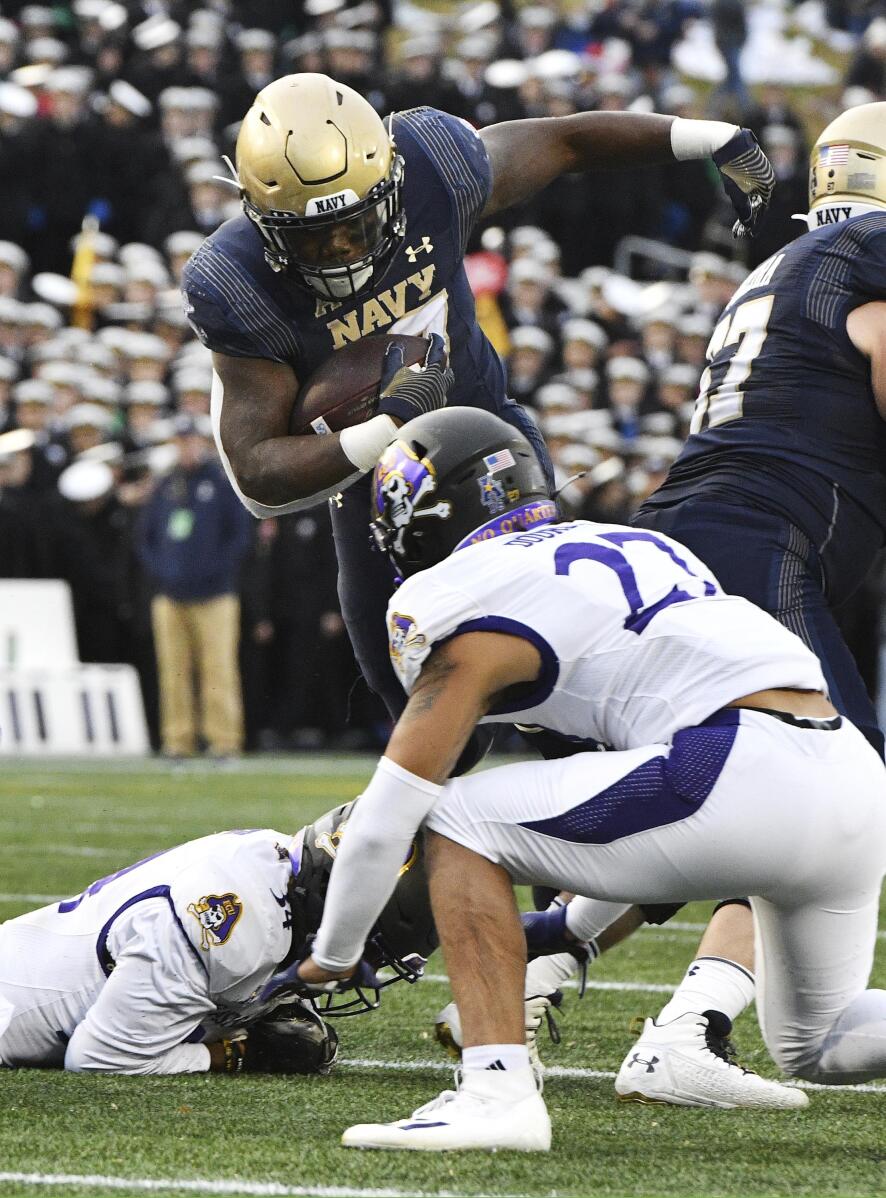 7 of 9

|
Navy's James Harris II gains yards on a second-quarter run against East Carolina during an NCAA college football game Saturday, Nov. 20, 2021, in Annapolis, Md. (Paul W. Gillespie/The Baltimore Sun via AP)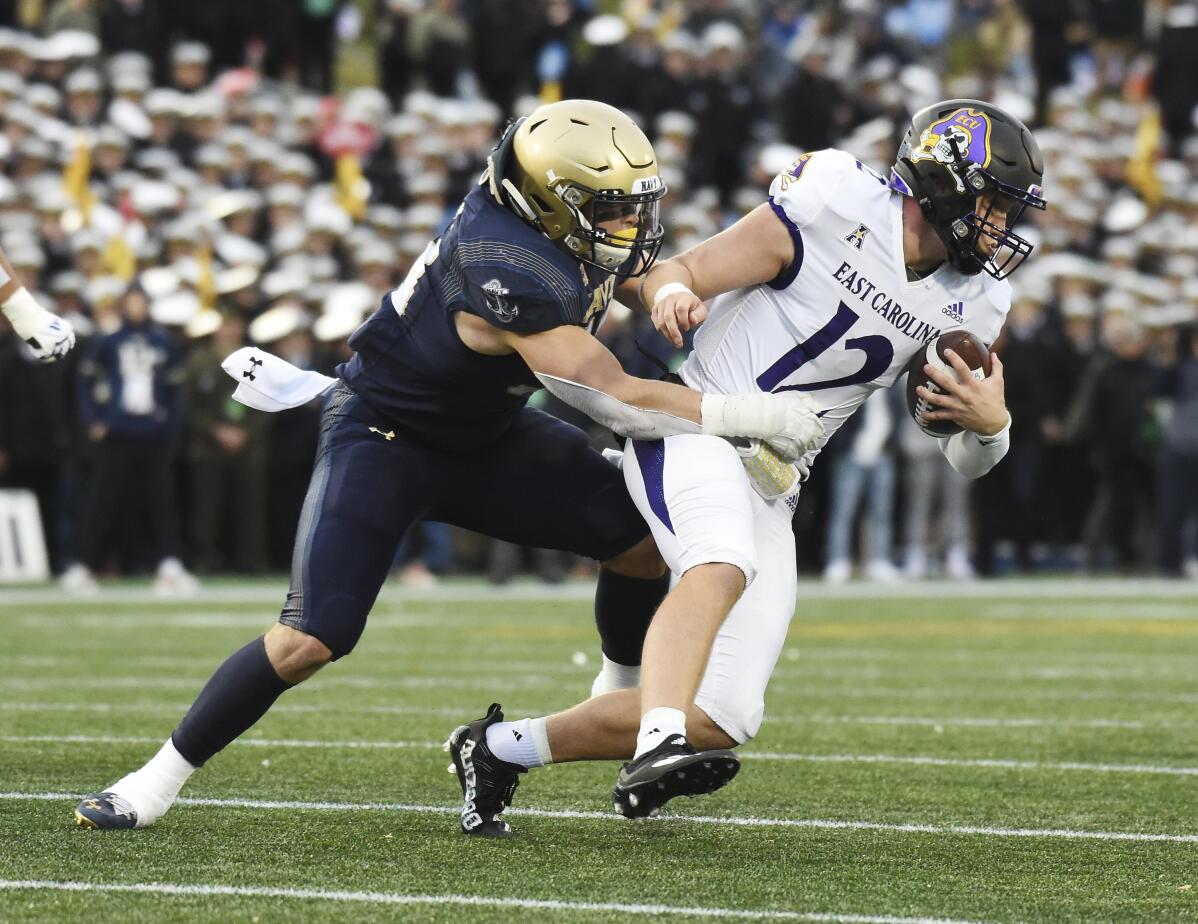 8 of 9

|
Navy's Diego Fagot pressures East Carolina quarterback Holton Ahlers during the second quarter during an NCAA college football game Saturday, Nov. 20, 2021, in Annapolis, Md. (Paul W. Gillespie/The Baltimore Sun via AP)
9 of 9

|
Navy's Clay Cromwell stops East Carolina's Rahjai Harris for a loss during the first quarter of an NCAA college football game Saturday, Nov. 20, 2021, in Annapolis, Md. (Paul W. Gillespie/The Baltimore Sun via AP)
Daffer's long FG as time expires gets ECU past Navy 38-35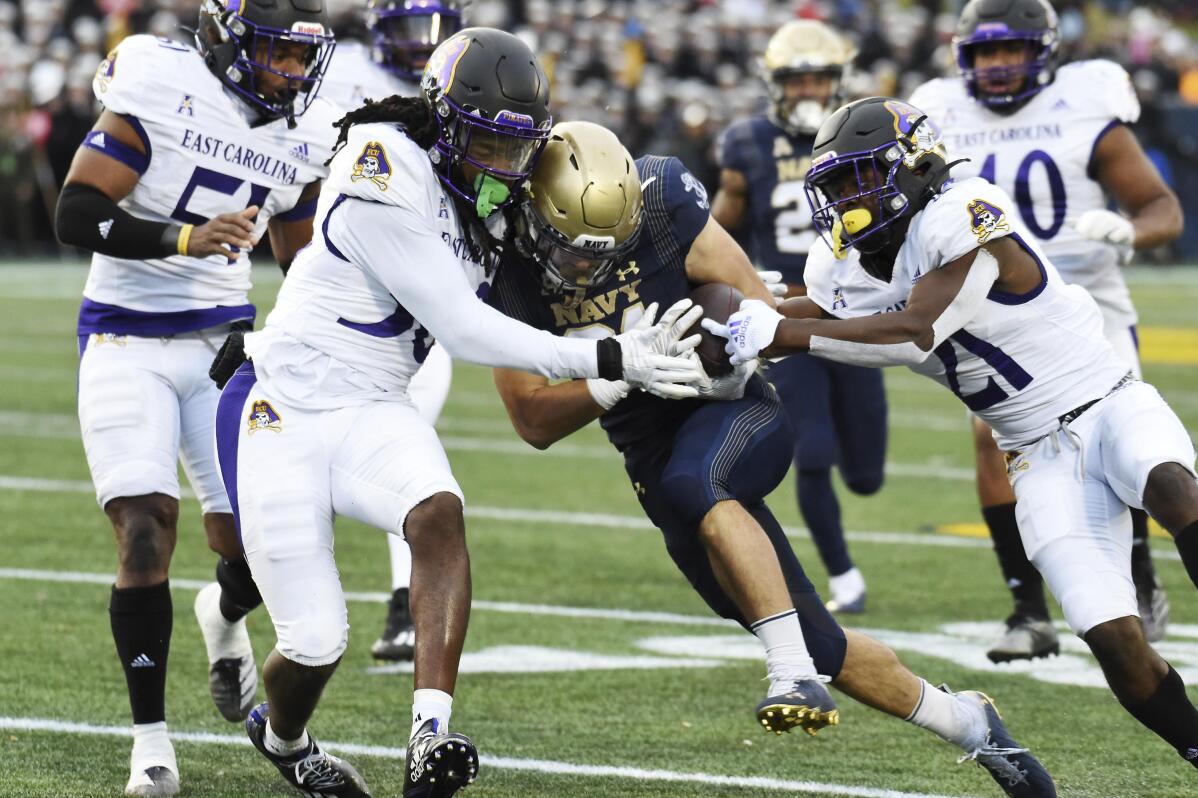 1 of 9

|
Navy's Kai Puailoa-Rojas collides with East Carolina's Gerard Stringer, left, and Ja'Quan McMillian on a run during the second quarter of an NCAA college football game Saturday, Nov. 20, 2021, in Annapolis, Md. (Paul W. Gillespie/The Baltimore Sun via AP)
1 of 9
Navy's Kai Puailoa-Rojas collides with East Carolina's Gerard Stringer, left, and Ja'Quan McMillian on a run during the second quarter of an NCAA college football game Saturday, Nov. 20, 2021, in Annapolis, Md. (Paul W. Gillespie/The Baltimore Sun via AP)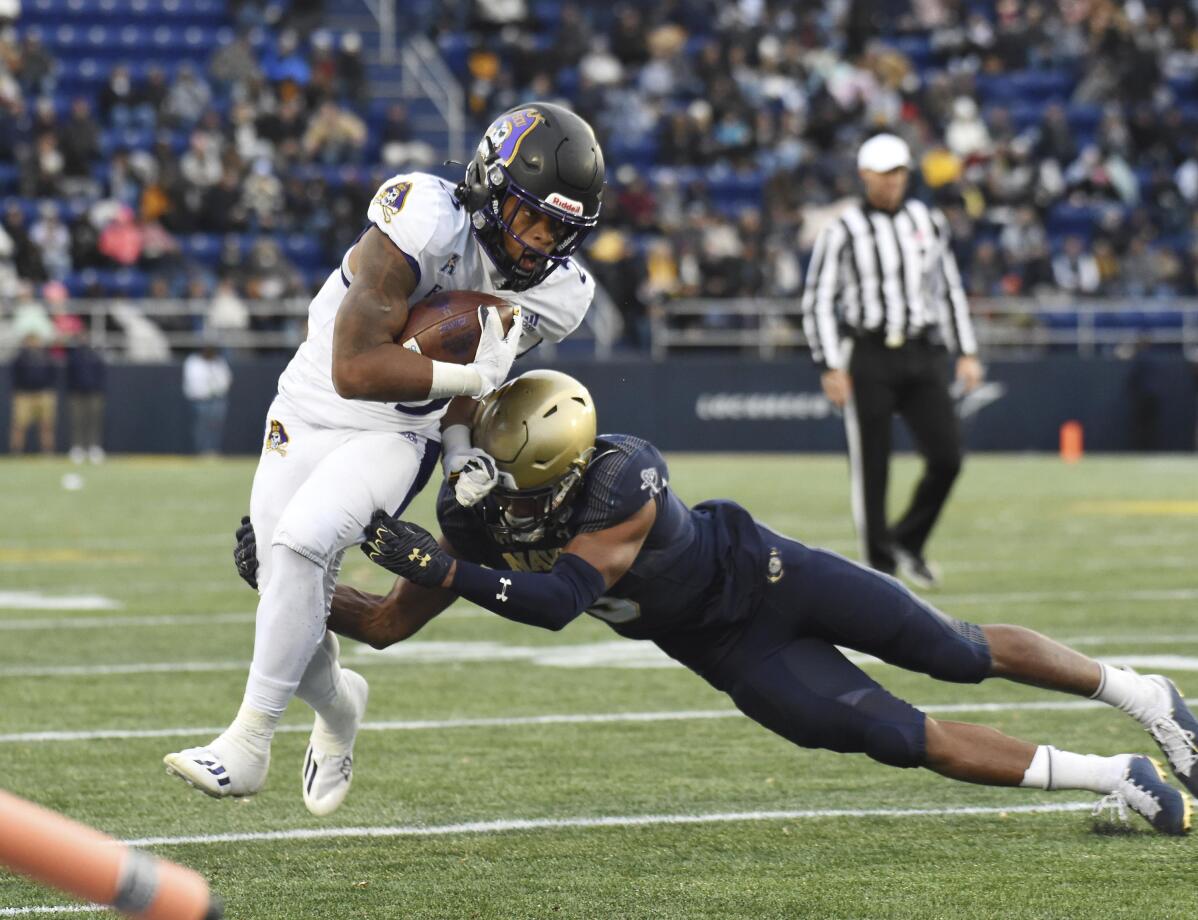 2 of 9

|
East Carolina running back Keaton Mitchell is forced out of bounds by Navy's Michael McMorris during the second quarter of an NCAA college football game Saturday, Nov. 20, 2021, in Annapolis, Md. (Paul W. Gillespie/The Baltimore Sun via AP)
2 of 9
East Carolina running back Keaton Mitchell is forced out of bounds by Navy's Michael McMorris during the second quarter of an NCAA college football game Saturday, Nov. 20, 2021, in Annapolis, Md. (Paul W. Gillespie/The Baltimore Sun via AP)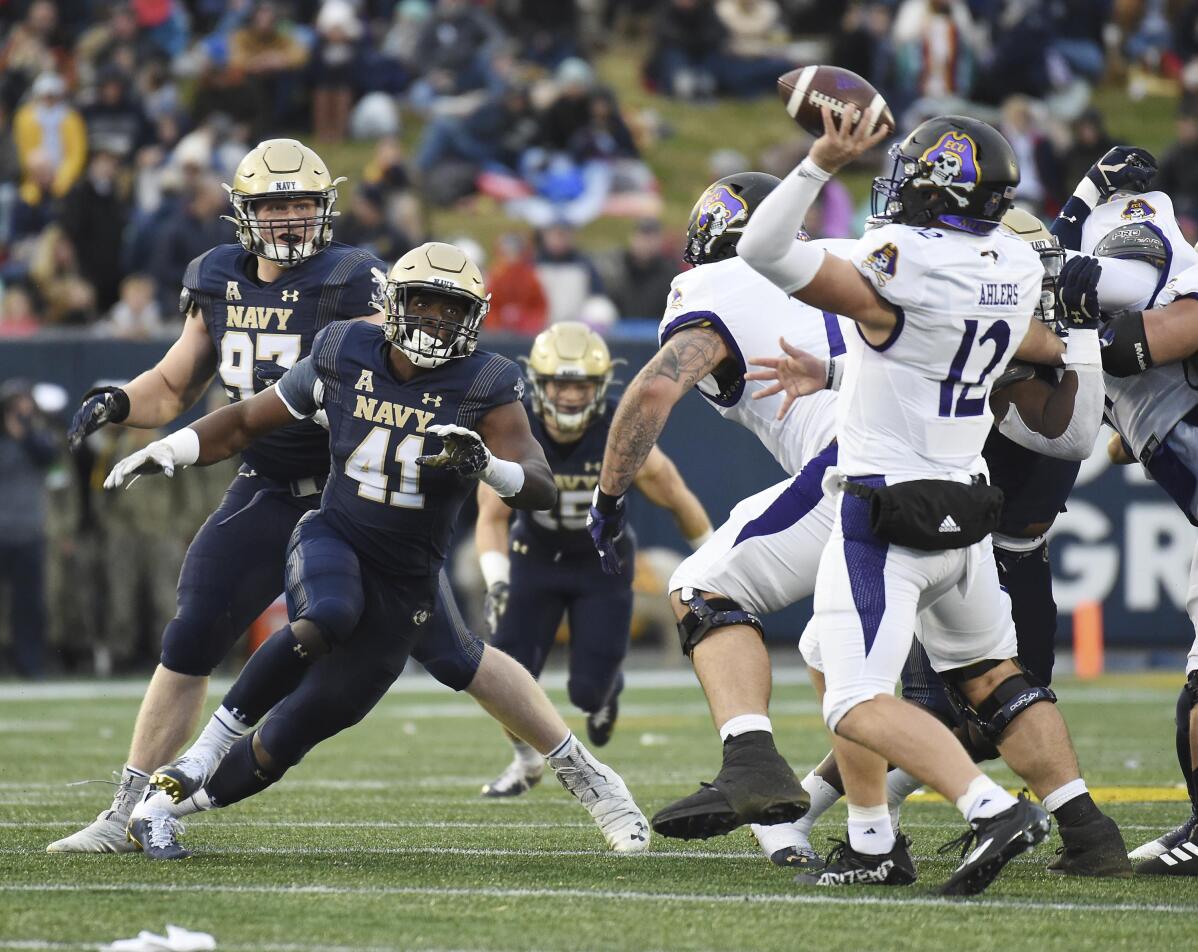 3 of 9

|
East Carolina quarterback Holton Ahlers gets the ball away before Navy's Terrell Adams can get to him during the second quarter of an NCAA college football game Saturday, Nov. 20, 2021, in Annapolis, Md. (Paul W. Gillespie/The Baltimore Sun via AP)
3 of 9
East Carolina quarterback Holton Ahlers gets the ball away before Navy's Terrell Adams can get to him during the second quarter of an NCAA college football game Saturday, Nov. 20, 2021, in Annapolis, Md. (Paul W. Gillespie/The Baltimore Sun via AP)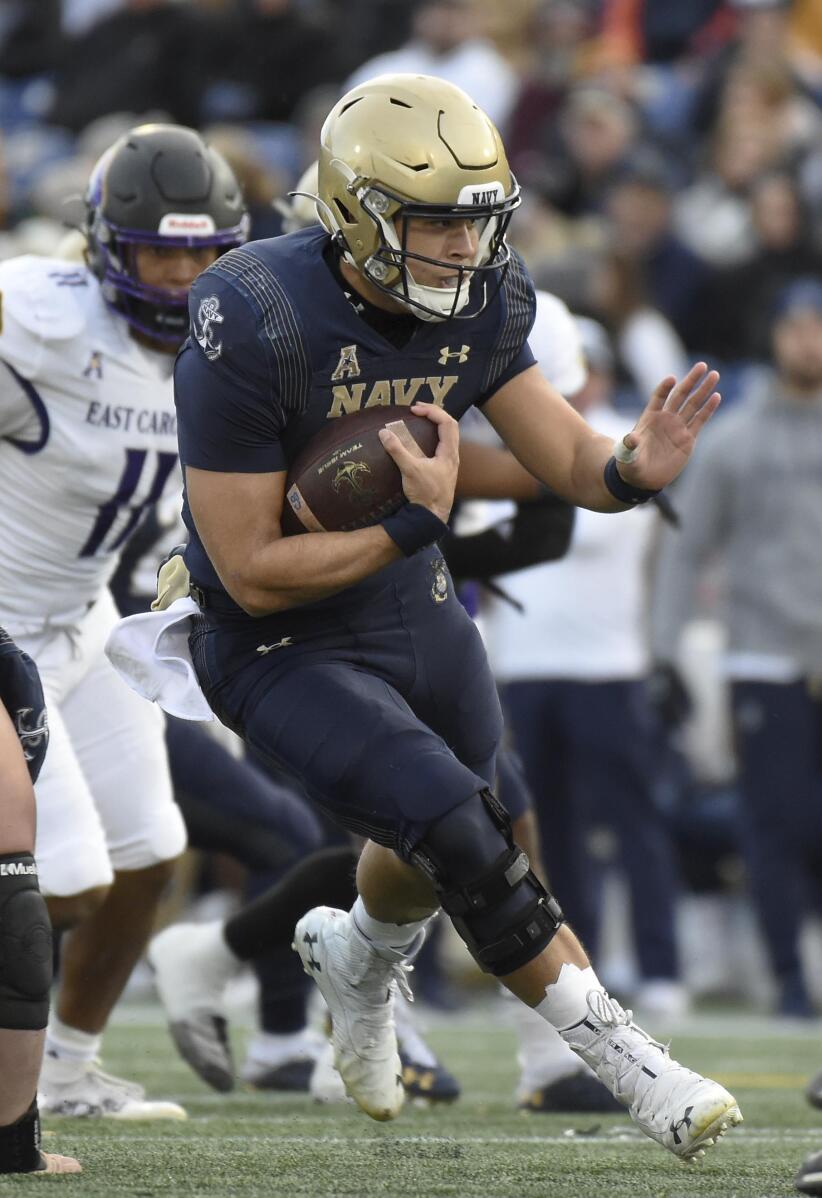 4 of 9

|
Navy quarterback Tai Lavatai carries during the first quarter against East Carolina during an NCAA college football game Saturday, Nov. 20, 2021, in Annapolis, Md. (Paul W. Gillespie/The Baltimore Sun via AP)
4 of 9
Navy quarterback Tai Lavatai carries during the first quarter against East Carolina during an NCAA college football game Saturday, Nov. 20, 2021, in Annapolis, Md. (Paul W. Gillespie/The Baltimore Sun via AP)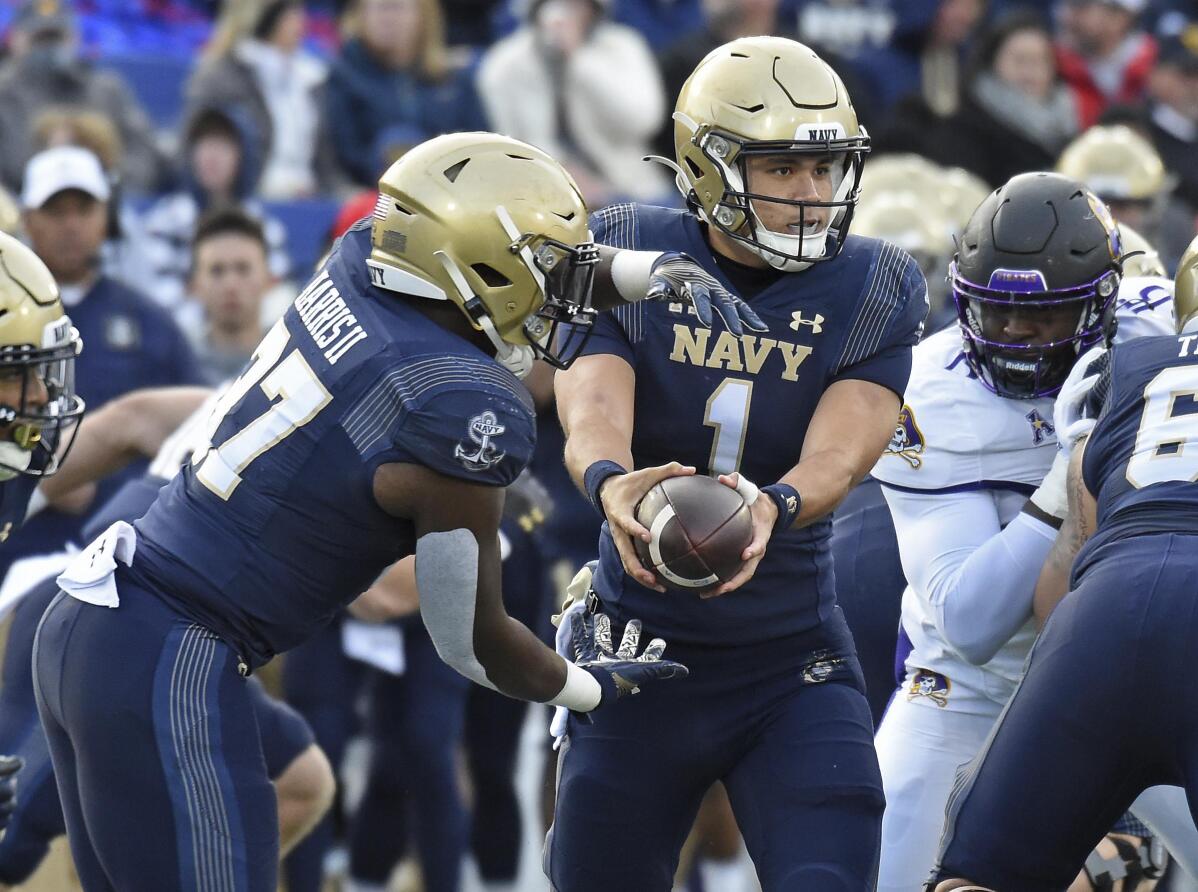 5 of 9

|
Navy quarterback Tai Lavatai hands off to James Harris II during the first quarter against East Carolina in an NCAA college football game Saturday, Nov. 20, 2021, in Annapolis, Md. (Paul W. Gillespie/The Baltimore Sun via AP)
5 of 9
Navy quarterback Tai Lavatai hands off to James Harris II during the first quarter against East Carolina in an NCAA college football game Saturday, Nov. 20, 2021, in Annapolis, Md. (Paul W. Gillespie/The Baltimore Sun via AP)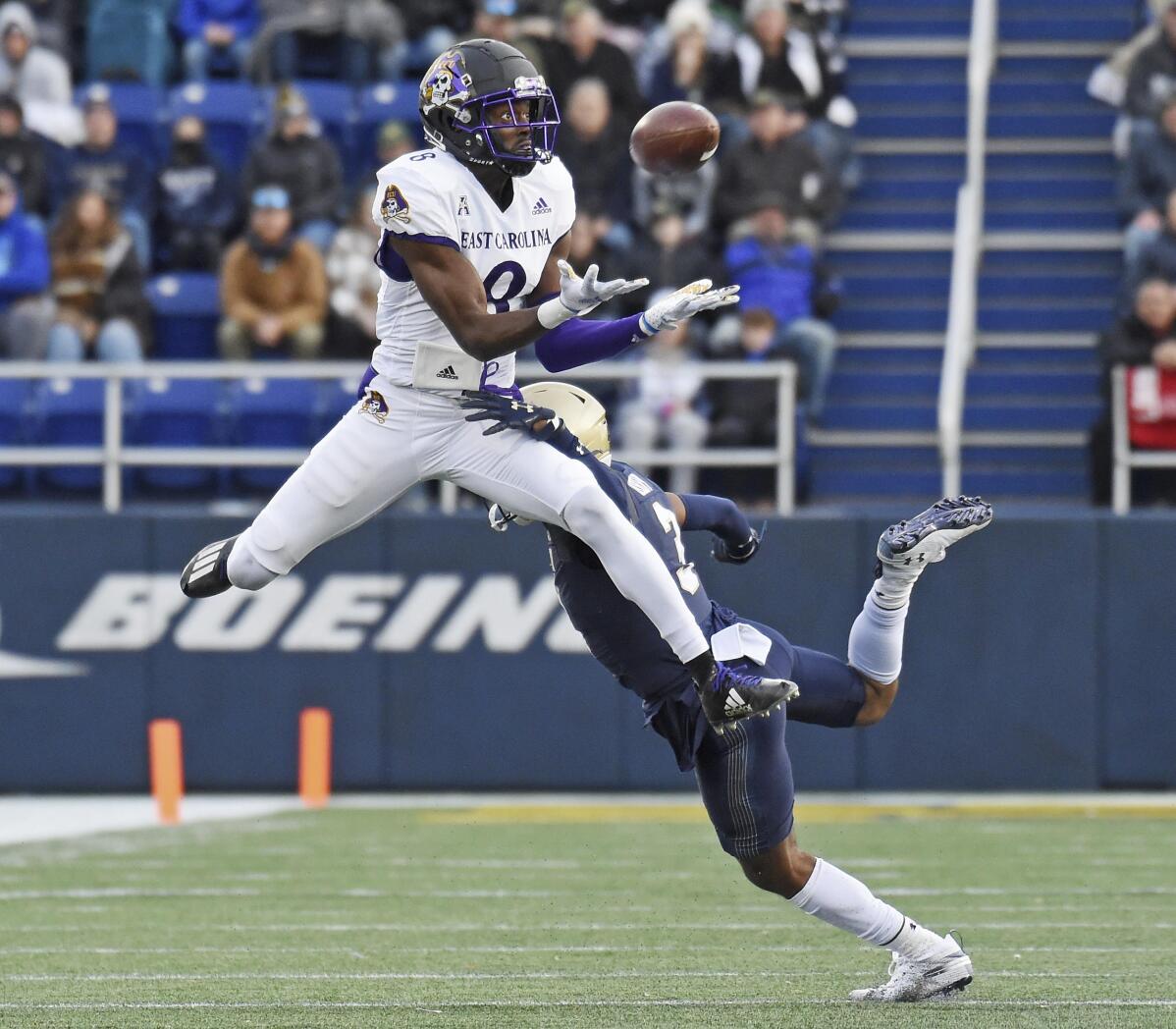 6 of 9

|
East Carolina's Audie Omotosho makes a catch in the first quarter against Navy during an NCAA college football game Saturday, Nov. 20, 2021, in Annapolis, Md. (Paul W. Gillespie/The Baltimore Sun via AP)
6 of 9
East Carolina's Audie Omotosho makes a catch in the first quarter against Navy during an NCAA college football game Saturday, Nov. 20, 2021, in Annapolis, Md. (Paul W. Gillespie/The Baltimore Sun via AP)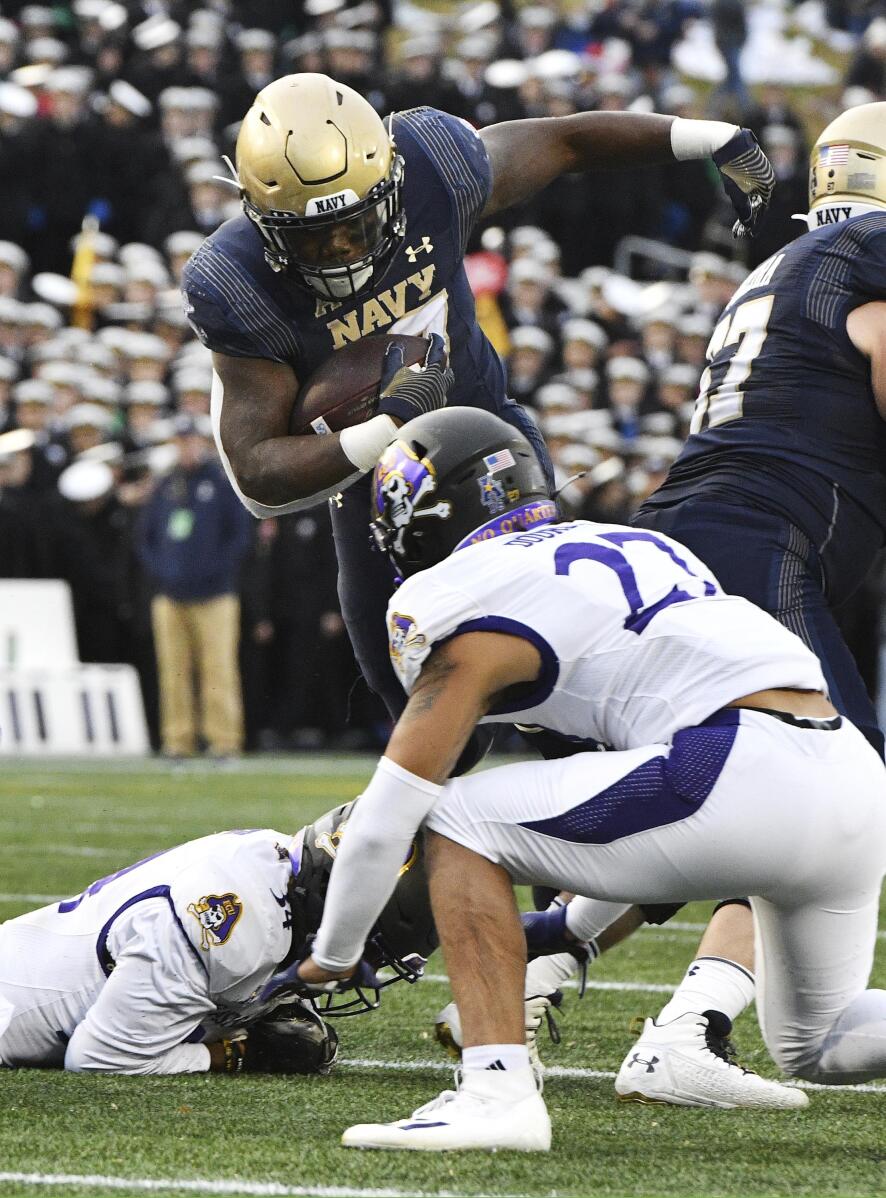 7 of 9

|
Navy's James Harris II gains yards on a second-quarter run against East Carolina during an NCAA college football game Saturday, Nov. 20, 2021, in Annapolis, Md. (Paul W. Gillespie/The Baltimore Sun via AP)
7 of 9
Navy's James Harris II gains yards on a second-quarter run against East Carolina during an NCAA college football game Saturday, Nov. 20, 2021, in Annapolis, Md. (Paul W. Gillespie/The Baltimore Sun via AP)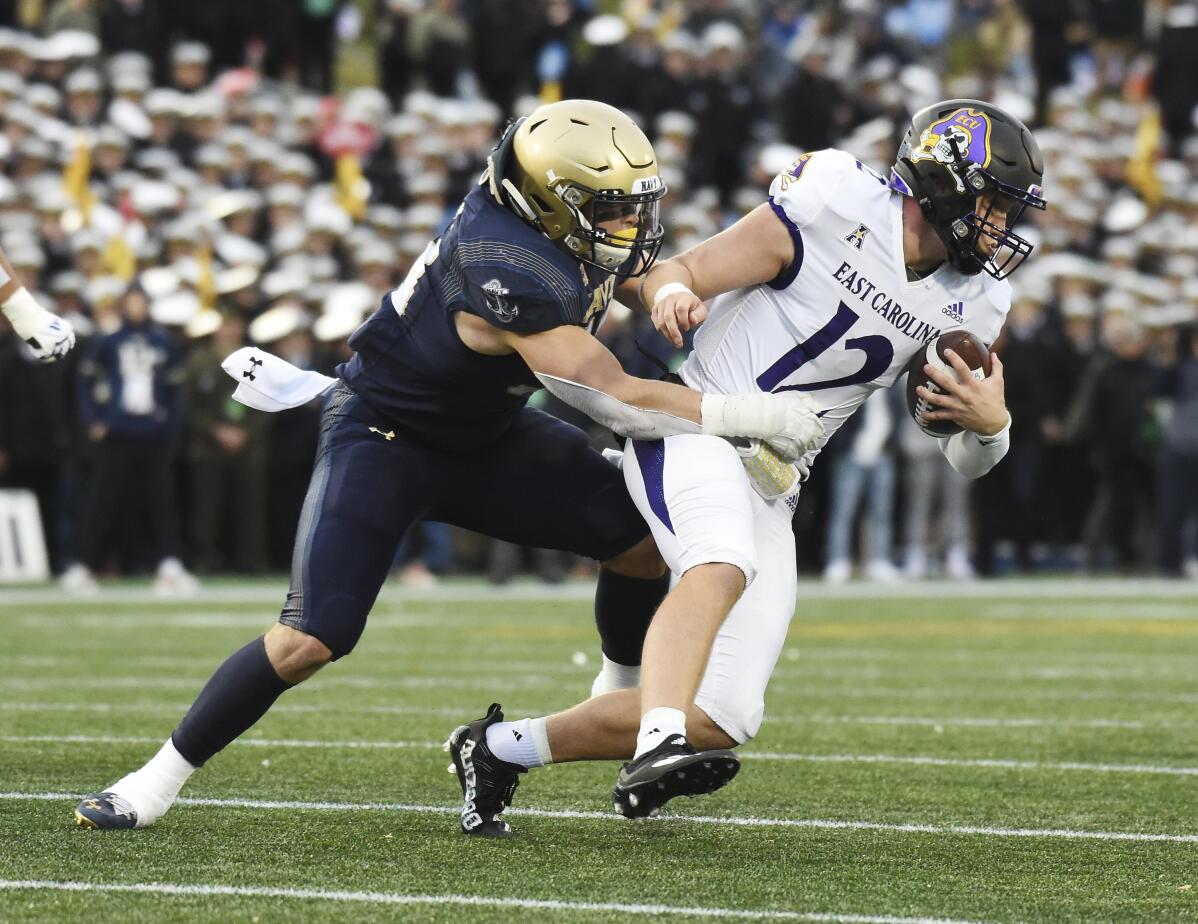 8 of 9

|
Navy's Diego Fagot pressures East Carolina quarterback Holton Ahlers during the second quarter during an NCAA college football game Saturday, Nov. 20, 2021, in Annapolis, Md. (Paul W. Gillespie/The Baltimore Sun via AP)
8 of 9
Navy's Diego Fagot pressures East Carolina quarterback Holton Ahlers during the second quarter during an NCAA college football game Saturday, Nov. 20, 2021, in Annapolis, Md. (Paul W. Gillespie/The Baltimore Sun via AP)
9 of 9

|
Navy's Clay Cromwell stops East Carolina's Rahjai Harris for a loss during the first quarter of an NCAA college football game Saturday, Nov. 20, 2021, in Annapolis, Md. (Paul W. Gillespie/The Baltimore Sun via AP)
9 of 9
Navy's Clay Cromwell stops East Carolina's Rahjai Harris for a loss during the first quarter of an NCAA college football game Saturday, Nov. 20, 2021, in Annapolis, Md. (Paul W. Gillespie/The Baltimore Sun via AP)
ANNAPOLIS, Md. (AP) — Owen Daffer drilled a 54-yard field goal as time expired to give East Carolina a 38-35 victory over Navy on Saturday night.
Maquel Haywood scored on a 98-yard kickoff return that gave Navy (2-8, 2-5 American) a 35-27 lead with 8:33 remaining.
East Carolina's Holton Ahlers answered with a 28-yard touchdown pass to Tyler Snead about three minutes later to tie it at 35. The Midshipmen punted with 1:24 to play, and Ahlers connected with Snead on a 46-yard pass on the next play.
East Carolina (7-4, 5-2) then let the clock run before Daffer's game-winning kick.
Ahlers was 27-of-32 passing for 405 yards and threw three touchdown passes. Keaton Mitchell carried the ball 18 times for 94 yards and had a 10-yard touchdown run for the Pirates.
Tai Lavatai threw a pair of short-yard touchdown passes for Navy. Carlinos Acie had 155 yards rushing that included a 90-yard touchdown run.
___
More AP college football: https://apnews.com/hub/college-football and https://twitter.com/AP_Top25.
Sign up for the AP's college football newsletter: https://apnews.com/cfbtop25