Sanders sees numerous Colorado players enter transfer portal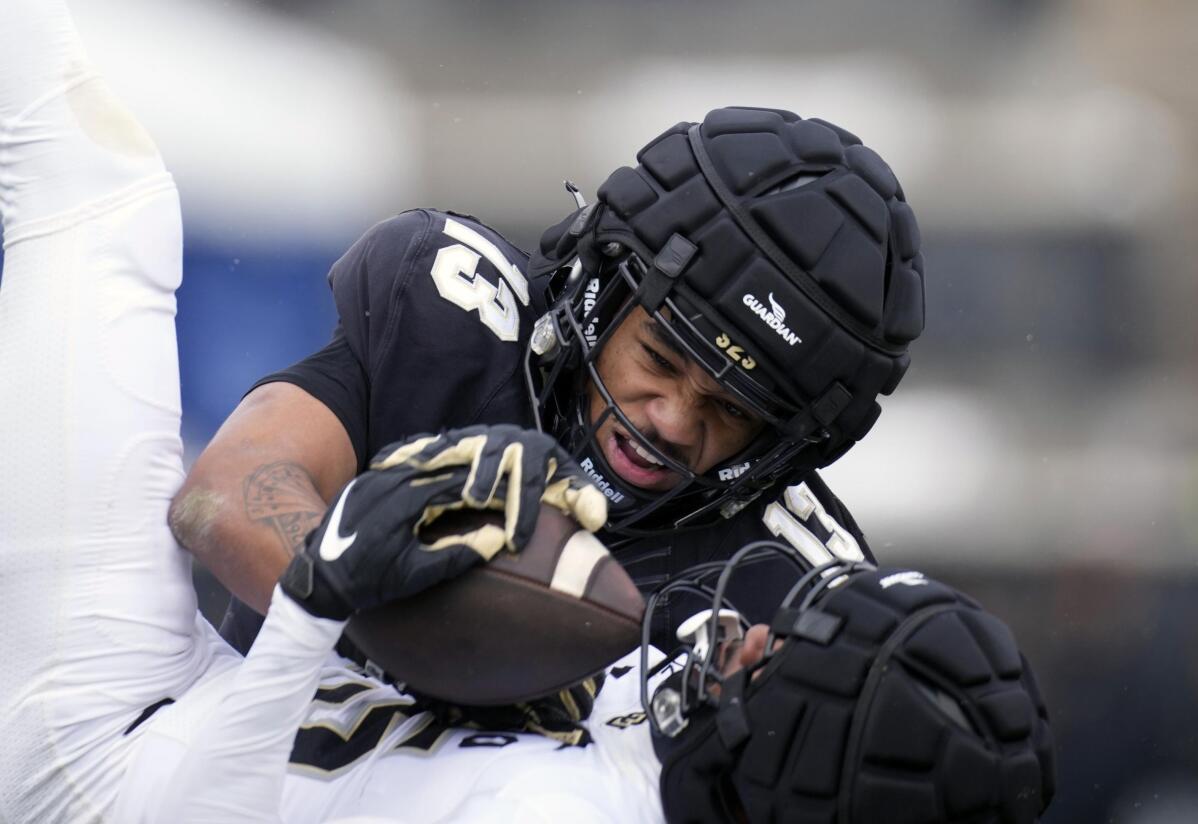 1 of 3

|
Colorado wide receiver Montana Lemonious-Craig, front, pulls in a pass as cornerback Tayvion Beasley defends in the first half of the team's spring practice NCAA college football game Saturday, April 22, 2023, in Boulder, Colo. (AP Photo/David Zalubowski)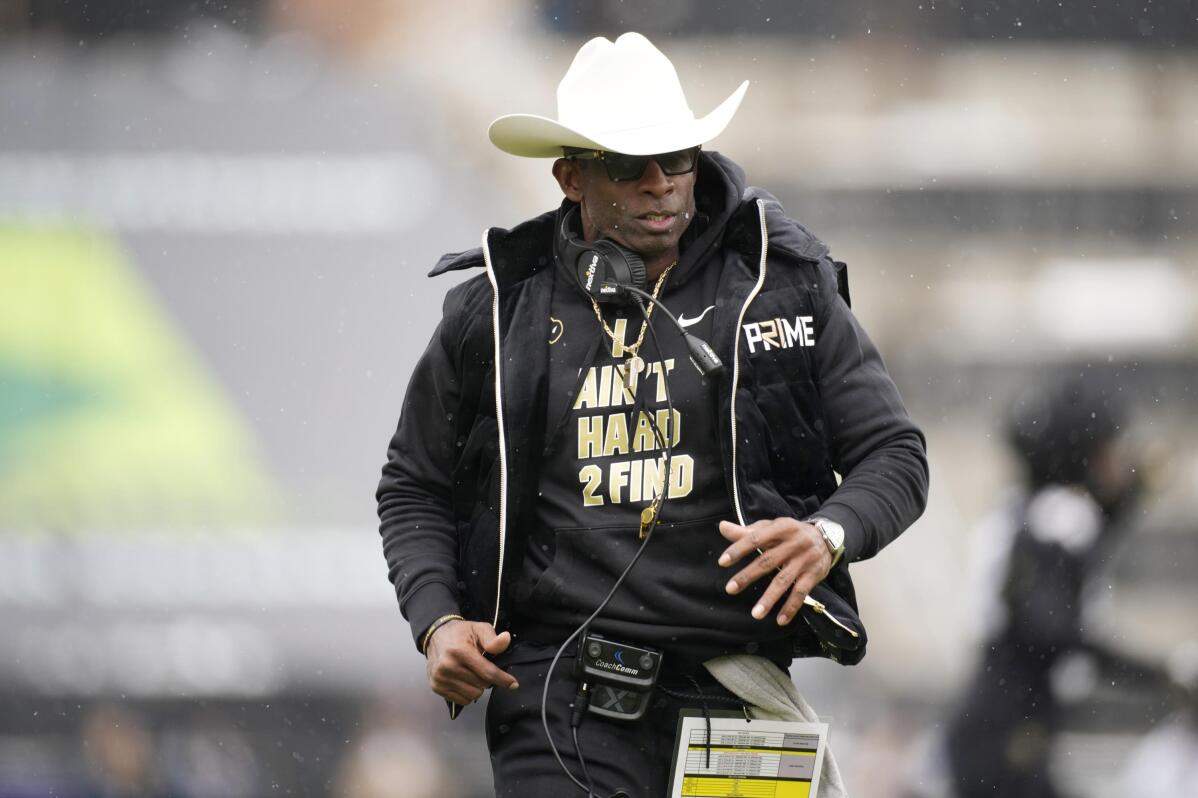 2 of 3

|
Colorado head coach Deion Sanders looks on during the first half of the team's spring NCAA college football game Saturday, April 22, 2023, in Boulder, Colo. (AP Photo/David Zalubowski)
3 of 3

|
Colorado head coach Deion Sanders looks on in the first half of the team's spring practice NCAA college football game Saturday, April 22, 2023, in Boulder, Colo. (AP Photo/David Zalubowski)
Sanders sees numerous Colorado players enter transfer portal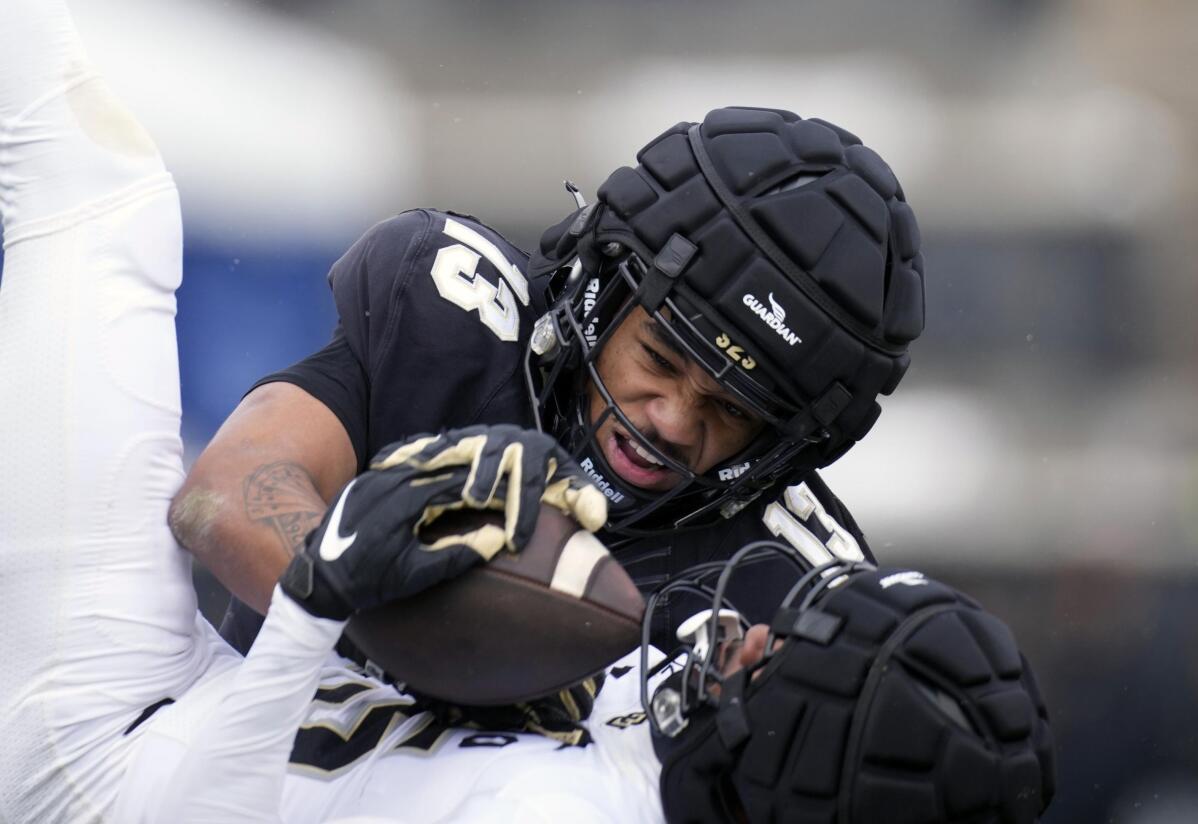 1 of 3

|
Colorado wide receiver Montana Lemonious-Craig, front, pulls in a pass as cornerback Tayvion Beasley defends in the first half of the team's spring practice NCAA college football game Saturday, April 22, 2023, in Boulder, Colo. (AP Photo/David Zalubowski)
1 of 3
Colorado wide receiver Montana Lemonious-Craig, front, pulls in a pass as cornerback Tayvion Beasley defends in the first half of the team's spring practice NCAA college football game Saturday, April 22, 2023, in Boulder, Colo. (AP Photo/David Zalubowski)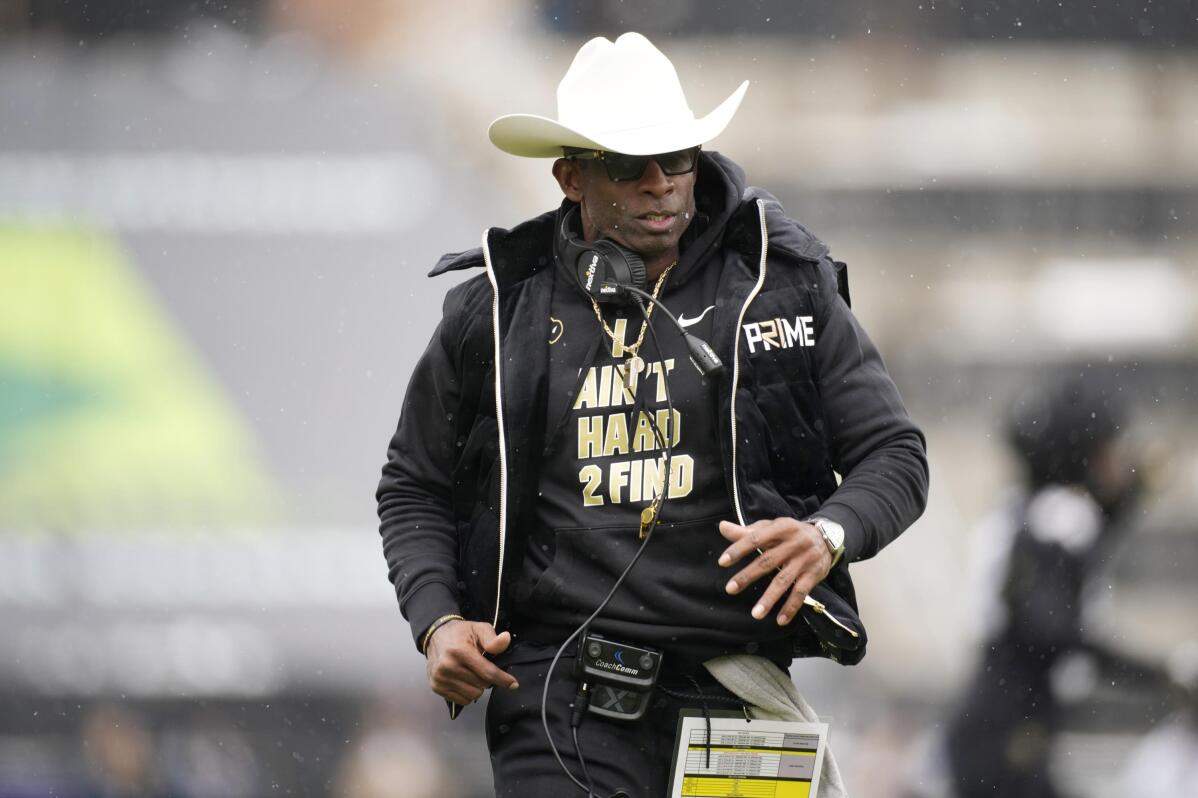 2 of 3

|
Colorado head coach Deion Sanders looks on during the first half of the team's spring NCAA college football game Saturday, April 22, 2023, in Boulder, Colo. (AP Photo/David Zalubowski)
2 of 3
Colorado head coach Deion Sanders looks on during the first half of the team's spring NCAA college football game Saturday, April 22, 2023, in Boulder, Colo. (AP Photo/David Zalubowski)
3 of 3

|
Colorado head coach Deion Sanders looks on in the first half of the team's spring practice NCAA college football game Saturday, April 22, 2023, in Boulder, Colo. (AP Photo/David Zalubowski)
3 of 3
Colorado head coach Deion Sanders looks on in the first half of the team's spring practice NCAA college football game Saturday, April 22, 2023, in Boulder, Colo. (AP Photo/David Zalubowski)
BOULDER, Colo. (AP) — Deion "Coach Prime" Sanders saw a number of players stampede to the transfer portal, including a holdover wide receiver who was the standout in Colorado's sold-out spring game over the weekend.
Wideout Montana Lemonious-Craig turned in an impressive performance Saturday at Folsom Field for the Buffaloes, which was highlighted by his 98-yard touchdown catch. A day later, Lemonious-Craig was among a migration of players departing the program that Coach Prime was brought in to rebuild on the heels of a 1-11 season.
By Monday, others who announced on social media they will enter the portal include receivers Jordyn Tyson and Chase Sowell, outside linebacker Shakaun Bowser, defensive backs Tyrin Taylor and Jason Oliver, running back Deion Smith and offensive lineman Alex Harkey.
Since his arrival, Sanders has been overhauling the Buffaloes roster through the portal. He brought with him from Jackson State his quarterback son, Shedeur, and receiver/cornerback Travis Hunter. His additions were recently ranked No. 1 in the transfer-portal class by 247 Sports.
Sanders pledged to keep looking, too.
He adamantly talked Saturday about players who elected to depart right before the spring game and players who may leave in the aftermath of spring practice.
"I didn't kick them out. They walked out," Sanders said. "Anytime someone quits a few days before the spring game, that should tell you a lot. God bless them, though. The thing about it is I have no disdain or whatever. If they called me to speak on their behalf for a coach, I would do so. I'm not going to lie, but I would do so. So, God bless them.
"We don't look behind us, man. We look ahead."
On Sunday, Lemonious-Craig posted a statement on social media expressing his "heartfelt appreciation and gratitude" toward the school. He posted Monday on social media a list of schools that have reached out to him.
Lemonious-Craig finished with 23 receptions for 359 yards and three TDs last season for the Buffaloes. His biggest catch was the winning touchdown pass in overtime from J.T. Shrout in Colorado's lone win last season, a 20-13 victory over California.
Tyson also announced he entered the portal. He was the most dynamic receiver for the Buffaloes last season before suffering a knee injury, finishing with 22 catches for 470 yards and four touchdowns. He was presented the team's Darian Hagan award for most dynamic offensive player.
Tyson said in his announcement on social media: "I believe that this is the best choice for me at this time in my career and I am excited to see what the future holds."
Sowell caught two passes for 23 yards last season. On Sowell's announcement, Coach Prime posted, " Great young man! "
___
AP college football: https://apnews.com/hub/college-football and https://twitter.com/ap_top25 Sign up for the AP Top 25 newsletter here: https://link.apnews.com/join/6nr/morning-wire-newsletter-footer-internal-ads