Colorado Democrats to bolster haven against abortion bans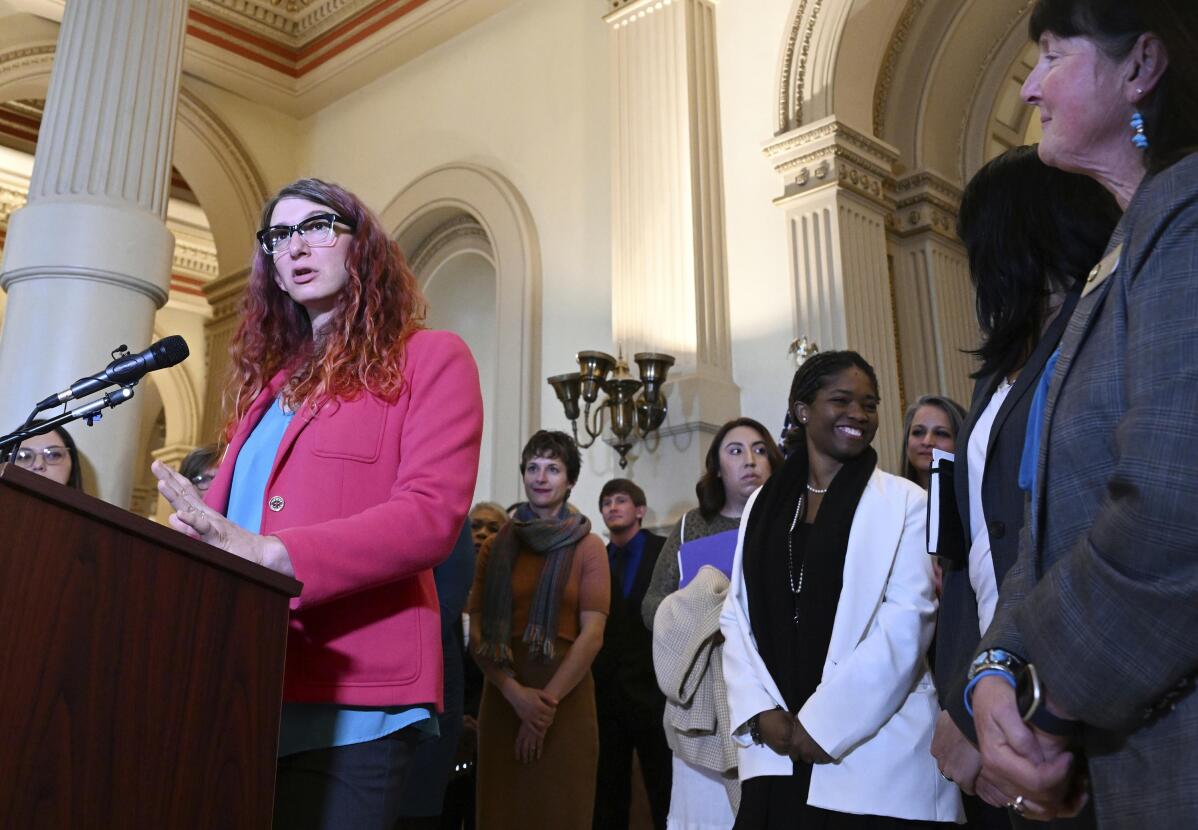 1 of 4

|
State Rep. Brianna Titone, Colorado's first transgender lawmaker, speaks to the media supporting a package of bills to protect abortion and reproductive rights during a news conference in the West Foyer at the Colorado State Capitol, Thursday, March 9, 2023, in Denver. (RJ Sangosti/The Denver Post via AP)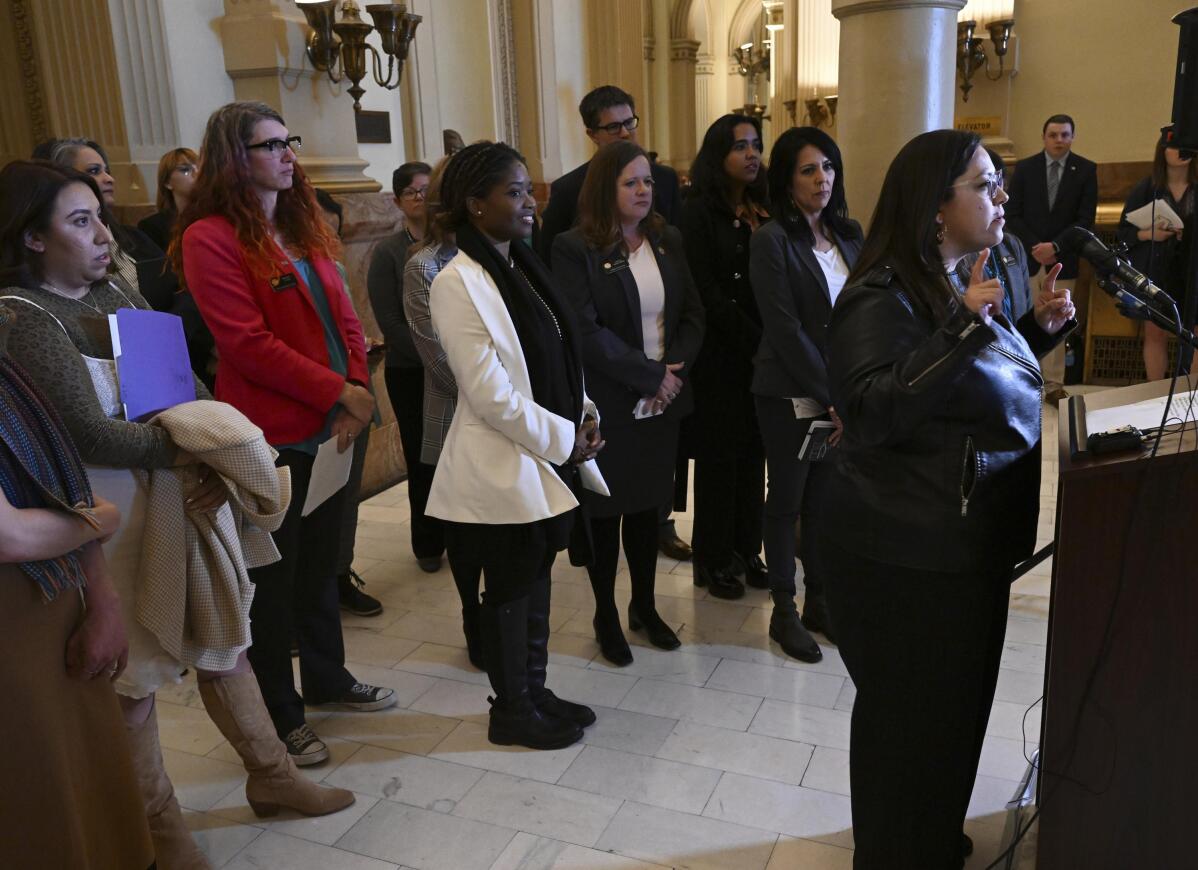 2 of 4

|
State Sen. Julie Gonzales speaks to the media, supporting a package of bills to protect abortion and reproductive rights during a news conference in the West Foyer at the Colorado State Capitol, Thursday, March 9, 2023, in Denver. (RJ Sangosti/The Denver Post via AP)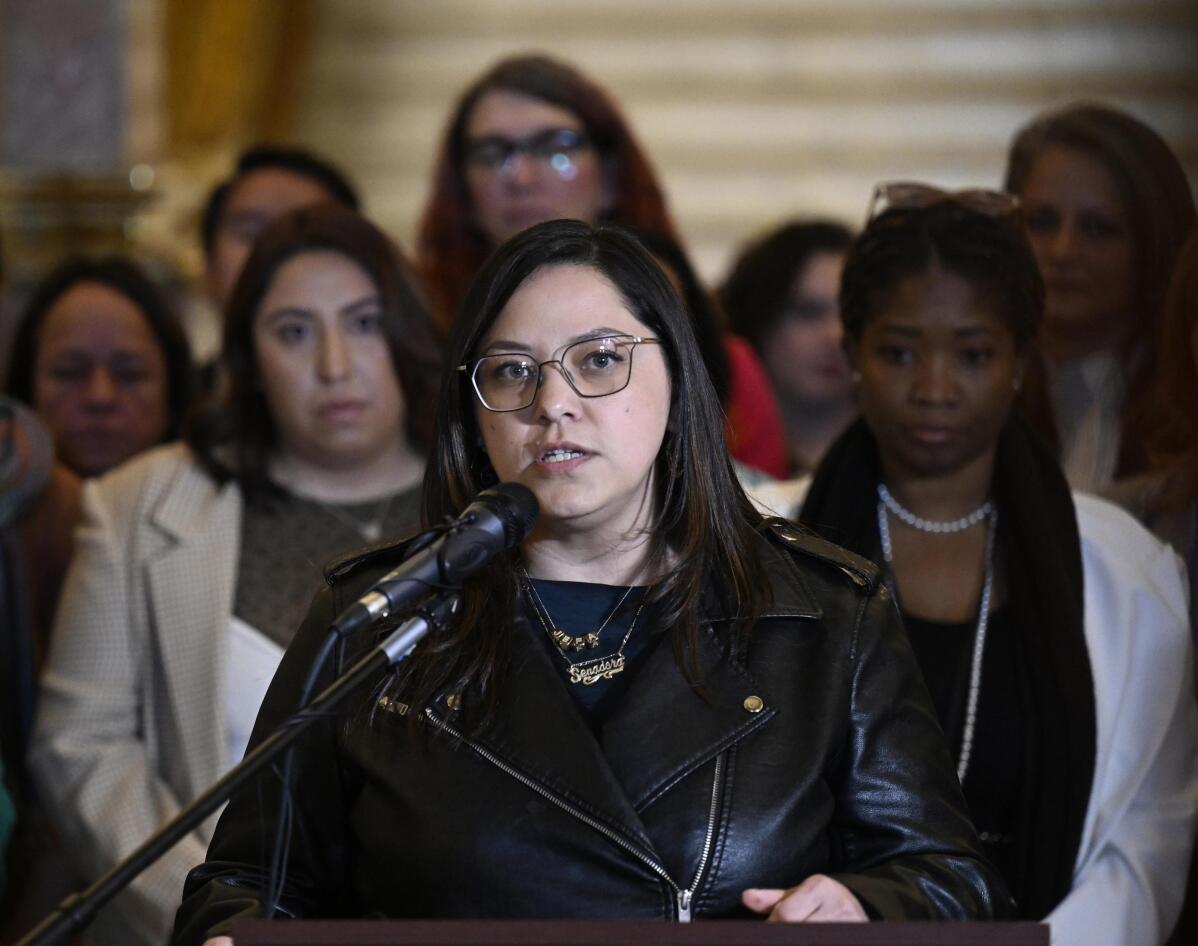 3 of 4

|
State Sen. Julie Gonzales speaks to the media, supporting a package of bills to protect abortion and reproductive rights during a news conference in the West Foyer at the Colorado State Capitol, Thursday, March 9, 2023, in Denver. (RJ Sangosti/The Denver Post via AP)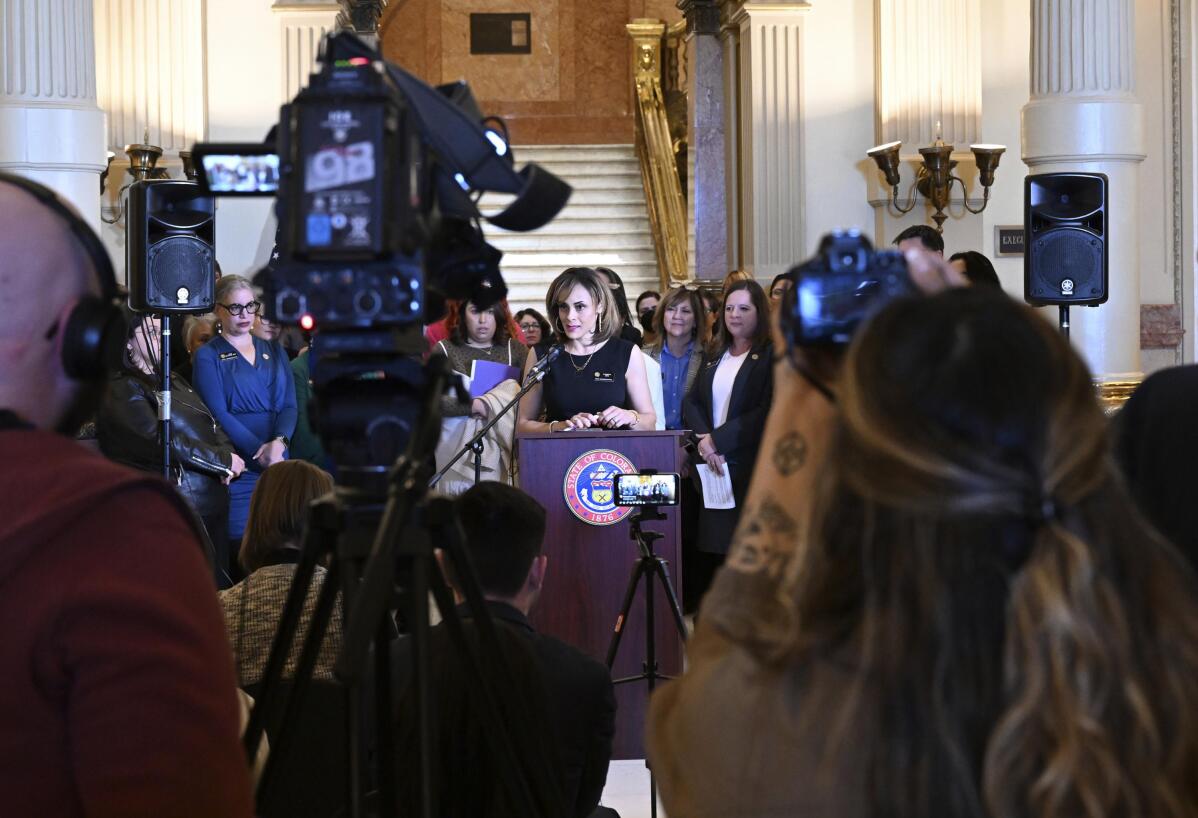 4 of 4

|
Rep. Elisabeth Epps speaks to the media during a press conference in the West Foyer at the Colorado State Capitol on Thursday, March 9, 2023 in Denver. Colorado lawmakers are looking to strengthen the state's role as an oasis for abortion rights in a region largely dominated by conservative states that have restricted the practice. (RJ Sangosti/The Denver Post via AP)
Colorado Democrats to bolster haven against abortion bans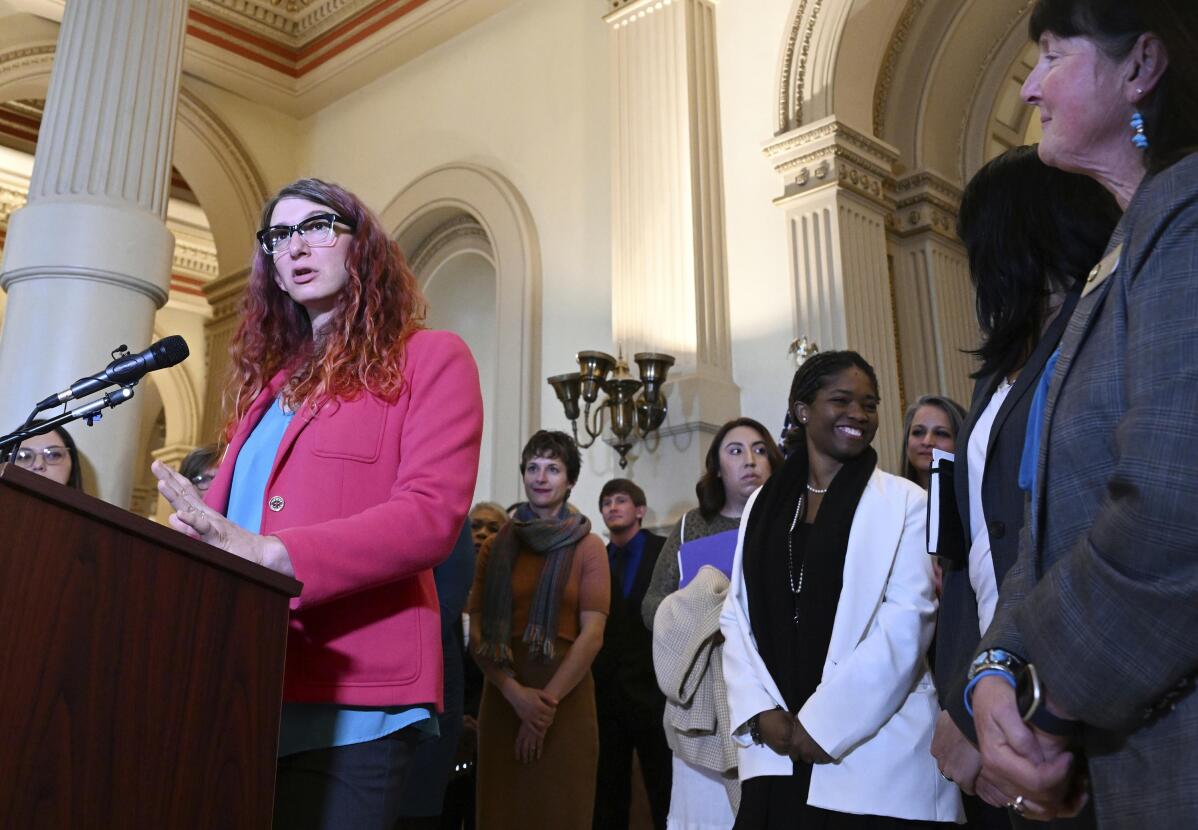 1 of 4

|
State Rep. Brianna Titone, Colorado's first transgender lawmaker, speaks to the media supporting a package of bills to protect abortion and reproductive rights during a news conference in the West Foyer at the Colorado State Capitol, Thursday, March 9, 2023, in Denver. (RJ Sangosti/The Denver Post via AP)
1 of 4
State Rep. Brianna Titone, Colorado's first transgender lawmaker, speaks to the media supporting a package of bills to protect abortion and reproductive rights during a news conference in the West Foyer at the Colorado State Capitol, Thursday, March 9, 2023, in Denver. (RJ Sangosti/The Denver Post via AP)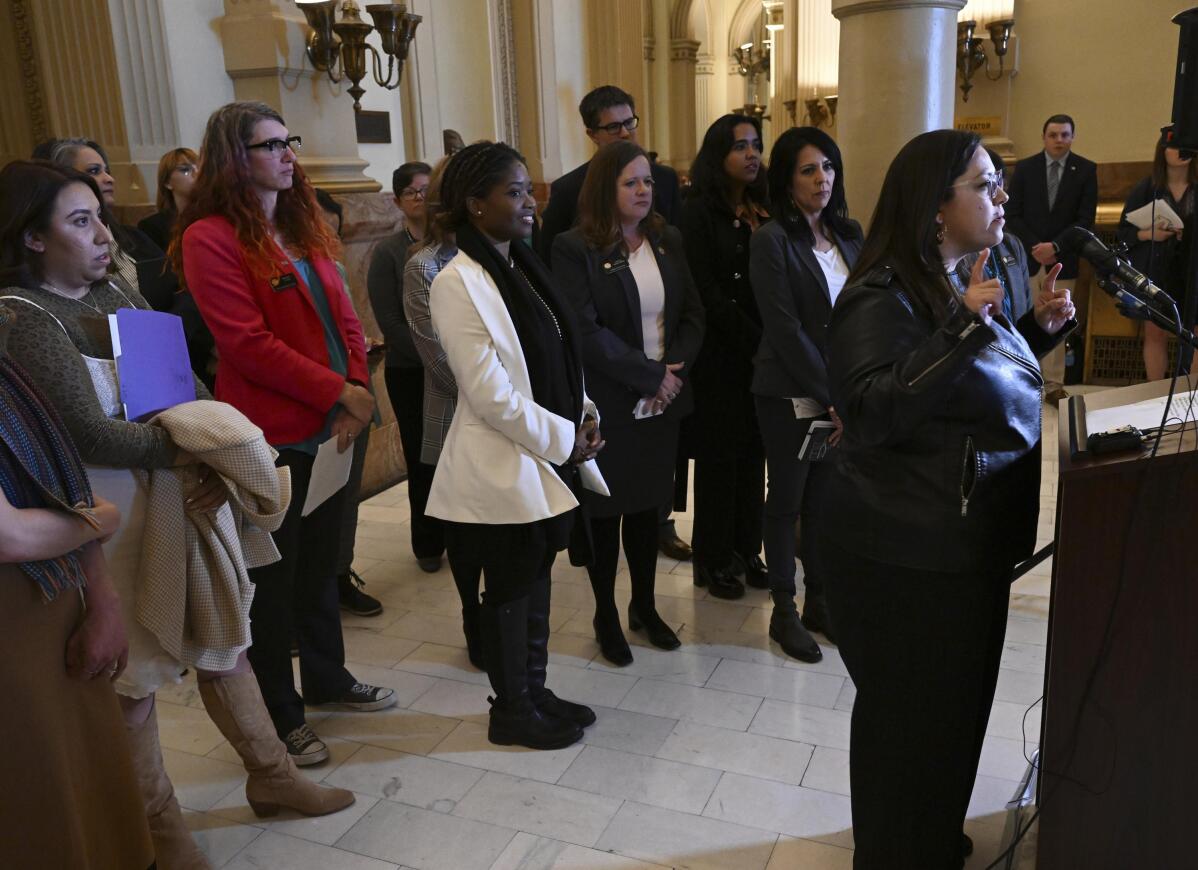 2 of 4

|
State Sen. Julie Gonzales speaks to the media, supporting a package of bills to protect abortion and reproductive rights during a news conference in the West Foyer at the Colorado State Capitol, Thursday, March 9, 2023, in Denver. (RJ Sangosti/The Denver Post via AP)
2 of 4
State Sen. Julie Gonzales speaks to the media, supporting a package of bills to protect abortion and reproductive rights during a news conference in the West Foyer at the Colorado State Capitol, Thursday, March 9, 2023, in Denver. (RJ Sangosti/The Denver Post via AP)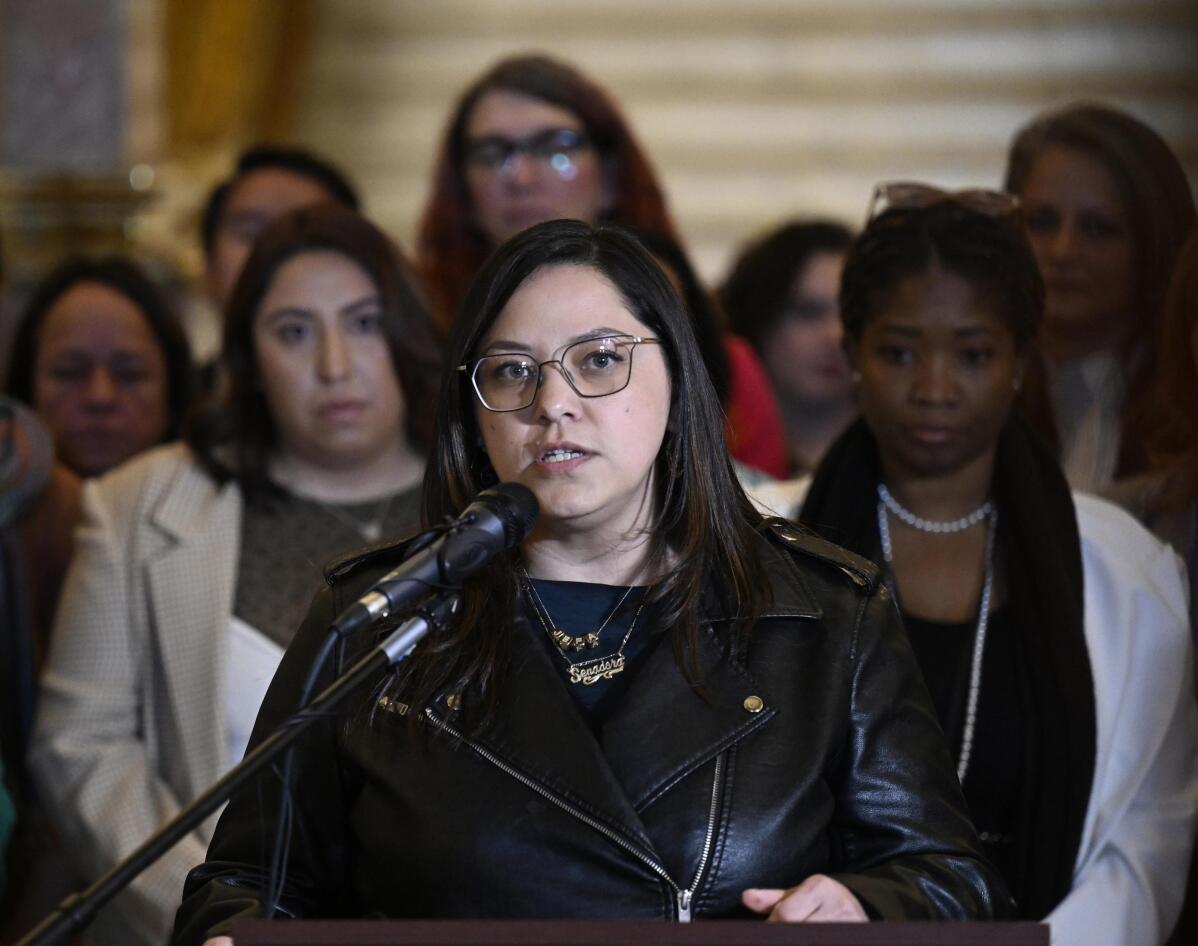 3 of 4

|
State Sen. Julie Gonzales speaks to the media, supporting a package of bills to protect abortion and reproductive rights during a news conference in the West Foyer at the Colorado State Capitol, Thursday, March 9, 2023, in Denver. (RJ Sangosti/The Denver Post via AP)
3 of 4
State Sen. Julie Gonzales speaks to the media, supporting a package of bills to protect abortion and reproductive rights during a news conference in the West Foyer at the Colorado State Capitol, Thursday, March 9, 2023, in Denver. (RJ Sangosti/The Denver Post via AP)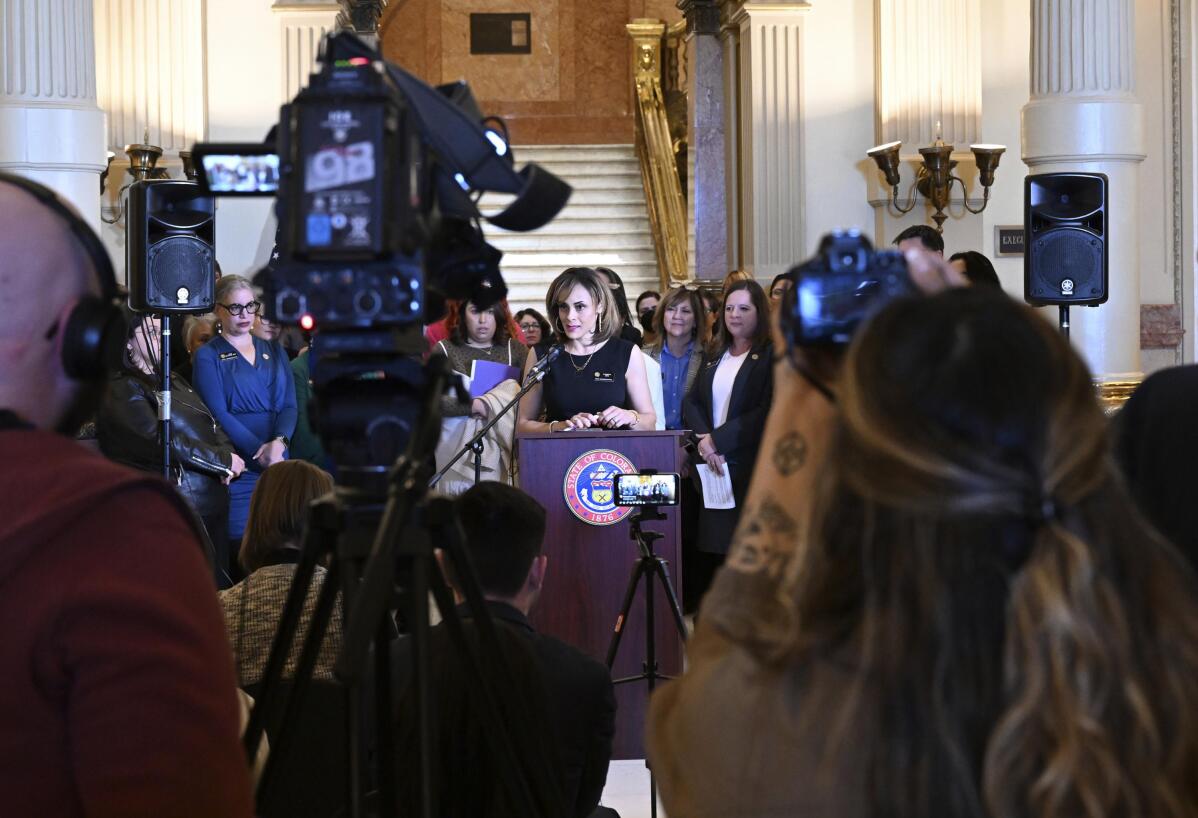 4 of 4

|
Rep. Elisabeth Epps speaks to the media during a press conference in the West Foyer at the Colorado State Capitol on Thursday, March 9, 2023 in Denver. Colorado lawmakers are looking to strengthen the state's role as an oasis for abortion rights in a region largely dominated by conservative states that have restricted the practice. (RJ Sangosti/The Denver Post via AP)
4 of 4
Rep. Elisabeth Epps speaks to the media during a press conference in the West Foyer at the Colorado State Capitol on Thursday, March 9, 2023 in Denver. Colorado lawmakers are looking to strengthen the state's role as an oasis for abortion rights in a region largely dominated by conservative states that have restricted the practice. (RJ Sangosti/The Denver Post via AP)
DENVER (AP) — Colorado lawmakers are looking to strengthen the state's role as a safe haven for abortion rights in a region largely dominated by conservative states that have restricted the practice since the U.S. Supreme Court overturned Roe v. Wade.
Democratic lawmakers announced at a Thursday news conference that three bills will be introduced to expand abortion access. The measures have a strong chance with the Legislature and governor's office both under Democratic control and reflect how states like Colorado and California are proactively trying to enshrine abortion rights protections as several neighboring red states go the opposite direction.
One bill would crack down on anti-abortion centers — which are known to market themselves as abortion clinics but instead attempt to steer people away from terminating a pregnancy — by outlawing "deceptive practices."
Another proposal would legally shield people who seek out abortions, and those who provide them, from investigations and prosecution in other states — including protections from responding to subpoenas or having to assist in interstate investigations. The third bill would ensure that health insurance in Colorado offers accessible coverage for abortions.
The bills have yet to be introduced, and many details remain unknown.
Joshua Bly, spokesperson for the Colorado's Senate Republicans, said they are waiting to see the bills' details before making their position known.
Last year, Colorado codified abortion as a fundamental right as the nation's High Court overturned nearly 50 years of federal protections with its Dobbs v. Jackson ruling, which left questions of abortion up to the states.
After the ruling, states scrambled to either restrict or strengthen abortion access, with many around Colorado — including Oklahoma, Wyoming, Nebraska and Utah — moving to either ban or limit it.
"Overnight, states like Colorado became the last line of defense to protect reproductive rights," said Democratic Rep. Elisabeth Epps at the news conference, "and that's why we are here today."
Melisa Hidalgo-Cuellar, representing the Cobalt Abortion Fund, which financially helps people seeking abortions, said at the news conference that the organization saw a massive influx of people from outside Colorado journeying to the state in search of abortion care.
The Cobalt Abortion Fund spent over $222,000 to help patients with expenses including travel and accommodation in 2022, Hidalgo-Cuellar said. That's up from the $6,000 spent in 2021.
Conor Cahill, a spokesperson for Gov. Jared Polis, said "the governor is pro-freedom, pro-choice, and pro-free speech" and will evaluate the bills as they move through the Legislature.
The governor previously said in response to the U.S. Supreme Court's decision that "in Colorado we will not retreat to an archaic era where the powerful few controlled the freedoms over our bodies and health decisions."
The bill barring anti-abortion centers would not only block deceptive marketing but prohibit sites from offering what's called an abortion pill reversal — and unproven practice to reverse a medical abortion that's found support in some states.
The proposal to legally shield those who receive or provide abortions from out-of-state investigations would also extend to gender affirming care as a number of states debate legislation to restrict transgender health care.
"While other states are trying to limit or completely dismantle our rights as trans people, we are enshrining them into law in our state," said Democratic Rep. Brianna Titone, Colorado's first transgender lawmaker.
___
This article has been corrected to reflect the correct name of Melisa Hidalgo-Cuellar.
___
Jesse Bedayn is a corps member for the Associated Press/Report for America Statehouse News Initiative. Report for America is a nonprofit national service program that places journalists in local newsrooms to report on undercovered issues.