Colorado gun control bills progress; semi-auto ban unlikely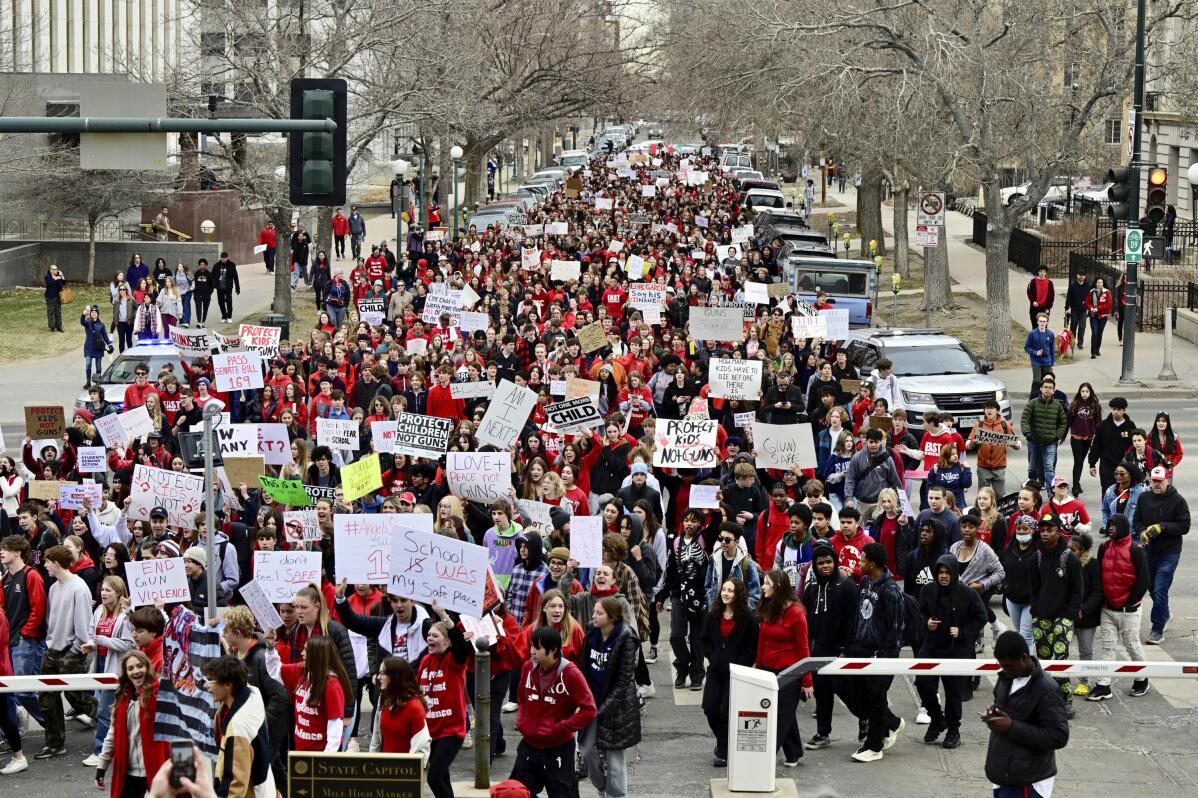 1 of 3

|
FILE - Students from Denver's East High School march to the Colorado state Capitol building in Denver, March 3, 2023. Students walked out of classes to push for legislative action after a fellow student was shot and killed near the school on Feb. 13. Colorado lawmakers have pushed forward a slew of aggressive gun control bills that are nearing the governor's desk for signatures. If passed, the once purple state that only recently saw a Democratic takeover will be more closely aligned with the liberal strongholds of California and New York. (Andy Cross/The Denver Post via AP, File)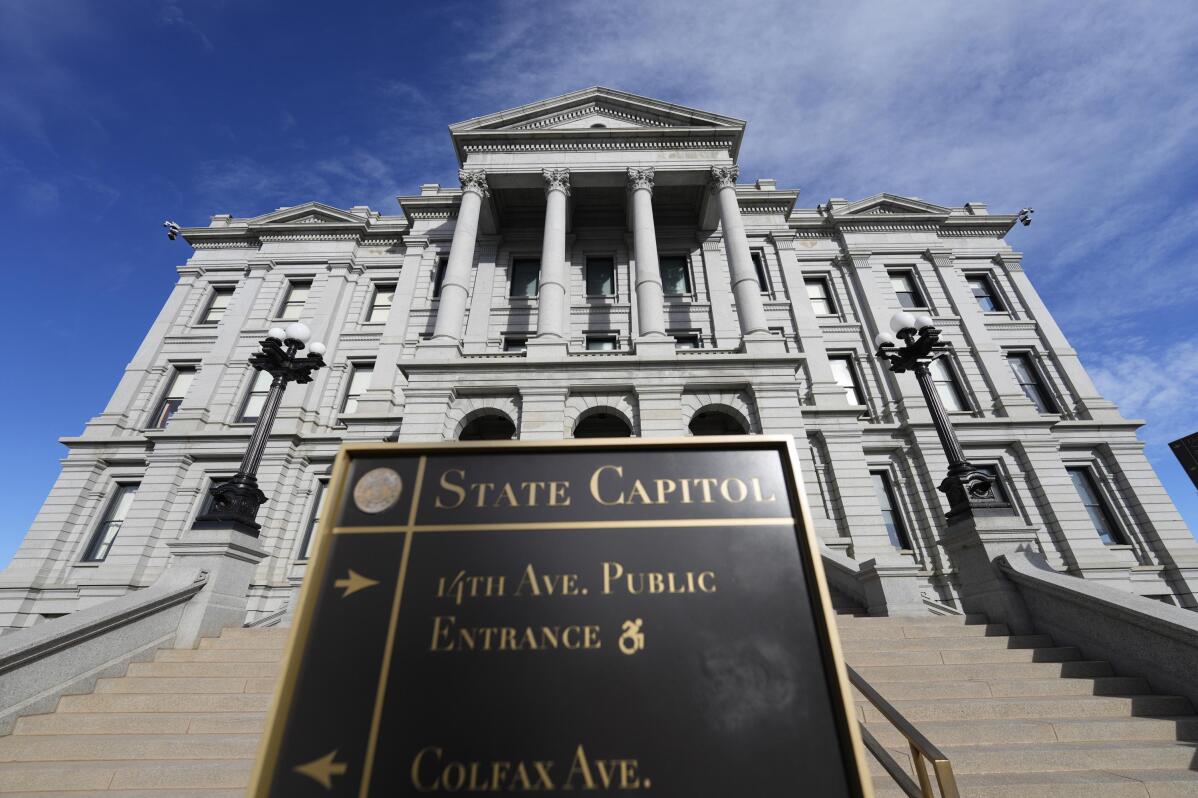 2 of 3

|
FILE - The Colorado state Capitol in Denver is pictured, Jan. 9, 2023. Colorado lawmakers have pushed forward a slew of aggressive gun control bills that are nearing the governor's desk for signatures. If passed, the once purple state that only recently saw a Democratic takeover will be more closely aligned with the liberal strongholds of California and New York. (AP Photo/David Zalubowski, File)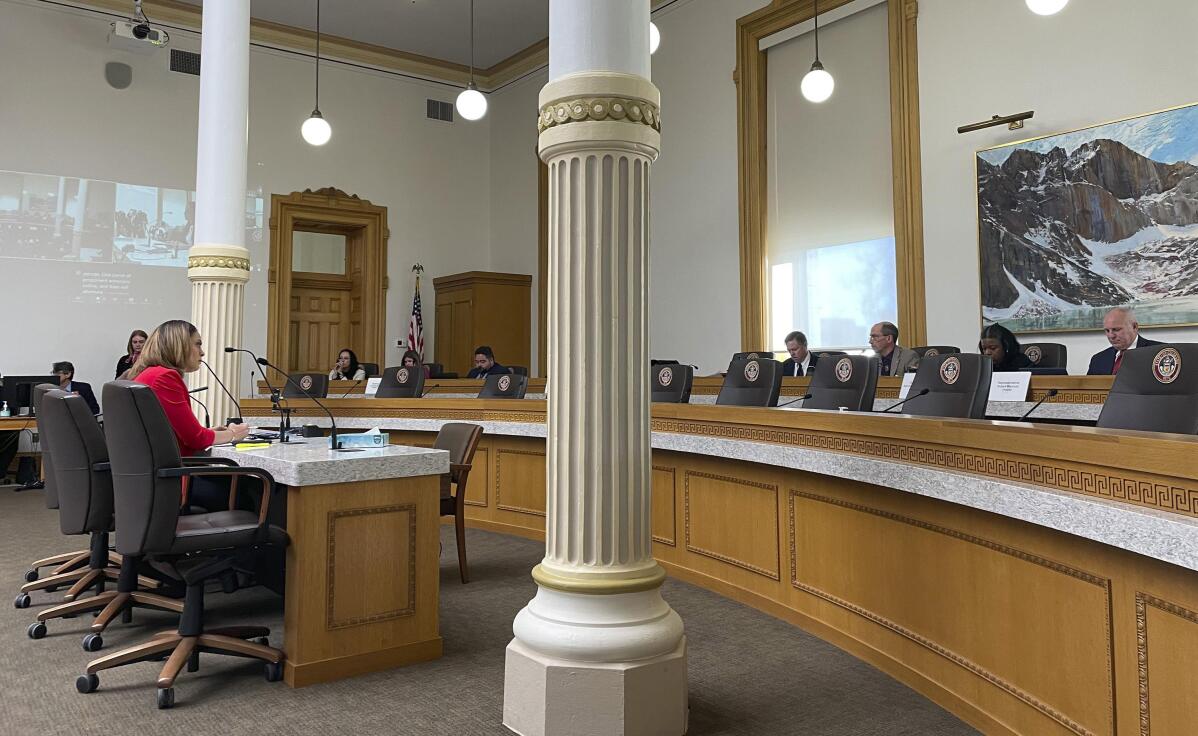 3 of 3

|
Colorado Rep. Elisabeth Epps testifies during a hearing on gun control Wednesday, April 19, 2023, in Denver. Colorado lawmakers have pushed forward a slew of aggressive gun control bills. (AP Photo/Jesse Bedayn)
Colorado gun control bills progress; semi-auto ban unlikely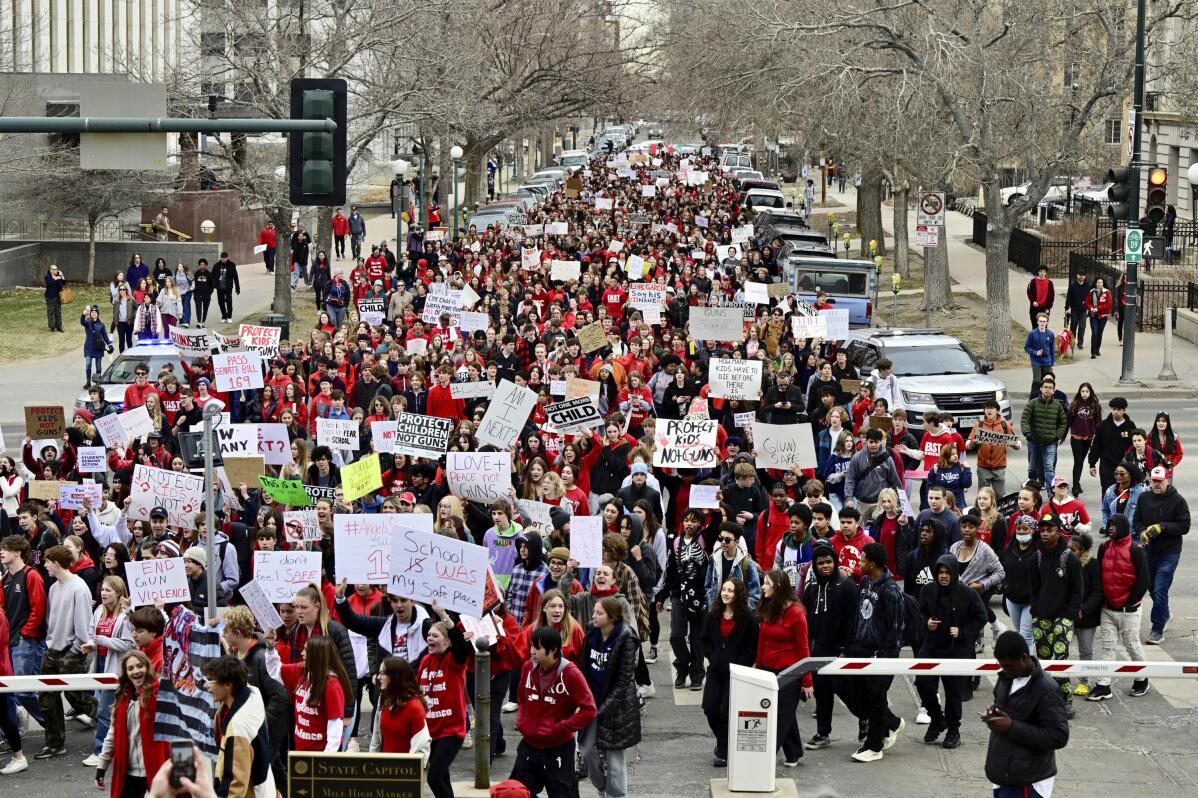 1 of 3

|
FILE - Students from Denver's East High School march to the Colorado state Capitol building in Denver, March 3, 2023. Students walked out of classes to push for legislative action after a fellow student was shot and killed near the school on Feb. 13. Colorado lawmakers have pushed forward a slew of aggressive gun control bills that are nearing the governor's desk for signatures. If passed, the once purple state that only recently saw a Democratic takeover will be more closely aligned with the liberal strongholds of California and New York. (Andy Cross/The Denver Post via AP, File)
1 of 3
FILE - Students from Denver's East High School march to the Colorado state Capitol building in Denver, March 3, 2023. Students walked out of classes to push for legislative action after a fellow student was shot and killed near the school on Feb. 13. Colorado lawmakers have pushed forward a slew of aggressive gun control bills that are nearing the governor's desk for signatures. If passed, the once purple state that only recently saw a Democratic takeover will be more closely aligned with the liberal strongholds of California and New York. (Andy Cross/The Denver Post via AP, File)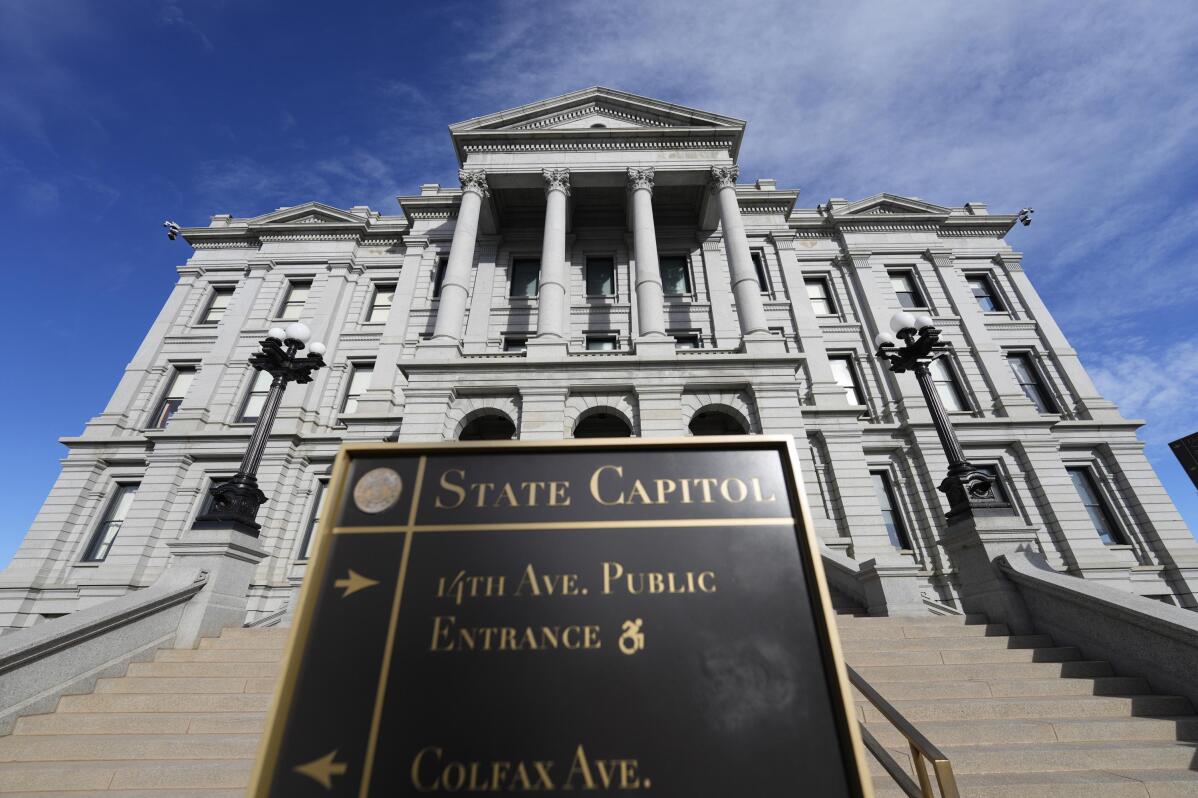 2 of 3

|
FILE - The Colorado state Capitol in Denver is pictured, Jan. 9, 2023. Colorado lawmakers have pushed forward a slew of aggressive gun control bills that are nearing the governor's desk for signatures. If passed, the once purple state that only recently saw a Democratic takeover will be more closely aligned with the liberal strongholds of California and New York. (AP Photo/David Zalubowski, File)
2 of 3
FILE - The Colorado state Capitol in Denver is pictured, Jan. 9, 2023. Colorado lawmakers have pushed forward a slew of aggressive gun control bills that are nearing the governor's desk for signatures. If passed, the once purple state that only recently saw a Democratic takeover will be more closely aligned with the liberal strongholds of California and New York. (AP Photo/David Zalubowski, File)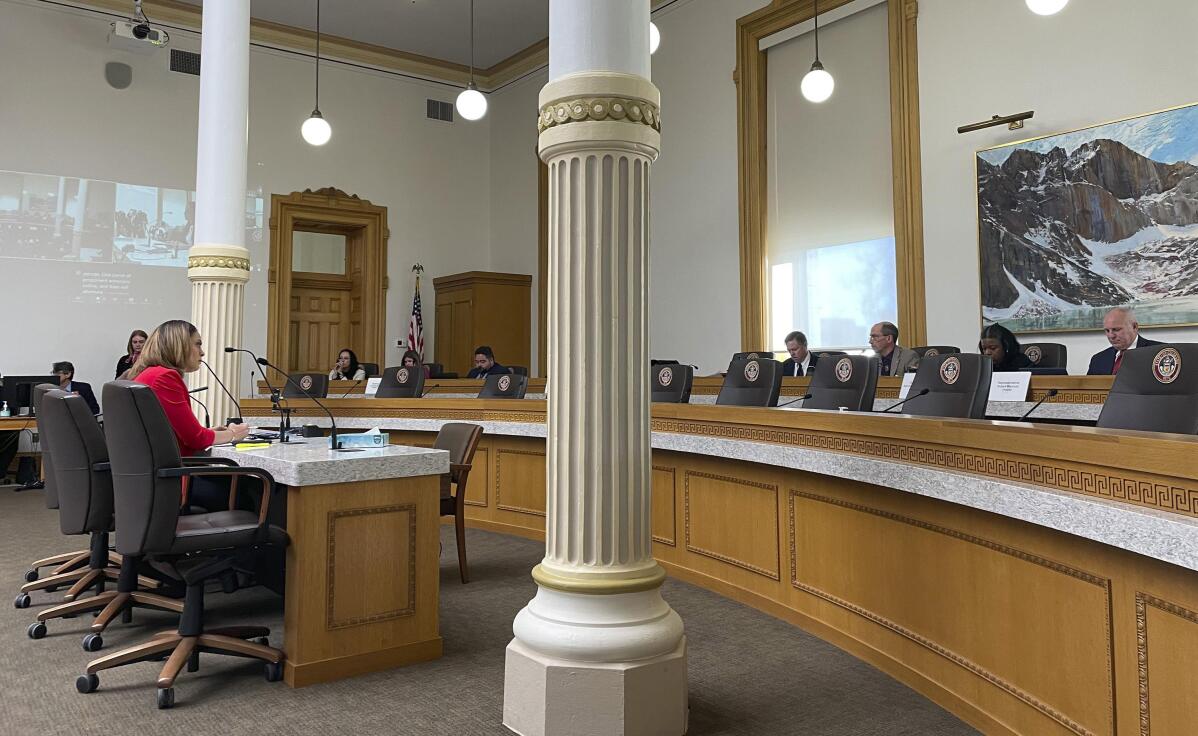 3 of 3

|
Colorado Rep. Elisabeth Epps testifies during a hearing on gun control Wednesday, April 19, 2023, in Denver. Colorado lawmakers have pushed forward a slew of aggressive gun control bills. (AP Photo/Jesse Bedayn)
3 of 3
Colorado Rep. Elisabeth Epps testifies during a hearing on gun control Wednesday, April 19, 2023, in Denver. Colorado lawmakers have pushed forward a slew of aggressive gun control bills. (AP Photo/Jesse Bedayn)
DENVER (AP) — A high school student told Colorado state lawmakers he'd work to oust them if they didn't support a sweeping ban on semiautomatic weapons. The bill's sponsor wiped back tears as she implored her Democratic colleagues to support the ban. A representative for a gun rights group vowed that if the bill passed and is signed by the governor, he'd sue the state before the ink dries.
These were just a few highlights from a marathon hearing Wednesday that attracted hundreds of people hoping to speak for and against a bill that has Colorado's progressive lawmakers beseeching their Democratic colleagues — who control the state's Legislature and consequently the bill's fate — for support.
State lawmakers have already cleared a package of narrower gun control measures this session. But the proposed ban on semiautomatic firearms faces much stiffer odds, illustrating that even Democratic-controlled statehouses don't have free reign when it comes to overhauling laws rooted deep in American culture.
"I think we've discovered the edge and the limit of how progressive this state wants to be," Rep. Mike Lynch, the Republican House minority leader, said in a press conference outside the hearing.
The bill, which would prohibit the sale and transfer of semiautomatic rifles, along with certain pistols and shotguns, comes months after a mass shooting at an LGBTQ+ nightclub in Colorado Springs — the latest in the state's long history of massacres.
In response to the shootings, Democrats pushed forward bills to strengthen red-flag laws, raise the firearm purchasing age to 21, open the gun industry up to legal liability and install a three-day waiting period after buying a gun. Those laws, expected to be signed by Democratic Gov. Jared Polis, will more closely align Colorado with the liberal strongholds of California, New York and Washington state.
But unlike those states, the proposed semiautomatic firearm ban has not received the same urgency.
Kicking off the impassioned hearing, Rep. Elisabeth Epps, the bill's sponsor, appealed to her fellow Democrats. "I'm scared of what it says about us, if, when there are 69 members of my party in the body, we don't run this bill," Epps said.
While Washington state's Democratic-controlled Legislature cleared a semiautomatic rifle ban Wednesday, Colorado Democrats, who hold a 9-4 majority on the committee, have voiced concerns over the bill's constitutionality and breadth.
In a potentially major concession to other members of her party, Epps said the bill may be significantly pared back to effectively ban bump stocks — a gun attachment that increases the rate of fire and which is already federally prohibited.
Grant Cramer, a freshman at a Denver high school, called out four Democratic committee members by name in his testimony, saying they had blood on their hands.
"All of Denver high schools are ready to march on the Capitol once more on April 29 to demand that you step down from power," Cramer said, referring to previous marches to the building by students to demand gun restrictions. "We are ready to make sure that you lose your reelection in a landslide vote."
He added: "Don't think for a second that you will get away with this because you are part of the Democratic party."
On the other side, Austin Hein, director of political operations for the National Association for Gun Rights, argued that none of the gun control bills would do "anything to address the root cause of the mental health, overly medicated children in fatherless homes and gun-free zones that are plaguing our state."
Hein added that a semiautomatic ban "will leave law-abiding citizens defenseless to the alarming rise of violent crime caused by the progressive criminal justice reform."
Deeply Democratic states such as California, New York and Massachusetts have restricted semiautomatic rifles. The proposal in Colorado, however, has unearthed divides among Democrats and fomented tension between the urban and rural parts of the state.
House Speaker Rep. Julie McCluskie and Majority Leader Rep. Monica Duran said they haven't yet made up their minds on the legislation. McCluskie cited concerns from her more rural constituents. Polis has demurred when asked questions about the ban.
Colorado is a state where Democrats know well that going too far on gun laws can put them in political peril.
A decade ago, Colorado voters ousted two state lawmakers in first-ever recall elections that came in reaction to the Democrats' support for tougher gun laws in the aftermath of the Aurora theater shooting.
Colorado has suffered some of the nation's most notorious massacres, including 13 killed in 1999 at Columbine High School, 12 killed in 2012 in Aurora, 10 killed in 2021 at a Boulder supermarket and five killed last November at the Colorado Springs gay nightclub.
Lawmakers in Texas set aside a slate of proposed new gun restrictions without a vote after hours of emotional appeals from Uvalde families whose children were killed last year. The hearing didn't end until the early morning hours Wednesday and may wind up as the only debate in the Legislature this year.
Colorado's Republican lawmakers have put up a vigorous fight against the other gun measures, filibustering into the wee hours of the morning as debates spilled into long weekends. The attempt to stymie the bills finally ended when McCluskie invoked a rarely used rule — considered the nuclear option — to shut down debate and push the bills to a vote.
___
Bedayn is a corps member for the Associated Press/Report for America Statehouse News Initiative. Report for America is a nonprofit national service program that places journalists in local newsrooms to report on undercovered issues.