Europe OKs plan to tally cost of Moscow's war in Ukraine with eye toward future reparations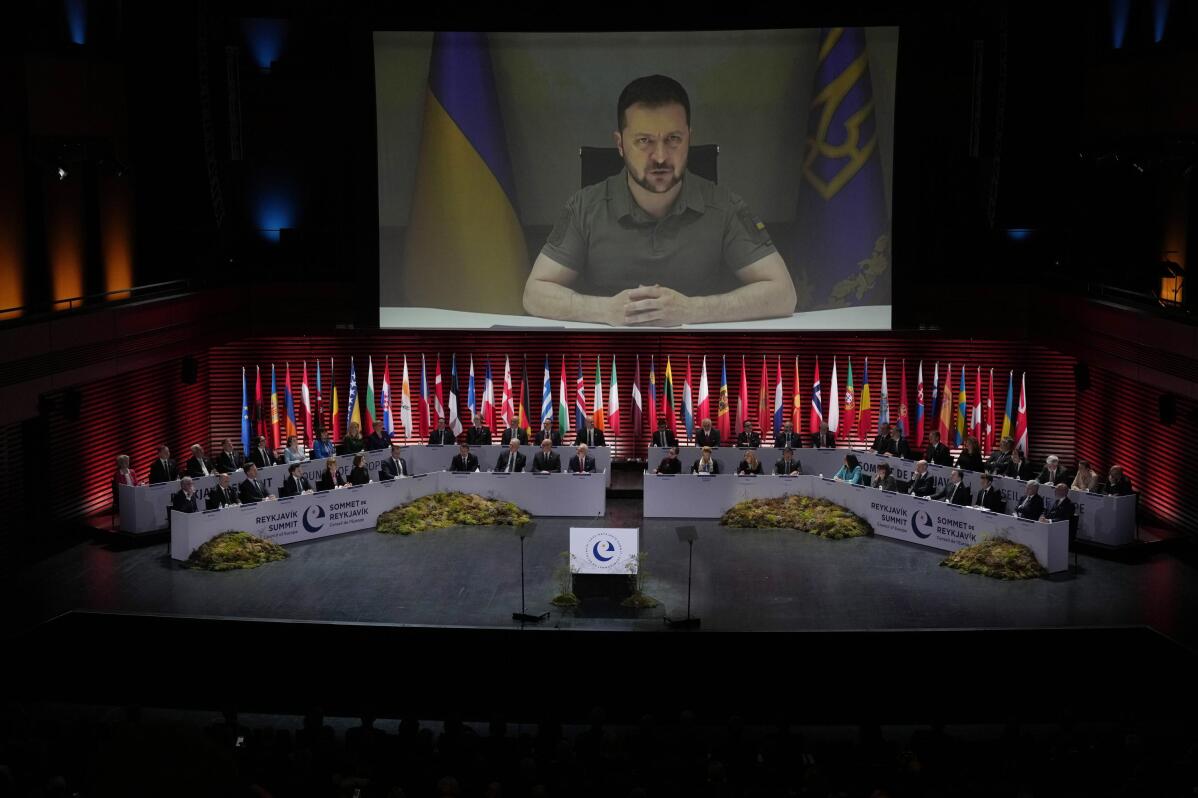 1 of 12

|
Ukraine's President Volodymyr Zelenskyy addresses, via videolink, the opening ceremony of the Council of Europe summit in Reykjavik, Iceland, Tuesday, May 16, 2023. Leaders from across the continent are laser-focused on holding Russia to account for its invasion of Ukraine and were poised to approve a system during their Council of Europe summit that would precisely establish the damages Moscow would have to pay to rebuild the nation. (AP Photo/Alastair Grant, Pool)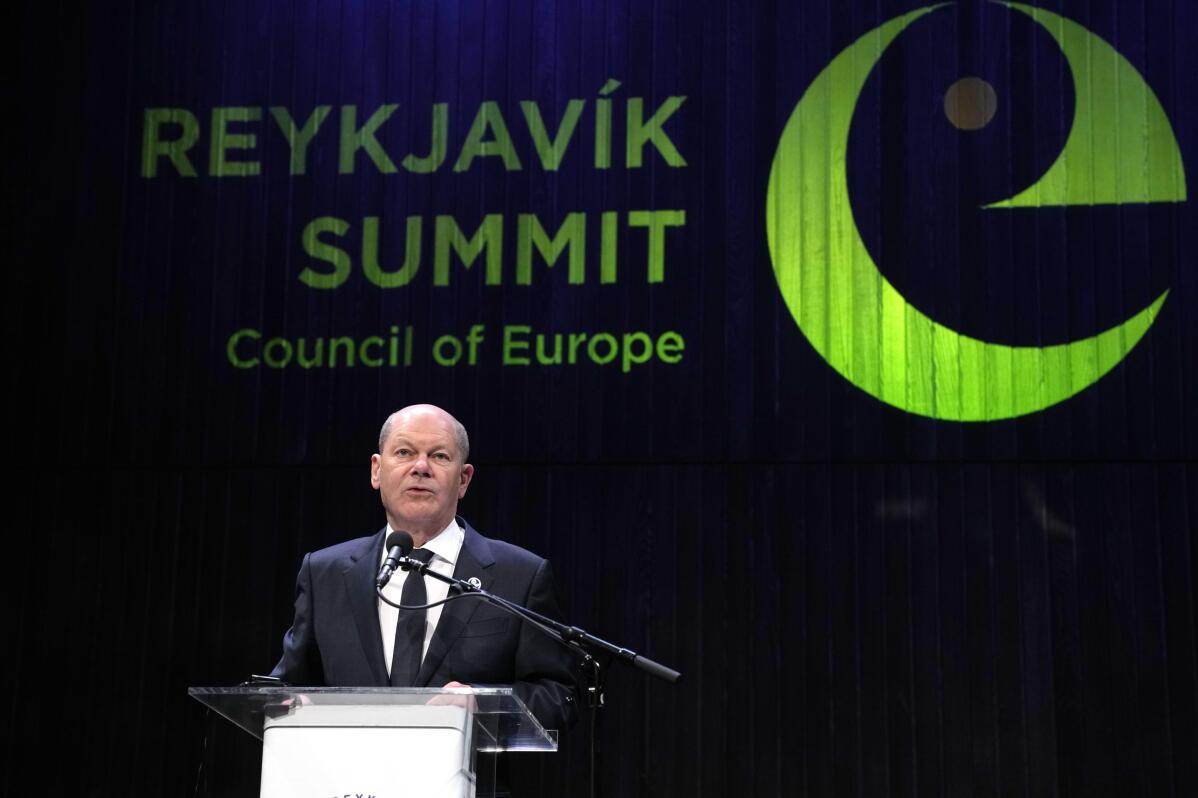 2 of 12

|
Germany's Chancellor Olaf Scholz speaks during a media conference at the Council of Europe summit in Reykjavik, Iceland, Wednesday, May 17, 2023. Leaders from across Europe were wrapping a two-day summit on Wednesday, putting the final touches on a system to establish the damage Russia is causing during the war in Ukraine, in the hopes it can be forced to compensate victims and help rebuild the nation once the conflict is over. (AP Photo/Alastair Grant)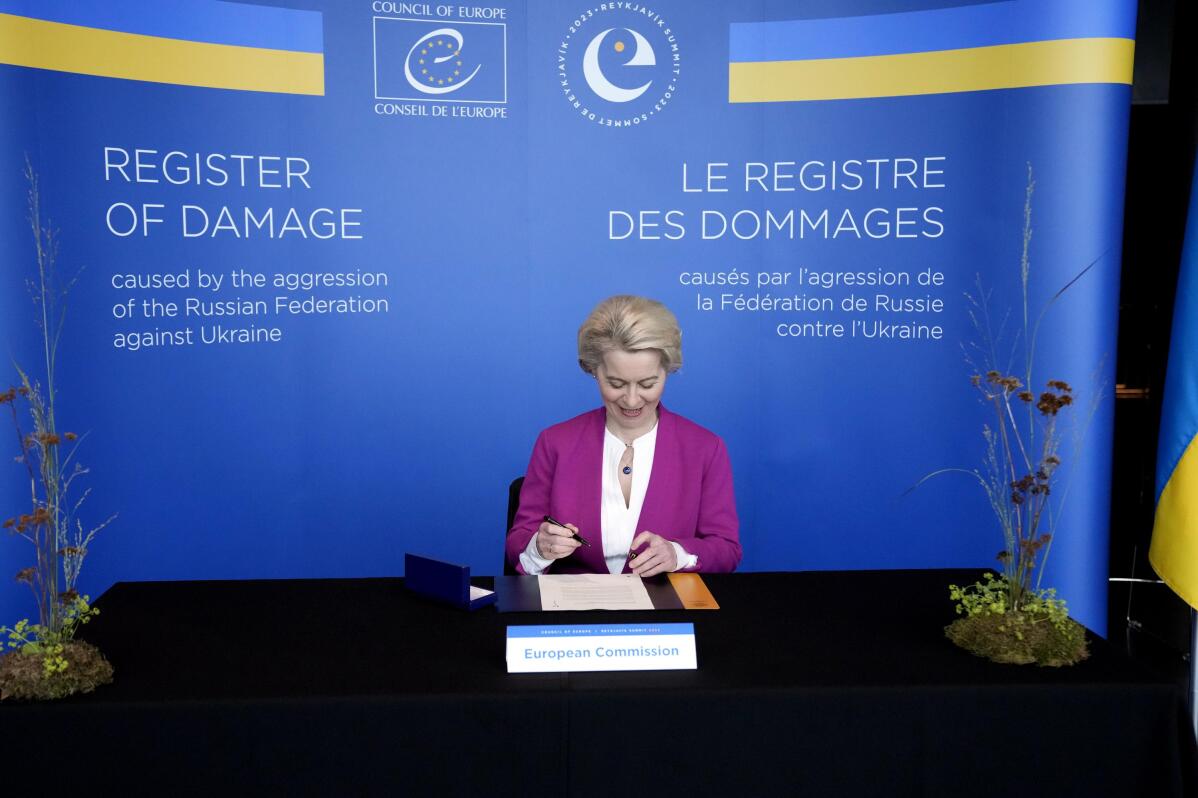 3 of 12

|
European Commission President Ursula von der Leyen prepares to sign the Register of Damage during the Council of Europe summit in Reykjavik, Iceland, Wednesday, May 17, 2023. Leaders from across Europe are laser-focused on holding Russia to account for its invasion of Ukraine and were poised to approve a system that would precisely establish the damages Moscow would have to pay to rebuild the nation and compensate victims. (AP Photo/Alastair Grant)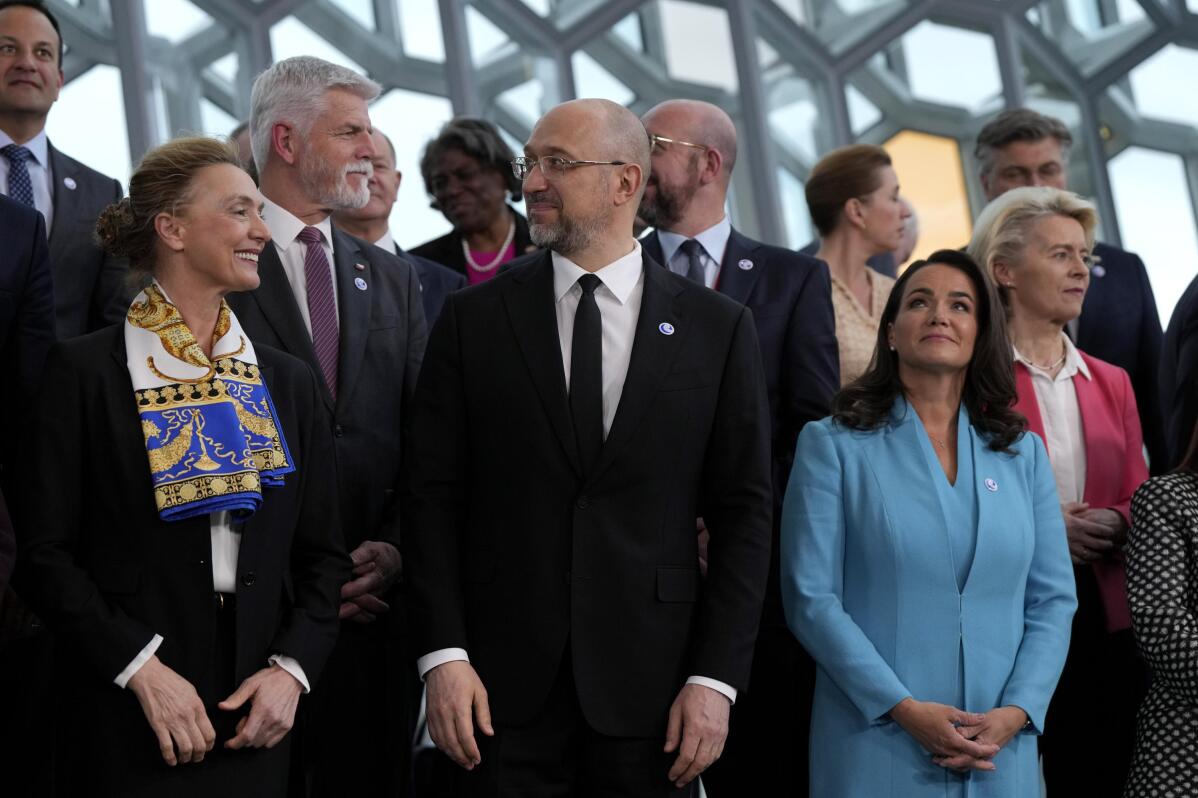 4 of 12

|
From left, Ireland's Prime Minister Leo Varadkar, Council of Europe Secretary General Marija Pejcinovic Buric, Czech Rebublic's President Petr Pavel, and Ukraine's Prime Minister Denys Shmyhal pose during a group photo at the Council of Europe summit in Reykjavik, Iceland, Tuesday, May 16, 2023. Leaders from across the continent are laser-focused on holding Russia to account for its invasion of Ukraine and were poised to approve a system during their Council of Europe summit that would precisely establish the damages Moscow would have to pay to rebuild the nation. (AP Photo/Alastair Grant, Pool)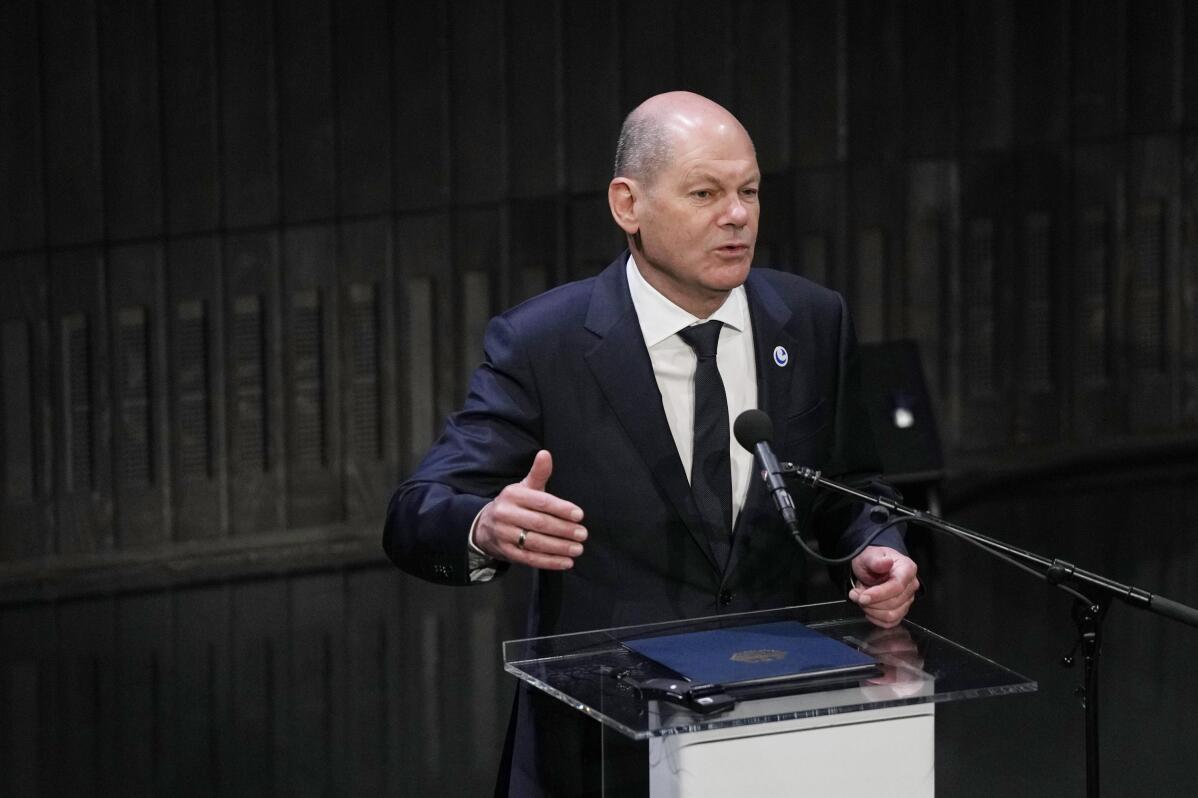 5 of 12

|
Germany's Chancellor Olaf Scholz speaks during a media conference at the Council of Europe summit in Reykjavik, Iceland, Wednesday, May 17, 2023. Leaders from across Europe were wrapping a two-day summit on Wednesday, putting the final touches on a system to establish the damage Russia is causing during the war in Ukraine, in the hopes it can be forced to compensate victims and help rebuild the nation once the conflict is over. (AP Photo/Alastair Grant)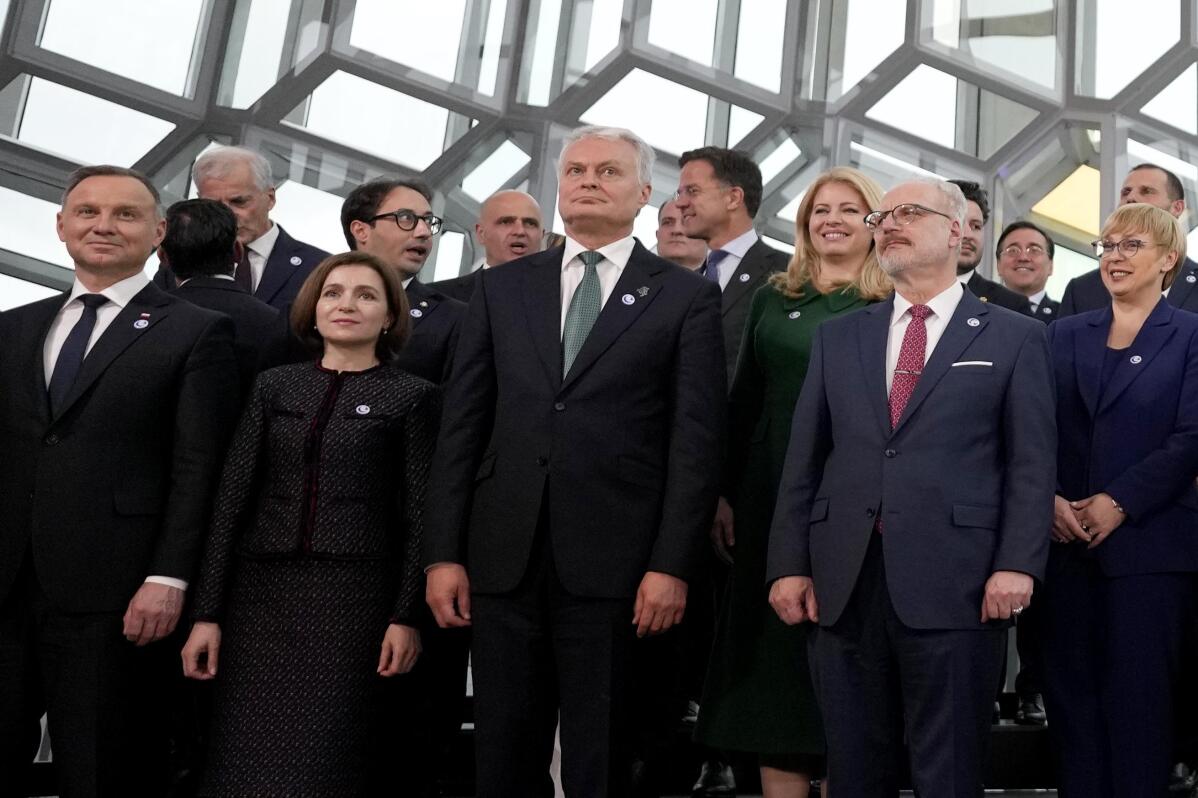 6 of 12

|
Front row left to right, Poland's President Andrej Duda, Moldova's President Maia Sandu, Lithuania's President Gitanas Nauseda and Latvia's President Egils Levits pose during a group photo at the Council of Europe summit in Reykjavik, Iceland, Tuesday, May 16, 2023. Leaders from across the continent are laser-focused on holding Russia to account for its invasion of Ukraine and were poised to approve a system during their Council of Europe summit that would precisely establish the damages Moscow would have to pay to rebuild the nation. (AP Photo/Alastair Grant, Pool)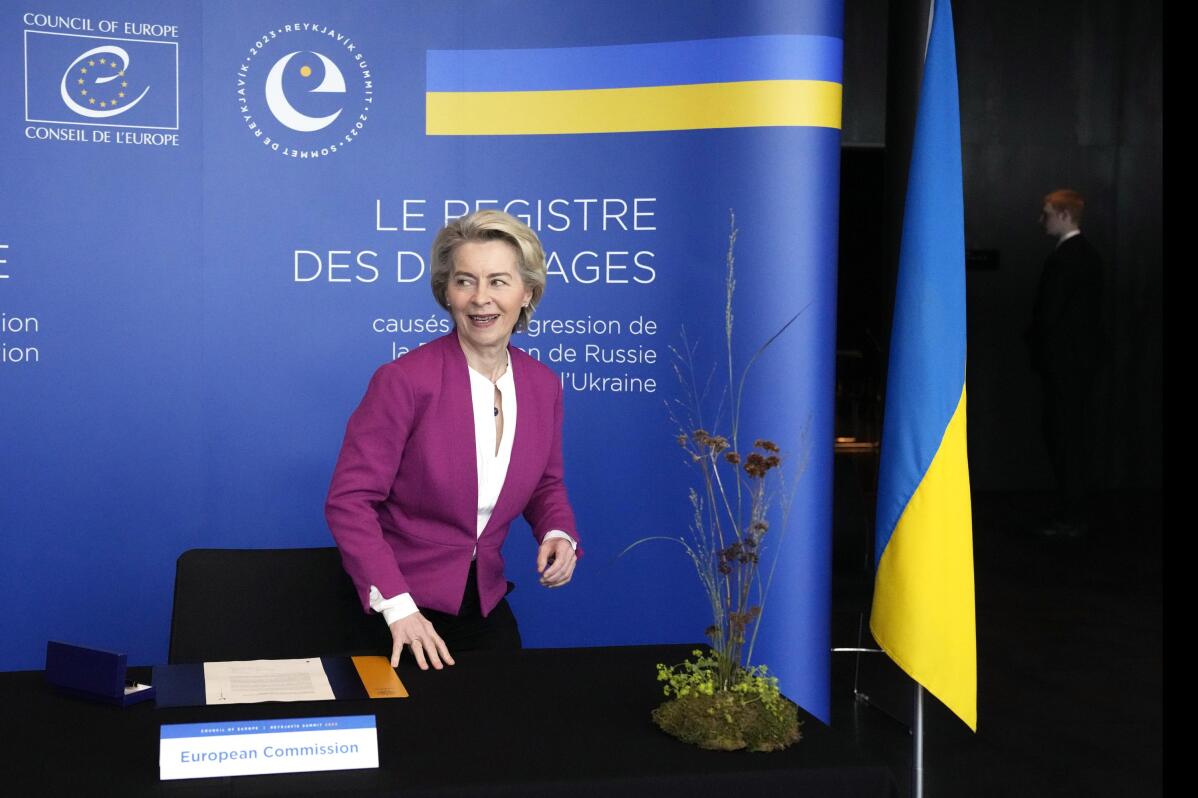 7 of 12

|
European Commission President Ursula von der Leyen leaves the podium after signing the Register of Damage during the Council of Europe summit in Reykjavik, Iceland, Wednesday, May 17, 2023. Leaders from across Europe are laser-focused on holding Russia to account for its invasion of Ukraine and were poised to approve a system that would precisely establish the damages Moscow would have to pay to rebuild the nation and compensate victims. (AP Photo/Alastair Grant)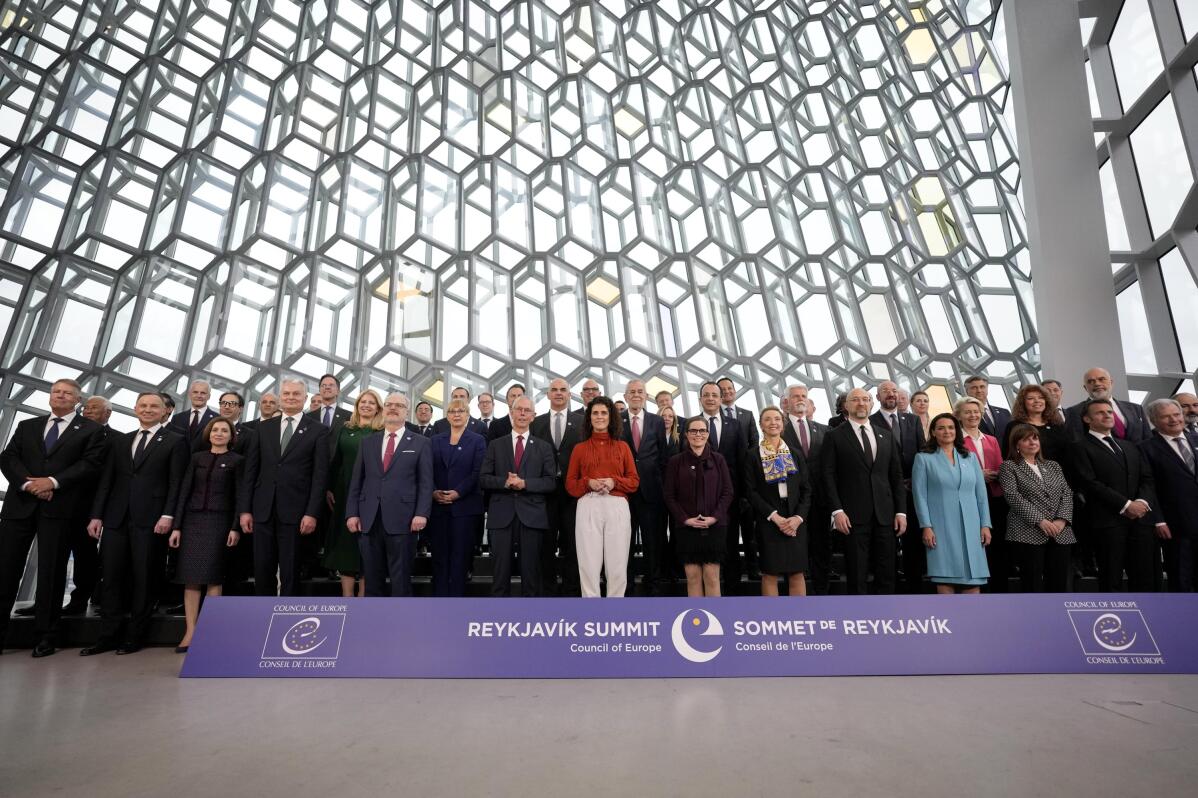 8 of 12

|
Heads of State and Government pose for a group photo at the Council of Europe summit in Reykjavik, Iceland, Tuesday, May 16, 2023. Leaders from across the continent are laser-focused on holding Russia to account for its invasion of Ukraine and were poised to approve a system during their Council of Europe summit that would precisely establish the damages Moscow would have to pay to rebuild the nation. (AP Photo/Alastair Grant, Pool)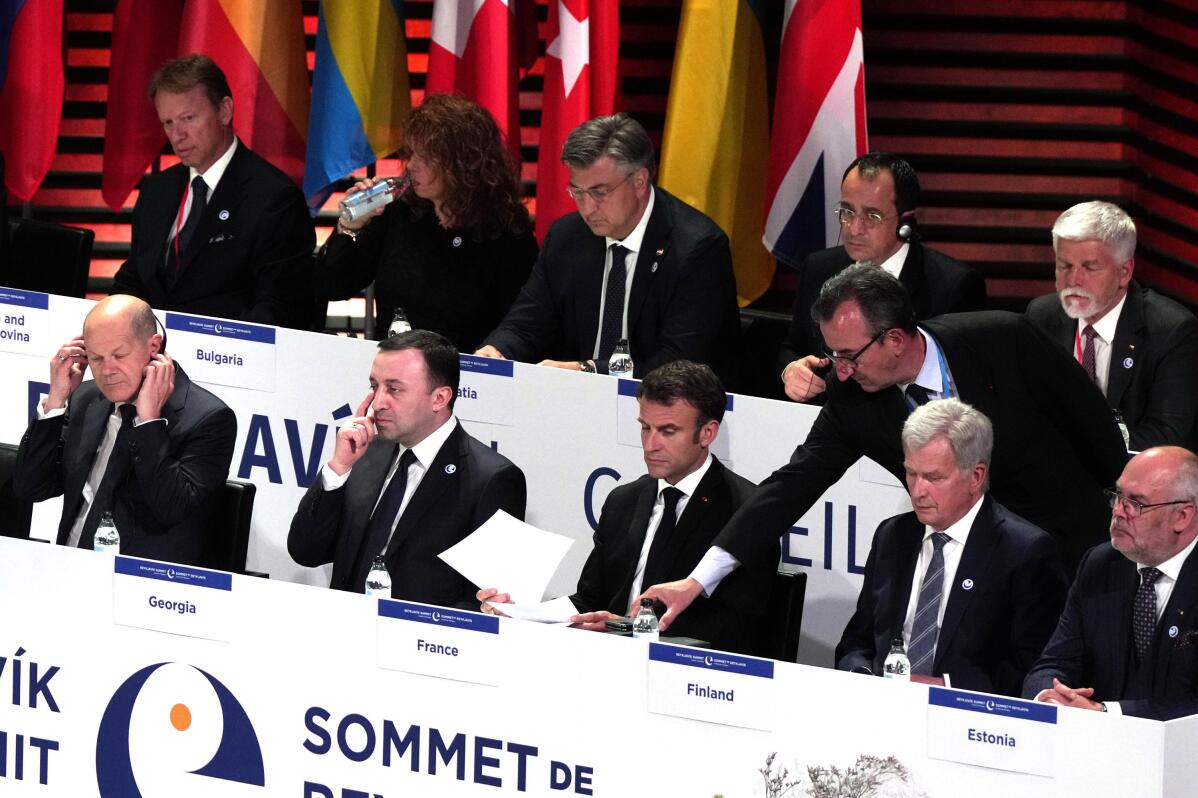 9 of 12

|
A man places a mobile phone on the desk in front of France's President Emmanuel Macron, center front, during the opening session at the Council of Europe summit in Reykjavik, Iceland, Tuesday, May 16, 2023. Leaders from across the continent are laser-focused on holding Russia to account for its invasion of Ukraine and were poised to approve a system during their Council of Europe summit that would precisely establish the damages Moscow would have to pay to rebuild the nation. (AP Photo/Alastair Grant, Pool)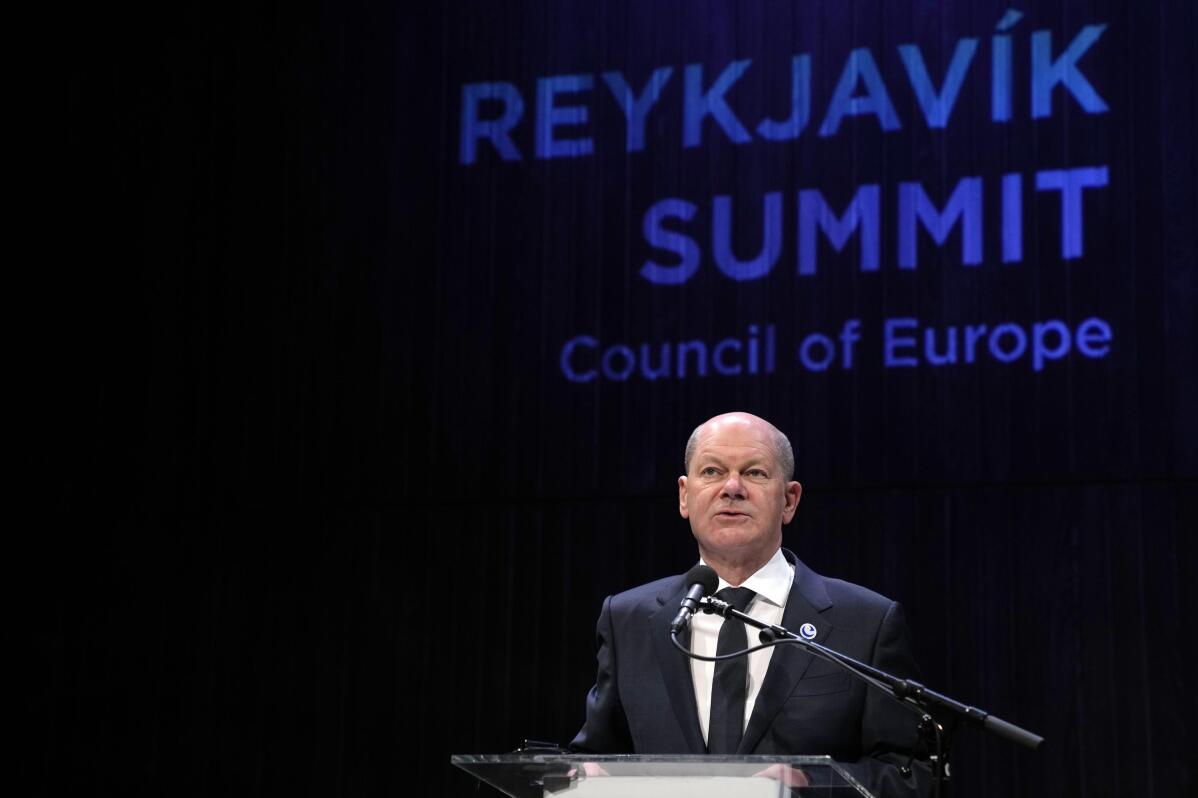 10 of 12

|
Germany's Chancellor Olaf Scholz speaks during a media conference at the Council of Europe summit in Reykjavik, Iceland, Wednesday, May 17, 2023. Leaders from across Europe were wrapping a two-day summit on Wednesday, putting the final touches on a system to establish the damage Russia is causing during the war in Ukraine, in the hopes it can be forced to compensate victims and help rebuild the nation once the conflict is over. (AP Photo/Alastair Grant)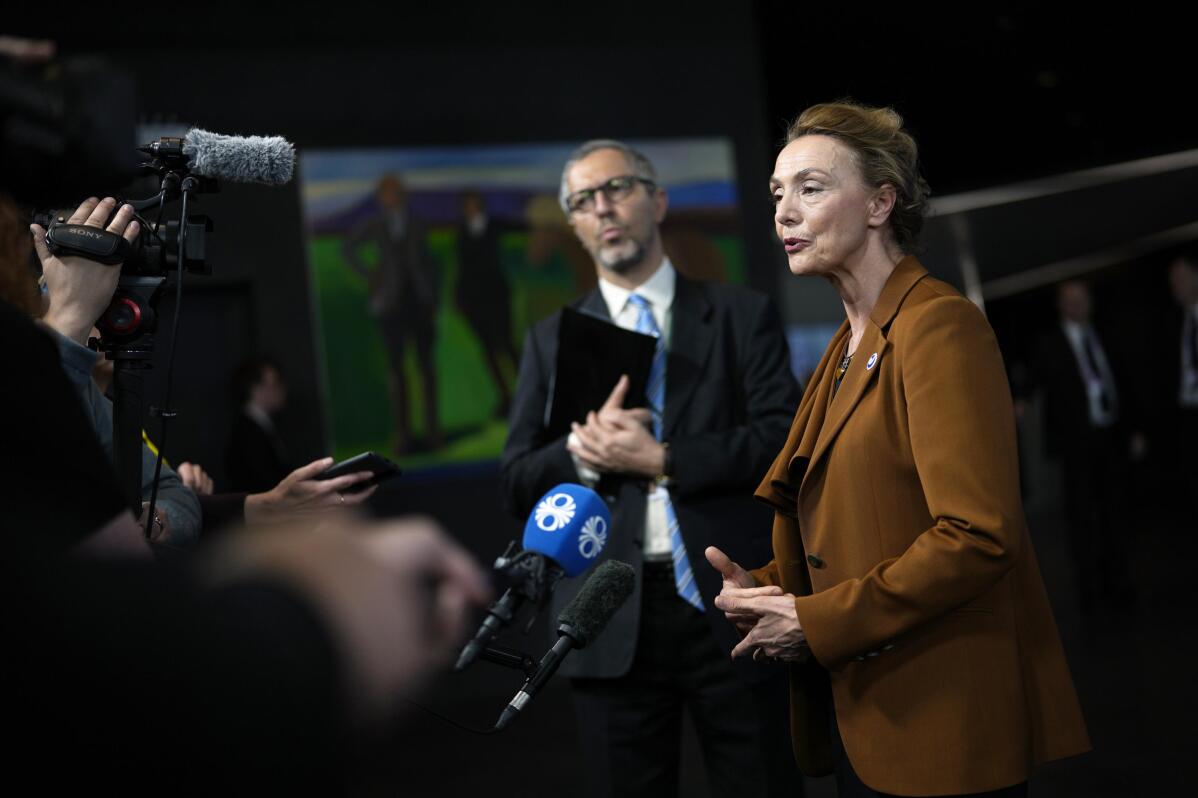 11 of 12

|
Council of Europe Secretary General Marija Pejcinovic Buric, center, speaks with the media at the Council of Europe summit in Reykjavik, Iceland, Wednesday, May 17, 2023. More than 40 countries at a summit of European leaders have backed a system to estimate the damage Russia is causing during the war in Ukraine, in the hopes Moscow can be forced to compensate victims and help rebuild the nation once the conflict is over. (AP Photo/Alastair Grant)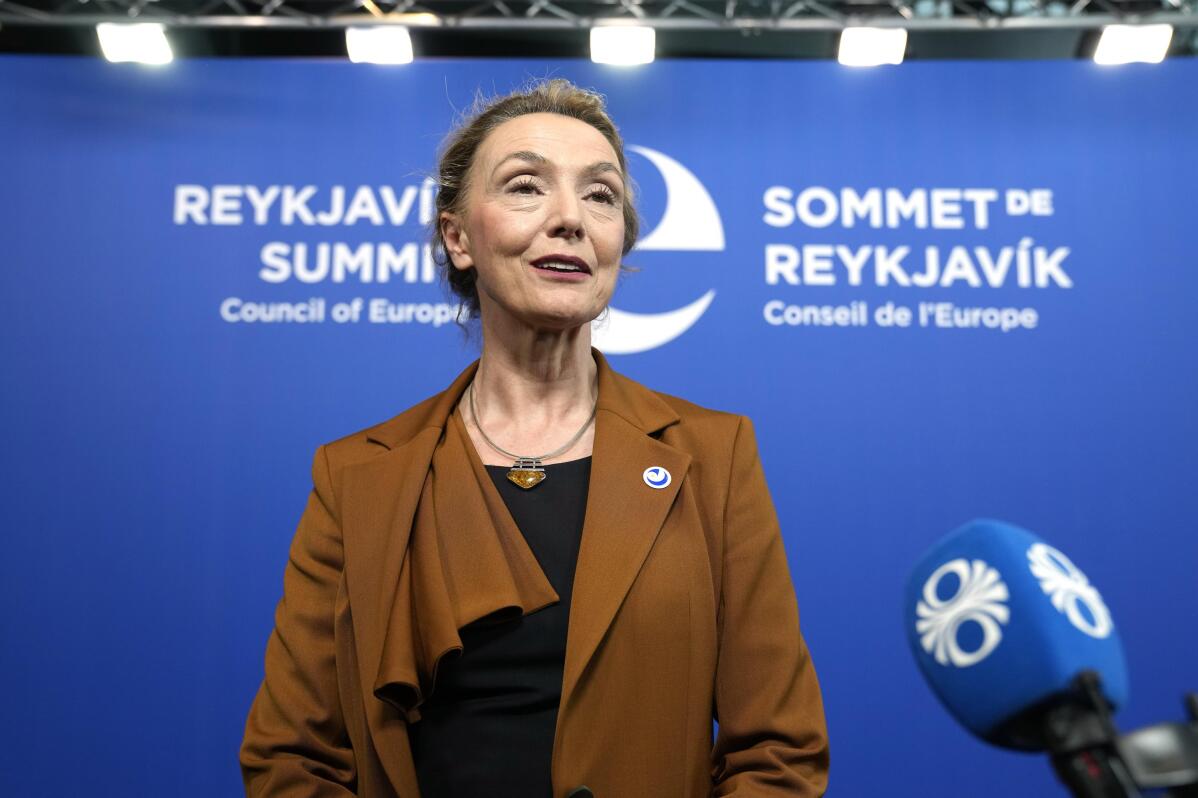 12 of 12

|
Council of Europe Secretary General Marija Pejcinovic Buric, center, speaks with the media at the Council of Europe summit in Reykjavik, Iceland, Wednesday, May 17, 2023. More than 40 countries at a summit of European leaders have backed a system to estimate the damage Russia is causing during the war in Ukraine, in the hopes Moscow can be forced to compensate victims and help rebuild the nation once the conflict is over. (AP Photo/Alastair Grant)
Europe OKs plan to tally cost of Moscow's war in Ukraine with eye toward future reparations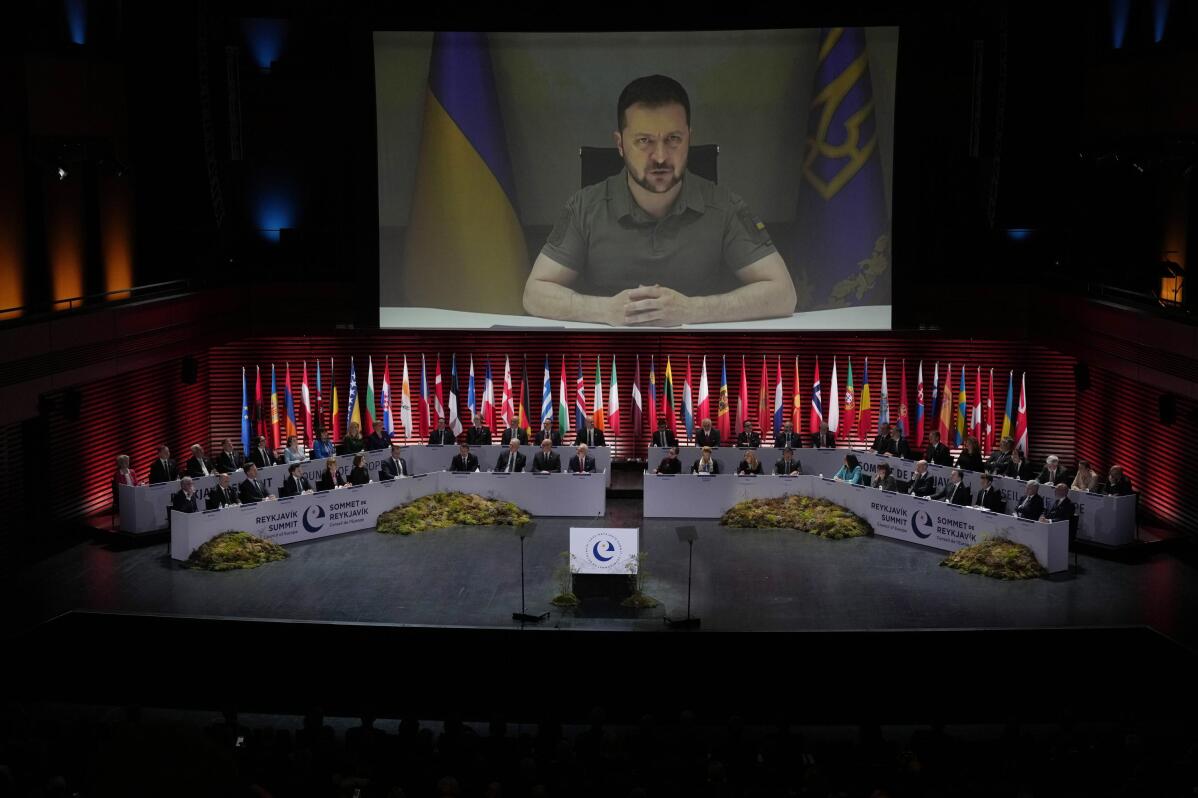 1 of 12

|
Ukraine's President Volodymyr Zelenskyy addresses, via videolink, the opening ceremony of the Council of Europe summit in Reykjavik, Iceland, Tuesday, May 16, 2023. Leaders from across the continent are laser-focused on holding Russia to account for its invasion of Ukraine and were poised to approve a system during their Council of Europe summit that would precisely establish the damages Moscow would have to pay to rebuild the nation. (AP Photo/Alastair Grant, Pool)
1 of 12
Ukraine's President Volodymyr Zelenskyy addresses, via videolink, the opening ceremony of the Council of Europe summit in Reykjavik, Iceland, Tuesday, May 16, 2023. Leaders from across the continent are laser-focused on holding Russia to account for its invasion of Ukraine and were poised to approve a system during their Council of Europe summit that would precisely establish the damages Moscow would have to pay to rebuild the nation. (AP Photo/Alastair Grant, Pool)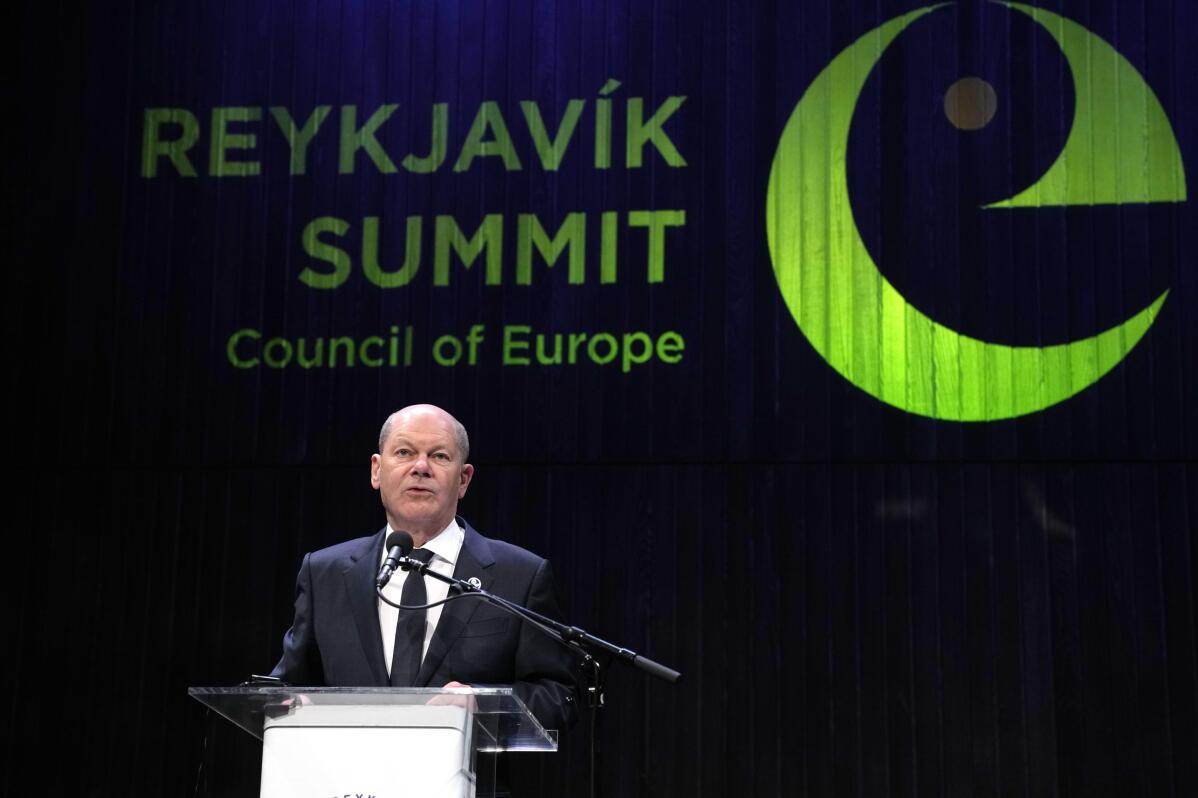 2 of 12

|
Germany's Chancellor Olaf Scholz speaks during a media conference at the Council of Europe summit in Reykjavik, Iceland, Wednesday, May 17, 2023. Leaders from across Europe were wrapping a two-day summit on Wednesday, putting the final touches on a system to establish the damage Russia is causing during the war in Ukraine, in the hopes it can be forced to compensate victims and help rebuild the nation once the conflict is over. (AP Photo/Alastair Grant)
2 of 12
Germany's Chancellor Olaf Scholz speaks during a media conference at the Council of Europe summit in Reykjavik, Iceland, Wednesday, May 17, 2023. Leaders from across Europe were wrapping a two-day summit on Wednesday, putting the final touches on a system to establish the damage Russia is causing during the war in Ukraine, in the hopes it can be forced to compensate victims and help rebuild the nation once the conflict is over. (AP Photo/Alastair Grant)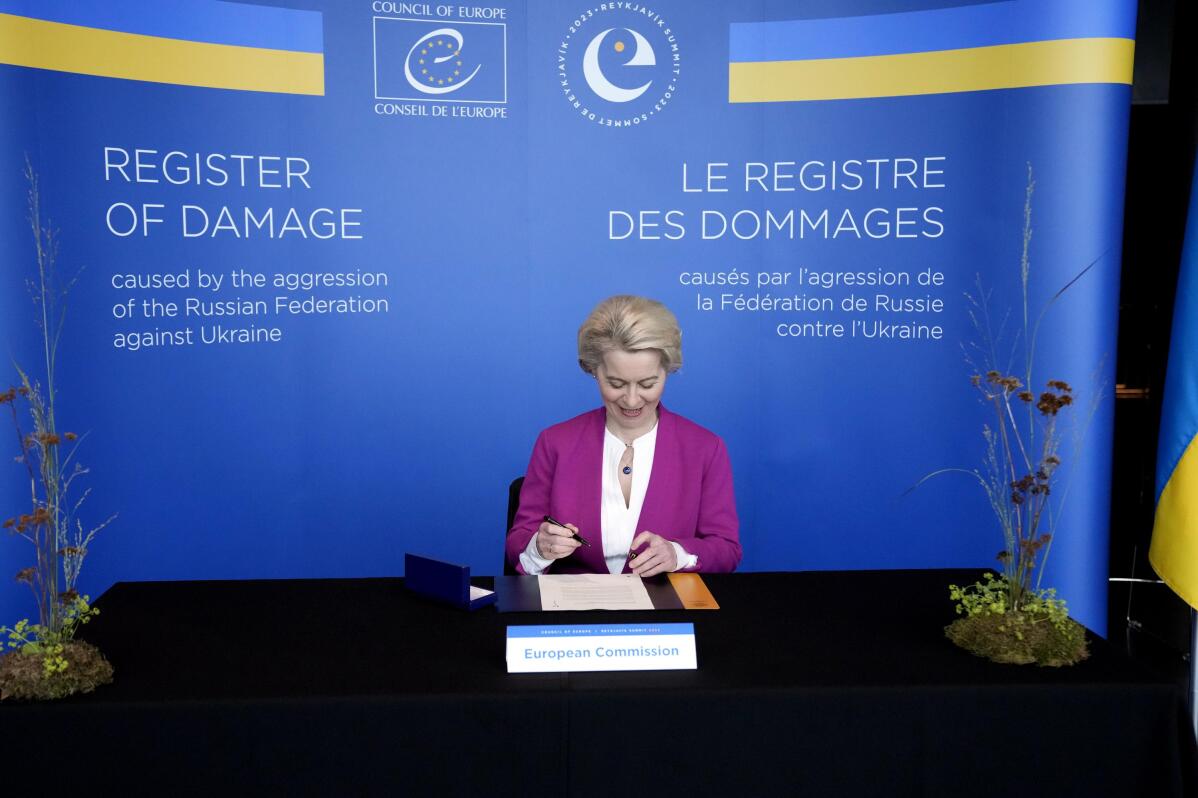 3 of 12

|
European Commission President Ursula von der Leyen prepares to sign the Register of Damage during the Council of Europe summit in Reykjavik, Iceland, Wednesday, May 17, 2023. Leaders from across Europe are laser-focused on holding Russia to account for its invasion of Ukraine and were poised to approve a system that would precisely establish the damages Moscow would have to pay to rebuild the nation and compensate victims. (AP Photo/Alastair Grant)
3 of 12
European Commission President Ursula von der Leyen prepares to sign the Register of Damage during the Council of Europe summit in Reykjavik, Iceland, Wednesday, May 17, 2023. Leaders from across Europe are laser-focused on holding Russia to account for its invasion of Ukraine and were poised to approve a system that would precisely establish the damages Moscow would have to pay to rebuild the nation and compensate victims. (AP Photo/Alastair Grant)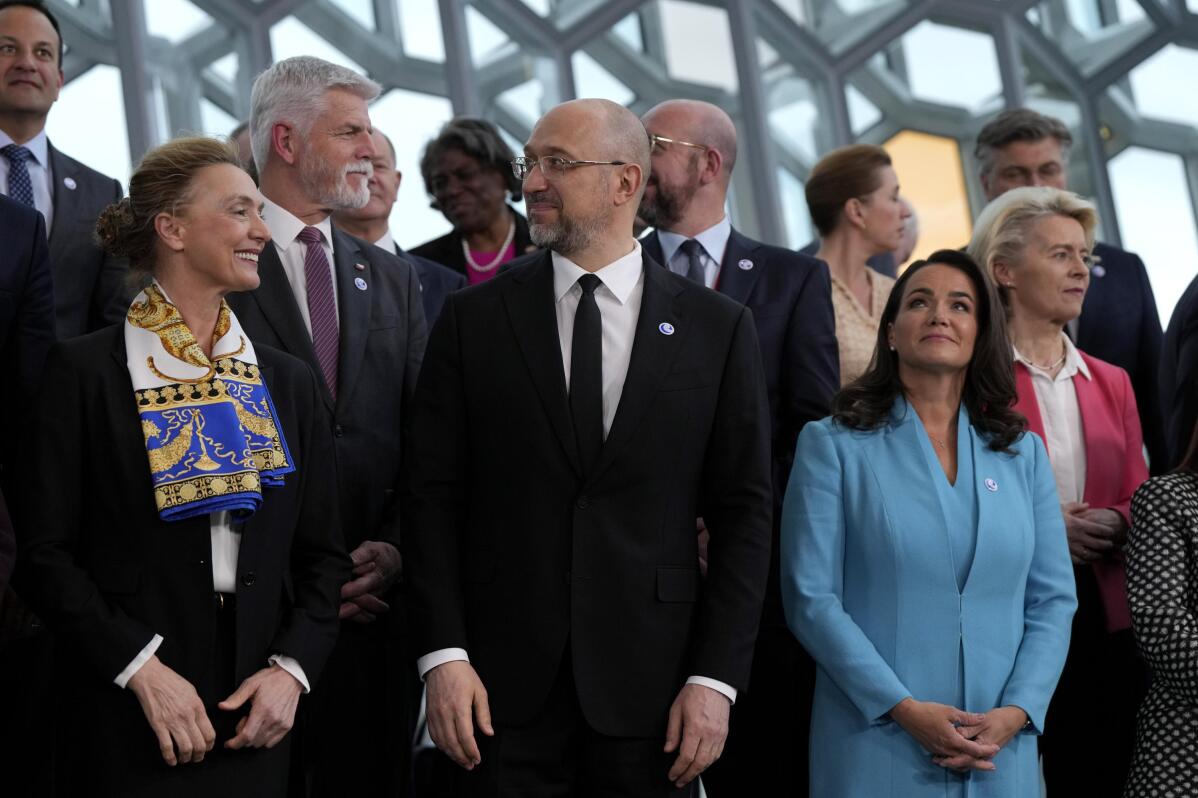 4 of 12

|
From left, Ireland's Prime Minister Leo Varadkar, Council of Europe Secretary General Marija Pejcinovic Buric, Czech Rebublic's President Petr Pavel, and Ukraine's Prime Minister Denys Shmyhal pose during a group photo at the Council of Europe summit in Reykjavik, Iceland, Tuesday, May 16, 2023. Leaders from across the continent are laser-focused on holding Russia to account for its invasion of Ukraine and were poised to approve a system during their Council of Europe summit that would precisely establish the damages Moscow would have to pay to rebuild the nation. (AP Photo/Alastair Grant, Pool)
4 of 12
From left, Ireland's Prime Minister Leo Varadkar, Council of Europe Secretary General Marija Pejcinovic Buric, Czech Rebublic's President Petr Pavel, and Ukraine's Prime Minister Denys Shmyhal pose during a group photo at the Council of Europe summit in Reykjavik, Iceland, Tuesday, May 16, 2023. Leaders from across the continent are laser-focused on holding Russia to account for its invasion of Ukraine and were poised to approve a system during their Council of Europe summit that would precisely establish the damages Moscow would have to pay to rebuild the nation. (AP Photo/Alastair Grant, Pool)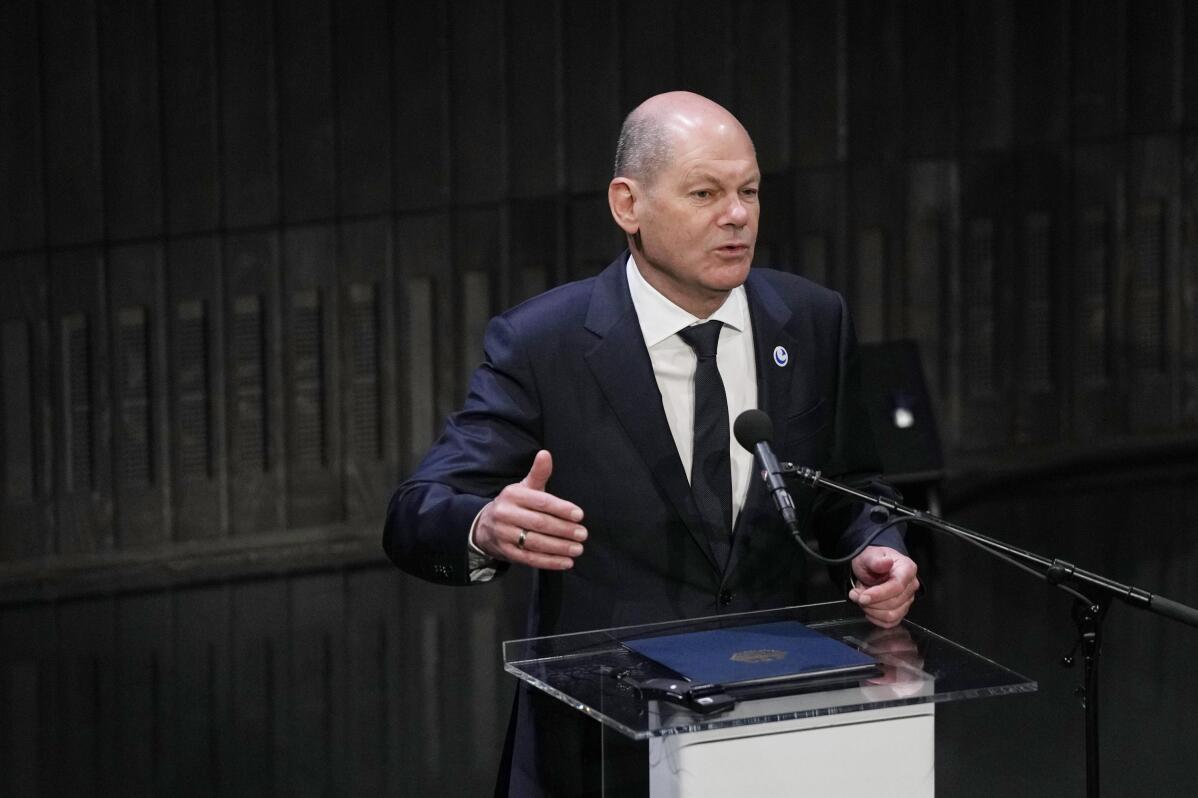 5 of 12

|
Germany's Chancellor Olaf Scholz speaks during a media conference at the Council of Europe summit in Reykjavik, Iceland, Wednesday, May 17, 2023. Leaders from across Europe were wrapping a two-day summit on Wednesday, putting the final touches on a system to establish the damage Russia is causing during the war in Ukraine, in the hopes it can be forced to compensate victims and help rebuild the nation once the conflict is over. (AP Photo/Alastair Grant)
5 of 12
Germany's Chancellor Olaf Scholz speaks during a media conference at the Council of Europe summit in Reykjavik, Iceland, Wednesday, May 17, 2023. Leaders from across Europe were wrapping a two-day summit on Wednesday, putting the final touches on a system to establish the damage Russia is causing during the war in Ukraine, in the hopes it can be forced to compensate victims and help rebuild the nation once the conflict is over. (AP Photo/Alastair Grant)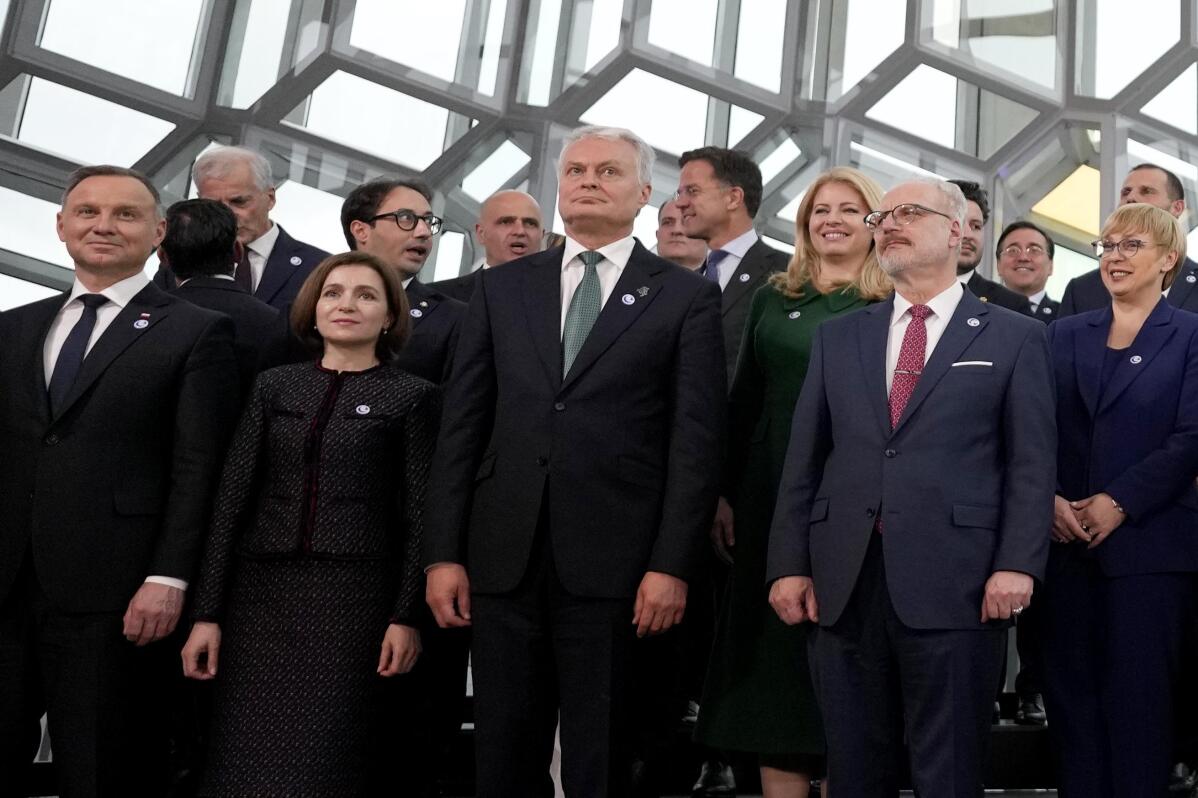 6 of 12

|
Front row left to right, Poland's President Andrej Duda, Moldova's President Maia Sandu, Lithuania's President Gitanas Nauseda and Latvia's President Egils Levits pose during a group photo at the Council of Europe summit in Reykjavik, Iceland, Tuesday, May 16, 2023. Leaders from across the continent are laser-focused on holding Russia to account for its invasion of Ukraine and were poised to approve a system during their Council of Europe summit that would precisely establish the damages Moscow would have to pay to rebuild the nation. (AP Photo/Alastair Grant, Pool)
6 of 12
Front row left to right, Poland's President Andrej Duda, Moldova's President Maia Sandu, Lithuania's President Gitanas Nauseda and Latvia's President Egils Levits pose during a group photo at the Council of Europe summit in Reykjavik, Iceland, Tuesday, May 16, 2023. Leaders from across the continent are laser-focused on holding Russia to account for its invasion of Ukraine and were poised to approve a system during their Council of Europe summit that would precisely establish the damages Moscow would have to pay to rebuild the nation. (AP Photo/Alastair Grant, Pool)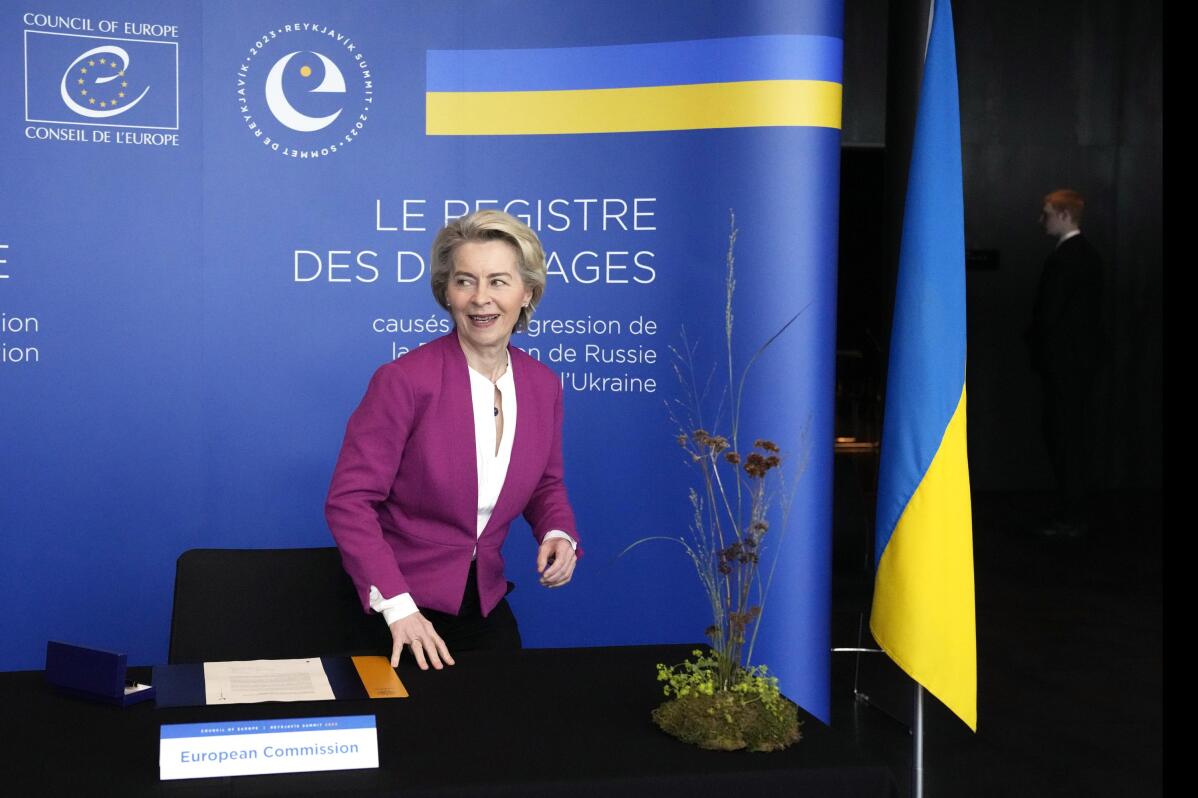 7 of 12

|
European Commission President Ursula von der Leyen leaves the podium after signing the Register of Damage during the Council of Europe summit in Reykjavik, Iceland, Wednesday, May 17, 2023. Leaders from across Europe are laser-focused on holding Russia to account for its invasion of Ukraine and were poised to approve a system that would precisely establish the damages Moscow would have to pay to rebuild the nation and compensate victims. (AP Photo/Alastair Grant)
7 of 12
European Commission President Ursula von der Leyen leaves the podium after signing the Register of Damage during the Council of Europe summit in Reykjavik, Iceland, Wednesday, May 17, 2023. Leaders from across Europe are laser-focused on holding Russia to account for its invasion of Ukraine and were poised to approve a system that would precisely establish the damages Moscow would have to pay to rebuild the nation and compensate victims. (AP Photo/Alastair Grant)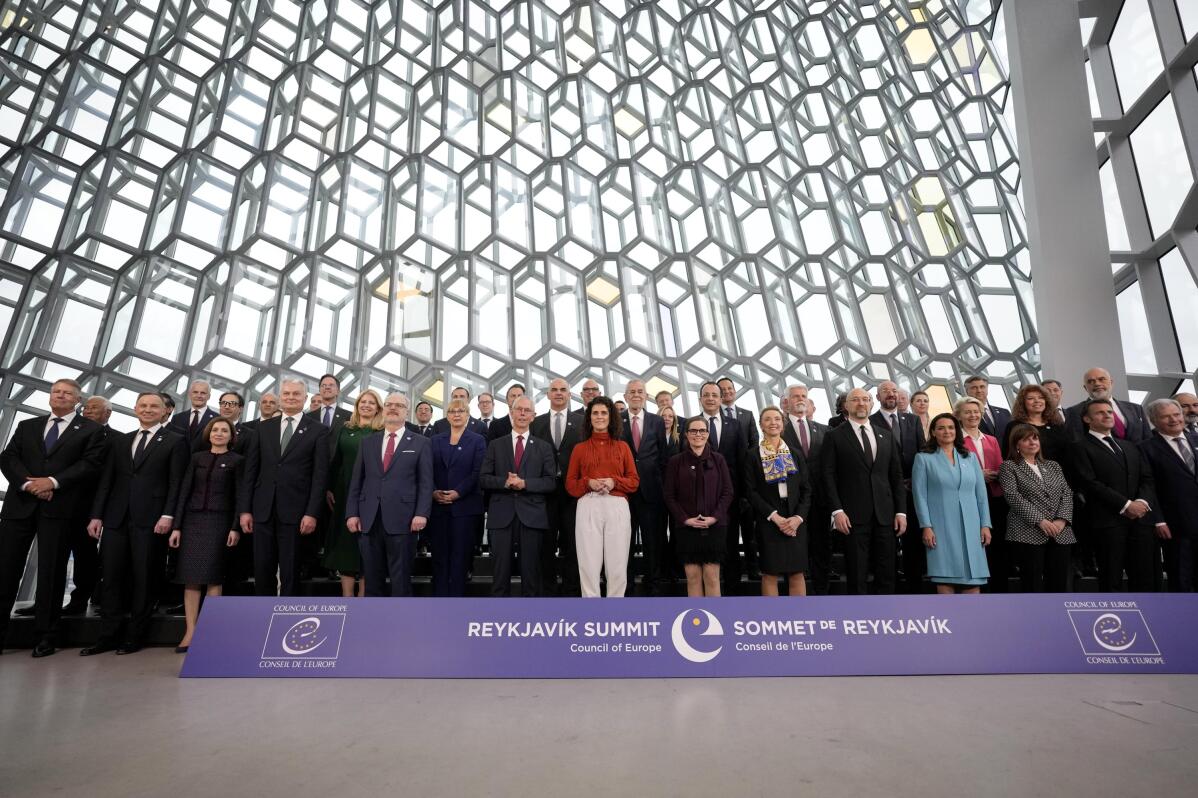 8 of 12

|
Heads of State and Government pose for a group photo at the Council of Europe summit in Reykjavik, Iceland, Tuesday, May 16, 2023. Leaders from across the continent are laser-focused on holding Russia to account for its invasion of Ukraine and were poised to approve a system during their Council of Europe summit that would precisely establish the damages Moscow would have to pay to rebuild the nation. (AP Photo/Alastair Grant, Pool)
8 of 12
Heads of State and Government pose for a group photo at the Council of Europe summit in Reykjavik, Iceland, Tuesday, May 16, 2023. Leaders from across the continent are laser-focused on holding Russia to account for its invasion of Ukraine and were poised to approve a system during their Council of Europe summit that would precisely establish the damages Moscow would have to pay to rebuild the nation. (AP Photo/Alastair Grant, Pool)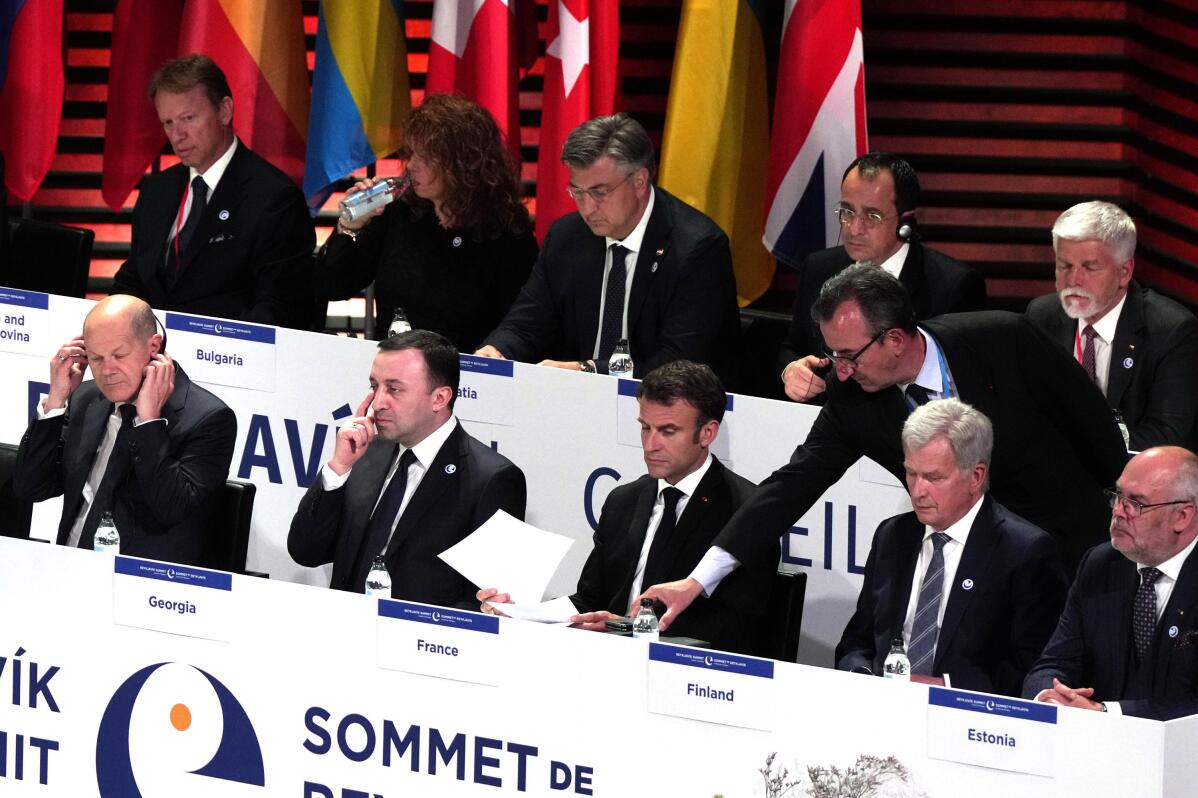 9 of 12

|
A man places a mobile phone on the desk in front of France's President Emmanuel Macron, center front, during the opening session at the Council of Europe summit in Reykjavik, Iceland, Tuesday, May 16, 2023. Leaders from across the continent are laser-focused on holding Russia to account for its invasion of Ukraine and were poised to approve a system during their Council of Europe summit that would precisely establish the damages Moscow would have to pay to rebuild the nation. (AP Photo/Alastair Grant, Pool)
9 of 12
A man places a mobile phone on the desk in front of France's President Emmanuel Macron, center front, during the opening session at the Council of Europe summit in Reykjavik, Iceland, Tuesday, May 16, 2023. Leaders from across the continent are laser-focused on holding Russia to account for its invasion of Ukraine and were poised to approve a system during their Council of Europe summit that would precisely establish the damages Moscow would have to pay to rebuild the nation. (AP Photo/Alastair Grant, Pool)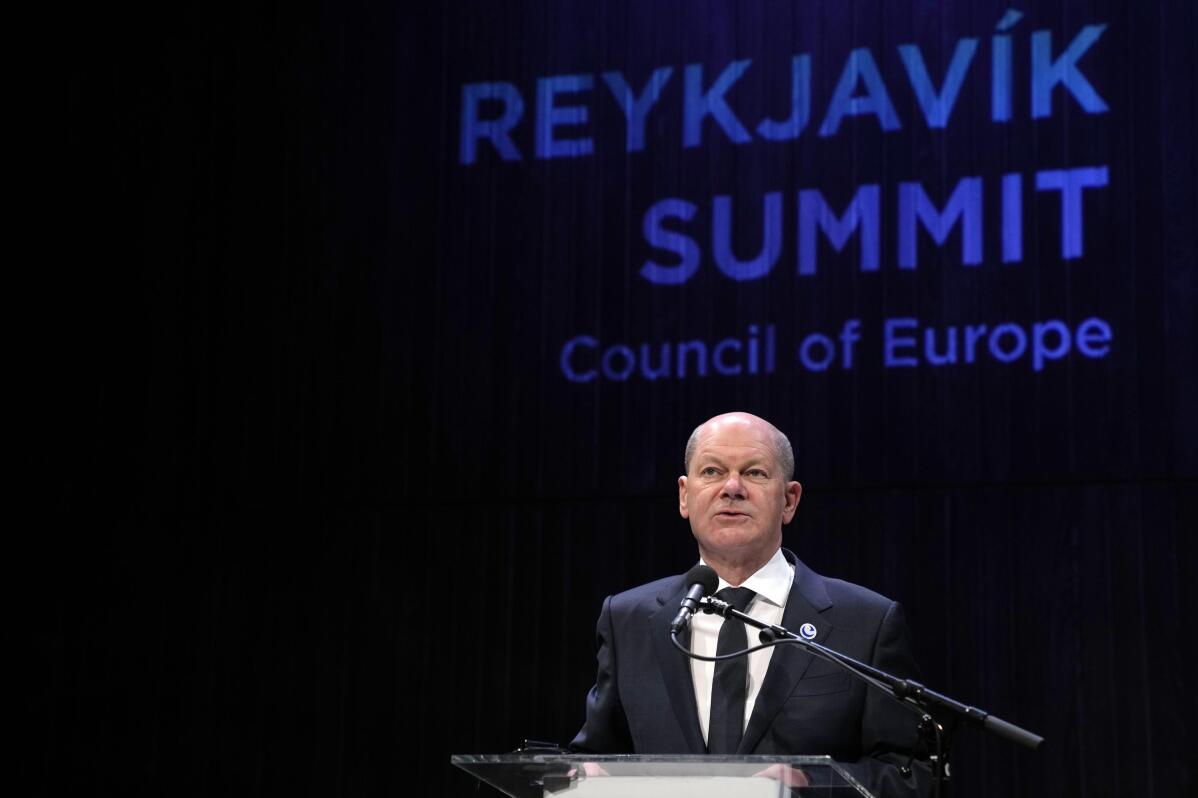 10 of 12

|
Germany's Chancellor Olaf Scholz speaks during a media conference at the Council of Europe summit in Reykjavik, Iceland, Wednesday, May 17, 2023. Leaders from across Europe were wrapping a two-day summit on Wednesday, putting the final touches on a system to establish the damage Russia is causing during the war in Ukraine, in the hopes it can be forced to compensate victims and help rebuild the nation once the conflict is over. (AP Photo/Alastair Grant)
10 of 12
Germany's Chancellor Olaf Scholz speaks during a media conference at the Council of Europe summit in Reykjavik, Iceland, Wednesday, May 17, 2023. Leaders from across Europe were wrapping a two-day summit on Wednesday, putting the final touches on a system to establish the damage Russia is causing during the war in Ukraine, in the hopes it can be forced to compensate victims and help rebuild the nation once the conflict is over. (AP Photo/Alastair Grant)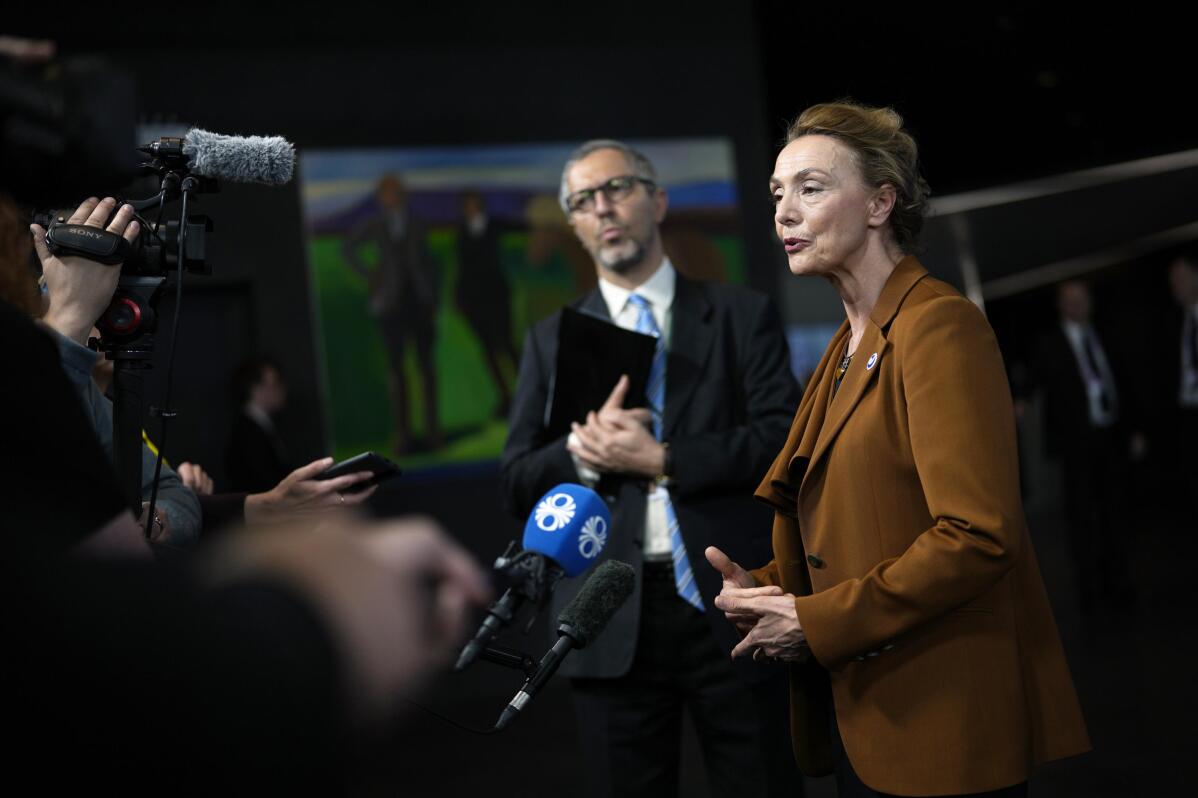 11 of 12

|
Council of Europe Secretary General Marija Pejcinovic Buric, center, speaks with the media at the Council of Europe summit in Reykjavik, Iceland, Wednesday, May 17, 2023. More than 40 countries at a summit of European leaders have backed a system to estimate the damage Russia is causing during the war in Ukraine, in the hopes Moscow can be forced to compensate victims and help rebuild the nation once the conflict is over. (AP Photo/Alastair Grant)
11 of 12
Council of Europe Secretary General Marija Pejcinovic Buric, center, speaks with the media at the Council of Europe summit in Reykjavik, Iceland, Wednesday, May 17, 2023. More than 40 countries at a summit of European leaders have backed a system to estimate the damage Russia is causing during the war in Ukraine, in the hopes Moscow can be forced to compensate victims and help rebuild the nation once the conflict is over. (AP Photo/Alastair Grant)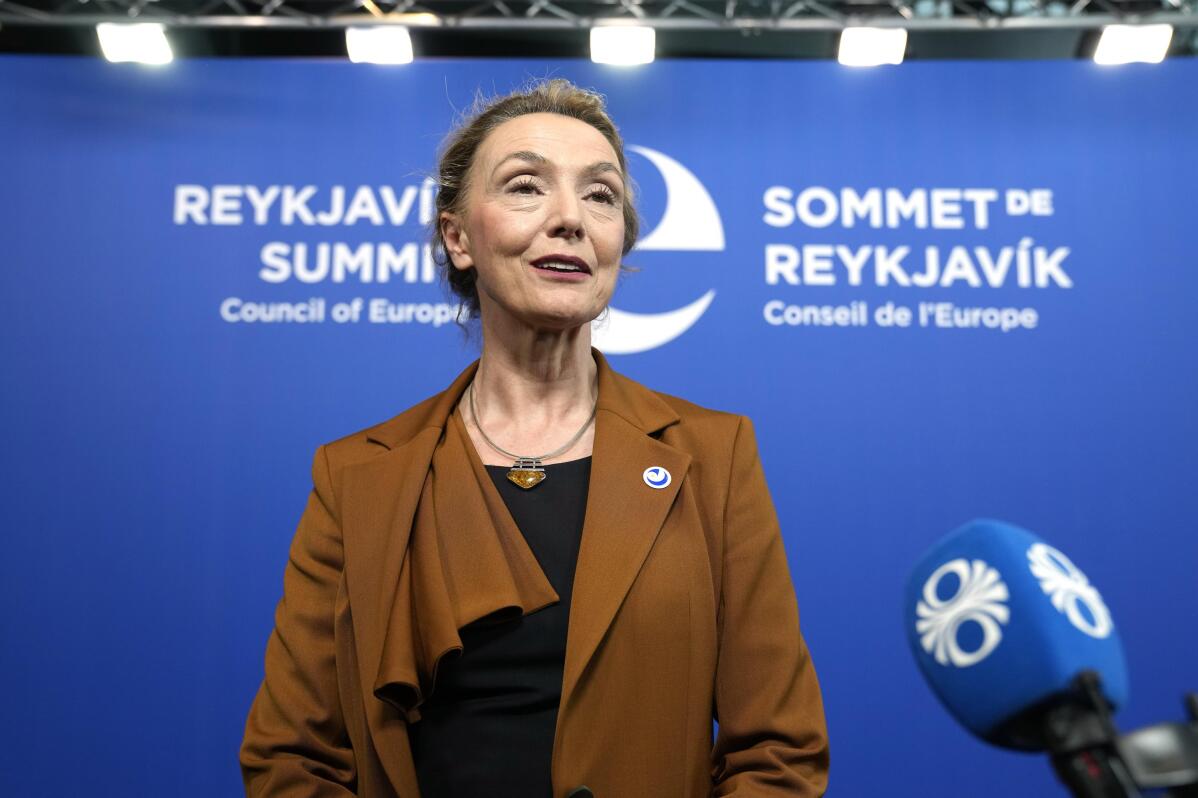 12 of 12

|
Council of Europe Secretary General Marija Pejcinovic Buric, center, speaks with the media at the Council of Europe summit in Reykjavik, Iceland, Wednesday, May 17, 2023. More than 40 countries at a summit of European leaders have backed a system to estimate the damage Russia is causing during the war in Ukraine, in the hopes Moscow can be forced to compensate victims and help rebuild the nation once the conflict is over. (AP Photo/Alastair Grant)
12 of 12
Council of Europe Secretary General Marija Pejcinovic Buric, center, speaks with the media at the Council of Europe summit in Reykjavik, Iceland, Wednesday, May 17, 2023. More than 40 countries at a summit of European leaders have backed a system to estimate the damage Russia is causing during the war in Ukraine, in the hopes Moscow can be forced to compensate victims and help rebuild the nation once the conflict is over. (AP Photo/Alastair Grant)
REYKJAVIK, Iceland (AP) — More than 40 nations agreed Wednesday to set up a system to tally the damage Russia has inflicted on Ukraine in the hope of getting reparations, adding to the international legal challenges the Kremlin is facing.
The register of damages, which will allow Ukrainian victims of war to catalog the harm they have suffered, found a plethora of support among the 46-nation Council of Europe summit in Iceland. Participants also discussed the details of a potential future tribunal where Russia would face charges for waging war.
"This Reykjavik summit shows clearly that Putin has failed with his calculations – he wanted to divide Europe and has achieved the opposite," said German Chancellor Olaf Scholz. "We stand closer together in Europe than ever before."
While leaders were at the waterside venue on the far-flung island nation for two days, the United Nations' top court announced it would hold hearings next month in a case between Russia and Ukraine. Kyiv claims Moscow is discriminating against minority groups in occupied Crimea and is financing terrorism in the region.
But even if Ukraine prevails at The Hague-based International Court of Justice, a ruling wouldn't make whole the millions of Ukrainians whose homes and lives have been torn apart by the conflict.
In theory, victims might have better luck at the Council of Europe's own court, the European Court of Human Rights, where Moscow is facing thousands of complaints of human rights violations, including three brought by Ukraine. The Strasbourg-based court can order countries to pony up restitution, but Russia's neighbor Georgia has been yet unable to collect for damages inflicted by Moscow when it invaded in 2008.
However, Russia was expelled from the council last year, in the wake of the full-scale invasion of Ukraine. And as long ago as 2015, it passed a law allowing it to overrule judgements from the ECHR.
Neither the court, nor the council, now has any channel of communication with the Russian authorities.
The damages register is seen as a first step toward justice in Ukraine. "Accountability is one of the topics that is of crucial importance," Marija Pejcinovic Buric, Secretary General of the Council of Europe, told the AP in an interview.
Compiling a comprehensive register of the destruction may be a first step: it's unclear what else might follow. The Council of Europe has made it clear that it will not assess the credibility of any claims, nor will it fund reparations payments. Those decisions will be left for other potential future institutions to determine.
Little wonder that Ukrainian President Volodymyr Zelenskyy, addressing the summit from Kyiv, reiterated his country's wish for such a court specifically for the prosecution of Russian aggression. In addition to military aid, another conference topic, he said his country needed "100% of justice, as there will be no reliable peace without justice."
While international institutions may be bogged down in overcoming legal hurdles to accountability, a group of squatters in Amsterdam has cut through the red tape - and the locks of the $3.5 million Amsterdam home belonging to one of Russia's sanctioned oligarchs.
A court in the Dutch city ruled on Wednesday that an anarchist group, who took over the Russian tech billionaire Arkady Volozh's house in October, could remain in the five-story, 19th-century mansion so long as they didn't annoy the neighbors.