Swiss suspend bonus payouts to Credit Suisse staffers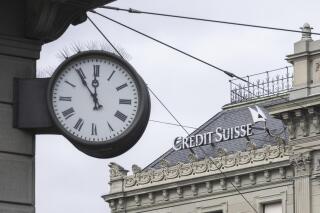 GENEVA (AP) — Switzerland's government said Tuesday that it's ordering Credit Suisse to temporarily suspend bonuses for employees after orchestrating a plan for the No. 2 Swiss bank to be taken over by rival UBS.
The Swiss Department of Finance says federal law allows the government to set "remuneration-related measures" in cases involving Switzerland's biggest banks.
Late last week and into the weekend, authorities in Switzerland, backed by the central bank and financial regulators, scrambled to cobble together a $3.25 billion sale of Credit Suisse to UBS.
An outflow of deposits and years of trouble raised fears that it could fail and trigger an international financial crisis after the collapse of two U.S. banks.
The Swiss government says it doesn't plan to block bonus payments from last year that have been granted but are set to be immediately paid because it doesn't want to penalize Credit Suisse employees "who did not cause the crisis."
But authorities in the capital, Bern, said they will prohibit payouts of "deferred" bonuses — even though they have already been granted — with an exception for bonuses that "are already in the process of being paid out."