AP Exclusive: US digs for evidence of Haiti immigrant crimes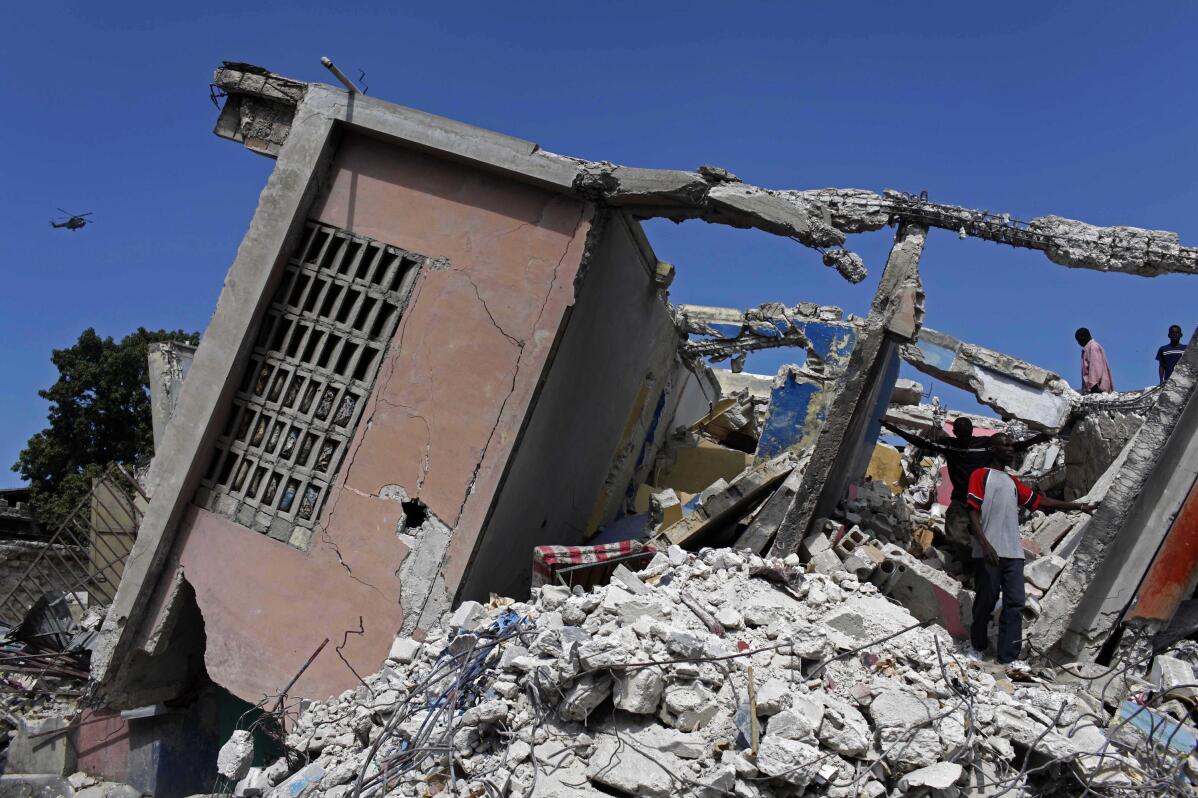 1 of 3

|
FILE - In this Jan. 30, 2010, file photo, people stand in the rubble of a collapsed building in the aftermath of a massive earthquake in Port-au-Prince. The Trump administration is hunting for evidence of crimes committed by Haitian immigrants as it decides whether to allow them to continue participating in a humanitarian program that has shielded tens of thousands from deportation since the 2010 earthquake. The Homeland Security Department has not made a final decision about Temporary Protected Status for Haiti and declined to comment on the pre-decisional process. The Obama administration included Haiti in the program shortly after the January 2010 earthquake that killed as many as 300,000 people and devastated schools, hospitals, homes and even entire neighborhoods (AP Photo/Rodrigo And, File)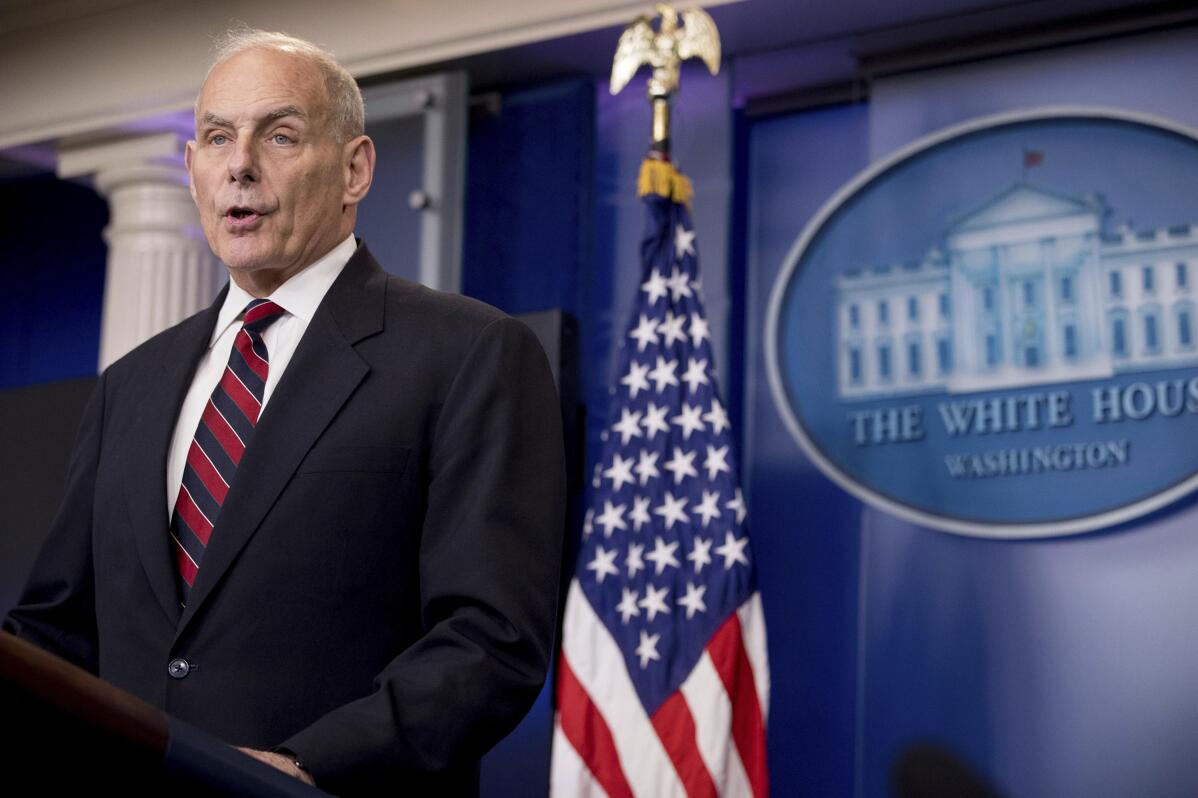 2 of 3

|
FILE - In this May 2, 2017 file photo, Homeland Security Secretary John Kelly speaks at the White House in Washington. The Trump administration is taking the unusual step of hunting for evidence of crimes committed by Haitian immigrants as it decides whether to allow them to continue participating in a humanitarian program that has shielded tens of thousands from deportation since an earthquake destroyed much of their country .(AP Photo/Andrew Harnik, File)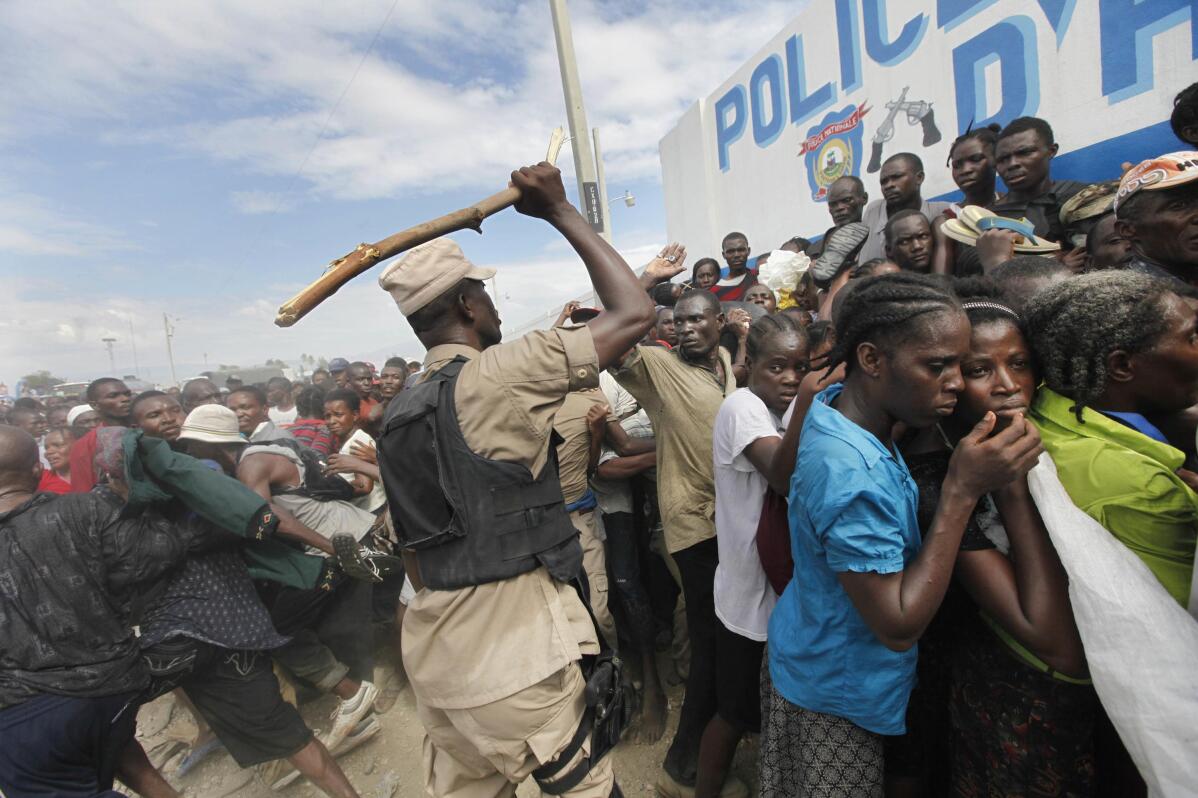 3 of 3

|
FILE - In this Jan. 26, 2010, file photo, Haitian police use sticks to try and keep the crowd in order at a food distribution point in the Cite Soleil neighborhood in the aftermath of the Jan. 12 earthquake in Port-au-Prince. The Trump administration is hunting for evidence of crimes committed by Haitian immigrants as it decides whether to allow them to continue participating in a humanitarian program that has shielded tens of thousands from deportation since the 2010 earthquake. The Homeland Security Department has not made a final decision about Temporary Protected Status for Haiti and declined to comment on the pre-decisional process. The Obama administration included Haiti in the program shortly after the January 2010 earthquake that killed as many as 300,000 people and devastated schools, hospitals, homes and even entire neighborhoods. (AP Photo/Gerald Herbert, File)
AP Exclusive: US digs for evidence of Haiti immigrant crimes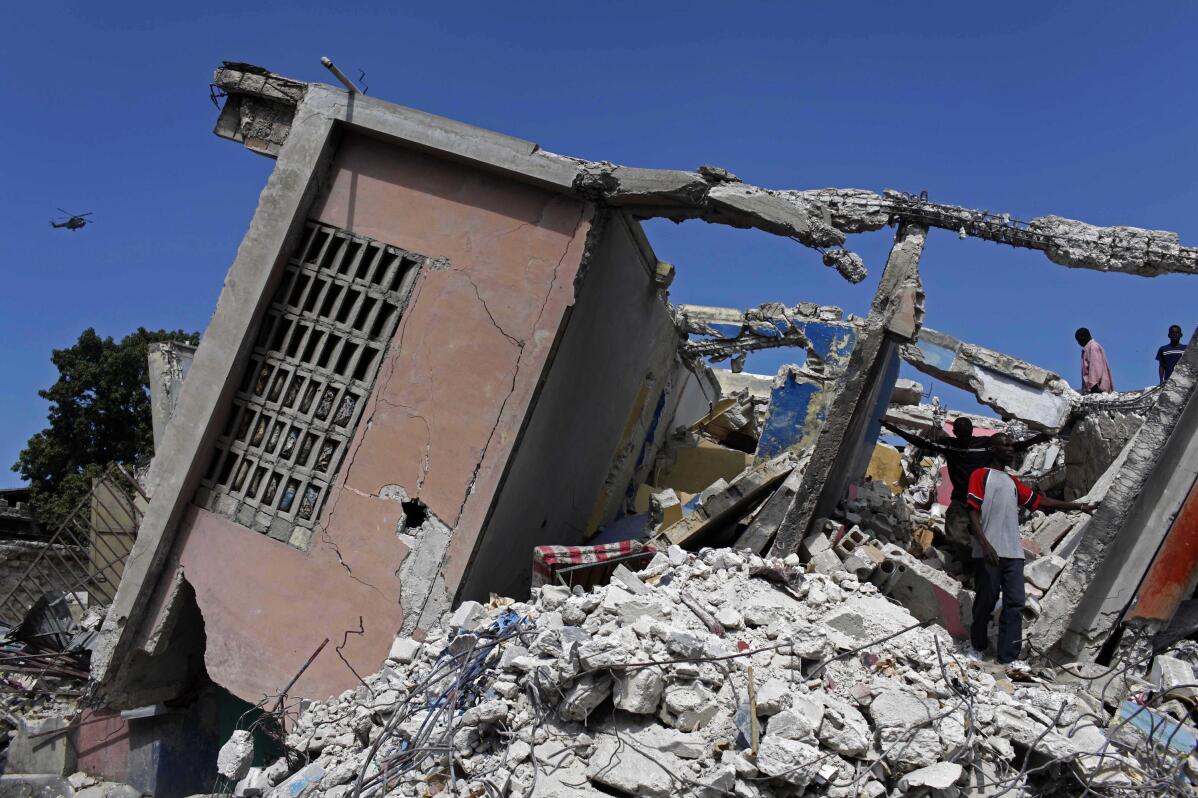 1 of 3

|
FILE - In this Jan. 30, 2010, file photo, people stand in the rubble of a collapsed building in the aftermath of a massive earthquake in Port-au-Prince. The Trump administration is hunting for evidence of crimes committed by Haitian immigrants as it decides whether to allow them to continue participating in a humanitarian program that has shielded tens of thousands from deportation since the 2010 earthquake. The Homeland Security Department has not made a final decision about Temporary Protected Status for Haiti and declined to comment on the pre-decisional process. The Obama administration included Haiti in the program shortly after the January 2010 earthquake that killed as many as 300,000 people and devastated schools, hospitals, homes and even entire neighborhoods (AP Photo/Rodrigo And, File)
1 of 3
FILE - In this Jan. 30, 2010, file photo, people stand in the rubble of a collapsed building in the aftermath of a massive earthquake in Port-au-Prince. The Trump administration is hunting for evidence of crimes committed by Haitian immigrants as it decides whether to allow them to continue participating in a humanitarian program that has shielded tens of thousands from deportation since the 2010 earthquake. The Homeland Security Department has not made a final decision about Temporary Protected Status for Haiti and declined to comment on the pre-decisional process. The Obama administration included Haiti in the program shortly after the January 2010 earthquake that killed as many as 300,000 people and devastated schools, hospitals, homes and even entire neighborhoods (AP Photo/Rodrigo And, File)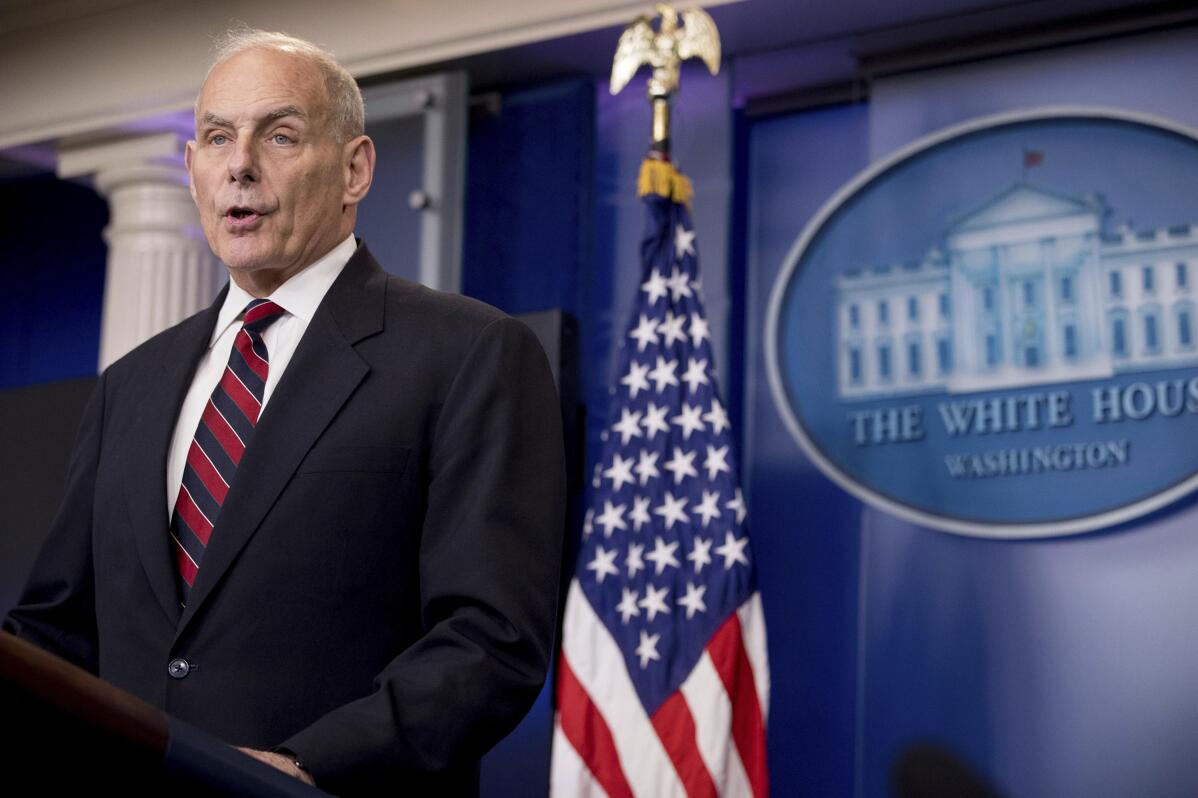 2 of 3

|
FILE - In this May 2, 2017 file photo, Homeland Security Secretary John Kelly speaks at the White House in Washington. The Trump administration is taking the unusual step of hunting for evidence of crimes committed by Haitian immigrants as it decides whether to allow them to continue participating in a humanitarian program that has shielded tens of thousands from deportation since an earthquake destroyed much of their country .(AP Photo/Andrew Harnik, File)
2 of 3
FILE - In this May 2, 2017 file photo, Homeland Security Secretary John Kelly speaks at the White House in Washington. The Trump administration is taking the unusual step of hunting for evidence of crimes committed by Haitian immigrants as it decides whether to allow them to continue participating in a humanitarian program that has shielded tens of thousands from deportation since an earthquake destroyed much of their country .(AP Photo/Andrew Harnik, File)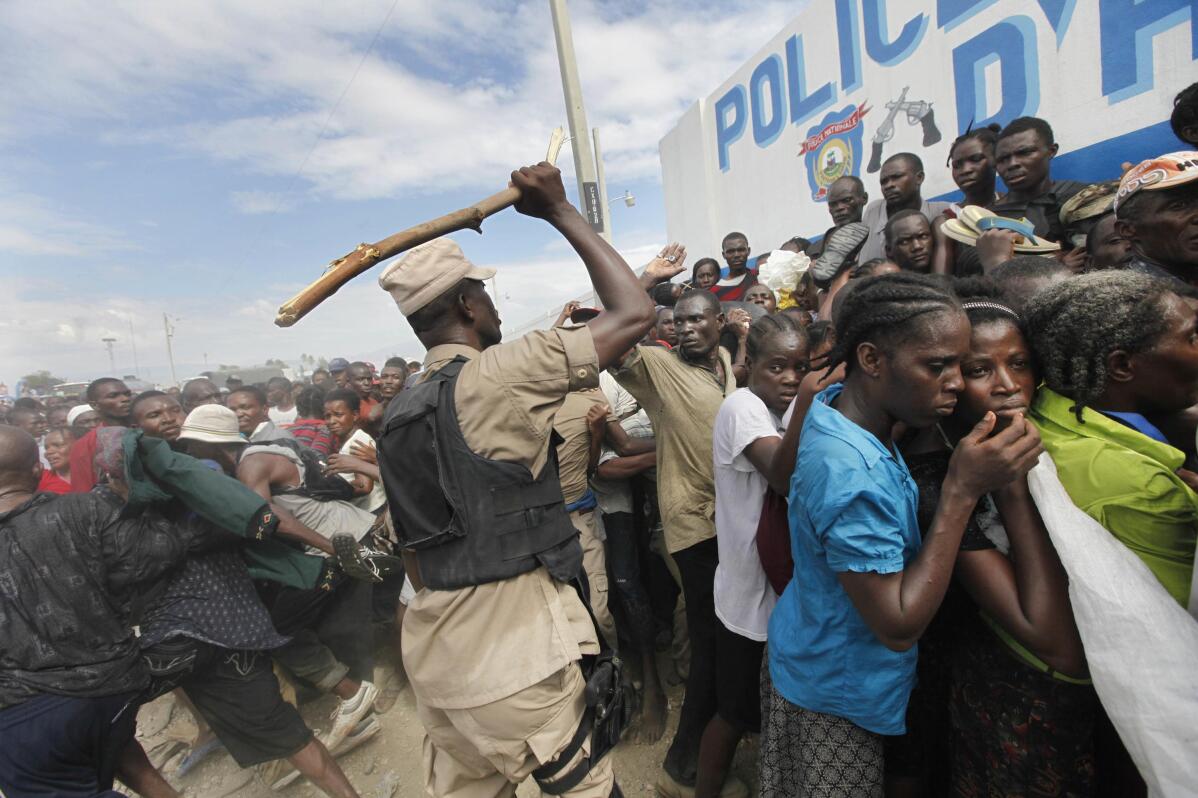 3 of 3

|
FILE - In this Jan. 26, 2010, file photo, Haitian police use sticks to try and keep the crowd in order at a food distribution point in the Cite Soleil neighborhood in the aftermath of the Jan. 12 earthquake in Port-au-Prince. The Trump administration is hunting for evidence of crimes committed by Haitian immigrants as it decides whether to allow them to continue participating in a humanitarian program that has shielded tens of thousands from deportation since the 2010 earthquake. The Homeland Security Department has not made a final decision about Temporary Protected Status for Haiti and declined to comment on the pre-decisional process. The Obama administration included Haiti in the program shortly after the January 2010 earthquake that killed as many as 300,000 people and devastated schools, hospitals, homes and even entire neighborhoods. (AP Photo/Gerald Herbert, File)
3 of 3
FILE - In this Jan. 26, 2010, file photo, Haitian police use sticks to try and keep the crowd in order at a food distribution point in the Cite Soleil neighborhood in the aftermath of the Jan. 12 earthquake in Port-au-Prince. The Trump administration is hunting for evidence of crimes committed by Haitian immigrants as it decides whether to allow them to continue participating in a humanitarian program that has shielded tens of thousands from deportation since the 2010 earthquake. The Homeland Security Department has not made a final decision about Temporary Protected Status for Haiti and declined to comment on the pre-decisional process. The Obama administration included Haiti in the program shortly after the January 2010 earthquake that killed as many as 300,000 people and devastated schools, hospitals, homes and even entire neighborhoods. (AP Photo/Gerald Herbert, File)
WASHINGTON (AP) — As the Trump administration weighs extending humanitarian protections for thousands of Haitian immigrants, officials are digging for unusual information: How many have been convicted of crimes.
Internal emails obtained by The Associated Press show a top immigration official wanted not only crime data on Haitians who are protected from deportation under the Temporary Protected Status program, but also how many were receiving public benefits. Such immigrants aren't eligible for welfare benefits.
Roughly 50,000 Haitians have been allowed to live in the U.S. under the program in the aftermath of a 2010 earthquake, and the questions about misdeeds among them comes at a critical moment. Homeland Security Secretary John Kelly must decide soon whether to continue protecting the group from deportation.
Normally the decision depends on whether conditions in the immigrants' home country have improved. But emails suggest Kelly is looking at other criteria as well.
Department spokesman David Lapan said Tuesday that criminal history and other information requested by policy chief Kathy Nuebel Kovarik won't be used to make a final decision about Temporary Protected Status. Lapan said the questions were asked so that Kelly could have a fuller understanding of who is in the program.
But Lapan's explanation doesn't reflect the apparent importance placed on the questions by Kovarik, the U.S. Citizenship and Immigration Services head of policy and strategy, in repeated emails to her staff.
"I do want to alert you ... the secretary is going to be sending a request to us to be more responsive," Kovarik wrote on April 27. After agency staff said they couldn't gather the information about wrongdoing, she said: "I know some of it is not captured, but we'll have to figure out a way to squeeze more data out of our systems."
The request for criminal data for an entire ethnic community is unorthodox. Federal law doesn't specify it should be a consideration for Temporary Protected Status, and the government has never said it would use a community's behavior in deciding if a country's citizens should be allowed to stay.
But the request fits in with President Donald Trump's tough-on-immigration focus. He has enhanced efforts to arrest people living illegally in the United States and has sought, unsuccessfully so far, to suspend refugee arrivals and temporarily block visitors from six Muslim-majority countries.
It is unclear if the agency is asking such questions about other recipients of the temporary protection, including immigrants from Honduras and El Salvador.
Trump courted the votes of Haitian-American citizens in the critical state of Florida. Campaigning in Miami's Little Haiti in September, he said, "The Haitian-American community adds so much to our country: dedication to family, perseverance, entrepreneurship ... creativity, faith."
Haitian radio host Salusa Basquin, a legal permanent resident applying for U.S. citizenship, couldn't vote for Trump, but he encouraged Palm Beach County listeners of his Creole program to support the businessman. In recent weeks, Basquin has been organizing rallies supporting the extension of Temporary Protected Status benefits for Haitians.
"I can't say we don't have crimes in our community, but when it comes to those with TPS, I think it's going to be hard to find anything worse than someone driving without a license because people with TPS are people new to the country and just trying to get by," Basquin said. "As far as abusing the system goes, most of them don't even know how to utilize the system."
Temporary Protected Status is intended to be just that, temporary. The Obama administration included Haiti in the program shortly after the January 2010 earthquake killed as many as 300,000 people, destroyed much of the capital and caused widespread damage elsewhere. Since then, Haitians have been eligible to stay regardless of how they entered the United States — legally or illegally — as long as they were residing here before Jan. 12, 2011.
USCIS' acting director has recommended letting the program expire, but giving the Haitians until January to leave. If they don't depart by then, they could be deported. A decision is due by May 23 so the government can provide 60 days' notice.
The emails inquiring about misdeeds were sent from April 7 to May 1.
In her first week on the job, Kovarik asked officials how often Haitians with temporary status have been convicted of "crimes of any kind," and how many have taken advantage of public benefits. She asked for that information in four emails. She also asked how much money Haitians have sent home and how often they've traveled back to Haiti. Frequent travel could suggest improved conditions.
"Please dig for any stories (successful or otherwise) that would show how things are in Haiti -- i.e. rebuilding stories, work of nonprofits, how the U.S. is helping certain industries," Kovarik wrote on April 28. "We should also find any reports of criminal activity by any individual with TPS. Even though it's only a snapshot and not representative of the entire situation, we need more than 'Haiti is really poor' stories."
The emails were largely directed to non-political employees. They responded by saying much of the data was not available or was difficult to find in government record systems.
Criminal fingerprint records, for instance, don't generally indicate if a suspect has Temporary Protected Status.
Maria Odom, a former Citizenship and Immigration Services ombudsman in the Obama administration, said she was puzzled by the inquiries because the government already checks criminal histories of applicants.
"You should not craft a humanitarian policy based on the few," Odom said.
___
Associated Press writer Jennifer Kay in Miami contributed to this story.
___
Follow Alicia A. Caldwell on Twitter at www.twitter.com/acaldwellap