LAPD: Latinos report fewer sex crimes amid immigration fears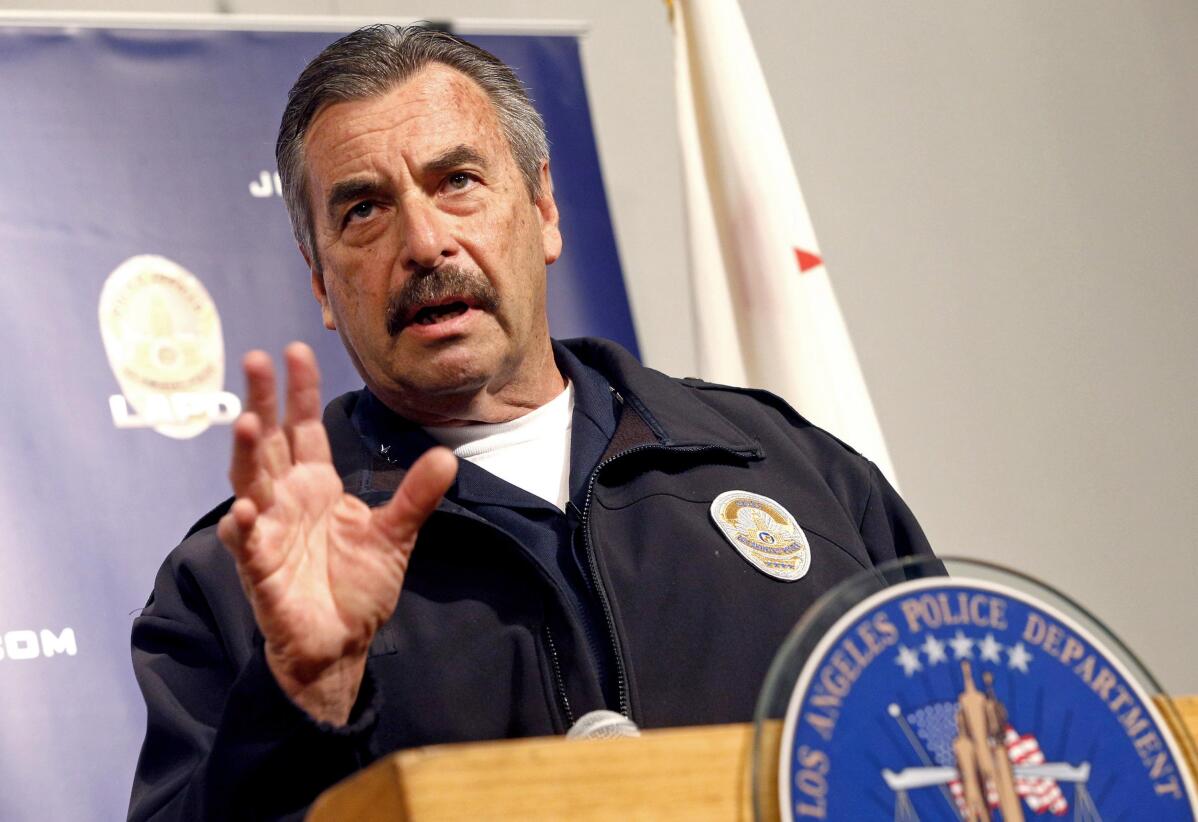 1 of 2

|
FILE - In this Feb. 6, 2017 file photo, Los Angeles Police Chief Charlie Beck speaks at a news conference in Los Angeles, Beck said Tuesday, March 21, 2017, that reports of sexual assault and domestic violence by Latino residents have dropped amid concerns that those in the country illegally could face deportation if they interact with police. He said that sexual assault reports have dropped 25 percent and domestic violence reports have fallen 10 percent among the city's Latino population since the beginning of the year. (AP Photo/Nick Ut, File)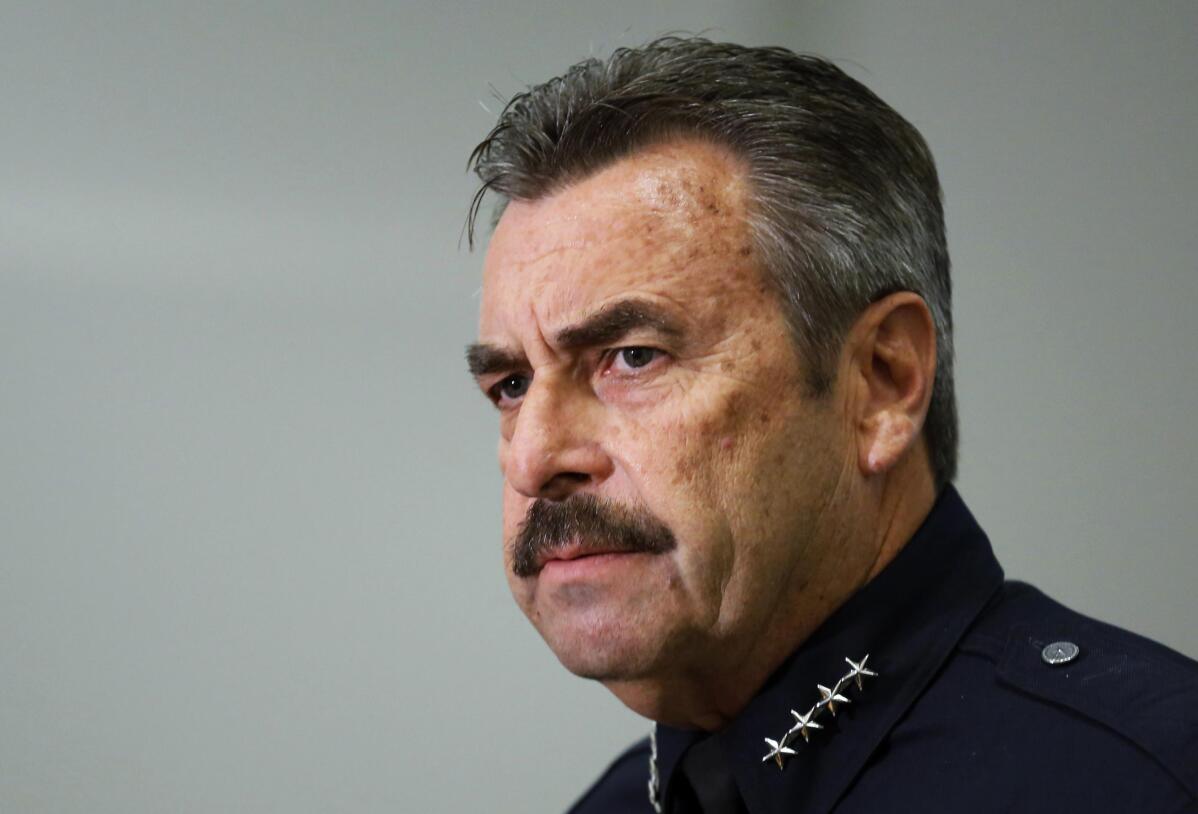 2 of 2

|
FILE - In this Feb. 4, 2014 file photo, Los Angeles Police Chief Charlie Beck speaks at a news conference at LAPD headquarters. Los Angeles' police chief says reports of sexual assault and domestic violence by Latino residents have dropped amid concerns that those in the country illegally could face deportation if they interact with police. Beck said Tuesday, March 21, 2017, that sexual assault reports have dropped 25 percent and domestic violence reports have fallen 10 percent among the city's Latino population since the beginning of the year. (AP Photo/Reed Saxon, File)
LAPD: Latinos report fewer sex crimes amid immigration fears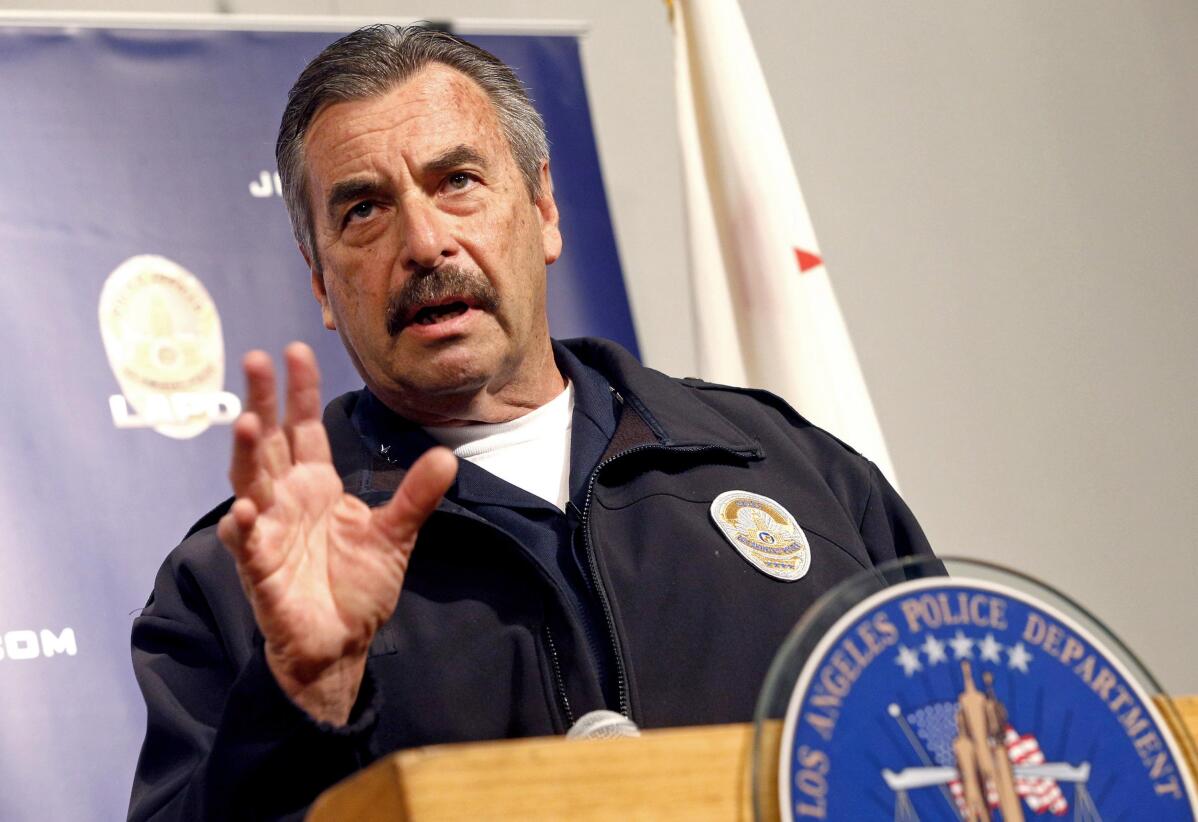 1 of 2

|
FILE - In this Feb. 6, 2017 file photo, Los Angeles Police Chief Charlie Beck speaks at a news conference in Los Angeles, Beck said Tuesday, March 21, 2017, that reports of sexual assault and domestic violence by Latino residents have dropped amid concerns that those in the country illegally could face deportation if they interact with police. He said that sexual assault reports have dropped 25 percent and domestic violence reports have fallen 10 percent among the city's Latino population since the beginning of the year. (AP Photo/Nick Ut, File)
1 of 2
FILE - In this Feb. 6, 2017 file photo, Los Angeles Police Chief Charlie Beck speaks at a news conference in Los Angeles, Beck said Tuesday, March 21, 2017, that reports of sexual assault and domestic violence by Latino residents have dropped amid concerns that those in the country illegally could face deportation if they interact with police. He said that sexual assault reports have dropped 25 percent and domestic violence reports have fallen 10 percent among the city's Latino population since the beginning of the year. (AP Photo/Nick Ut, File)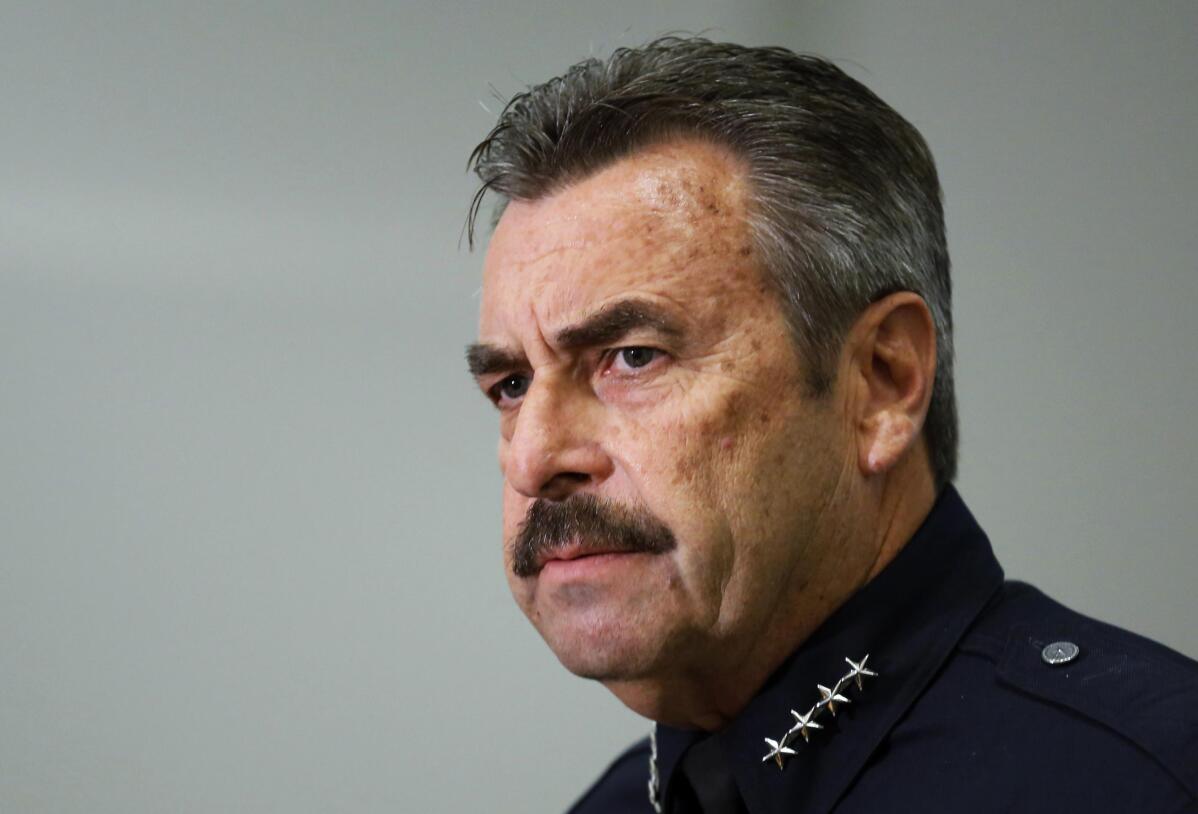 2 of 2

|
FILE - In this Feb. 4, 2014 file photo, Los Angeles Police Chief Charlie Beck speaks at a news conference at LAPD headquarters. Los Angeles' police chief says reports of sexual assault and domestic violence by Latino residents have dropped amid concerns that those in the country illegally could face deportation if they interact with police. Beck said Tuesday, March 21, 2017, that sexual assault reports have dropped 25 percent and domestic violence reports have fallen 10 percent among the city's Latino population since the beginning of the year. (AP Photo/Reed Saxon, File)
2 of 2
FILE - In this Feb. 4, 2014 file photo, Los Angeles Police Chief Charlie Beck speaks at a news conference at LAPD headquarters. Los Angeles' police chief says reports of sexual assault and domestic violence by Latino residents have dropped amid concerns that those in the country illegally could face deportation if they interact with police. Beck said Tuesday, March 21, 2017, that sexual assault reports have dropped 25 percent and domestic violence reports have fallen 10 percent among the city's Latino population since the beginning of the year. (AP Photo/Reed Saxon, File)
LOS ANGELES (AP) — The police chief of Los Angeles, a city that is half Latino, found himself in the middle of the national immigration debate on Wednesday after saying there's a correlation between the Trump administration's call for stiffer immigration policies and a drop in the number of Hispanics reporting sexual abuse and domestic violence.
"Imagine your sister, your mother, not reporting a sexual assault for fear that their family will be torn apart," LAPD Chief Charlie Beck said Tuesday.
Since the beginning of this year, sexual assaults reported by Latinos in Los Angeles have dropped 25 percent, and domestic violence reports by Latinos have decreased by 10 percent compared to the same period last year.
Crime statistics show there were 164 sexual assaults reported by Latinos in the first two months of 2016, compared to 123 in the first two months of 2017. There was also a decrease of 118 reports of domestic violence during the same periods among Latinos.
Beck said there was a "strong correlation" between the timing of the decreased reporting and fears about President Donald Trump's efforts to crack down on the estimated 11 million immigrants living illegally in the U.S.
However, Jessica Vaughan of the Washington-based Center for Immigration Studies, which lobbies for less immigration to the U.S., said it is "extremely speculative" to draw a connection between the drop in crime reporting and fears regarding accelerated efforts to round up and deport immigrants. She questioned Beck's reasoning for announcing the figures.
"This seems to be somehow politically motivated to try to get people to think increased enforcement is causing problems in the community," Vaughan said. "I think it is really a stretch to connect this decline with perceptions of increased immigration enforcement."
Los Angeles breaks down its crime statistics by the ethnicity of victims, but some other large-city police departments do not keep the same types of reports. In Philadelphia, police statistics showed 50 less reports of violent crime, including homicides, rapes, robberies and aggravated assaults, made by Latinos in January 2017, compared to the year before.
Immigrant advocates counter that the unease of those living in the U.S. illegally is forcing victims of violent crimes to fear that any interaction with police could cause them or their loved ones to be deported.
"My sense is that people are terrified and that is not an exaggeration," said Marisa Cianciarulo, a law professor who runs a domestic violence clinic for immigrants at Chapman University. "These are historically underreported crimes and there are even fewer of them being reported."
Cianciarulo said victims have not only said they fear reporting the crimes to the police could land them on the radar of federal immigration officials but also are afraid that their attackers will report them as living in the U.S. illegally.
Los Angeles County Sheriff Jim McDonnell told The Associated Press earlier this month that gang members have also been preying on immigrants and telling them they will be deported if they report crimes to police.
Jorge-Mario Cabrera, with the advocacy group CHIRLA, said the organization has seen "immigrant families potentially being so afraid of the ultimate punishment, which deportation represents, that they may forego their chances of justice."
Cianciarulo says outreach events, like the LAPD's community forums focusing on immigration, are necessary to combat anti-immigrant rhetoric and restore faith in immigrant communities. In St. Paul, Minnesota, police have posted videos online in several languages, including Spanish, to let people know they should not be afraid to call police if they need help.
Beck, a native of the Los Angeles area whose father was a deputy police chief, has repeatedly reiterated that the Police Department will not act as de-facto immigration agents.
___
Associated Press writers Errin Haines Whack in Philadelphia and Amy Forliti in Minneapolis contributed to this report.
___
Follow Michael Balsamo on Twitter at http://twitter.com/MikeBalsamo1 .