Contractors ill-equipped for secret Cuba programs
1 of 5

|
FILE - In this April 1, 2014 file photo, students stand outside a building to find an Internet signal for their phones in Havana, Cuba. In programs revealed by the Associated Press in 2014, USAID secretly created a primitive social media program called ZunZuneo, staged a health workshop to recruit activists and infiltrated Cuba's hip-hop community. Those programs were part of a grassroots campaign aimed at undermining the Castro government through the citizenry, rather than directly targeting political leaders. (AP Photo/Ramon Espinosa, File)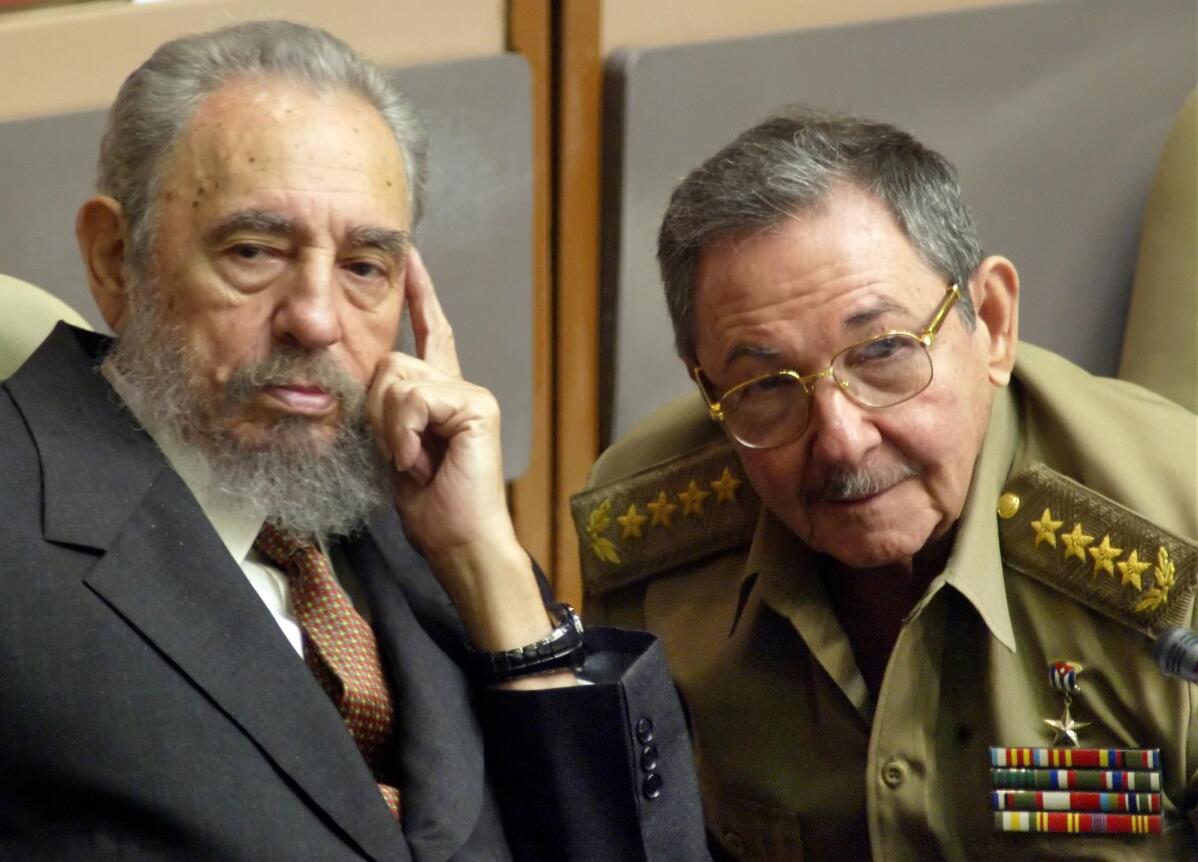 2 of 5

|
FILE - In this July 31, 2004 file photo, Cuba's President Fidel Castro, left, and his brother, Minister of Defense Raul Castro, attend a Parliament session in Havana, Cuba. The 1991 collapse of the Soviet Union devastated the Cuban economy, but the country limped along, first under Fidel and then, after he fell ill in 2006, under his brother Raul, head of the Cuban military. On Wednesday, Dec. 17, 2014, the U.S. and Cuba agreed to re-establish diplomatic relations and open economic and travel ties, marking a historic shift in U.S. policy toward the communist island after a half-century of enmity dating back to the Cold War. (AP Photo/Cristobal Herrera, File)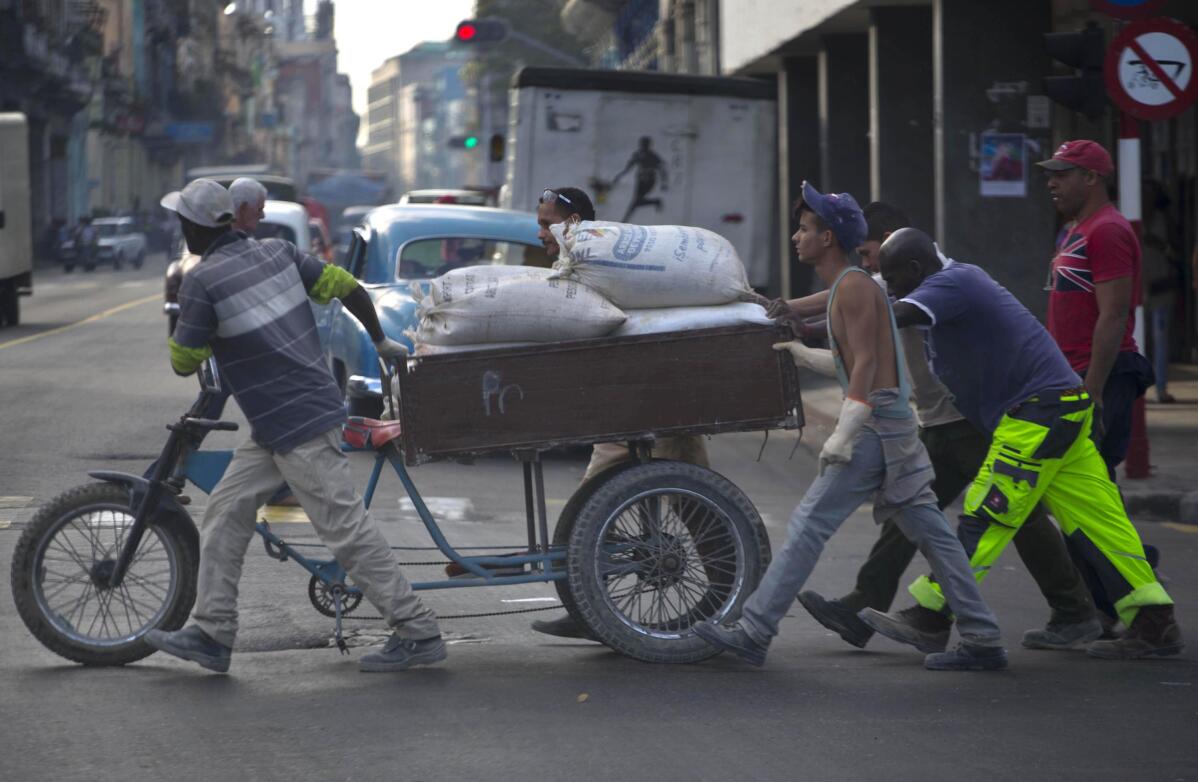 3 of 5

|
Men push a cart loaded with sacks in the middle of a street in Havana, Cuba, Wednesday, Dec. 17, 2014. After a half-century of Cold War acrimony, the United States and Cuba abruptly moved on Wednesday to restore diplomatic relations _ a historic shift that could revitalize the flow of money and people across the narrow waters that separate the two nations. (AP Photo/Ramon Espinosa)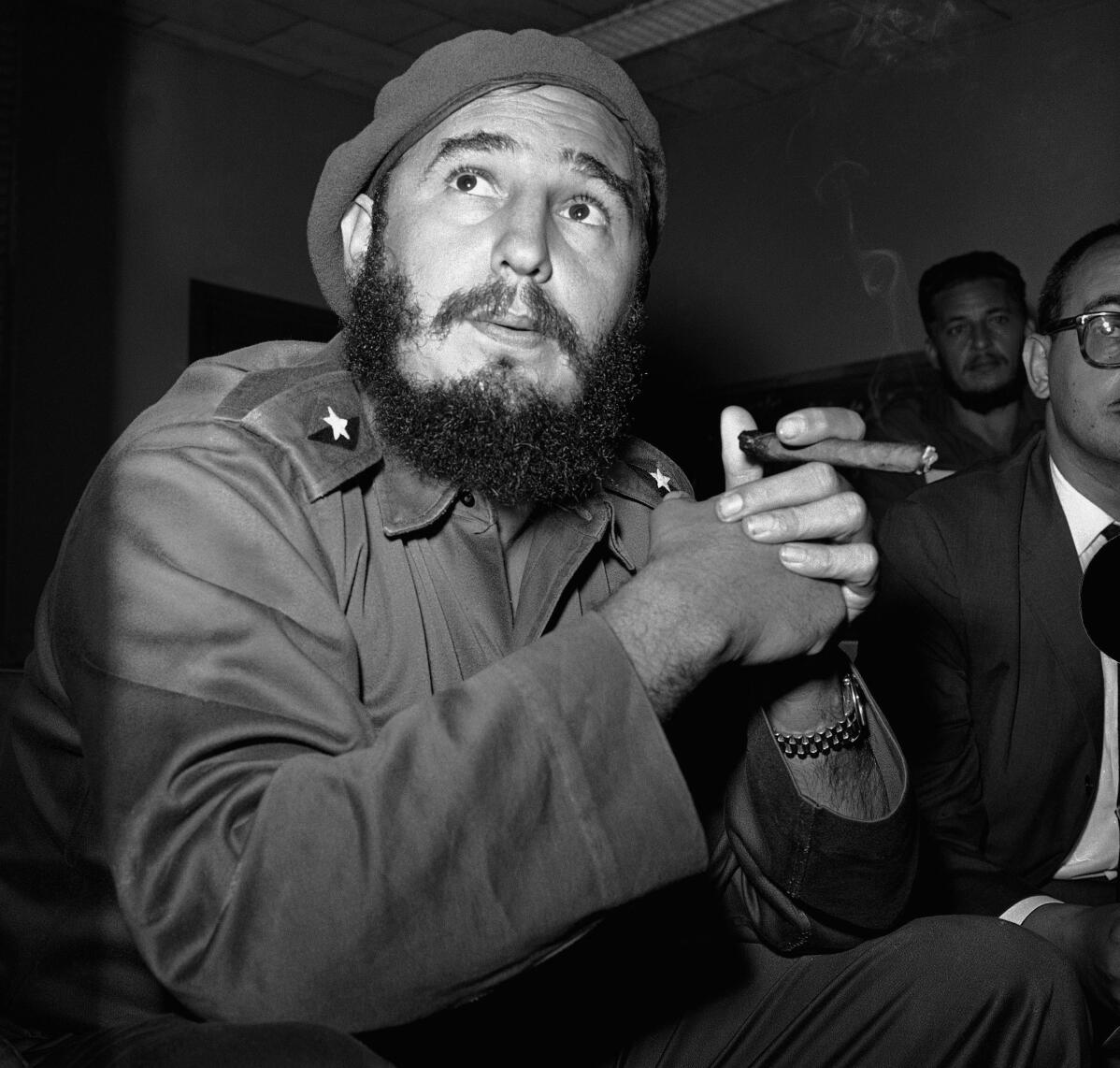 4 of 5

|
FILE - In this June 14, 1961 file photo, Prime Minister Fidel Castro holds a cigar during a news conference in Havana, Cuba. For over half a century, the U.S. government tried many schemes to overthrow the Castro regime: poisonous cigars, an exploding seashell, the secret Twitter-like service in Cuba. U.S. President Barack Obama said Wednesday, Dec. 17, 2014 the United States will re-establish diplomatic ties with Cuba and bring change to the longstanding trade embargo. But it was unclear if all secret operations would cease. (AP Photo/RHS)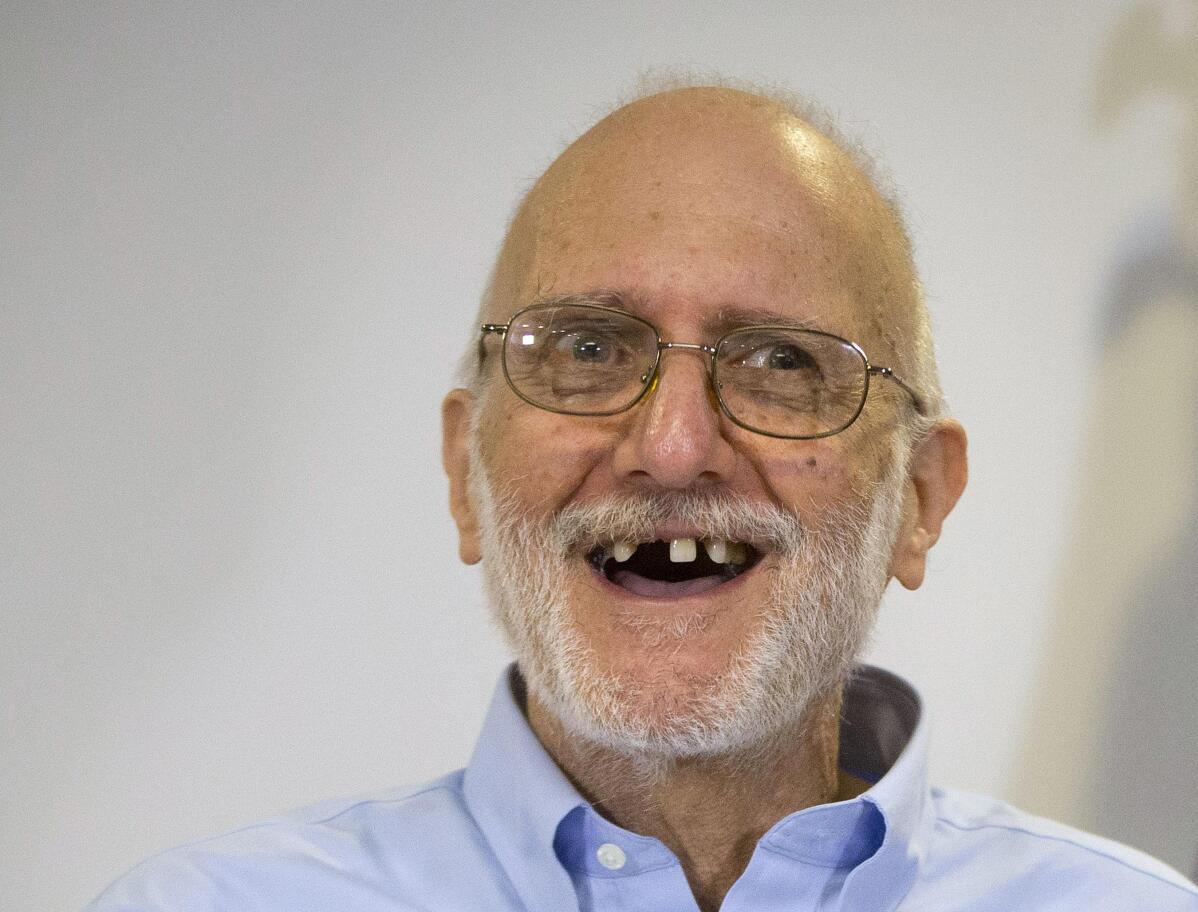 5 of 5

|
Alan Gross, accompanied by his wife, Judy, speaks during a news conference at his lawyer's office in Washington, Wednesday, Dec. 17, 2014. Gross was released from Cuba after five years in a Cuban prison. (AP Photo/Pablo Martinez Monsivais)
Contractors ill-equipped for secret Cuba programs
1 of 5

|
FILE - In this April 1, 2014 file photo, students stand outside a building to find an Internet signal for their phones in Havana, Cuba. In programs revealed by the Associated Press in 2014, USAID secretly created a primitive social media program called ZunZuneo, staged a health workshop to recruit activists and infiltrated Cuba's hip-hop community. Those programs were part of a grassroots campaign aimed at undermining the Castro government through the citizenry, rather than directly targeting political leaders. (AP Photo/Ramon Espinosa, File)
1 of 5
FILE - In this April 1, 2014 file photo, students stand outside a building to find an Internet signal for their phones in Havana, Cuba. In programs revealed by the Associated Press in 2014, USAID secretly created a primitive social media program called ZunZuneo, staged a health workshop to recruit activists and infiltrated Cuba's hip-hop community. Those programs were part of a grassroots campaign aimed at undermining the Castro government through the citizenry, rather than directly targeting political leaders. (AP Photo/Ramon Espinosa, File)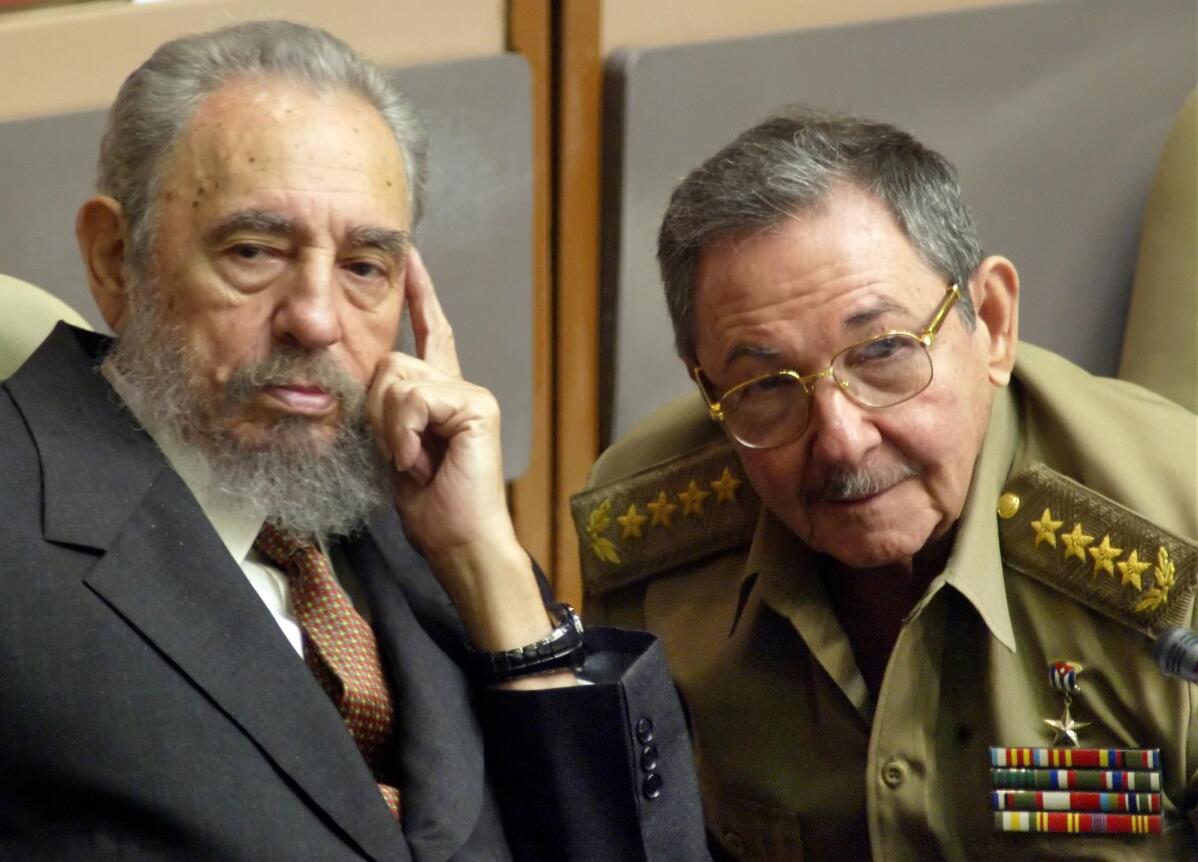 2 of 5

|
FILE - In this July 31, 2004 file photo, Cuba's President Fidel Castro, left, and his brother, Minister of Defense Raul Castro, attend a Parliament session in Havana, Cuba. The 1991 collapse of the Soviet Union devastated the Cuban economy, but the country limped along, first under Fidel and then, after he fell ill in 2006, under his brother Raul, head of the Cuban military. On Wednesday, Dec. 17, 2014, the U.S. and Cuba agreed to re-establish diplomatic relations and open economic and travel ties, marking a historic shift in U.S. policy toward the communist island after a half-century of enmity dating back to the Cold War. (AP Photo/Cristobal Herrera, File)
2 of 5
FILE - In this July 31, 2004 file photo, Cuba's President Fidel Castro, left, and his brother, Minister of Defense Raul Castro, attend a Parliament session in Havana, Cuba. The 1991 collapse of the Soviet Union devastated the Cuban economy, but the country limped along, first under Fidel and then, after he fell ill in 2006, under his brother Raul, head of the Cuban military. On Wednesday, Dec. 17, 2014, the U.S. and Cuba agreed to re-establish diplomatic relations and open economic and travel ties, marking a historic shift in U.S. policy toward the communist island after a half-century of enmity dating back to the Cold War. (AP Photo/Cristobal Herrera, File)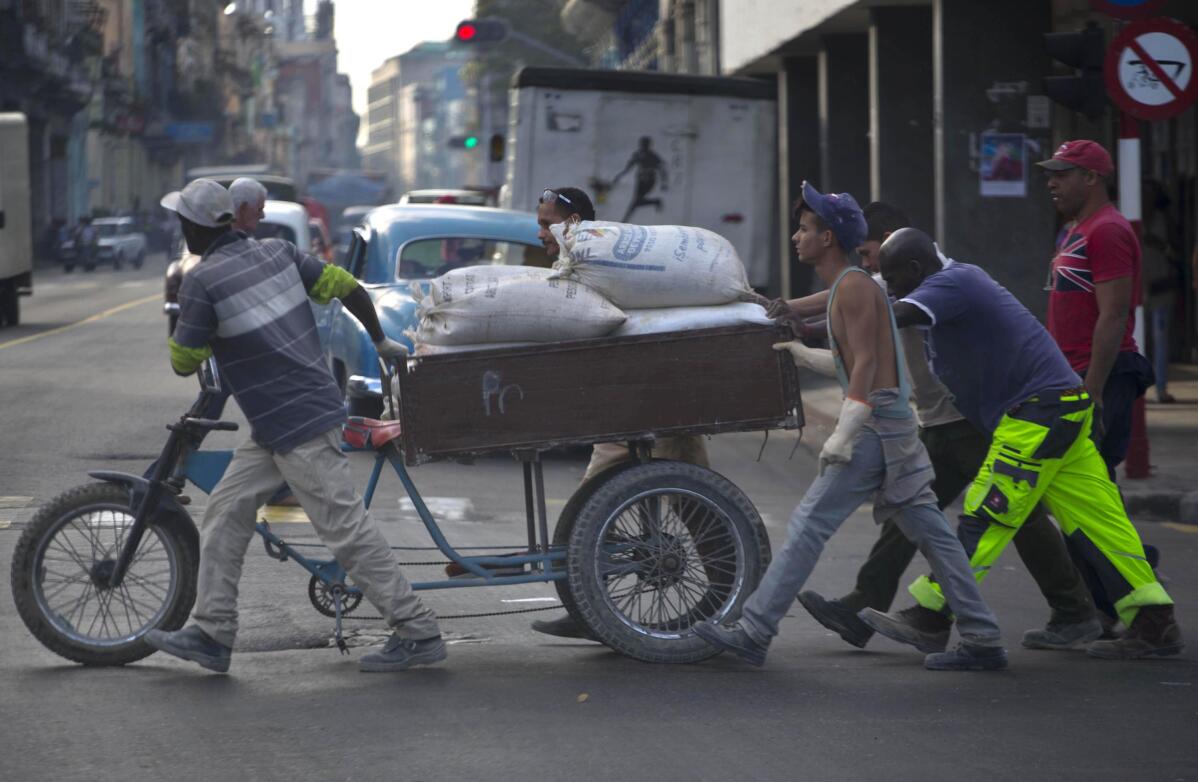 3 of 5

|
Men push a cart loaded with sacks in the middle of a street in Havana, Cuba, Wednesday, Dec. 17, 2014. After a half-century of Cold War acrimony, the United States and Cuba abruptly moved on Wednesday to restore diplomatic relations _ a historic shift that could revitalize the flow of money and people across the narrow waters that separate the two nations. (AP Photo/Ramon Espinosa)
3 of 5
Men push a cart loaded with sacks in the middle of a street in Havana, Cuba, Wednesday, Dec. 17, 2014. After a half-century of Cold War acrimony, the United States and Cuba abruptly moved on Wednesday to restore diplomatic relations _ a historic shift that could revitalize the flow of money and people across the narrow waters that separate the two nations. (AP Photo/Ramon Espinosa)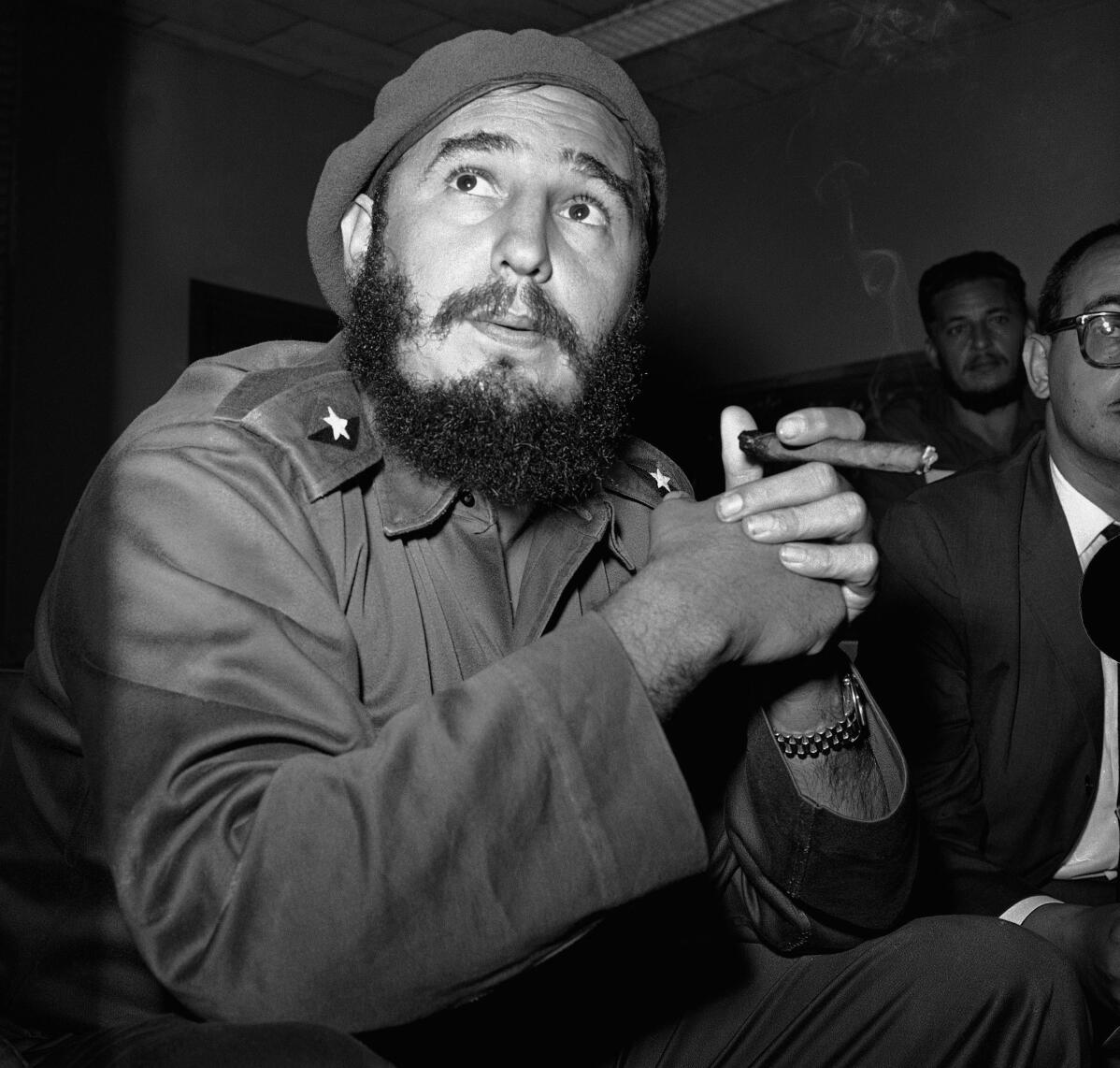 4 of 5

|
FILE - In this June 14, 1961 file photo, Prime Minister Fidel Castro holds a cigar during a news conference in Havana, Cuba. For over half a century, the U.S. government tried many schemes to overthrow the Castro regime: poisonous cigars, an exploding seashell, the secret Twitter-like service in Cuba. U.S. President Barack Obama said Wednesday, Dec. 17, 2014 the United States will re-establish diplomatic ties with Cuba and bring change to the longstanding trade embargo. But it was unclear if all secret operations would cease. (AP Photo/RHS)
4 of 5
FILE - In this June 14, 1961 file photo, Prime Minister Fidel Castro holds a cigar during a news conference in Havana, Cuba. For over half a century, the U.S. government tried many schemes to overthrow the Castro regime: poisonous cigars, an exploding seashell, the secret Twitter-like service in Cuba. U.S. President Barack Obama said Wednesday, Dec. 17, 2014 the United States will re-establish diplomatic ties with Cuba and bring change to the longstanding trade embargo. But it was unclear if all secret operations would cease. (AP Photo/RHS)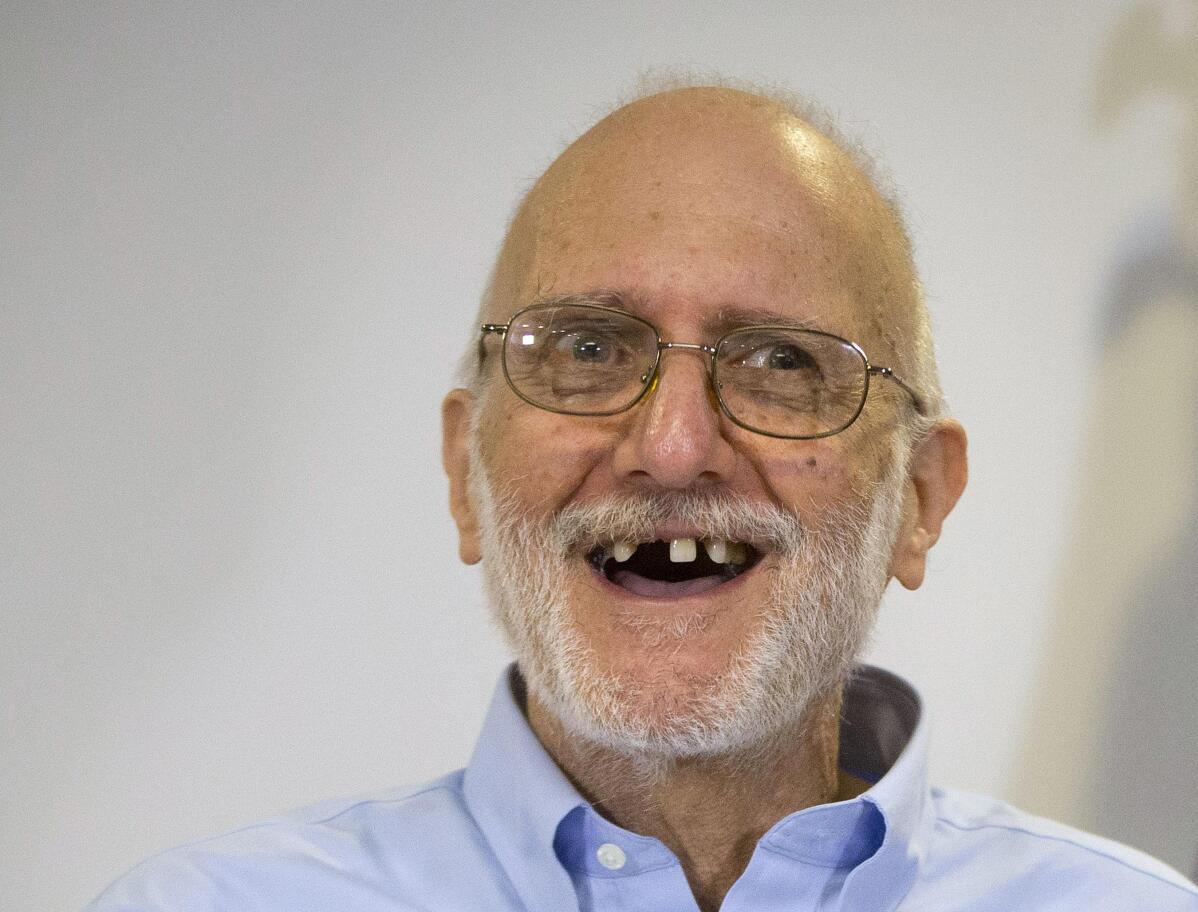 5 of 5

|
Alan Gross, accompanied by his wife, Judy, speaks during a news conference at his lawyer's office in Washington, Wednesday, Dec. 17, 2014. Gross was released from Cuba after five years in a Cuban prison. (AP Photo/Pablo Martinez Monsivais)
5 of 5
Alan Gross, accompanied by his wife, Judy, speaks during a news conference at his lawyer's office in Washington, Wednesday, Dec. 17, 2014. Gross was released from Cuba after five years in a Cuban prison. (AP Photo/Pablo Martinez Monsivais)
WASHINGTON (AP) — When the U.S. government's global-aid agency launched secret plans to undermine Cuba's communist government, it didn't turn to the CIA for help. Instead, it used little-known contractors to carry out the operations — leading to multiple detentions and the high-profile arrest of American Alan Gross.
Gross's release from a Cuban prison Wednesday underscored the dangers for the U.S. Agency for International Development's partners in Cuba. Those groups received millions of dollars to run clandestine operations, but repeatedly failed to avoid detection in a country where USAID's work is illegal.
Disclosures by The Associated Press this year revealed how one of those companies — working under USAID's supervision — sought to bring about grassroots change by providing a "Cuban Twitter" program called ZunZuneo, staging an HIV workshop to recruit activists in Cuba and infiltrating the nation's hip-hop community.
The projects by Creative Associates International crossed paths with the company that Gross worked for at the time of his 2009 arrest, the Maryland-based Development Alternatives Inc., as he smuggled in sensitive technology — using backpacks and carry-on bags — to set up illegal Internet connections. He was arrested, convicted and declared a spy by Cuban President Raul Castro.
President Barack Obama said Wednesday the U.S. will re-establish diplomatic ties with Cuba. But it was unclear if such U.S. democracy efforts would ever cease, with administration officials reiterating this week that the pro-democracy work Cuba has long complained about would continue.
The programs, disclosed in a series of reports by the AP, were scrapped after they were discovered by Cuban officials or ran out of money. In the U.S., lawmakers were incredulous to learn of the amateur mishaps and ultimately directed USAID not to undertake risky work in politically repressive countries.
But it's unclear what, if any, consequences are in store for contractors like Development Alternatives or Creative Associates.
Development Alternatives, better known as DAI, remains one of USAID's largest contractors. From 2009 through mid-December 2014, while Gross was imprisoned in Cuba, the company's revenues from work on 392 USAID projects totaled $2.3 billion, according to data provided by DAI spokesman Steven O'Connor.
"We continue to be an active partner with USAID," O'Connor said Thursday. "Proud to be so."
Gross was paid more than a half-million dollars as a USAID subcontractor, according to U.S. officials familiar with the contract. They spoke only on condition of anonymity because they are not authorized to discuss the case.
In the wake of his arrest, Gross sued DAI and USAID for $60 million, alleging they did not adequately train him or disclose the risks he faced on the island. A federal court dismissed the case against USAID and the Gross family settled last year with DAI for an undisclosed amount.
Filed in 2012, the lawsuit alleged that Gross repeatedly voiced his concerns to DAI and USAID about the risks of his Internet project in Cuba and the dangers of being caught. But his warnings were ignored. DAI pressed Gross, the lawsuit said, to "finish the project or to find someone else who would." Gross and DAI, with USAID's approval, agreed to extend the project.
In a statement posted Wednesday on DAI's website, James Boomgard, the company's chief executive officer, welcomed Gross home.
"This is a joyful day," Boomgard said. "We are delighted by the release and safe return of Alan Gross, and immensely happy for him and his family."
The programs run by Creative that have been disclosed this year by the AP received sharp criticism from some U.S. lawmakers who called them "reckless," ''boneheaded" and "downright irresponsible." Cuban artists swept up in the program were detained or interrogated by Cuban authorities. The secret U.S. hip-hop operation backfired after Cuban authorities found that an independent music festival — one of the largest on the island — was really backed by the Obama administration.
Founded in 1977, Creative has grown to more than 1,000 employees and has received more than $1 billion in federal funds since 2000 for development projects in more than a dozen countries — including a literacy program in Yemen and youth crime-prevention efforts in Central America.
Creative and DAI continued to win awards from USAID even as its Cuba programs hit snags; those included $5 million for a foreign-assistance program in Nigeria for 2014 and more than $70 million this year for other USAID projects.
The operations of USAID's contractors are opaque because they aren't required to disclose details operations or budgets. Public government databases show only costs and basic information about those projects, far from the information outlined in more than 5,000 pages of Creative documents obtained by the AP.
On Wednesday, White House Press Secretary Josh Earnest said democracy initiatives in Cuba would continue: "USAID programs that have been in place and that have drawn the criticism of the Cuban regime will continue even after Dr. Shah transitions out of his current job," said Earnest, referring to USAID Administrator Rajiv Shah's announcement Wednesday that he was leaving his post.
USAID's inspector general is reviewing whether the agency's recent Cuba programs disclosed by the AP were proper. The agency has maintained the programs weren't covert and that Congress was informed about them.
___
Associated Press writer Richard Lardner and news researcher Monika Mathur contributed to this report.
___
Follow on Twitter: Jack Gillum at https://twitter.com/jackgillum and Desmond Butler at https://twitter.com/desmondbutler