Trout, Moniak use bats and gloves to power Angels past Cubs, 6-2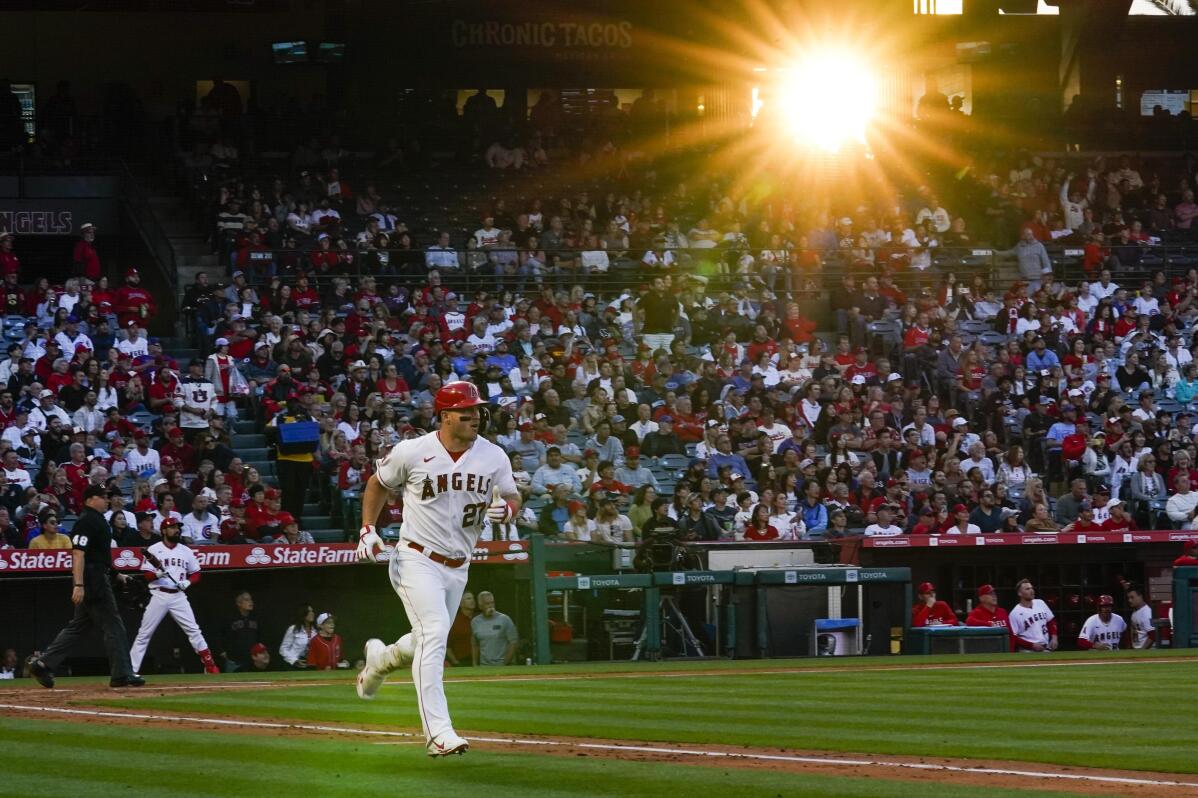 1 of 7

|
Los Angeles Angels' Mike Trout (27) runs the bases after hitting a home run during the fourth inning of a baseball game against the Chicago Cubs in Anaheim, Calif., Wednesday, June 7, 2023. (AP Photo/Ashley Landis)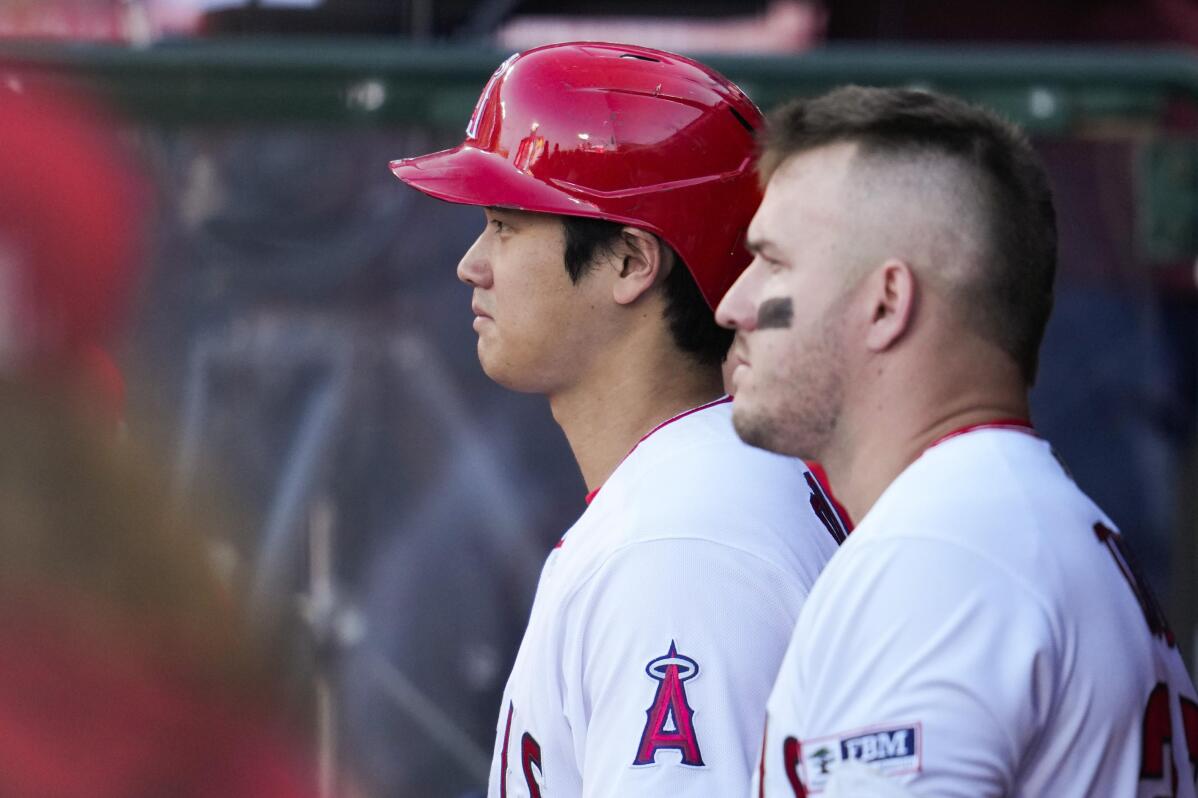 2 of 7

|
Los Angeles Angels designated hitter Shohei Ohtani (17) and Mike Trout (27) stand in the dugout during the third inning of a baseball game against the Chicago Cubs in Anaheim, Calif., Wednesday, June 7, 2023. (AP Photo/Ashley Landis)
3 of 7

|
Los Angeles Angels' Luis Rengifo (2) celebrates with Mickey Moniak (16) after hitting a home run during the fifth inning of a baseball game against the Chicago Cubs in Anaheim, Calif., Wednesday, June 7, 2023. (AP Photo/Ashley Landis)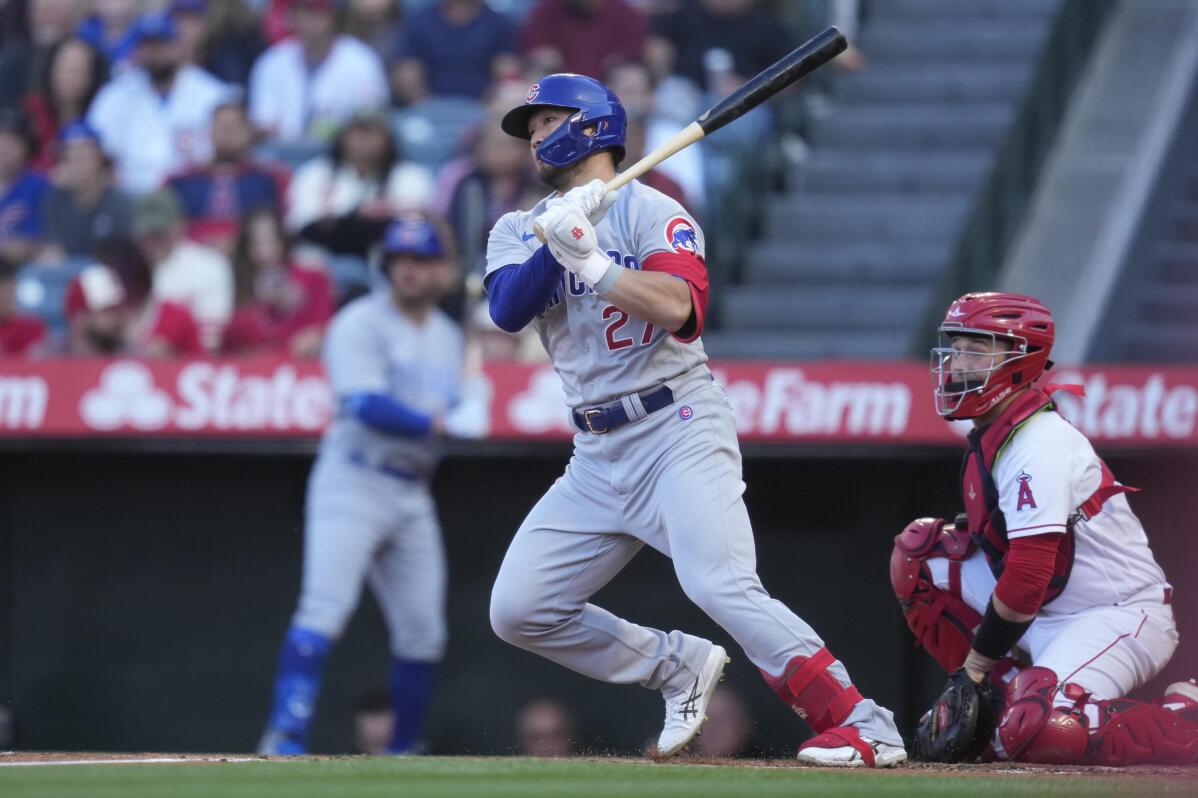 4 of 7

|
Chicago Cubs' Seiya Suzuki (27) flies out during the second inning of a baseball game in Anaheim, Calif., Wednesday, June 7, 2023. (AP Photo/Ashley Landis)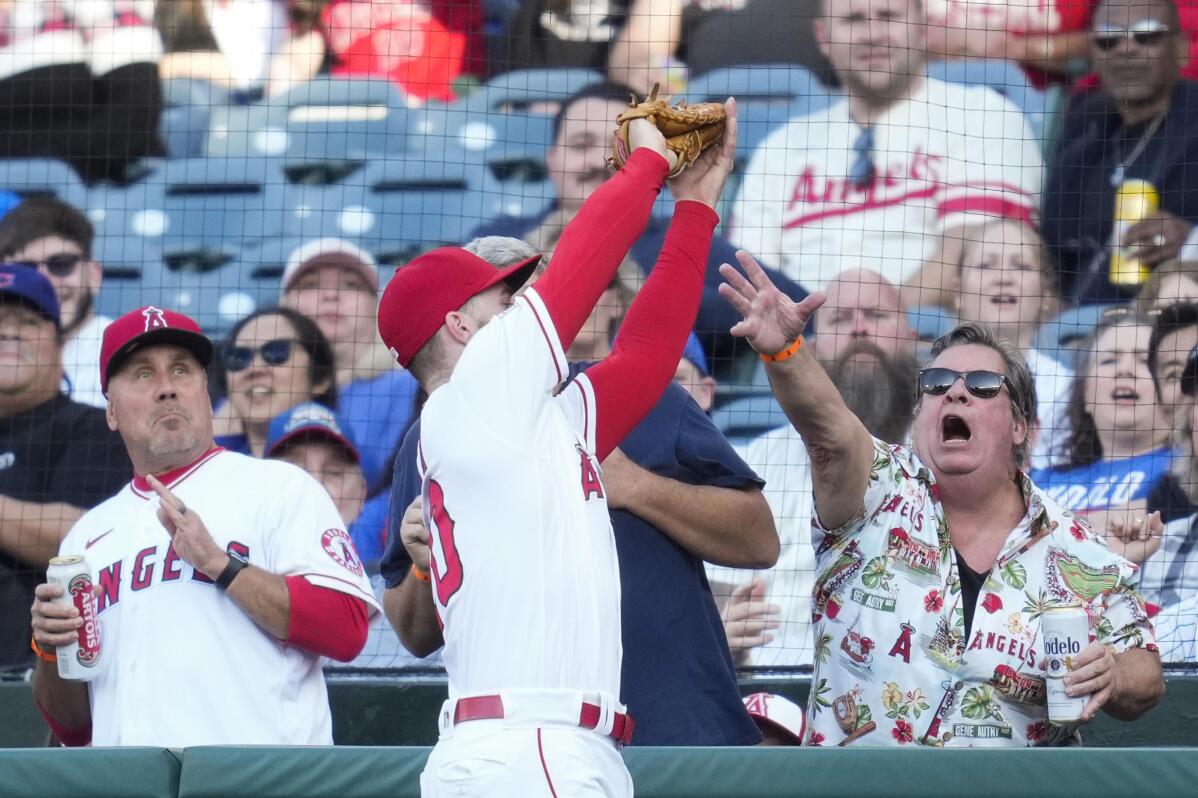 5 of 7

|
A fan reaches for a foul ball as Los Angeles Angels first baseman Jared Walsh (20) makes the catch during the first inning of a baseball game against the Chicago Cubs in Anaheim, Calif., Wednesday, June 7, 2023. (AP Photo/Ashley Landis)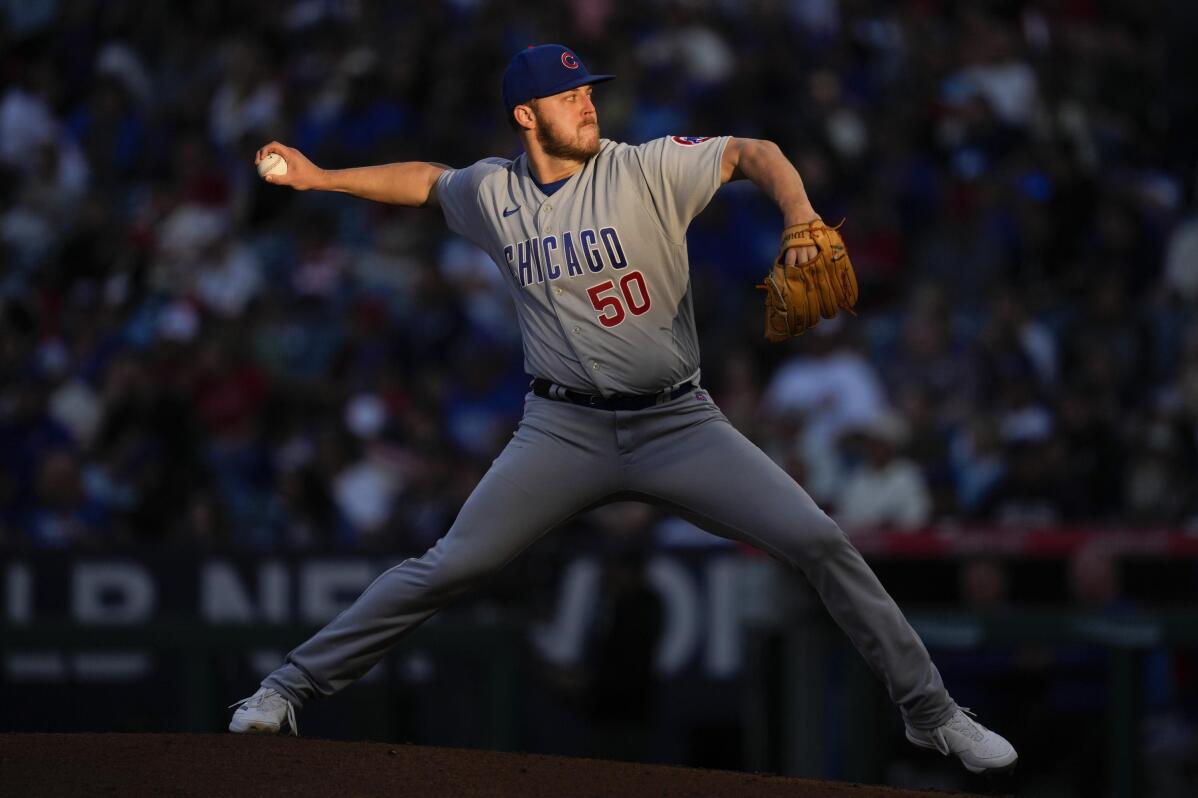 6 of 7

|
Chicago Cubs starting pitcher Jameson Taillon (50) throws during the third inning of a baseball game in Anaheim, Calif., Wednesday, June 7, 2023. (AP Photo/Ashley Landis)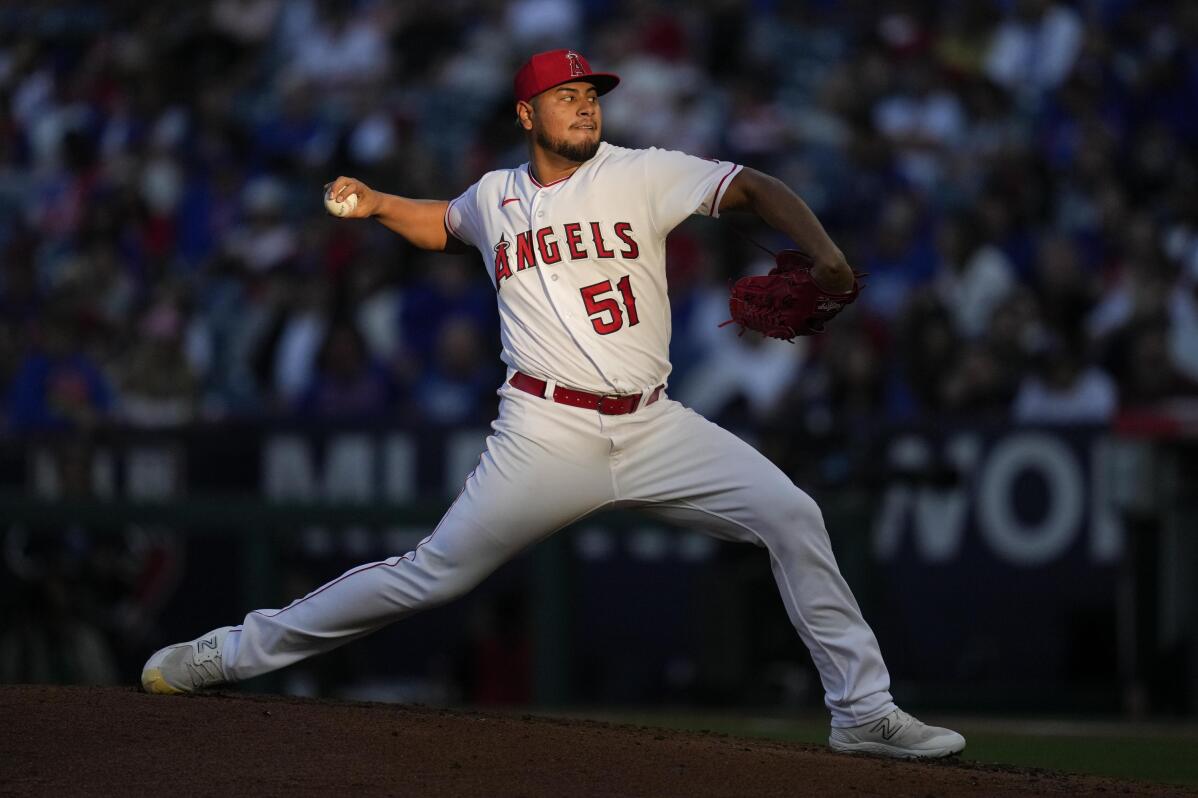 7 of 7

|
Los Angeles Angels starting pitcher Jaime Barria (51) throws during the second inning of a baseball game against the Chicago Cubs in Anaheim, Calif., Wednesday, June 7, 2023. (AP Photo/Ashley Landis)
Trout, Moniak use bats and gloves to power Angels past Cubs, 6-2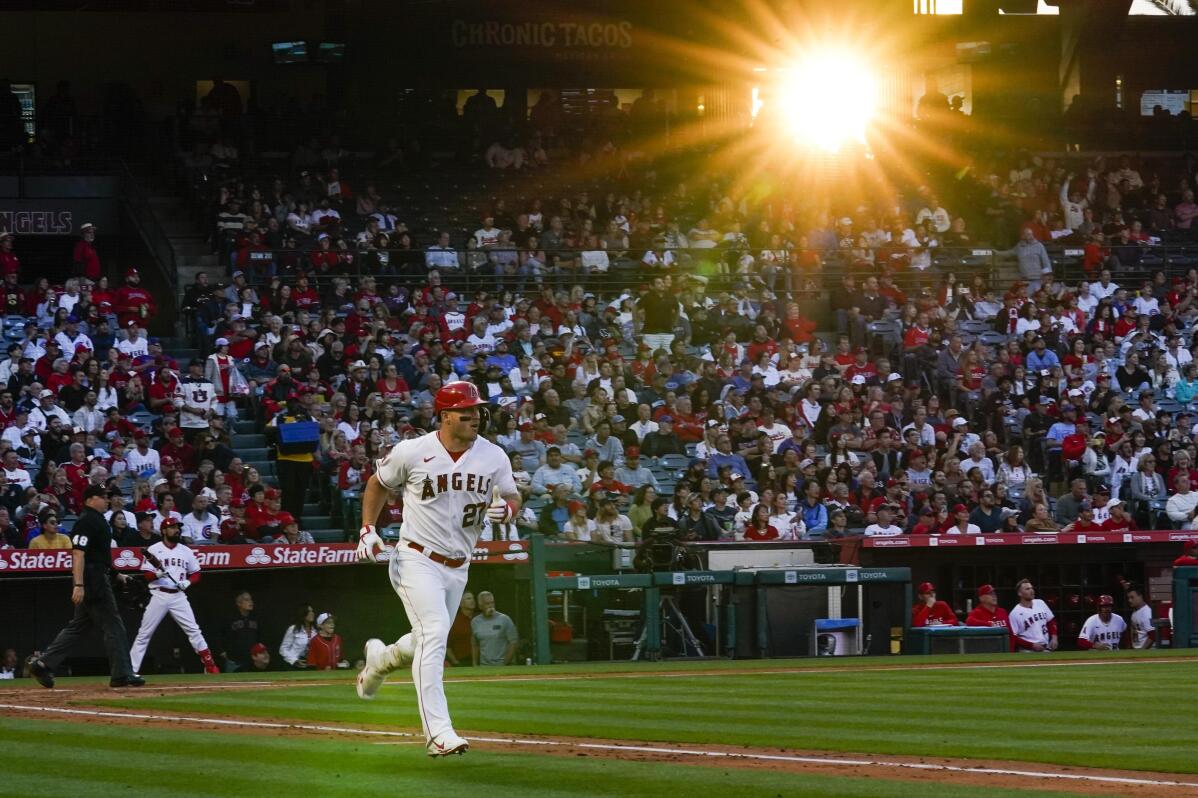 1 of 7

|
Los Angeles Angels' Mike Trout (27) runs the bases after hitting a home run during the fourth inning of a baseball game against the Chicago Cubs in Anaheim, Calif., Wednesday, June 7, 2023. (AP Photo/Ashley Landis)
1 of 7
Los Angeles Angels' Mike Trout (27) runs the bases after hitting a home run during the fourth inning of a baseball game against the Chicago Cubs in Anaheim, Calif., Wednesday, June 7, 2023. (AP Photo/Ashley Landis)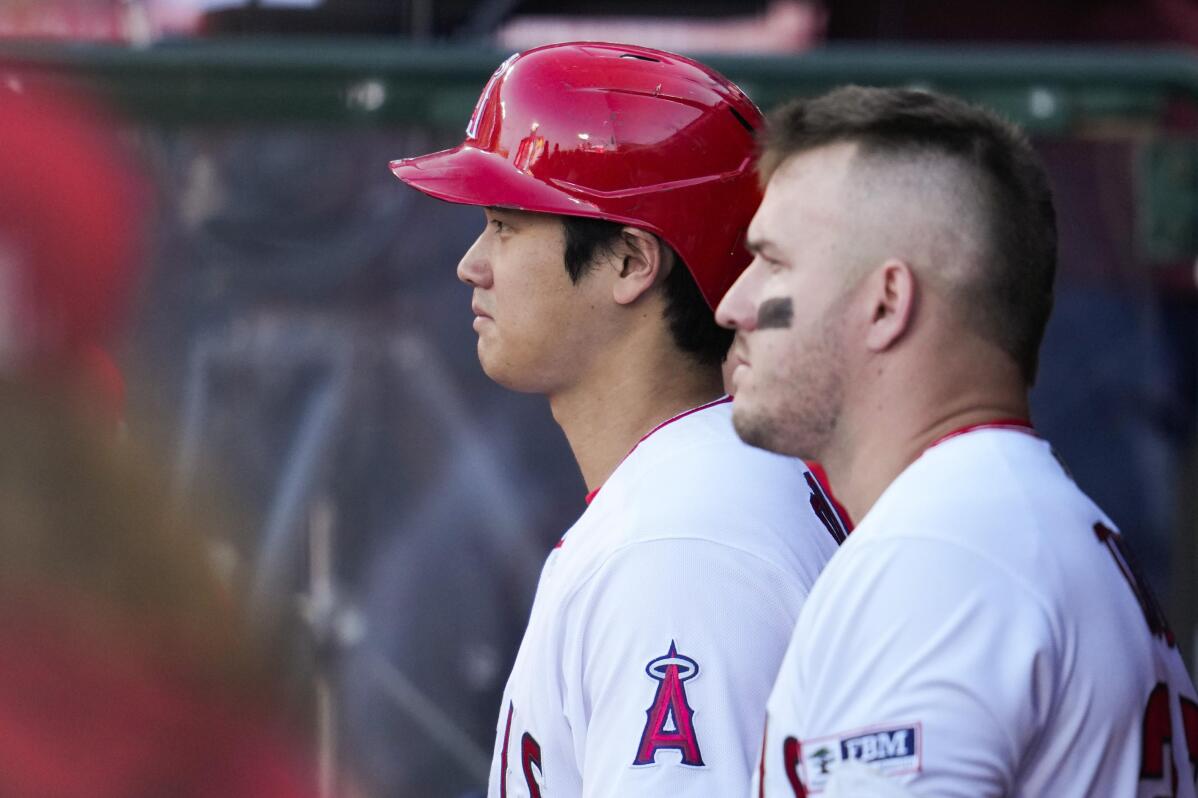 2 of 7

|
Los Angeles Angels designated hitter Shohei Ohtani (17) and Mike Trout (27) stand in the dugout during the third inning of a baseball game against the Chicago Cubs in Anaheim, Calif., Wednesday, June 7, 2023. (AP Photo/Ashley Landis)
2 of 7
Los Angeles Angels designated hitter Shohei Ohtani (17) and Mike Trout (27) stand in the dugout during the third inning of a baseball game against the Chicago Cubs in Anaheim, Calif., Wednesday, June 7, 2023. (AP Photo/Ashley Landis)
3 of 7

|
Los Angeles Angels' Luis Rengifo (2) celebrates with Mickey Moniak (16) after hitting a home run during the fifth inning of a baseball game against the Chicago Cubs in Anaheim, Calif., Wednesday, June 7, 2023. (AP Photo/Ashley Landis)
3 of 7
Los Angeles Angels' Luis Rengifo (2) celebrates with Mickey Moniak (16) after hitting a home run during the fifth inning of a baseball game against the Chicago Cubs in Anaheim, Calif., Wednesday, June 7, 2023. (AP Photo/Ashley Landis)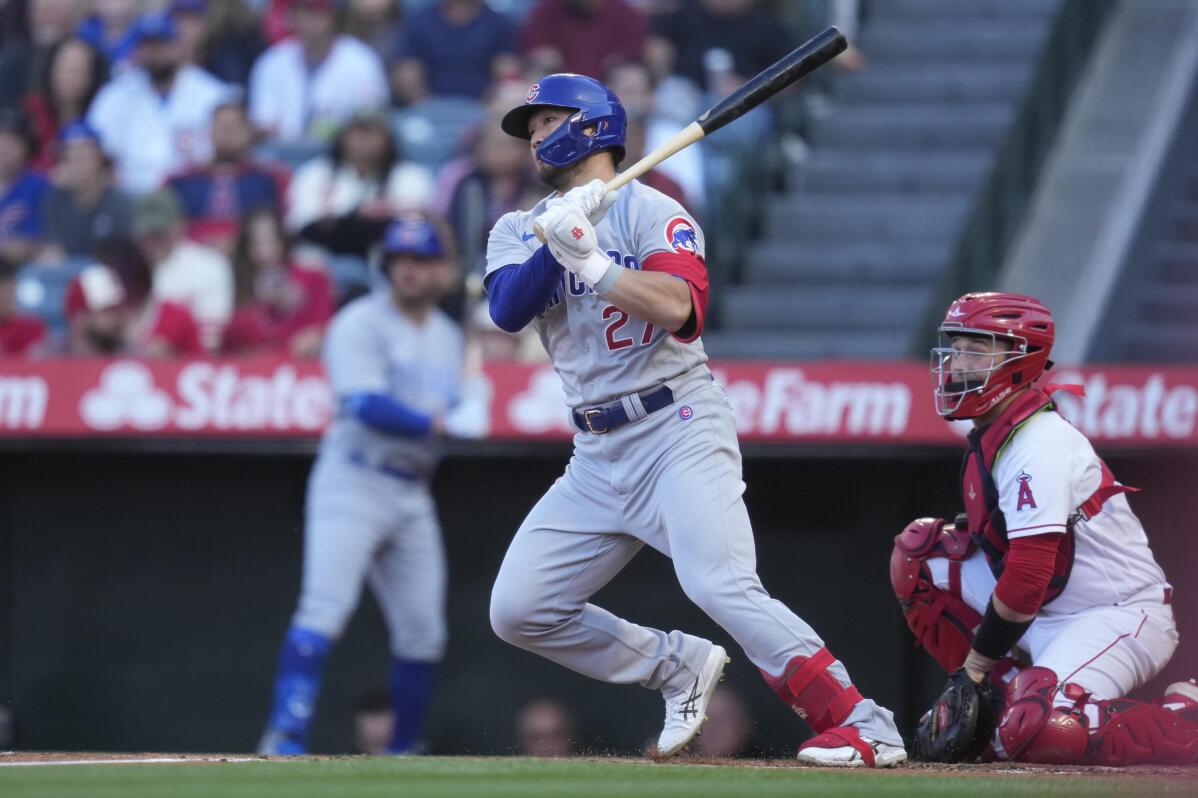 4 of 7

|
Chicago Cubs' Seiya Suzuki (27) flies out during the second inning of a baseball game in Anaheim, Calif., Wednesday, June 7, 2023. (AP Photo/Ashley Landis)
4 of 7
Chicago Cubs' Seiya Suzuki (27) flies out during the second inning of a baseball game in Anaheim, Calif., Wednesday, June 7, 2023. (AP Photo/Ashley Landis)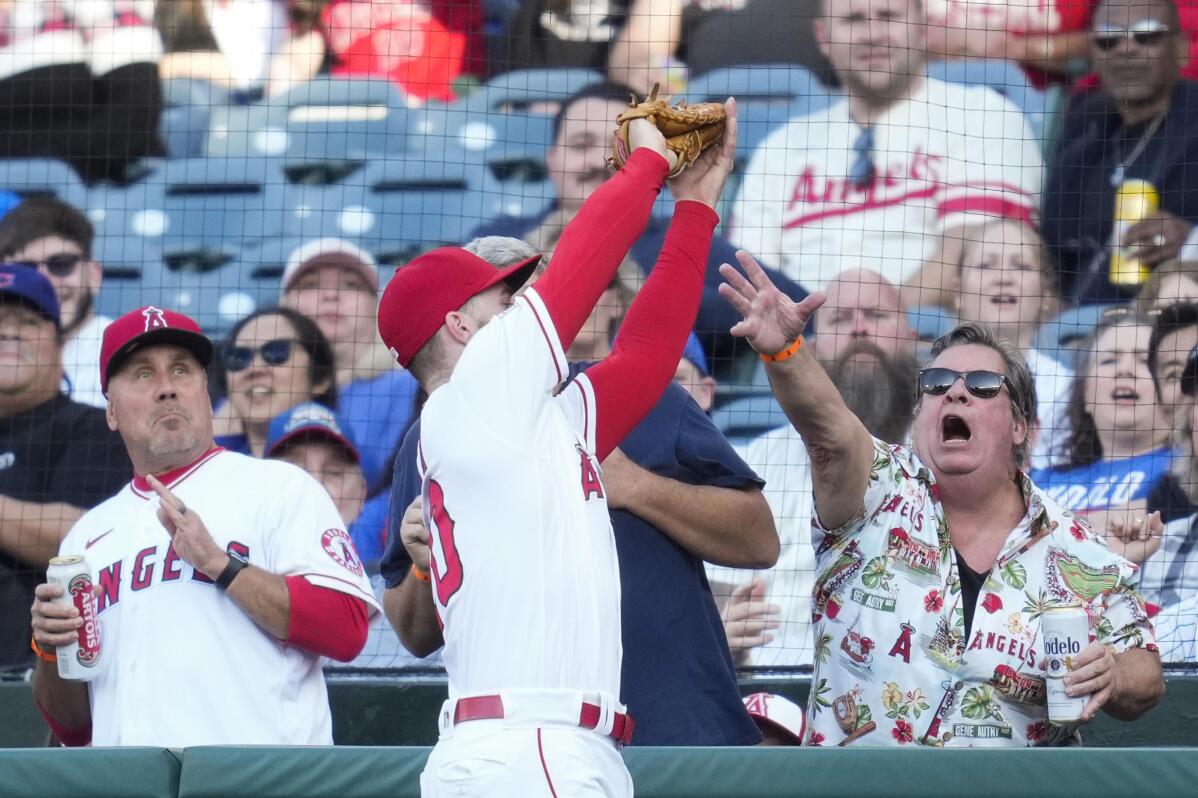 5 of 7

|
A fan reaches for a foul ball as Los Angeles Angels first baseman Jared Walsh (20) makes the catch during the first inning of a baseball game against the Chicago Cubs in Anaheim, Calif., Wednesday, June 7, 2023. (AP Photo/Ashley Landis)
5 of 7
A fan reaches for a foul ball as Los Angeles Angels first baseman Jared Walsh (20) makes the catch during the first inning of a baseball game against the Chicago Cubs in Anaheim, Calif., Wednesday, June 7, 2023. (AP Photo/Ashley Landis)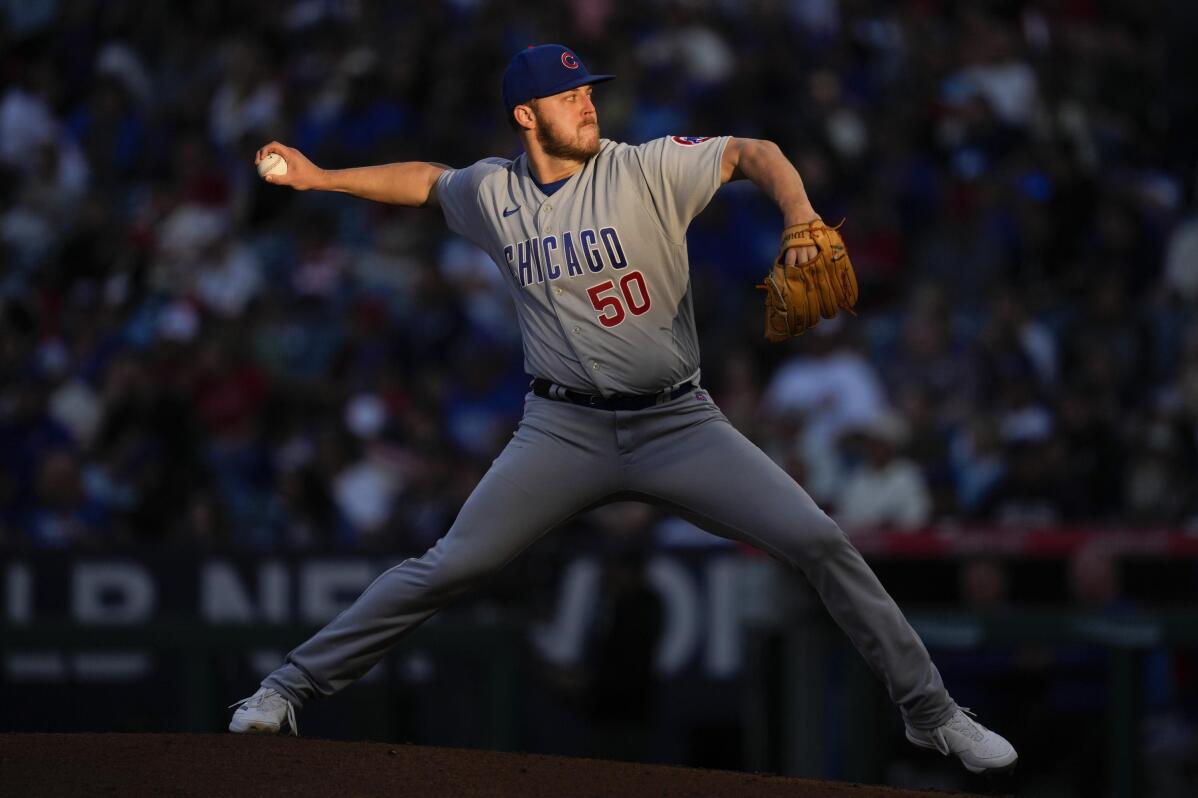 6 of 7

|
Chicago Cubs starting pitcher Jameson Taillon (50) throws during the third inning of a baseball game in Anaheim, Calif., Wednesday, June 7, 2023. (AP Photo/Ashley Landis)
6 of 7
Chicago Cubs starting pitcher Jameson Taillon (50) throws during the third inning of a baseball game in Anaheim, Calif., Wednesday, June 7, 2023. (AP Photo/Ashley Landis)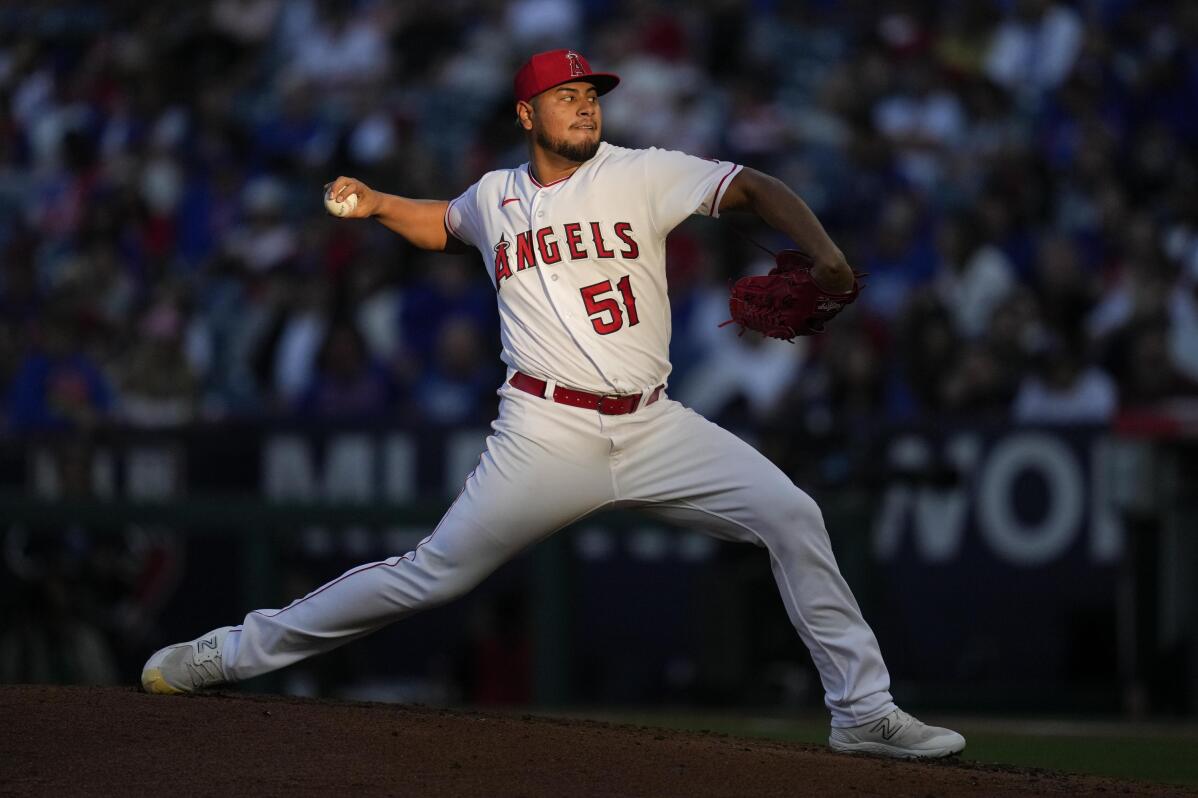 7 of 7

|
Los Angeles Angels starting pitcher Jaime Barria (51) throws during the second inning of a baseball game against the Chicago Cubs in Anaheim, Calif., Wednesday, June 7, 2023. (AP Photo/Ashley Landis)
7 of 7
Los Angeles Angels starting pitcher Jaime Barria (51) throws during the second inning of a baseball game against the Chicago Cubs in Anaheim, Calif., Wednesday, June 7, 2023. (AP Photo/Ashley Landis)
ANAHEIM, Calif. (AP) — Mickey Moniak realizes the Los Angeles Angels are loaded with quality outfielders at the moment, so he strived to stay sharp in the cage and with video study during five straight days without playing in a game recently.
When he got another chance to contribute Wednesday night, Moniak delivered with his bat and his glove in another solid win.
Mike Trout homered, Moniak had a three-run double and Luis Rengifo hit a tying homer and a tiebreaking RBI single in Los Angeles' 6-2 victory over the Chicago Cubs.
Trout and Moniak also made stellar defensive plays for the Halos, who are on their first three-game winning streak in two weeks after taking the first two from the Cubs to open their homestand.
Despite posting an OPS of 1.038 in 13 games after his initial callup in May, Moniak was on the bench for five of the Angels' last six games on the road last week behind Trout, Taylor Ward and Hunter Renfroe. The inactivity didn't shake Moniak, who's finally getting a real chance to stick in the majors.
"I've got the confidence to be able to know I'll be in the right spot, even without seeing pitching for a few days," Moniak said. "The outfield depth in this organization right now is crazy. ... It's just a testament to the talent we've got. If one man goes down, the next guy is ready to go. It's not like there's a hole in the lineup."
Moniak came up with the bases loaded in the sixth and delivered a double to right on a hanging splitter from Mark Leiter Jr., one of the Cubs' top leverage relievers. Moniak knew Leiter's tendencies from their time as teammates in the Phillies organization, and he had studied the scouting reports on Chicago's bullpen.
"I was looking for something up," Moniak said. "Just tried to put it in play. Been feeling pretty good at the plate the last couple of days."
Moniak also showed he's a game-changer on defense. He ended the third inning by sprinting into foul territory and reaching deep into the stands to snag Nico Hoerner's popup.
"The good part about these shorter walls (in foul territory) here is you can kind of run into them and not do too much damage," Moniak said.
He made another marvelous catch on Hoerner's sinking liner in the eighth.
Another Angels prospect had a big day as well: Hard-throwing reliever Ben Joyce (1-0) earned his first major league victory with an eventful sixth inning. The 6-foot-5 right-hander threw 20 of his 27 pitches faster than 100 mph and topped out at 103, but he also walked the bases loaded before escaping on Trey Mancini's groundout.
Mancini hit an RBI double and scored on Miguel Amaya's single in the fifth for the Cubs, who have lost three straight and nine of 13. Chicago's bullpen had a second straight rough night at Angel Stadium, while the Cubs' offense has scored runs in only two of its last 33 innings.
"We just haven't slugged the baseball as of late," Chicago manager David Ross said.
The Angels have, however.
After Trout led off the fourth inning with his 14th homer, a shot to right-center, Rengifo came through with back-to-back big hits. The utilityman followed up his solo homer off Jameson Taillon (1-4) in the fifth with a run-scoring single in the sixth.
Taillon yielded four hits and four walks while pitching into the sixth.
"It didn't look like he was as sharp as he's been, but the story of the game is we've got to get some offense," Ross said.
Chicago went hitless in the first four innings before taking the lead with three straight hits to open the fifth against Jaime Barria, who escaped the jam with no further damage. Barria has a 1.80 ERA in the sometime reliever's three starts this season.
"I had the confidence, and now I'm getting the opportunity," Barria said.
TRAINER'S ROOM
Cubs: INF Edwin Ríos went on the 10-day injured list retroactive to last Sunday with a left groin strain. ... Michael Rucker threw two innings of scoreless relief after coming up from Triple-A Iowa to take the active roster spot.
Angels: Ward was out of the starting lineup with an illness, but was available off the bench. ... OF Jo Adell was recalled for the first time this season with Renfroe on the paternity list.
UP NEXT
The Angels' Reid Detmers (0-5, 5.15 ERA) makes the 11th start of his curiously winless season in the series finale, facing Chicago's Drew Smyly (5-3, 3.56), who is winless in his last three starts.
___
AP MLB: https://apnews.com/hub/MLB and https://twitter.com/AP_Sports