Cubs put 2B Nico Hoerner on injured list with hamstring strain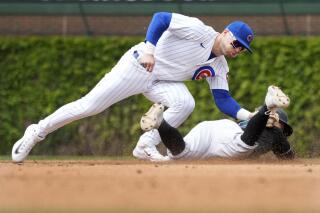 MINNEAPOLIS (AP) — Chicago Cubs second baseman Nico Hoerner was placed on the 10-day injured list Friday with a strained left hamstring before the team's game against Minnesota.
The injury occurred while Hoerner was running the bases Monday against St. Louis. After sitting out the next two games, his first absences of the season, the Cubs decided to give their leadoff man more time to heal and give manager David Ross more options on the active roster.
Ross said he's hopeful Hoerner will miss only the minimum amount of time. The move was made retroactive to Tuesday.
Infielder Miles Mastrobuoni was recalled from Triple-A Iowa to replace Hoerner on the roster, and Christopher Morel was in the lineup at second base against the Twins. The Cubs also activated left-hander Brandon Hughes from the 15-day injured list and sent right-hander Javier Assad to Iowa.
___
AP MLB: https://apnews.com/hub/MLB and https://twitter.com/AP_Sports