Cyprus, Greece, Israel: East Med energy source for Europe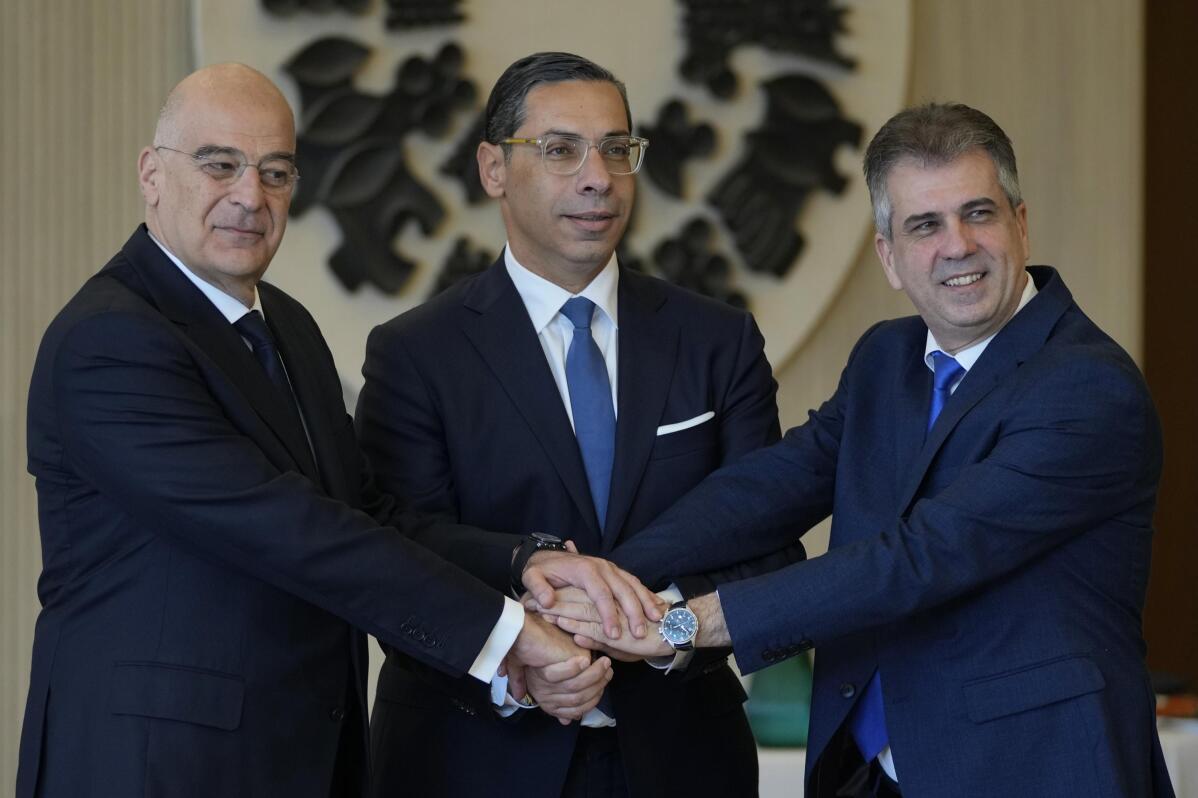 1 of 9

|
Cyprus Foreign Minister Constantinos Kombos, center, shake hands with his counterparts Israeli counterpart Eli Cohen, right, and Greek Nikos Dendias before their meeting at the Presidential palace in capital Nicosia, Cyprus, on Friday, March 31, 2023. The foreign ministers of Cyprus, Greece and Israel are holding another in a series of high-level meetings between the three countries established to further strengthen blossoming relations founded on the discovery of substantial natural gas deposits in east Mediterranean waters. (AP Photo/Petros Karadjias)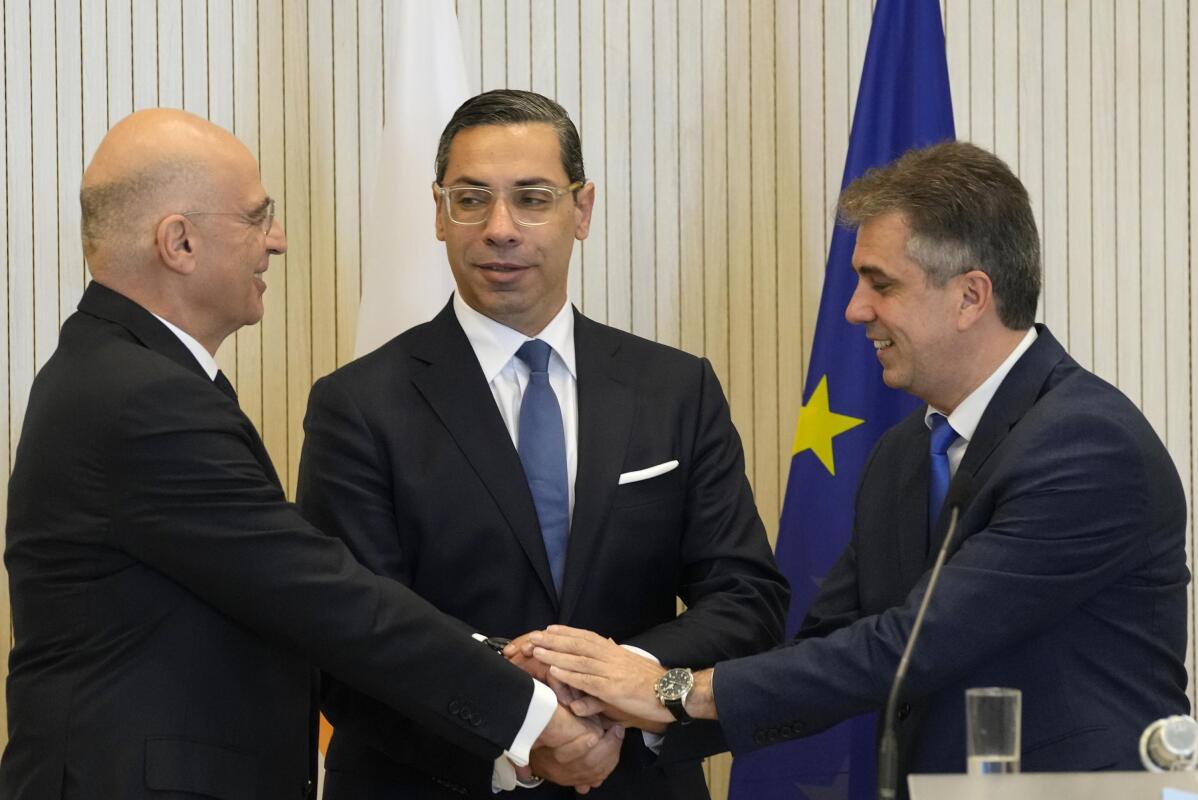 2 of 9

|
Cyprus Foreign Minister Constantinos Kombos, center, shakes hands with his Israeli counterpart Eli Cohen, right, and Greek counterpart Nikos Dendias after their meeting and a press conference at the Presidential palace in capital Nicosia, Cyprus, on Friday, March 31, 2023. The foreign ministers of Cyprus, Greece and Israel are holding another in a series of high-level meetings between the three countries established to further strengthen blossoming relations founded on the discovery of substantial natural gas deposits in east Mediterranean waters. (AP Photo/Petros Karadjias)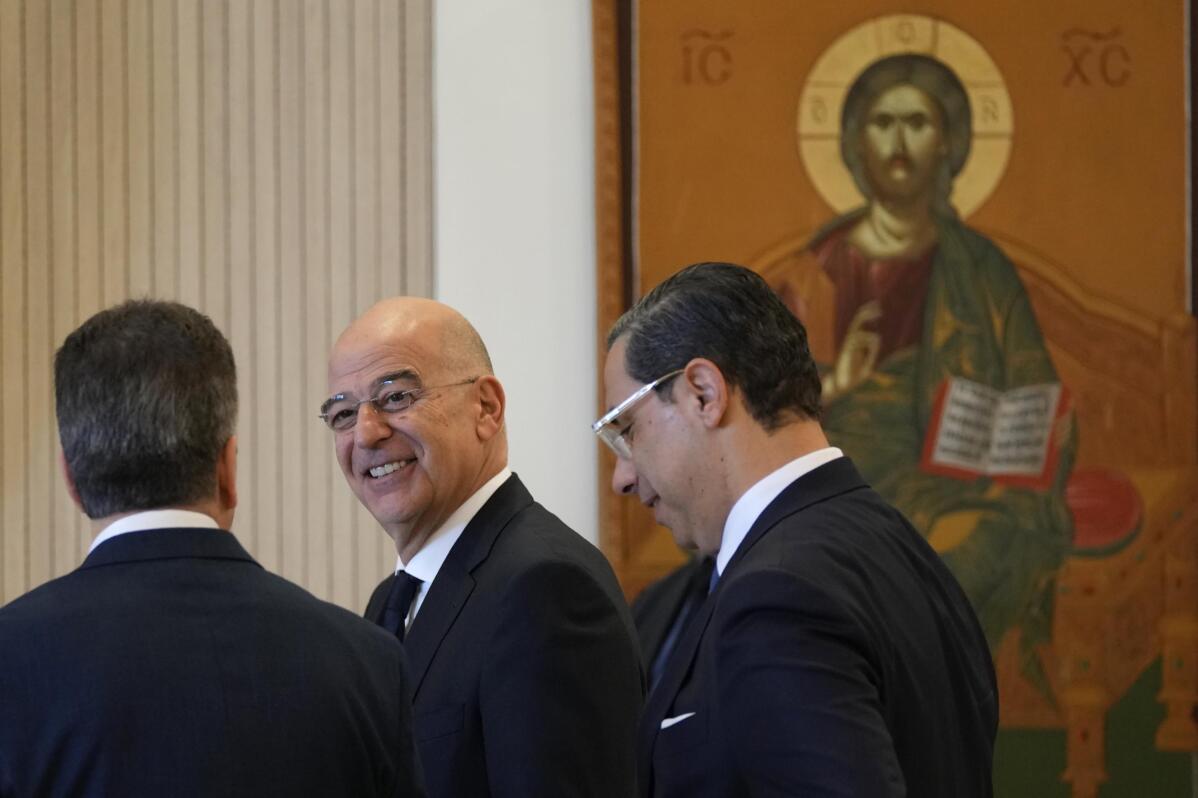 3 of 9

|
Cyprus Foreign Minister Constantinos Kombos, right, talks with his counterparts Israeli counterpart Eli Cohen, left, and Greek Nikos Dendias before their meeting at the Presidential palace in capital Nicosia, Cyprus, on Friday, March 31, 2023. The foreign ministers of Cyprus, Greece and Israel are holding another in a series of high-level meetings between the three countries established to further strengthen blossoming relations founded on the discovery of substantial natural gas deposits in east Mediterranean waters. (AP Photo/Petros Karadjias)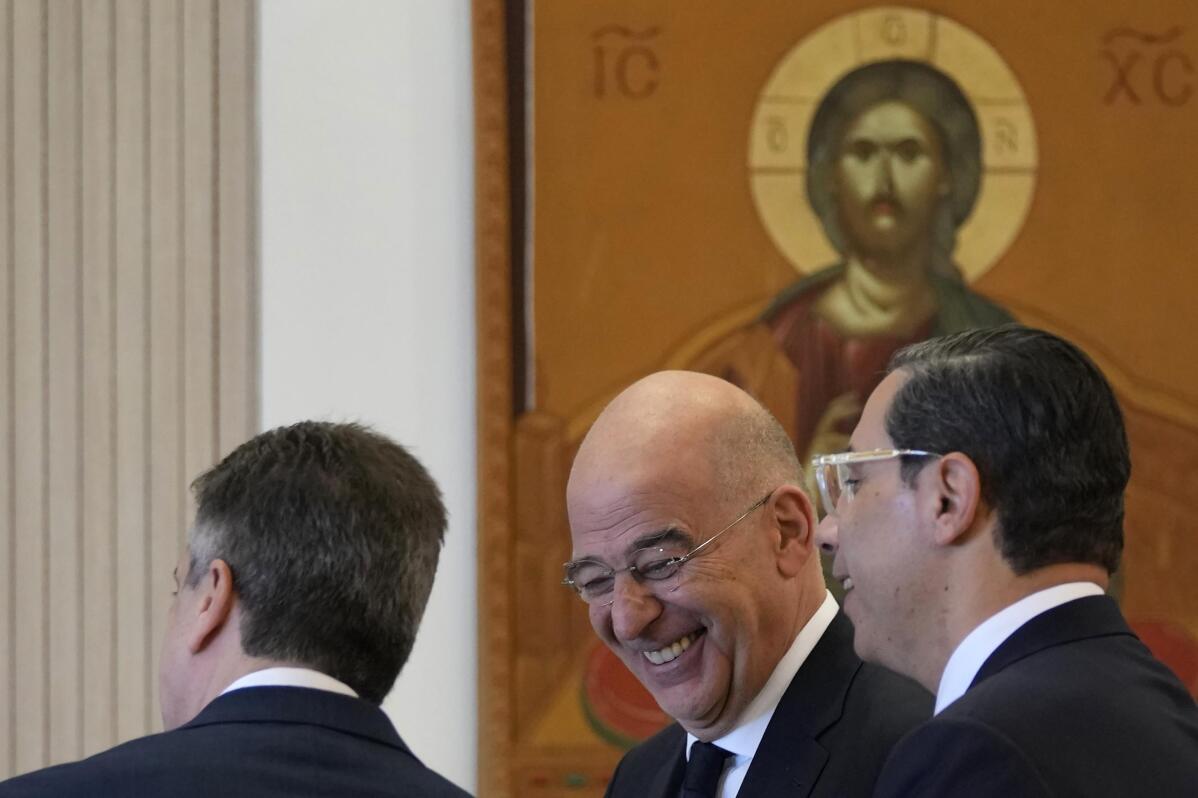 4 of 9

|
Cyprus Foreign Minister Constantinos Kombos, right, talks with his Israeli counterpart Eli Cohen, left, and Greek counterpart Nikos Dendias before their meeting at the Presidential palace in capital Nicosia, Cyprus, Friday, March 31, 2023. The foreign ministers of Cyprus, Greece and Israel are holding another in a series of high-level meetings between the three countries established to further strengthen blossoming relations founded on the discovery of substantial natural gas deposits in east Mediterranean waters. (AP Photo/Petros Karadjias)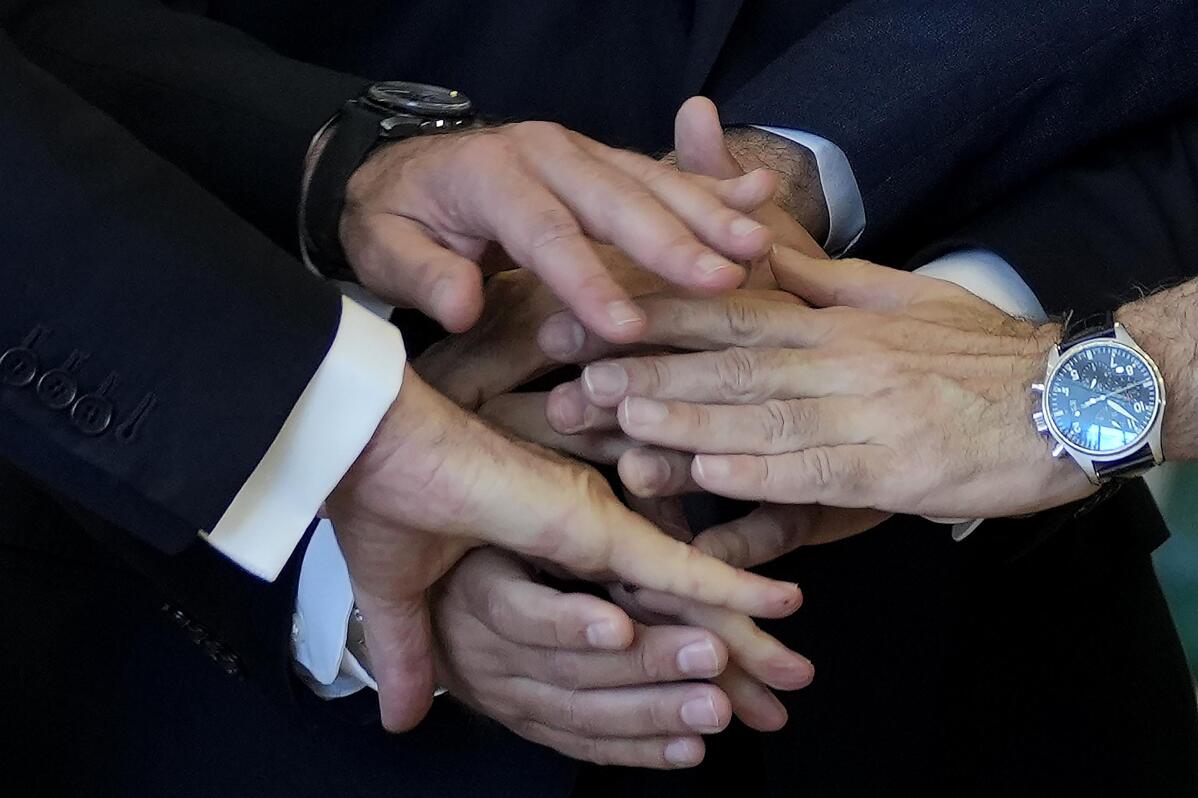 5 of 9

|
Cyprus Foreign Minister Constantinos Kombos shake hands with his Israeli counterpart Eli Cohen and Greek counterpart Nikos Dendias before their meeting at the Presidential palace in capital Nicosia, Cyprus, Friday, March 31, 2023. The foreign ministers of Cyprus, Greece and Israel are holding another in a series of high-level meetings between the three countries established to further strengthen blossoming relations founded on the discovery of substantial natural gas deposits in east Mediterranean waters. (AP Photo/Petros Karadjias)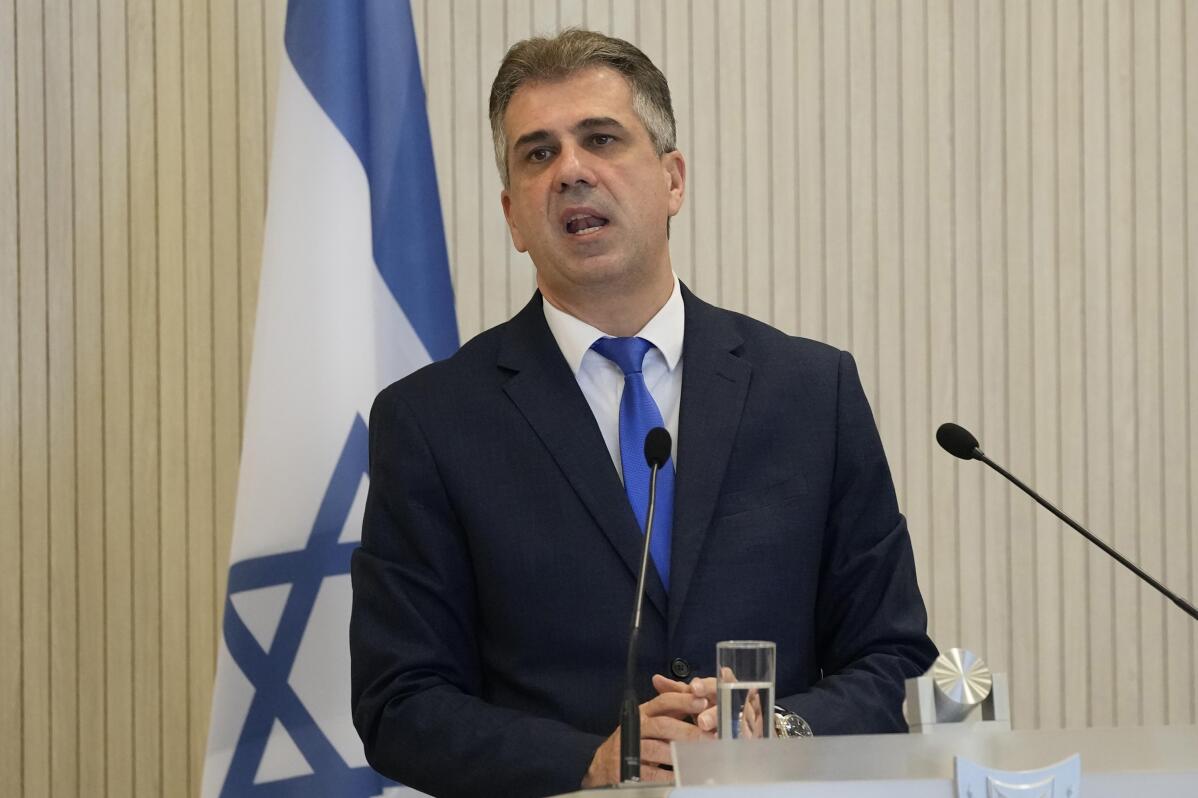 6 of 9

|
Israeli Foreign Minister Eli Cohen talks to the media during a press conference after a meeting with his Cyprus' counterpart Constantinos Kombos and Greek counterpart Nikos Dendias at the Presidential palace in capital Nicosia, Cyprus, on Friday, March 31, 2023. The foreign ministers of Cyprus, Greece and Israel are holding another in a series of high-level meetings between the three countries established to further strengthen blossoming relations founded on the discovery of substantial natural gas deposits in east Mediterranean waters. (AP Photo/Petros Karadjias)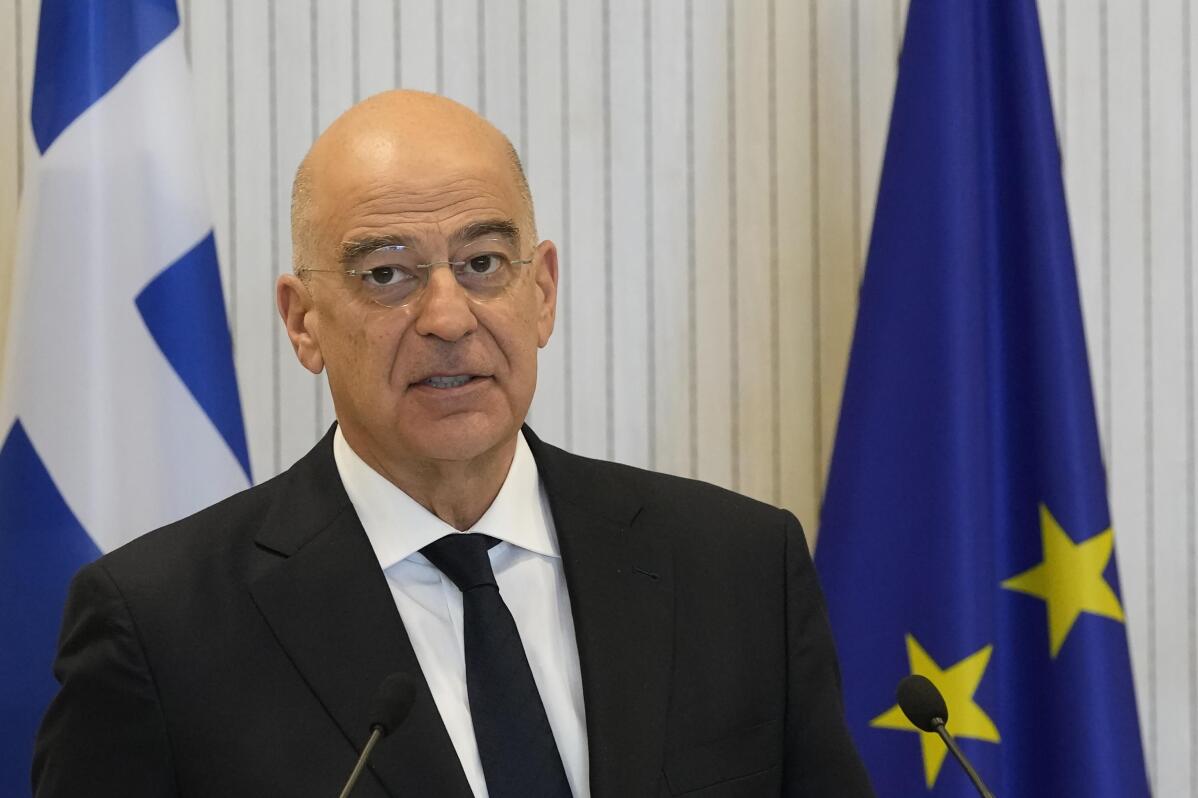 7 of 9

|
Greek Foreign minister Nikos Dendias talks to the media during a press conference after a meeting with his Cyprus' counterparts Constantinos Kombos and Israeli counterpart Eli Cohen at the Presidential palace in capital Nicosia, Cyprus, on Friday, March 31, 2023. The foreign ministers of Cyprus, Greece and Israel are holding another in a series of high-level meetings between the three countries established to further strengthen blossoming relations founded on the discovery of substantial natural gas deposits in east Mediterranean waters. (AP Photo/Petros Karadjias)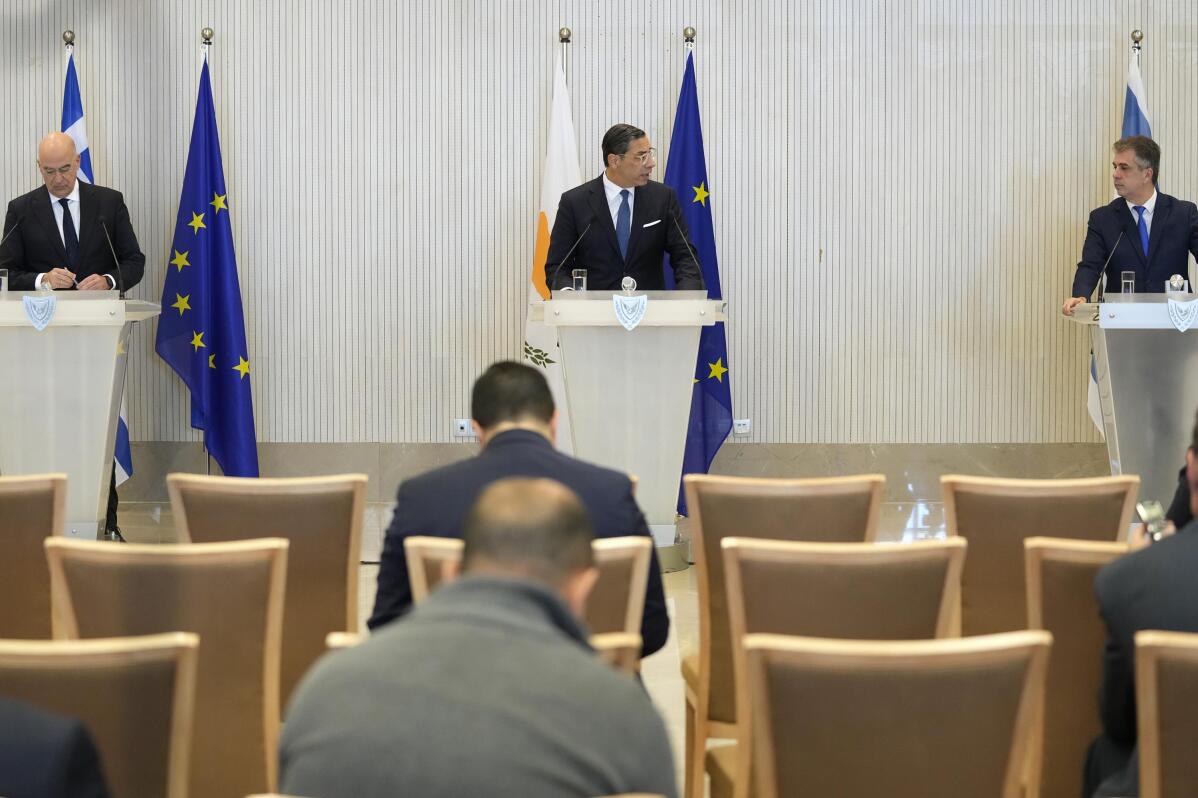 8 of 9

|
Cyprus Foreign Minister Constantinos Kombos, center, talks to the media during a joint press conference with Israeli counterpart Eli Cohen, right, and Greek counterpart Nikos Dendias after their meeting at the Presidential palace in Nicosia, Cyprus, Friday, March 31, 2023. The foreign ministers of Cyprus, Greece and Israel are holding another in a series of high-level meetings between the three countries established to further strengthen blossoming relations founded on the discovery of substantial natural gas deposits in east Mediterranean waters. (AP Photo/Petros Karadjias)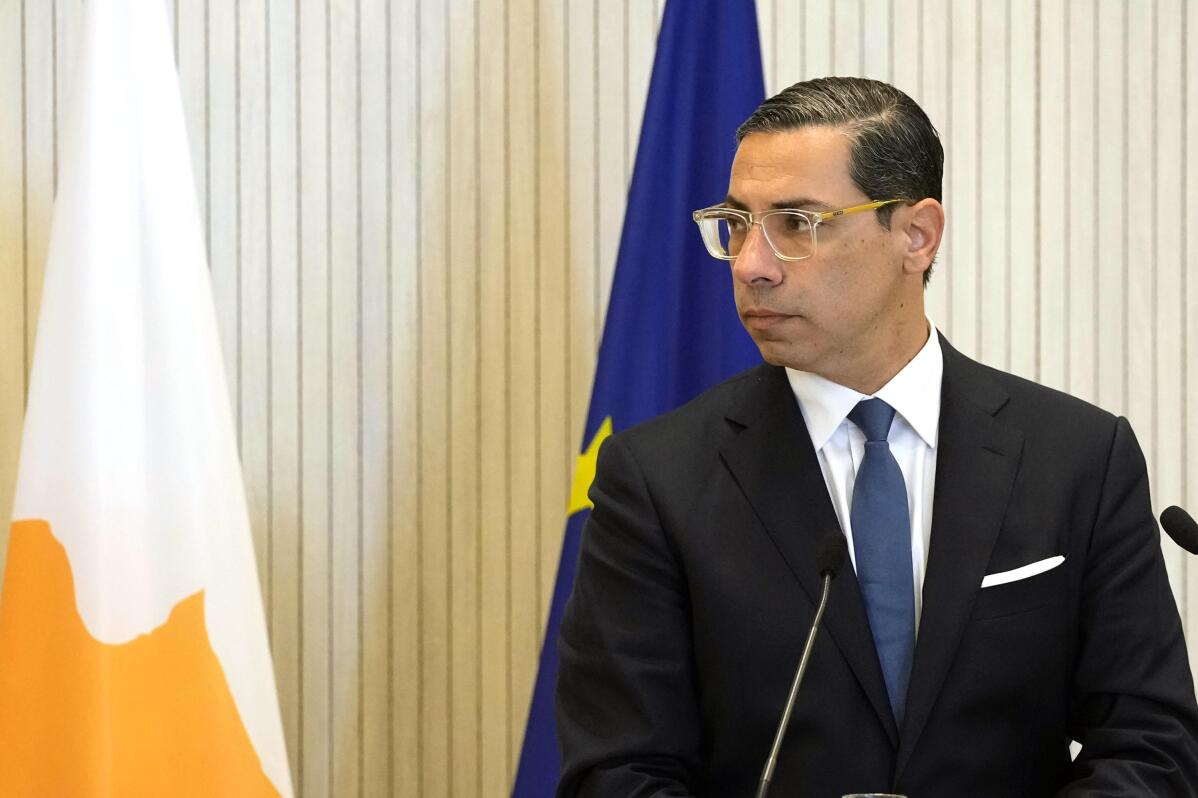 9 of 9

|
Cyprus' Foreign Minister Constantinos Kombos listens as his Greek counterpart Nikos Dendias, not pictured, talks to the media during a press conference after a meeting with Israeli counterpart Eli Cohen at the Presidential palace in Nicosia, Cyprus, Friday, March 31, 2023. The foreign ministers of Cyprus, Greece and Israel are holding another in a series of high-level meetings between the three countries established to further strengthen blossoming relations founded on the discovery of substantial natural gas deposits in east Mediterranean waters. (AP Photo/Petros Karadjias)
Cyprus, Greece, Israel: East Med energy source for Europe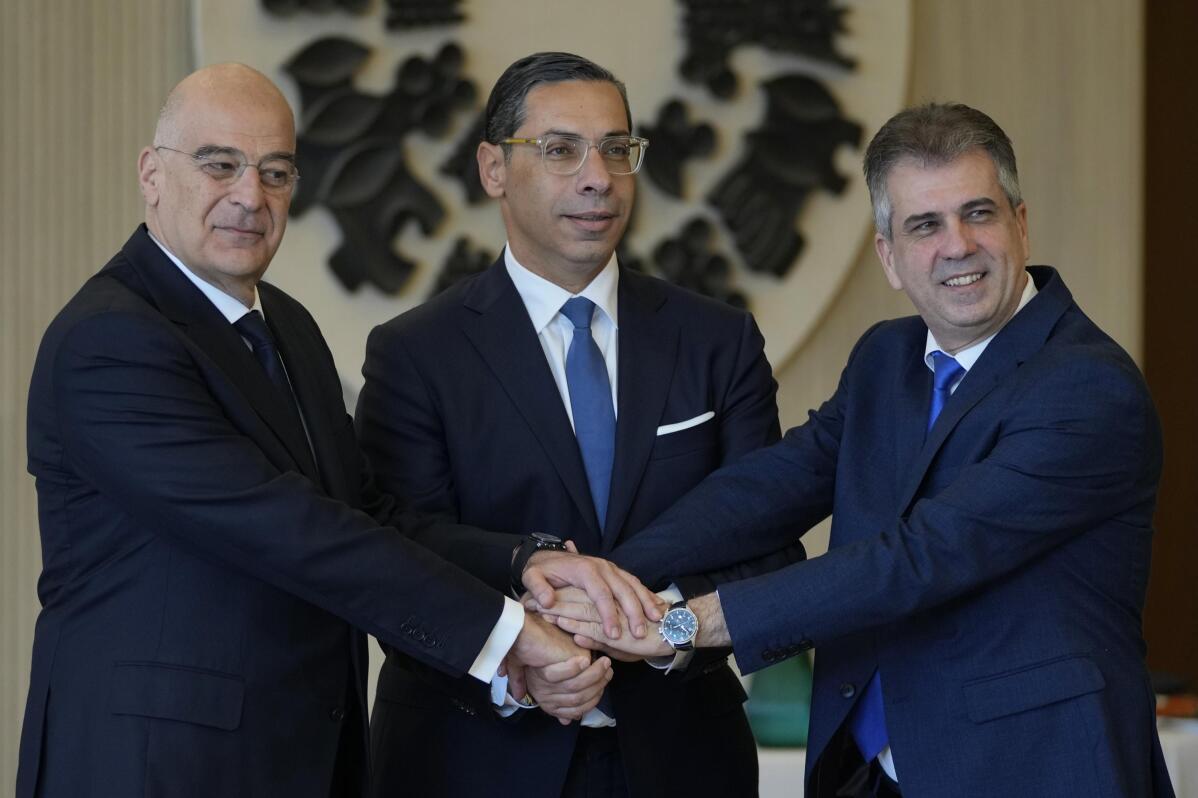 1 of 9

|
Cyprus Foreign Minister Constantinos Kombos, center, shake hands with his counterparts Israeli counterpart Eli Cohen, right, and Greek Nikos Dendias before their meeting at the Presidential palace in capital Nicosia, Cyprus, on Friday, March 31, 2023. The foreign ministers of Cyprus, Greece and Israel are holding another in a series of high-level meetings between the three countries established to further strengthen blossoming relations founded on the discovery of substantial natural gas deposits in east Mediterranean waters. (AP Photo/Petros Karadjias)
1 of 9
Cyprus Foreign Minister Constantinos Kombos, center, shake hands with his counterparts Israeli counterpart Eli Cohen, right, and Greek Nikos Dendias before their meeting at the Presidential palace in capital Nicosia, Cyprus, on Friday, March 31, 2023. The foreign ministers of Cyprus, Greece and Israel are holding another in a series of high-level meetings between the three countries established to further strengthen blossoming relations founded on the discovery of substantial natural gas deposits in east Mediterranean waters. (AP Photo/Petros Karadjias)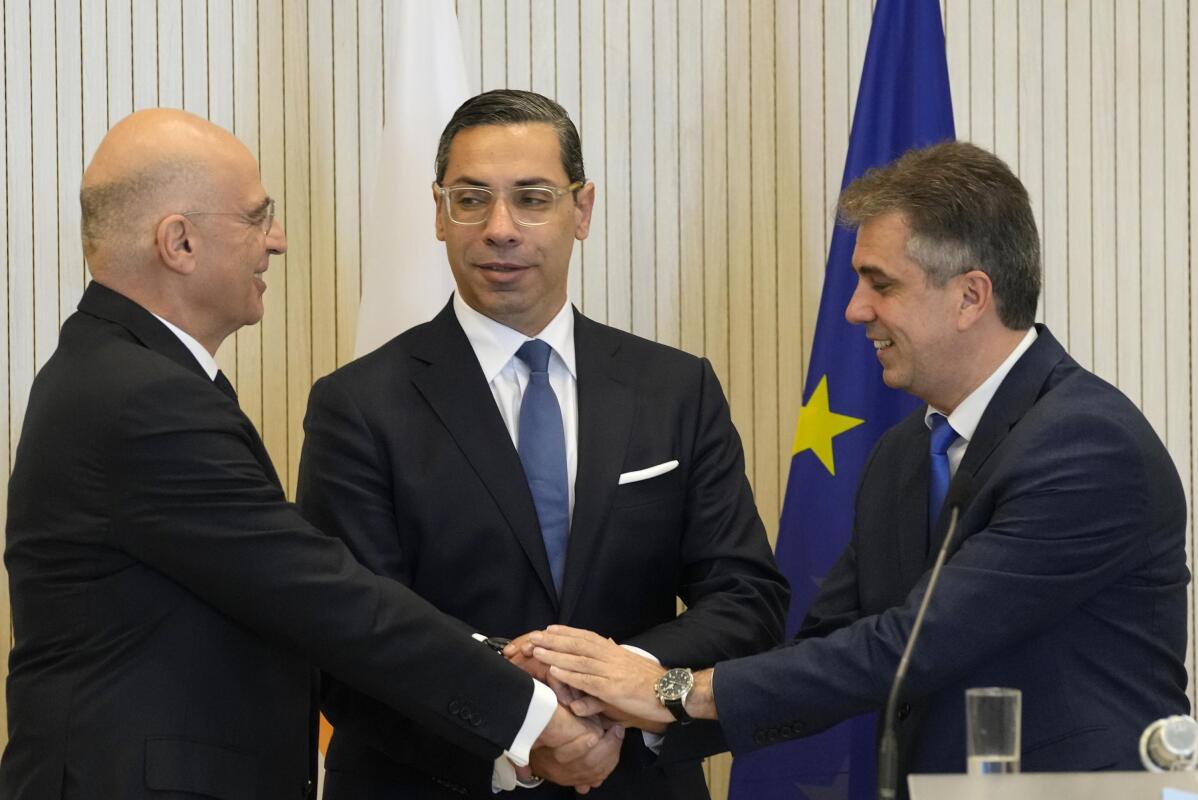 2 of 9

|
Cyprus Foreign Minister Constantinos Kombos, center, shakes hands with his Israeli counterpart Eli Cohen, right, and Greek counterpart Nikos Dendias after their meeting and a press conference at the Presidential palace in capital Nicosia, Cyprus, on Friday, March 31, 2023. The foreign ministers of Cyprus, Greece and Israel are holding another in a series of high-level meetings between the three countries established to further strengthen blossoming relations founded on the discovery of substantial natural gas deposits in east Mediterranean waters. (AP Photo/Petros Karadjias)
2 of 9
Cyprus Foreign Minister Constantinos Kombos, center, shakes hands with his Israeli counterpart Eli Cohen, right, and Greek counterpart Nikos Dendias after their meeting and a press conference at the Presidential palace in capital Nicosia, Cyprus, on Friday, March 31, 2023. The foreign ministers of Cyprus, Greece and Israel are holding another in a series of high-level meetings between the three countries established to further strengthen blossoming relations founded on the discovery of substantial natural gas deposits in east Mediterranean waters. (AP Photo/Petros Karadjias)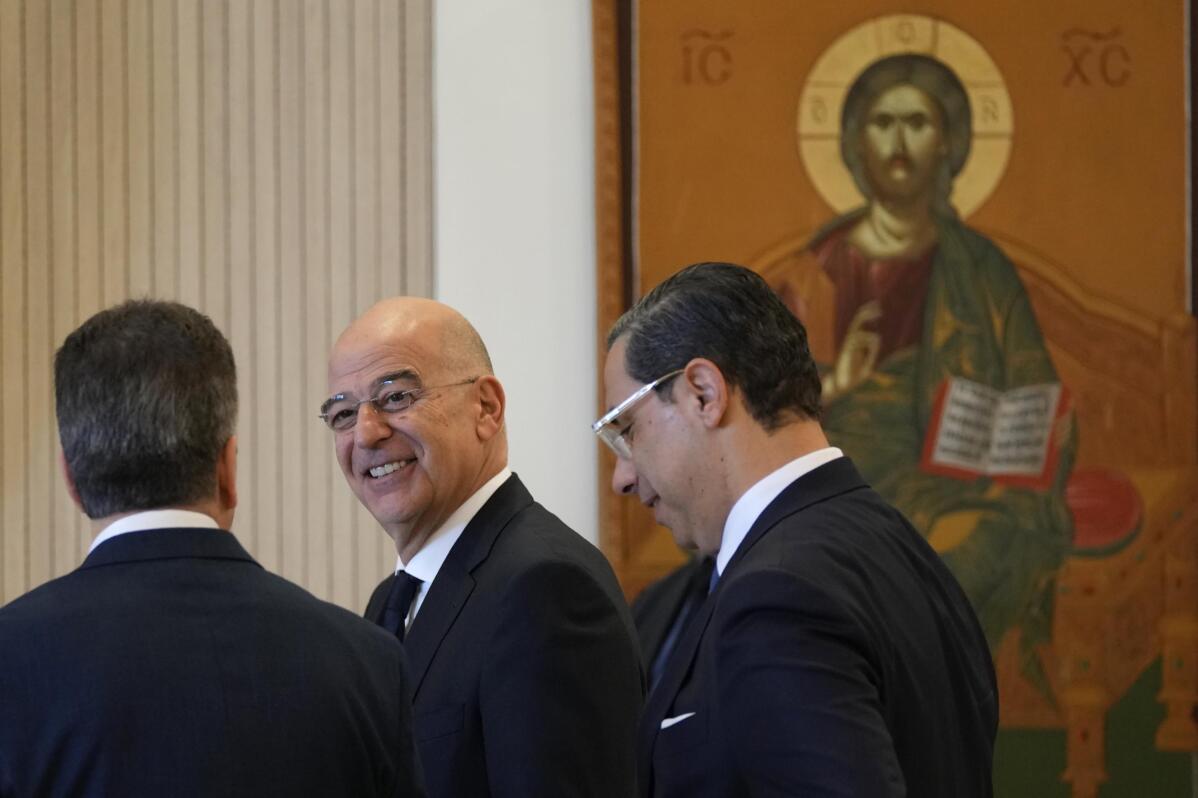 3 of 9

|
Cyprus Foreign Minister Constantinos Kombos, right, talks with his counterparts Israeli counterpart Eli Cohen, left, and Greek Nikos Dendias before their meeting at the Presidential palace in capital Nicosia, Cyprus, on Friday, March 31, 2023. The foreign ministers of Cyprus, Greece and Israel are holding another in a series of high-level meetings between the three countries established to further strengthen blossoming relations founded on the discovery of substantial natural gas deposits in east Mediterranean waters. (AP Photo/Petros Karadjias)
3 of 9
Cyprus Foreign Minister Constantinos Kombos, right, talks with his counterparts Israeli counterpart Eli Cohen, left, and Greek Nikos Dendias before their meeting at the Presidential palace in capital Nicosia, Cyprus, on Friday, March 31, 2023. The foreign ministers of Cyprus, Greece and Israel are holding another in a series of high-level meetings between the three countries established to further strengthen blossoming relations founded on the discovery of substantial natural gas deposits in east Mediterranean waters. (AP Photo/Petros Karadjias)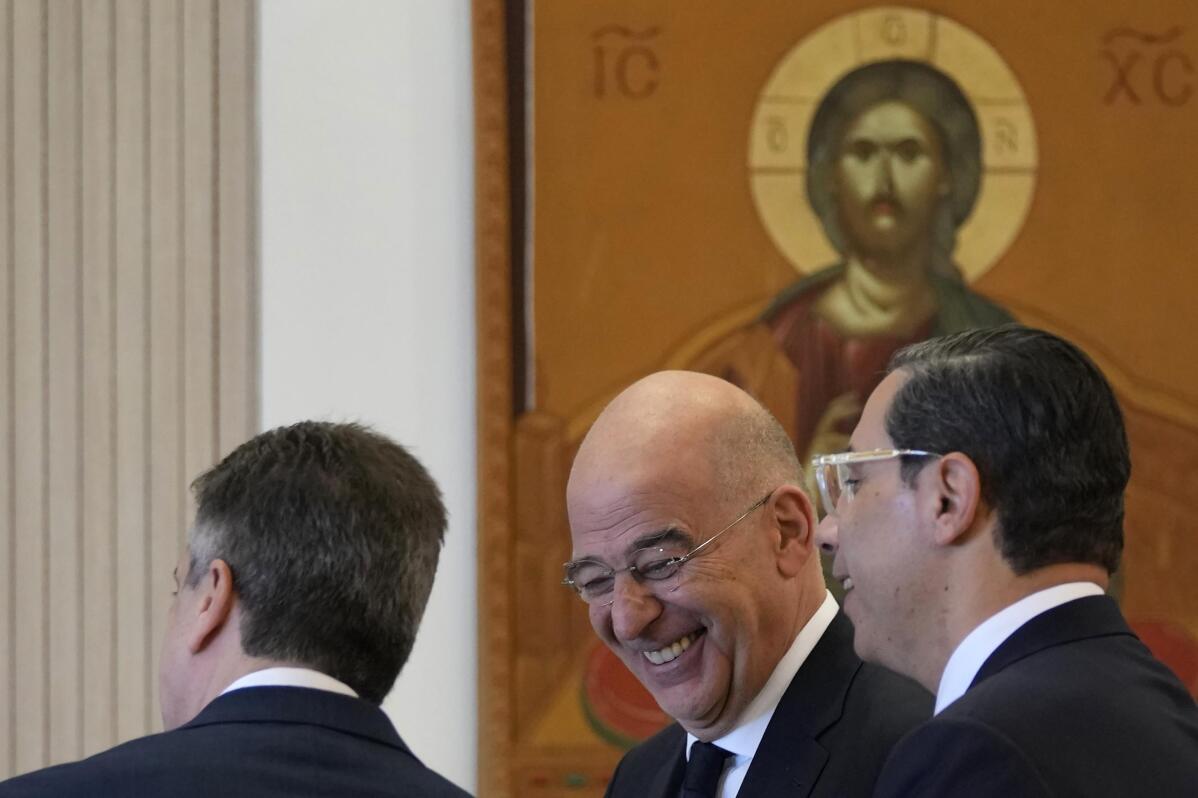 4 of 9

|
Cyprus Foreign Minister Constantinos Kombos, right, talks with his Israeli counterpart Eli Cohen, left, and Greek counterpart Nikos Dendias before their meeting at the Presidential palace in capital Nicosia, Cyprus, Friday, March 31, 2023. The foreign ministers of Cyprus, Greece and Israel are holding another in a series of high-level meetings between the three countries established to further strengthen blossoming relations founded on the discovery of substantial natural gas deposits in east Mediterranean waters. (AP Photo/Petros Karadjias)
4 of 9
Cyprus Foreign Minister Constantinos Kombos, right, talks with his Israeli counterpart Eli Cohen, left, and Greek counterpart Nikos Dendias before their meeting at the Presidential palace in capital Nicosia, Cyprus, Friday, March 31, 2023. The foreign ministers of Cyprus, Greece and Israel are holding another in a series of high-level meetings between the three countries established to further strengthen blossoming relations founded on the discovery of substantial natural gas deposits in east Mediterranean waters. (AP Photo/Petros Karadjias)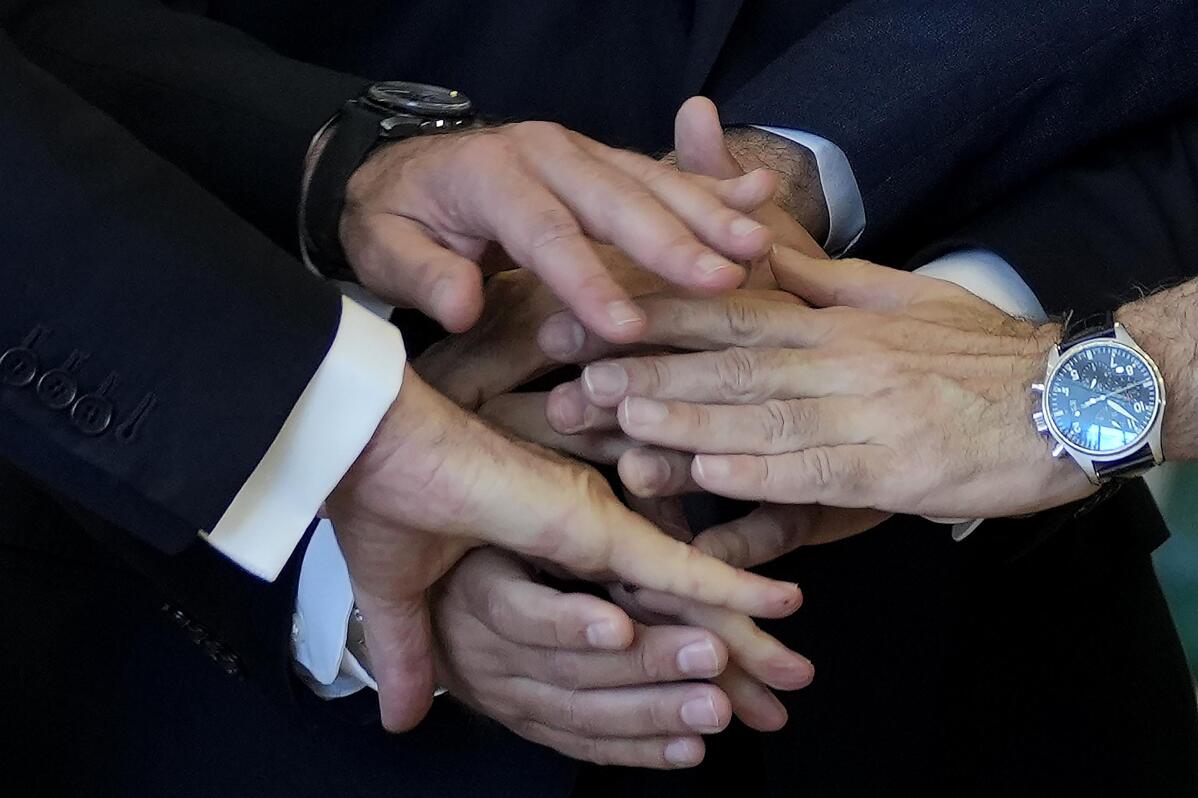 5 of 9

|
Cyprus Foreign Minister Constantinos Kombos shake hands with his Israeli counterpart Eli Cohen and Greek counterpart Nikos Dendias before their meeting at the Presidential palace in capital Nicosia, Cyprus, Friday, March 31, 2023. The foreign ministers of Cyprus, Greece and Israel are holding another in a series of high-level meetings between the three countries established to further strengthen blossoming relations founded on the discovery of substantial natural gas deposits in east Mediterranean waters. (AP Photo/Petros Karadjias)
5 of 9
Cyprus Foreign Minister Constantinos Kombos shake hands with his Israeli counterpart Eli Cohen and Greek counterpart Nikos Dendias before their meeting at the Presidential palace in capital Nicosia, Cyprus, Friday, March 31, 2023. The foreign ministers of Cyprus, Greece and Israel are holding another in a series of high-level meetings between the three countries established to further strengthen blossoming relations founded on the discovery of substantial natural gas deposits in east Mediterranean waters. (AP Photo/Petros Karadjias)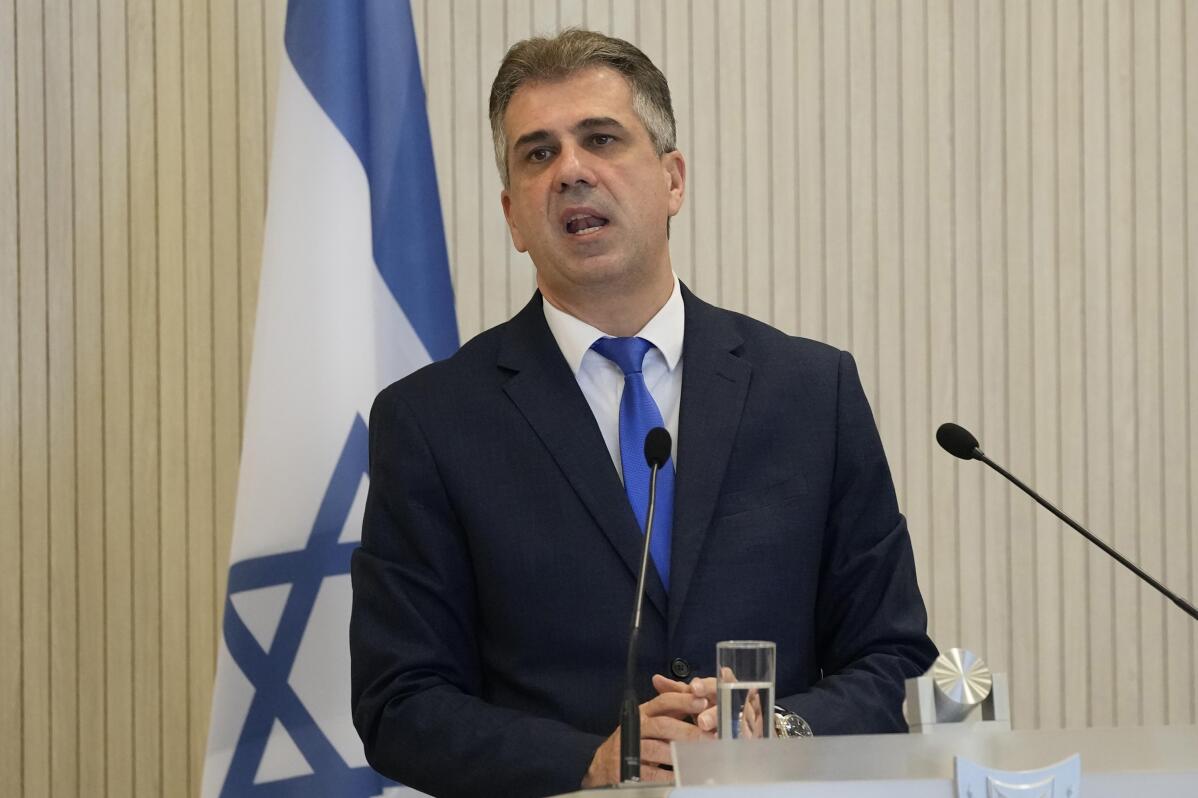 6 of 9

|
Israeli Foreign Minister Eli Cohen talks to the media during a press conference after a meeting with his Cyprus' counterpart Constantinos Kombos and Greek counterpart Nikos Dendias at the Presidential palace in capital Nicosia, Cyprus, on Friday, March 31, 2023. The foreign ministers of Cyprus, Greece and Israel are holding another in a series of high-level meetings between the three countries established to further strengthen blossoming relations founded on the discovery of substantial natural gas deposits in east Mediterranean waters. (AP Photo/Petros Karadjias)
6 of 9
Israeli Foreign Minister Eli Cohen talks to the media during a press conference after a meeting with his Cyprus' counterpart Constantinos Kombos and Greek counterpart Nikos Dendias at the Presidential palace in capital Nicosia, Cyprus, on Friday, March 31, 2023. The foreign ministers of Cyprus, Greece and Israel are holding another in a series of high-level meetings between the three countries established to further strengthen blossoming relations founded on the discovery of substantial natural gas deposits in east Mediterranean waters. (AP Photo/Petros Karadjias)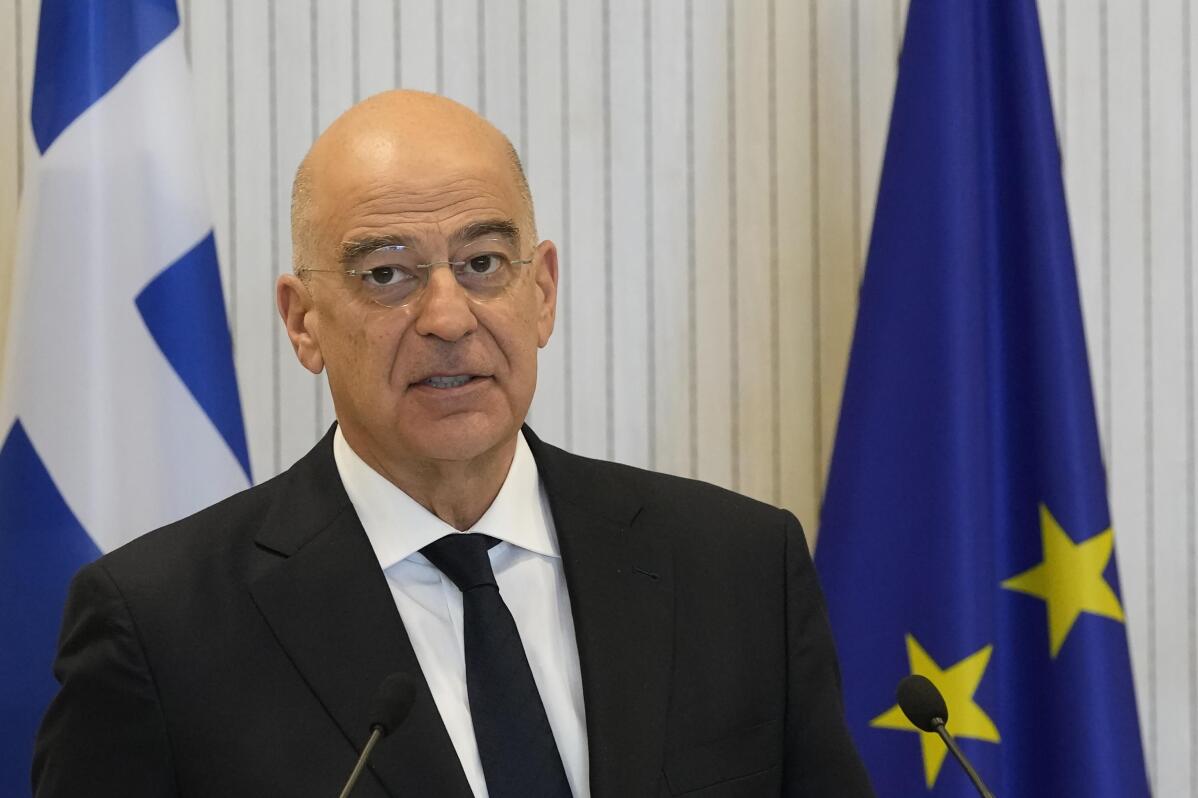 7 of 9

|
Greek Foreign minister Nikos Dendias talks to the media during a press conference after a meeting with his Cyprus' counterparts Constantinos Kombos and Israeli counterpart Eli Cohen at the Presidential palace in capital Nicosia, Cyprus, on Friday, March 31, 2023. The foreign ministers of Cyprus, Greece and Israel are holding another in a series of high-level meetings between the three countries established to further strengthen blossoming relations founded on the discovery of substantial natural gas deposits in east Mediterranean waters. (AP Photo/Petros Karadjias)
7 of 9
Greek Foreign minister Nikos Dendias talks to the media during a press conference after a meeting with his Cyprus' counterparts Constantinos Kombos and Israeli counterpart Eli Cohen at the Presidential palace in capital Nicosia, Cyprus, on Friday, March 31, 2023. The foreign ministers of Cyprus, Greece and Israel are holding another in a series of high-level meetings between the three countries established to further strengthen blossoming relations founded on the discovery of substantial natural gas deposits in east Mediterranean waters. (AP Photo/Petros Karadjias)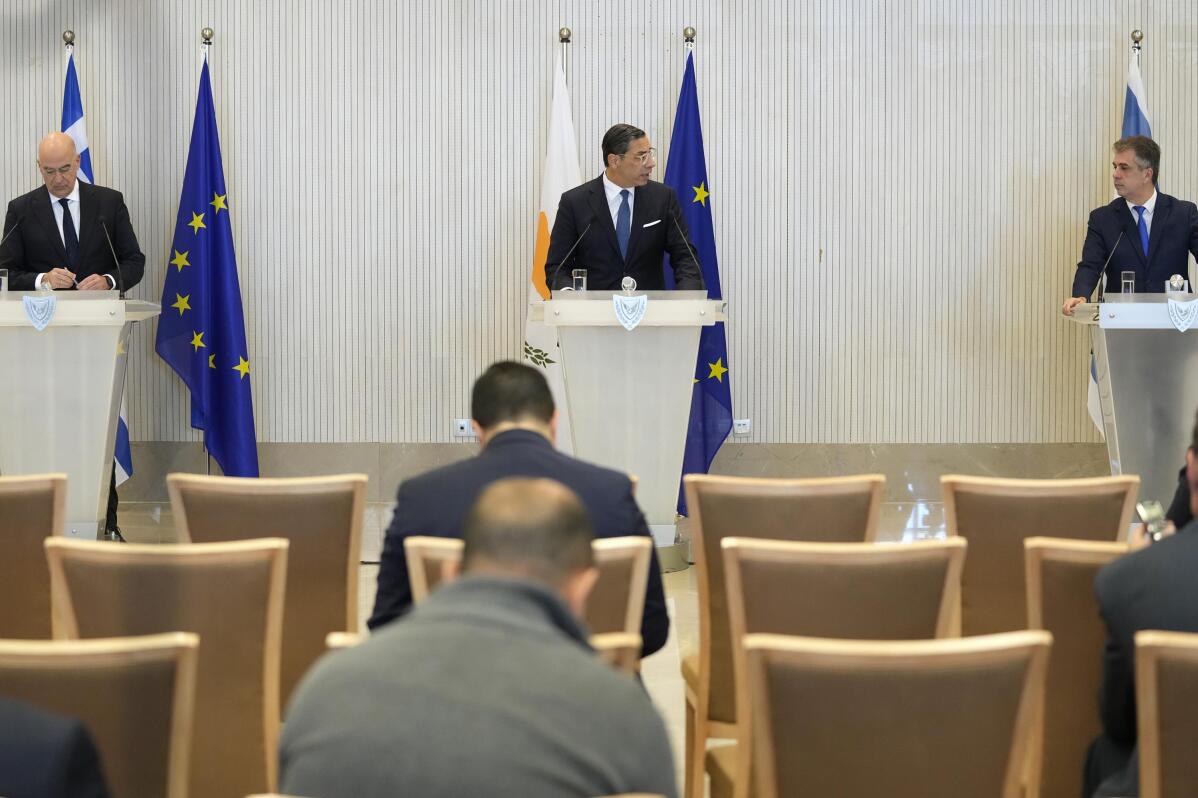 8 of 9

|
Cyprus Foreign Minister Constantinos Kombos, center, talks to the media during a joint press conference with Israeli counterpart Eli Cohen, right, and Greek counterpart Nikos Dendias after their meeting at the Presidential palace in Nicosia, Cyprus, Friday, March 31, 2023. The foreign ministers of Cyprus, Greece and Israel are holding another in a series of high-level meetings between the three countries established to further strengthen blossoming relations founded on the discovery of substantial natural gas deposits in east Mediterranean waters. (AP Photo/Petros Karadjias)
8 of 9
Cyprus Foreign Minister Constantinos Kombos, center, talks to the media during a joint press conference with Israeli counterpart Eli Cohen, right, and Greek counterpart Nikos Dendias after their meeting at the Presidential palace in Nicosia, Cyprus, Friday, March 31, 2023. The foreign ministers of Cyprus, Greece and Israel are holding another in a series of high-level meetings between the three countries established to further strengthen blossoming relations founded on the discovery of substantial natural gas deposits in east Mediterranean waters. (AP Photo/Petros Karadjias)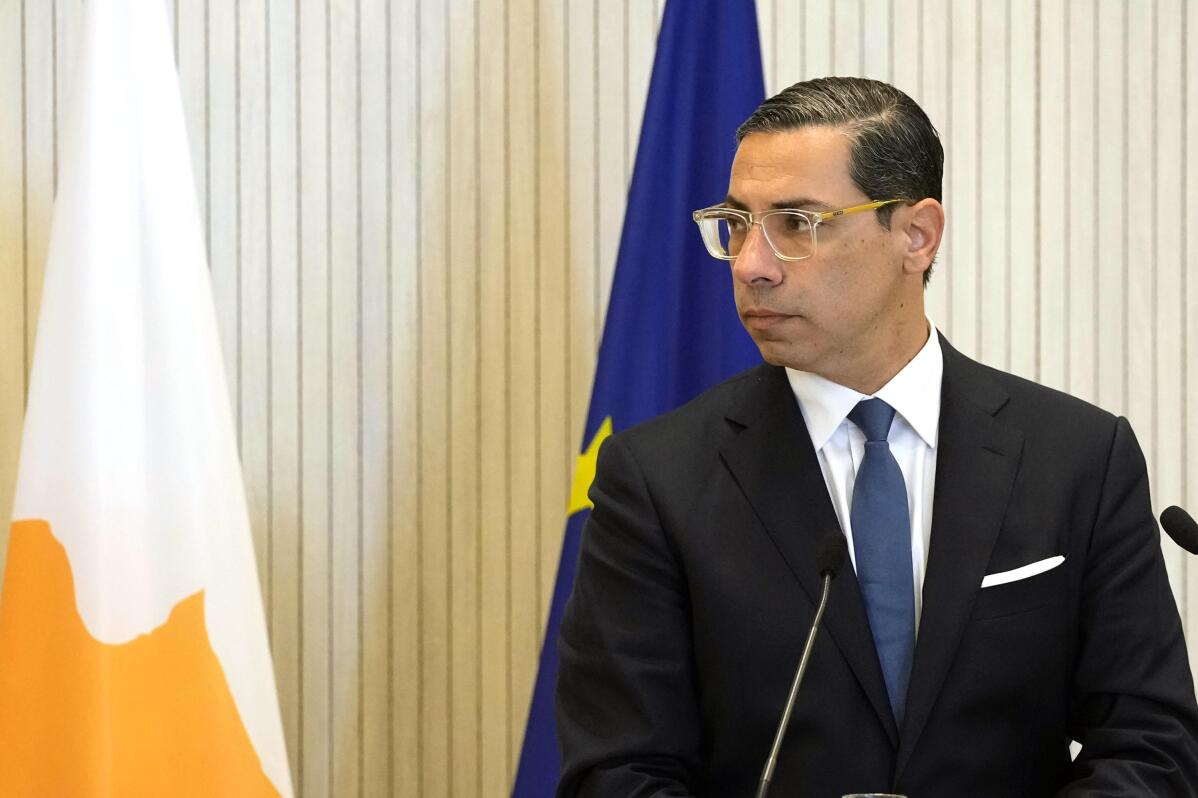 9 of 9

|
Cyprus' Foreign Minister Constantinos Kombos listens as his Greek counterpart Nikos Dendias, not pictured, talks to the media during a press conference after a meeting with Israeli counterpart Eli Cohen at the Presidential palace in Nicosia, Cyprus, Friday, March 31, 2023. The foreign ministers of Cyprus, Greece and Israel are holding another in a series of high-level meetings between the three countries established to further strengthen blossoming relations founded on the discovery of substantial natural gas deposits in east Mediterranean waters. (AP Photo/Petros Karadjias)
9 of 9
Cyprus' Foreign Minister Constantinos Kombos listens as his Greek counterpart Nikos Dendias, not pictured, talks to the media during a press conference after a meeting with Israeli counterpart Eli Cohen at the Presidential palace in Nicosia, Cyprus, Friday, March 31, 2023. The foreign ministers of Cyprus, Greece and Israel are holding another in a series of high-level meetings between the three countries established to further strengthen blossoming relations founded on the discovery of substantial natural gas deposits in east Mediterranean waters. (AP Photo/Petros Karadjias)
NICOSIA, Cyprus (AP) — The eastern Mediterranean can provide a key energy corridor to Europe through a planned electricity cable connecting the power grids of Cyprus, Greece and Israel and a potential natural gas pipeline, the three countries' top diplomats said Friday.
The three foreign ministers met in the Cypriot capital as part of a series of high-level trilateral meetings aimed at deepening a partnership founded on the discovery of substantial offshore natural gas deposits.
"Unlocking the full potential of our region will be a game changer," Cypriot Foreign Minister Constantinos Kombos told a news conference. "We strive to promote a reliable and sustainable energy corridor from the Eastern Mediterranean basin to Europe."
Work hasn't started on either the cable — which will be partly funded by the European Union — or the gas pipeline, which has been under discussion for years but is still at the feasibility study stage.
The Cypriot foreign minister has underscored that the projects have gained added weight and urgency in light of Russia's war against Ukraine and the "need for energy diversification and increased interconnectivity."
Kombos said a 2,000-megawatt undersea electricity cable known as the EurAsia Interconnector and the proposed EastMed gas pipeline "remain two significant strategic options on our energy agenda."
Greek Foreign Minister Nikos Dendias said the EU's engagement in a regional forum created to promote cooperation on energy generation "showed that the eastern Mediterranean plays an important role as an alternative energy corridor."
"We talked about the East Med pipeline, as you would expect us to do, and also the strategic importance of the Eurasian interconnector between Greece, Cyprus, Israel," Dendias said, extending an invitation to Turkey — Greece's neighbor and longtime regional rival — to join in as long as it heeds international law.
Israeli Foreign Minister Eli Cohen said his country attaches "special importance" to renewable energy.
Funding for about a third of the EurAsia Interconnector's 1.6 billion euro ($1.74 billion) price tag will come from the EU's Connecting Europe Facility, which bankrolls infrastructure projects.
Feasibility studies on the proposed 1,900-kilometer (1,300-mile), $6 billion EastMed pipeline are still ongoing. The project has in recent years fallen in and out of favor with planners after U.S. officials declared it as not viable.
But it may have gotten a second wind in the wake of Russia's invasion of Ukraine last year that compelled Europe to scramble for alternative sources of energy.
Cohen added that Israel would also boost military cooperation through joint military exercises and arms procurements, while information sharing between the three countries' intelligence agencies would "remain for the stability of our region."
Cyprus will host a meeting of the three countries' leaders later this year.