Czech government proposes measures to keep ballooning deficit under control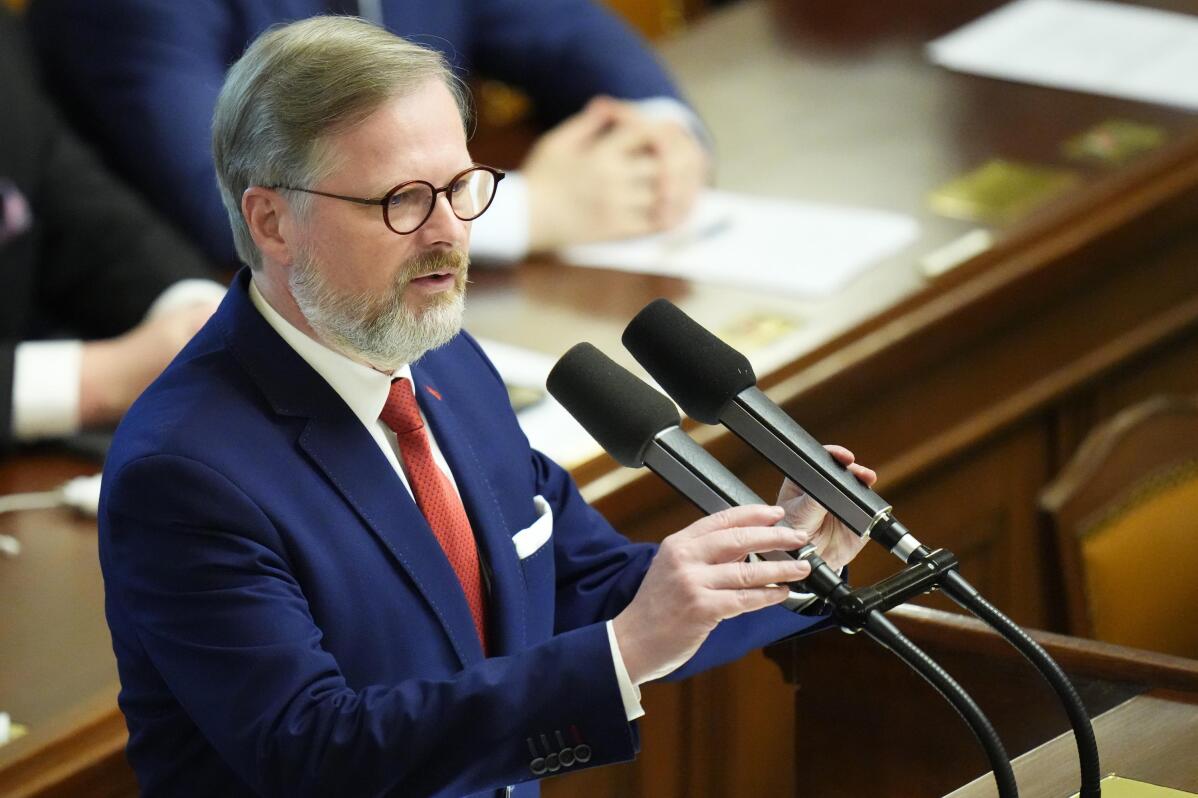 1 of 2

|
Czech Republic's Prime Minister Petr Fiala holds a speech at the Parliament in Prague, Czech Republic, Wednesday, June 15, 2022. The Czech citizens will likely pay more for beer and medicine while businesses will face higher corporate taxes as part of a package of dozens of measures designed to keep the ballooning budget deficit under control, the government said on Thursday May, 11, 2023, Prime Minister Petr Fiala said the measures are necessary because the pace of the debt rise is "threatening." (AP Photo/Petr David Josek/File)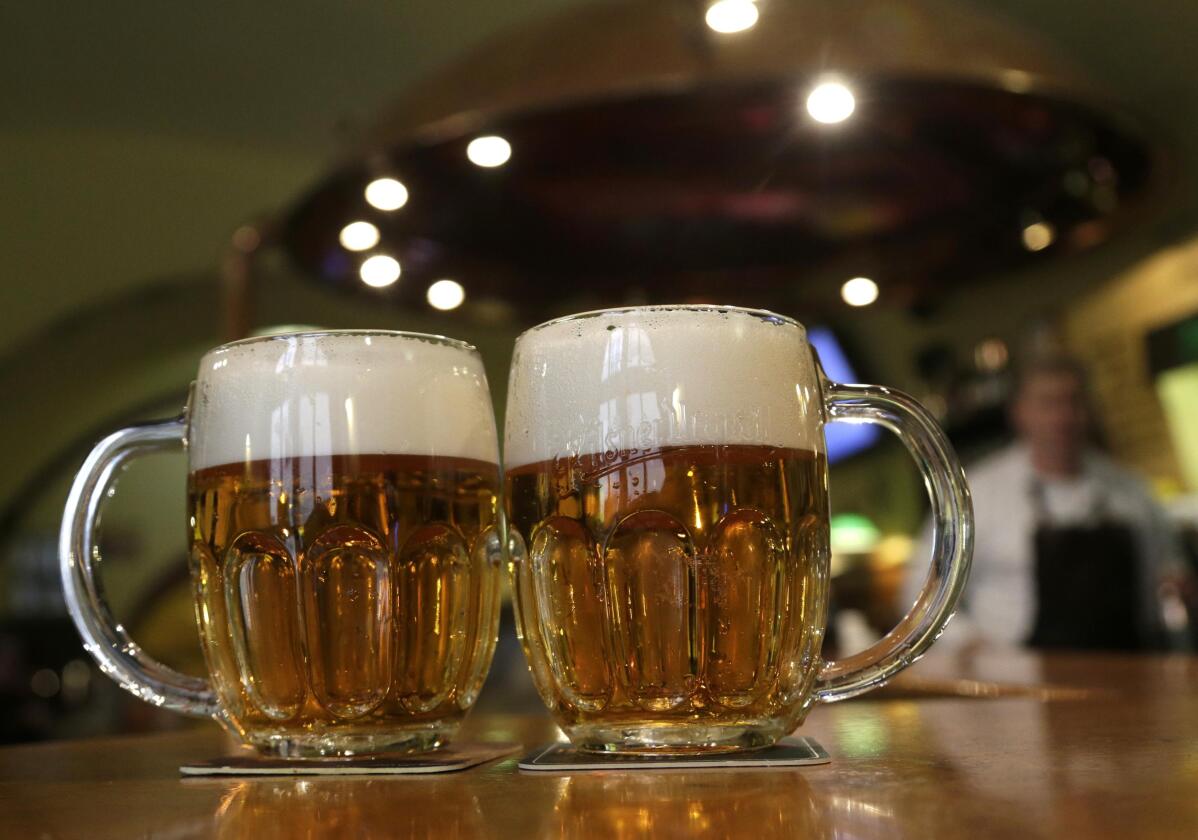 2 of 2

|
FILE - Glasses of beer lie on a table in a pub in Prague, Czech Republic, on Feb. 2, 2016. The Czech citizens will likely pay more for beer and medicine while businesses will face higher corporate taxes as part of a package of dozens of measures designed to keep the ballooning budget deficit under control, the government said on Thursday May, 11, 2023, Prime Minister Petr Fiala said the measures are necessary because the pace of the debt rise is "threatening." (AP Photo/Petr David Josek/File)
Czech government proposes measures to keep ballooning deficit under control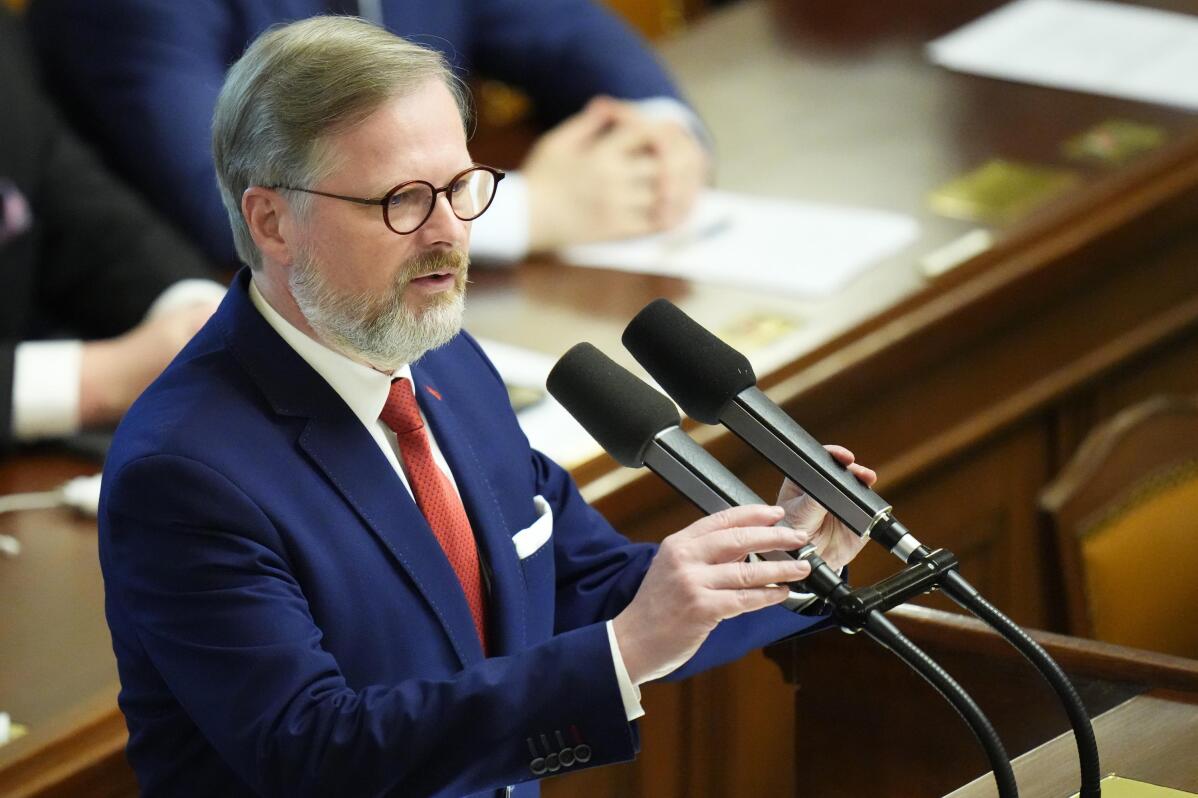 1 of 2

|
Czech Republic's Prime Minister Petr Fiala holds a speech at the Parliament in Prague, Czech Republic, Wednesday, June 15, 2022. The Czech citizens will likely pay more for beer and medicine while businesses will face higher corporate taxes as part of a package of dozens of measures designed to keep the ballooning budget deficit under control, the government said on Thursday May, 11, 2023, Prime Minister Petr Fiala said the measures are necessary because the pace of the debt rise is "threatening." (AP Photo/Petr David Josek/File)
1 of 2
Czech Republic's Prime Minister Petr Fiala holds a speech at the Parliament in Prague, Czech Republic, Wednesday, June 15, 2022. The Czech citizens will likely pay more for beer and medicine while businesses will face higher corporate taxes as part of a package of dozens of measures designed to keep the ballooning budget deficit under control, the government said on Thursday May, 11, 2023, Prime Minister Petr Fiala said the measures are necessary because the pace of the debt rise is "threatening." (AP Photo/Petr David Josek/File)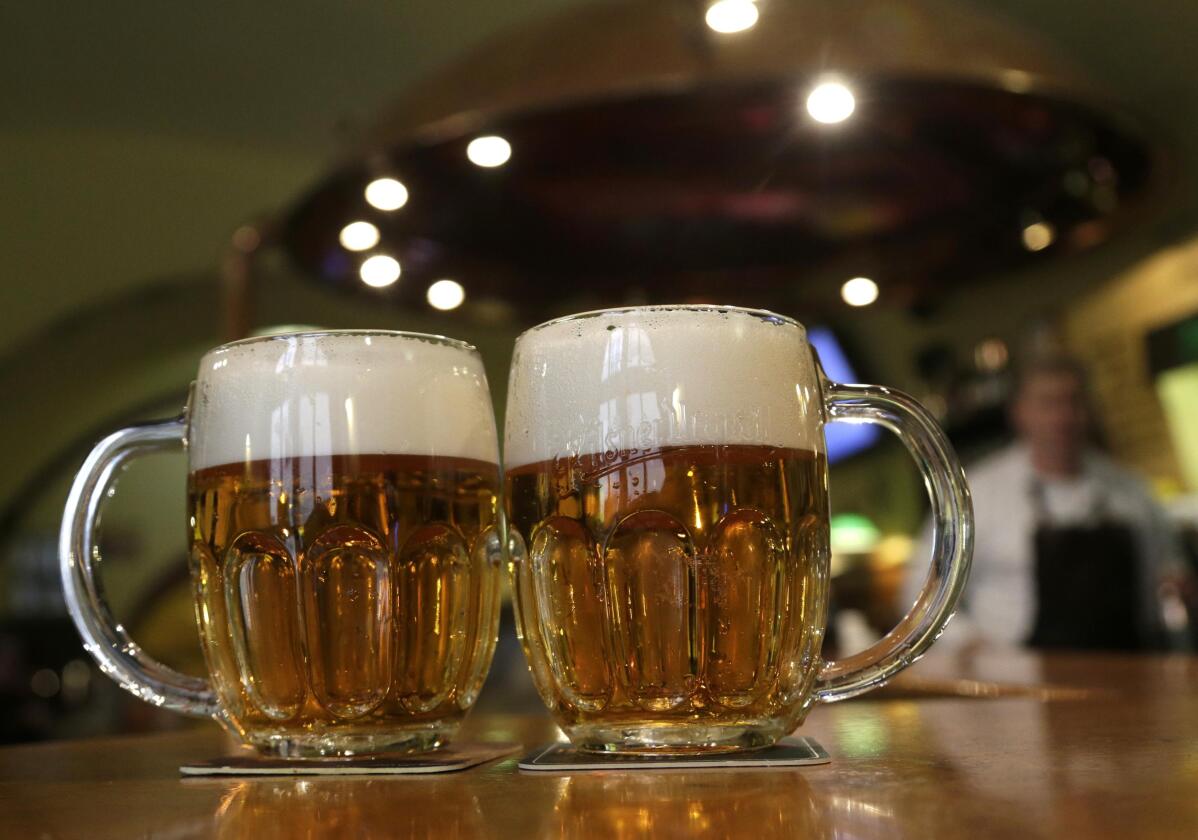 2 of 2

|
FILE - Glasses of beer lie on a table in a pub in Prague, Czech Republic, on Feb. 2, 2016. The Czech citizens will likely pay more for beer and medicine while businesses will face higher corporate taxes as part of a package of dozens of measures designed to keep the ballooning budget deficit under control, the government said on Thursday May, 11, 2023, Prime Minister Petr Fiala said the measures are necessary because the pace of the debt rise is "threatening." (AP Photo/Petr David Josek/File)
2 of 2
FILE - Glasses of beer lie on a table in a pub in Prague, Czech Republic, on Feb. 2, 2016. The Czech citizens will likely pay more for beer and medicine while businesses will face higher corporate taxes as part of a package of dozens of measures designed to keep the ballooning budget deficit under control, the government said on Thursday May, 11, 2023, Prime Minister Petr Fiala said the measures are necessary because the pace of the debt rise is "threatening." (AP Photo/Petr David Josek/File)
PRAGUE (AP) — Czech citizens will likely pay more for beer and medicine while businesses will face higher corporate taxes as part of a package of dozens of measures designed to keep the ballooning budget deficit under control, the government said Thursday.
Prime Minister Petr Fiala said the proposed cuts, tax increases and austerity measures are necessary because the pace of the debt rise is "threatening."
Fiala said the measures should reduce the budget deficit for 2024 by 94 billion Czechs crowns ($4.4 billion) and for 2025 by 148 billion.
The package is "a compromise" reached by his five-party ruling coalition that took over after defeating populist Prime Minister Andrej Babis and his centrist ANO movement in the 2021 parliamentary election.
Most of the measures still need approval from both chambers of Parliament — where the coalition has a majority — and presidential approval before becoming effective next year
The budget deficit for 2023 was some 200 billion Czech crowns in the first four months of the year, a record in the country's history. It was 100 billion in the same period last year.
The overall 2023 budget deficit is predicted at 295 billion Czech crowns, or 3.5% of gross domestic product. It was 360 billion last year.
The government is set to reduce various state subsidies by some 54 billion Czech crowns in the next two years and state expenditures by 21 billion.
Corporation tax will go up by two points to 21% while property tax for individuals will be also increased, as well the tax on alcohol, tobacco and betting.
Value-added tax will have two rates, 12% or 21%, instead of the current three (10%, 15% or 21%).
Medicines will move from the 10% rate to 12%, while the country will pay 21% VAT on their beloved beer in bars.
The government also proposed an overhaul of the pension system because mandatory increases in pensions are directly linked to inflation, which has been one of the highest in the European Union.
Pensions in the future would be slightly lower, while stricter rules would be in place for those who want to retire early. The reform doesn't particularly set a new pension age, which is currently 65. The measure should become effective in 2025.
The labor unions immediately rejected the government plans and are threatening to go on strike.