Czech government approves defense agreement with US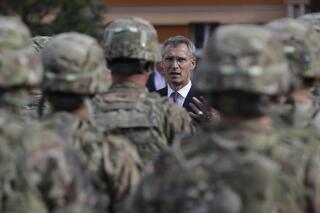 PRAGUE (AP) — The Czech government on Wednesday approved a defense military treaty with the United States.
The Defense Cooperation Agreement sets a legal framework for possible deployment of U.S. troops on Czech territory and their cooperation with the Czech armed forces.
It should make any such moves easier at a time of Russian aggression against Ukraine.
"It's undoubtedly a step to boost our country's security," Prime Minister Petr Fiala said.
A date for signing the deal by the Czech and U.S. defense ministers is yet to be set. It will then need parliamentary and presidential approval.
Defense Minister Jana Cernochova called the U.S. "the most important ally in defense. Therefore, to boost trans-Atlantic ties is in the Czech vital interest."
The U.S. has such agreements with 24 other NATO members, including Poland, Slovakia, Hungary, Lithuania, Latvia, Estonia, Romania and Bulgaria that form the eastern flank of the alliance.
Any particular deployment of U.S. forces will still need approval by the Czech government and parliament.