WHO chief praises China's virus fight, urges more from world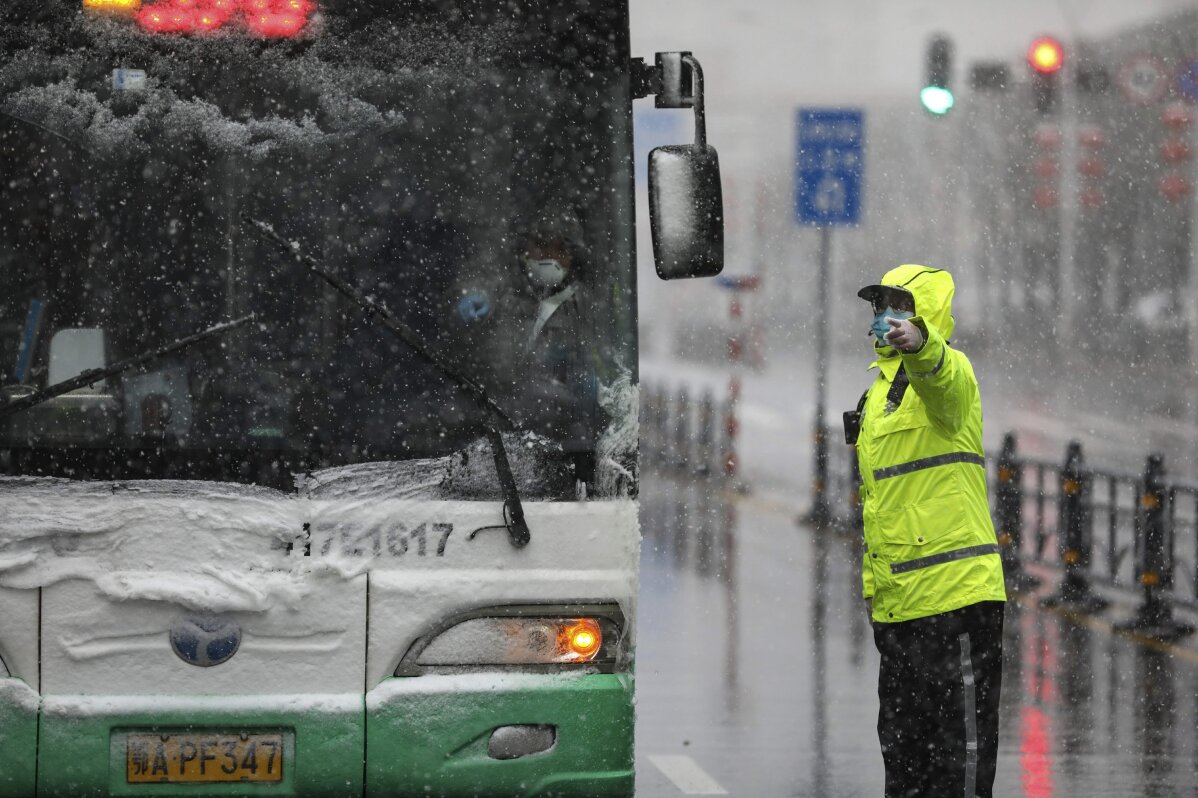 1 of 8

|
A policeman wearing a face mask directs a bus at a tumor hospital newly designated to treat COVID-19 patients in Wuhan in central China's Hubei Province, Saturday, Feb. 15, 2020. The virus is thought to have infected more than 67,000 people globally and has killed at least 1,526 people, the vast majority in China, as the Chinese government announced new anti-disease measures while businesses reopen following sweeping controls that have idled much of the economy. (Chinatopix via AP)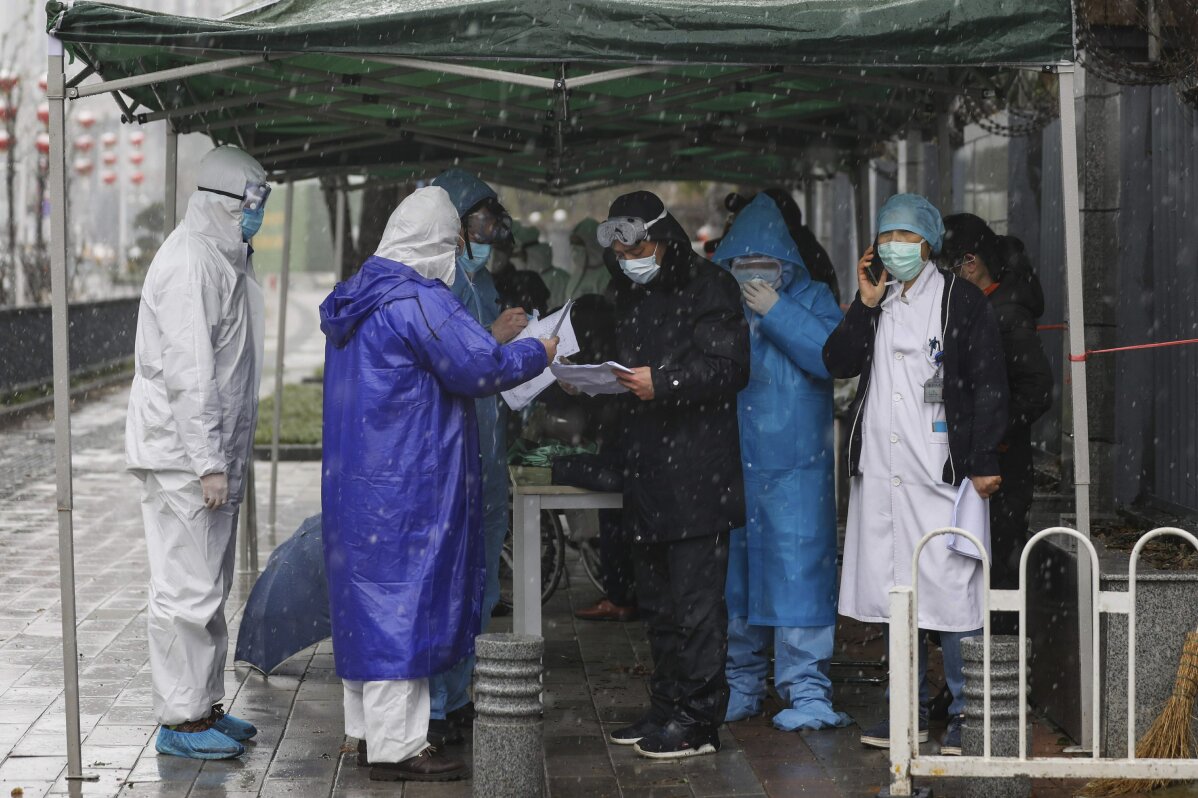 2 of 8

|
Government workers wait for patients to arrive at a tumor hospital newly designated to treat COVID-19 patients in Wuhan in central China's Hubei Province, Saturday, Feb. 15, 2020. The virus is thought to have infected more than 67,000 people globally and has killed at least 1,526 people, the vast majority in China, as the Chinese government announced new anti-disease measures while businesses reopen following sweeping controls that have idled much of the economy. (Chinatopix via AP)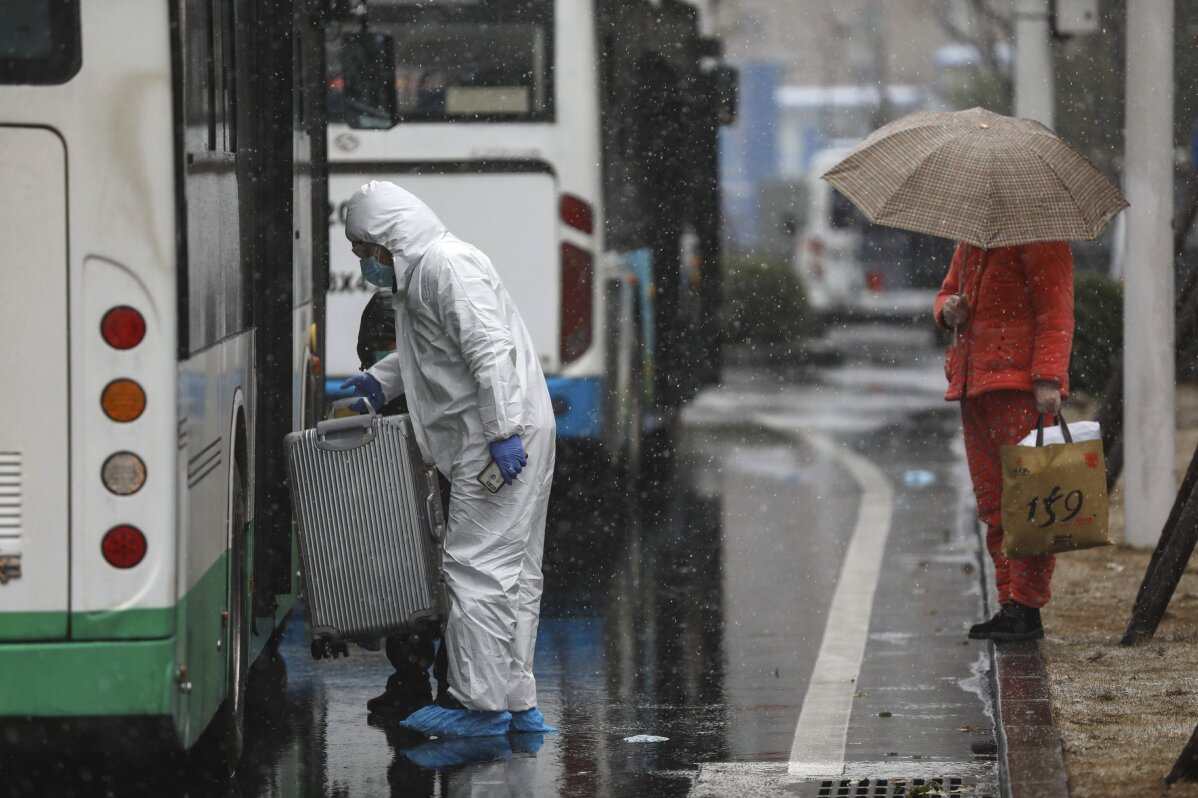 3 of 8

|
A worker wearing a protective suit helps a patient carry their luggage as they arrive at a tumor hospital newly designated to treat COVID-19 patients in Wuhan in central China's Hubei Province, Saturday, Feb. 15, 2020. The virus is thought to have infected more than 67,000 people globally and has killed at least 1,526 people, the vast majority in China, as the Chinese government announced new anti-disease measures while businesses reopen following sweeping controls that have idled much of the economy. (Chinatopix via AP)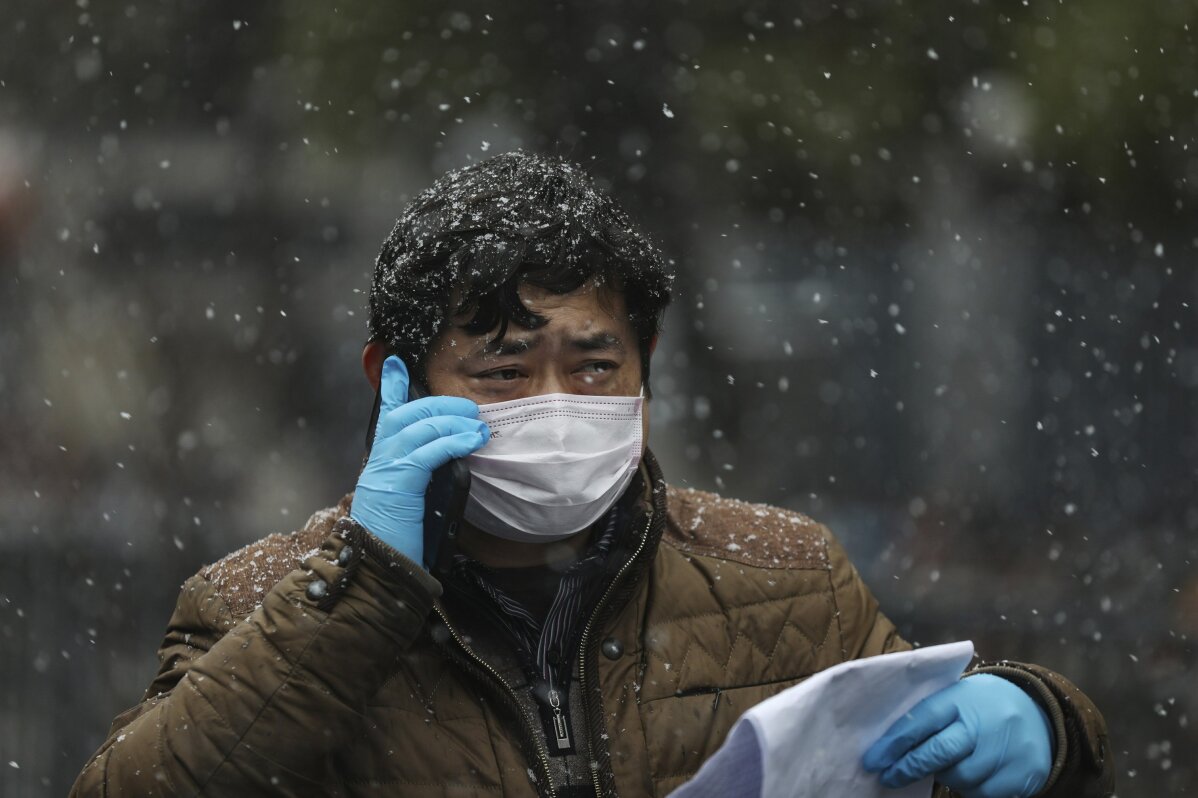 4 of 8

|
A goverment worker wearing a face mask talks on the phone as he waits for patients to arrive at a tumor hospital newly designated to treat COVID-19 patients in Wuhan in central China's Hubei Province, Saturday, Feb. 15, 2020. China reported 143 virus deaths and a dip in new cases Saturday while the government announced new anti-disease measures as businesses reopen following sweeping controls that idled much of the economy. (Chinatopix via AP)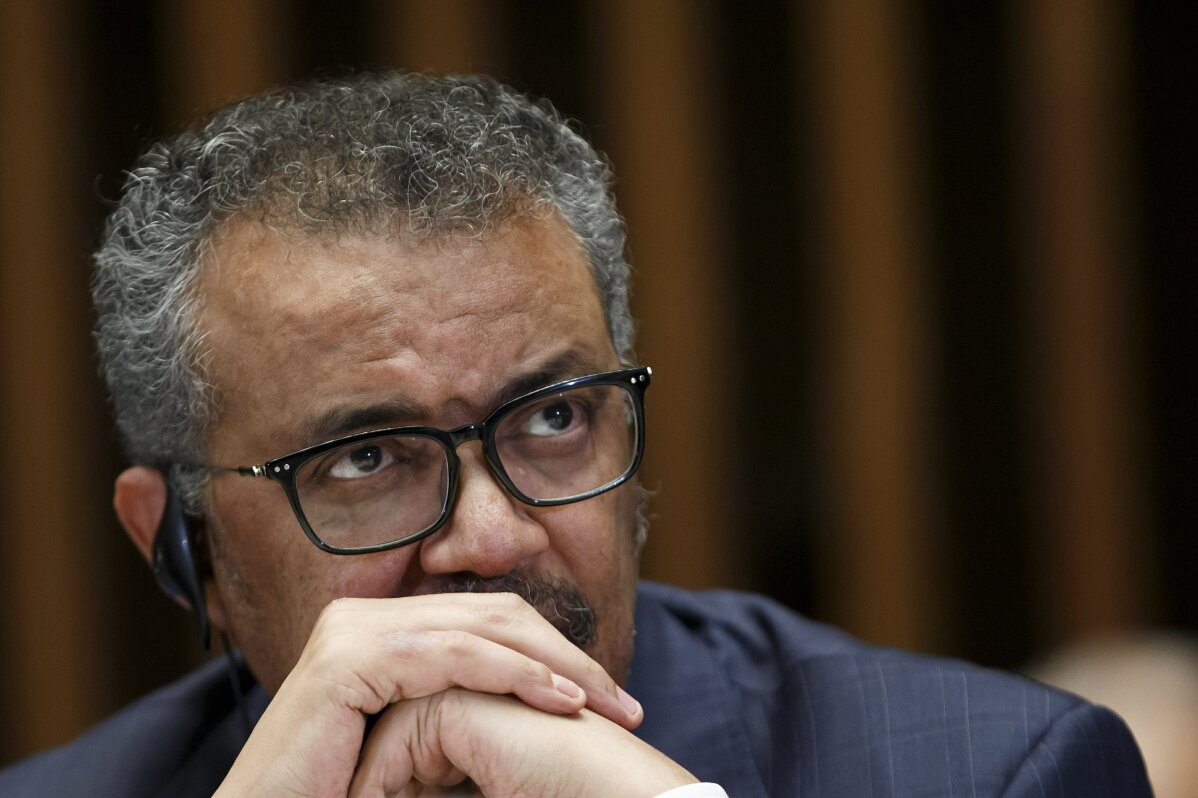 5 of 8

|
Tedros Adhanom Ghebreyesus, Director General of the World Health Organization (WHO), gives a statement to the media about the response to the COVID-19 virus outbreak, at the World Health Organization (WHO) headquarters in Geneva, Switzerland, Wednesday, Feb. 12, 2020. The disease caused by the novel coronavirus (SARS-CoV-2) has been officially named COVID-19 by the World Health Organization (WHO). (Salvatore Di Nolfi/Keystone via AP)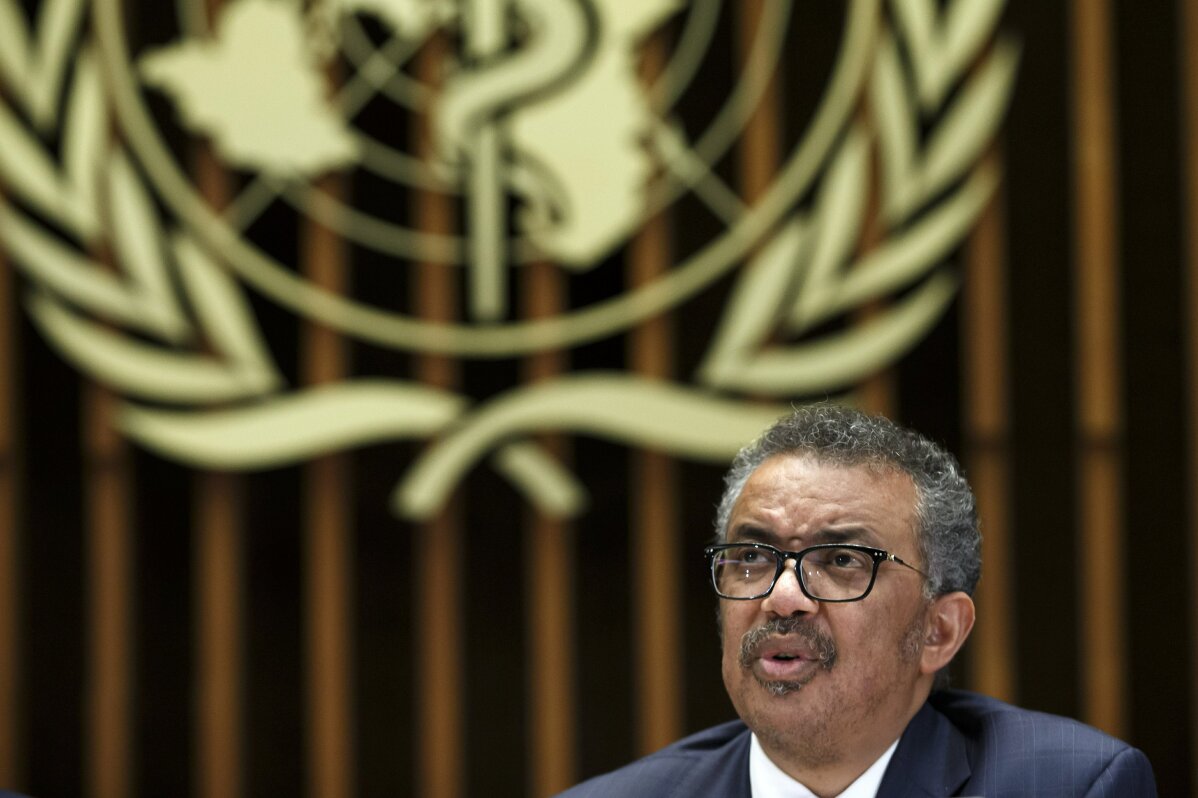 6 of 8

|
Tedros Adhanom Ghebreyesus, Director General of the World Health Organization (WHO), gives a statement to the media about the response to the COVID-19 virus outbreak, at the World Health Organization (WHO) headquarters in Geneva, Switzerland, Wednesday, Feb. 12, 2020. The disease caused by the novel coronavirus (SARS-CoV-2) has been officially named COVID-19 by the World Health Organization (WHO). (Salvatore Di Nolfi/Keystone via AP)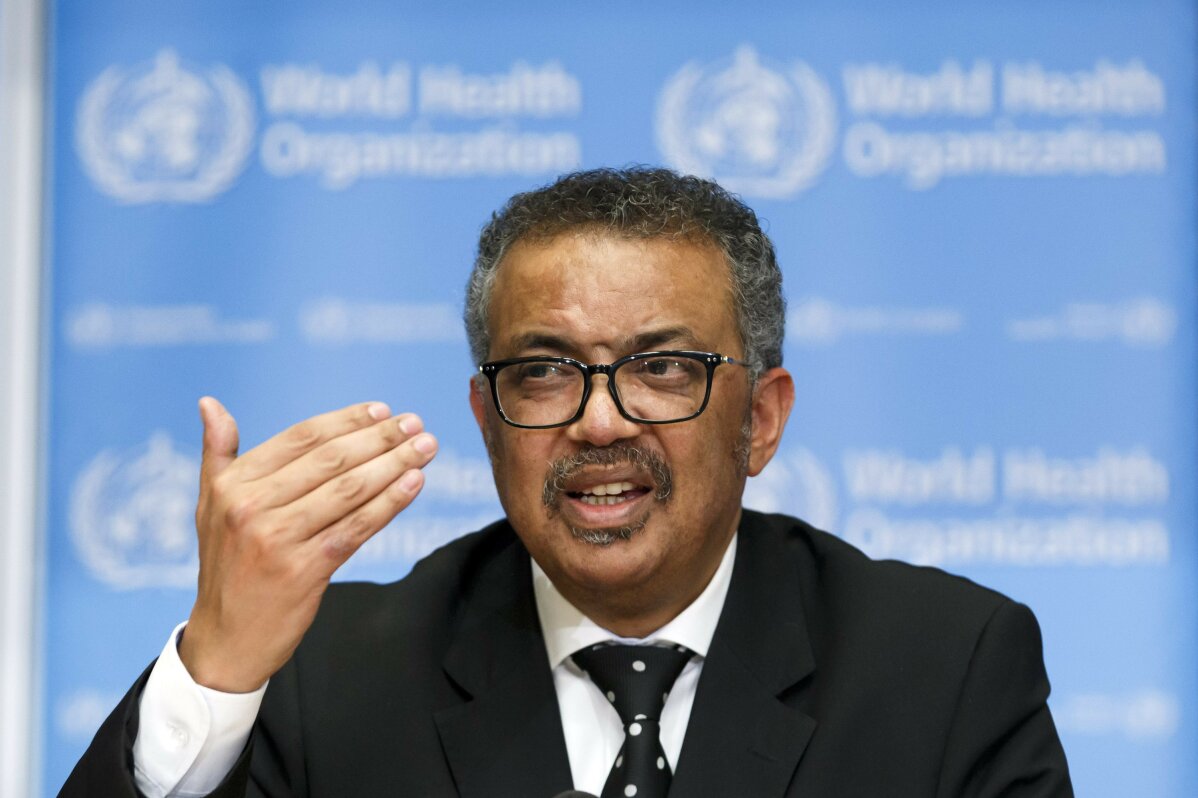 7 of 8

|
Tedros Adhanom Ghebreyesus, Director General of the World Health Organization (WHO), addresses the media during a press conference at the World Health Organization (WHO) headquarters in Geneva, Switzerland, Monday, Feb. 10, 2020 on the situation regarding to the new coronavirus. (Salvatore Di Nolfi/Keystone via AP)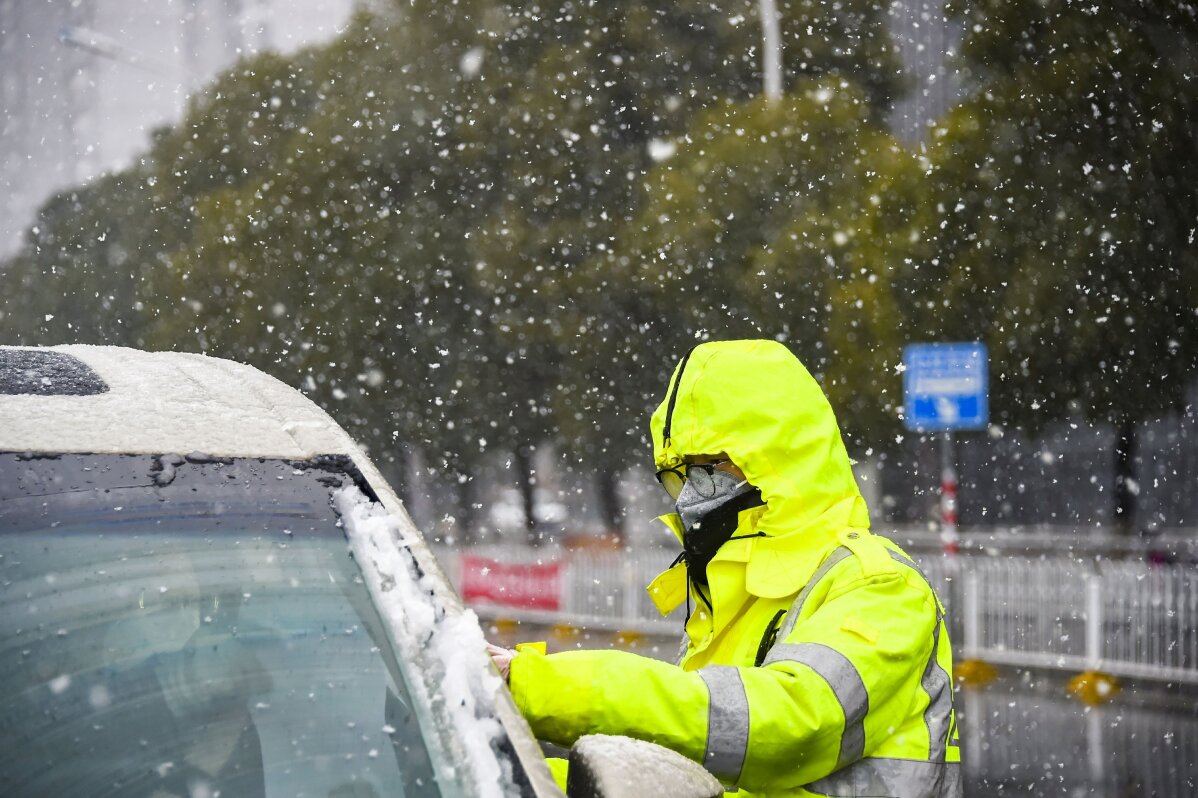 8 of 8

|
In this photo released by China's Xinhua News Agency, a traffic policeman wearing a face mask checks a car during a snowfall in Xiaogan in central China's Hubei Province, Saturday, Feb. 15, 2020. The virus is thought to have infected more than 67,000 people globally and has killed at least 1,526 people, the vast majority in China, as the Chinese government announced new anti-disease measures while businesses reopen following sweeping controls that have idled much of the economy. (Hu Huhu/Xinhua via AP)
WHO chief praises China's virus fight, urges more from world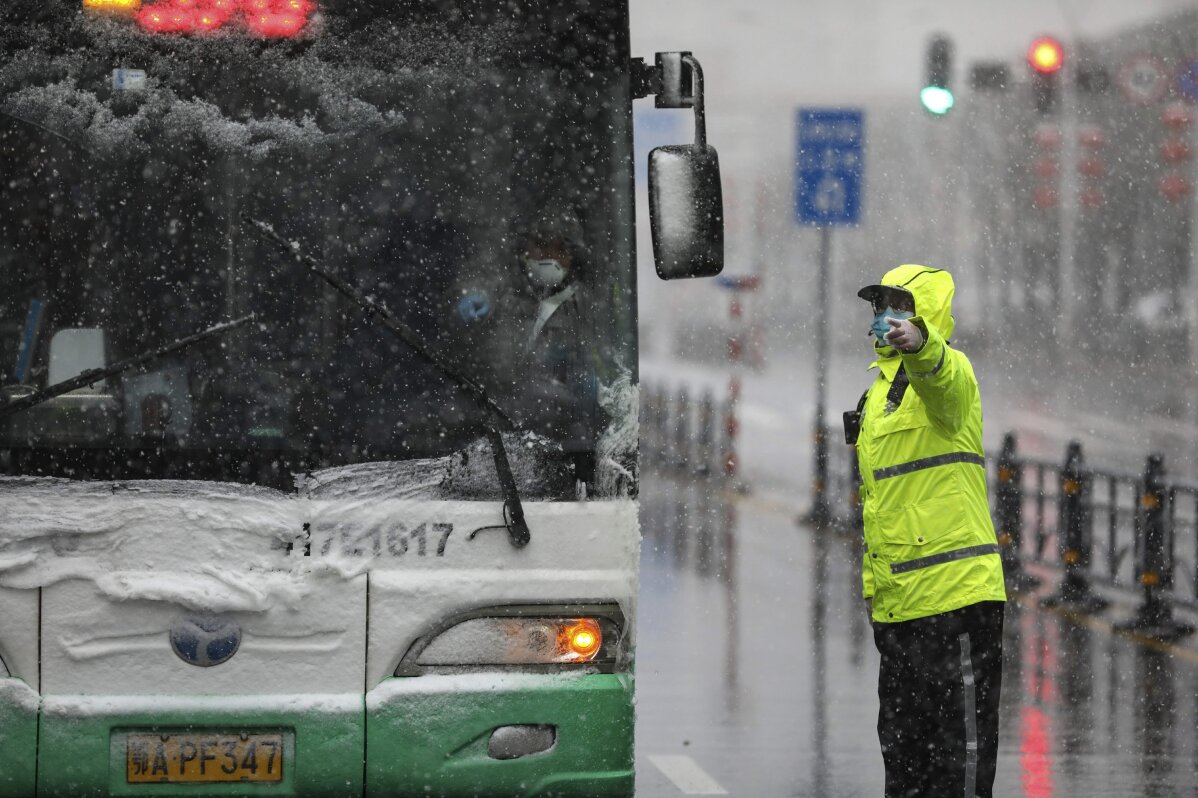 1 of 8

|
A policeman wearing a face mask directs a bus at a tumor hospital newly designated to treat COVID-19 patients in Wuhan in central China's Hubei Province, Saturday, Feb. 15, 2020. The virus is thought to have infected more than 67,000 people globally and has killed at least 1,526 people, the vast majority in China, as the Chinese government announced new anti-disease measures while businesses reopen following sweeping controls that have idled much of the economy. (Chinatopix via AP)
1 of 8
A policeman wearing a face mask directs a bus at a tumor hospital newly designated to treat COVID-19 patients in Wuhan in central China's Hubei Province, Saturday, Feb. 15, 2020. The virus is thought to have infected more than 67,000 people globally and has killed at least 1,526 people, the vast majority in China, as the Chinese government announced new anti-disease measures while businesses reopen following sweeping controls that have idled much of the economy. (Chinatopix via AP)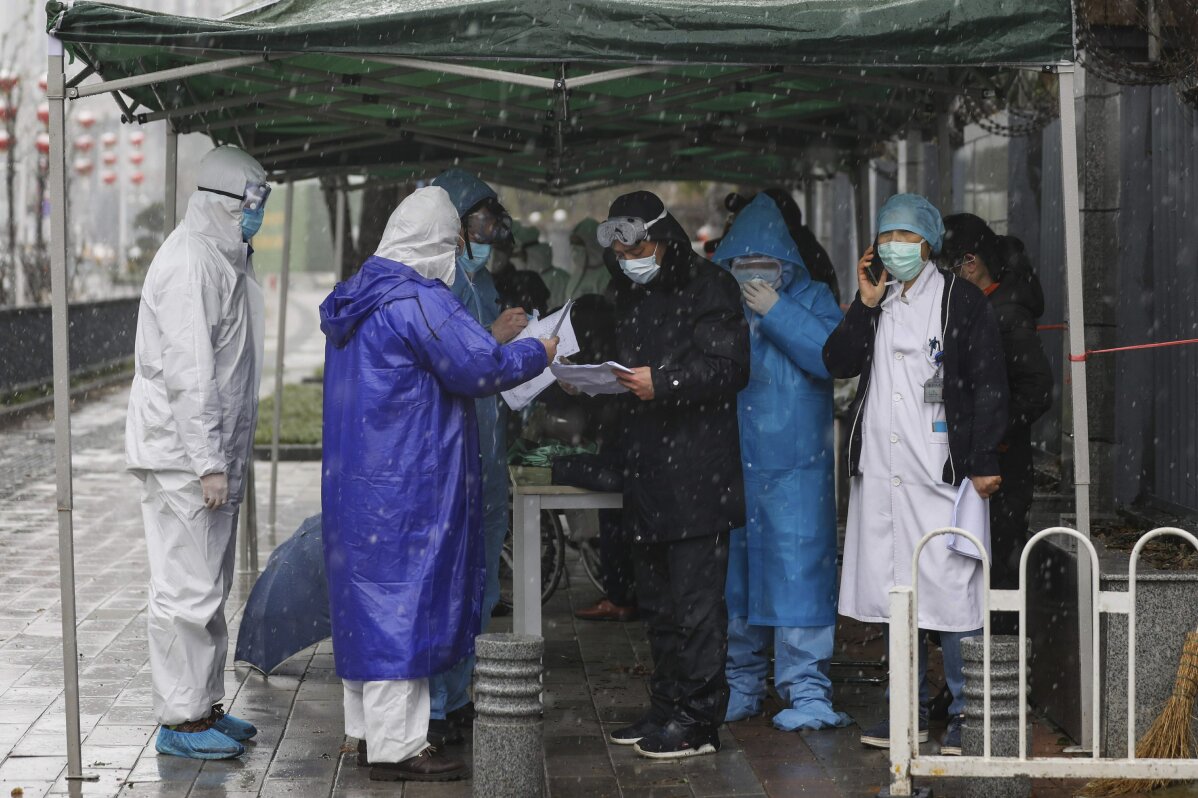 2 of 8

|
Government workers wait for patients to arrive at a tumor hospital newly designated to treat COVID-19 patients in Wuhan in central China's Hubei Province, Saturday, Feb. 15, 2020. The virus is thought to have infected more than 67,000 people globally and has killed at least 1,526 people, the vast majority in China, as the Chinese government announced new anti-disease measures while businesses reopen following sweeping controls that have idled much of the economy. (Chinatopix via AP)
2 of 8
Government workers wait for patients to arrive at a tumor hospital newly designated to treat COVID-19 patients in Wuhan in central China's Hubei Province, Saturday, Feb. 15, 2020. The virus is thought to have infected more than 67,000 people globally and has killed at least 1,526 people, the vast majority in China, as the Chinese government announced new anti-disease measures while businesses reopen following sweeping controls that have idled much of the economy. (Chinatopix via AP)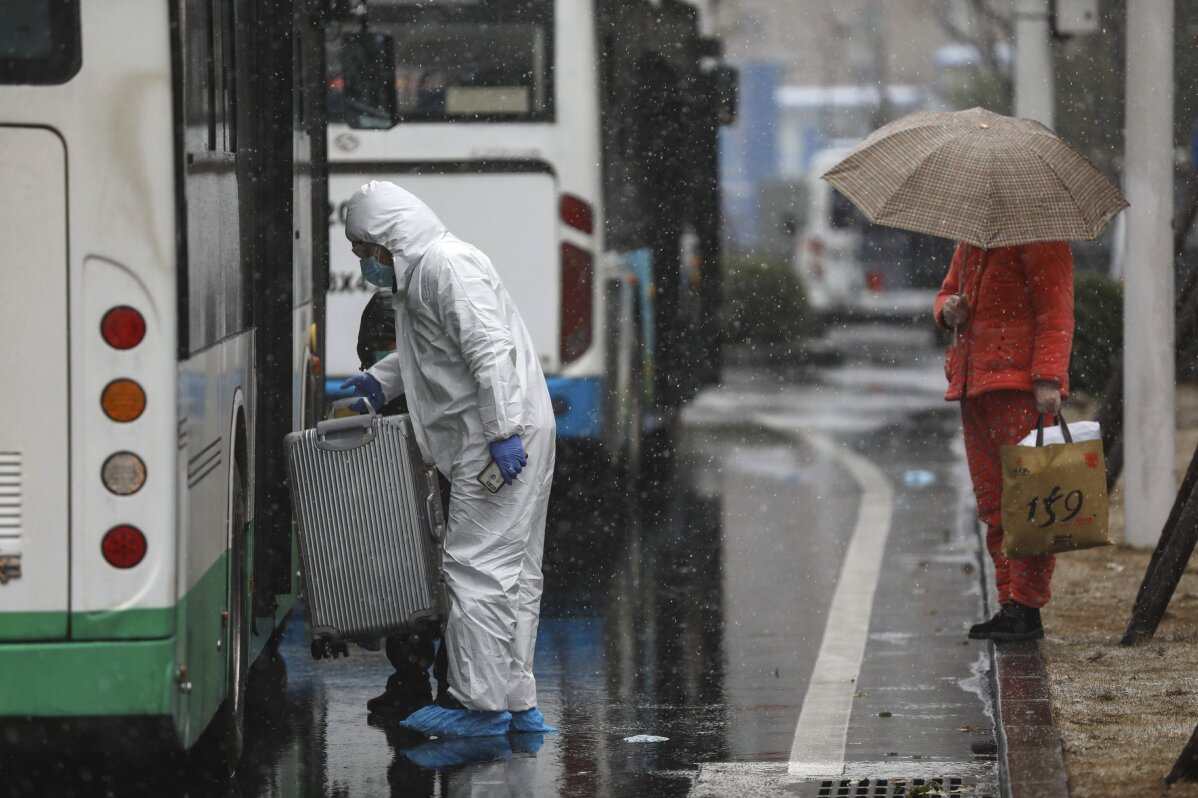 3 of 8

|
A worker wearing a protective suit helps a patient carry their luggage as they arrive at a tumor hospital newly designated to treat COVID-19 patients in Wuhan in central China's Hubei Province, Saturday, Feb. 15, 2020. The virus is thought to have infected more than 67,000 people globally and has killed at least 1,526 people, the vast majority in China, as the Chinese government announced new anti-disease measures while businesses reopen following sweeping controls that have idled much of the economy. (Chinatopix via AP)
3 of 8
A worker wearing a protective suit helps a patient carry their luggage as they arrive at a tumor hospital newly designated to treat COVID-19 patients in Wuhan in central China's Hubei Province, Saturday, Feb. 15, 2020. The virus is thought to have infected more than 67,000 people globally and has killed at least 1,526 people, the vast majority in China, as the Chinese government announced new anti-disease measures while businesses reopen following sweeping controls that have idled much of the economy. (Chinatopix via AP)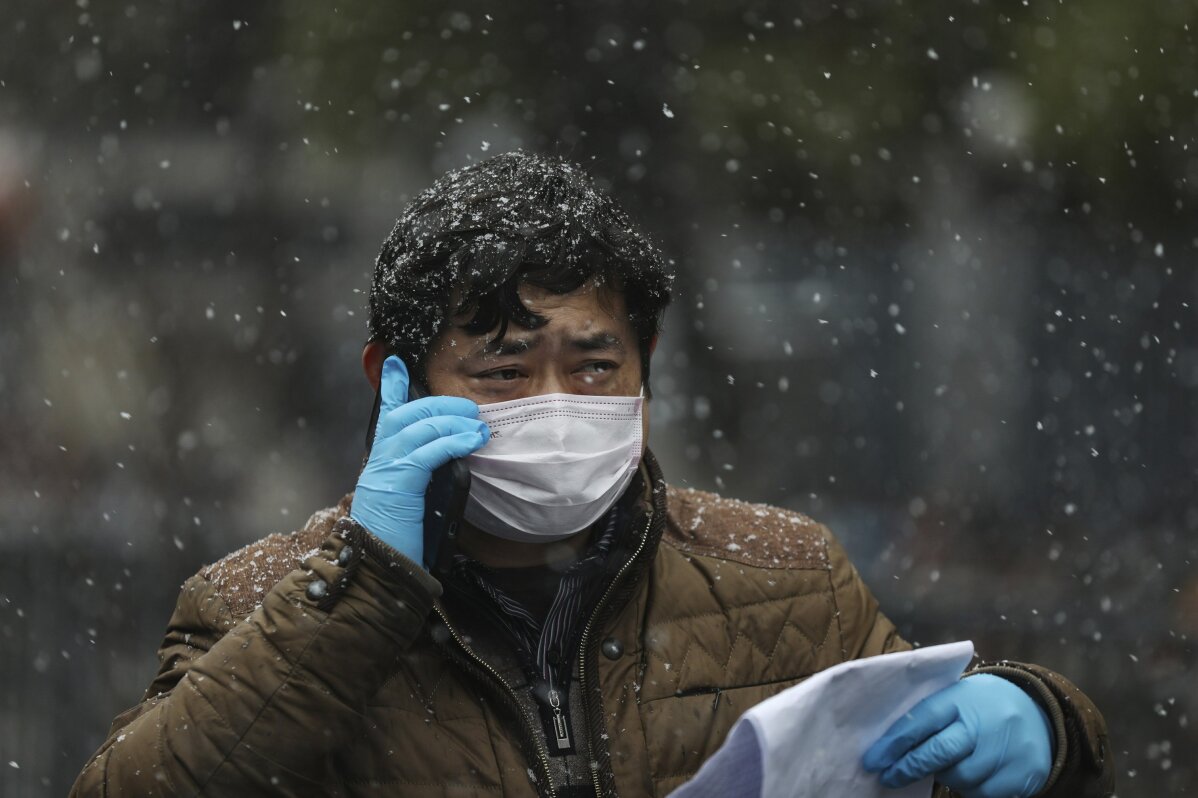 4 of 8

|
A goverment worker wearing a face mask talks on the phone as he waits for patients to arrive at a tumor hospital newly designated to treat COVID-19 patients in Wuhan in central China's Hubei Province, Saturday, Feb. 15, 2020. China reported 143 virus deaths and a dip in new cases Saturday while the government announced new anti-disease measures as businesses reopen following sweeping controls that idled much of the economy. (Chinatopix via AP)
4 of 8
A goverment worker wearing a face mask talks on the phone as he waits for patients to arrive at a tumor hospital newly designated to treat COVID-19 patients in Wuhan in central China's Hubei Province, Saturday, Feb. 15, 2020. China reported 143 virus deaths and a dip in new cases Saturday while the government announced new anti-disease measures as businesses reopen following sweeping controls that idled much of the economy. (Chinatopix via AP)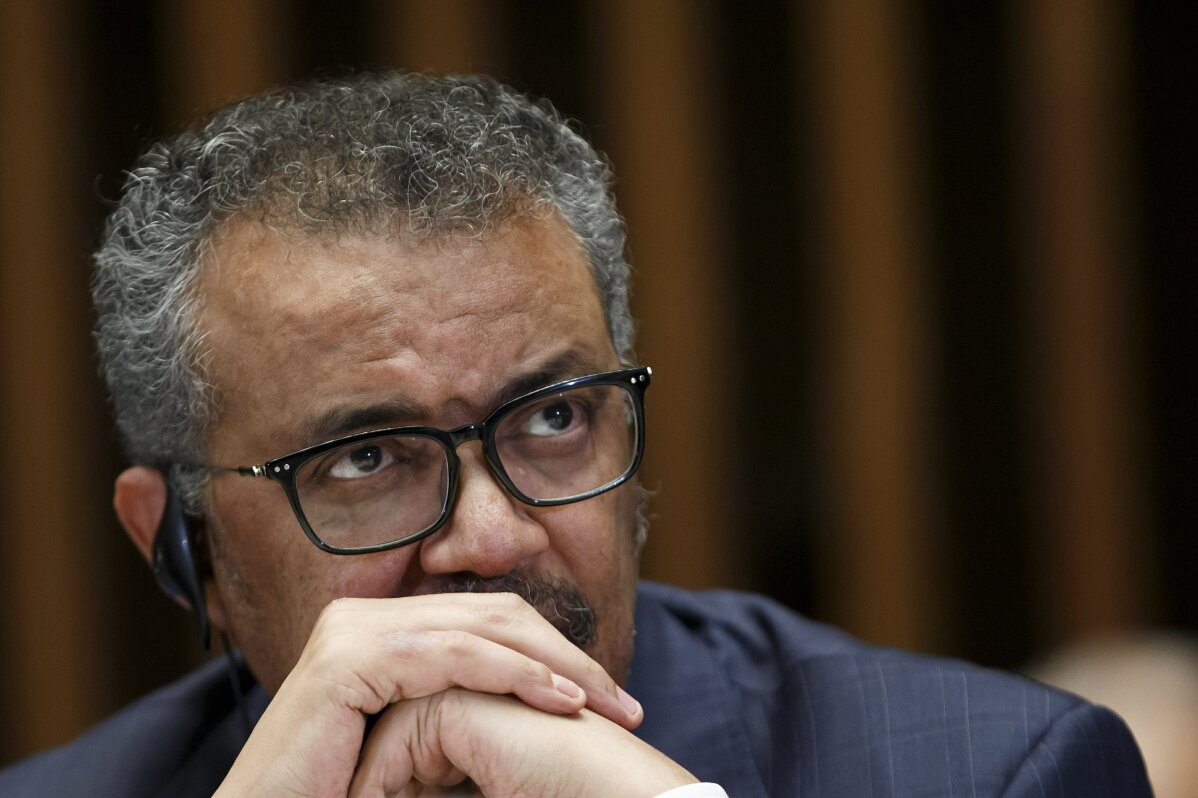 5 of 8

|
Tedros Adhanom Ghebreyesus, Director General of the World Health Organization (WHO), gives a statement to the media about the response to the COVID-19 virus outbreak, at the World Health Organization (WHO) headquarters in Geneva, Switzerland, Wednesday, Feb. 12, 2020. The disease caused by the novel coronavirus (SARS-CoV-2) has been officially named COVID-19 by the World Health Organization (WHO). (Salvatore Di Nolfi/Keystone via AP)
5 of 8
Tedros Adhanom Ghebreyesus, Director General of the World Health Organization (WHO), gives a statement to the media about the response to the COVID-19 virus outbreak, at the World Health Organization (WHO) headquarters in Geneva, Switzerland, Wednesday, Feb. 12, 2020. The disease caused by the novel coronavirus (SARS-CoV-2) has been officially named COVID-19 by the World Health Organization (WHO). (Salvatore Di Nolfi/Keystone via AP)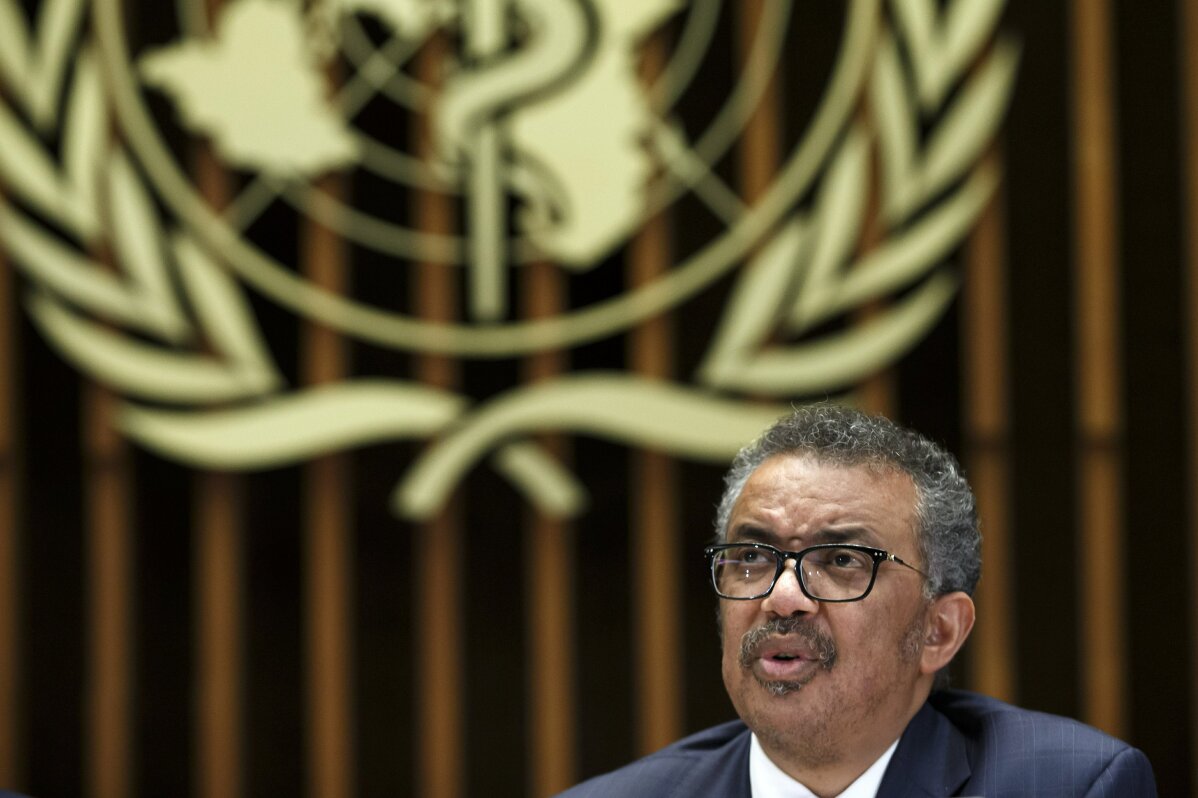 6 of 8

|
Tedros Adhanom Ghebreyesus, Director General of the World Health Organization (WHO), gives a statement to the media about the response to the COVID-19 virus outbreak, at the World Health Organization (WHO) headquarters in Geneva, Switzerland, Wednesday, Feb. 12, 2020. The disease caused by the novel coronavirus (SARS-CoV-2) has been officially named COVID-19 by the World Health Organization (WHO). (Salvatore Di Nolfi/Keystone via AP)
6 of 8
Tedros Adhanom Ghebreyesus, Director General of the World Health Organization (WHO), gives a statement to the media about the response to the COVID-19 virus outbreak, at the World Health Organization (WHO) headquarters in Geneva, Switzerland, Wednesday, Feb. 12, 2020. The disease caused by the novel coronavirus (SARS-CoV-2) has been officially named COVID-19 by the World Health Organization (WHO). (Salvatore Di Nolfi/Keystone via AP)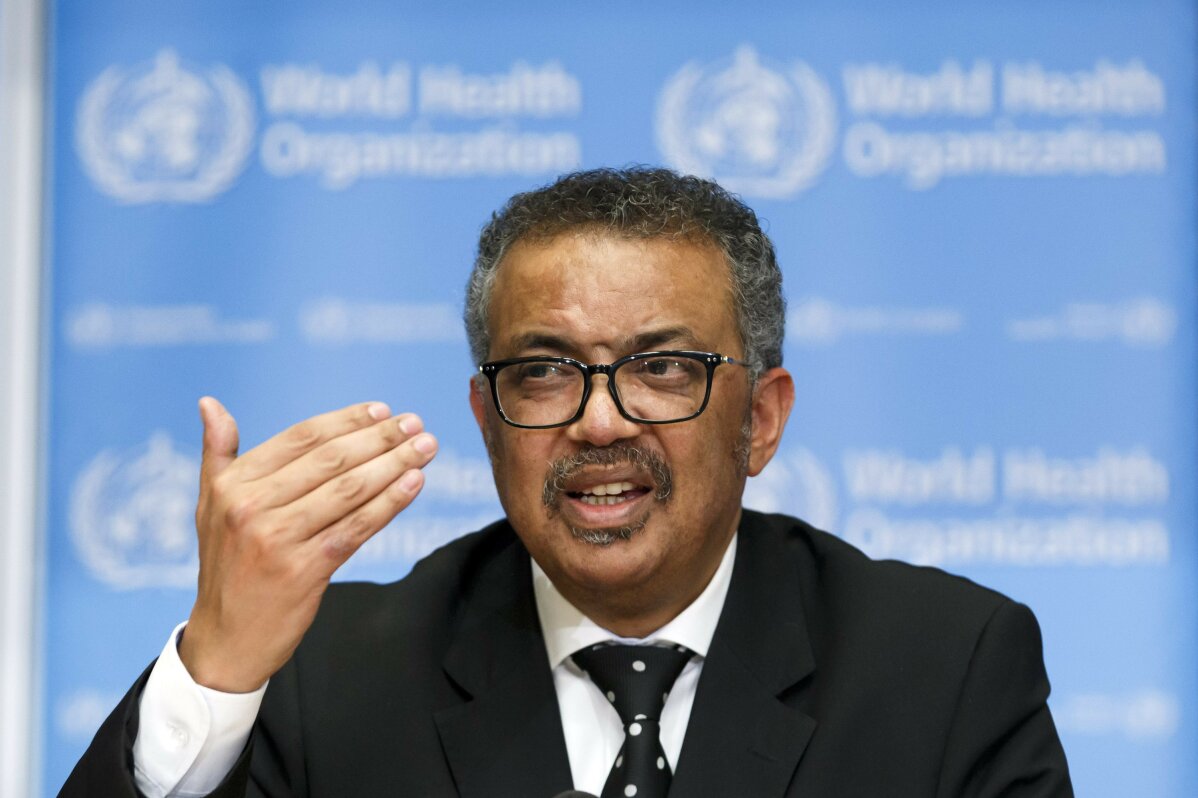 7 of 8

|
Tedros Adhanom Ghebreyesus, Director General of the World Health Organization (WHO), addresses the media during a press conference at the World Health Organization (WHO) headquarters in Geneva, Switzerland, Monday, Feb. 10, 2020 on the situation regarding to the new coronavirus. (Salvatore Di Nolfi/Keystone via AP)
7 of 8
Tedros Adhanom Ghebreyesus, Director General of the World Health Organization (WHO), addresses the media during a press conference at the World Health Organization (WHO) headquarters in Geneva, Switzerland, Monday, Feb. 10, 2020 on the situation regarding to the new coronavirus. (Salvatore Di Nolfi/Keystone via AP)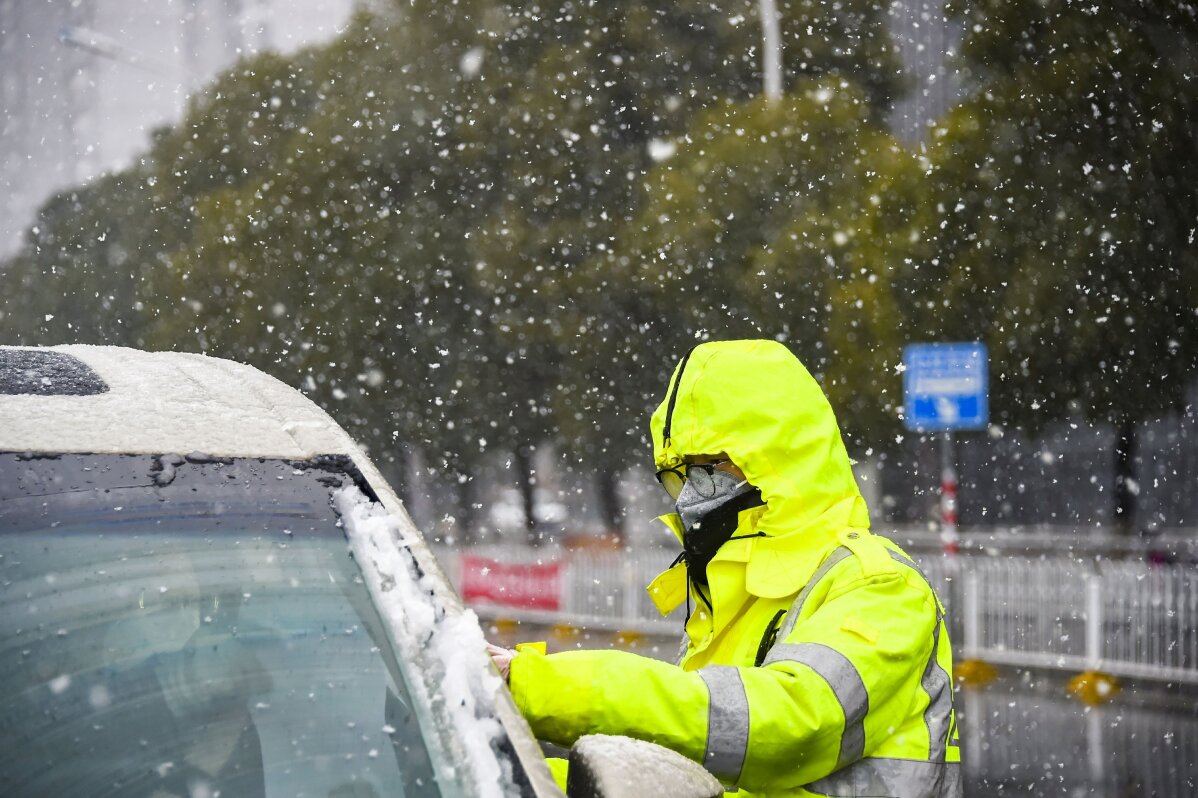 8 of 8

|
In this photo released by China's Xinhua News Agency, a traffic policeman wearing a face mask checks a car during a snowfall in Xiaogan in central China's Hubei Province, Saturday, Feb. 15, 2020. The virus is thought to have infected more than 67,000 people globally and has killed at least 1,526 people, the vast majority in China, as the Chinese government announced new anti-disease measures while businesses reopen following sweeping controls that have idled much of the economy. (Hu Huhu/Xinhua via AP)
8 of 8
In this photo released by China's Xinhua News Agency, a traffic policeman wearing a face mask checks a car during a snowfall in Xiaogan in central China's Hubei Province, Saturday, Feb. 15, 2020. The virus is thought to have infected more than 67,000 people globally and has killed at least 1,526 people, the vast majority in China, as the Chinese government announced new anti-disease measures while businesses reopen following sweeping controls that have idled much of the economy. (Hu Huhu/Xinhua via AP)
MUNICH (AP) — The head of the World Health Organization is urging governments to step up their efforts to prepare for the COVID-19 virus and says "it's impossible to predict which direction this epidemic will take."
The U.N. health agency's director-general, Tedros Adhanom Ghebreyesus, told a gathering of international foreign policy and security leaders Saturday that WHO has been encouraged that there has not yet been widespread transmission of the virus outside of China.
"The steps China has taken to contain the outbreak at its source appear to have bought to the world time," Tedros told the Munich Security Conference. "We're encouraged that an international team of experts is now on the ground working closely with Chinese counterparts to understand the outbreak."
But he said the agency is still "concerned by the continued increase in the number of cases in China," and by reports about the number of health workers who have been infected or died.
"We're concerned by the lack of urgency in funding the response from the international community, ... (by the) serial disruption in the market for personal protective equipment" and by the extent of misinformation and the havoc the virus could cause in weaker health systems, he said.
The virus that emerged in central China in December has infected more than 67,000 people globally and has killed at least 1,526 patients, the vast majority in China. The WHO has called the virus a threat to global health.
"For too long the world has operated on a cycle of panic and neglect," Tedros said Saturday. "We throw money at an outbreak and when it's over we forget about it and do nothing to prevent the next one."
"We must use the window of opportunity we have to intensify our preparedness," he added. "China has bought the world time. We don't know how much time."