Michigan Rep. Dan Kildee to undergo surgery for cancer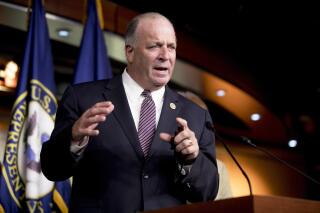 Michigan Rep. Dan Kildee said Friday that he was diagnosed with a "serious but curable form of cancer" after a tumor was found in one of his tonsils.
Kildee, 64, said he was diagnosed with squamous cell carcinoma that was detected very early by doctors and that he will have surgery in a few weeks to remove it.
"The prognosis after surgery and treatment is excellent," the Flint-area Democrat said in a statement. "I am going to get through this. I'm going to beat cancer."
Kildee said doctors have advised him that recovery from surgery could take a few weeks. His office will be open while he is away from Congress for a period of time, he said.
Kildee, who has served in the U.S. House since 2013, sits on the House Ways and Means committee in addition to being a member of the Budget Committee.
Kildee began representing Michigan's 8th Congressional District this year after redistricting moved his home of Flint from the 5th District. He defeated Republican challenger Paul Junge by over 10 percentage points to win reelection.