Darren Waller's journey to NFL success included obstacles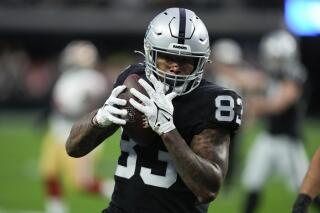 Darren Waller had just returned from his honeymoon with Las Vegas Aces star Kelsey Plum when the Raiders traded him across the country to the New York Giants.
Welcome to married life as a professional athlete.
"It's been a lot of processing, a little bit of anxiety. I'm a human being and it's a lot of change, a lot of new chapters," Waller said on the AP Pro Football Podcast. "But just seeing how supportive my wife is about this new opportunity, we'll make it work on the marriage front for sure. Then meeting everybody with the Giants organization and just seeing how they do things and the excitement they had to have me there, I think it's going to be a great opportunity. So I'm excited."
A Pro Bowl tight end in 2020, the 30-year-old Waller has missed 14 games because of injuries over the past two seasons. He had 107 catches for 1,196 yards and nine touchdowns in 2020 after a breakout season in 2019 when he had 90 receptions for 1,145 yards and three TDs.
The Giants are counting on Waller to produce the way he did when he was healthy to give quarterback Daniel Jones a primary option.
"Daniel actually came by the facility the day I was up there just to meet me, and I thought that was pretty cool of him doing that," Waller said. "He seems like a good guy, great head on his shoulders. He already hit me up about trying to get some work in before we report on April 17 for the offseason program. So I'm excited to get to know him. I feel like our personalities are kind of similar in a way, a little bit introverted, but once you kind of get close to people, your personality comes out more. So I'm excited to work with him."
Waller's journey to NFL stardom has been complicated. He was a wide receiver at Georgia Tech and was selected by the Ravens in the sixth round of the 2015 NFL draft.
Waller spent most of his rookie season on injured reserve, was suspended four games in 2016 and received a full suspension for 2017 for violating the NFL's substance abuse policy. He fought hard to overcome his addiction and thrived in Jon Gruden's offense after the Raiders signed him off Baltimore's practice squad in 2018.
Throughout his career, Waller has dealt with plenty of criticism. Recently, former NFL general manager Michael Lombardi blasted Waller's work ethic. Lombardi's two sons, Mick and Matt, are assistants on Raiders coach Josh McDaniels' staff.
"This is about 'I'm getting ready to pay you $11 million, we redid your contract and on the bye week, instead of rehabbing, you went home for four days and accrued the fines. On the bye week, you went home and just didn't talk to anybody. Just went home and left a message saying 'hey, fine me. I don't care. I'm going to Southern California," Lombardi said on his podcast.
Waller explained his absence from the facility to the AP.
"That was when I proposed to Kelsey," Waller said. "I was going there and didn't really want to share with anyone. ... because you're mandated to get off Thursday through Sunday (during bye weeks). ... I wanted to keep it ultimately private."
Waller was back in California this week taking part in NFL Career Tours. Waller, Seahawks wide receiver DK Metcalf and 17 other current and former players spent Wednesday at Interscope Geffen A&M Records getting a comprehensive introduction to the business of music.
Waller released an album last month called "Walking Miracle." The project is made up of 13 tracks, nine of which he produced himself.
"It's been really cool learning from different people in a lot of different roles with Interscope and picking their brains on how they try to bring artists' vision to life because I'm a creator myself," Waller said.
"I record, I make beats. ... I just love creating so much and whatever comes with it, I don't need to be a megastar in music. I just love to do it like any other hobby somebody else may have. It's what I love to do in my free time, and I always devote all I can to football and then just enjoy music because I love to do it."
___
Follow Rob Maaddi on Twitter at https://twitter.com/robmaaddi
___
AP NFL: https://apnews.com/hub/nfl and https://twitter.com/AP_NFL