France's Macron turns away from Trump in laying out roadmap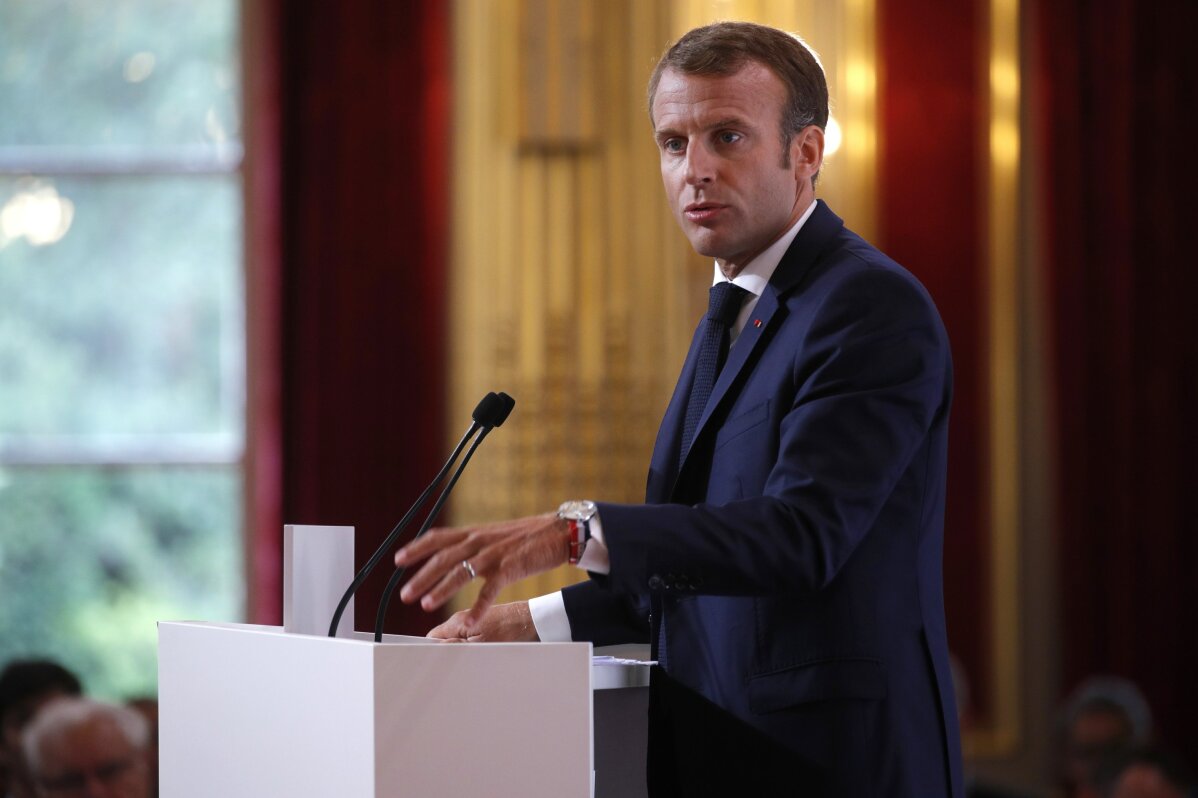 1 of 3

|
French President Emmanuel Macron delivers a speech during the annual French ambassadors' conference at the Elysee Palace in Paris, France, Monday, Aug. 27, 2018. (Philippe Wojazer/Pool Photo via AP)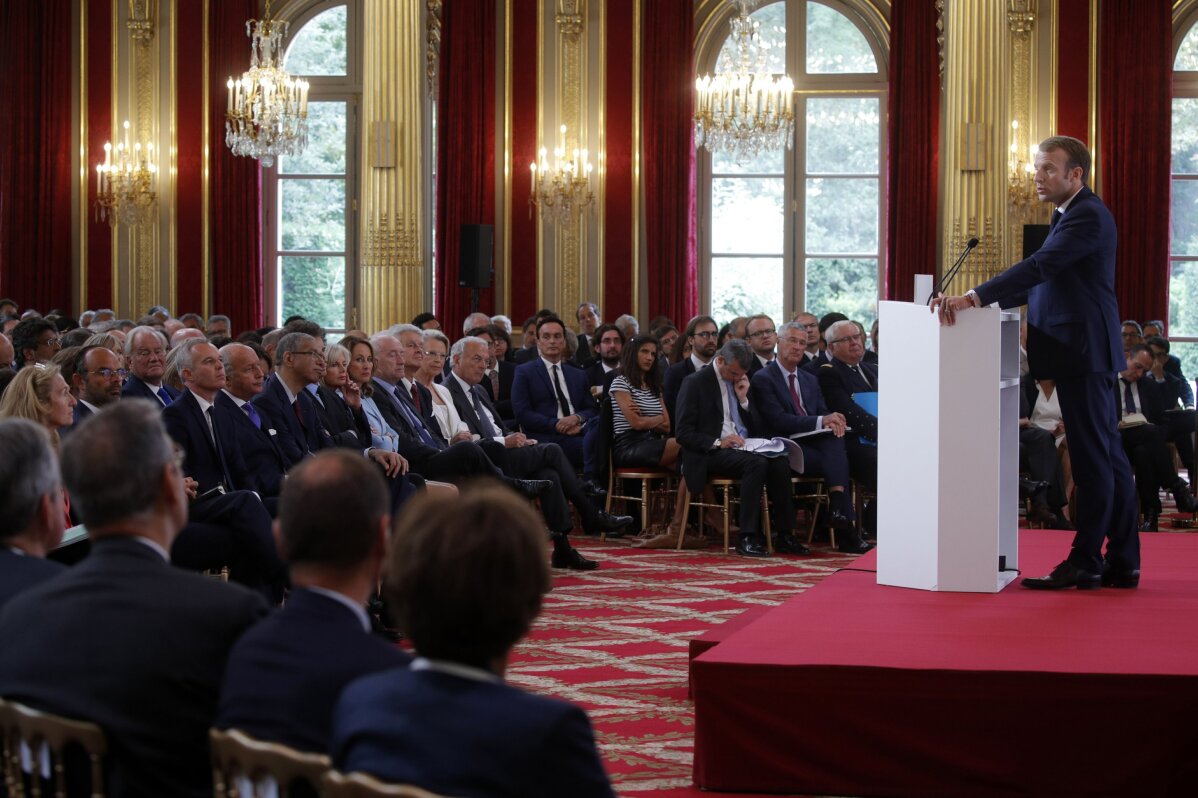 2 of 3

|
French President Emmanuel Macron delivers a speech during the annual French ambassadors' conference at the Elysee Palace in Paris, France, Monday, Aug. 27, 2018. (Philippe Wojazer/Pool Photo via AP)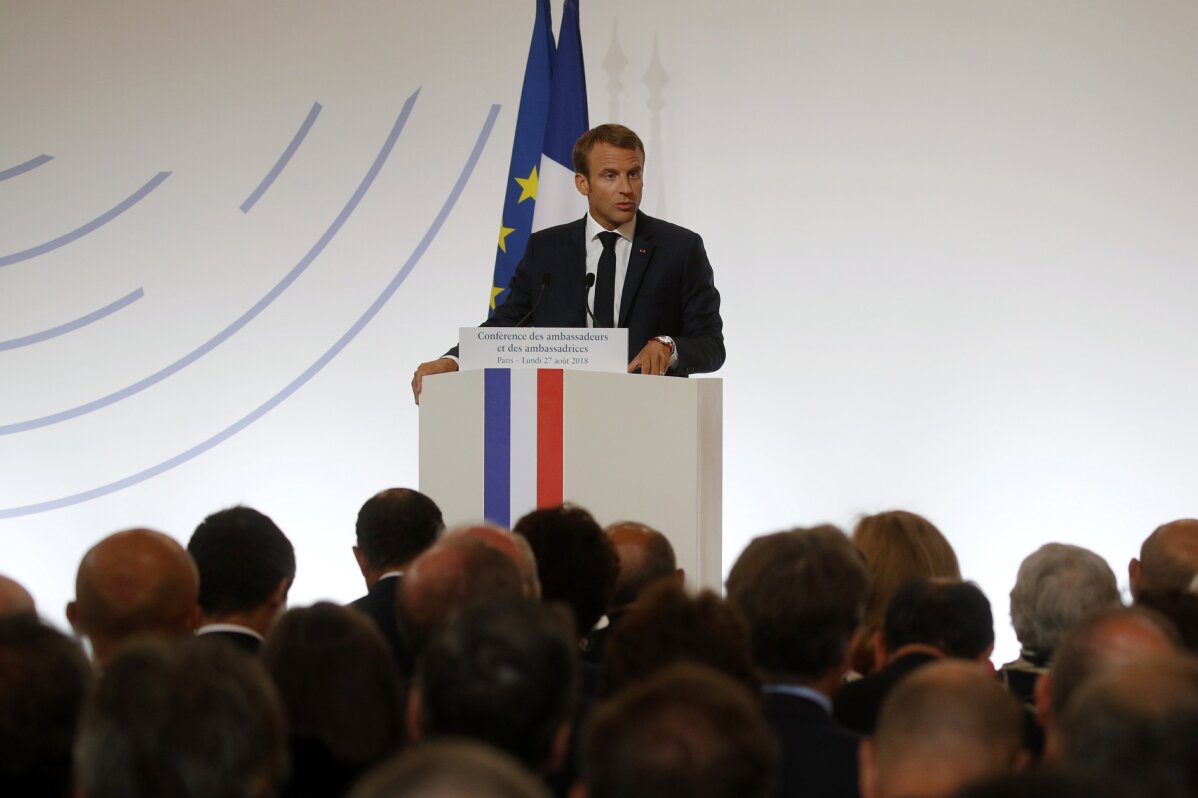 3 of 3

|
French President Emmanuel Macron delivers a speech during the annual French ambassadors' conference at the Elysee Palace in Paris, France, Monday, Aug. 27, 2018. (Philippe Wojazer/Pool Photo via AP)
France's Macron turns away from Trump in laying out roadmap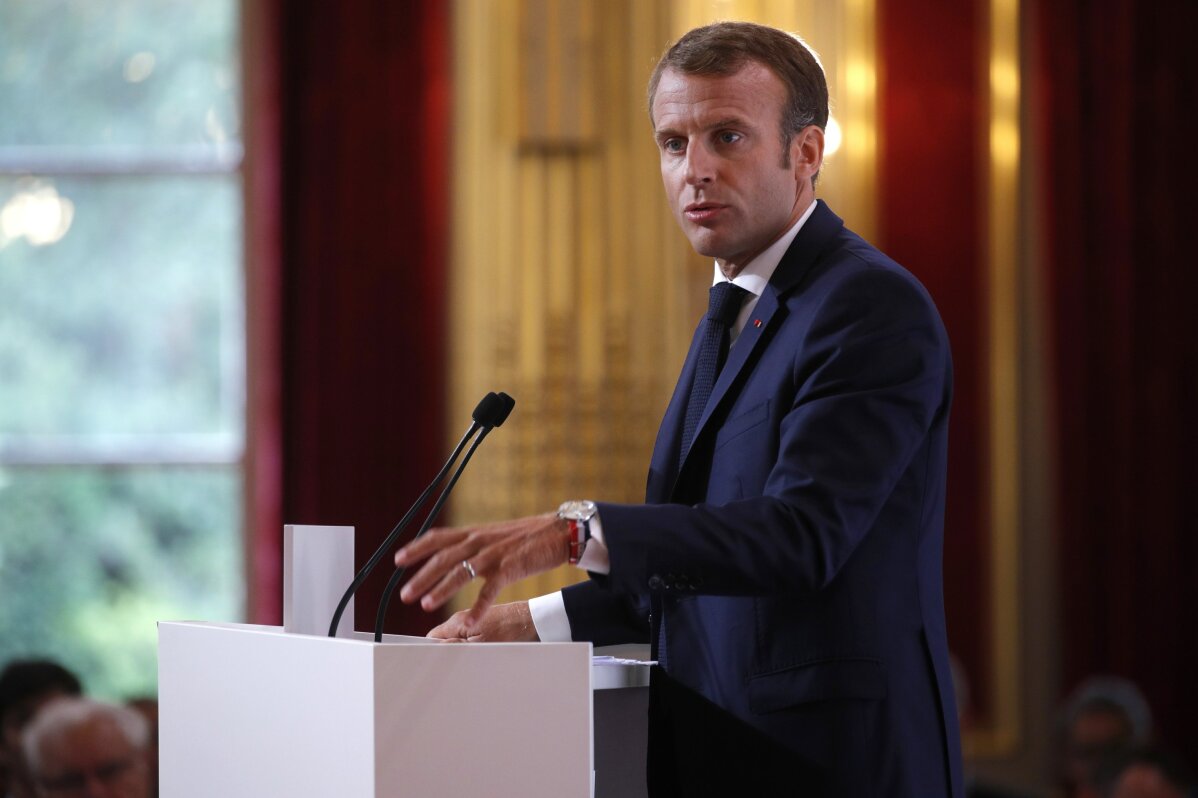 1 of 3

|
French President Emmanuel Macron delivers a speech during the annual French ambassadors' conference at the Elysee Palace in Paris, France, Monday, Aug. 27, 2018. (Philippe Wojazer/Pool Photo via AP)
1 of 3
French President Emmanuel Macron delivers a speech during the annual French ambassadors' conference at the Elysee Palace in Paris, France, Monday, Aug. 27, 2018. (Philippe Wojazer/Pool Photo via AP)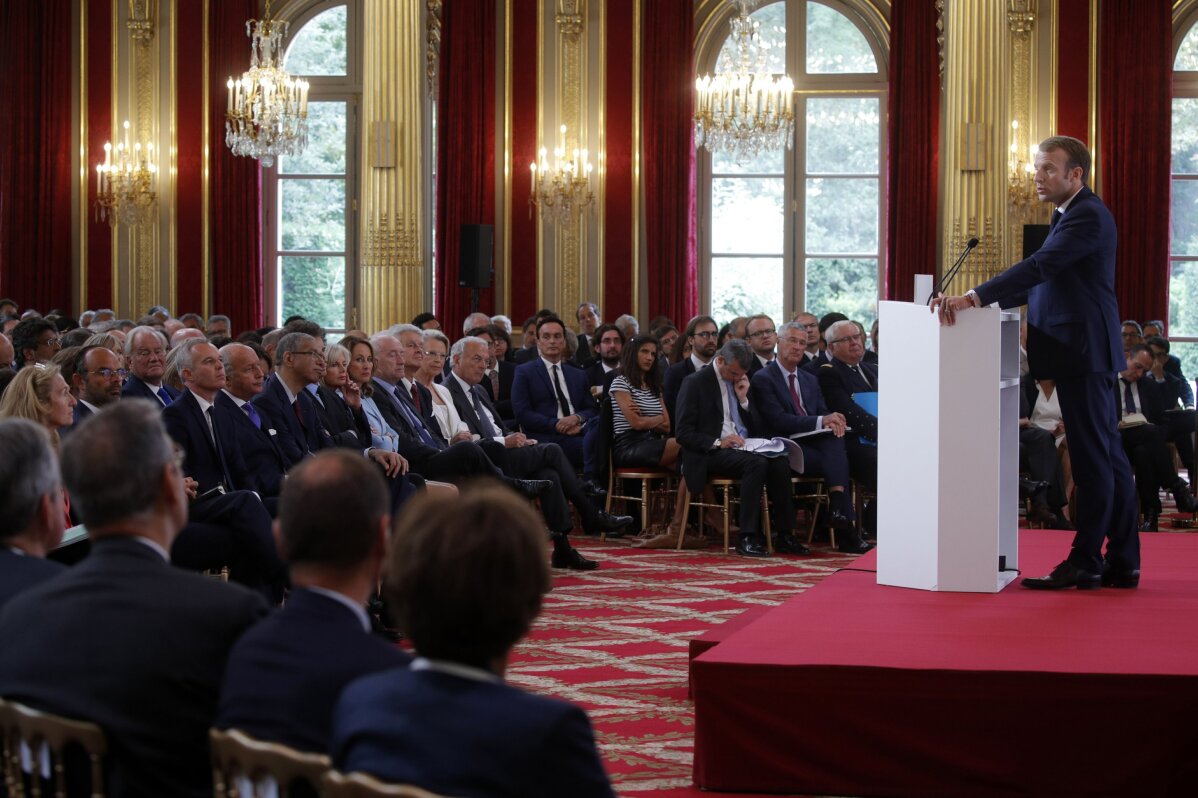 2 of 3

|
French President Emmanuel Macron delivers a speech during the annual French ambassadors' conference at the Elysee Palace in Paris, France, Monday, Aug. 27, 2018. (Philippe Wojazer/Pool Photo via AP)
2 of 3
French President Emmanuel Macron delivers a speech during the annual French ambassadors' conference at the Elysee Palace in Paris, France, Monday, Aug. 27, 2018. (Philippe Wojazer/Pool Photo via AP)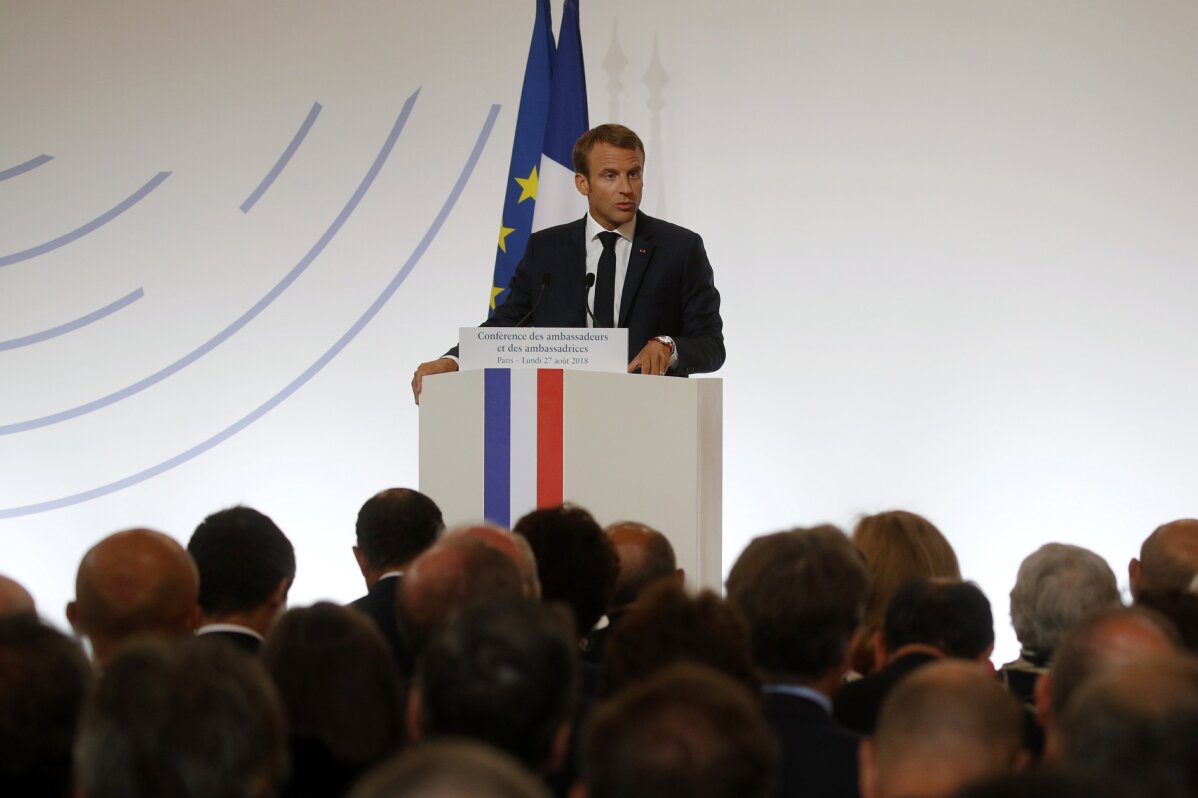 3 of 3

|
French President Emmanuel Macron delivers a speech during the annual French ambassadors' conference at the Elysee Palace in Paris, France, Monday, Aug. 27, 2018. (Philippe Wojazer/Pool Photo via AP)
3 of 3
French President Emmanuel Macron delivers a speech during the annual French ambassadors' conference at the Elysee Palace in Paris, France, Monday, Aug. 27, 2018. (Philippe Wojazer/Pool Photo via AP)
PARIS (AP) — French President Emmanuel Macron laid out his roadmap for the country's diplomatic priorities in the year to come during a 90-minute speech to France's ambassadors Monday.
Notably, Macron appeared to be shifting his approach to the United States and President Donald Trump, with whom he has had such a demonstrative relationship the two leaders were teased about their "bromance."
His speech focused on strengthening the European Union to face today's challenges rather than counting on the U.S. support that had two world wars as a crucible.
Since his election last year, Macron repeatedly tried to convince Trump not to pull out of the Paris climate agreement and the Iran nuclear deal. France's 40-year-old pro-EU president also urged Trump not to impose tariffs on European steel and aluminum.
Bromance or not, his efforts were in vain.
On Monday, Macron urged the European Union to take more responsibility for its own defense .
A look at other issues on his roadmap:
EUROPE
The continent's future was Macron's major focus. Nine months before the next European parliament election, he stressed the need to make the EU more "sovereign." He has pledged to redouble efforts to counter rising nationalism in Europe.
He closed the door to further talks about Turkey's accession to the EU and proposed instead a "strategic partnership" with Russia and Turkey.
To promote his proposals, Macron plans to visit Denmark and Finland this week and to meet with counterparts from Belgium, Luxembourg and the Netherlands next week. After that, he is scheduled to host German Chancellor Angela Merkel in Paris.
___
BREXIT
In line with France's position, Macron said he wants the EU to reach an agreement with Britain on the terms of its departure from the bloc and future relations with it by the end of the year.
"Brexit is a sovereign choice that we must respect, but it is a choice that cannot happen at the expense of the European Union's integrity," he said.
Macron added: "France wishes to maintain a strong, privileged relationship with London, but not at the expense of the European Union dissolution."
___
MULTILATERALISM
Macron's comments weren't new to the French ambassadors. He often advocates the value of multilateralism over each country pursuing what might be best for it alone.
During his speech, he specifically criticized what he described as the current "aggressive and unilateral trade policy" of the United States.
"Multilateralism is, in effect, going through a major crisis, which is striking all of our diplomatic relationships, above all because of American policy," Macron said in his pointed remarks. "The partner with whom Europe had built the order of post-war multilateralism seems to turn his back on this common history."
___
SYRIA
No major shift. Macron said France's main priority is to fight the Islamic State and that he does not consider Syrian President Bashar Assad's departure a pre-condition of ending the country's long civil war.
Yet maintaining Assad in power would be a "fatal error," Macron said. He stressed the importance of a negotiated political transition.
"It is not up to France to appoint the future leaders of Syria," the president said. "But it is our duty and our interest to ensure that the Syrian people will be in a position to do so."
Macron also called on Russia and Turkey to use their influence in the region to help bring the war to a close.