De Bruyne stars, leads Belgium to 3-2 win in Germany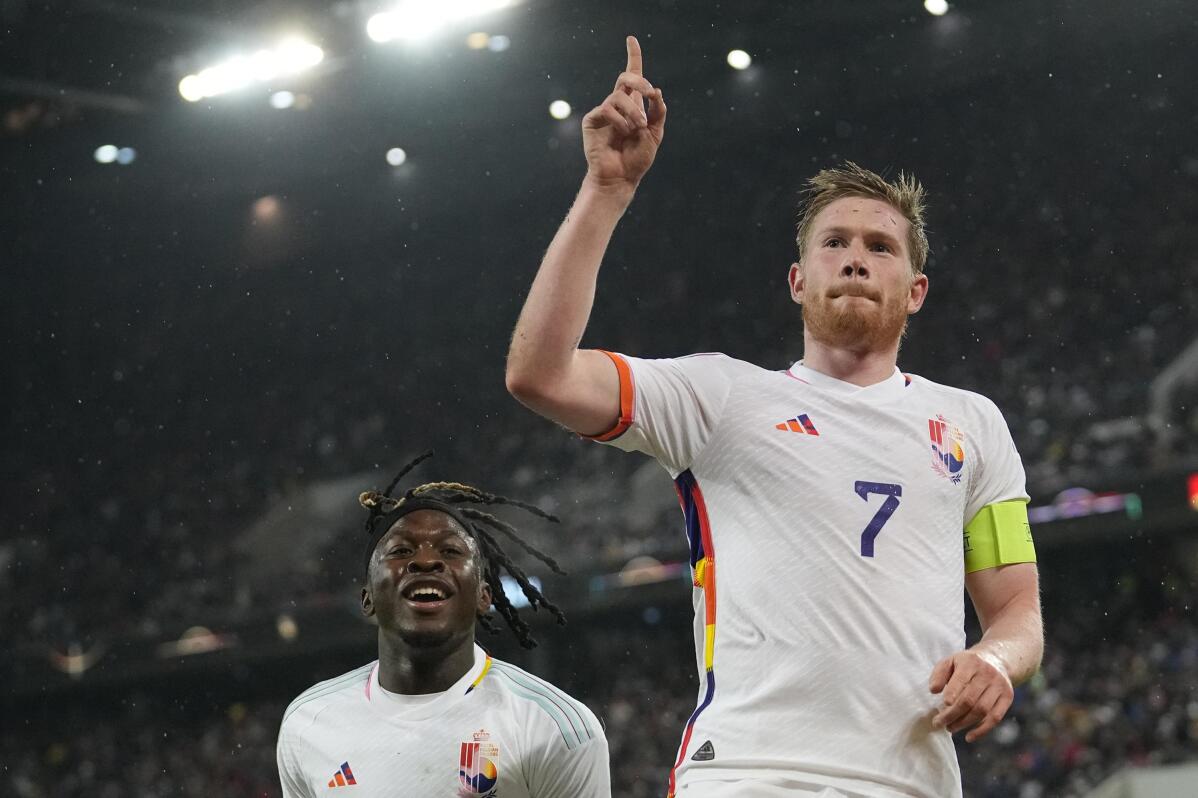 1 of 12

|
Belgium's Kevin De Bruyne, right, celebrates after scoring the third goal against Germany during the international friendly soccer match between Germany and Belgium in Cologne, Germany, Tuesday March 28, 2023. (AP Photo/Martin Meissner)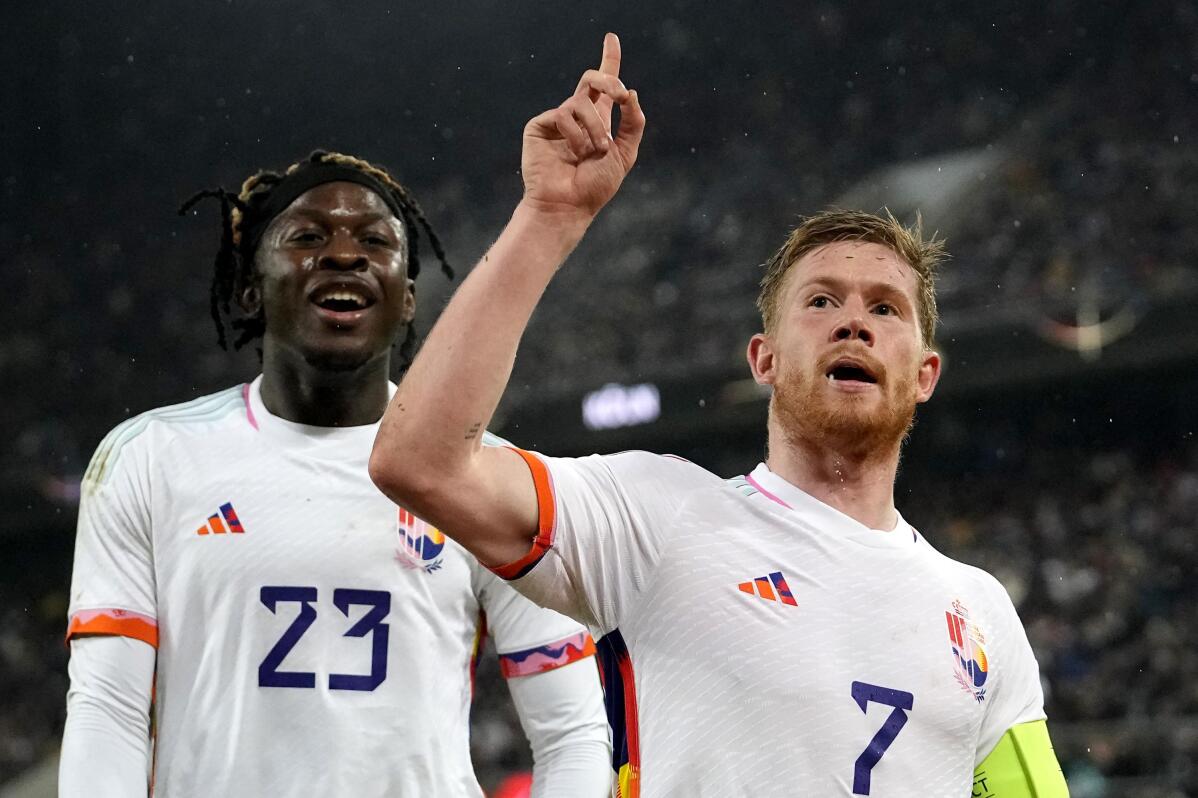 2 of 12

|
Belgium's Kevin De Bruyne, right, celebrates after scoring the third goal against Germany during the international friendly soccer match between Germany and Belgium in Cologne, Germany, Tuesday March 28, 2023. (AP Photo/Martin Meissner)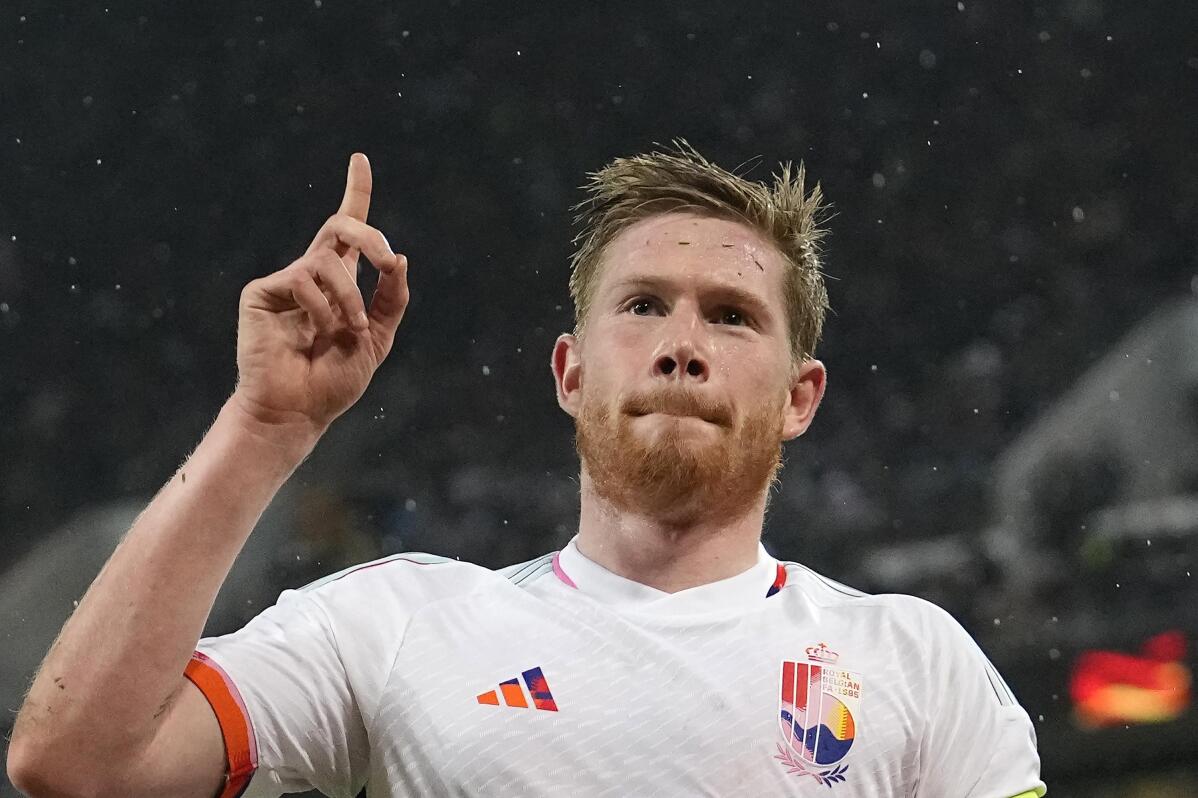 3 of 12

|
Belgium's Kevin De Bruyne celebrates after scoring the third goal against Germany during the international friendly soccer match between Germany and Belgium in Cologne, Germany, Tuesday March 28, 2023. (AP Photo/Martin Meissner)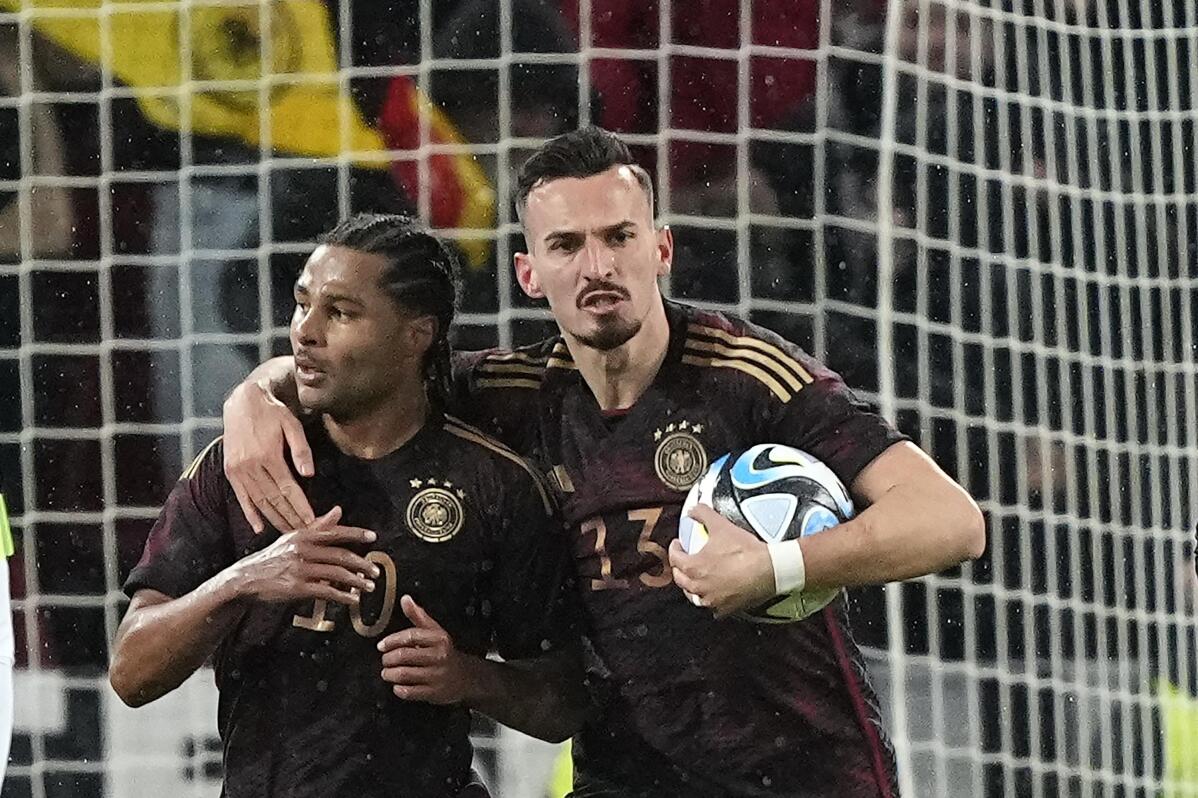 4 of 12

|
Germany's Serge Gnabry, left, celebrates with his teammate Mergim Berisha after scoring the second goal against Belgium during the international friendly soccer match between Germany and Belgium in Cologne, Germany, Tuesday March 28, 2023. (AP Photo/Martin Meissner)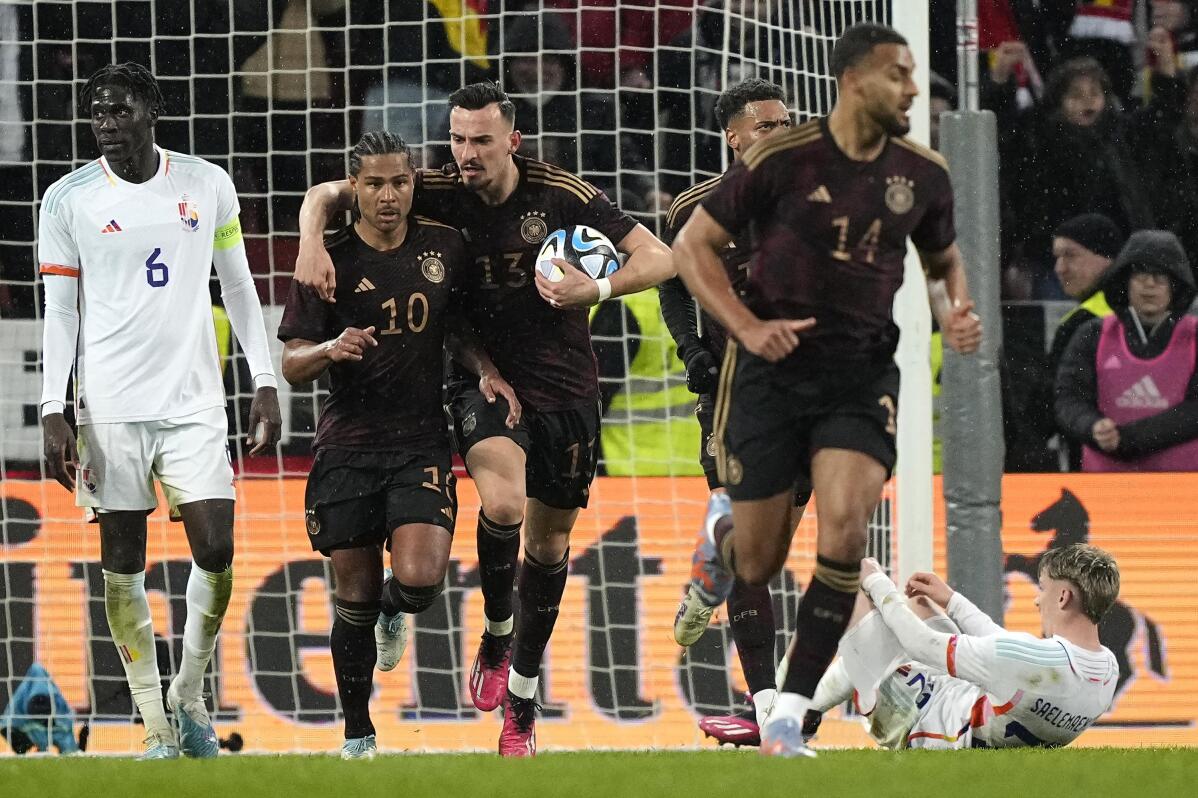 5 of 12

|
Germany's Serge Gnabry, second left, celebrates with his teammate Mergim Berisha, center, after scoring the second goal against Belgium during the international friendly soccer match between Germany and Belgium in Cologne, Germany, Tuesday March 28, 2023. (AP Photo/Martin Meissner)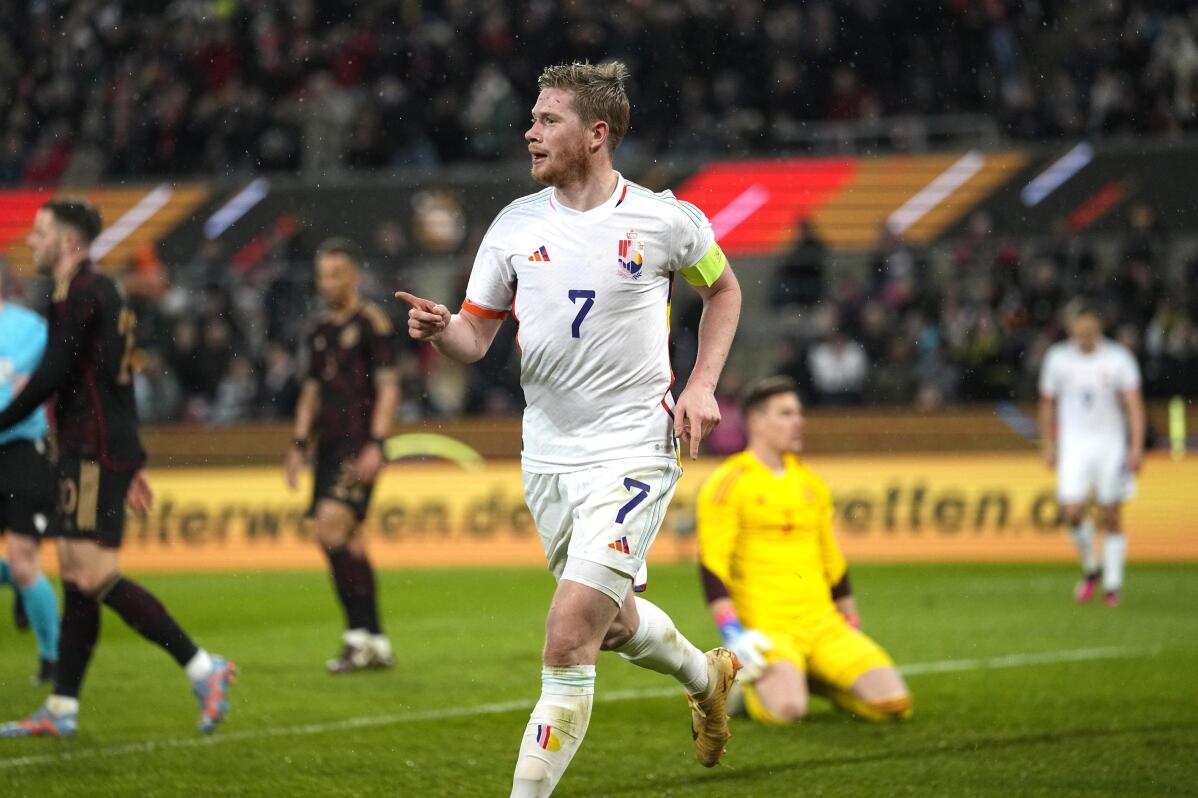 6 of 12

|
Belgium's Kevin De Bruyne celebrates after scoring the third goal against Germany during the international friendly soccer match between Germany and Belgium in Cologne, Germany, Tuesday March 28, 2023. (AP Photo/Martin Meissner)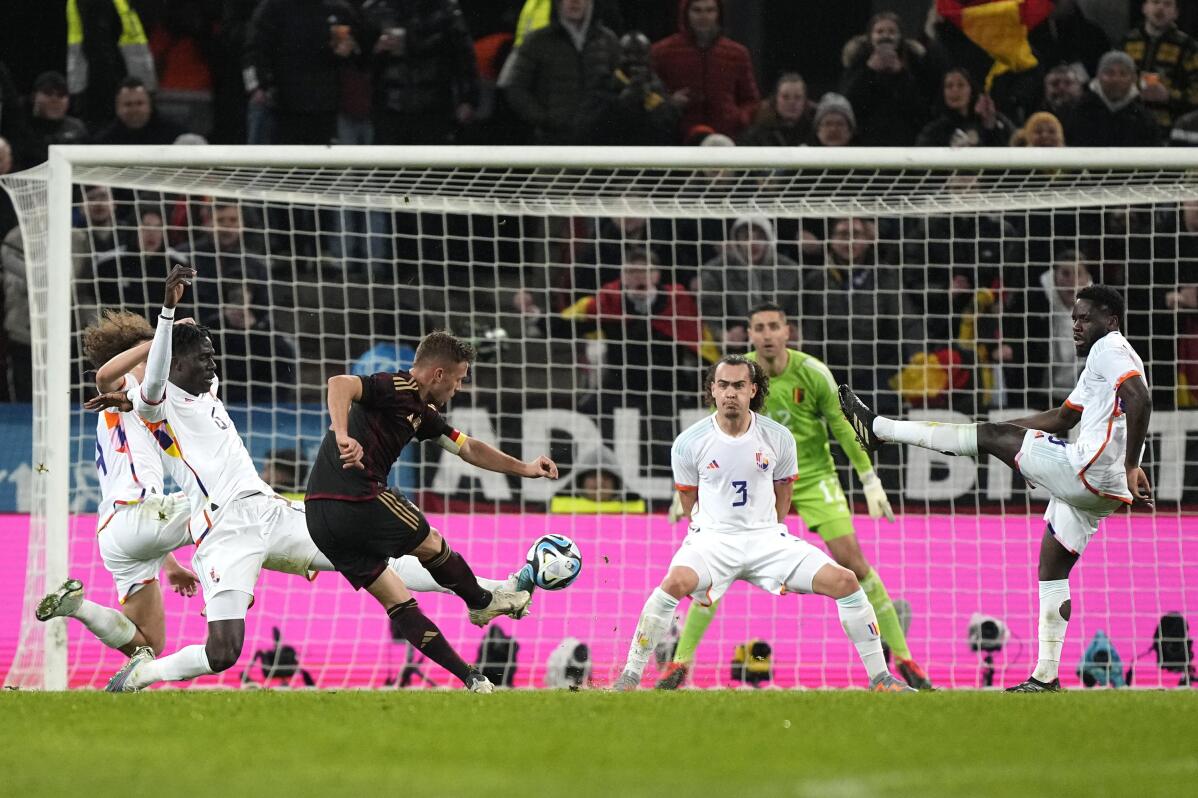 7 of 12

|
Germany's Joshua Kimmich, center left, shoots the ball during the international friendly soccer match between Germany and Belgium in Cologne, Germany, Tuesday March 28, 2023. (AP Photo/Martin Meissner)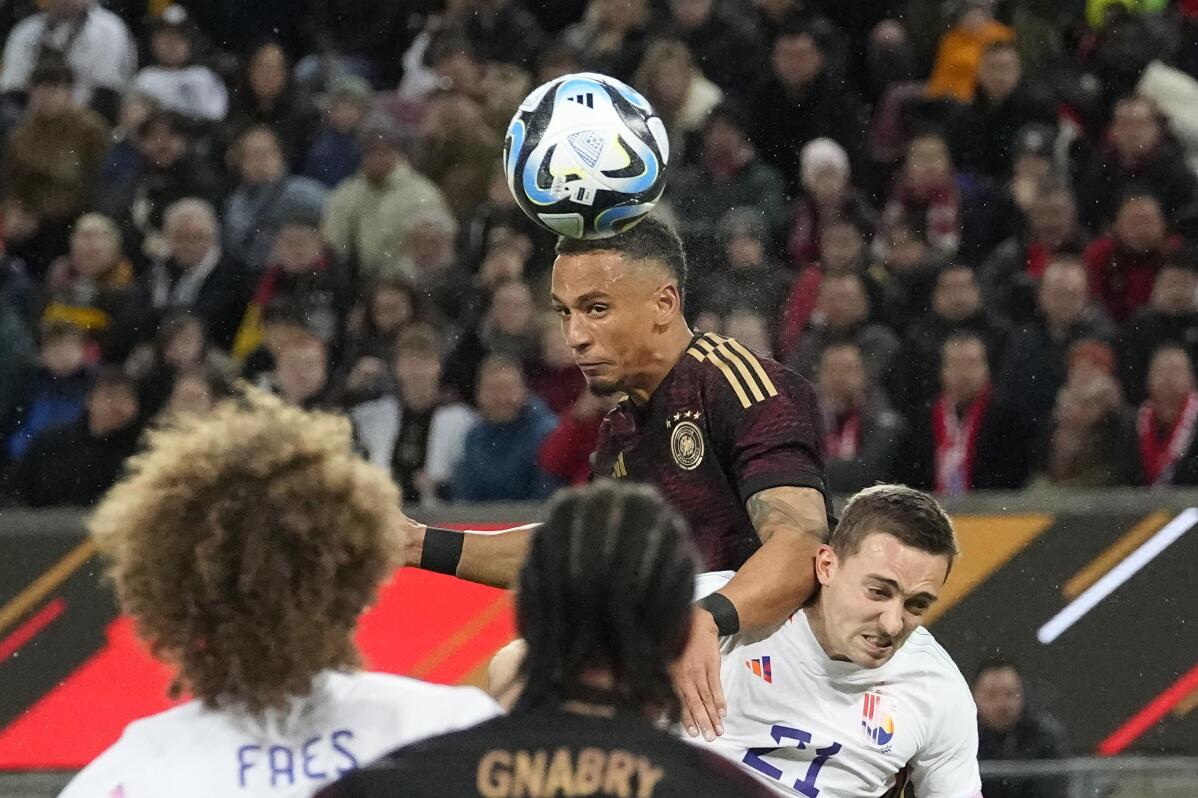 8 of 12

|
Germany's Thilo Kehrer, center, heads the ball by Belgium's Timothy Castagne, right, during the international friendly soccer match between Germany and Belgium in Cologne, Germany, Tuesday March 28, 2023. (AP Photo/Martin Meissner)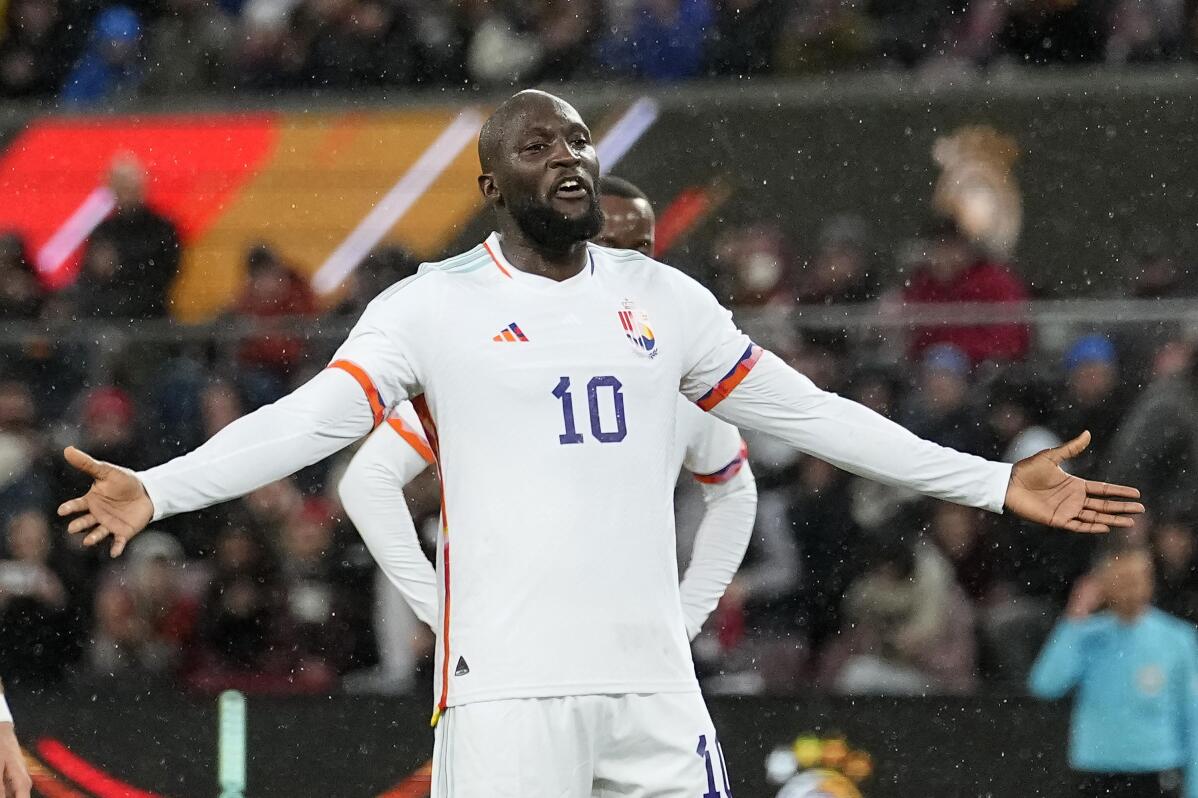 9 of 12

|
Belgium's Romelu Lukaku reacts during the international friendly soccer match between Germany and Belgium in Cologne, Germany, Tuesday March 28, 2023. (AP Photo/Martin Meissner)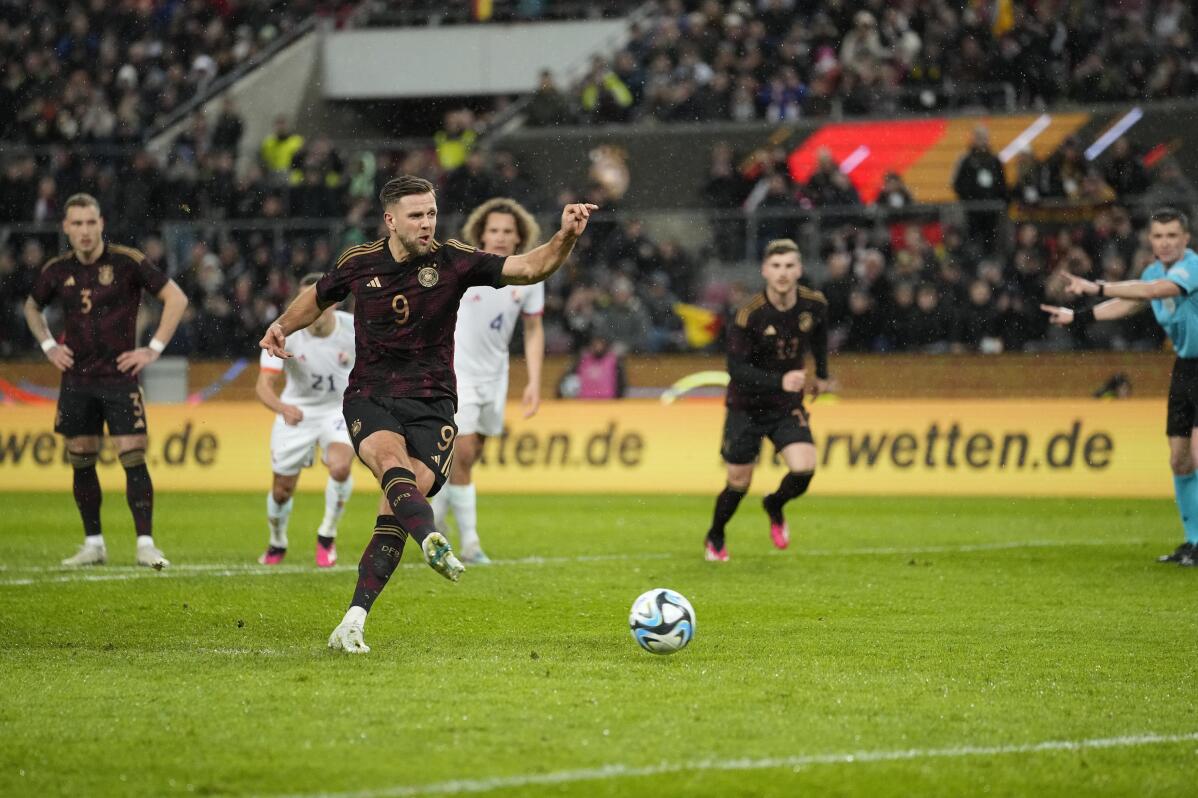 10 of 12

|
Germany's Niclas Fullkrug, scores from a penalty against Belgium during the international friendly soccer match between Germany and Belgium in Cologne, Germany, Tuesday March 28, 2023. (AP Photo/Martin Meissner)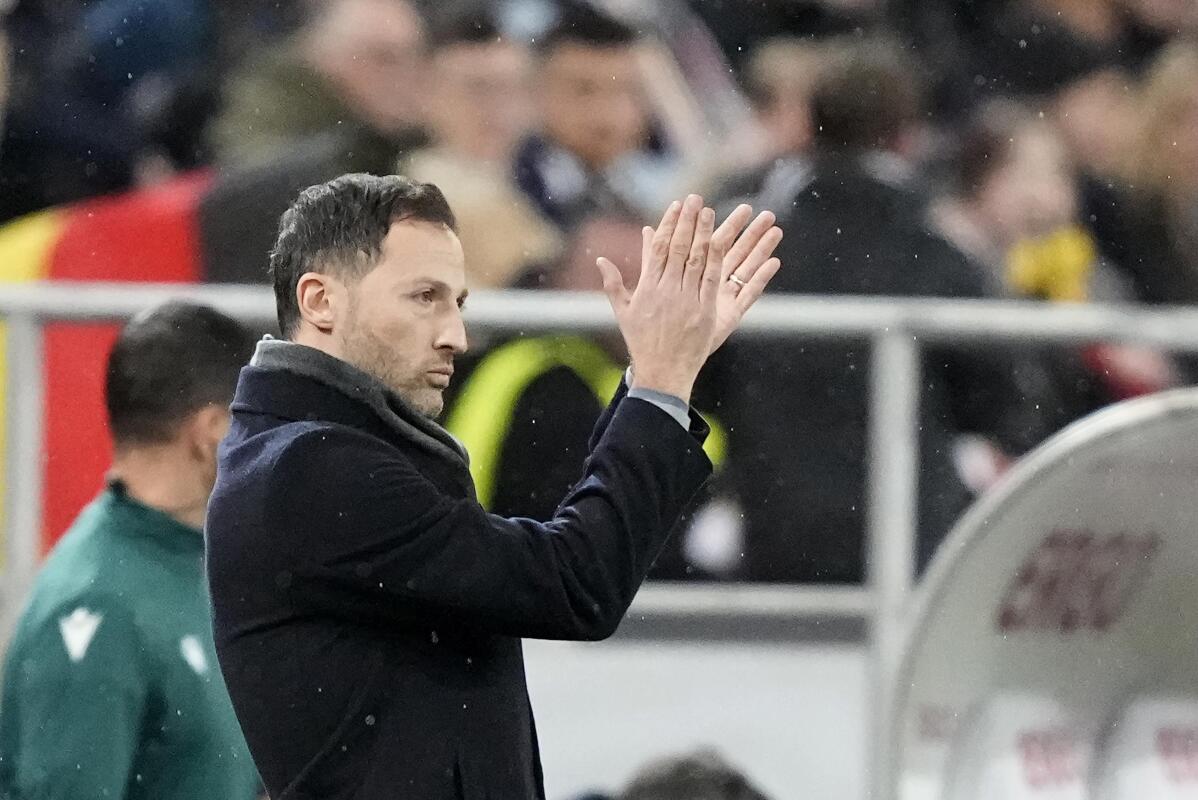 11 of 12

|
Belgium's coach Domenico Tedesco reacts during the international friendly soccer match between Germany and Belgium in Cologne, Germany, Tuesday March 28, 2023. (AP Photo/Martin Meissner)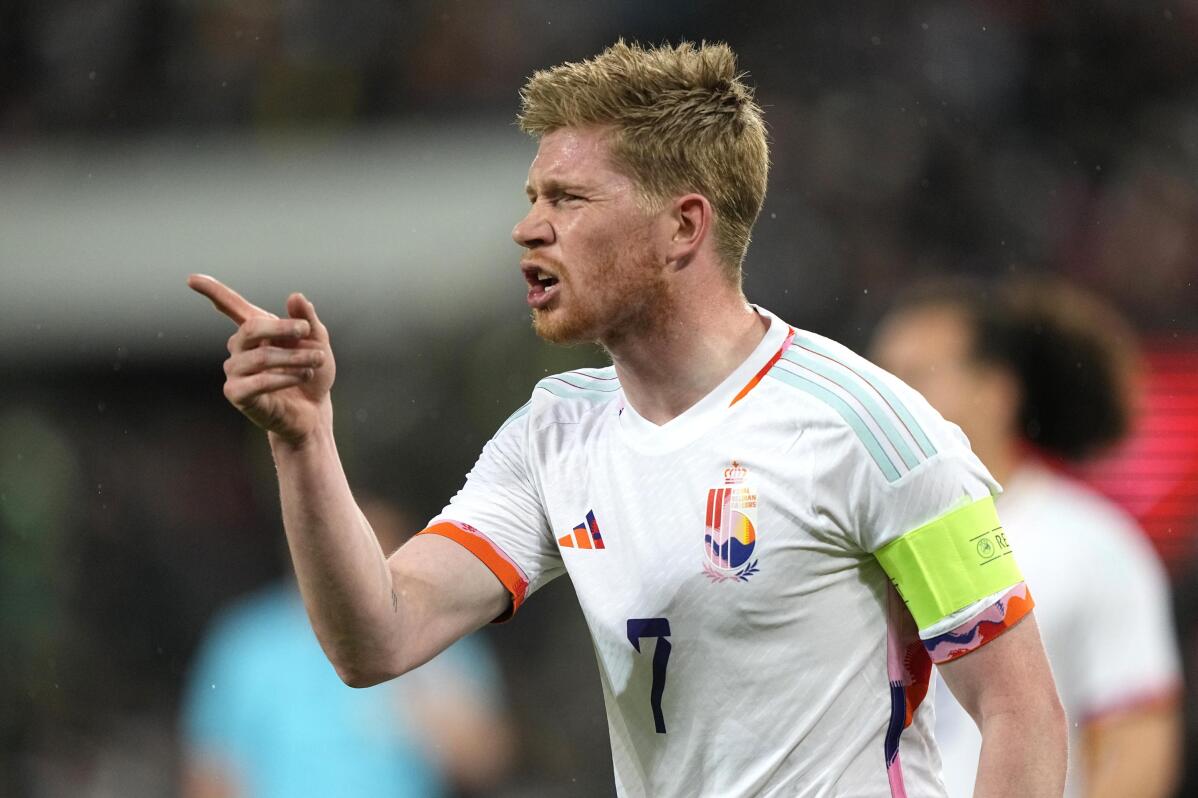 12 of 12

|
Belgium's Kevin De Bruyne reacts during the international friendly soccer match between Germany and Belgium in Cologne, Germany, Tuesday March 28, 2023. (AP Photo/Martin Meissner)
De Bruyne stars, leads Belgium to 3-2 win in Germany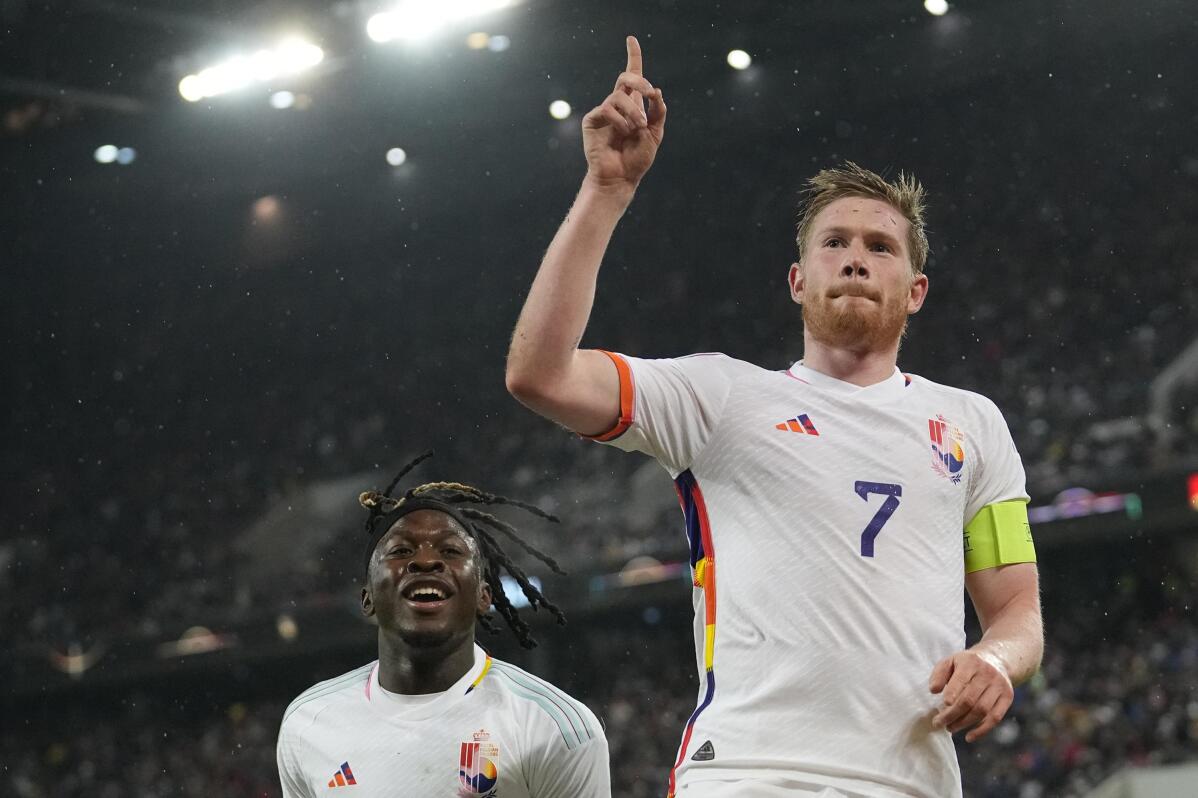 1 of 12

|
Belgium's Kevin De Bruyne, right, celebrates after scoring the third goal against Germany during the international friendly soccer match between Germany and Belgium in Cologne, Germany, Tuesday March 28, 2023. (AP Photo/Martin Meissner)
1 of 12
Belgium's Kevin De Bruyne, right, celebrates after scoring the third goal against Germany during the international friendly soccer match between Germany and Belgium in Cologne, Germany, Tuesday March 28, 2023. (AP Photo/Martin Meissner)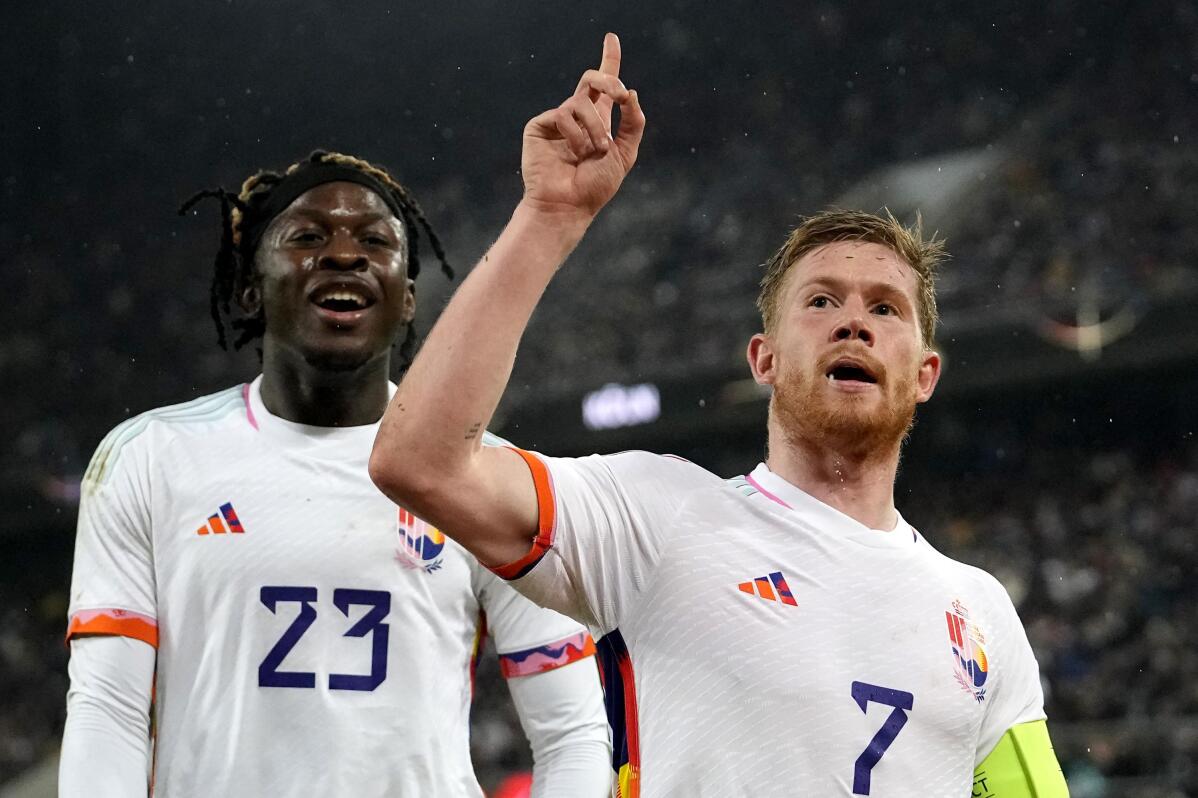 2 of 12

|
Belgium's Kevin De Bruyne, right, celebrates after scoring the third goal against Germany during the international friendly soccer match between Germany and Belgium in Cologne, Germany, Tuesday March 28, 2023. (AP Photo/Martin Meissner)
2 of 12
Belgium's Kevin De Bruyne, right, celebrates after scoring the third goal against Germany during the international friendly soccer match between Germany and Belgium in Cologne, Germany, Tuesday March 28, 2023. (AP Photo/Martin Meissner)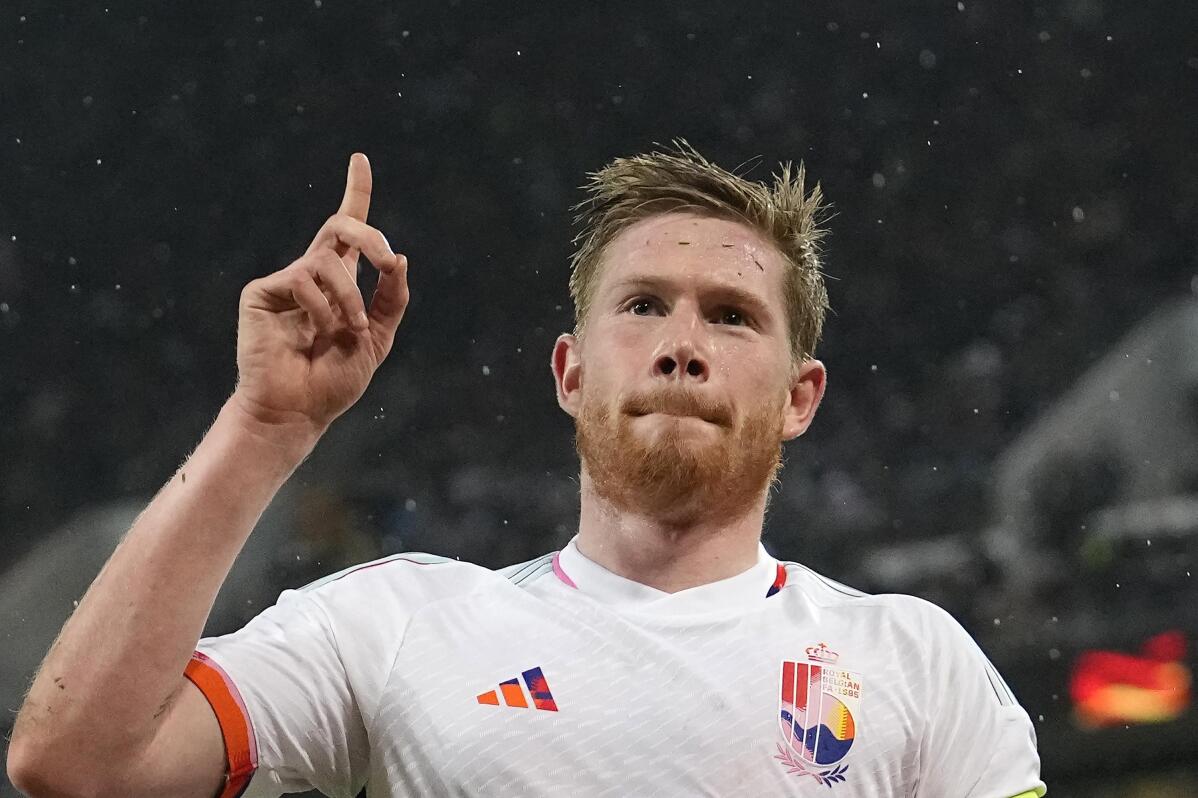 3 of 12

|
Belgium's Kevin De Bruyne celebrates after scoring the third goal against Germany during the international friendly soccer match between Germany and Belgium in Cologne, Germany, Tuesday March 28, 2023. (AP Photo/Martin Meissner)
3 of 12
Belgium's Kevin De Bruyne celebrates after scoring the third goal against Germany during the international friendly soccer match between Germany and Belgium in Cologne, Germany, Tuesday March 28, 2023. (AP Photo/Martin Meissner)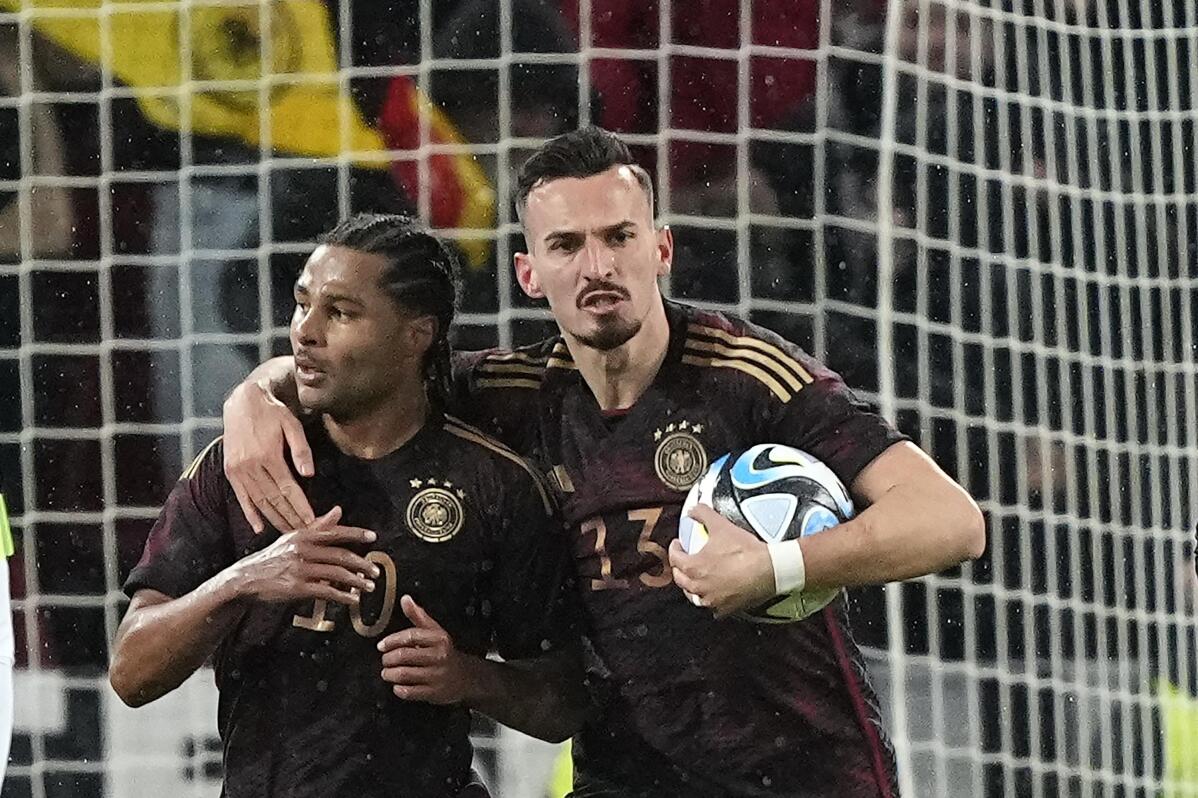 4 of 12

|
Germany's Serge Gnabry, left, celebrates with his teammate Mergim Berisha after scoring the second goal against Belgium during the international friendly soccer match between Germany and Belgium in Cologne, Germany, Tuesday March 28, 2023. (AP Photo/Martin Meissner)
4 of 12
Germany's Serge Gnabry, left, celebrates with his teammate Mergim Berisha after scoring the second goal against Belgium during the international friendly soccer match between Germany and Belgium in Cologne, Germany, Tuesday March 28, 2023. (AP Photo/Martin Meissner)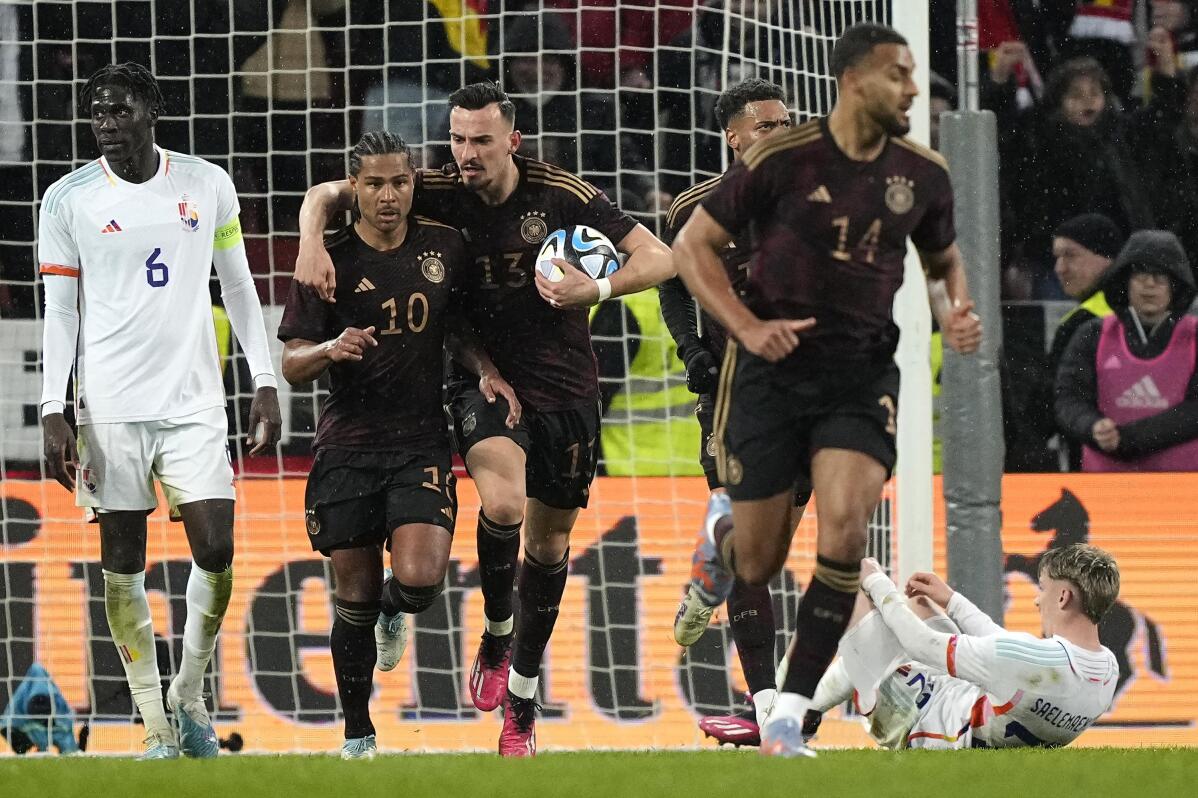 5 of 12

|
Germany's Serge Gnabry, second left, celebrates with his teammate Mergim Berisha, center, after scoring the second goal against Belgium during the international friendly soccer match between Germany and Belgium in Cologne, Germany, Tuesday March 28, 2023. (AP Photo/Martin Meissner)
5 of 12
Germany's Serge Gnabry, second left, celebrates with his teammate Mergim Berisha, center, after scoring the second goal against Belgium during the international friendly soccer match between Germany and Belgium in Cologne, Germany, Tuesday March 28, 2023. (AP Photo/Martin Meissner)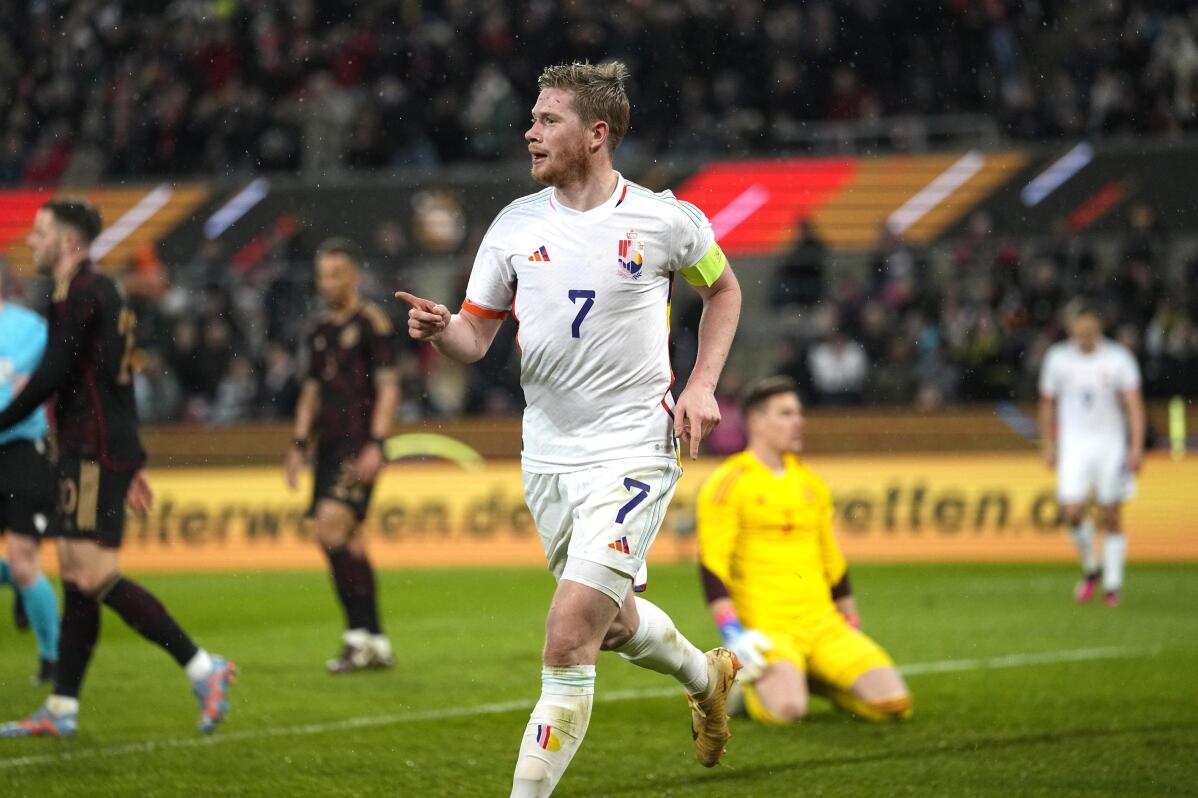 6 of 12

|
Belgium's Kevin De Bruyne celebrates after scoring the third goal against Germany during the international friendly soccer match between Germany and Belgium in Cologne, Germany, Tuesday March 28, 2023. (AP Photo/Martin Meissner)
6 of 12
Belgium's Kevin De Bruyne celebrates after scoring the third goal against Germany during the international friendly soccer match between Germany and Belgium in Cologne, Germany, Tuesday March 28, 2023. (AP Photo/Martin Meissner)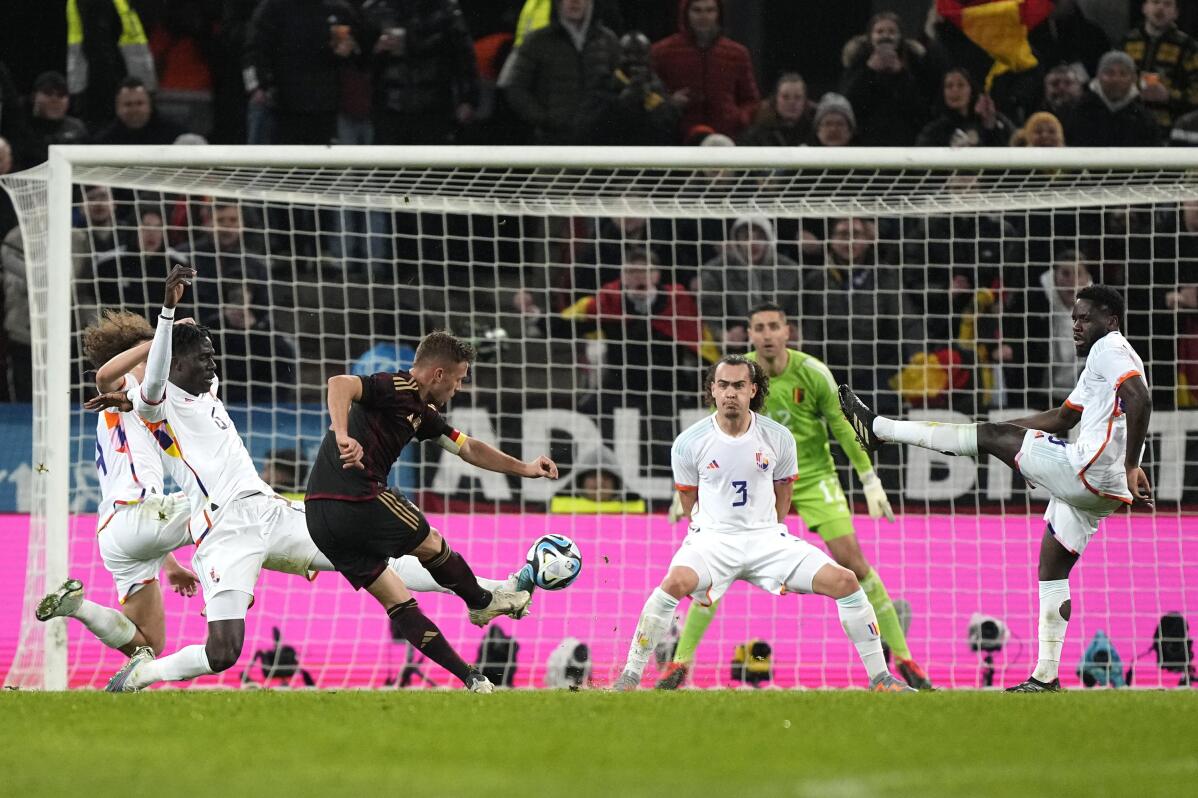 7 of 12

|
Germany's Joshua Kimmich, center left, shoots the ball during the international friendly soccer match between Germany and Belgium in Cologne, Germany, Tuesday March 28, 2023. (AP Photo/Martin Meissner)
7 of 12
Germany's Joshua Kimmich, center left, shoots the ball during the international friendly soccer match between Germany and Belgium in Cologne, Germany, Tuesday March 28, 2023. (AP Photo/Martin Meissner)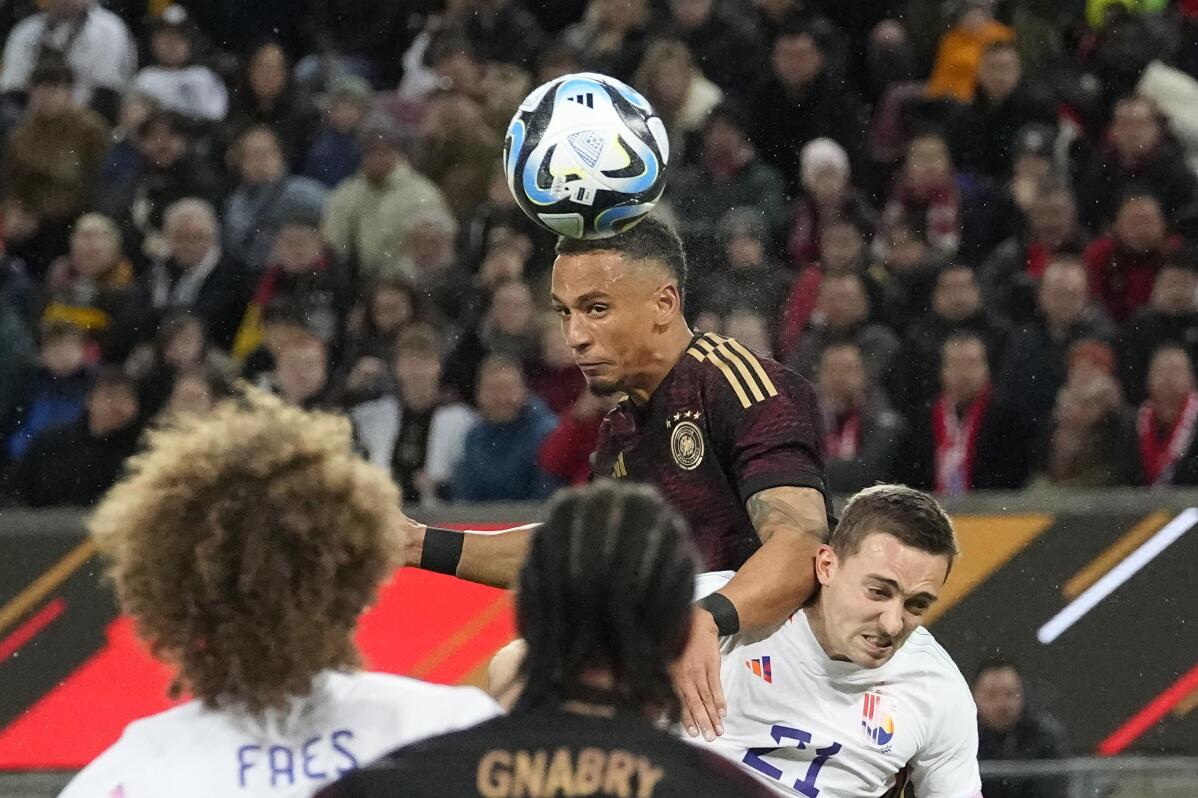 8 of 12

|
Germany's Thilo Kehrer, center, heads the ball by Belgium's Timothy Castagne, right, during the international friendly soccer match between Germany and Belgium in Cologne, Germany, Tuesday March 28, 2023. (AP Photo/Martin Meissner)
8 of 12
Germany's Thilo Kehrer, center, heads the ball by Belgium's Timothy Castagne, right, during the international friendly soccer match between Germany and Belgium in Cologne, Germany, Tuesday March 28, 2023. (AP Photo/Martin Meissner)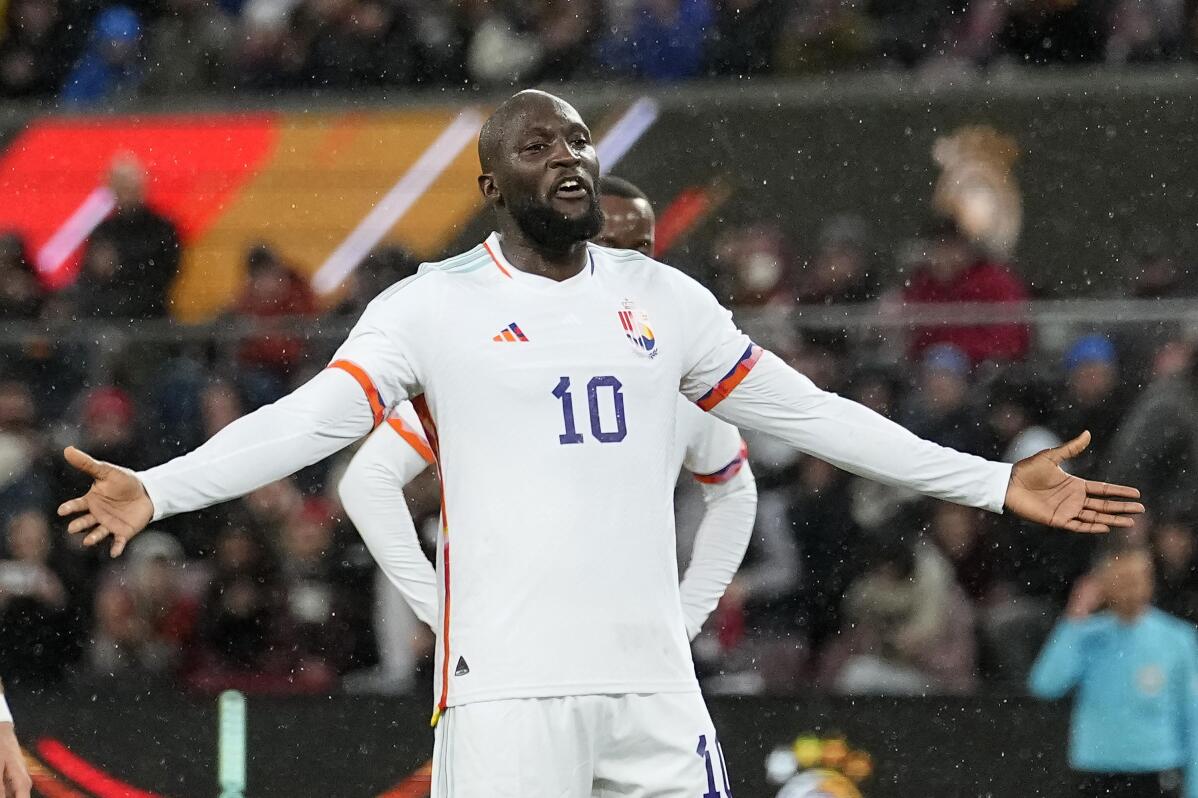 9 of 12

|
Belgium's Romelu Lukaku reacts during the international friendly soccer match between Germany and Belgium in Cologne, Germany, Tuesday March 28, 2023. (AP Photo/Martin Meissner)
9 of 12
Belgium's Romelu Lukaku reacts during the international friendly soccer match between Germany and Belgium in Cologne, Germany, Tuesday March 28, 2023. (AP Photo/Martin Meissner)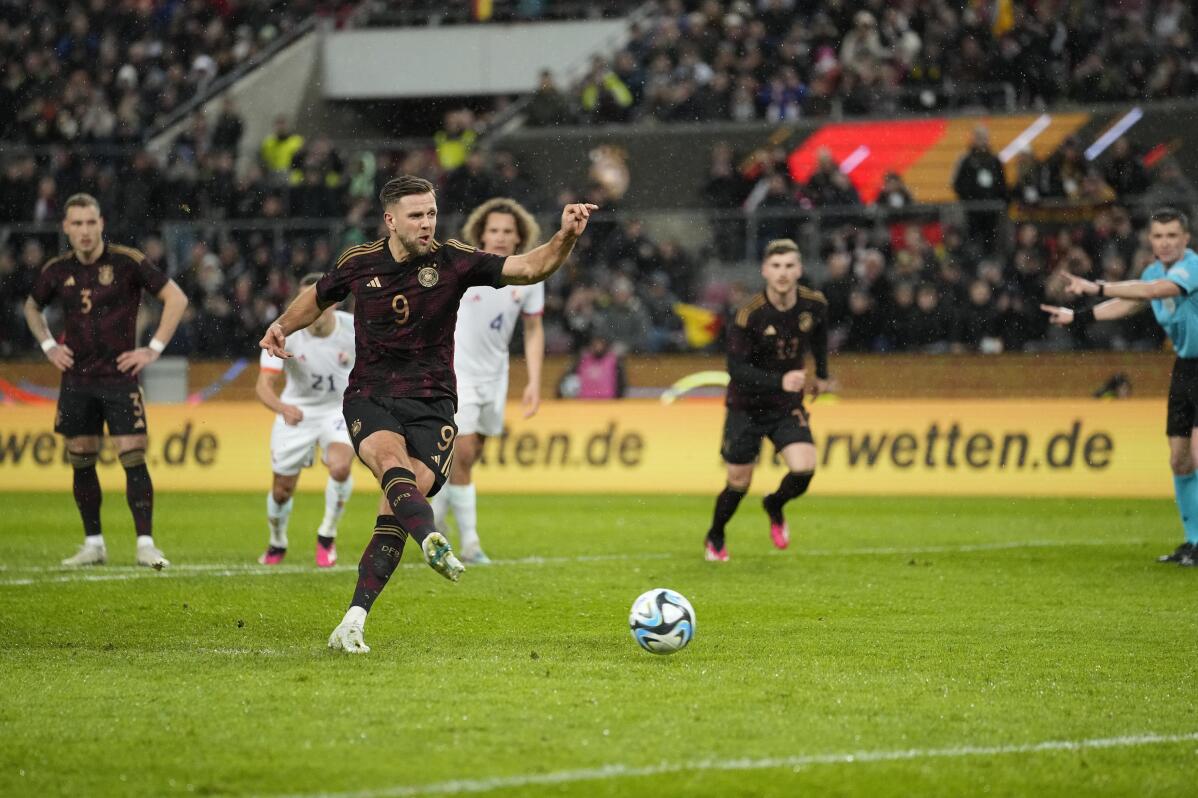 10 of 12

|
Germany's Niclas Fullkrug, scores from a penalty against Belgium during the international friendly soccer match between Germany and Belgium in Cologne, Germany, Tuesday March 28, 2023. (AP Photo/Martin Meissner)
10 of 12
Germany's Niclas Fullkrug, scores from a penalty against Belgium during the international friendly soccer match between Germany and Belgium in Cologne, Germany, Tuesday March 28, 2023. (AP Photo/Martin Meissner)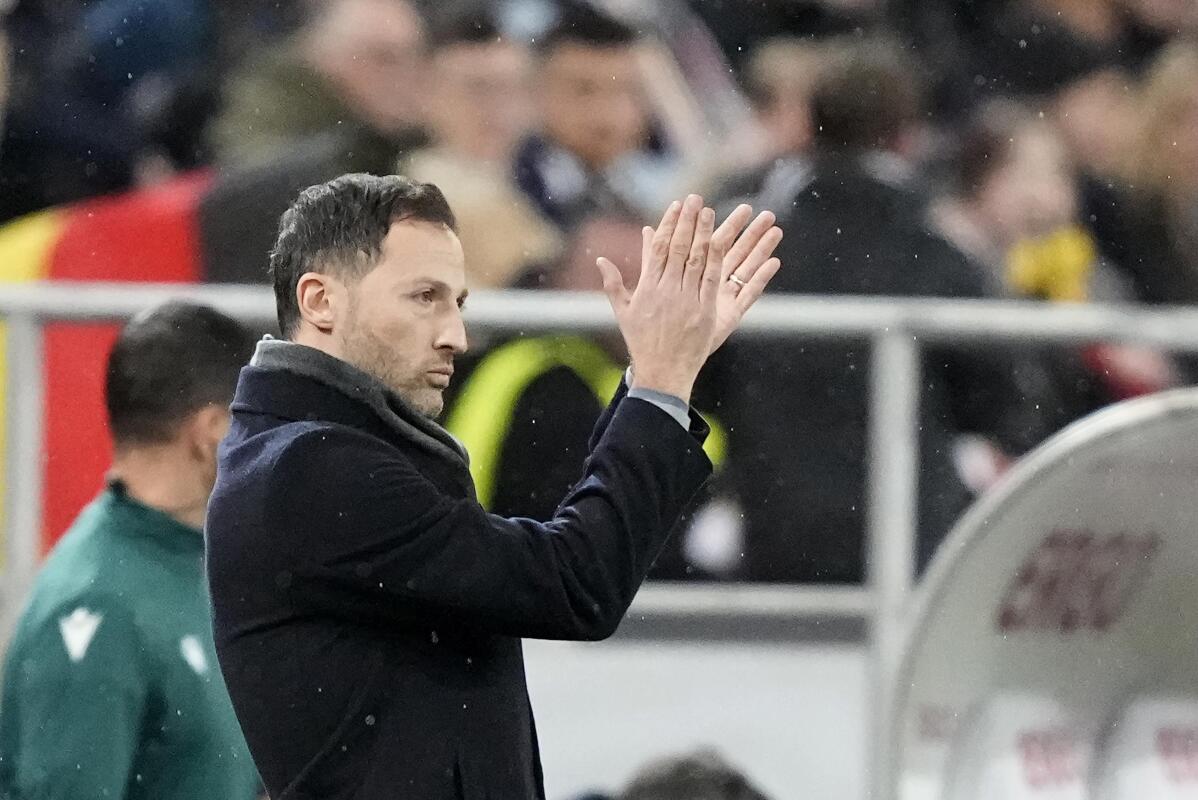 11 of 12

|
Belgium's coach Domenico Tedesco reacts during the international friendly soccer match between Germany and Belgium in Cologne, Germany, Tuesday March 28, 2023. (AP Photo/Martin Meissner)
11 of 12
Belgium's coach Domenico Tedesco reacts during the international friendly soccer match between Germany and Belgium in Cologne, Germany, Tuesday March 28, 2023. (AP Photo/Martin Meissner)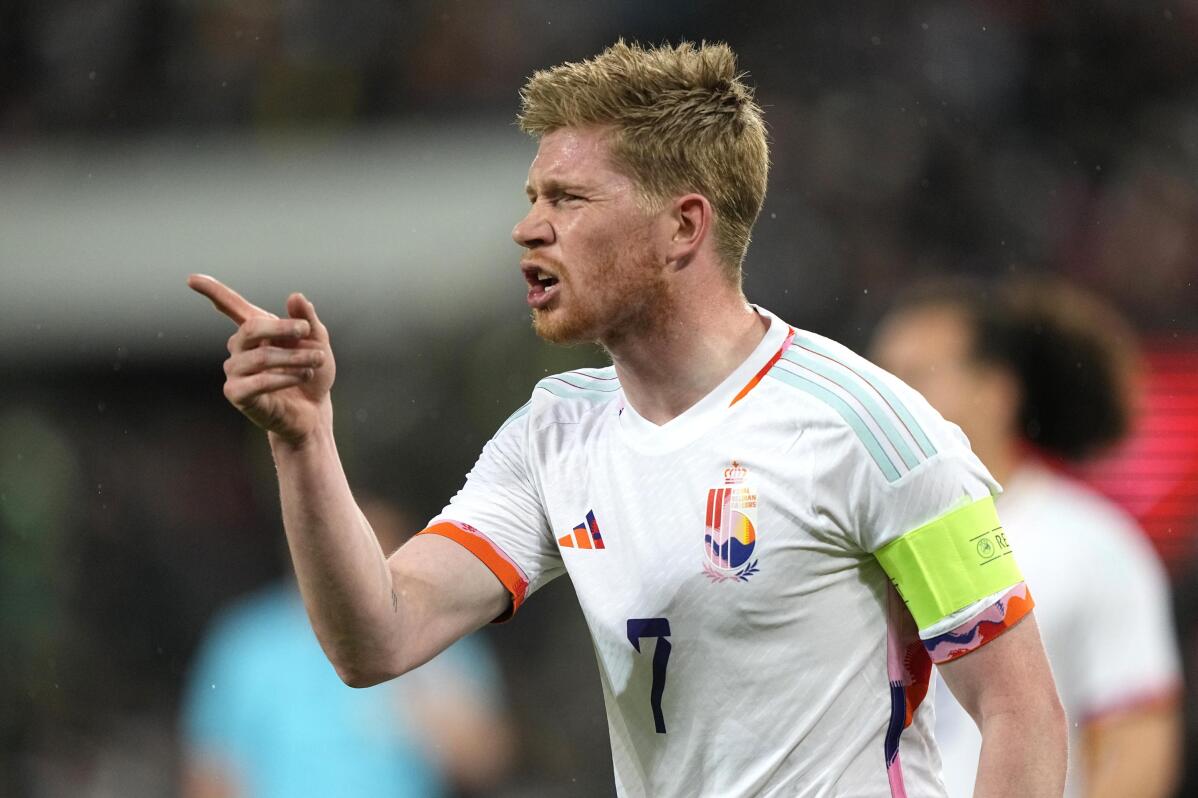 12 of 12

|
Belgium's Kevin De Bruyne reacts during the international friendly soccer match between Germany and Belgium in Cologne, Germany, Tuesday March 28, 2023. (AP Photo/Martin Meissner)
12 of 12
Belgium's Kevin De Bruyne reacts during the international friendly soccer match between Germany and Belgium in Cologne, Germany, Tuesday March 28, 2023. (AP Photo/Martin Meissner)
COLOGNE, Germany (AP) — Kevin De Bruyne steered Belgium to a 3-2 friendly win over Germany in new coach Domenico Tedesco's return home on Tuesday.
De Bruyne set up both opening goals then sealed the victory just as Germany was threatening an equalizer after recovering from a very poor opening half hour.
It gave Tedesco, the former Leipzig and Schalke coach, a second win from his first two games after his team started Euro 2024 qualifying with a 3-0 win in Sweden last week.
Yannick Carrasco opened the scoring in the sixth when he easily eluded Germany right back Marius Wolf and dispatched the ball past goalkeeper Marc-André ter Stegen after De Bruyne sent him through on the left. De Bruyne was involved again three minutes when Romelu Lukaku made it 2-0.
Germany's defense was looking shaky in the absence of Real Madrid's Antonio Rüdiger and Borussia Dortmund's Niklas Süle and Nico Schlotterbeck. Neither Matthias Ginter nor Thilo Kehrer were able to capitalize on their absences.
Dodi Lukebakio should have made it 3-0, Lukaku struck the crossbar, and David Raum almost scored an own goal as play continued in one direction.
Leon Goretzka went off with an apparent ankle injury in the 32nd — bad news for Bayern Munich ahead of the "Klassiker" against Bundesliga leader Borussia Dortmund on Saturday — and Germany coach Hansi Flick also took off the ineffective Florian Wirtz, bringing on the more defensively minded Emre Can and Wolfsburg midfielder Felix Nmecha for his debut.
The changes had an immediate effect as Germany switched to a 4-3-3 formation.
Niclas Füllkrug scored with a penalty in the 44th after his header from a corner struck Lukaku's hand and the Belgium star was penalized for hand ball.
Can made a potentially goal-saving tackle before the break and the home team continued its renaissance after it, cheered on by the relieved crowd.
Timo Werner had a goal ruled out for offside, Füllkrug headed over, and Joshua Kimmich tested Koen Casteels, who was playing in goal for regular No. 1 Thibaut Courtois, out with what the team said was "a minor strain in the adductor."
With the home team attacking, De Bruyne sealed Belgium's win on a counterattack in the 78th.
Kevin Schade set up Serge Gnabry for a late consolation before the visitors held on through the final minutes.
___ More AP soccer: https://apnews.com/hub/soccer and https://twitter.com/AP_Sports