White House gun violence program with philanthropies ends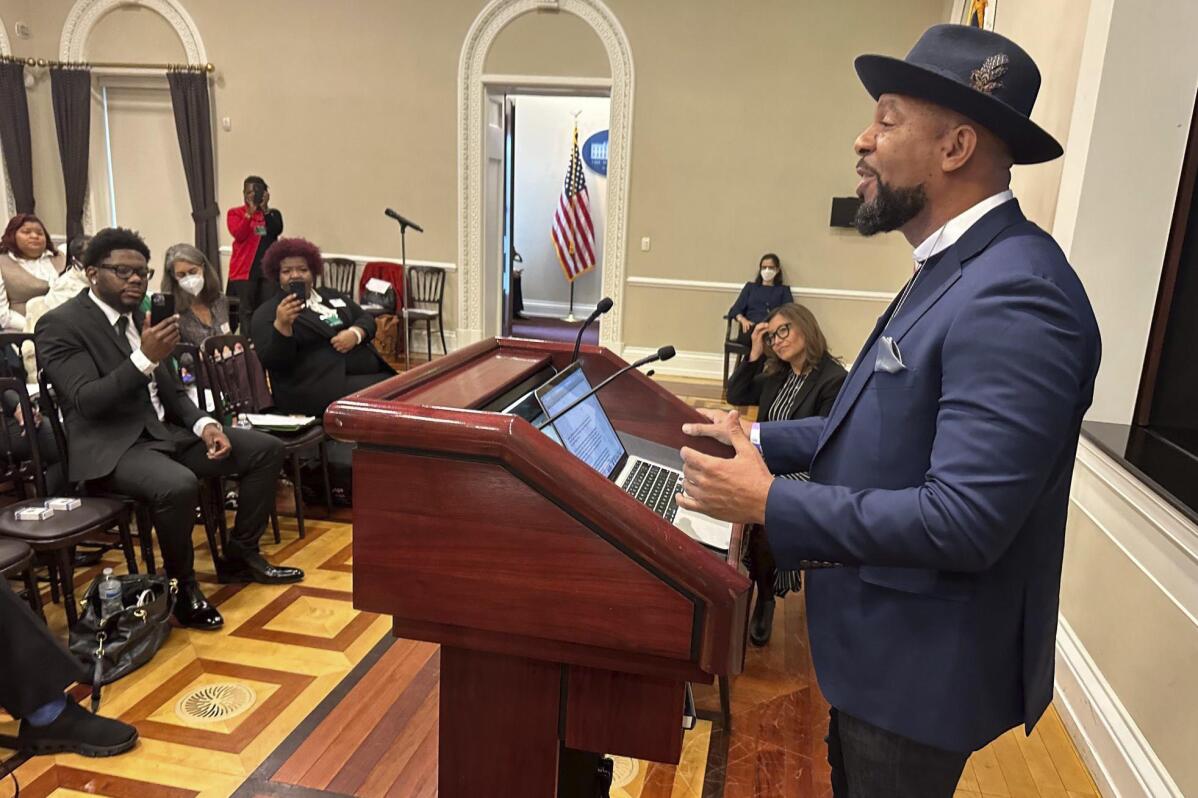 1 of 2

|
In this photo provided by Archana Sahgal, Aqeela Sherrills, an advisor to the nonprofit Hyphen, addresses a gathering of participants of the Community Violence Intervention Collaborative at the Eisenhower Executive Office Building in Washington, D.C. on Dec. 8, 2022. (AP Photo/Archana Sahgal/Hyphen)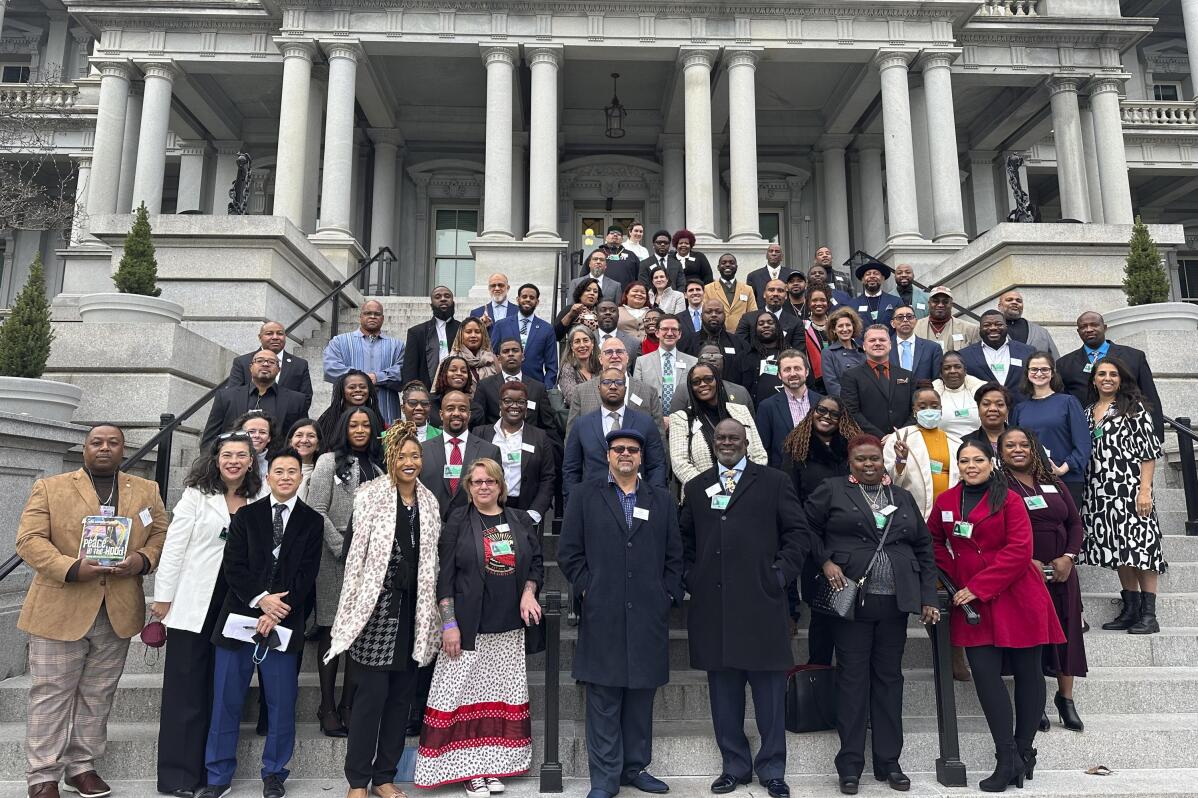 2 of 2

|
In this photo provided by Archana Sahgal, participants and funders of the Community Violence Intervention Collaborative gather for a photo at the Eisenhower Executive Office Building in Washington, D.C. on Dec. 8, 2022. (AP Photo/Archana Sahgal/Hyphen)
White House gun violence program with philanthropies ends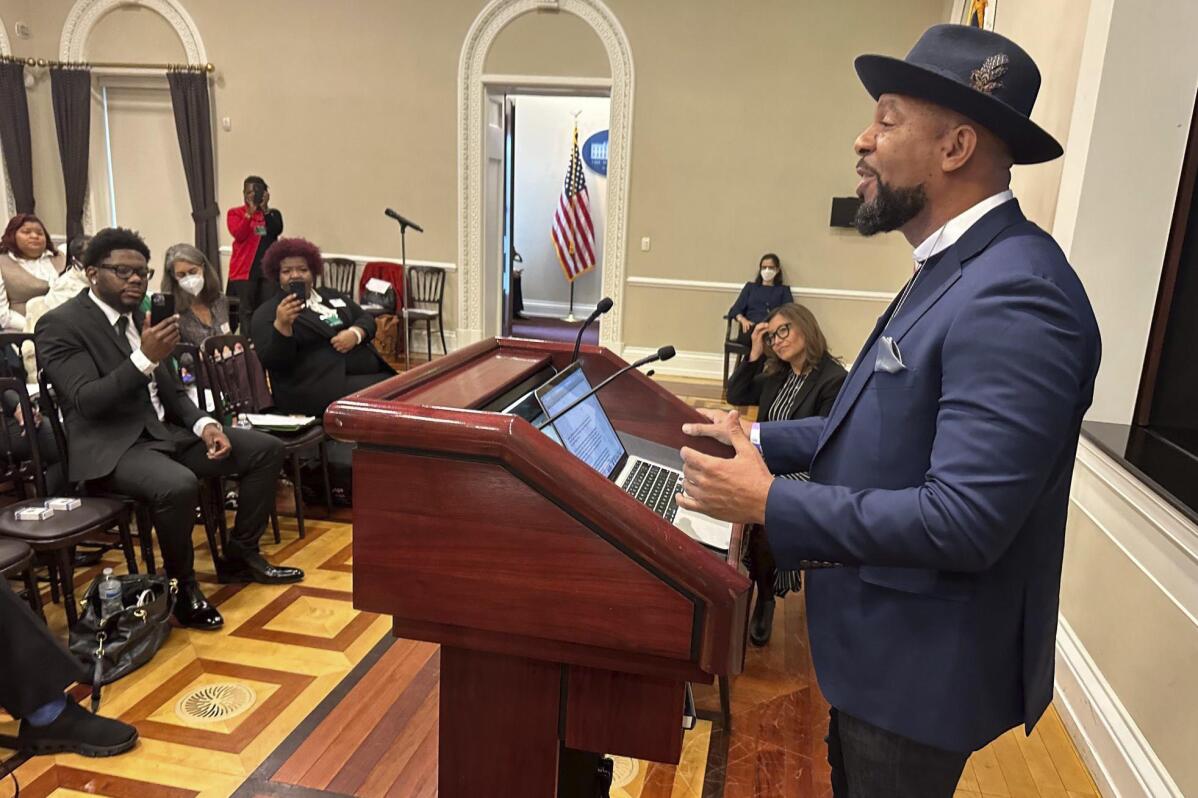 1 of 2

|
In this photo provided by Archana Sahgal, Aqeela Sherrills, an advisor to the nonprofit Hyphen, addresses a gathering of participants of the Community Violence Intervention Collaborative at the Eisenhower Executive Office Building in Washington, D.C. on Dec. 8, 2022. (AP Photo/Archana Sahgal/Hyphen)
1 of 2
In this photo provided by Archana Sahgal, Aqeela Sherrills, an advisor to the nonprofit Hyphen, addresses a gathering of participants of the Community Violence Intervention Collaborative at the Eisenhower Executive Office Building in Washington, D.C. on Dec. 8, 2022. (AP Photo/Archana Sahgal/Hyphen)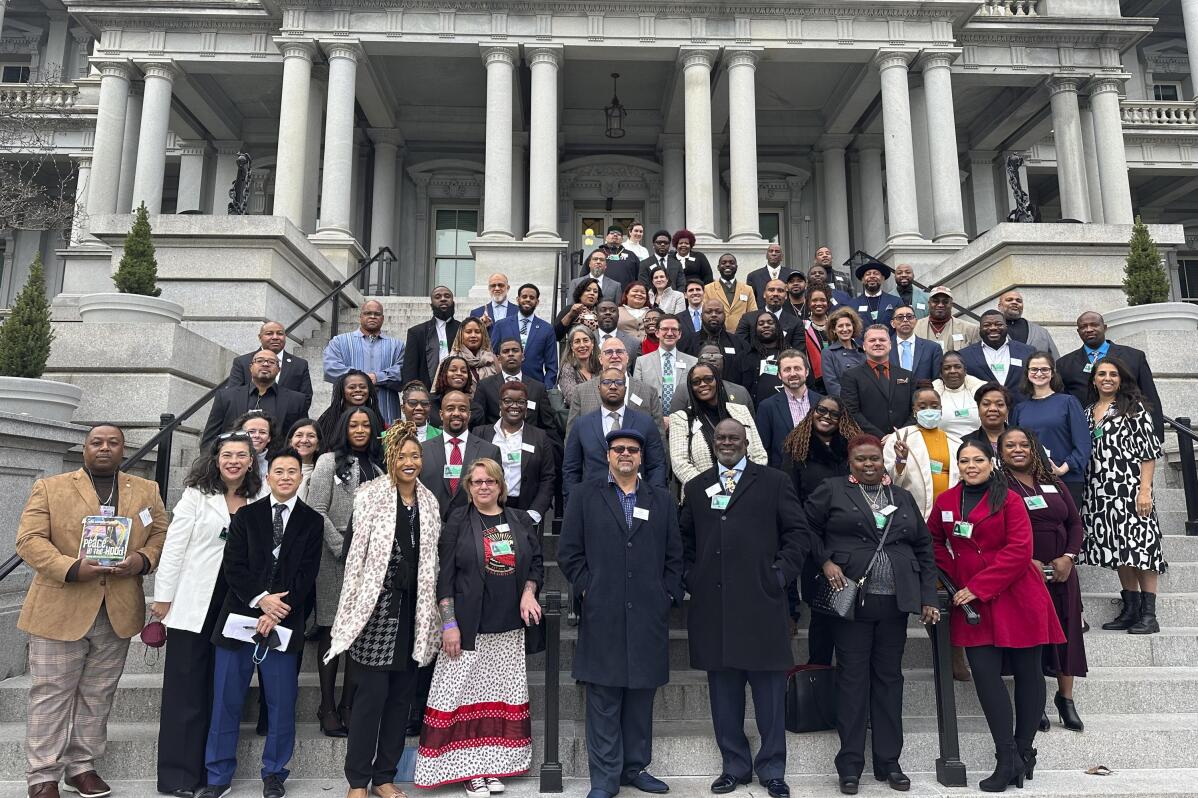 2 of 2

|
In this photo provided by Archana Sahgal, participants and funders of the Community Violence Intervention Collaborative gather for a photo at the Eisenhower Executive Office Building in Washington, D.C. on Dec. 8, 2022. (AP Photo/Archana Sahgal/Hyphen)
2 of 2
In this photo provided by Archana Sahgal, participants and funders of the Community Violence Intervention Collaborative gather for a photo at the Eisenhower Executive Office Building in Washington, D.C. on Dec. 8, 2022. (AP Photo/Archana Sahgal/Hyphen)
NEW YORK (AP) — It was small, as Washington celebrations go — two senior Biden administration advisers gathered with program participants near the White House on a Thursday afternoon in December to mark the end of a little-known initiative with a budget of less than $8 million.
The impact of The Community Violence Intervention Collaborative (CVIC), though, may yet be larger, both in the fight to slow the growth of gun violence and in the way philanthropy and government work together. The Biden administration used CVIC to get public funding to fight gun violence to 50 grassroots organizations that would normally be too small to get federal funding directly, as well as training and other support for 18 months to prepare them to receive even more funding.
It's an effort some participants applauded, while others argued the president could have backed it more forcefully.
There was a feeling of momentum at the CVIC celebration, said Nancy Fishman, director at the Schusterman Family Philanthropies, toward what she and other advocates hope is the beginning of a shift in governmental approaches public safety. And it went beyond the attendance of nonprofit leaders, whose workers often go without recognition or pay, in a "rarefied space with others being celebrated," she said.
Daamin X Durden, executive director of the Newark Community Street Team, called it surreal "to be with one another, to hear the testimony and the journey experience and just to share that camaraderie and fidelity for one another."
On top of that, each of the 50 community violence interruption organizations at the celebration in the office building across from the White House also received $20,000, as a final "mini-grant," which Durden said was much appreciated because it came with few strings attached.
A nonprofit, Hyphen, coordinated the initiative, which included peer exchanges, training and mentorship, provided by five national nonprofits.
Aqeela Sherrills, the advisor for the initiative at Hyphen, thinks many more officials and communities now understand violence interruption is a compliment to policing, not a strategy that is anti-police.
"We're not expecting our cops will be everything, to be teachers, lawyers, therapists and counselors," he said.
President Joe Biden announced the initiative in June 2021 shortly after the one year anniversary of George Floyd's killing by Minneapolis police. During the second summer of the pandemic, hundreds were being shot daily, as the jump in gun homicides that started in 2020 across the country continued.
As one piece of the administration's response, Biden urged local governments to use coronavirus relief funds to strengthen public safety through investments in police as well as community-based programs.
CVIC was another part of this public safety plan aimed to prepare grassroots groups to be accept more public funding by strengthening their infrastructure and sharing best practices to design programs.
"The theory of change for this collaborative was to focus on community groups that were the hardest to reach, that were doing incredible work locally and had very little support," said Fatimah Loren Dreier, who leads the Health Alliance for Violence Intervention, one of the organizations providing training.
Decades of research has documented that small groups of people drive a disproportionate amount of gun violence and homicides in any given community. Violence interruption programs seek to identify those people, with some working out of hospitals, others offering a carrot-and-stick approach along with the police, while others provide cognitive behavior therapy and mentoring.
If people agree to participate, the programs often also provide economic aid like paying for food or rent and connecting them to job trainings or other skills development — interventions that reveal the close connection between poverty and violence.
Measured in terms of funds delivered to the grassroots organizations, the collaborative's record is mixed. Six of the cities participating have so far not reported that they plan to spend coronavirus relief funds on violence interruption as of June, according to an academic analysis of Treasury Department data.
Community violence interruption programs could be funded by about $350 billion included in the American Rescue Plan available for states, cities and municipalities to use for a broad range of programs, as well as another $120 billion in aid for schools.
Alex Johnson, of the California Wellness Foundation, which funded early models of violence interruption in the 1990s, said many officials who control local budgets still do not understand the value of the approach.
Four cities, including Newark, along with several of the grassroots organizations, recently won grants from the Department of Justice.
Amanda Kass, of DePaul University, and Philip Rocco, of Marquette University, have been studying the use of coronavirus relief funds with support from The Joyce Foundation. They warn that numerous factors make it difficult to track spending, especially since municipalities have until 2026 to finalize their plans.
So far, Kass and Rocco found participating cities allocated $71.7 million toward violence interruption programs — less than 1% of the $7.8 billion in coronavirus relief funds available. Their study excluded participating counties, Washington, D.C., and Rapid City, South Dakota.
Some CVIC participants said they expected more money to come to them through the initiative. Dujuan Kennedy, who leads the violence interruption work for FORCE Detroit, felt Biden wasn't sincere in his support.
"It may be a talking point for him. It may be a campaign, but for us, it's our little brothers, our sons, our daughters, our babies," he said. "People are really dying out here."
In the summer, Pastor Mike McBride, the leader of the nonprofit Live Free USA, who has advocated for violence interruption for two decades, invited Kennedy and others to attend the signing ceremony at the White House for the gun safety legislation that helped states put in place "red flag" laws and included $250 million in funds for violence interruption. The U.S. Secret Service turned Kennedy away at the gates, along with several others, he thinks because of his manslaughter conviction. A U.S. Secret Service spokesperson said Kennedy and others, did not "meet federal security entrance requirements" and that the decision was not made by the White House.
"My issue with that is: How can you acknowledge us and say we're responsible enough to curb violence, but you're allowing our records to prevent us from standing on your front grass?" Kennedy said.
Kennedy doesn't want an apology but instead, a pathway to redemption for people like him who are saving lives in their community and have made amends with the loved ones of the people they harmed or killed.
Archana Sahgal, president of Hyphen, said the White House gathering in December proved there is no space between the administration's words and actions and said she expects funding for violence interruption to increase as a result of the initiative.
Julie Rodriguez, a senior advisor to Biden who has championed the collaborative, was not available to be interviewed and did not respond to a request for comment.
Nina Revoyr, who leads the Ballmer Group's work in Los Angeles, believes the White House has conferred a new level of credibility and legitimacy on violence interruption work. That along with George Floyd's murder by Minneapolis police and the suffering and anger caused by the pandemic, has created a moment where both foundations and governments are more open to investing in violence interruption.
"It's not that the work hasn't existed," Revoyr said. "What has shifted is the moment in time."
___
Associated Press coverage of philanthropy and nonprofits receives support through the AP's collaboration with The Conversation US, with funding from Lilly Endowment Inc. The AP is solely responsible for this content. For all of AP's philanthropy coverage, visit https://apnews.com/hub/philanthropy.