Study: Women still underrepresented in FBS leadership ranks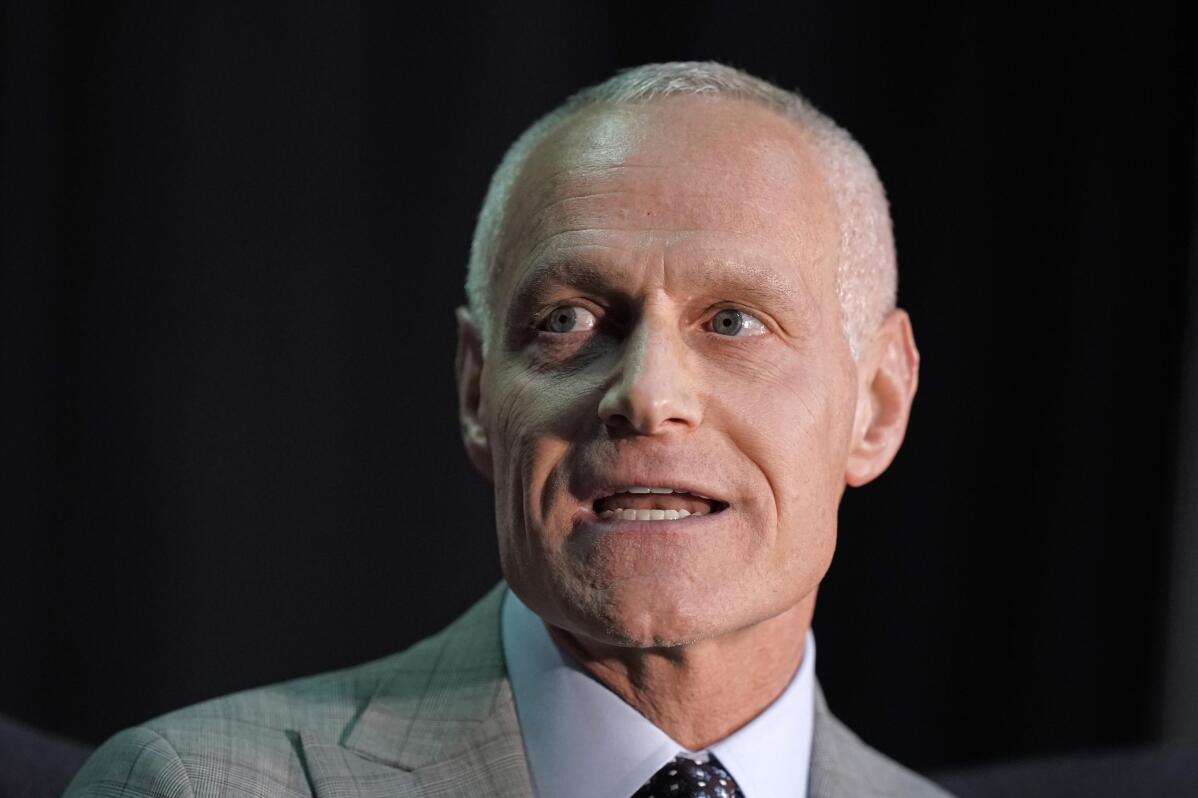 1 of 4

|
FILE - Big 12 Commissioner Brett Yormark speaks to the media during Big 12 NCAA college basketball media day Oct. 18, 2022, in Kansas City, Mo. Women remain significantly underrepresented in leadership positions at the Football Subdivision level of college athletics according to a report card from The Institute for Diversity and Ethics in Sport, Thursday, Feb. 23, 2023. Past editions of the study, which have shown leadership positions such as president or chancellor, athletics director and conference commissioner being dominated by white men. (AP Photo/Charlie Riedel, File)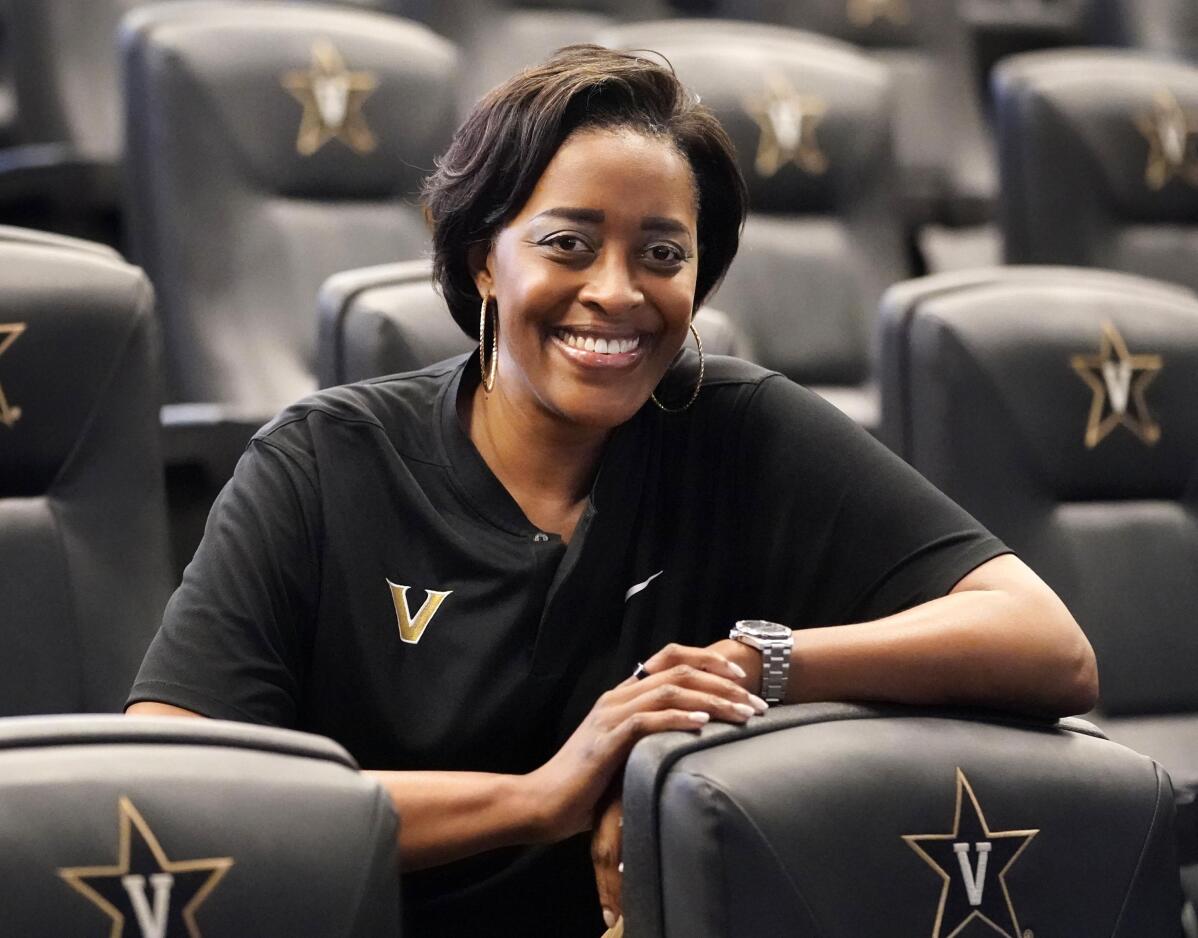 2 of 4

|
FILE - Vanderbilt Athletic Director Candice Lee sits in a meeting room in the school's athletic administration office building June 8, 2022, in Nashville, Tenn. Despite Lee's position, women remain significantly underrepresented in leadership positions at the Football Subdivision level of college athletics according to a report card from The Institute for Diversity and Ethics in Sport, Thursday, Feb. 23, 2023. (AP Photo/Mark Humphrey, File)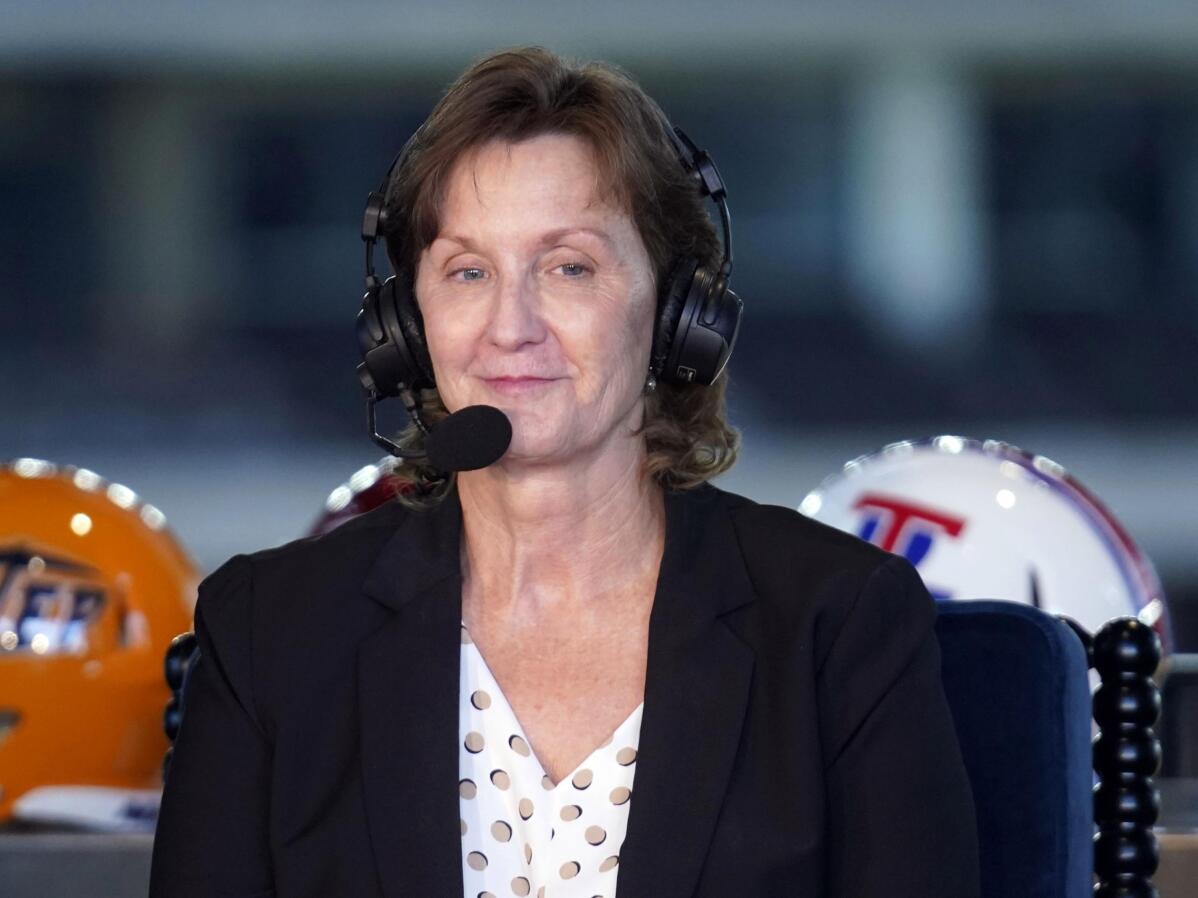 3 of 4

|
FILE - Conference USA Commissioner Judy MacLeod participates in a broadcast interview at the Conference USA NCAA college football media day in Arlington Texas, July 27, 2022. Despite MacLeod's position, women remain significantly underrepresented in leadership positions at the Football Subdivision level of college athletics according to a report card from The Institute for Diversity and Ethics in Sport, Thursday, Feb. 23, 2023.(AP Photo/Tony Gutierrez, File)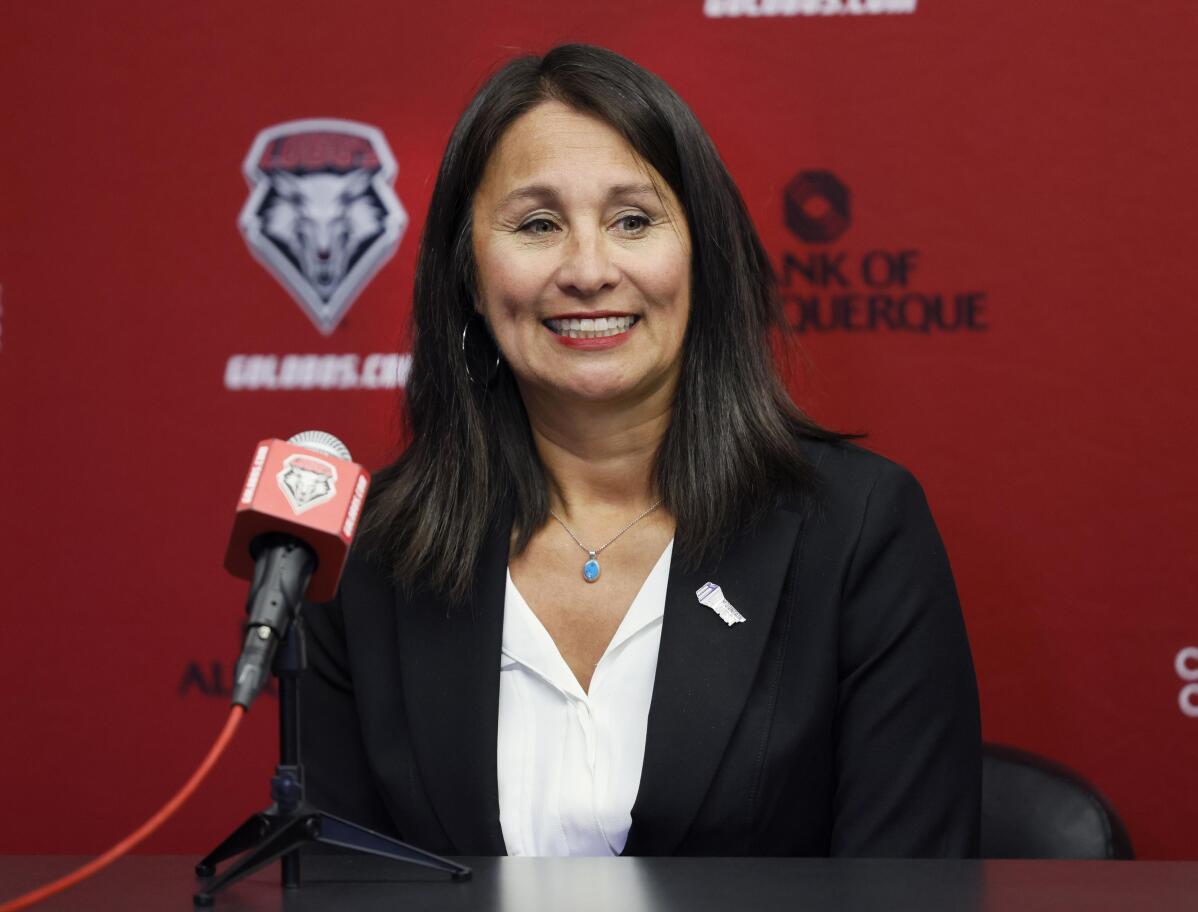 4 of 4

|
FILE - Gloria Nevarez who has been named the next commissioner of the Mountain West speaks during a news conference before an NCAA college basketball game between Air Force and New Mexico in Albuquerque, N.M., Jan. 27, 2023. Despite Nevarez's position, women remain significantly underrepresented in leadership positions at the Football Subdivision level of college athletics according to a report card from The Institute for Diversity and Ethics in Sport, Thursday, Feb. 23, 2023. (AP Photo/Eric Draper, File)
Study: Women still underrepresented in FBS leadership ranks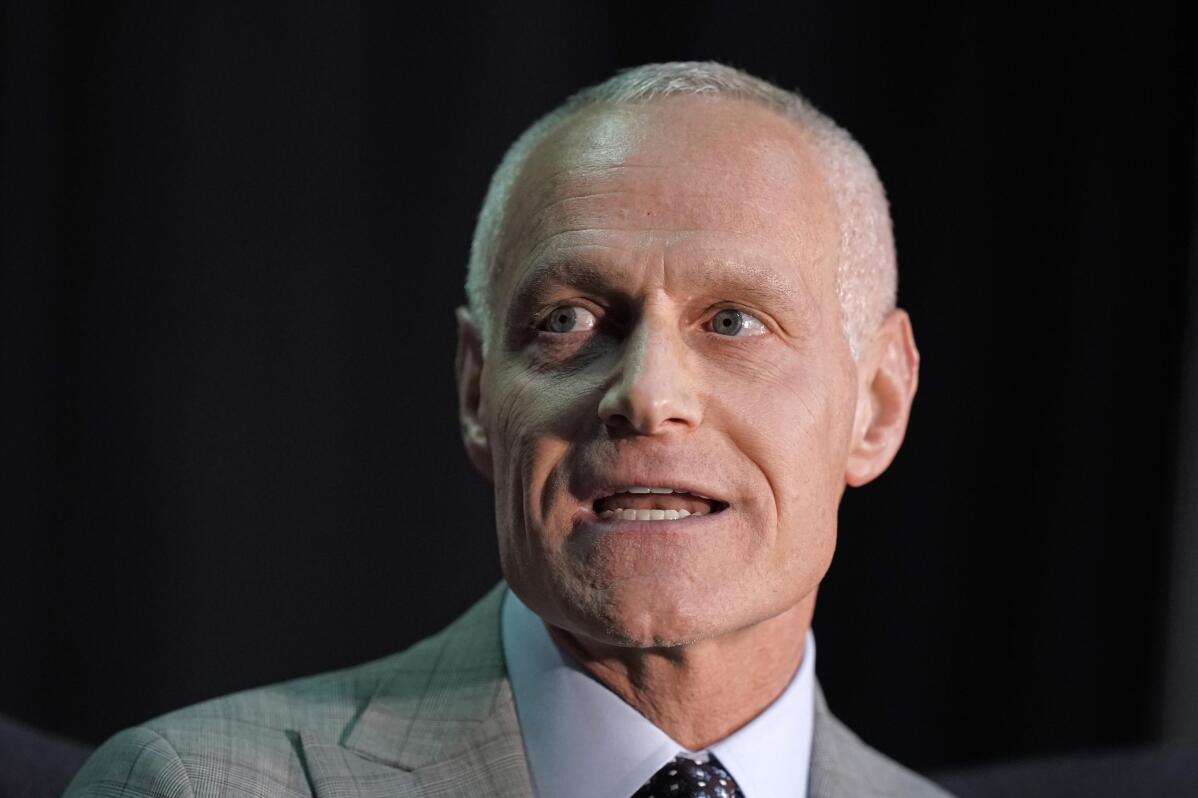 1 of 4

|
FILE - Big 12 Commissioner Brett Yormark speaks to the media during Big 12 NCAA college basketball media day Oct. 18, 2022, in Kansas City, Mo. Women remain significantly underrepresented in leadership positions at the Football Subdivision level of college athletics according to a report card from The Institute for Diversity and Ethics in Sport, Thursday, Feb. 23, 2023. Past editions of the study, which have shown leadership positions such as president or chancellor, athletics director and conference commissioner being dominated by white men. (AP Photo/Charlie Riedel, File)
1 of 4
FILE - Big 12 Commissioner Brett Yormark speaks to the media during Big 12 NCAA college basketball media day Oct. 18, 2022, in Kansas City, Mo. Women remain significantly underrepresented in leadership positions at the Football Subdivision level of college athletics according to a report card from The Institute for Diversity and Ethics in Sport, Thursday, Feb. 23, 2023. Past editions of the study, which have shown leadership positions such as president or chancellor, athletics director and conference commissioner being dominated by white men. (AP Photo/Charlie Riedel, File)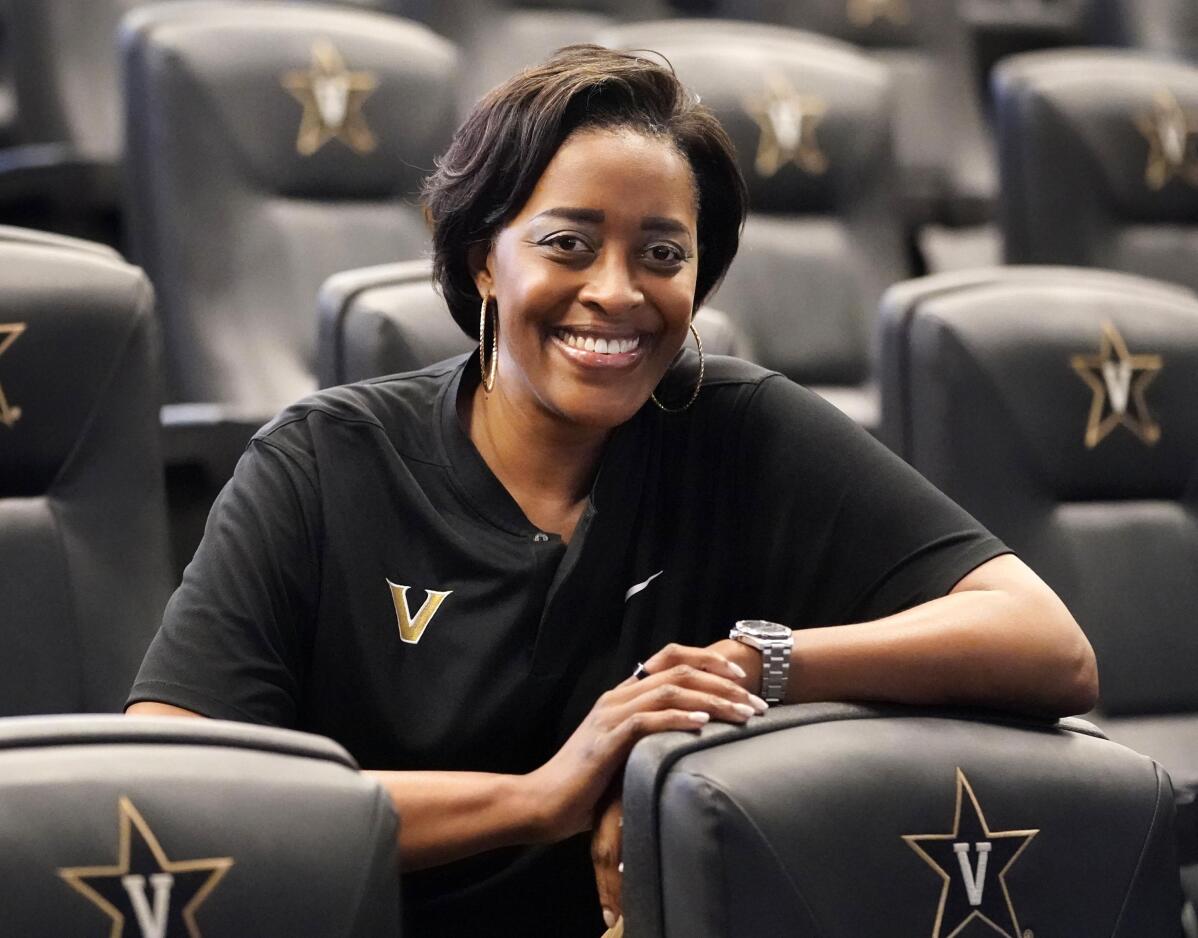 2 of 4

|
FILE - Vanderbilt Athletic Director Candice Lee sits in a meeting room in the school's athletic administration office building June 8, 2022, in Nashville, Tenn. Despite Lee's position, women remain significantly underrepresented in leadership positions at the Football Subdivision level of college athletics according to a report card from The Institute for Diversity and Ethics in Sport, Thursday, Feb. 23, 2023. (AP Photo/Mark Humphrey, File)
2 of 4
FILE - Vanderbilt Athletic Director Candice Lee sits in a meeting room in the school's athletic administration office building June 8, 2022, in Nashville, Tenn. Despite Lee's position, women remain significantly underrepresented in leadership positions at the Football Subdivision level of college athletics according to a report card from The Institute for Diversity and Ethics in Sport, Thursday, Feb. 23, 2023. (AP Photo/Mark Humphrey, File)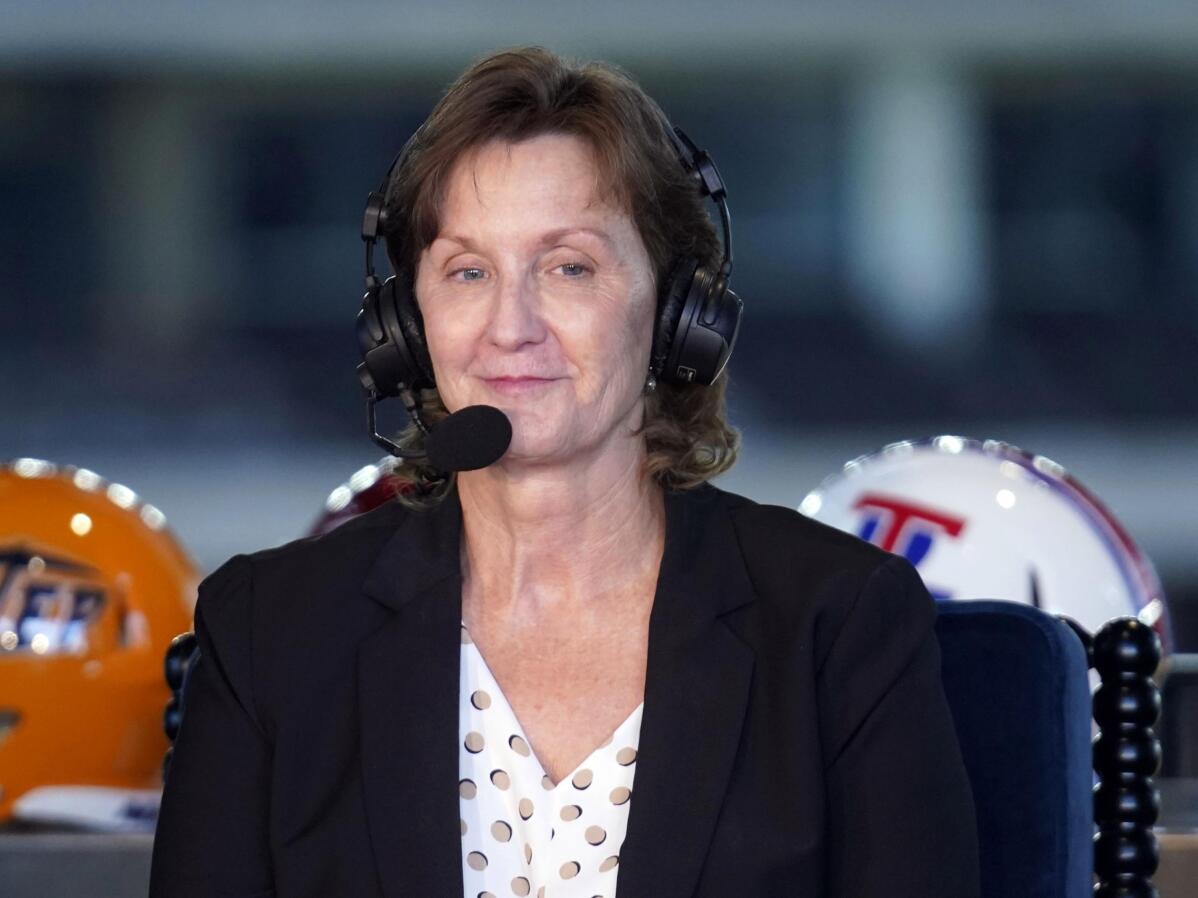 3 of 4

|
FILE - Conference USA Commissioner Judy MacLeod participates in a broadcast interview at the Conference USA NCAA college football media day in Arlington Texas, July 27, 2022. Despite MacLeod's position, women remain significantly underrepresented in leadership positions at the Football Subdivision level of college athletics according to a report card from The Institute for Diversity and Ethics in Sport, Thursday, Feb. 23, 2023.(AP Photo/Tony Gutierrez, File)
3 of 4
FILE - Conference USA Commissioner Judy MacLeod participates in a broadcast interview at the Conference USA NCAA college football media day in Arlington Texas, July 27, 2022. Despite MacLeod's position, women remain significantly underrepresented in leadership positions at the Football Subdivision level of college athletics according to a report card from The Institute for Diversity and Ethics in Sport, Thursday, Feb. 23, 2023.(AP Photo/Tony Gutierrez, File)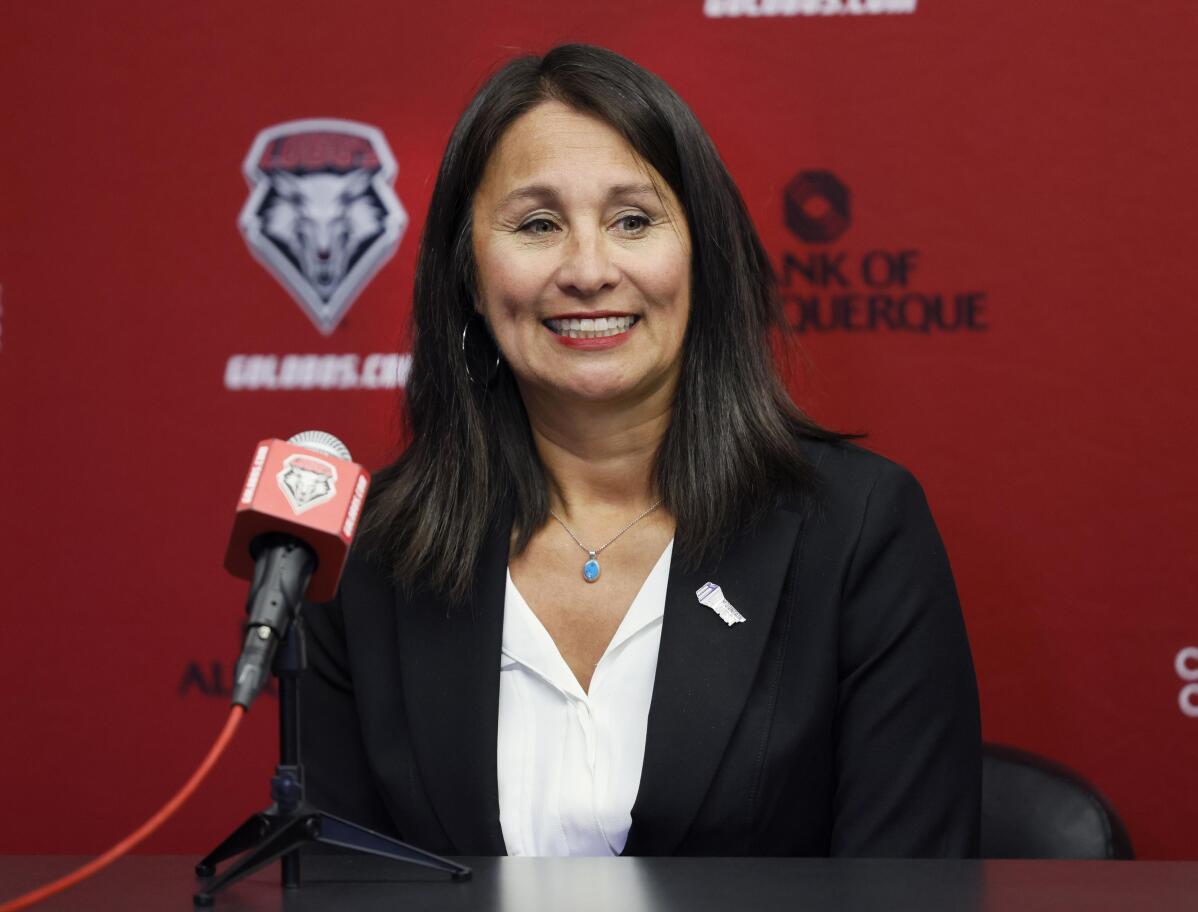 4 of 4

|
FILE - Gloria Nevarez who has been named the next commissioner of the Mountain West speaks during a news conference before an NCAA college basketball game between Air Force and New Mexico in Albuquerque, N.M., Jan. 27, 2023. Despite Nevarez's position, women remain significantly underrepresented in leadership positions at the Football Subdivision level of college athletics according to a report card from The Institute for Diversity and Ethics in Sport, Thursday, Feb. 23, 2023. (AP Photo/Eric Draper, File)
4 of 4
FILE - Gloria Nevarez who has been named the next commissioner of the Mountain West speaks during a news conference before an NCAA college basketball game between Air Force and New Mexico in Albuquerque, N.M., Jan. 27, 2023. Despite Nevarez's position, women remain significantly underrepresented in leadership positions at the Football Subdivision level of college athletics according to a report card from The Institute for Diversity and Ethics in Sport, Thursday, Feb. 23, 2023. (AP Photo/Eric Draper, File)
Women remain significantly underrepresented in leadership positions at the Football Subdivision level of college athletics, a new study shows.
Thursday's report card from The Institute for Diversity and Ethics in Sport (TIDES) issued another F for gender hiring, a C for racial hiring and an overall grade of D+ for 2022. Those grades largely look as they have in past editions of the study, which have shown leadership positions like president or chancellor, athletic director and conference commissioner are dominated by white men.
TIDES director and lead report author Richard Lapchick called the lack of significant change "incredibly discouraging."
"I felt that there was a shift in attitudes at all levels in sport after the murder of George Floyd and during that period of the racial reckoning," Lapchick told the The Associated Press. "And the results that just haven't proven that out in these leadership positions.
Those scores are particularly striking when examining gender.
Women made up only 22.9% of presidents and chancellors, up slightly from last year's figure (20.8%) after sitting as low as 13.8% in 2019. The number of women working as athletic directors dropped from 13 to 10 (7.6%) in 2022, with six of those in Power Five conferences ( Duke, Missouri, Pittsburgh, Vanderbilt, Virginia and Washington).
Women now lead two of the FBS' 10 leagues: Judy MacLeod with Conference USA and the Mountain West's Gloria Nevarez, who was hired in November from the West Coast Conference.
"There's been no sustained improvement to make me think we've turned the corner and this is going to get a lot better in the next couple of years," Lapchick said.
Women fared best in the faculty athletics representative position — 42% for an A-minus grade. These are typically faculty members designated to serve as a liaison to the athletics department.
In all, white people held 79.9% (321 of 402) of leadership positions in the study. But racial hiring scores increased, showing people of color holding 21.4% of president or chancellor positions and 22.9% of AD roles, though it fell for faculty athletics representatives (16.4%).
Felicia Martin, the NCAA's senior vice president for inclusion, education and community engagement, issued a statement that pointed to multiple steps taken by college sports' governing body to address diversity hiring.
Those include NCAA leadership development programs for administrators and coaches, as well as the Leadership Collective — a database to assist hiring officials in diversifying their candidate pools.
Still, Martin said: "The report reflects the reality that there is much work that remains in diverse hiring."
___
Follow Aaron Beard on Twitter at http://www.twitter.com/aaronbeardap