Why the 'gig' economy may not be the workforce of the future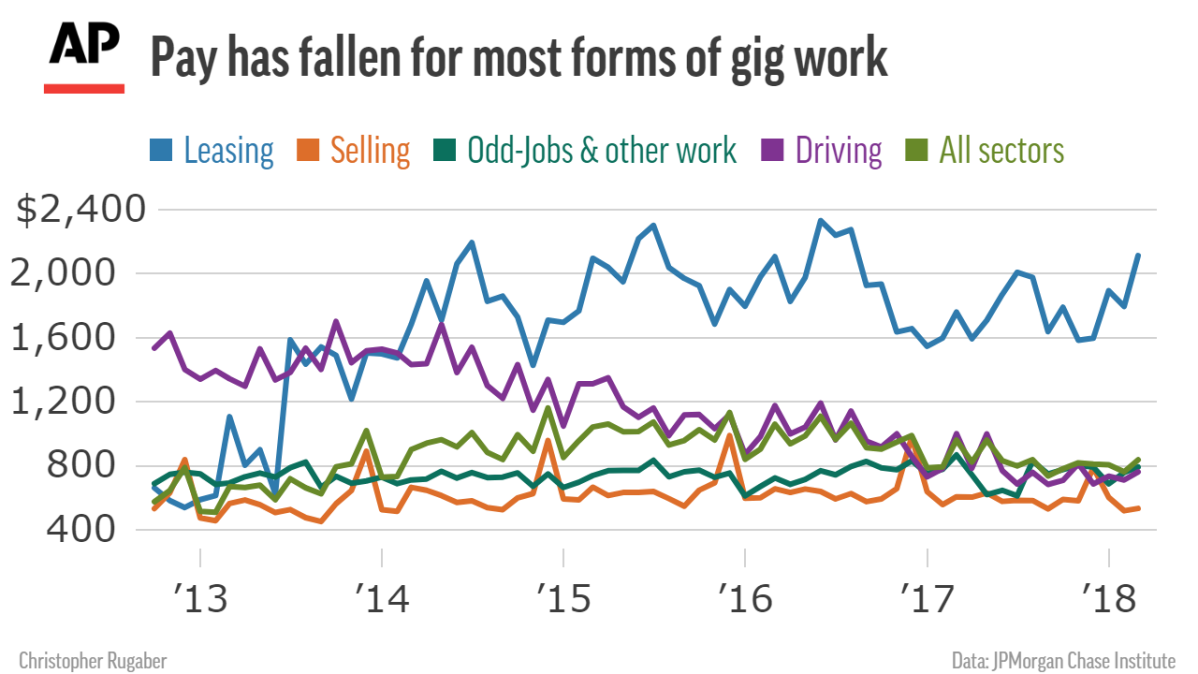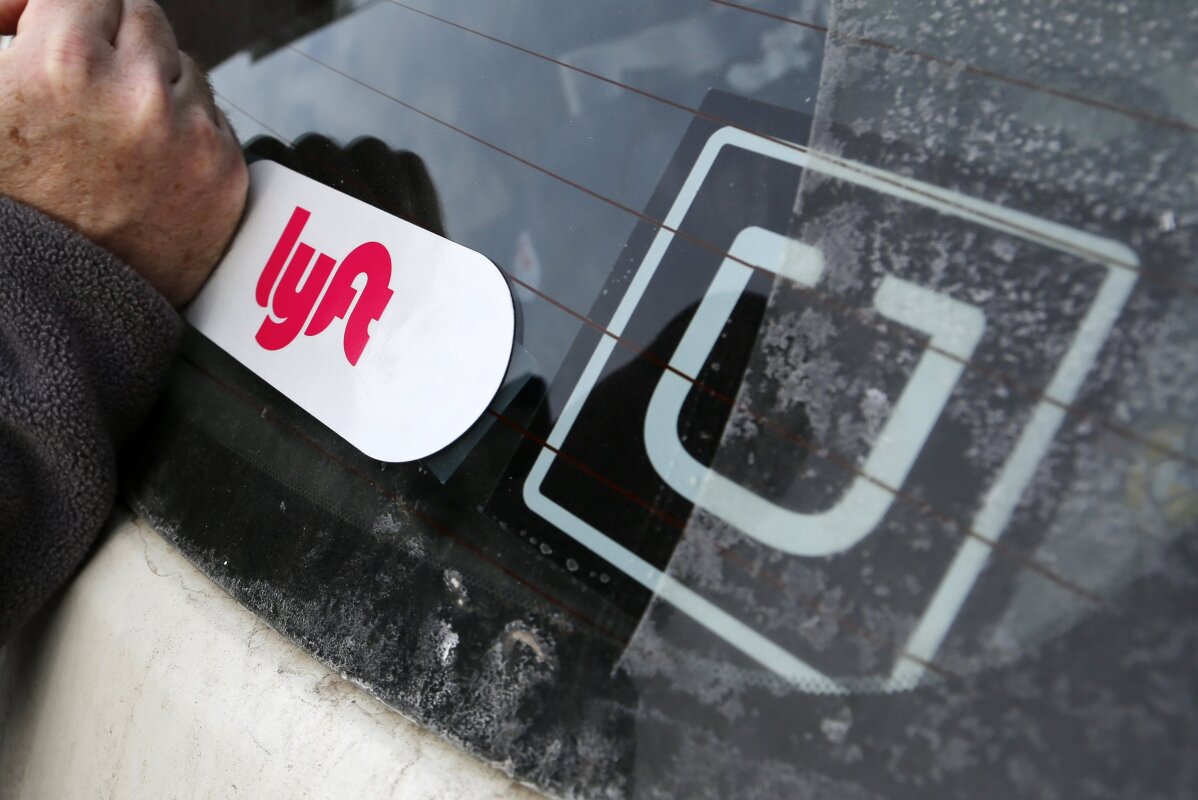 2 of 2

|
FILE- In this Jan. 31, 2018, file photo, a Lyft logo is installed on a Lyft driver's car next to an Uber sticker in Pittsburgh. The "gig" economy might not be the new frontier for America's workforce after all. From Uber to Lyft to TaskRabbit to YourMechanic, so-called gig work has been widely seen as ideally suited for people who want the flexibility and independence that traditional jobs don't offer. Yet the evidence is growing that over time, they don't deliver the financial returns many expect. (AP Photo/Gene J. Puskar, File)
Why the 'gig' economy may not be the workforce of the future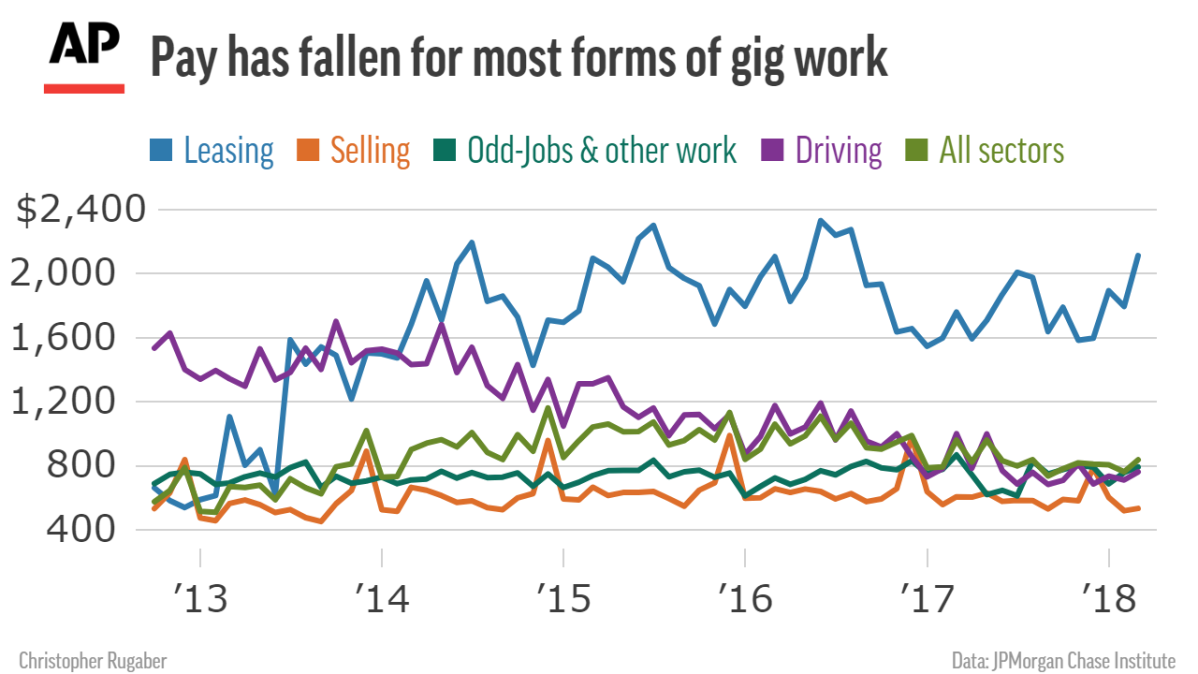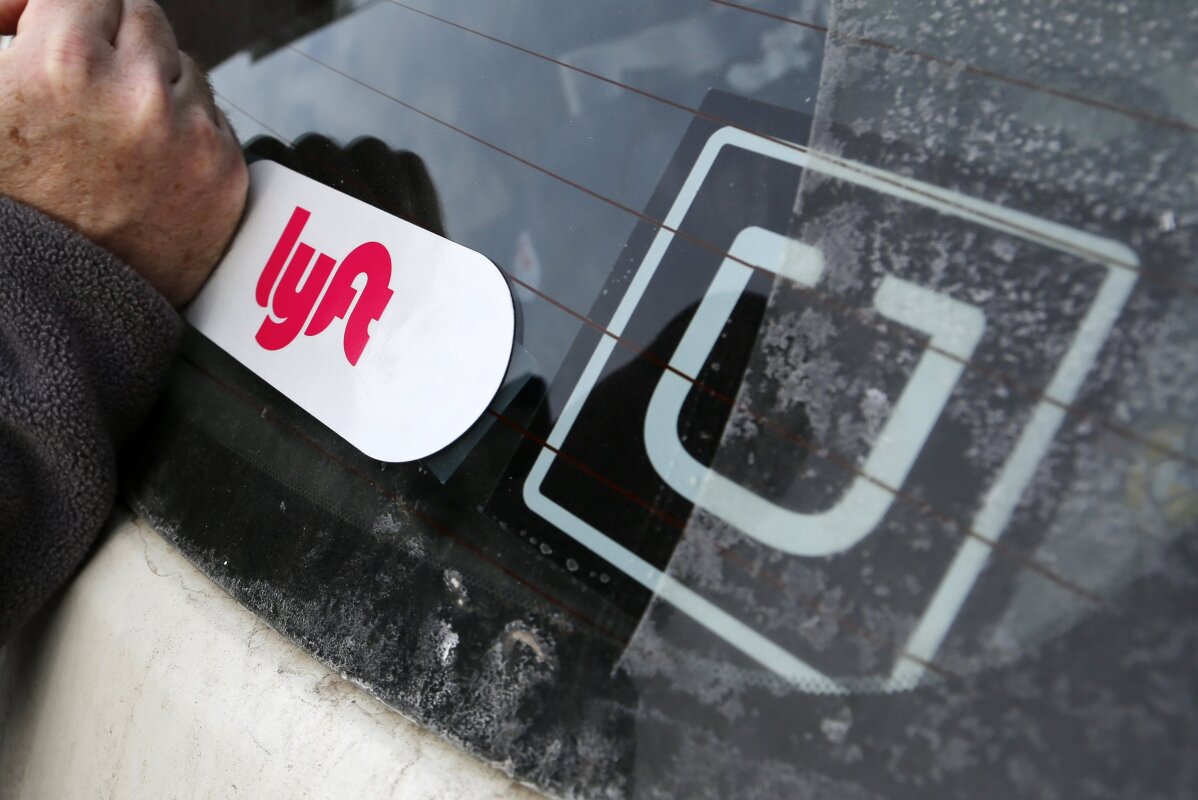 2 of 2

|
FILE- In this Jan. 31, 2018, file photo, a Lyft logo is installed on a Lyft driver's car next to an Uber sticker in Pittsburgh. The "gig" economy might not be the new frontier for America's workforce after all. From Uber to Lyft to TaskRabbit to YourMechanic, so-called gig work has been widely seen as ideally suited for people who want the flexibility and independence that traditional jobs don't offer. Yet the evidence is growing that over time, they don't deliver the financial returns many expect. (AP Photo/Gene J. Puskar, File)
2 of 2
FILE- In this Jan. 31, 2018, file photo, a Lyft logo is installed on a Lyft driver's car next to an Uber sticker in Pittsburgh. The "gig" economy might not be the new frontier for America's workforce after all. From Uber to Lyft to TaskRabbit to YourMechanic, so-called gig work has been widely seen as ideally suited for people who want the flexibility and independence that traditional jobs don't offer. Yet the evidence is growing that over time, they don't deliver the financial returns many expect. (AP Photo/Gene J. Puskar, File)
WASHINGTON (AP) — The "gig" economy might not be the new frontier for America's workforce after all.
From Uber to TaskRabbit to YourMechanic, so-called gig work — task-oriented work offered by online apps — has been promoted as providing the flexibility and independence that traditional jobs don't offer. Yet the evidence is growing that over time, these jobs don't deliver the financial returns many workers expect.
And they don't appear to be reshaping the workforce. Over the past two years, pay for gig workers has dropped, and they are earning a growing share of their income elsewhere, a new study finds. Most Americans who earn income through online platforms do so for only a few months each year, according to the study by the JPMorgan Chase Institute released Monday.
The study, along with other research, points to three conclusions about the gig economy:
___
DON'T BELIEVE THE HYPE
Online work platforms took off after Uber's founding in 2009. They benefited from a weak economic recovery that had left millions of Americans unemployed and desperate for work.
The initial popularity of gig work prompted a rash of speculation that independent workers — freelancers as well as gig workers and contractors — would soon occupy a steadily larger portion of the workforce. In October, a study by the Freelancers Union and Upwork, a freelancing website, predicted that a majority of U.S. workers would be freelancers by 2027.
Yet the JPMorgan Chase Institute's report casts doubt on that likelihood. It found that among drivers, 58 percent work just three months or less each year through online economy websites. These include ride-hailing services such as Uber and Lyft as well as delivery drivers and movers who find work through online apps. Amazon, for example, now uses independent drivers to deliver some packages.
The study also reviewed online platforms that provide home improvement work, including TaskRabbit and dog-walking, home cleaning and other sites. Two-thirds of those workers perform gig work for only three months a year or less.
Most participants cycle in and out of gig work to supplement their incomes from other jobs, the institute found. In any given month, one in six workers on online platforms are new — and more than half will have left the gig economy after a year of entering it.
"People aren't relying on platforms for their primary source of income," said Fiona Grieg, director of consumer research for the institute and co-author of the study.
A government report in July concluded that the proportion of independent workers has actually declined slightly in the past decade.
___
FALLING PAY HURTS
The number of gig workers has grown substantially in the past five years, the institute found, but growth is slowing. Among drivers, a flood of competition on sites like Uber and Lyft has led to lower pay.
In March 2018, about 1.6 percent of families participated in the gig economy, equivalent to about 2 million households, the study said. That is barely up from 1.5 percent a year earlier.
Drivers for Uber, Lyft and other platforms now collectively earn only about half as much each month as they did five years ago, the institute said. Average monthly incomes have fallen from $1,535 in October 2012 to just $762 in March of this year, not adjusted for inflation.
That drop likely reflects the fact that many drivers are probably working fewer hours, Grieg said. Many have probably found other sources of income as the job market has strengthened.
And as the number of independent drivers has ballooned over the past five years, drivers have faced intensifying competition. Even drivers who still work nearly year-round have seen their earnings fall, the institute said.
Uber and Lyft agree that their platforms have many more drivers than they did a few years ago. Uber says it has 900,000 drivers, up from 160,000 in 2014.
The two companies argue that hourly pay has remained stable even as its drivers typically work fewer hours now and so take home less pay per month. Uber says most workers on its platform drive under 10 hours a week.
How much Uber drivers make on an hourly basis is a hotly debated subject. A 2015 analysis by Princeton University economist Alan Kruger found that drivers in 20 large markets earned $19.04 an hour. But those figures, like JPMorgan's, do not factor in expenses, such as gas and wear and tear, that drivers themselves must shoulder.
Competition among drivers has clearly intensified. The number of independent workers in taxi and limousine services, which includes ride-hailing companies, jumped 46 percent in 2016, the latest year for which figures are available, according to the Census Bureau.
Online income now makes up just 26 percent of total annual earnings for drivers, the JPMorgan study found — down from nearly 52 percent in October 2013.
Todd Suffreti has seen the difference in the two years that he's driven for Uber. Suffreti, who works out of Frederick, Maryland, says his weekly income has dropped by a quarter since he began.
"It's really saturated, and the calls don't come in as often," said Suffreti, 45. "It's not like it used to be. I have to work harder and longer to get what I used to get."
Research by Uber's chief economist, Jonathan Hall, and John Horton of New York University found that when Uber raised its fares, drivers initially earned more money. But there were offsetting effects: The higher rates attracted more drivers while reducing the number of trips consumers made. Overall earnings for drivers soon fell back to their previous levels.
___
ONLINE-PLATFORM COMPANIES ARE EVOLVING
So far, these trends don't appear to be harming most of the online platform companies themselves. Uber is still growing and preparing to sell shares to the public. Some other sites are forming partnerships with larger retailers.
The JPMorgan Institute study found that transportation is increasingly the dominant force in the gig economy. Driving makes up 56 percent of all gig work, up from just 6 percent in 2013. Selling items through such online sites as eBay and Etsy has sunk to 19 percent of gig work, down from 72 percent.
"It's really those transportation platforms that have grown tremendously and now represent the lion's share of the dollars and participation," Grieg said.
Uber is still reporting rapid expansion. Its revenue jumped 63 percent to $2.8 billion in the April-June quarter from a year ago.
Other platforms are being bought or are linking up with larger companies. Furniture retailer Ikea purchased TaskRabbit last year. Walmart has developed a partnership with Handy; both sites enable consumers to pay people for odd jobs like home repairs or furniture assembly.
The new partnerships may spur more growth for companies like TaskRabbit. Yet the odd jobs platforms have never attracted as many workers: Just 0.1 percent of households earned income through companies like TaskRabbit in March 2018, the institute found.
People who participate in leasing websites, such as Airbnb and car rental site Truro, are earning more than other gig workers — averaging $2,113 in March of this year. But just 0.2 percent of households participate in such sites, the study found
The data is derived from a sample of 39 million JPMorgan checking accounts studied over 5½ years.