Book Review: Climate fiction space whodunit 'The Deep Sky' soars in a fast-paced debut novel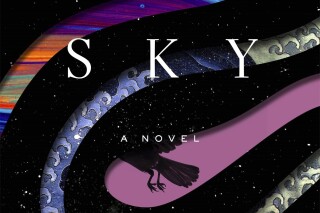 "The Deep Sky" by Yume Kitasei (Flatiron Books)
Asuka's never been assured of her place in the mission to Planet X. She worked hard, trained and studied and pushed herself, but still just barely made it as the Alternate. So when an explosion busts a hole in the ship and kills the captain, it's Asuka's chance to prove her worth or sink into endless space.
Yume Kitasei's debut novel, "The Deep Sky," begins in the pivotal moments just before what should have been a simple space walk gone horribly wrong rocks the world of the 80 young crew members painstakingly chosen and trained as a last hope for humanity. Their mission is to fly into deep space toward Planet X, birth and raise children, and start a new world. But with the ship knocked off course, the hierarchy in disarray, and a traitor in their midst, the already tenuous trip seems increasingly impossible.
Not to mention the possibility of World War III breaking out on Earth severely cramping communications with Mission Control.
Kitasei doesn't have to reach far to find inspiration for the desperation and downward spirals plaguing the planet they're leaving behind. There are forest fires that flay California, houses literally given away in abandoned Japanese towns, creatures that are extinct except in virtual reality. By drawing on real, often traumatizing issues — misogyny, campus lockdowns, messy geopolitics, conspiracy theories, fighting with your mother — Kitasei makes the far-out story relatable, and allows readers to reexamine these issues in a new light. It's remarkably easy to become Asuka.
Although the book's cast is almost entirely made of women, it's still amazingly diverse, presenting a sample-size version of society for closer inspection.
Like the author, Asuka is half Japanese, half American. She struggles with being adrift between the two cultures, especially as her family splits apart and the divided world forces her to choose a side.
Brief bird facts meant to soothe Asuka — whose love of feathered friends has followed her from childhood and out past the Milky Way — serve as haunting dramatic irony steeped in metaphor, taunting readers to make a connection if they dare.
What at first feels like another "2001: A Space Odyssey" turns out to be so much more. Kitasei has a few tricks up her sleeve, as well as an amazing talent for description — reading "The Deep Sky" is like watching a 4D movie, all senses engaged.
"The Deep Sky" is a smart, emotionally mature, quick-paced climate fiction space whodunit that I already wanted to read again before I even finished it.