Takeaways from AP's report on elite Russian defector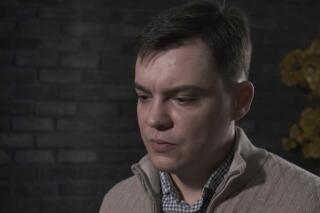 LONDON (AP) — In October, an officer in Russian President Vladimir Putin's elite personal security service defected while on a business trip in Kazakhstan.
Now a wanted man in Russia, Gleb Karakulov spoke out for the first time in a series of interviews with the Dossier Center, an investigative group in London funded by Russian opposition figure Mikhail Khodorkovsky. The AP took steps to review and verify the material.
"Our president has become a war criminal," said the 35-year-old engineer. "It is time to end this war and stop being silent."
Karakulov is one of few Russians to flee and go public who have rank, as well as knowledge of intimate details of Putin's life. Karakulov was a captain in Russia's secretive Federal Protective Service. or FSO, tasked with setting up secure communications for the Russian president and prime minister.
Here's what he had to say about Putin and the war in Ukraine.
PUTIN DOESN'T USE A MOBILE PHONE OR THE INTERNET
In 13 years of service, Karakulov said, he never saw Putin use a mobile phone. When the prime minister travels, he requires an electronic office, with secure internet access. Putin does not. He and others also say Putin insisted on strict anti-COVID-19 measures long after most other world leaders, including mandatory two-week quarantines for staff and COVID tests by Kremlin doctors.
"Our president is cut off from the world, he lives in an informational vacuum," Karakulov said. "He is pathologically afraid for his life. He has surrounded himself with an impenetrable barrier of quarantine and a lack of any information from the internet."
PUTIN APPEARS TO BE IN BETTER SHAPE THAN MANY PEOPLE HIS AGE
Karakulov said he has taken more than 180 trips with the Russian president, and contrary to widespread speculation, Putin appears to be in good health. Putin has only canceled a few trips due to illness and has annual medical checkups, he said. It was Karakulov's job to set up secure communications at the hospital when Putin checked in.
PUTIN'S PARANOIA APPEARS TO HAVE DEEPENED SINCE UKRAINE INVASION
Putin began traveling by special armored train regularly in the build-up to Russia's February 2022 invasion of Ukraine, he said. Putin's train looks like any other, painted gray with a red stripe to blend in with other railway carriages in Russia. Putin didn't like the fact that airplanes can be tracked, preferring the stealth of a nondescript train car, Karakulov said.
"I understand that he's simply afraid," he said.
Putin has set up identical offices in multiple locations, with matching details down to the desk and wall hangings, and official reports sometimes say he's one place when he is actually in another, according to Karakulov and prior reporting by a Russian media outlet.
In October, Putin ordered a bunker at the Russian embassy in Kazakhstan outfitted with a secure communications line — the first time Karakulov had ever fielded such a request.
"I can understand why he's so isolated and why he must be very cautious about any external contacts. It's understandable," said Tatiana Stanovaya, a senior fellow at the Carnegie Endowment for International Peace. "Half of the world wishes him dead."
PUBLIC SUPPORT IN RUSSIA FOR WAR IN UKRAINE
The rare defection of a Russian insider raises questions about how deep public support for the war in Ukraine actually runs in Russia.
Karakulov wasn't the only one from the FSO who wanted out. An engineer at a regional FSO center in Siberia tried to flee to Kazakhstan in September, shortly after Russia's draft took effect. But authorities there sent him back to Russia, where he was sentenced to 6 1/2 years in a penal colony.
Boris Bondarev, a career diplomat in Geneva who quit in May and denounced the war, said there are plenty of Russians who quietly oppose the war but don't dare speak out, for fear of losing their livelihoods. A few Foreign Ministry colleagues quit after he did but didn't go public, he said. He added that, like him, they're having trouble finding work.
Bondarev is now living as a political refugee on a government allowance in Switzerland, with security constraints he'd rather leave "deliberately ambiguous." But he doesn't have regrets.
"You must do what your what your conscience tells you to do," he said.
___
Associated Press reporters Jamey Keaten in Geneva, Aamer Madhani in Washington and Joanna Kozlowska in London contributed to this report.