Appeals panel upholds penalties on Hamlin hit on Chastain
1 of 4

|
Tyler Reddick, left, and co-owner Denny Hamlin speak after winning a NASCAR Cup Series auto race at Circuit of the Americas, Sunday, March 26, 2023, in Austin, Texas. (AP Photo/Stephen Spillman)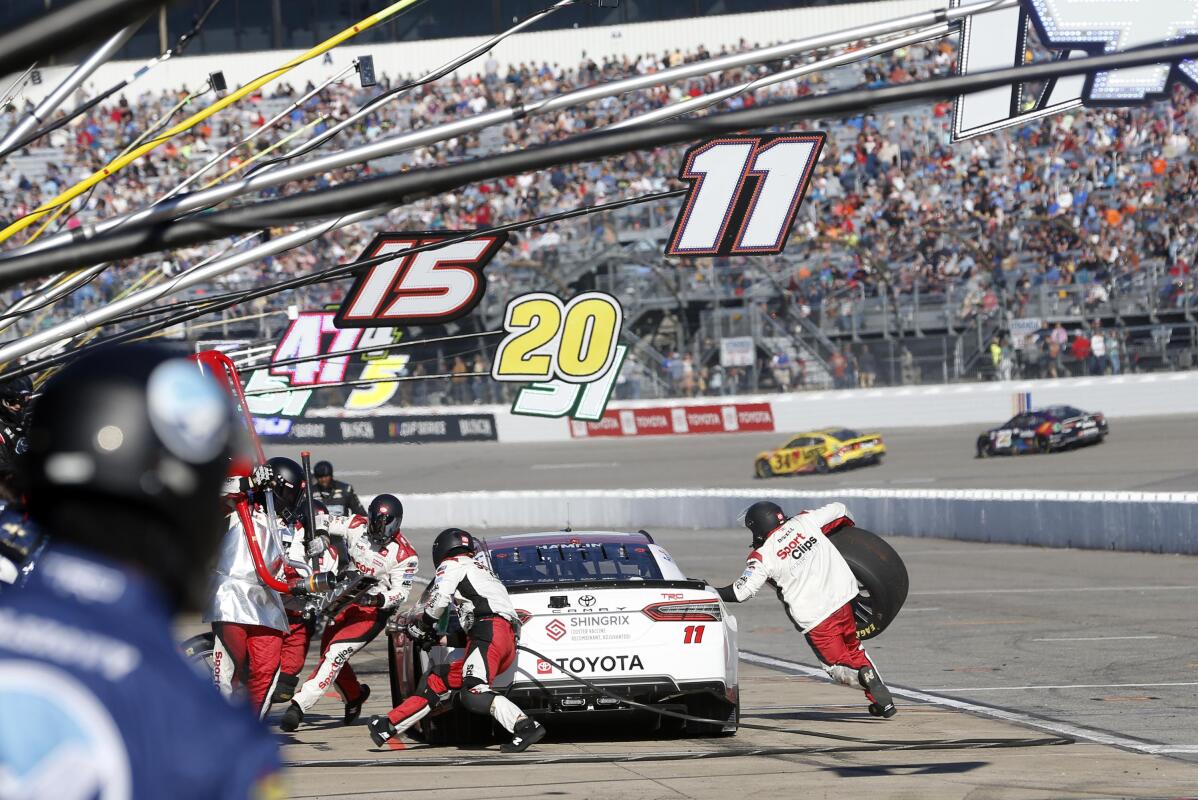 2 of 4

|
Denny Hamlin comes in for a pit stop during a NASCAR Cup Series auto race at Richmond Raceway on Sunday, April 2, 2023, in Richmond, Va. (Eva Russo/Richmond Times-Dispatch via AP)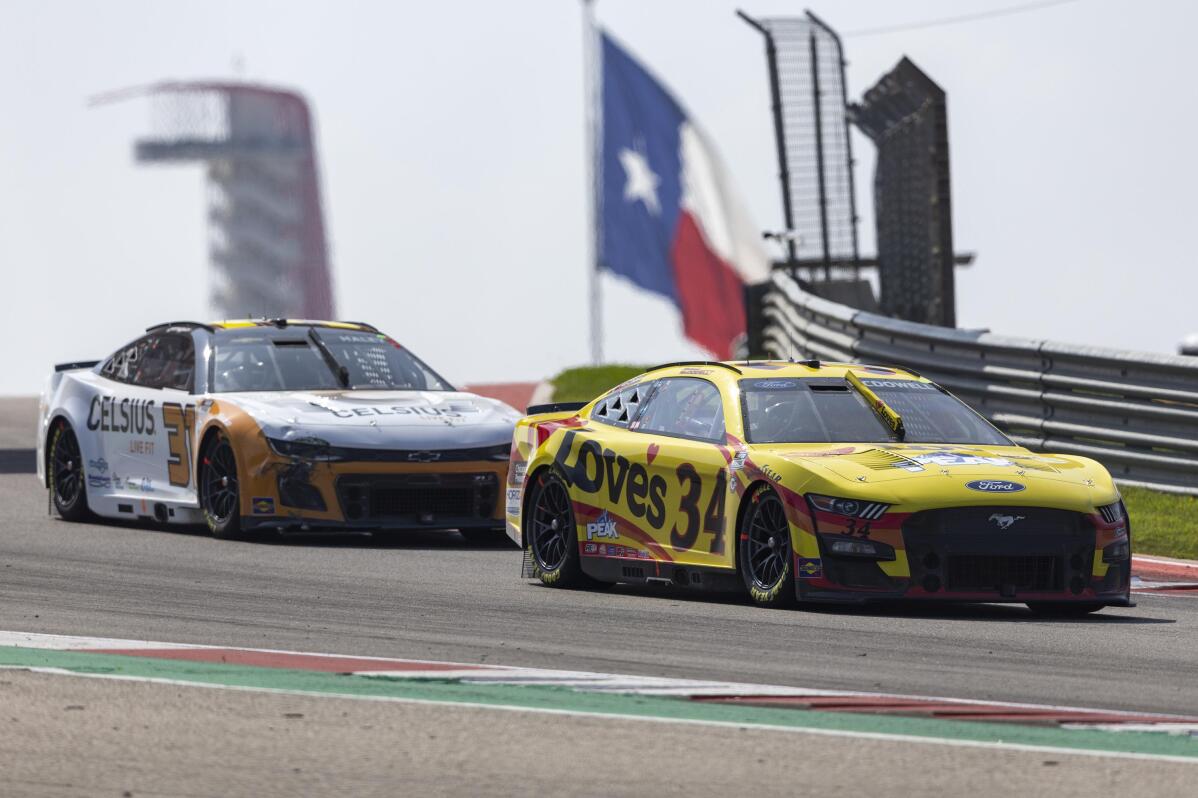 3 of 4

|
Justin Haley (31) and Michael McDowell (34) steer through Turn 8 during a NASCAR Cup Series auto race at Circuit of the Americas, Sunday, March 26, 2023, in Austin, Texas. (AP Photo/Stephen Spillman)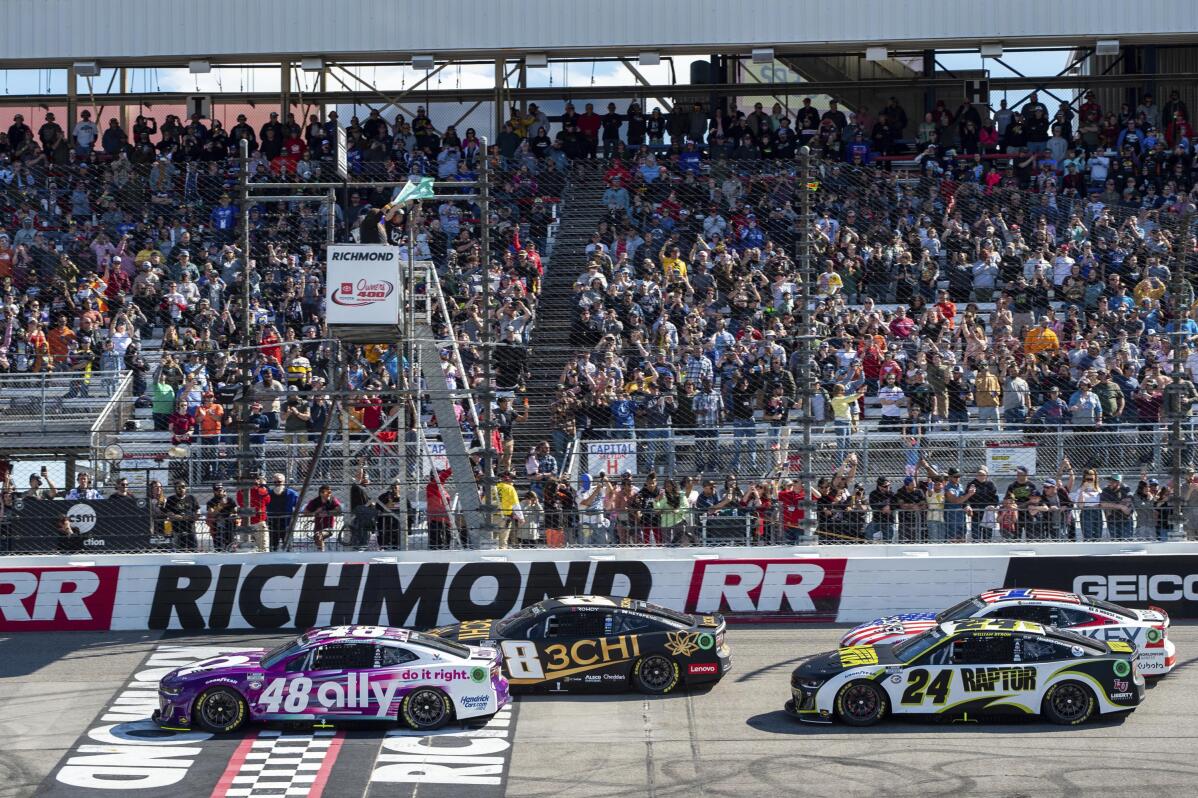 4 of 4

|
Driver Alex Bowman (48) leads the start followed by Kyle Busch (8) William Byron (24) and Ross Chastain during a NASCAR Cup Series auto race at Richmond Raceway on Sunday, April 2, 2023, in Richmond, Va. (AP Photo/Mike Caudill)
Appeals panel upholds penalties on Hamlin hit on Chastain
1 of 4

|
Tyler Reddick, left, and co-owner Denny Hamlin speak after winning a NASCAR Cup Series auto race at Circuit of the Americas, Sunday, March 26, 2023, in Austin, Texas. (AP Photo/Stephen Spillman)
1 of 4
Tyler Reddick, left, and co-owner Denny Hamlin speak after winning a NASCAR Cup Series auto race at Circuit of the Americas, Sunday, March 26, 2023, in Austin, Texas. (AP Photo/Stephen Spillman)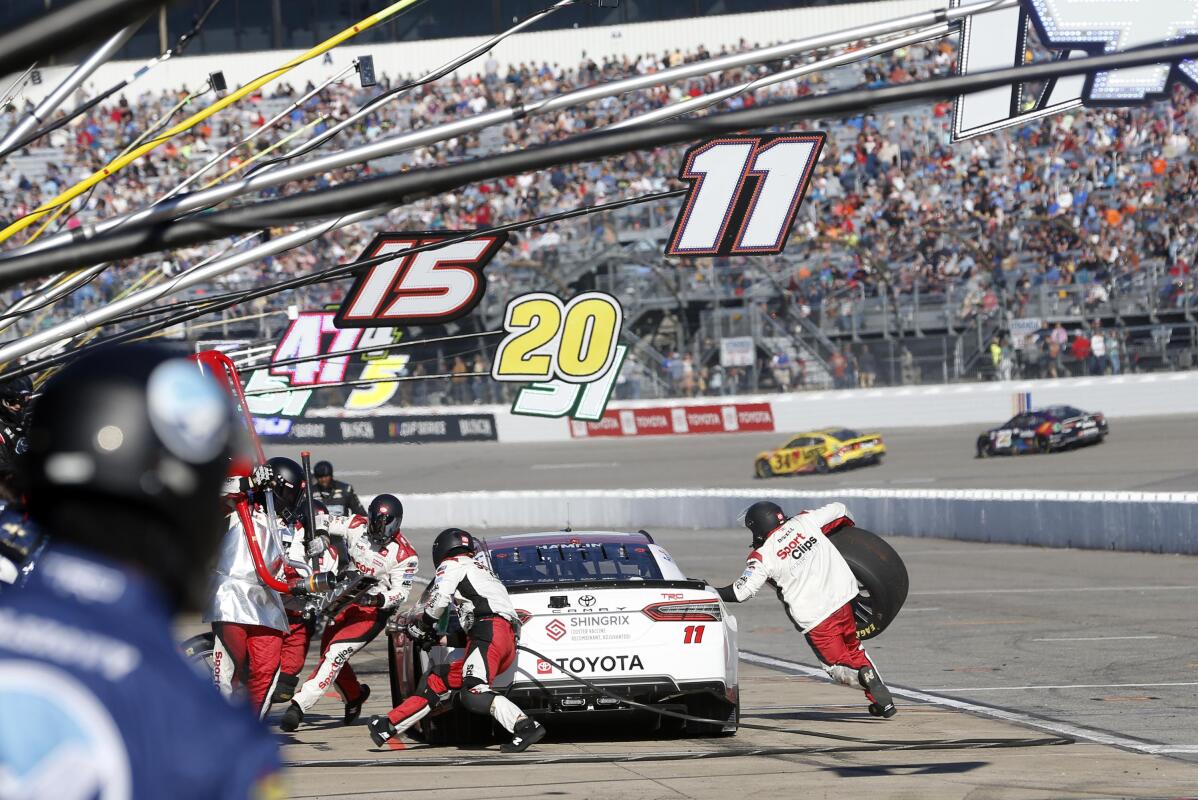 2 of 4

|
Denny Hamlin comes in for a pit stop during a NASCAR Cup Series auto race at Richmond Raceway on Sunday, April 2, 2023, in Richmond, Va. (Eva Russo/Richmond Times-Dispatch via AP)
2 of 4
Denny Hamlin comes in for a pit stop during a NASCAR Cup Series auto race at Richmond Raceway on Sunday, April 2, 2023, in Richmond, Va. (Eva Russo/Richmond Times-Dispatch via AP)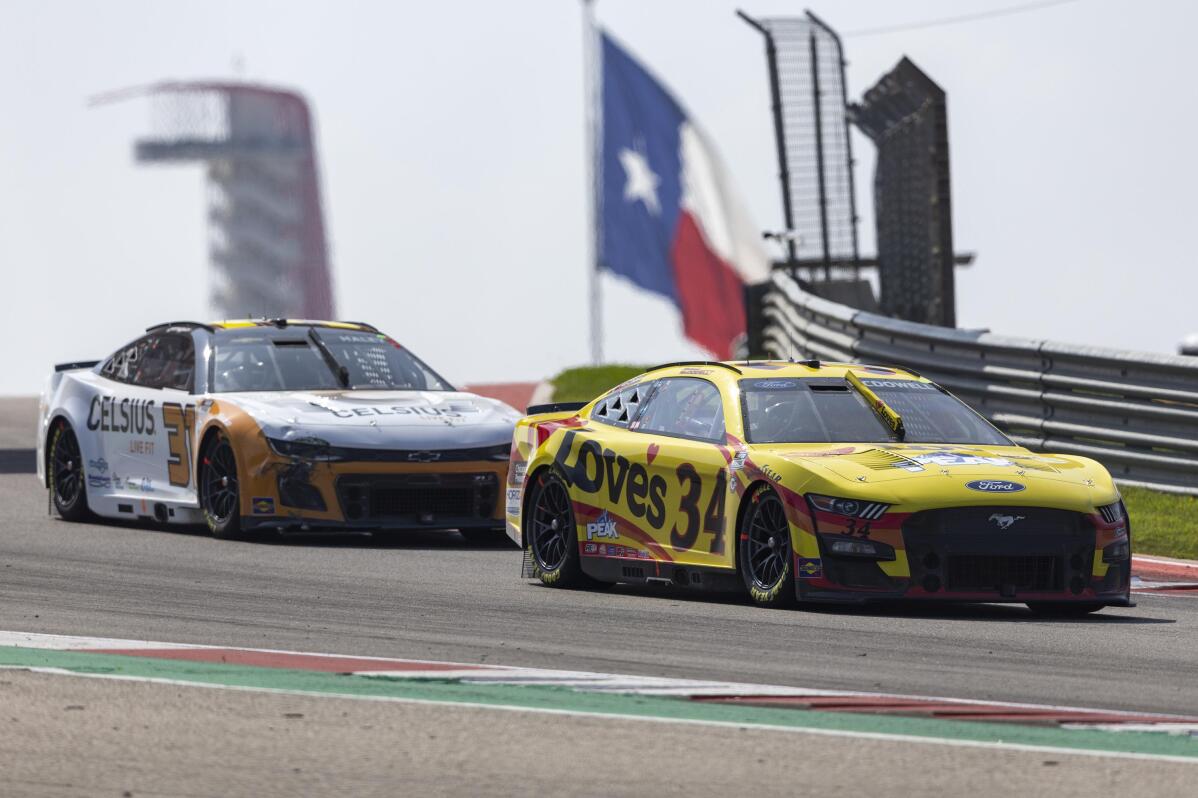 3 of 4

|
Justin Haley (31) and Michael McDowell (34) steer through Turn 8 during a NASCAR Cup Series auto race at Circuit of the Americas, Sunday, March 26, 2023, in Austin, Texas. (AP Photo/Stephen Spillman)
3 of 4
Justin Haley (31) and Michael McDowell (34) steer through Turn 8 during a NASCAR Cup Series auto race at Circuit of the Americas, Sunday, March 26, 2023, in Austin, Texas. (AP Photo/Stephen Spillman)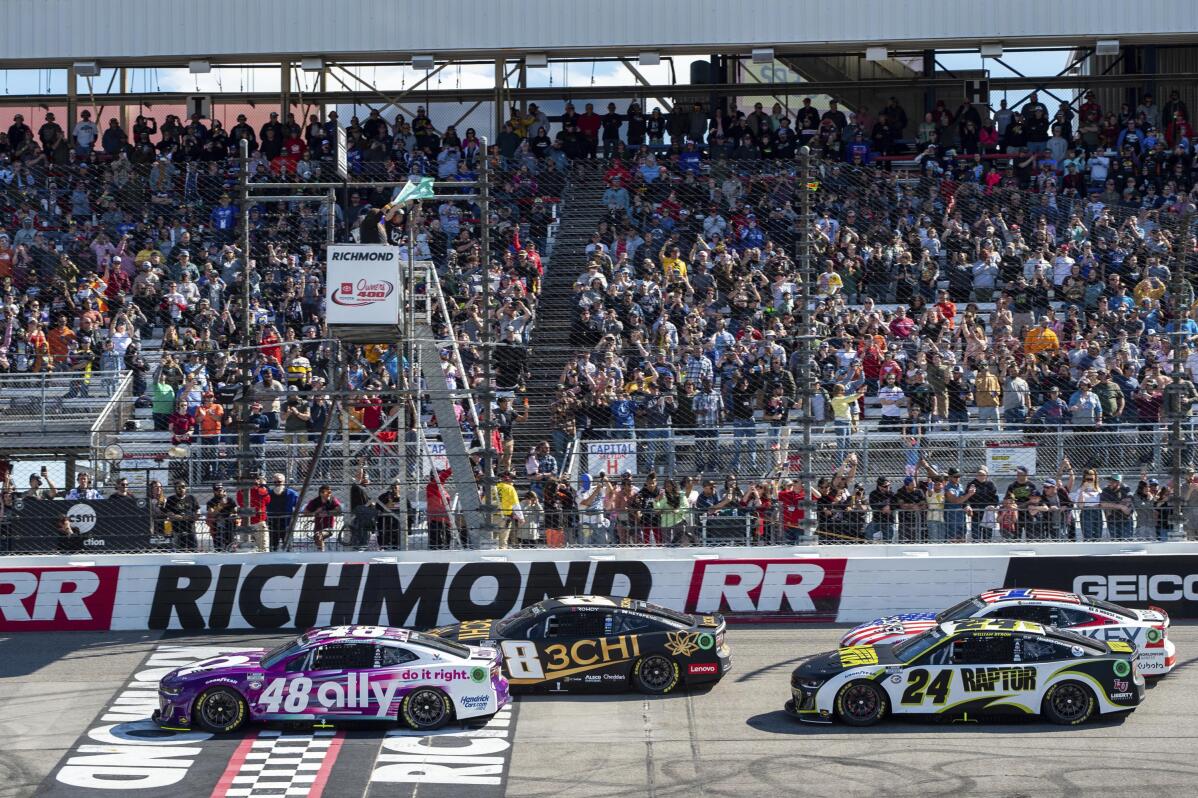 4 of 4

|
Driver Alex Bowman (48) leads the start followed by Kyle Busch (8) William Byron (24) and Ross Chastain during a NASCAR Cup Series auto race at Richmond Raceway on Sunday, April 2, 2023, in Richmond, Va. (AP Photo/Mike Caudill)
4 of 4
Driver Alex Bowman (48) leads the start followed by Kyle Busch (8) William Byron (24) and Ross Chastain during a NASCAR Cup Series auto race at Richmond Raceway on Sunday, April 2, 2023, in Richmond, Va. (AP Photo/Mike Caudill)
COLUMBIA, S.C. (AP) — Denny Hamlin's penalties for hitting Ross Chastain from behind at Phoenix last month will stand, according to a decision Thursday by a NASCAR appeals panel.
Hamlin was fined $50,000 and docked 25 points after he acknowledged on his weekly podcast he intentionally wrecked Chastain on the last lap of the Phoenix race.
After hearing testimony on Hamlin's appeal, the three-person National Motorsports Appeals panel chose to leave the penalties in place. Hamlin can appeal the decision to the National Motorsports Final Appeals Officer, but said on a podcast posted later Thursday he had promised car owner Joe Gibbs he would not take it any further if the result went against him.
Hamlin had originally opted against an appeal before changing his mind. The JGR driver was candid on his podcast, saying he wanted to put Chastain into the wall.
Hamlin finished the Phoenix race in 23rd place, with Chastain a spot behind in 24th.
In his latest podcast, titled "Emergency Podcast Explaining My Case," Hamlin called the process a fair one and thought he had made a strong case to overturn the penalties.
He said he didn't cut Chastain any slack in fighting for race position because of their history the past year. "I got no respect from him, so I chose not to give him any," Hamlin said. "I didn't wreck him. I didn't spin him as NASCAR is contesting. I simply made contact that was avoidable."
That was different than Hamlin's podcast explanation a day after the March 12 race that he was seeking the best possible finish and with Chastain's car on his outside, he knew he might lose position without some action.
"I said, 'You're coming with me, buddy,'" Hamlin said on the broadcast. "That's what I did. It wasn't a mistake, no it wasn't a mistake. I unleashed, I let the wheel go and said he's coming with me."
Hamlin clarified Thursday that he held on to the wheel the whole time, despite his early comments.
Hamlin hoped his appeal might go his way, like when three Hendrick Motorsports drivers were docked 100 points each for illegal modifications to supplier-provided parts on the Next Gen car. The docked points were restored by the appeals panel last week.
Chastain, speaking at an event Wednesday at the South Carolina Governor's Mansion, said he has moved on in the few weeks since the Hamlin hit.
"I'm just trying to keep my hands out of that cookie jar," Chastain said. "That's a cookie I don't want to mess with. That's his deal. I'm not involved. No one's asking me and I'm on to bigger and better things."
On Wednesday, an appeals panel lessened penalties assessed to Kaulig Racing owner Matt Kaulig, driver Justin Haley and crew chief Trent Owens, also given for illegally modified car parts.
Kaulig had his 100-point championship-owner points penalty reduced to 75 while Haley, docked 100 driver points, also saw that trimmed to 75.
The loss of 10 playoff points to the No. 31 and 10 playoff points to Haley was upheld, as was Owens' four-race suspension and $100,000 fine.
Kaulig Racing announced shortly after it would go ahead with a final appeal, per NASCAR rules.
___
AP auto racing: https://apnews.com/hub/auto-racing and https://twitter.com/AP_Sports