Elway's consulting role with the Broncos comes to an end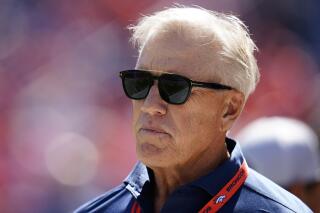 John Elway, who had a hand in all three of the Lombardi Trophies glistening in the Denver Broncos' trophy case, no longer has any formal ties to the team he defined for more than four decades.
Elway's contract as an outside consultant to George Paton, his hand-picked successor as general manager, expired last month and wasn't renewed.
"I'll still be around as a resource,'' Elway told KUSA-TV in Denver, the team's flagship station. "I've been with the Denver Broncos for so long that it was nice to have some sort of connection, which is what I wanted. I didn't want an obligation. I'm getting a little older, I want to be able to do some things I haven't done. I'm ready to have a flexible schedule. If there's something I can help them with I'd do that."
Elway told The Associated Press last year after transitioning into a consultant's role that he and his wife were building a home in Southern California and were looking forward to spending more time with his children and grandchildren.
As Denver's quarterback from 1983-98, Elway led the Broncos to five Super Bowl appearances, including wins over Green Bay and Atlanta in the final two seasons of his Hall of Fame playing career.
He joined the Broncos front office in 2011 and spent a decade as Denver's general manager and executive vice president of football operations.
The Broncos won the AFC West his first five seasons in charge, reached the Super Bowl after the 2013 season and won the franchise's third championship two years later with a 24-10 win over heavily favored Carolina in Super Bowl 50.
Elway's final five years in charge weren't as successful as the Broncos churned through several coaches and quarterbacks following Peyton Manning's retirement a month after beating the Panthers.
Elway hired Paton as GM in 2021 and remained on board as president of football operations. Last year he served as an outside consultant to Paton, still spending plenty of time at team headquarters but removed from the decision-making processes.
The Broncos' string of losing seasons now stands at six and they've missed the playoffs seven straight years, the longest drought for a Super Bowl winner ever.
Elway's biggest success was luring Manning to Denver for the second chapter of his storied career in 2012. That helped him land the stellar 2014 free agent class that featured wide receiver Emmanuel Sanders, defensive backs Aqib Talib and T.J. Ward and pass rusher DeMarcus Ware.
Sanders gave Manning another top target, Ware tutored Von Miller, who would win Super Bowl MVP honors a year later, and Talib and Ward formed half of the famed "No Fly Zone" secondary.
Denver's defense allowed the fewest passing yards in back-to-back seasons and smothered Ben Roethlisberger, Tom Brady and 2015 MVP Cam Newton on their way to the team's third championship parade.
Just as Gary Kubiak was unable to talk Elway out of retiring in 1999, Elway was unable to persuade Kubiak to stay on as his head coach after the 2016 season and thus began a long stretch of mediocrity.
The Broncos are on their fourth head coach since Kubiak's departure and they have churned through eight different starting QBs since Manning's retirement. They recently hired Sean Payton, who will try to revive Russell Wilson's career.
Elway may be gone but his ties to the team endure.
"John Elway is the ultimate Bronco," first-year owner and CEO Greg Penner said at his introductory news conference last summer, extolling No. 7's championship pedigree as both a quarterback and an executive.
___
AP NFL: https://apnews.com/hub/nfl and https://twitter.com/AP_NFL