Sean Payton expects Javonte Williams will be back for Broncos training camp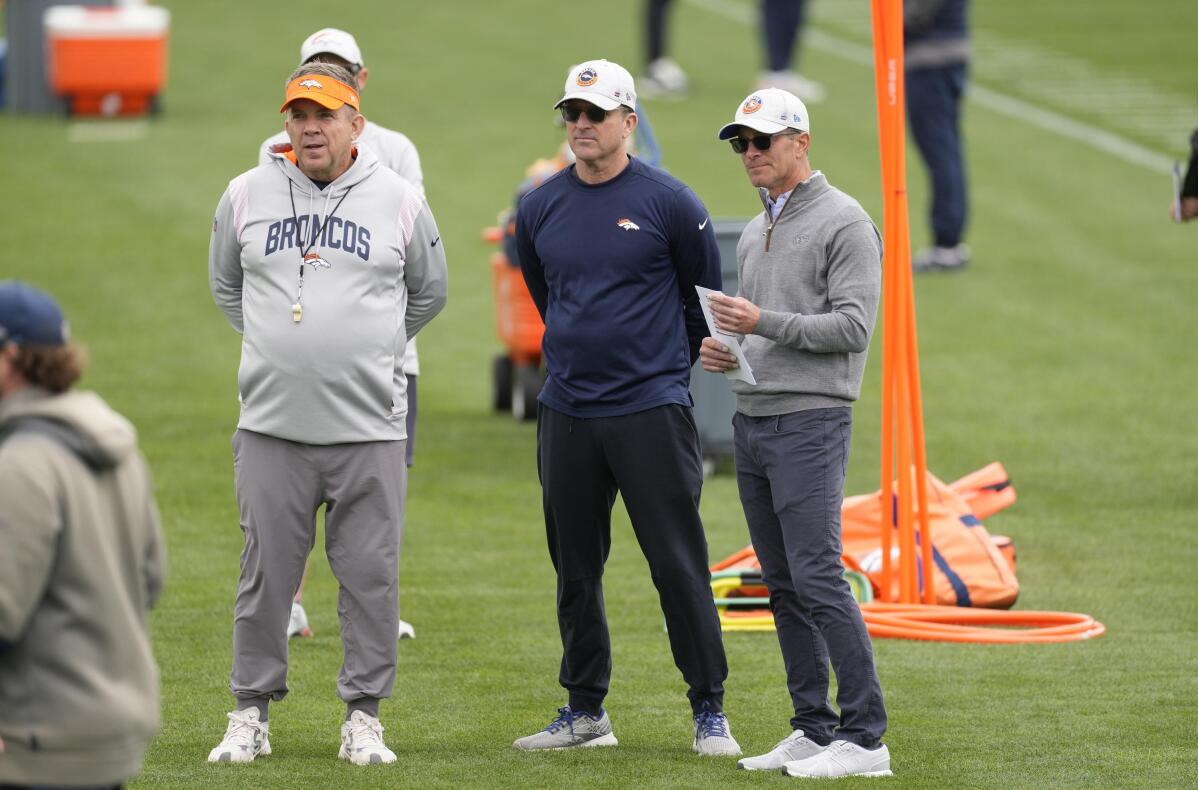 1 of 2

|
Denver Broncos head coach Sean Payton, left, general manager George Paton, center, and part-owner and chief executive officer Greg Penner look on as players take part in drills during the NFL football team's rookie minicamp, Saturday, May 13, 2023, in Centennial, Colo. (AP Photo/David Zalubowski)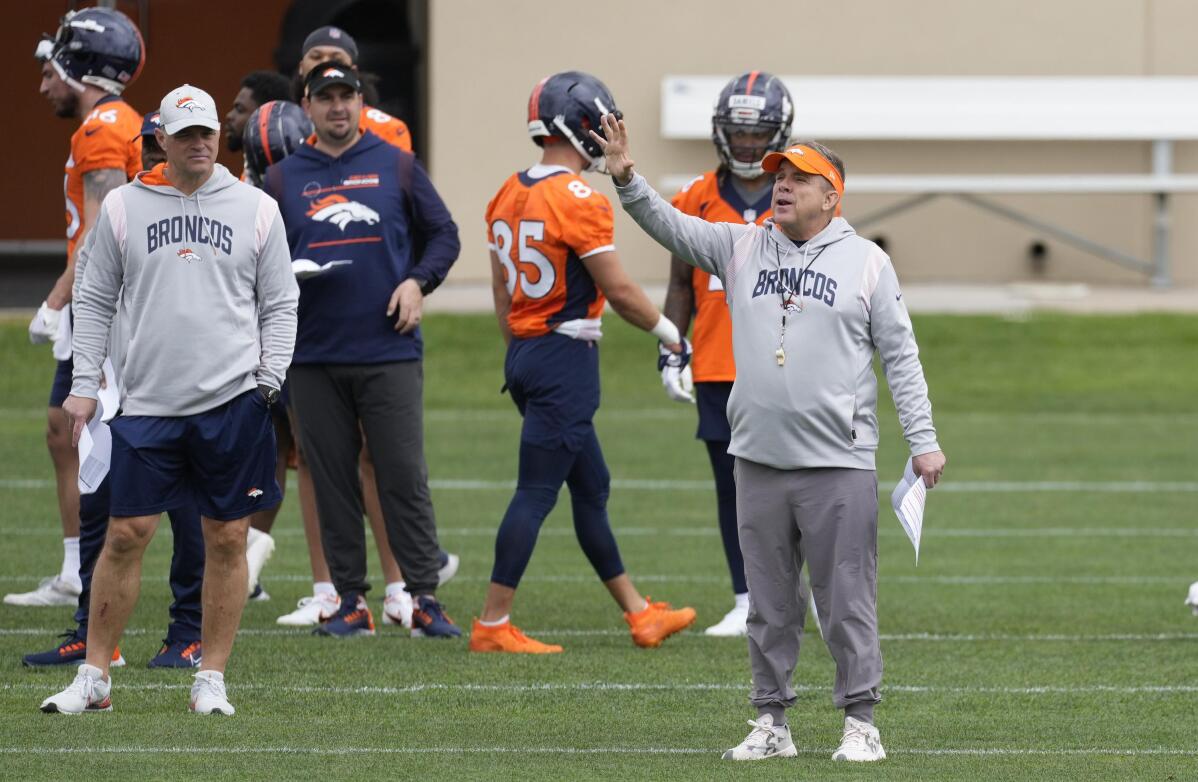 2 of 2

|
Denver Broncos head coach Sean Payton directs players as they take part in drills during the NFL football team's rookie minicamp, Saturday, May 13, 2023, in Centennial, Colo. (AP Photo/David Zalubowski)
Sean Payton expects Javonte Williams will be back for Broncos training camp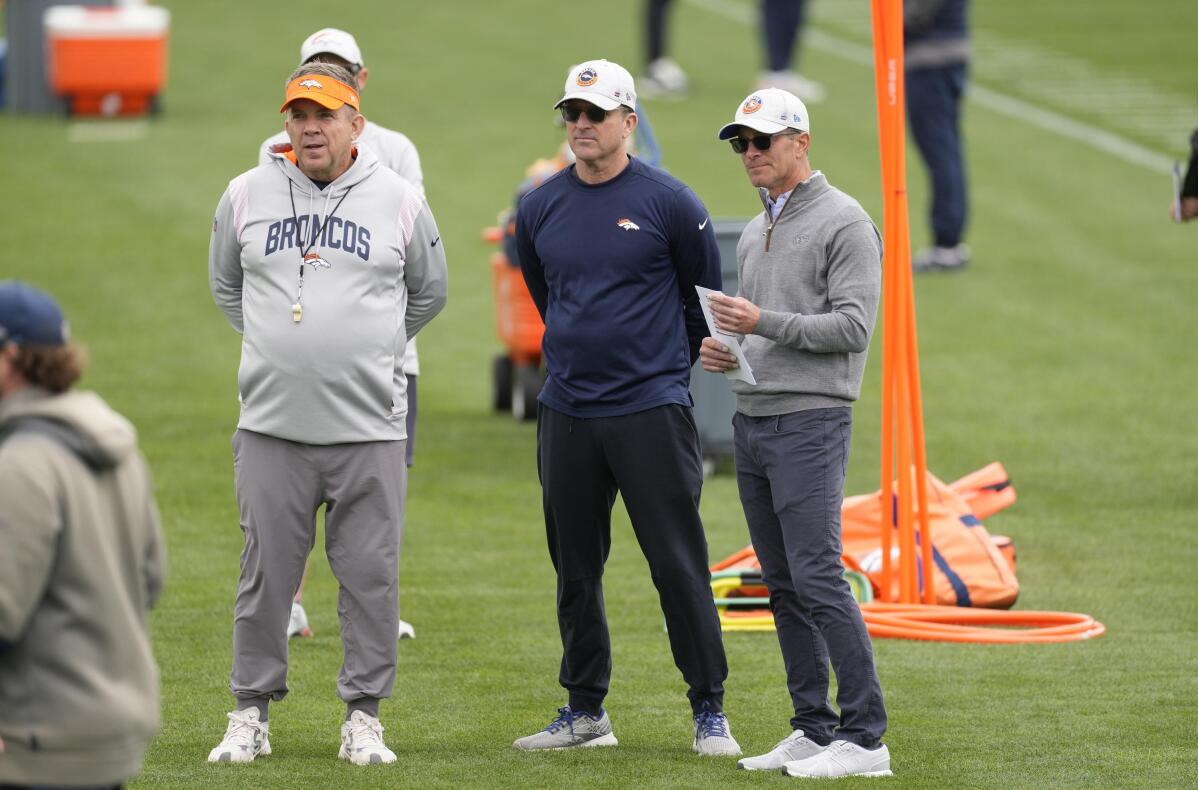 1 of 2

|
Denver Broncos head coach Sean Payton, left, general manager George Paton, center, and part-owner and chief executive officer Greg Penner look on as players take part in drills during the NFL football team's rookie minicamp, Saturday, May 13, 2023, in Centennial, Colo. (AP Photo/David Zalubowski)
1 of 2
Denver Broncos head coach Sean Payton, left, general manager George Paton, center, and part-owner and chief executive officer Greg Penner look on as players take part in drills during the NFL football team's rookie minicamp, Saturday, May 13, 2023, in Centennial, Colo. (AP Photo/David Zalubowski)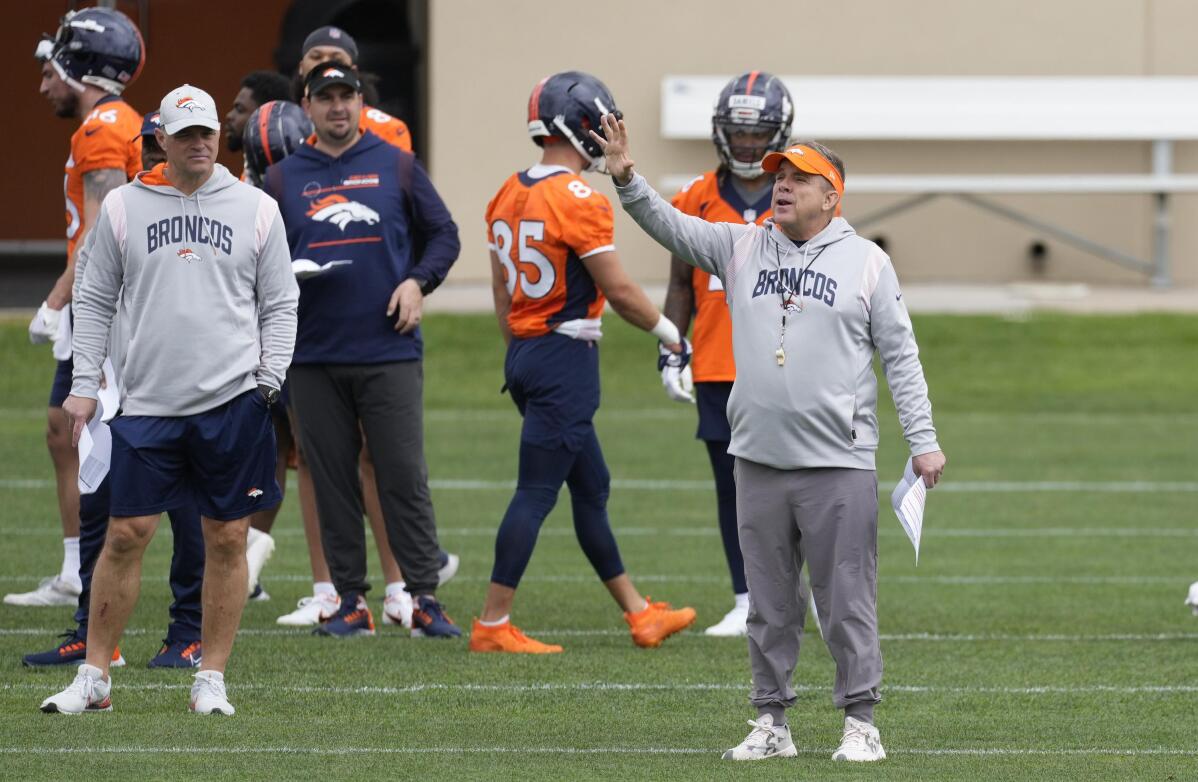 2 of 2

|
Denver Broncos head coach Sean Payton directs players as they take part in drills during the NFL football team's rookie minicamp, Saturday, May 13, 2023, in Centennial, Colo. (AP Photo/David Zalubowski)
2 of 2
Denver Broncos head coach Sean Payton directs players as they take part in drills during the NFL football team's rookie minicamp, Saturday, May 13, 2023, in Centennial, Colo. (AP Photo/David Zalubowski)
ENGLEWOOD, Colo. (AP) — Denver Broncos head coach Sean Payton suggested Saturday that running back Javonte Williams will be ready for the start of training camp after missing most of last season with a serious right knee injury.
Payton said that while the position isn't very deep, it is top-heavy given the signing of veteran free agent Samaje Perine and the recovery of Williams, who blew out his right knee in a Week 4 game at Las Vegas.
"When we signed Samaje, this is a guy that gave us flexibility. We know that he can play and be an every-down back," Payton said. "Our current starter (Williams) is doing extremely well. I would tell you that we expect him to be ready for the start of training camp and that's good news. His rehab is going well."
"I don't want to speak for him or Beau (Lowery, the vice president of player health and performance) or anyone else, but we get the daily reports," Payton said. "We're pretty tight-lipped relative to information going out, but I've read a lot and I think his rehab is going well. ... We're hopeful that he is someone that might not have to go to PUP."
Williams was among the hottest names in fantasy football heading into his second NFL season in 2022 after a brilliant rookie year in which he scored seven touchdowns and was among the league's best backs at breaking tackles.
On Oct. 2, however, the 2021 second-round pick out of North Carolina took a toss from Russell Wilson and was dropped for a 1-yard loss by Raiders defensive end Maxx Crosby, who jumped on his back just as Williams planted his right leg.
Williams' knee buckled under the weight of Crosby's 6-foot-5, 256-pound frame, tearing his ACL, LCL and posterolateral corner, a complex area of tendons and ligaments around the outside of the knee.
Williams was told his road back would be a long one but in an interview with The Associated Press late last season, he insisted, "I expect to be back by training camp."
General manager George Paton said much the same thing at the NFL scouting combine this spring only to walk back those comments in subsequent interviews, saying the team wasn't sure when he'd return, only that it would be this season.
Williams' ongoing recovery is what drove the Broncos to sign Perine to a two-year, $7.5 million free agent contract that included a $3 million signing bonus and a $1.5 million salary for the upcoming season.
"When we signed him, there was still uncertainty" with Williams' rehab, Payton said. "I was taught a long time ago to stack them up at that position. It's a tough position in our league."
The Broncos have three other running backs on their roster — Tyler Badie, Damarea Crockett and Tony Jones Jr., one of six former Saints players the Broncos have signed since Payton was hired.
Jones has but 67 career carries for 179 yards and no touchdowns with five NFL starts. Badie and Crockett have four NFL carries for 7 yards and no TDs between them.
Payton said he was keeping close watch on the running backs at the rookie minicamp this weekend: undrafted college free agents Emanuel Wilson of Fort Valley State and Jaleel McLaughlin of Youngstown State plus Jacques Patrick, whose pro resume consists of two games with San Francisco in 2021, when he rushed twice for 12 yards and a score.
"We've got a few here that we're looking at during this camp," Payton said. "I feel really good about our group of veterans that are here in the building."
___
AP NFL: https://apnews.com/hub/nfl and https://twitter.com/AP_NFL