Review: Laura Dern, mom Diane Ladd exchange intimate stories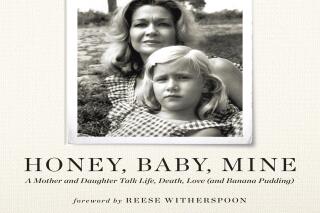 LOS ANGELES (AP) — "Honey, Baby, Mine: A Mother and Daughter Talk Life, Death, Love (and Banana Pudding)," by Laura Dern and Diane Ladd (Grand Central Publishing)
When actor Diane Ladd was diagnosed with a life-threatening illness and given six months to live, her only daughter and fellow actor, Laura Dern, set out to help Ladd rebuild her lung capacity through doctor-prescribed walks.
Inspired to turn the difficult daily chore into a "creative challenge" for her storyteller mother, Dern decided to record their conversations and encouraged Ladd to share personal stories about anything and everything, from life in show business to intimate domestic details and even coveted family recipes.
Those conversations form the basis for "Honey, Baby, Mine: A Mother and Daughter Talk Life, Death, Love (and Banana Pudding)."
Though Ladd was apparently misdiagnosed and ultimately overcame the sickness that doctors thought would take her, she and Dern said the honesty the pair cultivated on those walks made their relationship stronger than ever.
It's fitting that this book would be released around Mother's Day. "Honey, Baby, Mine" is mostly a series of heartwarming personal conversations between a daughter and her sick mom. Even the hardest of hearts might shed a tear or two thanks to the ways in which this book forces the reader to consider their own relationship with their mother.
But it also dishes the occasional Hollywood gossip, even if it is in a wholesome kind of way that one familiar with Dern's general Southern affect would expect.
As seasoned entertainers, both Ladd and Dern understand the public's obsession with pulling back the curtain on the lives of celebrities, an obsession this book aims to satisfy.
And while the intimate stories may seem like a vulnerable glimpse into the lives of these two women, it is difficult to discern, given their cognizance of the fact that their conversations will be made public, how much of that vulnerability is genuine.