Tuch has 2 goals, assist as Sabres beat Devils 5-4
1 of 7

|
Buffalo Sabres right wing Alex Tuch, behind right, celebrates with center Tage Thompson (72), right wing Jack Quinn (22), defenseman Rasmus Dahlin (26) and left wing Jeff Skinner (53) after scoring against the New Jersey Devils during the second period of an NHL hockey game in Buffalo, N.Y., Friday, March 24, 2023. (AP Photo/Adrian Kraus)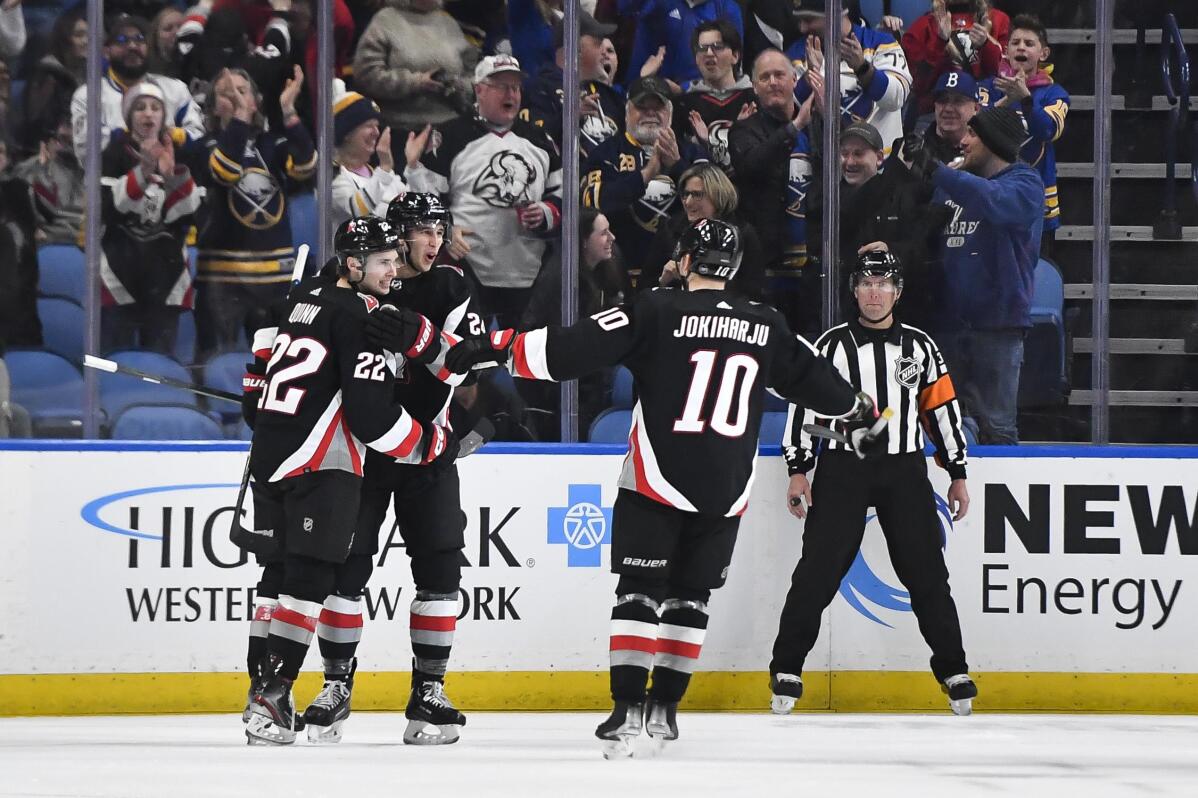 2 of 7

|
Buffalo Sabres center Dylan Cozens, center, celebrates with right wing Jack Quinn (22) and defenseman Henri Jokiharju (10) after scoring against the New Jersey Devils during the first period of an NHL hockey game in Buffalo, N.Y., Friday, March 24, 2023. (AP Photo/Adrian Kraus)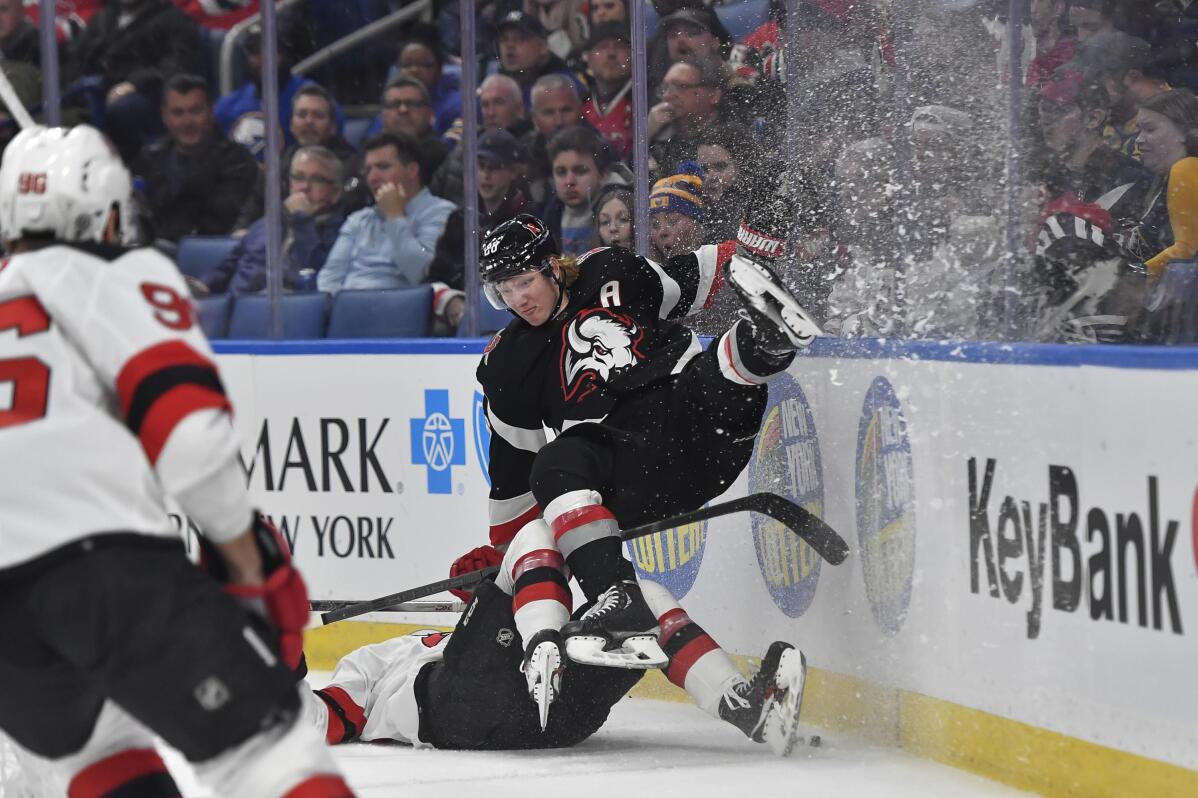 3 of 7

|
Buffalo Sabres defenseman Rasmus Dahlin (26) is upended by New Jersey Devils center Nico Hischier, bottom right, during the first period of an NHL hockey game in Buffalo, N.Y., Friday, March 24, 2023. (AP Photo/Adrian Kraus)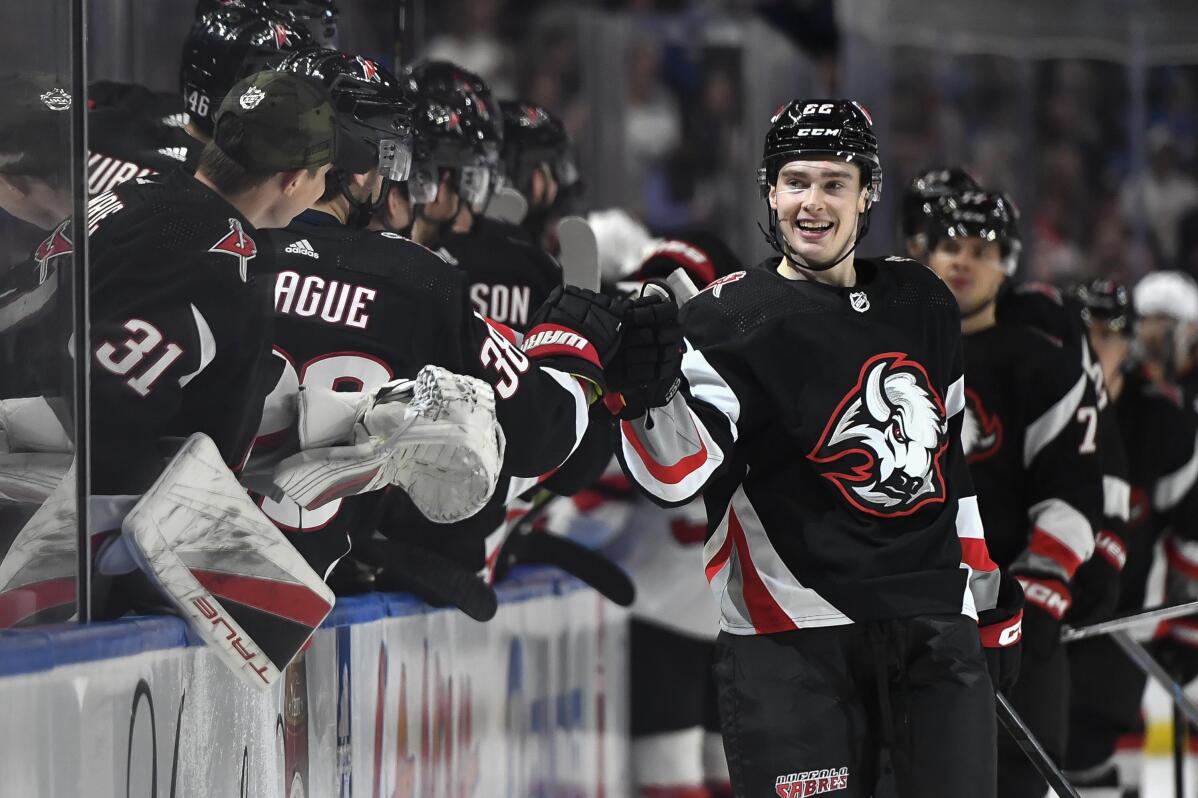 4 of 7

|
Buffalo Sabres right wing Jack Quinn (22) celebrates after scoring against the New Jersey Devils during the first period of an NHL hockey game in Buffalo, N.Y., Friday, March 24, 2023. (AP Photo/Adrian Kraus)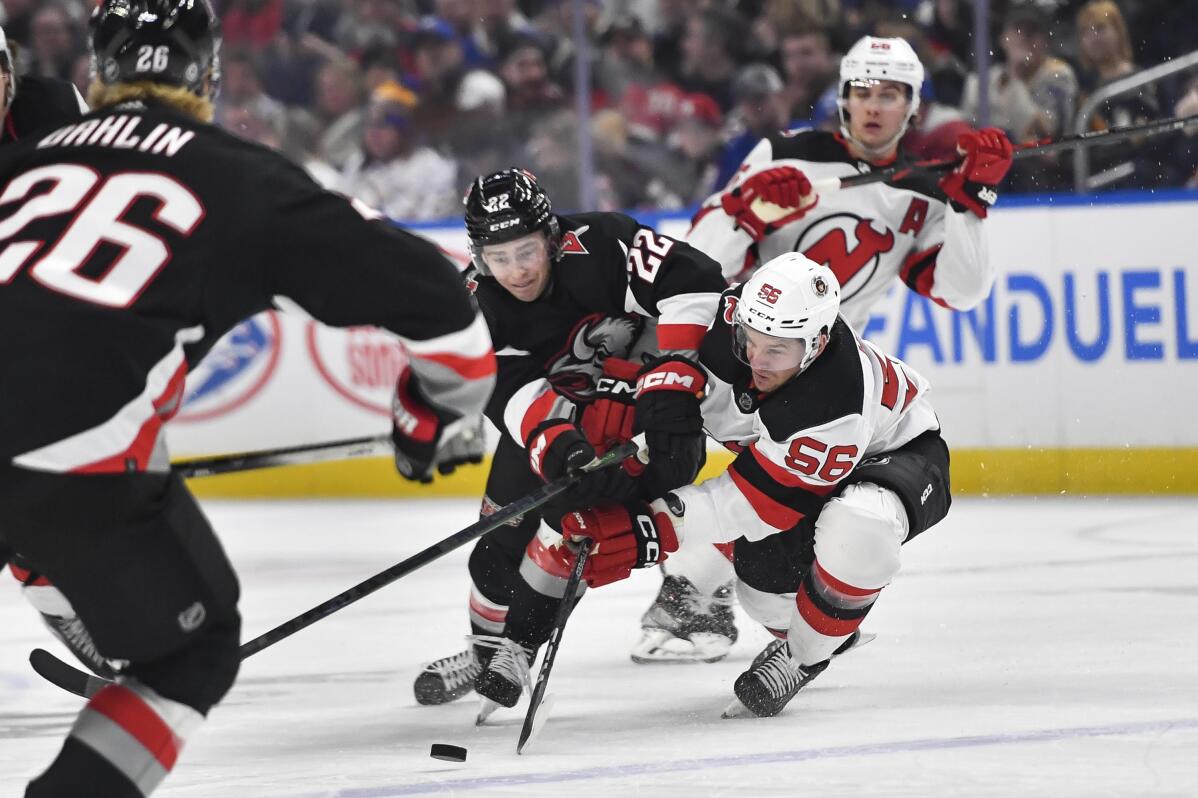 5 of 7

|
Buffalo Sabres right wing Jack Quinn (22) reaches for the puck against New Jersey Devils left wing Erik Haula (56) during the first period of an NHL hockey game in Buffalo, N.Y., Friday, March 24, 2023. (AP Photo/Adrian Kraus)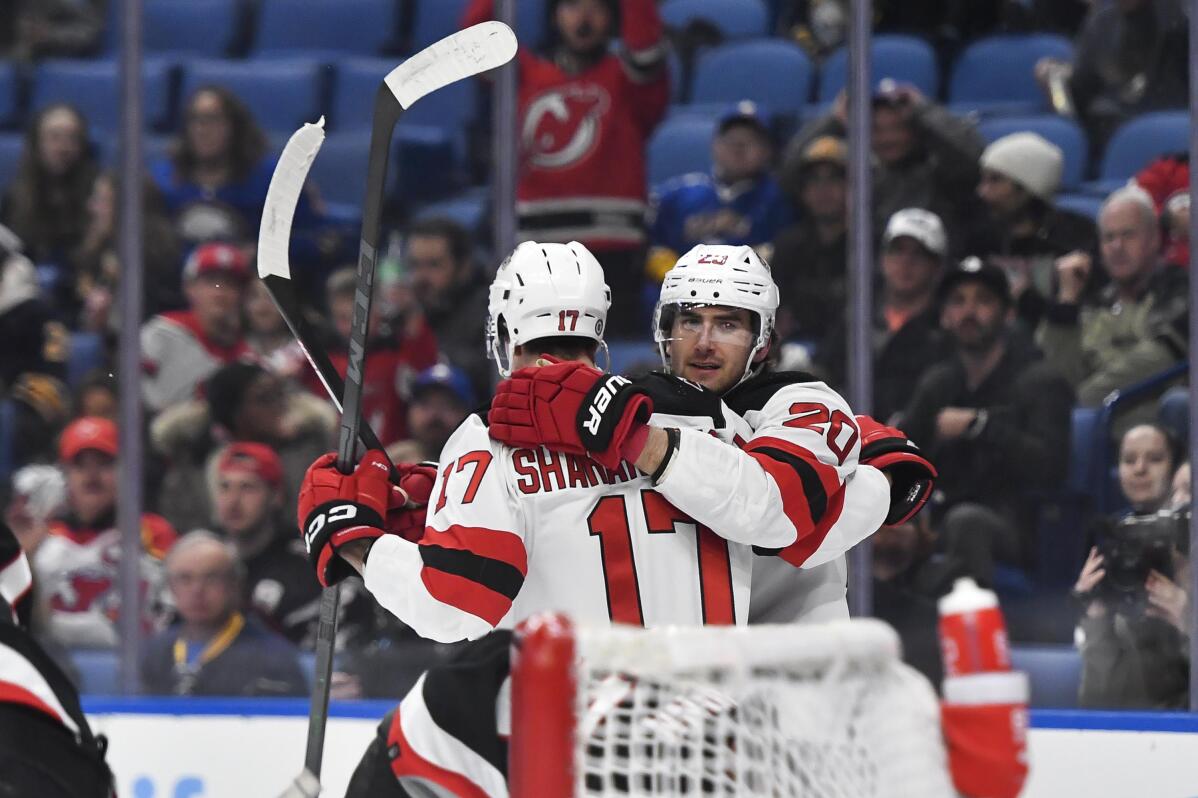 6 of 7

|
New Jersey Devils center Michael McLeod, right, celebrates with center Yegor Sharangovich after scoring against the Buffalo Sabres during the first period of an NHL hockey game in Buffalo, N.Y., Friday, March 24, 2023. (AP Photo/Adrian Kraus)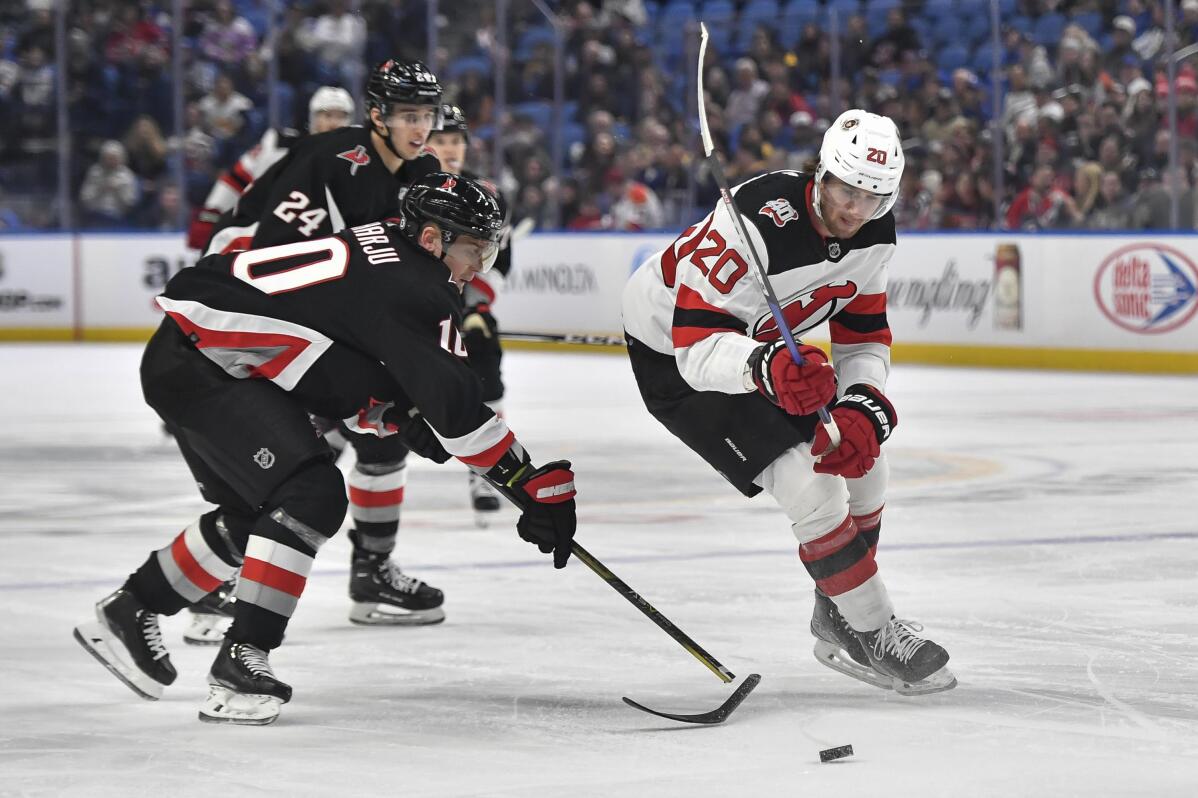 7 of 7

|
New Jersey Devils center Michael McLeod, right, moves the puck past the broken stick of Buffalo Sabres defenseman Henri Jokiharju during the first period of an NHL hockey game in Buffalo, N.Y., Friday, March 24, 2023. (AP Photo/Adrian Kraus)
Tuch has 2 goals, assist as Sabres beat Devils 5-4
1 of 7

|
Buffalo Sabres right wing Alex Tuch, behind right, celebrates with center Tage Thompson (72), right wing Jack Quinn (22), defenseman Rasmus Dahlin (26) and left wing Jeff Skinner (53) after scoring against the New Jersey Devils during the second period of an NHL hockey game in Buffalo, N.Y., Friday, March 24, 2023. (AP Photo/Adrian Kraus)
1 of 7
Buffalo Sabres right wing Alex Tuch, behind right, celebrates with center Tage Thompson (72), right wing Jack Quinn (22), defenseman Rasmus Dahlin (26) and left wing Jeff Skinner (53) after scoring against the New Jersey Devils during the second period of an NHL hockey game in Buffalo, N.Y., Friday, March 24, 2023. (AP Photo/Adrian Kraus)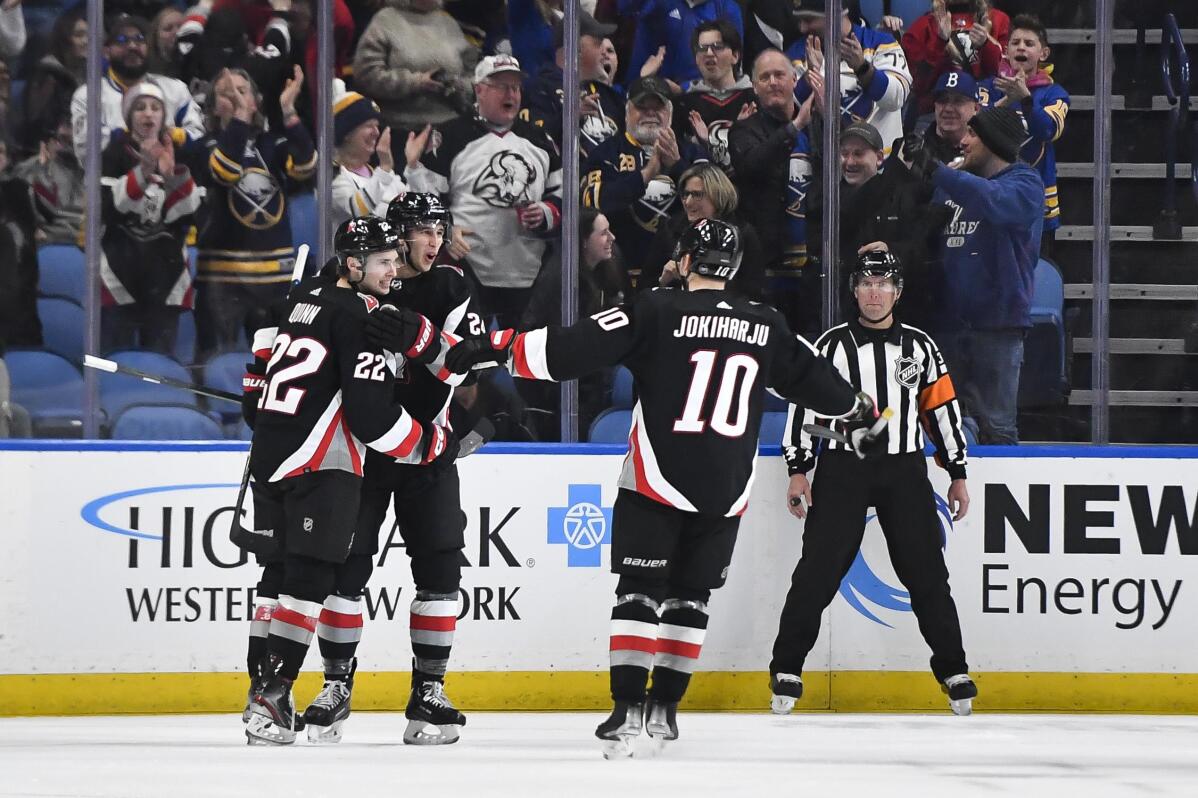 2 of 7

|
Buffalo Sabres center Dylan Cozens, center, celebrates with right wing Jack Quinn (22) and defenseman Henri Jokiharju (10) after scoring against the New Jersey Devils during the first period of an NHL hockey game in Buffalo, N.Y., Friday, March 24, 2023. (AP Photo/Adrian Kraus)
2 of 7
Buffalo Sabres center Dylan Cozens, center, celebrates with right wing Jack Quinn (22) and defenseman Henri Jokiharju (10) after scoring against the New Jersey Devils during the first period of an NHL hockey game in Buffalo, N.Y., Friday, March 24, 2023. (AP Photo/Adrian Kraus)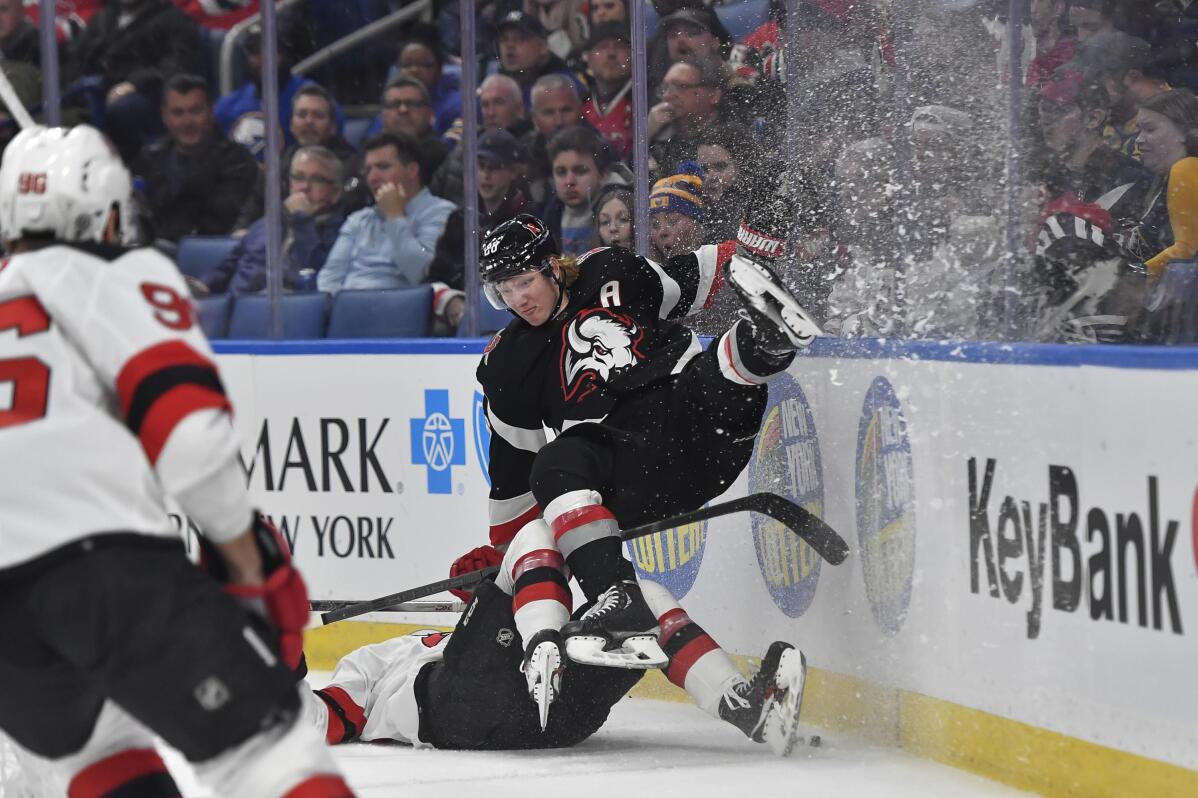 3 of 7

|
Buffalo Sabres defenseman Rasmus Dahlin (26) is upended by New Jersey Devils center Nico Hischier, bottom right, during the first period of an NHL hockey game in Buffalo, N.Y., Friday, March 24, 2023. (AP Photo/Adrian Kraus)
3 of 7
Buffalo Sabres defenseman Rasmus Dahlin (26) is upended by New Jersey Devils center Nico Hischier, bottom right, during the first period of an NHL hockey game in Buffalo, N.Y., Friday, March 24, 2023. (AP Photo/Adrian Kraus)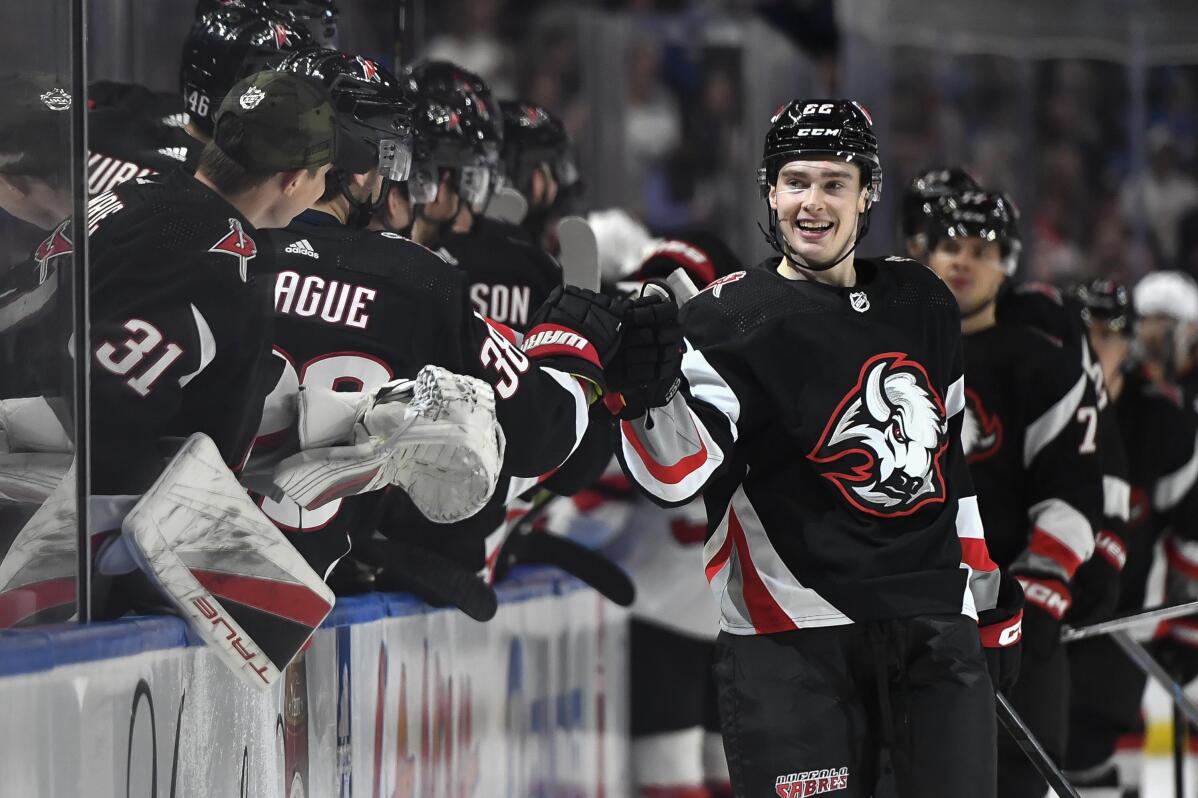 4 of 7

|
Buffalo Sabres right wing Jack Quinn (22) celebrates after scoring against the New Jersey Devils during the first period of an NHL hockey game in Buffalo, N.Y., Friday, March 24, 2023. (AP Photo/Adrian Kraus)
4 of 7
Buffalo Sabres right wing Jack Quinn (22) celebrates after scoring against the New Jersey Devils during the first period of an NHL hockey game in Buffalo, N.Y., Friday, March 24, 2023. (AP Photo/Adrian Kraus)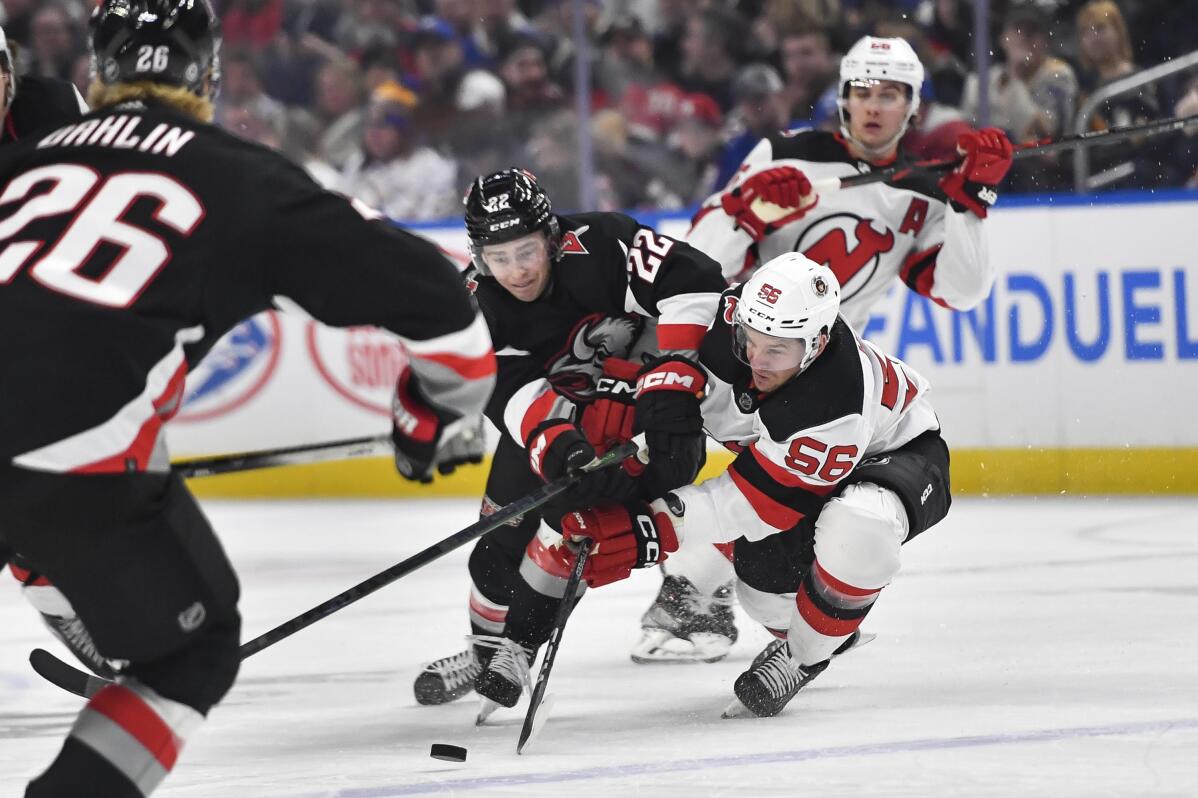 5 of 7

|
Buffalo Sabres right wing Jack Quinn (22) reaches for the puck against New Jersey Devils left wing Erik Haula (56) during the first period of an NHL hockey game in Buffalo, N.Y., Friday, March 24, 2023. (AP Photo/Adrian Kraus)
5 of 7
Buffalo Sabres right wing Jack Quinn (22) reaches for the puck against New Jersey Devils left wing Erik Haula (56) during the first period of an NHL hockey game in Buffalo, N.Y., Friday, March 24, 2023. (AP Photo/Adrian Kraus)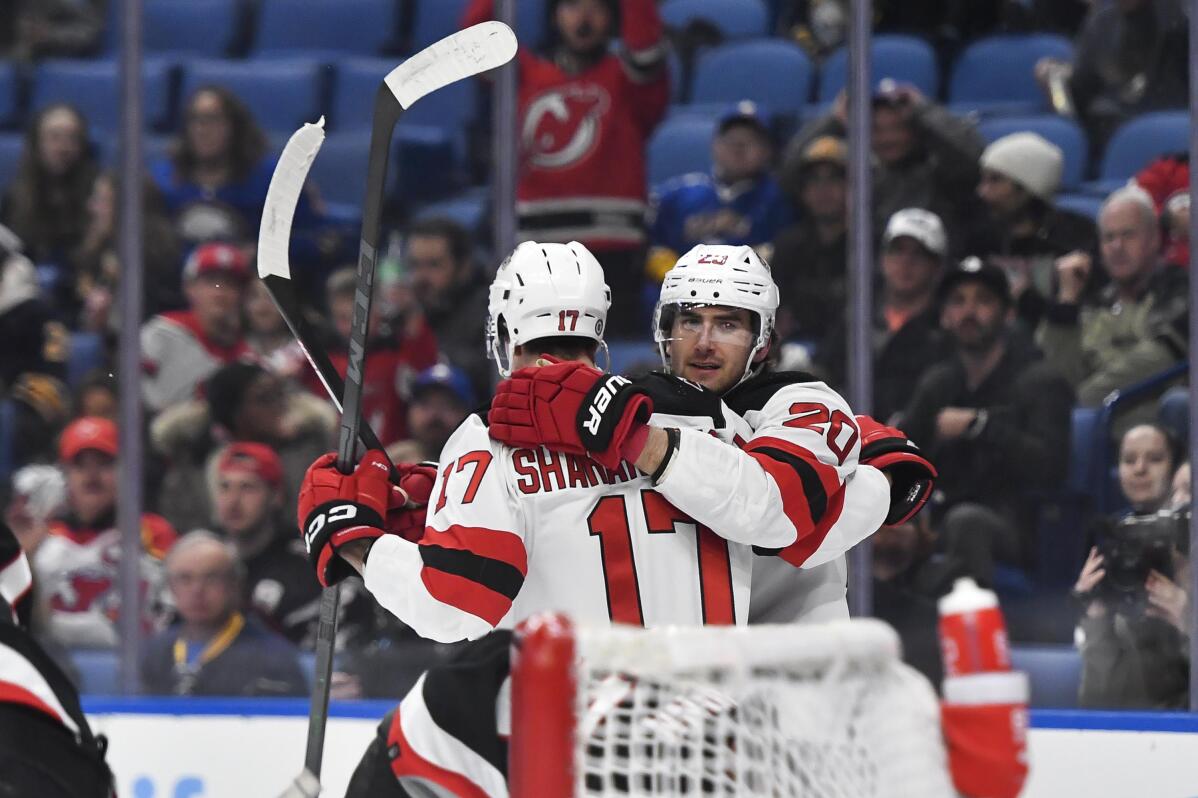 6 of 7

|
New Jersey Devils center Michael McLeod, right, celebrates with center Yegor Sharangovich after scoring against the Buffalo Sabres during the first period of an NHL hockey game in Buffalo, N.Y., Friday, March 24, 2023. (AP Photo/Adrian Kraus)
6 of 7
New Jersey Devils center Michael McLeod, right, celebrates with center Yegor Sharangovich after scoring against the Buffalo Sabres during the first period of an NHL hockey game in Buffalo, N.Y., Friday, March 24, 2023. (AP Photo/Adrian Kraus)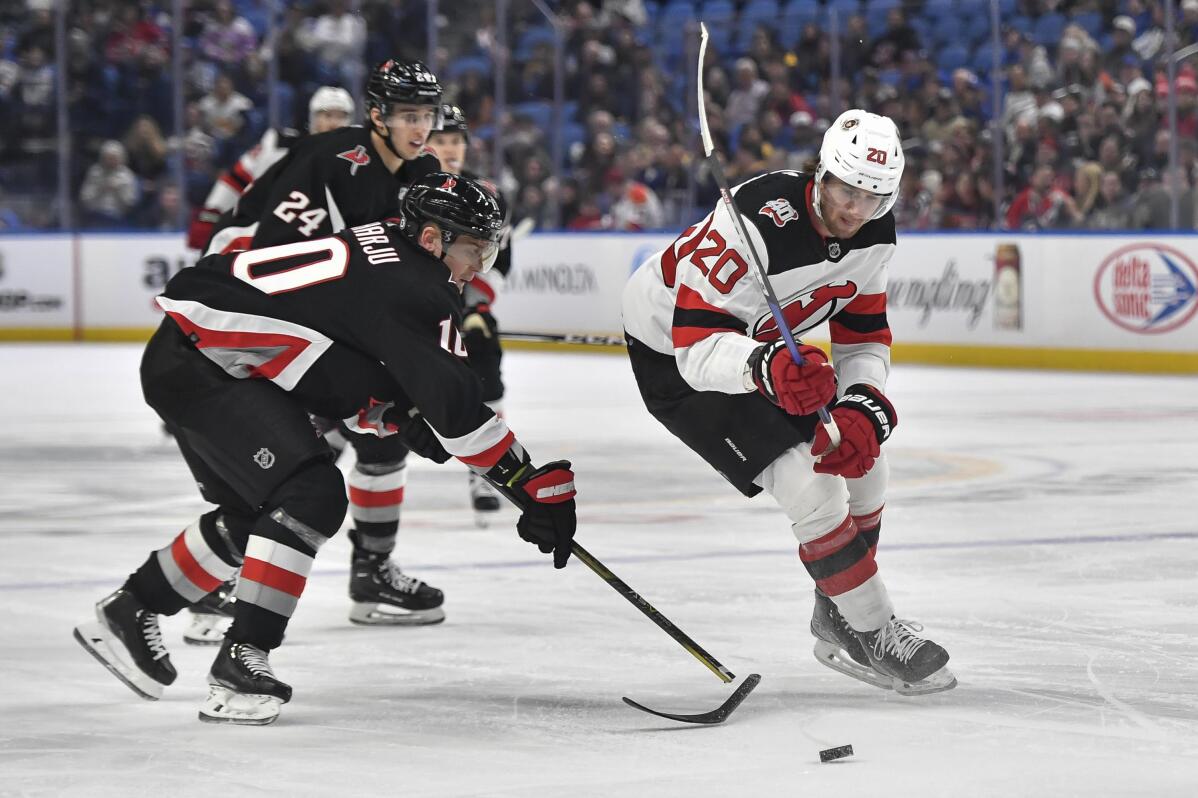 7 of 7

|
New Jersey Devils center Michael McLeod, right, moves the puck past the broken stick of Buffalo Sabres defenseman Henri Jokiharju during the first period of an NHL hockey game in Buffalo, N.Y., Friday, March 24, 2023. (AP Photo/Adrian Kraus)
7 of 7
New Jersey Devils center Michael McLeod, right, moves the puck past the broken stick of Buffalo Sabres defenseman Henri Jokiharju during the first period of an NHL hockey game in Buffalo, N.Y., Friday, March 24, 2023. (AP Photo/Adrian Kraus)
BUFFALO, N.Y. (AP) — Alex Tuch had two goals and an assist as the Buffalo Sabres beat the New Jersey Devils 5-4 on Friday night.
Dylan Cozens and Jack Quinn each had a goal and an assist, Tage Thompson scored his 44th goal, and JJ Peterka had two assists to help the Sabres snap a four-game skid and win for the third time in 13 games (3-8-2). Ukko-Pekka Luukkonen made 27 saves to win for the first time in seven starts.
Buffalo remained on the fringes of contention for the final Eastern Conference playoff spot, pulling six points behind Pittsburgh for the second wild card.
"We played a really good game and it's a big step in the right direction," Tuch said. "I thought we corrected a lot of the mistakes we made in games past. We didn't let that hang over our heads. We just kept our heads up and went to work."
Jack Hughes had two goals and an assist for the Devils, who have lost five of six (1-3-2). Kevin Bahl added a goal and an assist, and Yegor Sharangovich also scored. New Jersey pulled Akira Schmid after the goalie allowed three goals on seven shots in the first 10:55. Vitek Vanecek made 17 saves in relief.
"I didn't think we were ready to play at a high enough level," Devils coach Lindy Ruff said. "When a team is not ready to play, that falls on my shoulders."
New Jersey, two points behind first-place Carolina in the Metropolitan Divisioin, entered the night needing one win to clinch a playoff berth for the first time since 2018, and reach 100 points in the standings for the first time since 2012.
"Maybe it was some pressure," Devils defenseman Jonas Siegenthaler said. "We were able to clinch today if we win. Maybe that was kind of in our head."
Hughes scored his 38th and 39th goals five minutes apart to get the Devils within a goal before the midway point of the third period. Hughes also had a goal disallowed late in the second period when the Sabres successfully challenged that Sharangovich was offside.
Tuch's goals in the second period built Buffalo's lead to 5-2. Jeff Skinner set up Tuch in the high slot at 4:50 into the period, and Tuch tipped in Rasmus Dahlin's point shot on a power play with 3:22 left for his 32nd goal.
Cozens and Thompson scored 39 seconds apart to give the Sabres an early lead.
"We haven't had the first goal in a while," Dahlin said. "That was big for us. That's what we needed. Today I felt like we had the swagger back and we just have to go out there and play."
Sharangovich scored for the Devils less than two minutes later, but the Sabres responded when Cozens set up Quinn for the rookie's 14th goal.
"We weren't mentally sharp," Ruff said. "We weren't physically sharp. They skated right by us, skated in alone. We hung our goalie out to dry. When you give them rush chances, that team makes you pay." Bahl made it 3-2 with 1:14 left in the first when he snapped a shot from the right wall past Luukkonen.
THOMPSON TOUGHS IT OUT
Thompson's breakaway goal was the 100th of his NHL career. His 44 goals are the most by a Sabres player in 30 years.
That came before the All-Star center got checked by New Jersey's Timo Meier late in the first and remained in the dressing room for the first few shifts after intermission.
Thompson's return gave the Sabres an emotional lift. But coach Don Granato said Thompson was playing hurt over the final two periods and is questionable to play Saturday night at the Islanders.
MILITARY APPRECIATION
Sabres players warmed up in green jerseys with the names of local veterans on the back. The jerseys were gifted to service members in attendance for Military Appreciation Night.
Captain Kyle Okposo's jersey recognized Nicholas Warden, a U.S. Army veteran who died in 2017 while serving in Syria. A video shown during the first intermission showcased the team's adopted service dog, Nikki, who was named in Warden's honor.
UP NEXT
Devils: Host Ottawa on Saturday night.
Sabres: At the New York Islanders on Saturday night.
___
AP NHL: https://www.apnews.com/hub/NHL and https://www.twitter.com/AP_Sports