AP PHOTOS: A jarring scene in park near White House
1 of 21

|
Demonstrators protest the death of George Floyd, Sunday, May 31, 2020, near the White House in Washington. Floyd died after being restrained by Minneapolis police officers (AP Photo/Alex Brandon)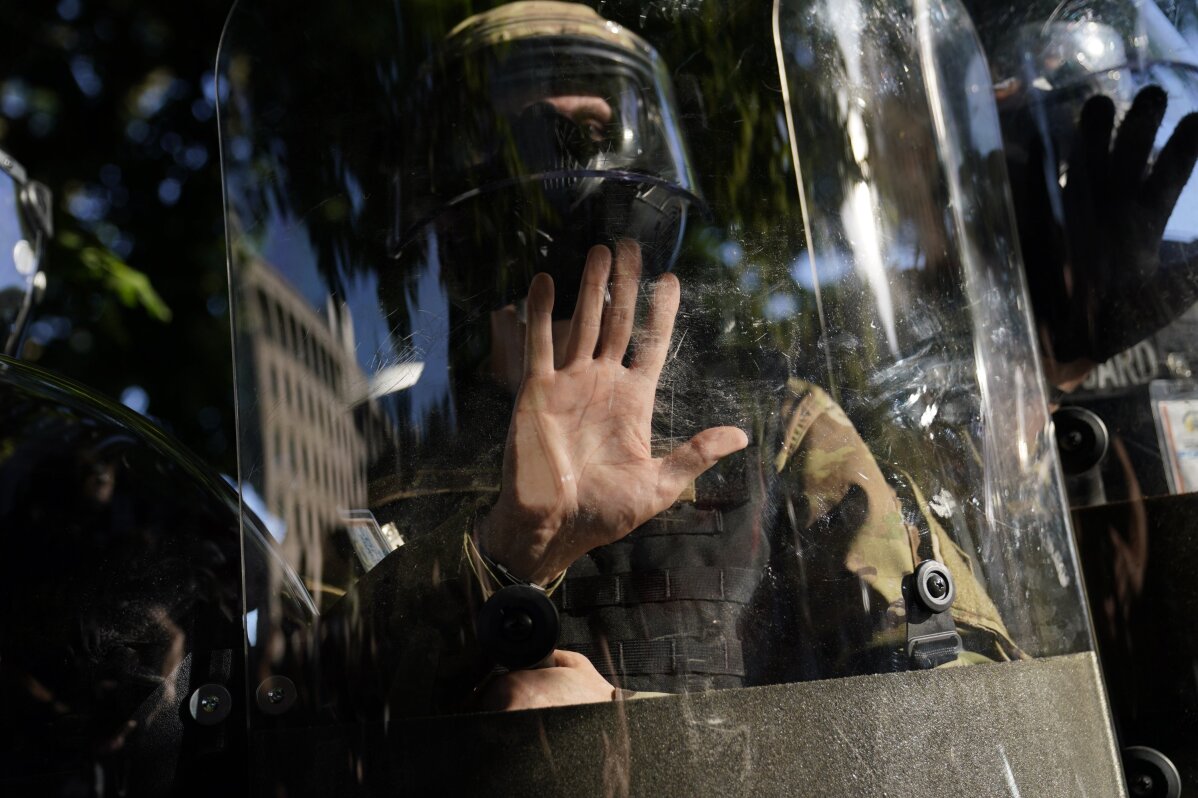 2 of 21

|
An officer holds their hand on a riot shield as demonstrators gather to protest the death of George Floyd, Monday, June 1, 2020, near the White House in Washington. Floyd died after being restrained by Minneapolis police officers. (AP Photo/Evan Vucci)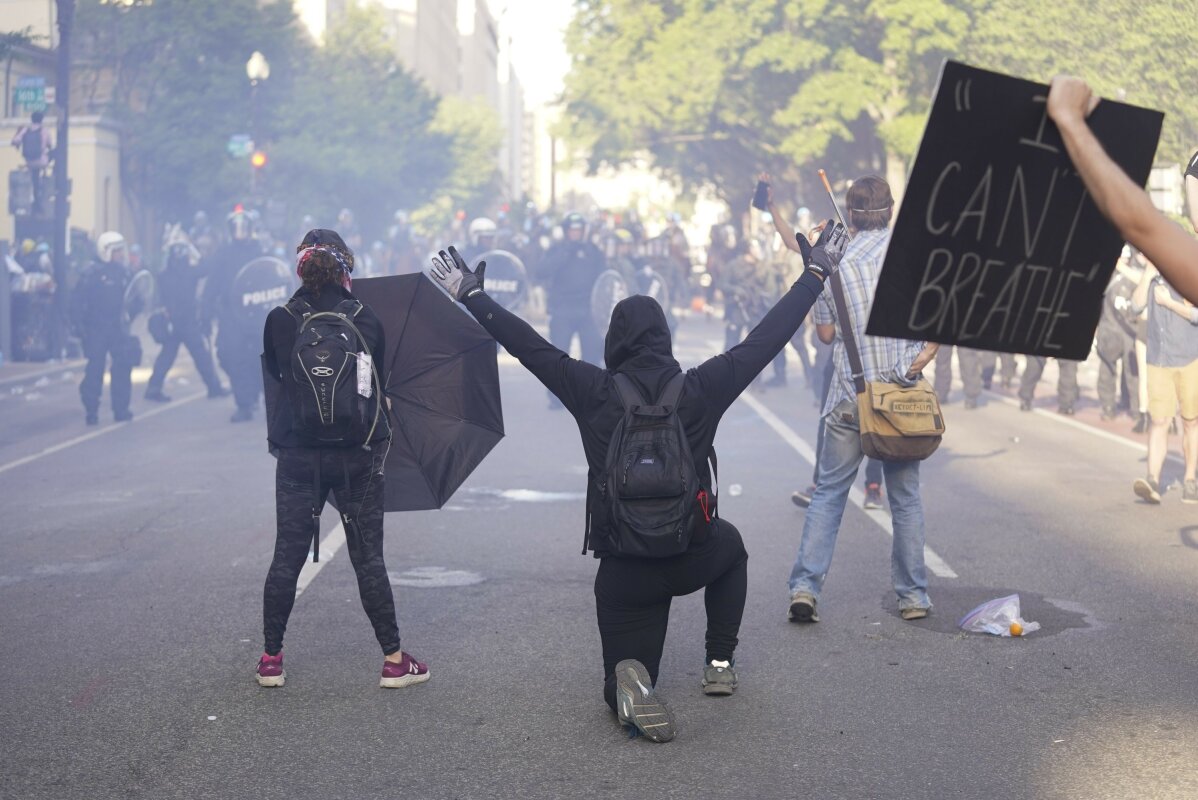 3 of 21

|
Demonstrators kneel in front of a line of police officers during a protest for the death of George Floyd, Monday, June 1, 2020, near the White House in Washington. Floyd died after being restrained by Minneapolis police officers. (AP Photo/Evan Vucci)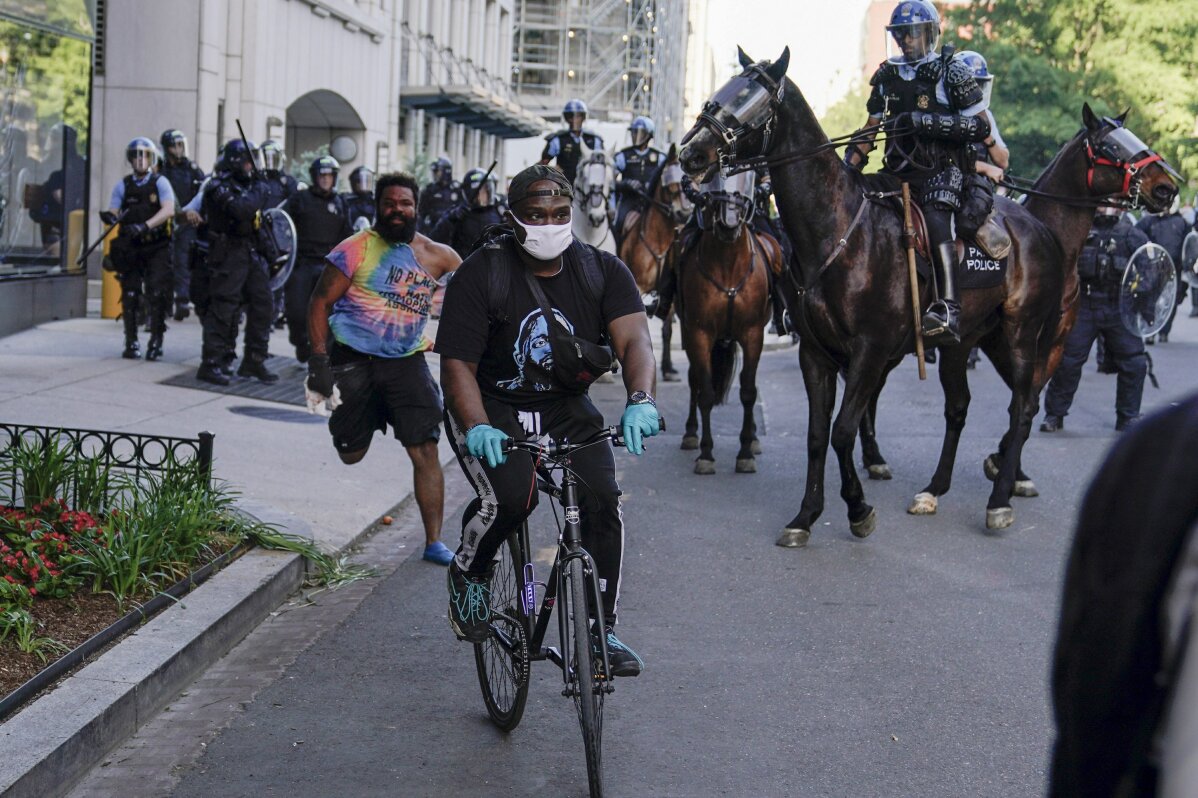 4 of 21

|
Police begin moving demonstrators who had gathered to protest the death of George Floyd, from the streets near the White House in Washington, Monday, June 1, 2020. Floyd died after being restrained by Minneapolis police officers. (AP Photo/Evan Vucci)
5 of 21

|
Police clear the area around Lafayette Park and the White House as demonstrators gather to protest the death of George Floyd, Monday, June 1, 2020, in Washington. Floyd died after being restrained by Minneapolis police officers. (AP Photo/Alex Brandon)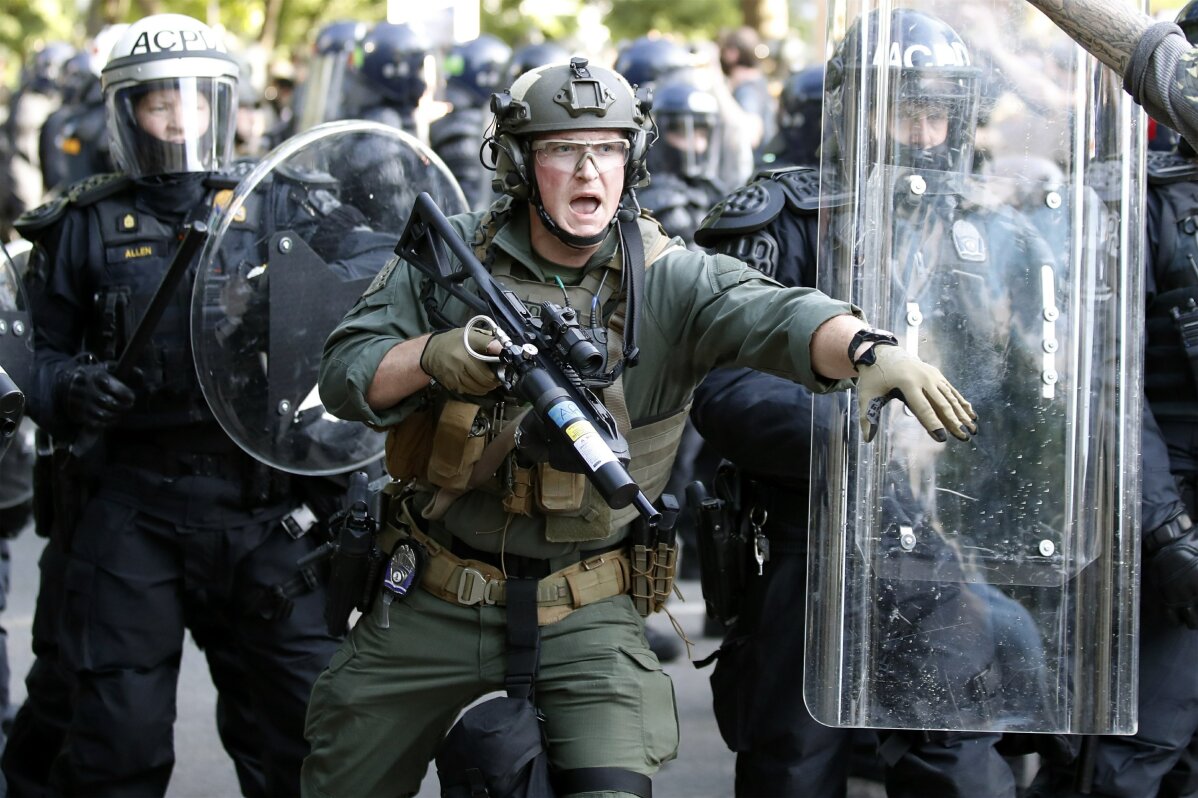 6 of 21

|
Police begin to clear demonstrators gathered as they protest the death of George Floyd, Monday, June 1, 2020, near the White House in Washington. Floyd died after being restrained by Minneapolis police officers. (AP Photo/Alex Brandon)
7 of 21

|
EDS NOTE: OBSCENITY - President Donald Trump walks from the White House through Lafayette Park to visit St. John's Church Monday, June 1, 2020, in Washington. (AP Photo/Patrick Semansky)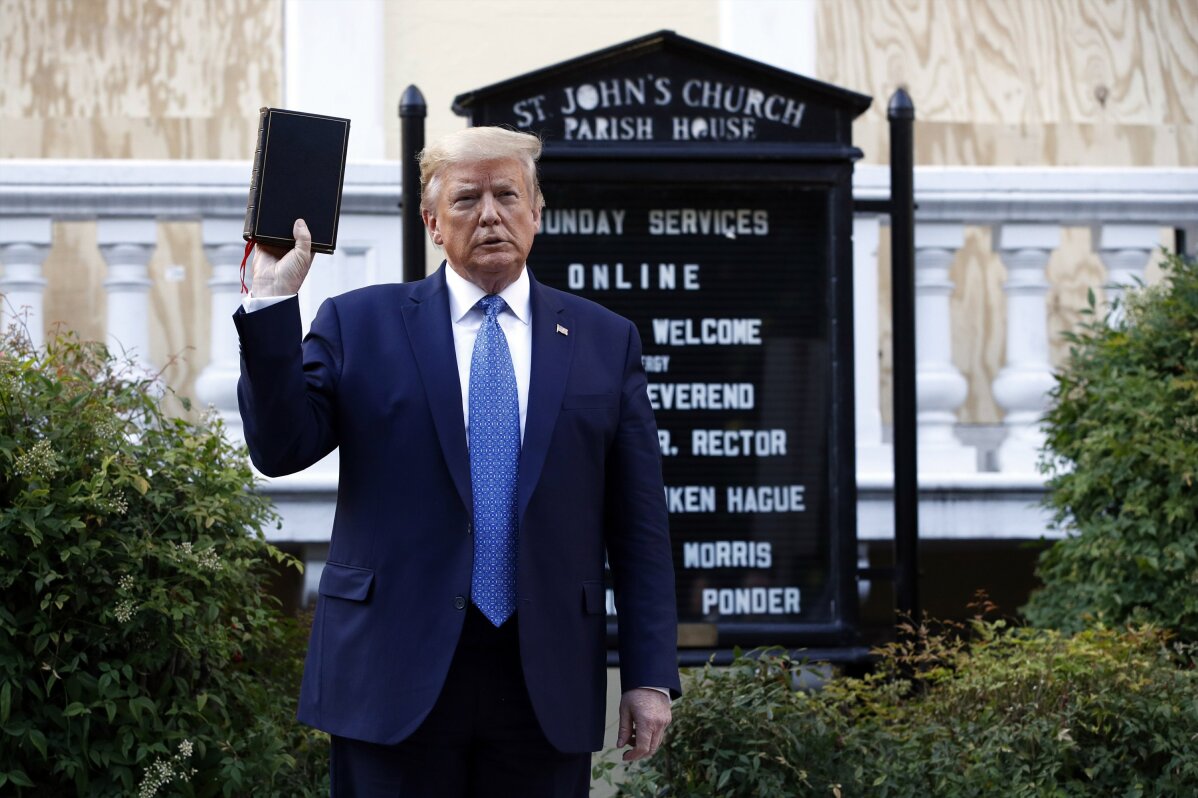 8 of 21

|
President Donald Trump holds a Bible as he visits outside St. John's Church across Lafayette Park from the White House Monday, June 1, 2020, in Washington. Part of the church was set on fire during protests on Sunday night. (AP Photo/Patrick Semansky)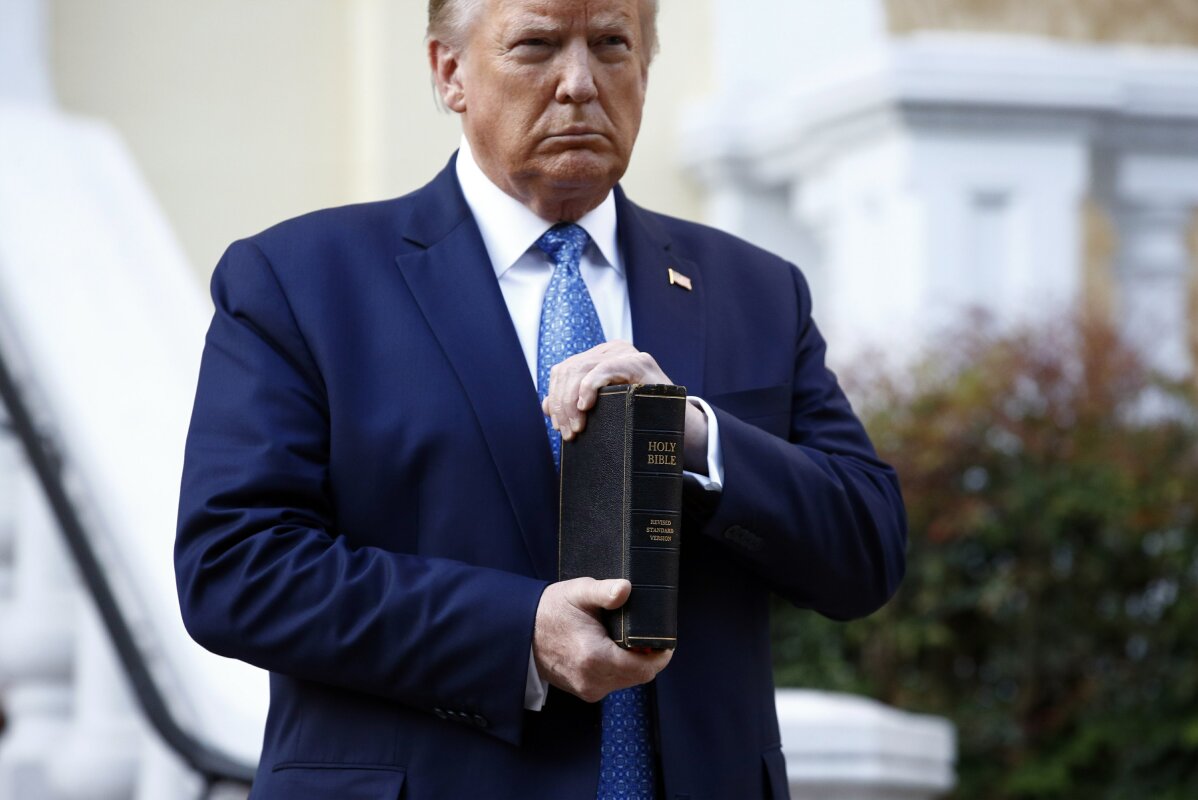 9 of 21

|
President Donald Trump holds a Bible as he visits outside St. John's Church across Lafayette Park from the White House Monday, June 1, 2020, in Washington. Part of the church was set on fire during protests on Sunday night. (AP Photo/Patrick Semansky)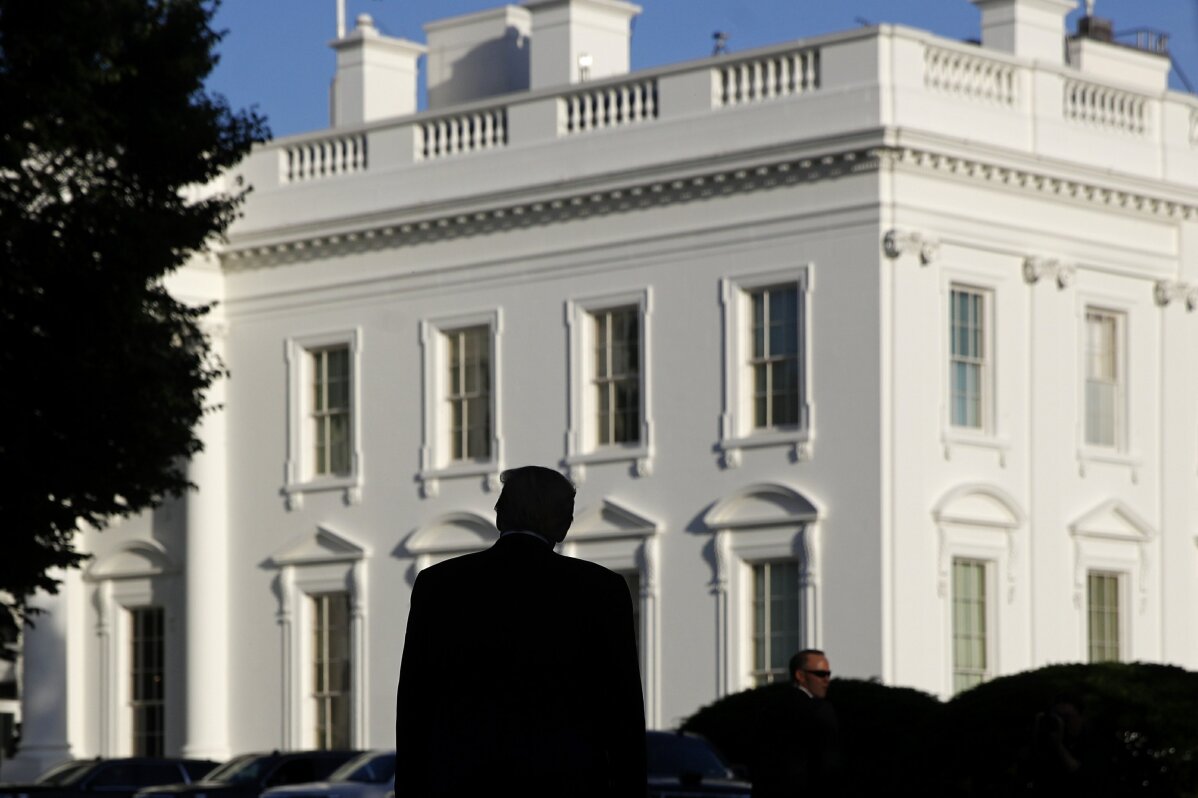 10 of 21

|
President Donald Trump returns to the White House after visiting outside St. John's Church, Monday, June 1, 2020, in Washington. Part of the church was set on fire during protests on Sunday night. (AP Photo/Patrick Semansky)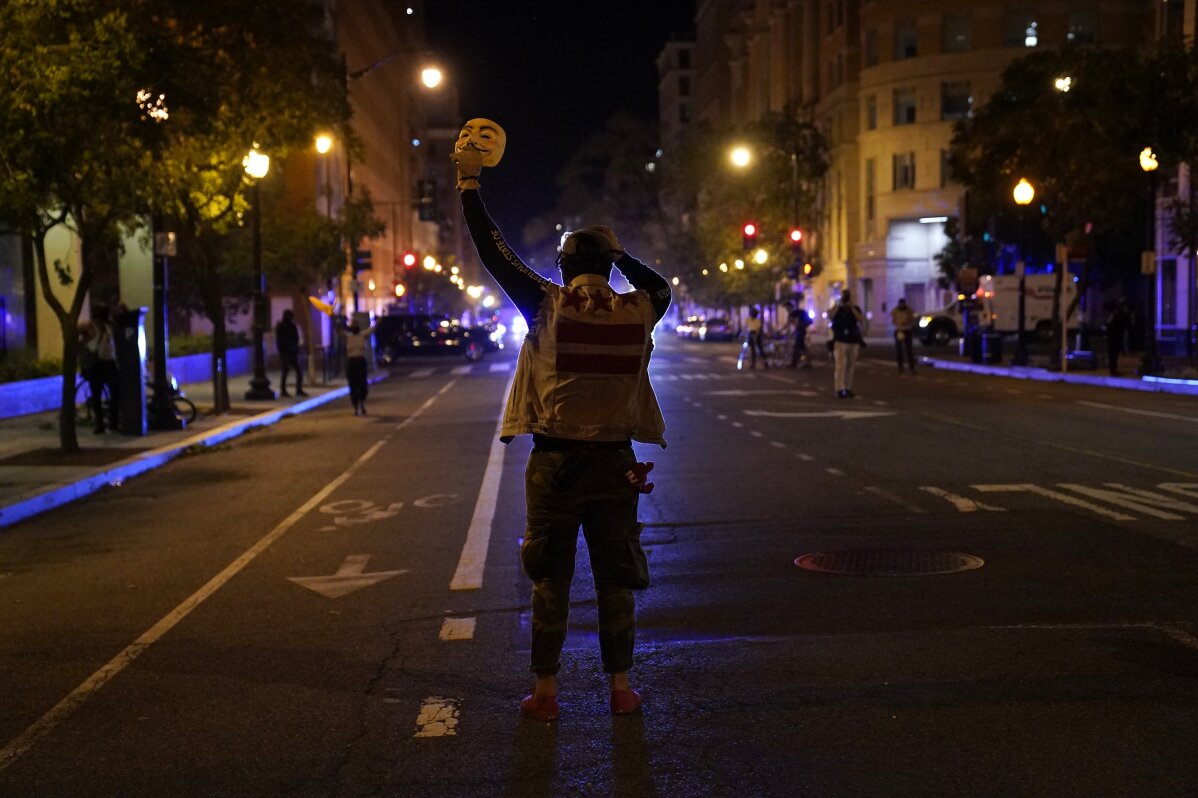 11 of 21

|
Demonstrators gather to protest the death of George Floyd, Monday, June 1, 2020, near the White House in Washington. Floyd died after being restrained by Minneapolis police officers. (AP Photo/Evan Vucci)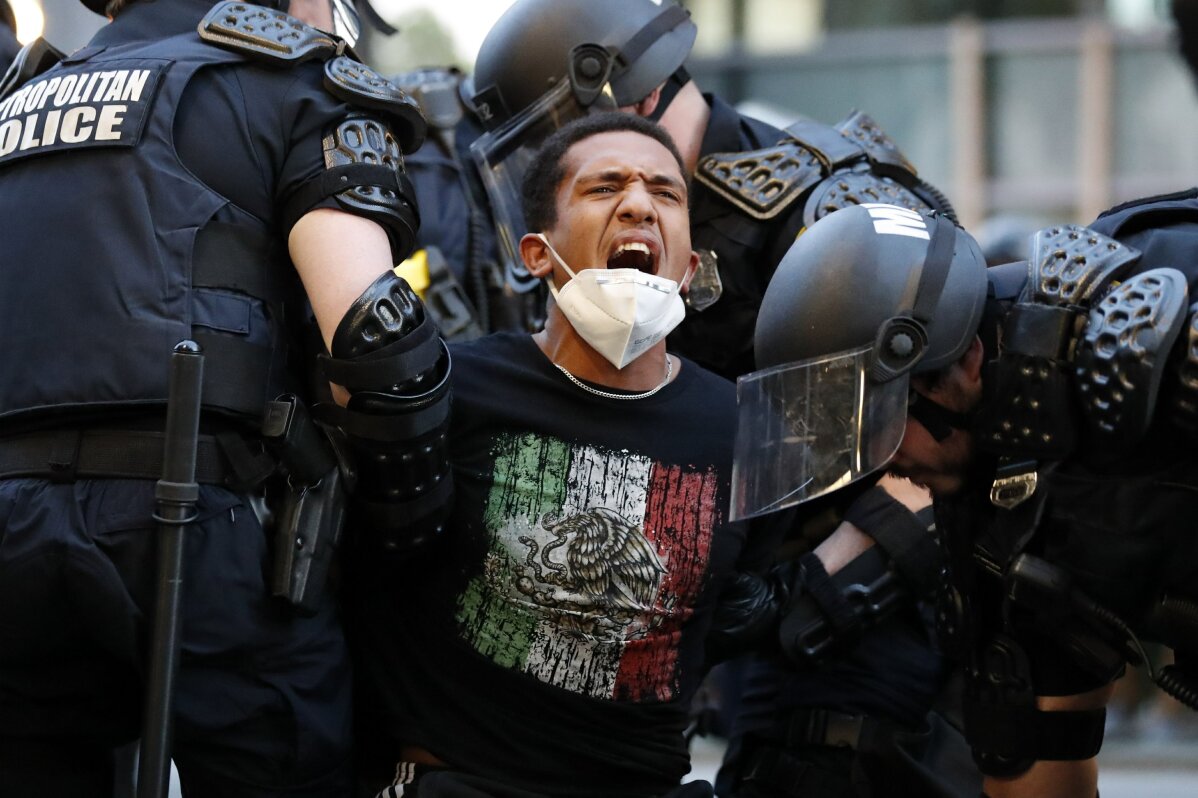 12 of 21

|
A demonstrator is taken into custody by police after a curfew took effect during a protest over the death of George Floyd, Monday, June 1, 2020, near the White House in Washington. Floyd died after being restrained by Minneapolis police officers. (AP Photo/Alex Brandon)
13 of 21

|
Demonstrators react as a helicopter circles low as people gather to protest the death of George Floyd, Monday, June 1, 2020, near the White House in Washington. Floyd died after being restrained by Minneapolis police officers. (AP Photo/Evan Vucci)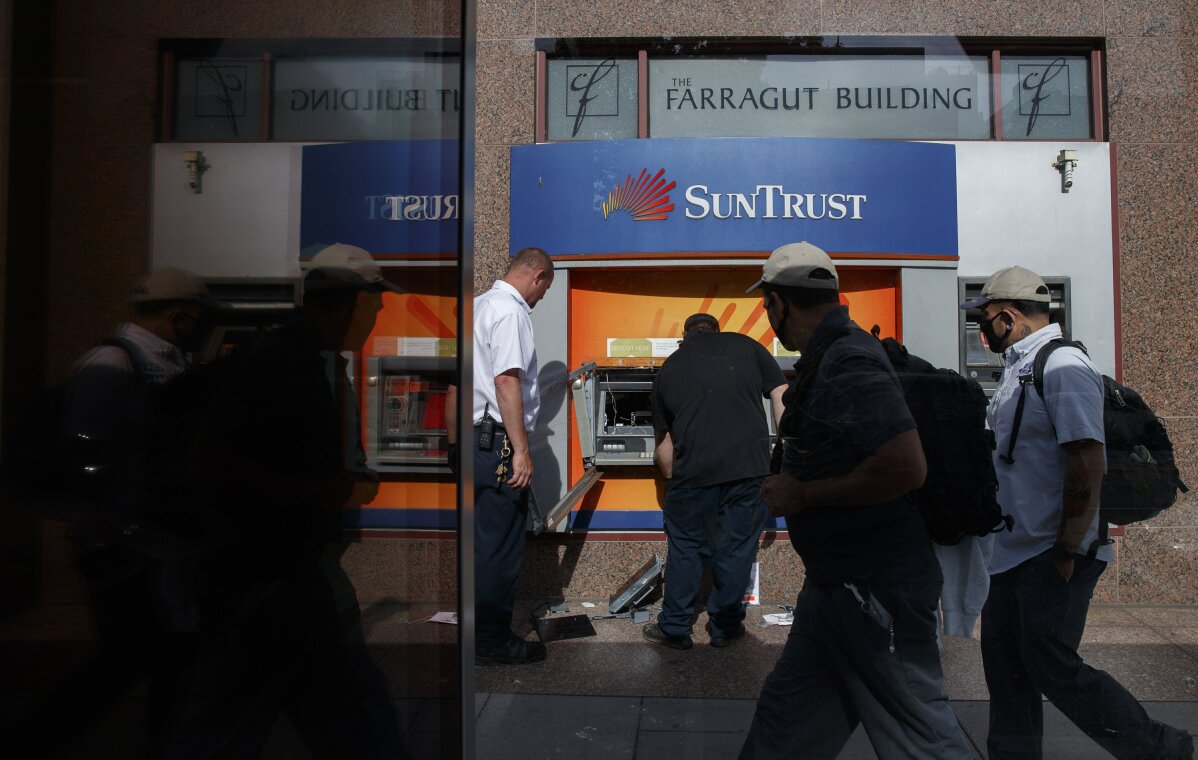 14 of 21

|
Workers repair a damaged SunTrust cash machine in Washington, Monday, June 1, 2020, after a night protests over the death of George Floyd. Floyd died after being restrained by Minneapolis police officers on May 25. (AP Photo/Carolyn Kaster)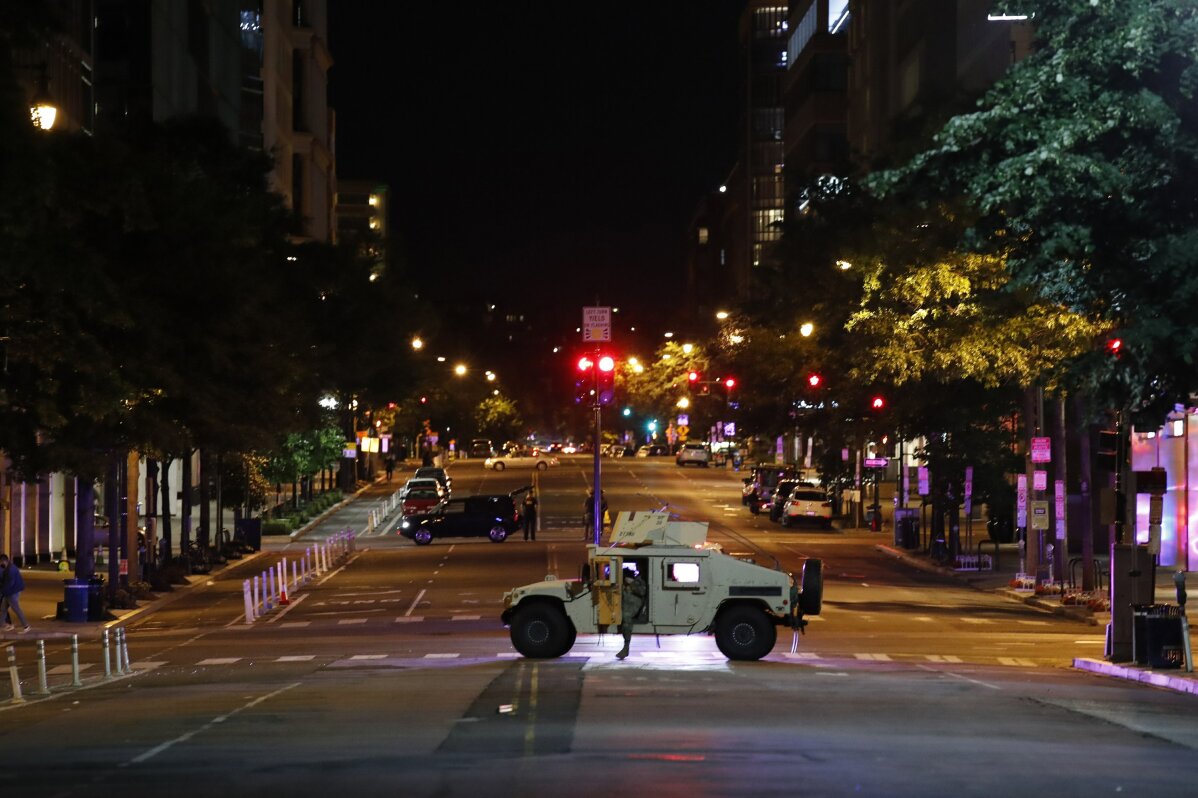 15 of 21

|
A military Humvee blocks an intersection along K Street in downtown Washington as demonstrators protest the death of George Floyd, Monday, June 1, 2020, in Washington. Floyd died after being restrained by Minneapolis police officers. (AP Photo/Alex Brandon)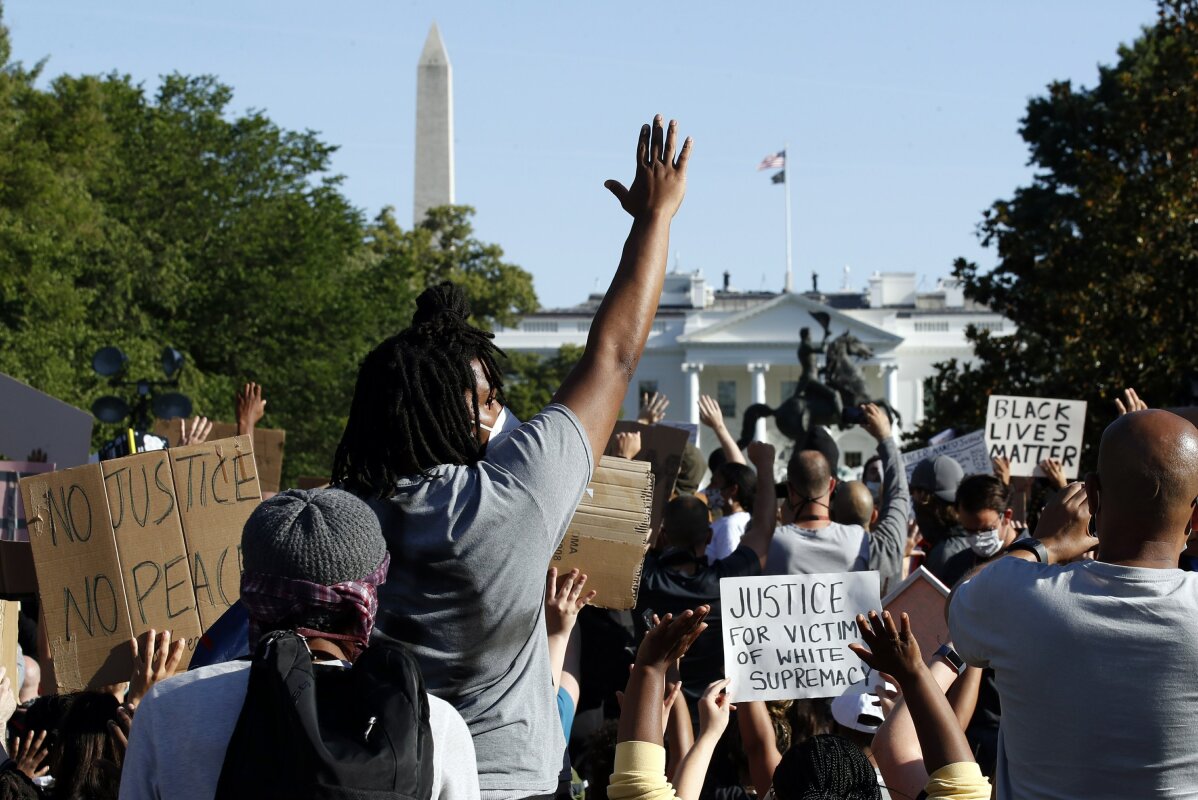 16 of 21

|
Demonstrators gather in Lafayette Park to protest the death of George Floyd, Monday, June 1, 2020, near the White House in Washington. Floyd died after being restrained by Minneapolis police officers. (AP Photo/Alex Brandon)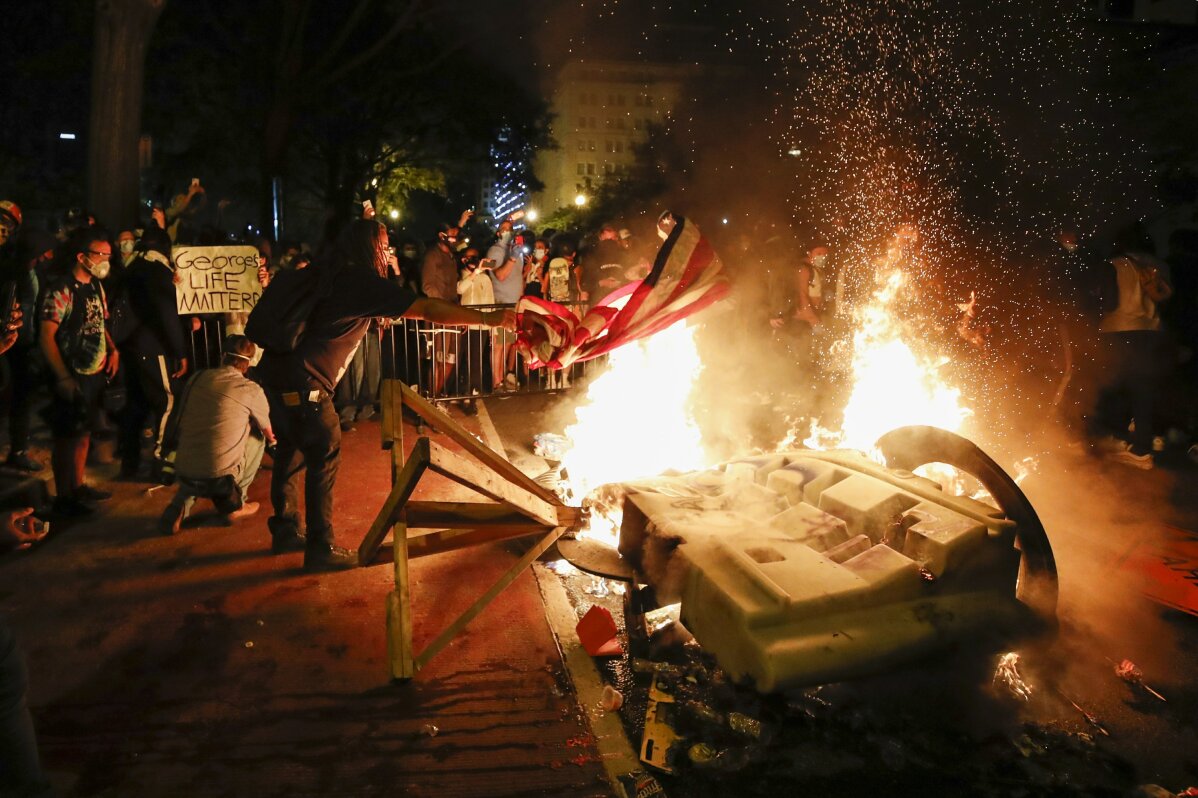 17 of 21

|
Demonstrators start a fire as they protest the death of George Floyd, Sunday, May 31, 2020, near the White House in Washington. Floyd died after being restrained by Minneapolis police officers (AP Photo/Alex Brandon)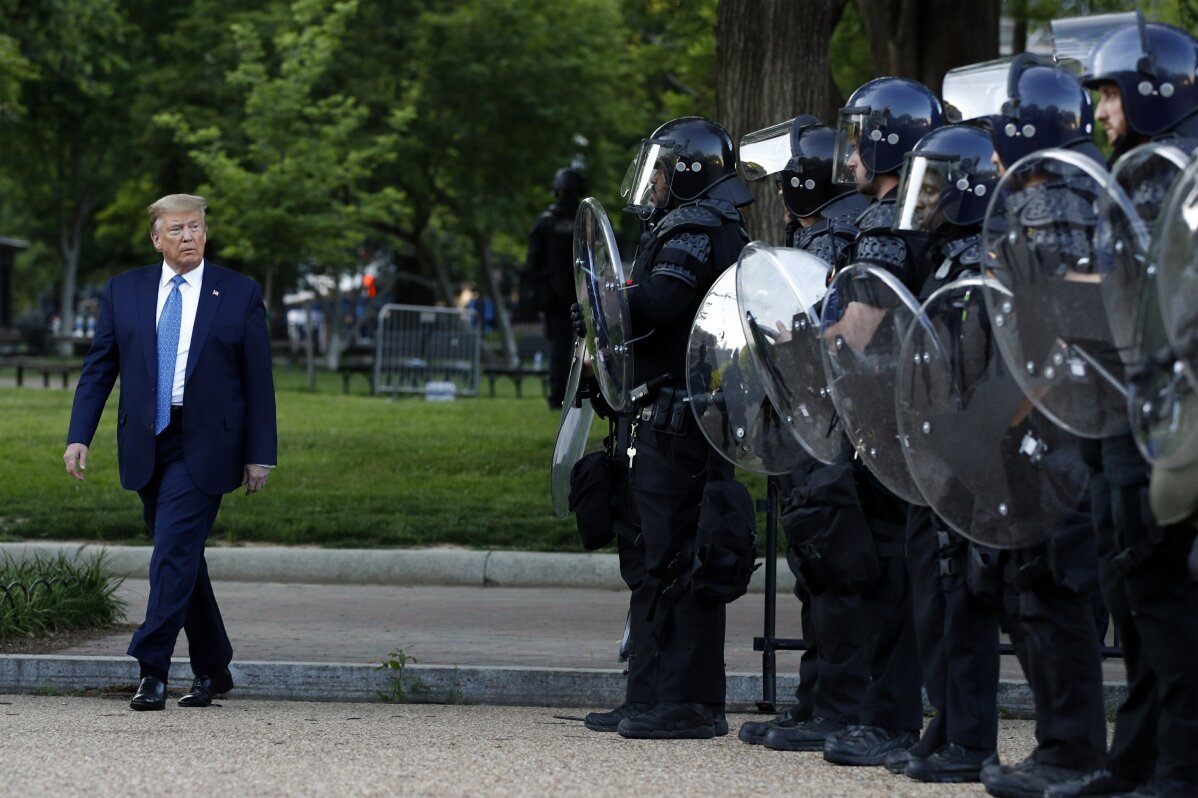 18 of 21

|
President Donald Trump walks past police in Lafayette Park after he visited outside St. John's Church across from the White House Monday, June 1, 2020, in Washington. Part of the church was set on fire during protests on Sunday night. (AP Photo/Patrick Semansky)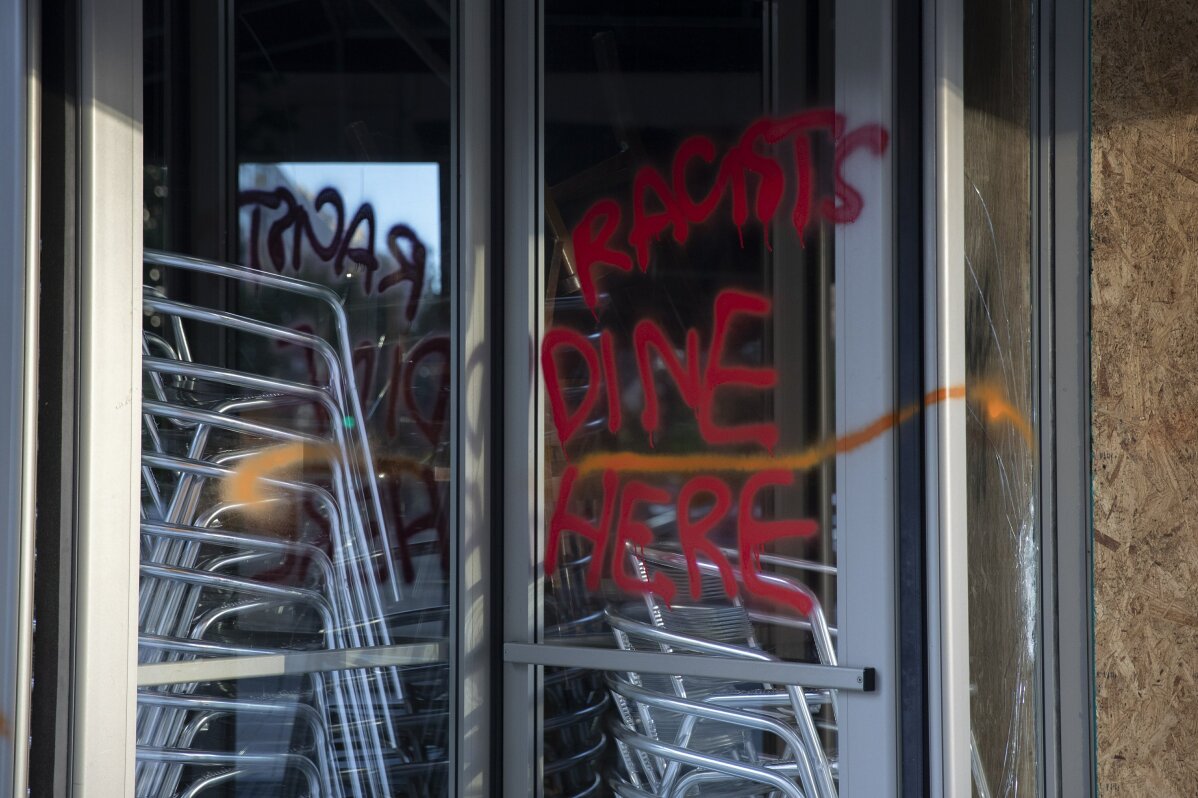 19 of 21

|
Spray paint the reads "Racists Dine Here" is seen on a revolving door or a restaurant near the White House in Washington, Monday, June 1, 2020, after a boring of protests over the death of George Floyd. Floyd died after being restrained by Minneapolis police officers. (AP Photo/Carolyn Kaster)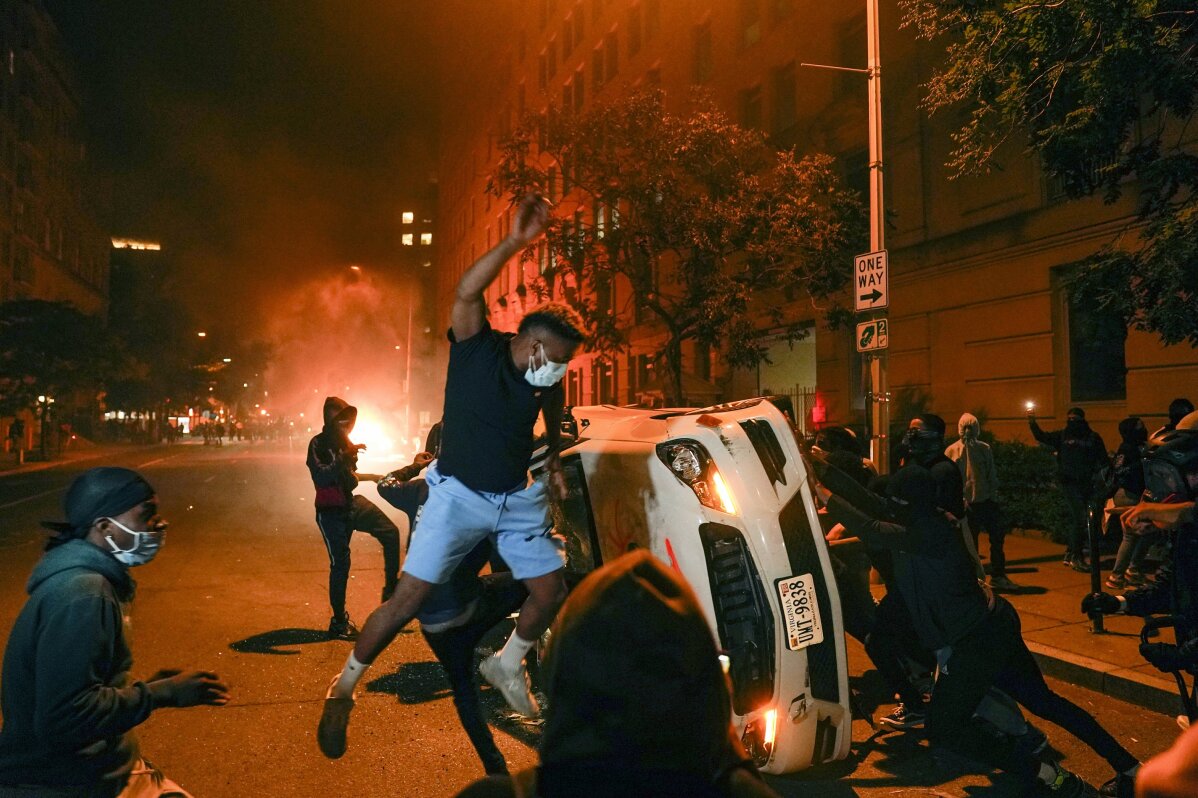 20 of 21

|
Demonstrators vandalize a car as they protest the death of George Floyd, Sunday, May 31, 2020, near the White House in Washington. Floyd died after being restrained by Minneapolis police officers. (AP Photo/Evan Vucci)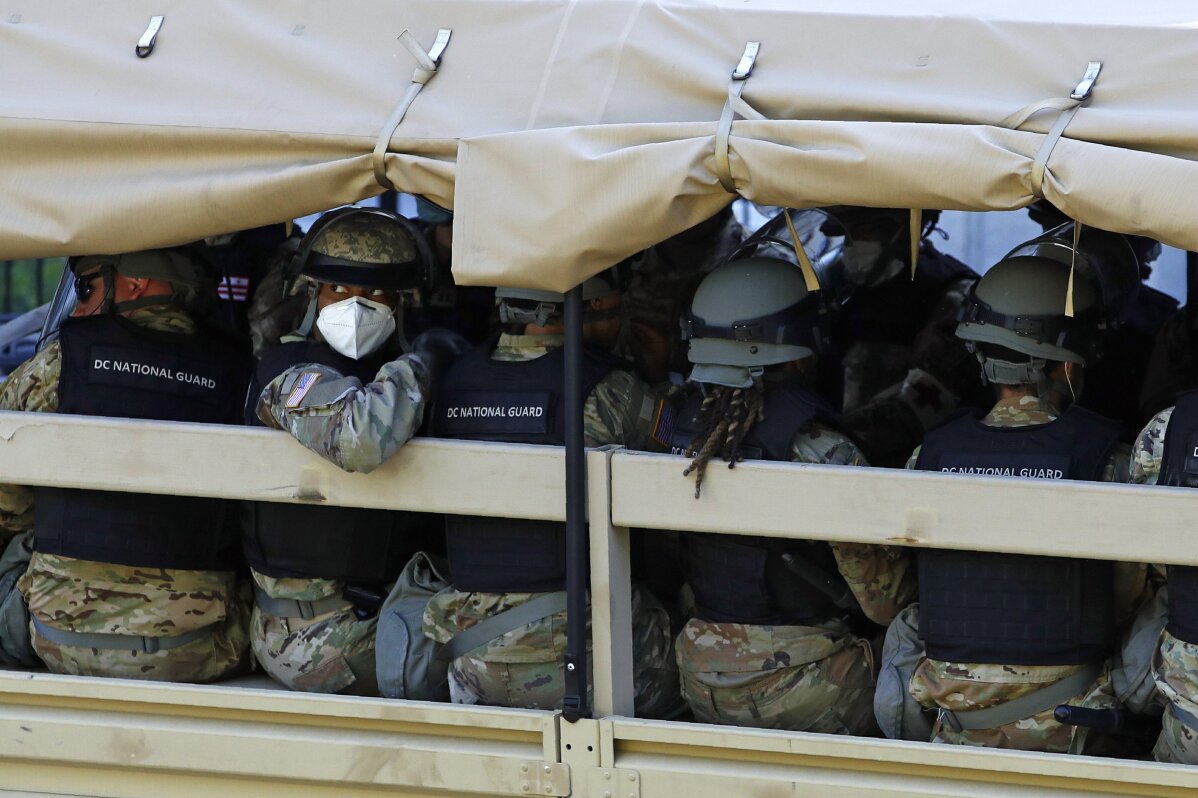 21 of 21

|
A member of the District of Columbia National Guard looks out from a vehicle driving on West Executive Avenue at the White House, Monday, June 1, 2020, in Washington, as protesters over the death of George Floyd, a black man who died in police custody in Minneapolis, demonstrate nearby. (AP Photo/Patrick Semansky)
AP PHOTOS: A jarring scene in park near White House
1 of 21

|
Demonstrators protest the death of George Floyd, Sunday, May 31, 2020, near the White House in Washington. Floyd died after being restrained by Minneapolis police officers (AP Photo/Alex Brandon)
1 of 21
Demonstrators protest the death of George Floyd, Sunday, May 31, 2020, near the White House in Washington. Floyd died after being restrained by Minneapolis police officers (AP Photo/Alex Brandon)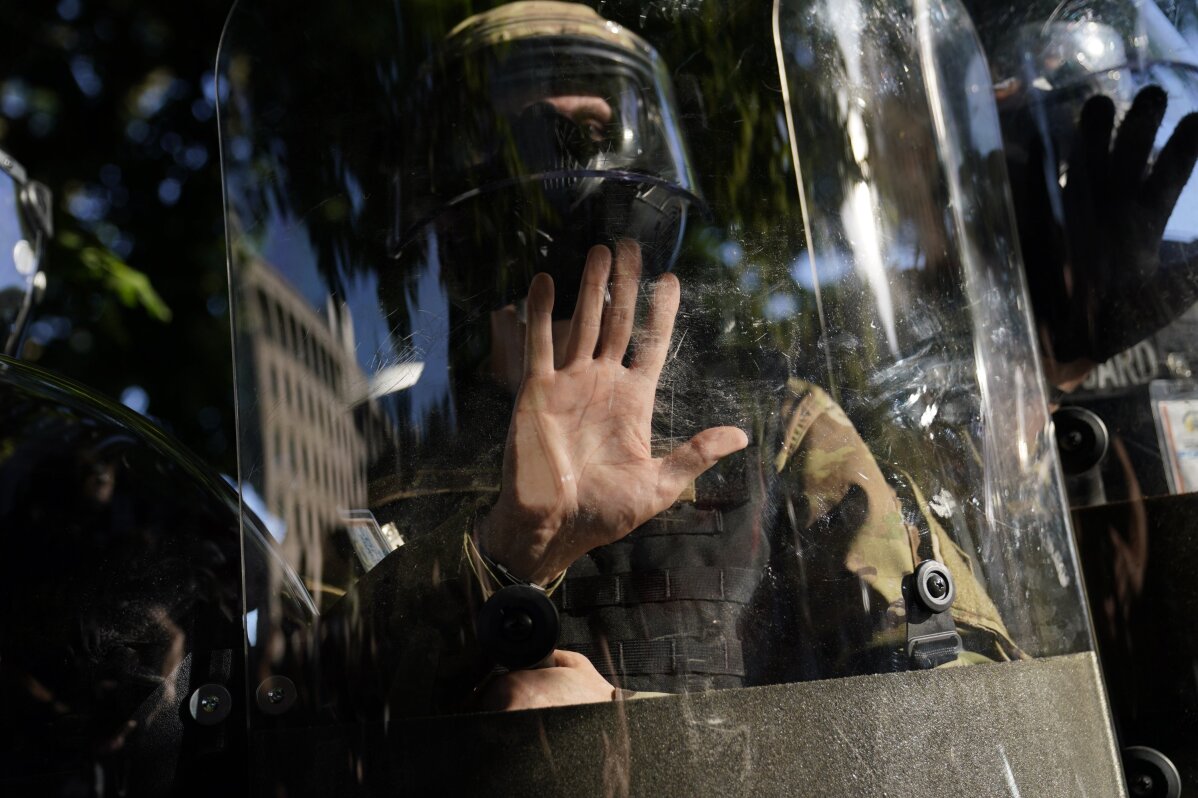 2 of 21

|
An officer holds their hand on a riot shield as demonstrators gather to protest the death of George Floyd, Monday, June 1, 2020, near the White House in Washington. Floyd died after being restrained by Minneapolis police officers. (AP Photo/Evan Vucci)
2 of 21
An officer holds their hand on a riot shield as demonstrators gather to protest the death of George Floyd, Monday, June 1, 2020, near the White House in Washington. Floyd died after being restrained by Minneapolis police officers. (AP Photo/Evan Vucci)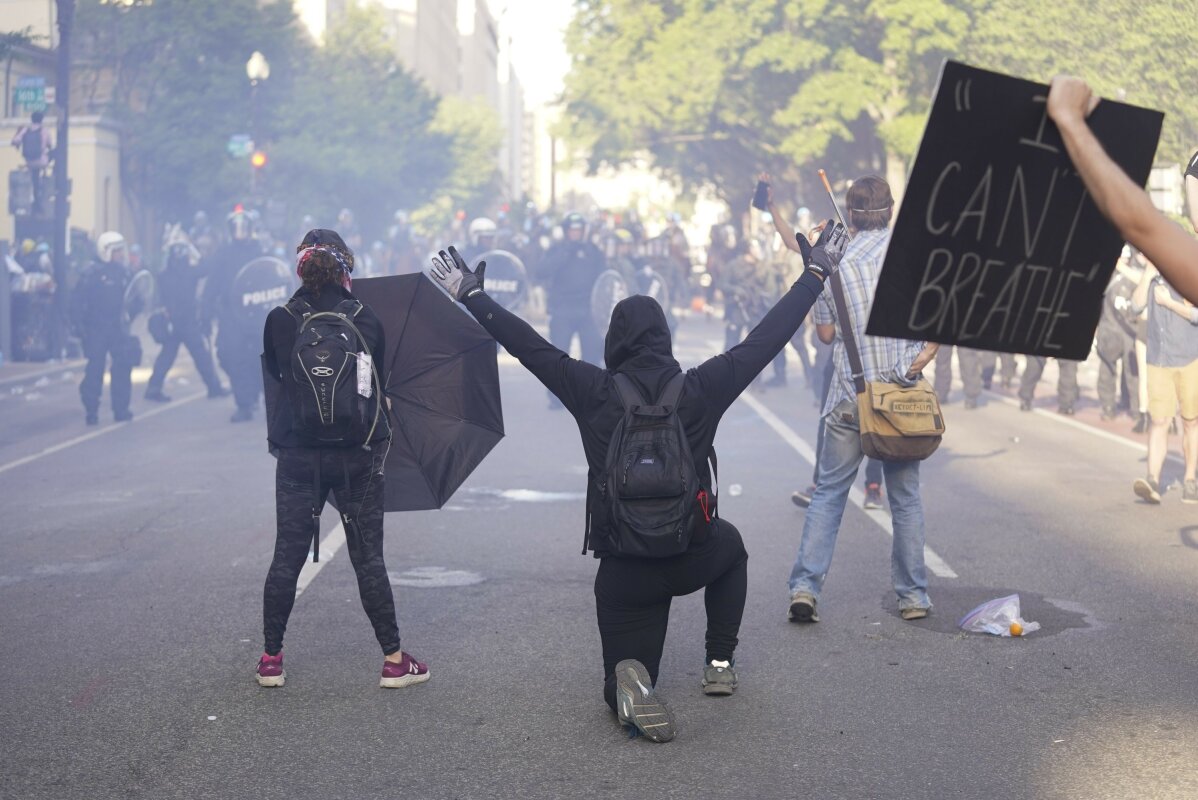 3 of 21

|
Demonstrators kneel in front of a line of police officers during a protest for the death of George Floyd, Monday, June 1, 2020, near the White House in Washington. Floyd died after being restrained by Minneapolis police officers. (AP Photo/Evan Vucci)
3 of 21
Demonstrators kneel in front of a line of police officers during a protest for the death of George Floyd, Monday, June 1, 2020, near the White House in Washington. Floyd died after being restrained by Minneapolis police officers. (AP Photo/Evan Vucci)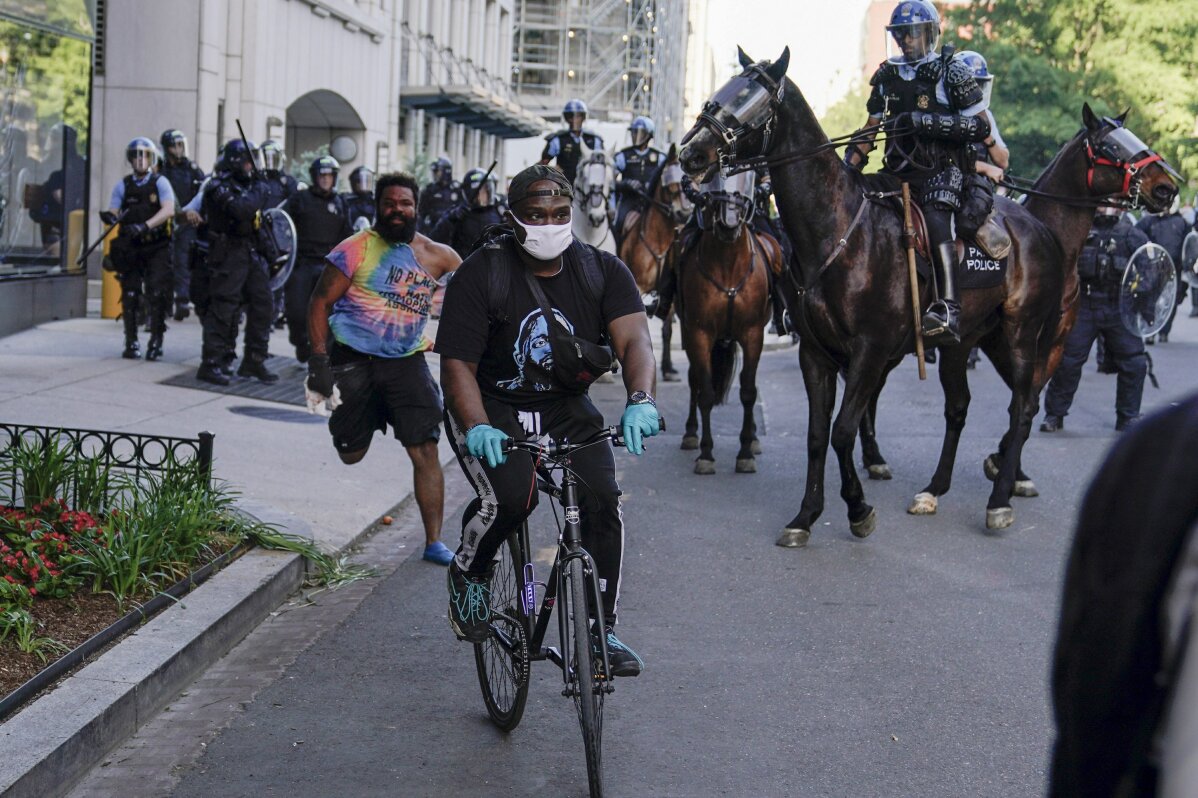 4 of 21

|
Police begin moving demonstrators who had gathered to protest the death of George Floyd, from the streets near the White House in Washington, Monday, June 1, 2020. Floyd died after being restrained by Minneapolis police officers. (AP Photo/Evan Vucci)
4 of 21
Police begin moving demonstrators who had gathered to protest the death of George Floyd, from the streets near the White House in Washington, Monday, June 1, 2020. Floyd died after being restrained by Minneapolis police officers. (AP Photo/Evan Vucci)
5 of 21

|
Police clear the area around Lafayette Park and the White House as demonstrators gather to protest the death of George Floyd, Monday, June 1, 2020, in Washington. Floyd died after being restrained by Minneapolis police officers. (AP Photo/Alex Brandon)
5 of 21
Police clear the area around Lafayette Park and the White House as demonstrators gather to protest the death of George Floyd, Monday, June 1, 2020, in Washington. Floyd died after being restrained by Minneapolis police officers. (AP Photo/Alex Brandon)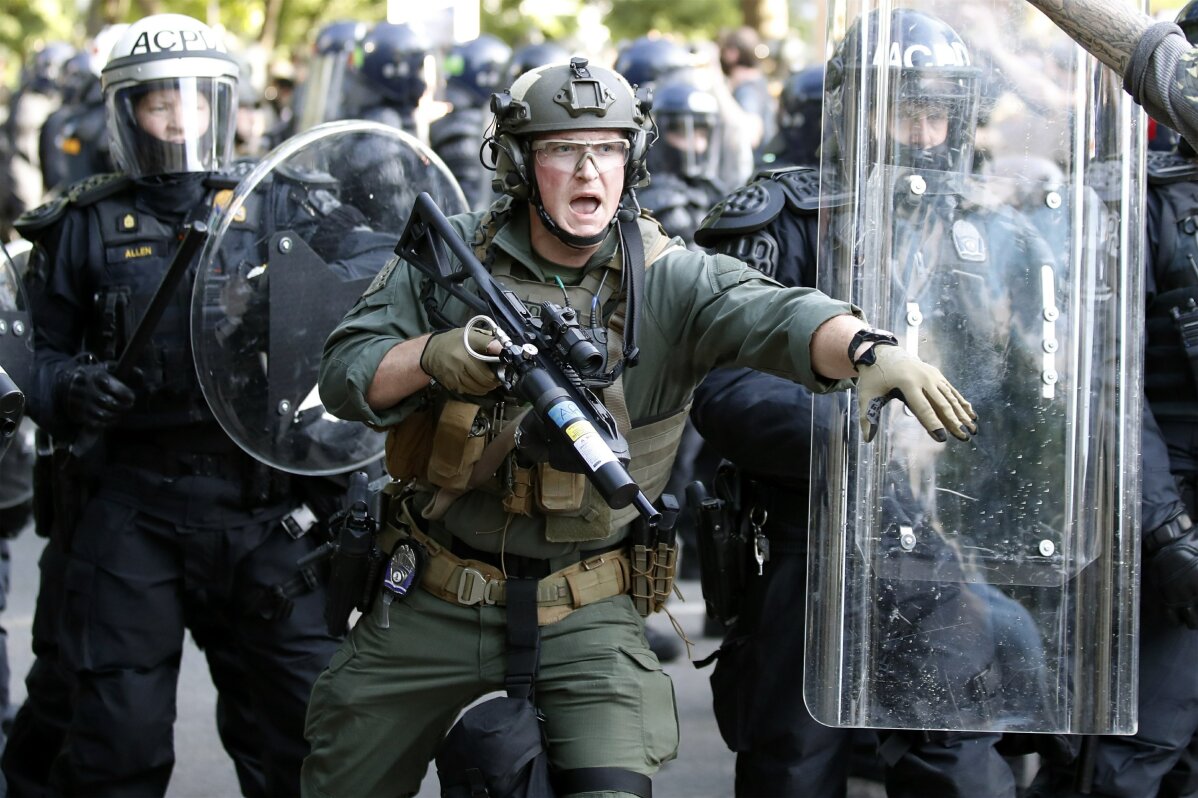 6 of 21

|
Police begin to clear demonstrators gathered as they protest the death of George Floyd, Monday, June 1, 2020, near the White House in Washington. Floyd died after being restrained by Minneapolis police officers. (AP Photo/Alex Brandon)
6 of 21
Police begin to clear demonstrators gathered as they protest the death of George Floyd, Monday, June 1, 2020, near the White House in Washington. Floyd died after being restrained by Minneapolis police officers. (AP Photo/Alex Brandon)
7 of 21

|
EDS NOTE: OBSCENITY - President Donald Trump walks from the White House through Lafayette Park to visit St. John's Church Monday, June 1, 2020, in Washington. (AP Photo/Patrick Semansky)
7 of 21
EDS NOTE: OBSCENITY - President Donald Trump walks from the White House through Lafayette Park to visit St. John's Church Monday, June 1, 2020, in Washington. (AP Photo/Patrick Semansky)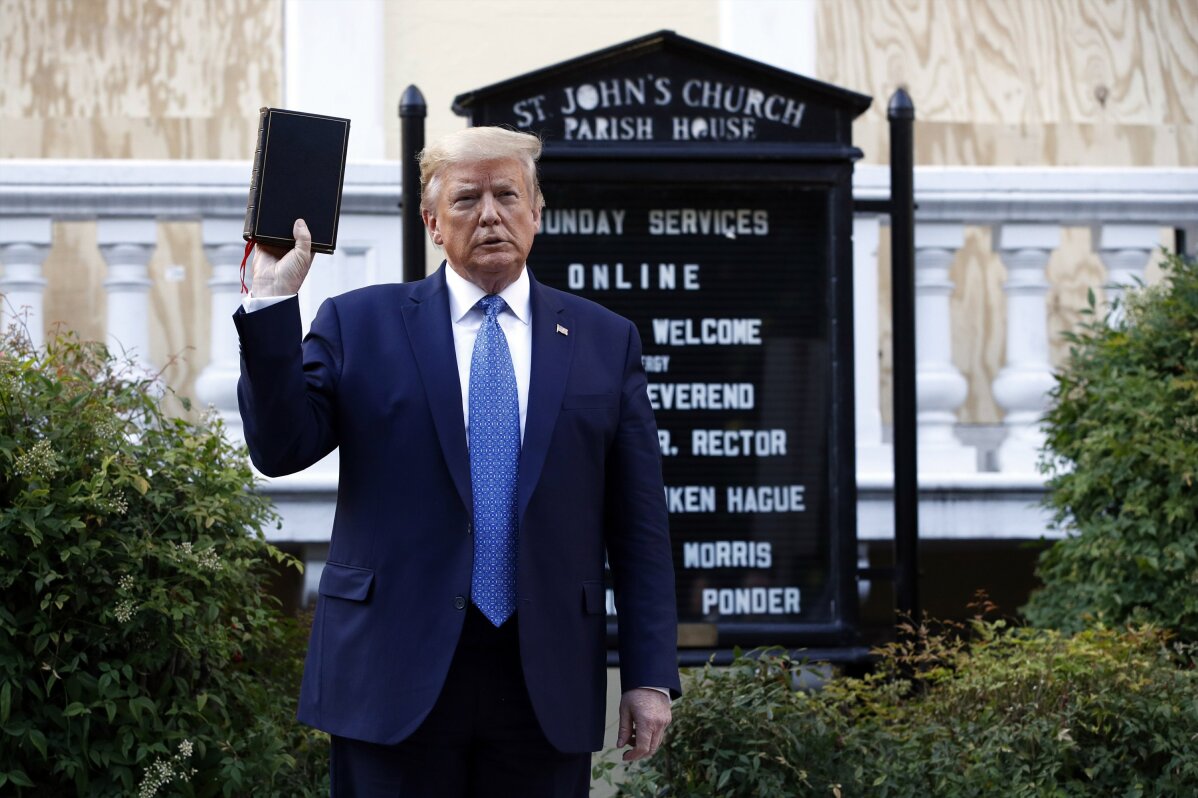 8 of 21

|
President Donald Trump holds a Bible as he visits outside St. John's Church across Lafayette Park from the White House Monday, June 1, 2020, in Washington. Part of the church was set on fire during protests on Sunday night. (AP Photo/Patrick Semansky)
8 of 21
President Donald Trump holds a Bible as he visits outside St. John's Church across Lafayette Park from the White House Monday, June 1, 2020, in Washington. Part of the church was set on fire during protests on Sunday night. (AP Photo/Patrick Semansky)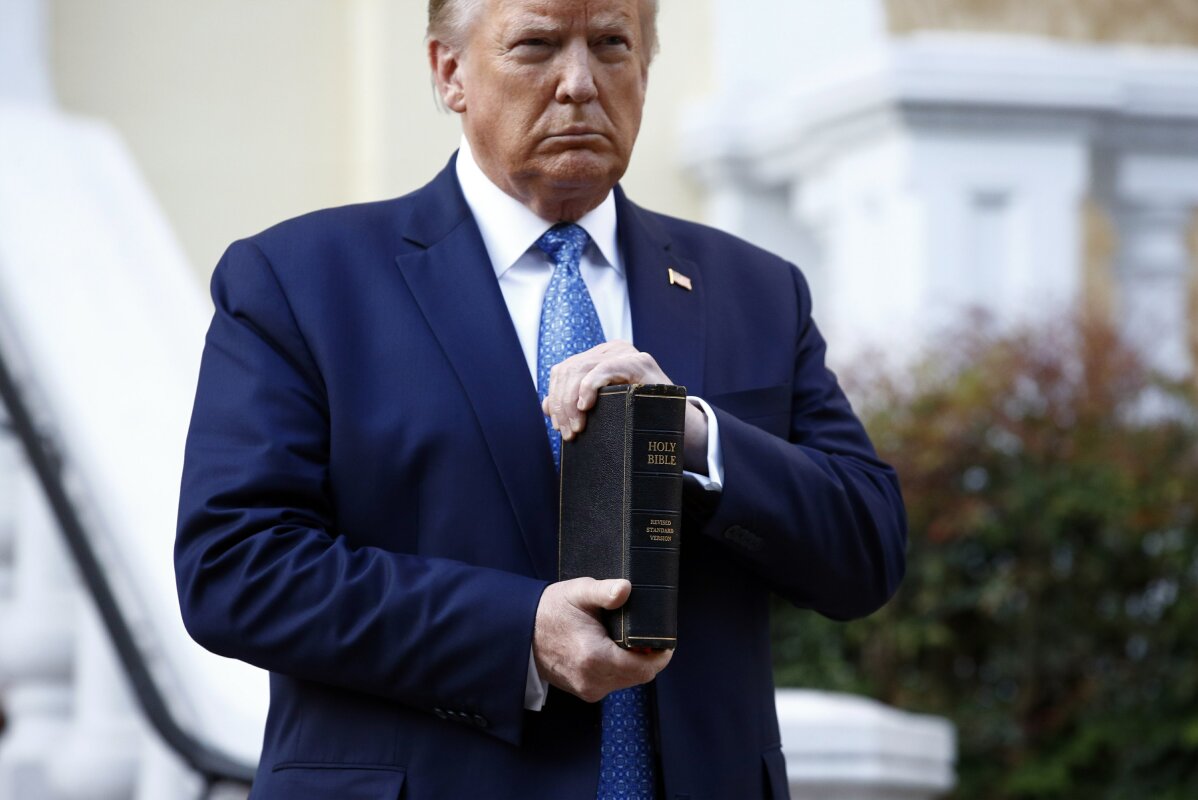 9 of 21

|
President Donald Trump holds a Bible as he visits outside St. John's Church across Lafayette Park from the White House Monday, June 1, 2020, in Washington. Part of the church was set on fire during protests on Sunday night. (AP Photo/Patrick Semansky)
9 of 21
President Donald Trump holds a Bible as he visits outside St. John's Church across Lafayette Park from the White House Monday, June 1, 2020, in Washington. Part of the church was set on fire during protests on Sunday night. (AP Photo/Patrick Semansky)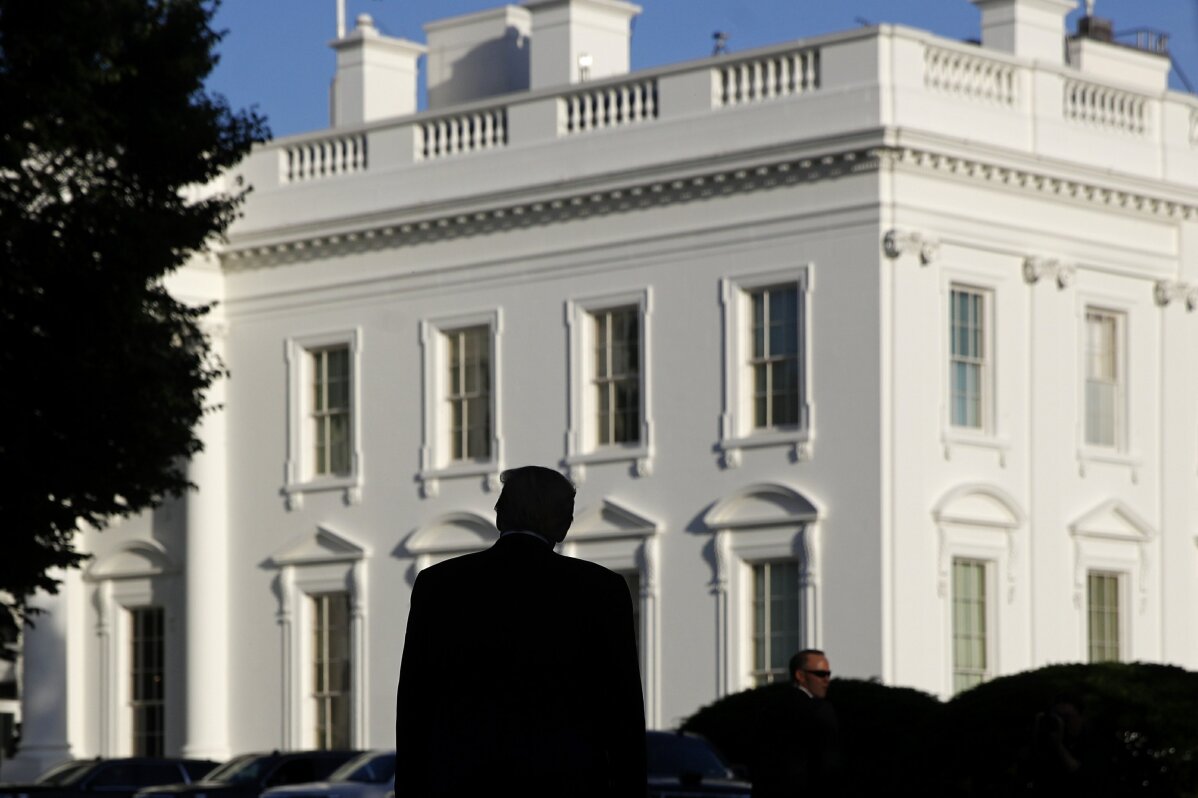 10 of 21

|
President Donald Trump returns to the White House after visiting outside St. John's Church, Monday, June 1, 2020, in Washington. Part of the church was set on fire during protests on Sunday night. (AP Photo/Patrick Semansky)
10 of 21
President Donald Trump returns to the White House after visiting outside St. John's Church, Monday, June 1, 2020, in Washington. Part of the church was set on fire during protests on Sunday night. (AP Photo/Patrick Semansky)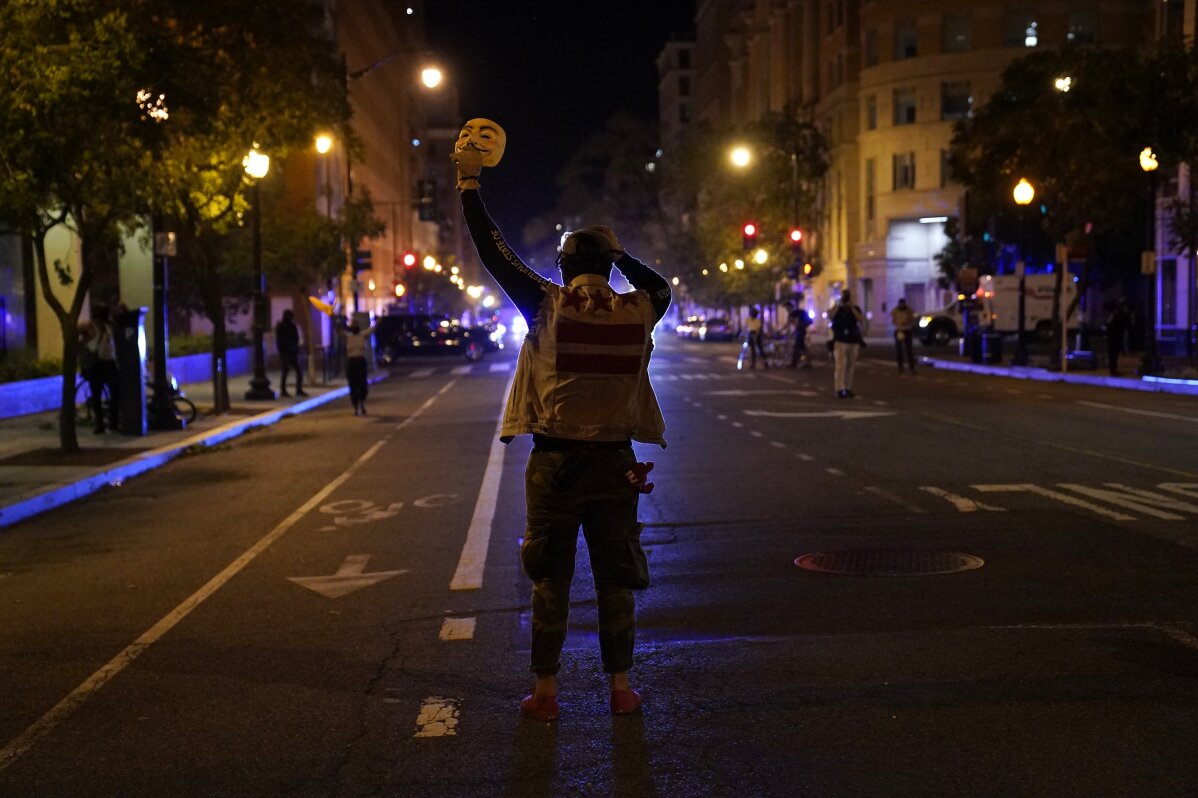 11 of 21

|
Demonstrators gather to protest the death of George Floyd, Monday, June 1, 2020, near the White House in Washington. Floyd died after being restrained by Minneapolis police officers. (AP Photo/Evan Vucci)
11 of 21
Demonstrators gather to protest the death of George Floyd, Monday, June 1, 2020, near the White House in Washington. Floyd died after being restrained by Minneapolis police officers. (AP Photo/Evan Vucci)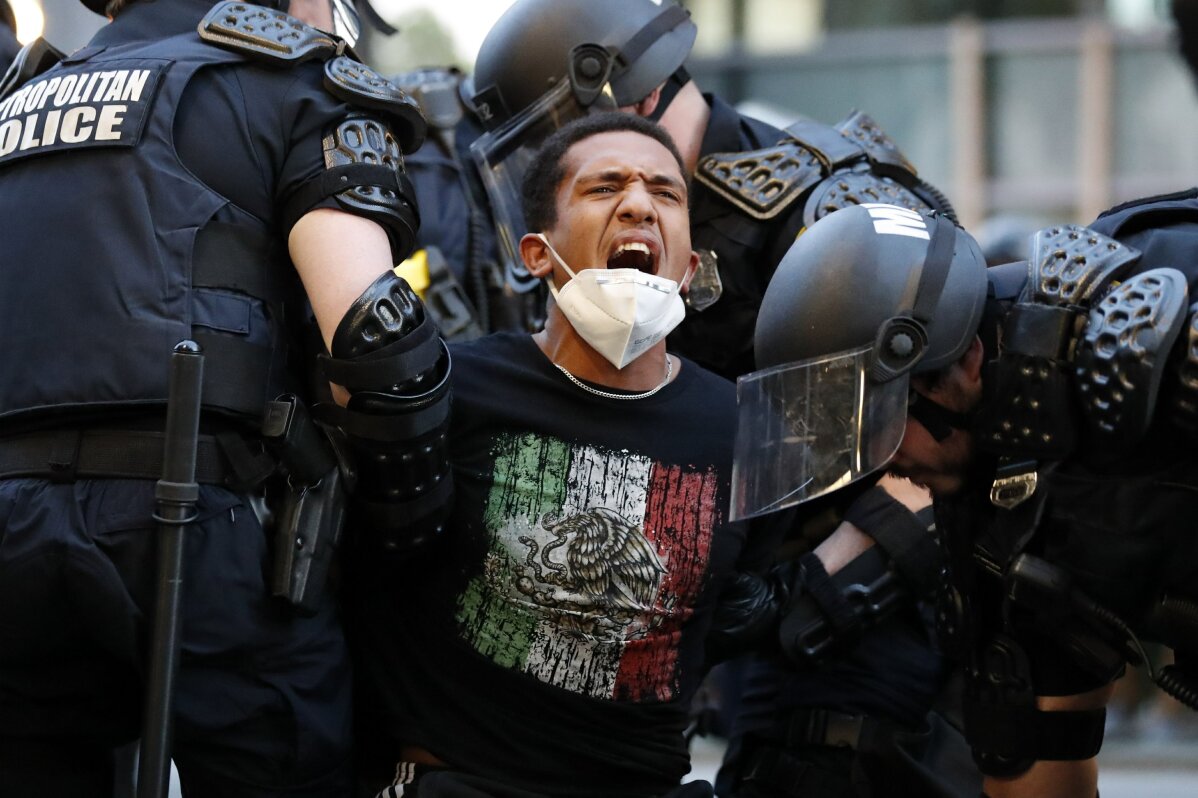 12 of 21

|
A demonstrator is taken into custody by police after a curfew took effect during a protest over the death of George Floyd, Monday, June 1, 2020, near the White House in Washington. Floyd died after being restrained by Minneapolis police officers. (AP Photo/Alex Brandon)
12 of 21
A demonstrator is taken into custody by police after a curfew took effect during a protest over the death of George Floyd, Monday, June 1, 2020, near the White House in Washington. Floyd died after being restrained by Minneapolis police officers. (AP Photo/Alex Brandon)
13 of 21

|
Demonstrators react as a helicopter circles low as people gather to protest the death of George Floyd, Monday, June 1, 2020, near the White House in Washington. Floyd died after being restrained by Minneapolis police officers. (AP Photo/Evan Vucci)
13 of 21
Demonstrators react as a helicopter circles low as people gather to protest the death of George Floyd, Monday, June 1, 2020, near the White House in Washington. Floyd died after being restrained by Minneapolis police officers. (AP Photo/Evan Vucci)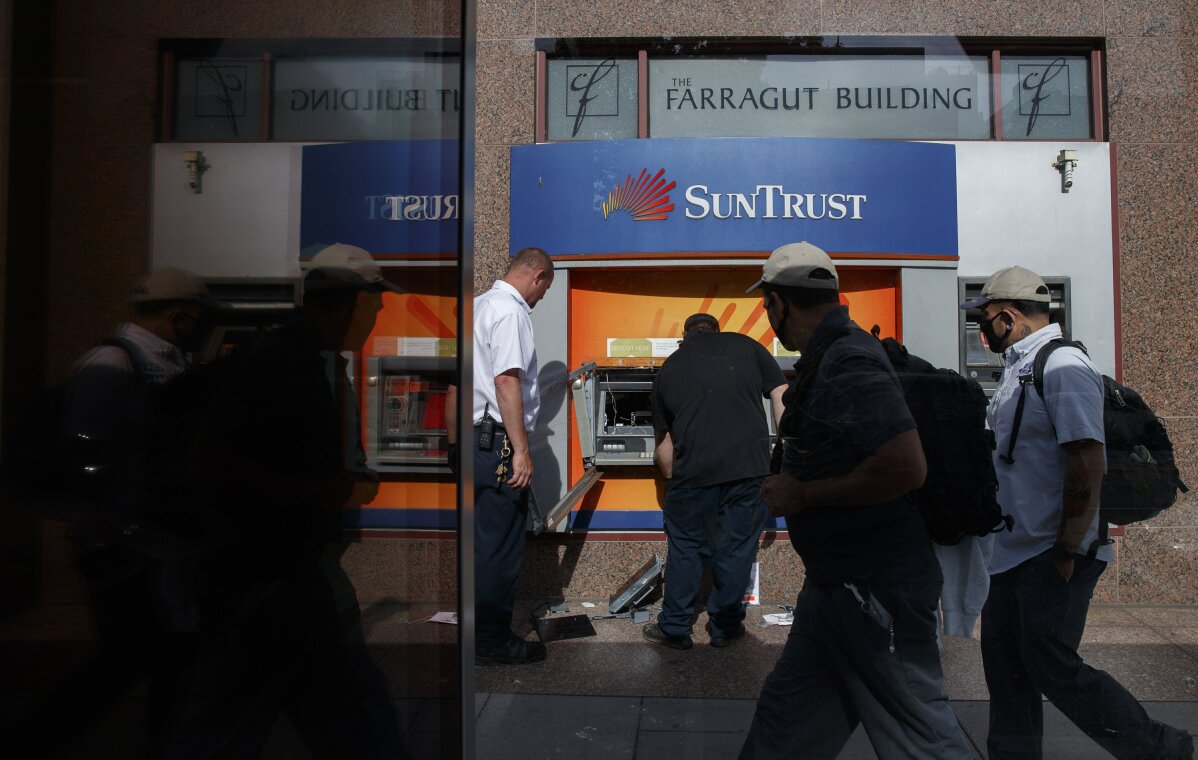 14 of 21

|
Workers repair a damaged SunTrust cash machine in Washington, Monday, June 1, 2020, after a night protests over the death of George Floyd. Floyd died after being restrained by Minneapolis police officers on May 25. (AP Photo/Carolyn Kaster)
14 of 21
Workers repair a damaged SunTrust cash machine in Washington, Monday, June 1, 2020, after a night protests over the death of George Floyd. Floyd died after being restrained by Minneapolis police officers on May 25. (AP Photo/Carolyn Kaster)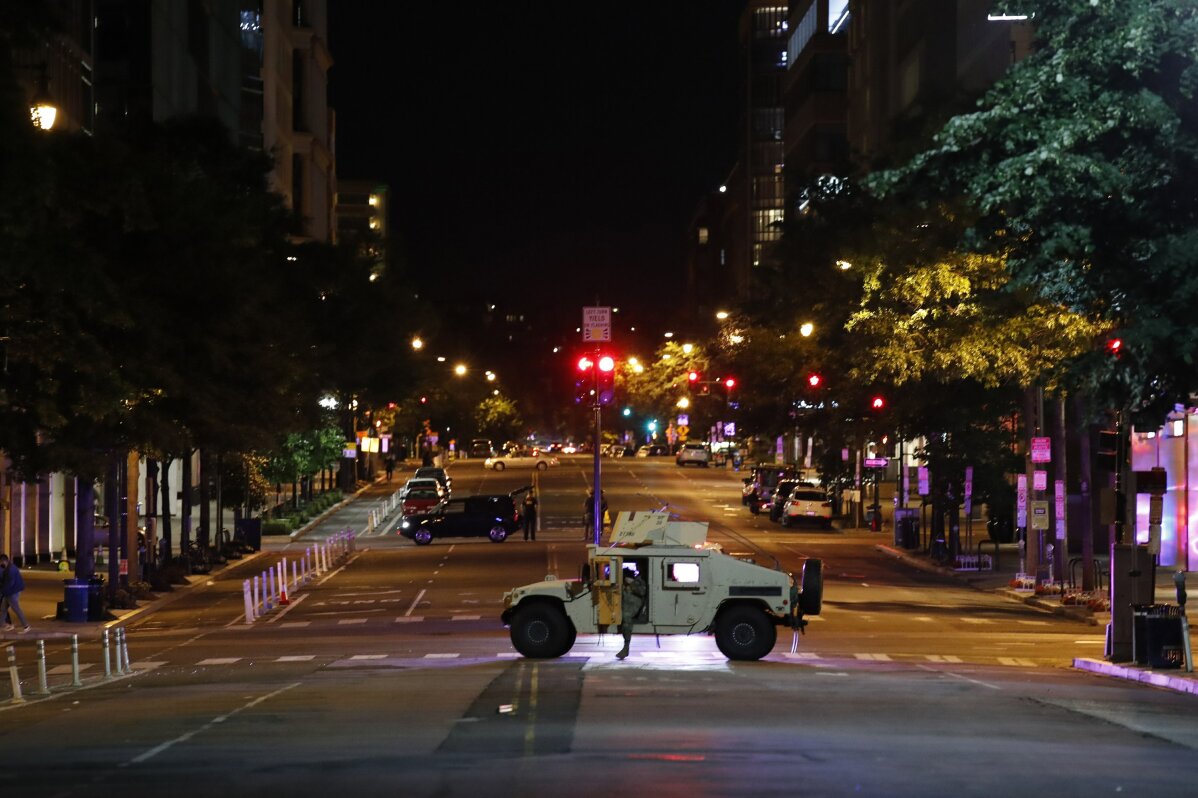 15 of 21

|
A military Humvee blocks an intersection along K Street in downtown Washington as demonstrators protest the death of George Floyd, Monday, June 1, 2020, in Washington. Floyd died after being restrained by Minneapolis police officers. (AP Photo/Alex Brandon)
15 of 21
A military Humvee blocks an intersection along K Street in downtown Washington as demonstrators protest the death of George Floyd, Monday, June 1, 2020, in Washington. Floyd died after being restrained by Minneapolis police officers. (AP Photo/Alex Brandon)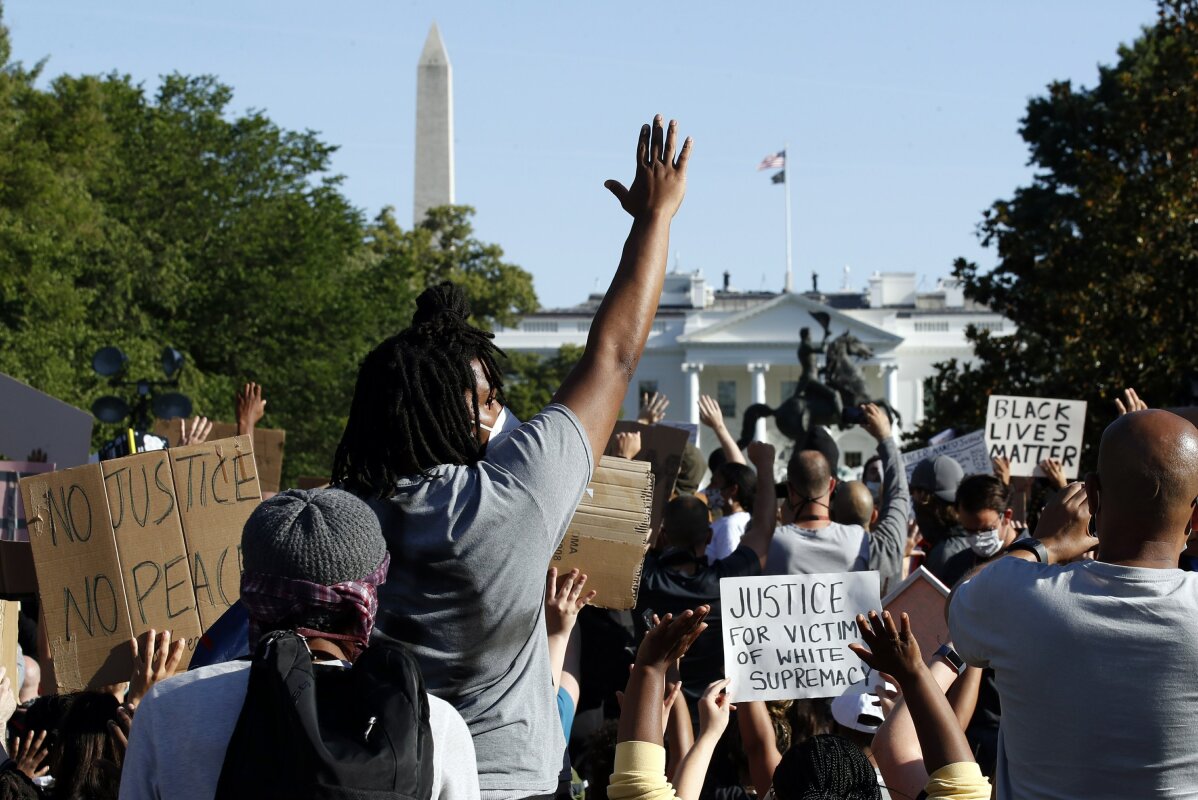 16 of 21

|
Demonstrators gather in Lafayette Park to protest the death of George Floyd, Monday, June 1, 2020, near the White House in Washington. Floyd died after being restrained by Minneapolis police officers. (AP Photo/Alex Brandon)
16 of 21
Demonstrators gather in Lafayette Park to protest the death of George Floyd, Monday, June 1, 2020, near the White House in Washington. Floyd died after being restrained by Minneapolis police officers. (AP Photo/Alex Brandon)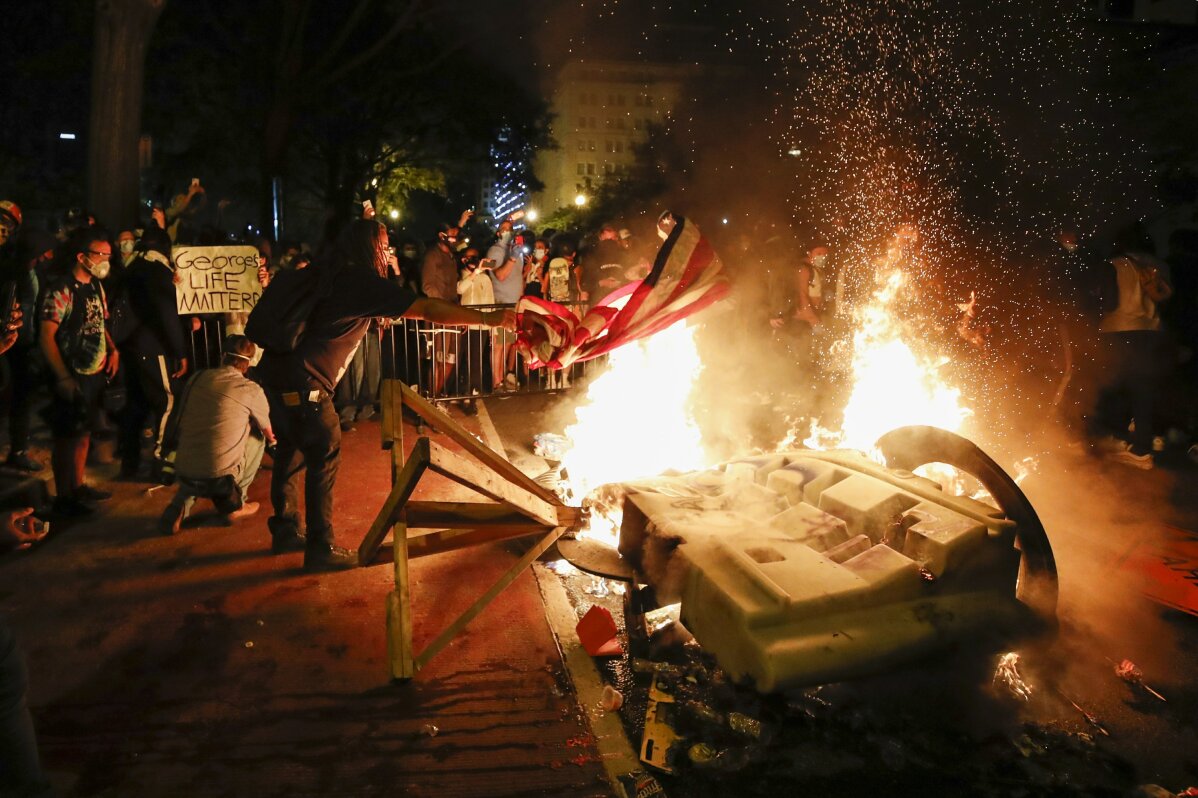 17 of 21

|
Demonstrators start a fire as they protest the death of George Floyd, Sunday, May 31, 2020, near the White House in Washington. Floyd died after being restrained by Minneapolis police officers (AP Photo/Alex Brandon)
17 of 21
Demonstrators start a fire as they protest the death of George Floyd, Sunday, May 31, 2020, near the White House in Washington. Floyd died after being restrained by Minneapolis police officers (AP Photo/Alex Brandon)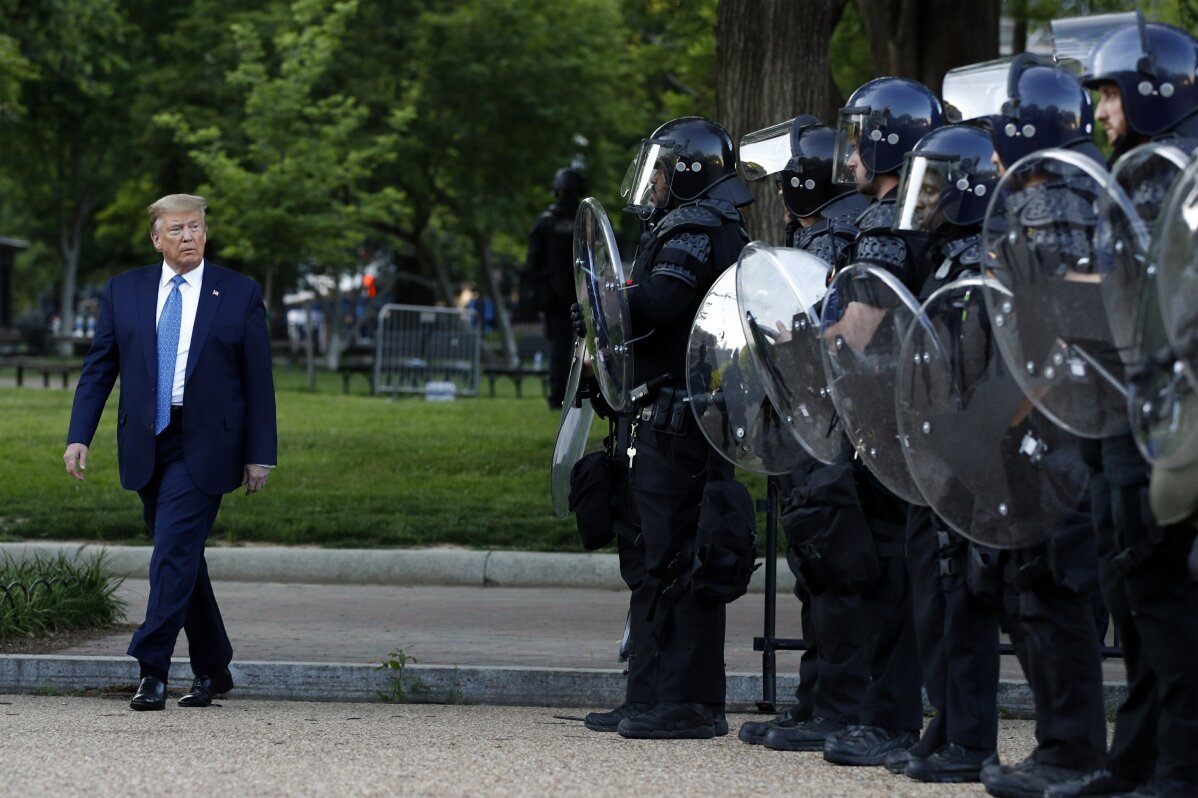 18 of 21

|
President Donald Trump walks past police in Lafayette Park after he visited outside St. John's Church across from the White House Monday, June 1, 2020, in Washington. Part of the church was set on fire during protests on Sunday night. (AP Photo/Patrick Semansky)
18 of 21
President Donald Trump walks past police in Lafayette Park after he visited outside St. John's Church across from the White House Monday, June 1, 2020, in Washington. Part of the church was set on fire during protests on Sunday night. (AP Photo/Patrick Semansky)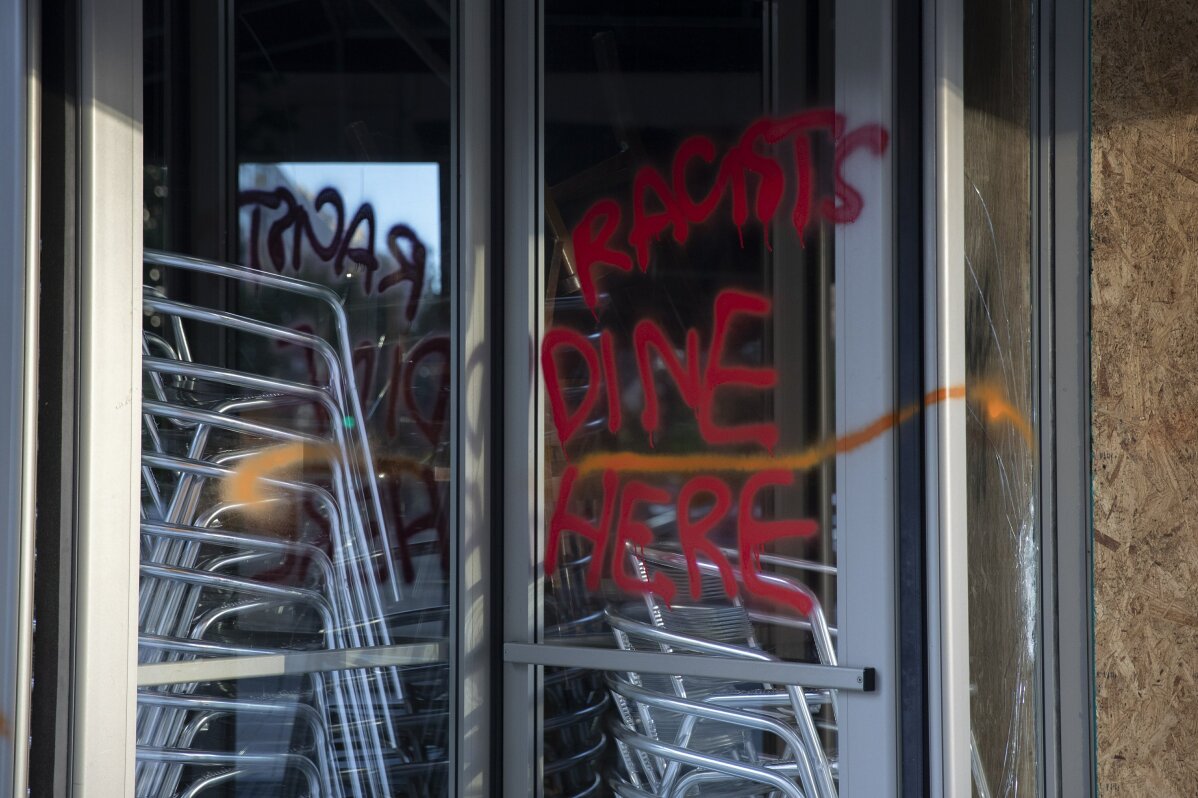 19 of 21

|
Spray paint the reads "Racists Dine Here" is seen on a revolving door or a restaurant near the White House in Washington, Monday, June 1, 2020, after a boring of protests over the death of George Floyd. Floyd died after being restrained by Minneapolis police officers. (AP Photo/Carolyn Kaster)
19 of 21
Spray paint the reads "Racists Dine Here" is seen on a revolving door or a restaurant near the White House in Washington, Monday, June 1, 2020, after a boring of protests over the death of George Floyd. Floyd died after being restrained by Minneapolis police officers. (AP Photo/Carolyn Kaster)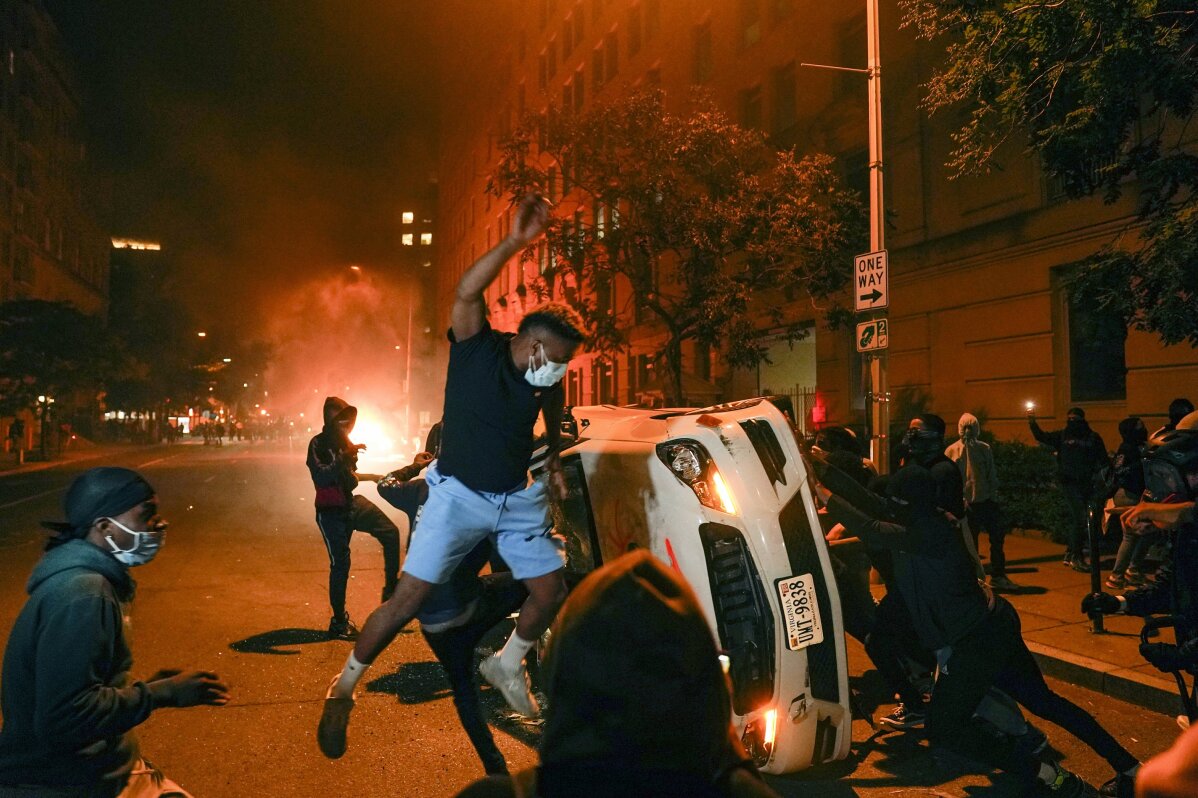 20 of 21

|
Demonstrators vandalize a car as they protest the death of George Floyd, Sunday, May 31, 2020, near the White House in Washington. Floyd died after being restrained by Minneapolis police officers. (AP Photo/Evan Vucci)
20 of 21
Demonstrators vandalize a car as they protest the death of George Floyd, Sunday, May 31, 2020, near the White House in Washington. Floyd died after being restrained by Minneapolis police officers. (AP Photo/Evan Vucci)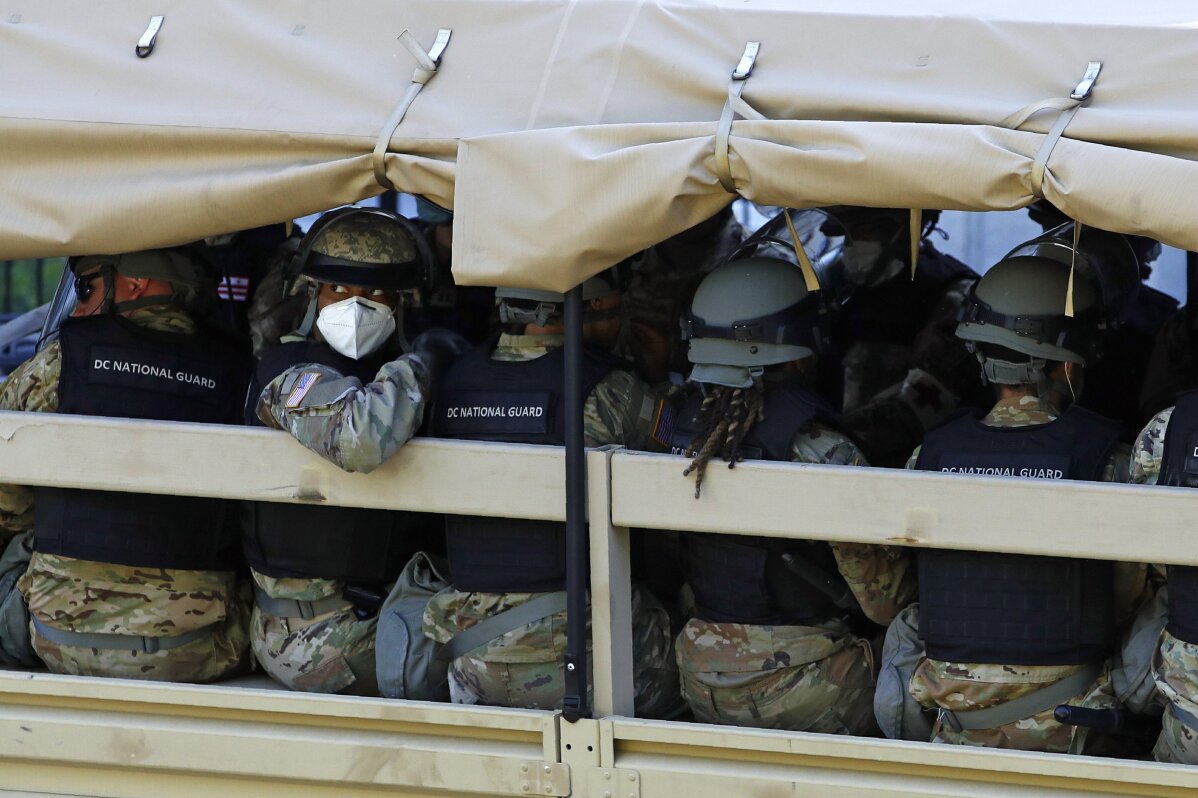 21 of 21

|
A member of the District of Columbia National Guard looks out from a vehicle driving on West Executive Avenue at the White House, Monday, June 1, 2020, in Washington, as protesters over the death of George Floyd, a black man who died in police custody in Minneapolis, demonstrate nearby. (AP Photo/Patrick Semansky)
21 of 21
A member of the District of Columbia National Guard looks out from a vehicle driving on West Executive Avenue at the White House, Monday, June 1, 2020, in Washington, as protesters over the death of George Floyd, a black man who died in police custody in Minneapolis, demonstrate nearby. (AP Photo/Patrick Semansky)
The scene was jarring: Police violently broke up a peaceful and legal protest by several thousands in Lafayette Park across from the White House ahead of a speech in the Rose Garden by President Donald Trump.
The protesters had gathered in the park on a sunny evening Monday following the police killing of George Floyd in Minneapolis a week earlier.
The police fired tear gas and rubber bullets and deployed flash bangs. As police directly confronted the protesters, many held up their hands, saying, "Don't shoot."
In his speech, Trump declared himself "the president of law and order," and he threatened to deploy the U.S. military unless states halt violent protests. As an additional show of force, he announced he was deploying even more of the military to Washington, giving it the feel of an armed, locked-down city after days of unrest.
Afterward, Trump strolled out of the White House gates — something he had never done before — and walked across the cleared Lafayette Park to make a surprise visit to St. John's Church.
Every president has prayed at the landmark pale yellow building, although it was damaged Sunday in a fire during the protests.
Trump, standing alone in front of cameras, raised a Bible. He didn't mention Floyd, the church or the peaceful protesters police had just cleared away.