Bernie Sanders stumps for Democrat Polis in Colorado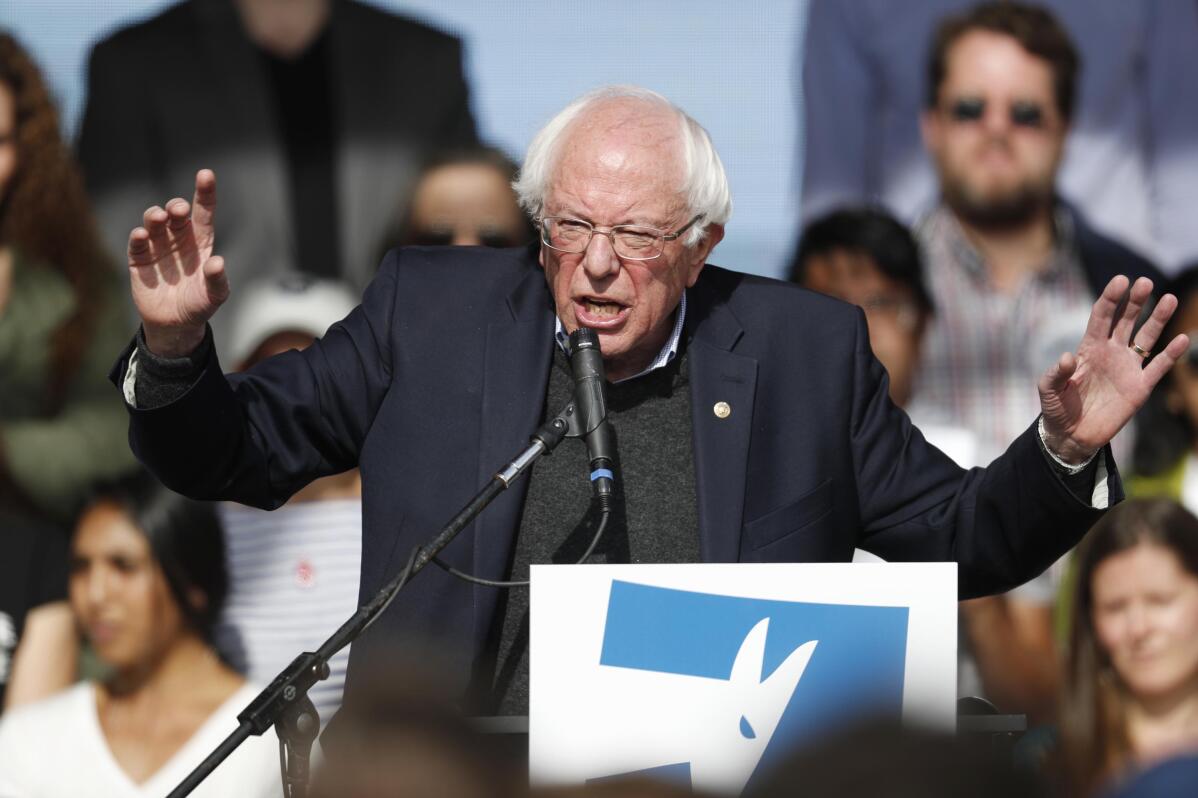 1 of 5

|
U.S. Senator Bernie Sanders speaks during a rally with young voters on the campus of the University of Colorado Wednesday, Oct. 24, 2018, in Boulder, Colo. Sanders is riding a bus around the state with Democratic candidates to drum up support for them before Election Day. (AP Photo/David Zalubowski)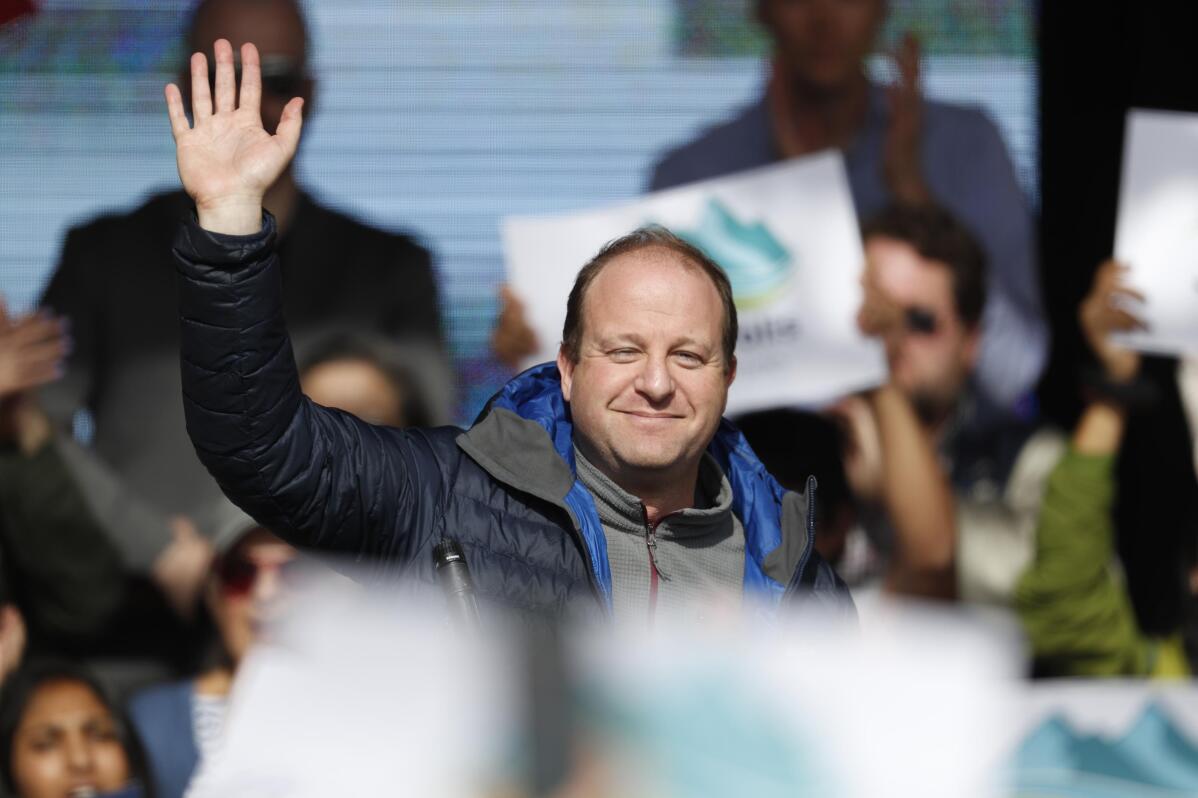 2 of 5

|
Jared Polis, Colorado's Democratic candidate for governor, waves to the crowd before U.S. Senator Bernie Sanders speaks during a rally with young voters on the campus of the University of Colorado Wednesday, Oct. 24, 2018, in Boulder, Colo. Sanders is riding a bus around the state with Democratic candidates to drum up support for them before Election Day. (AP Photo/David Zalubowski)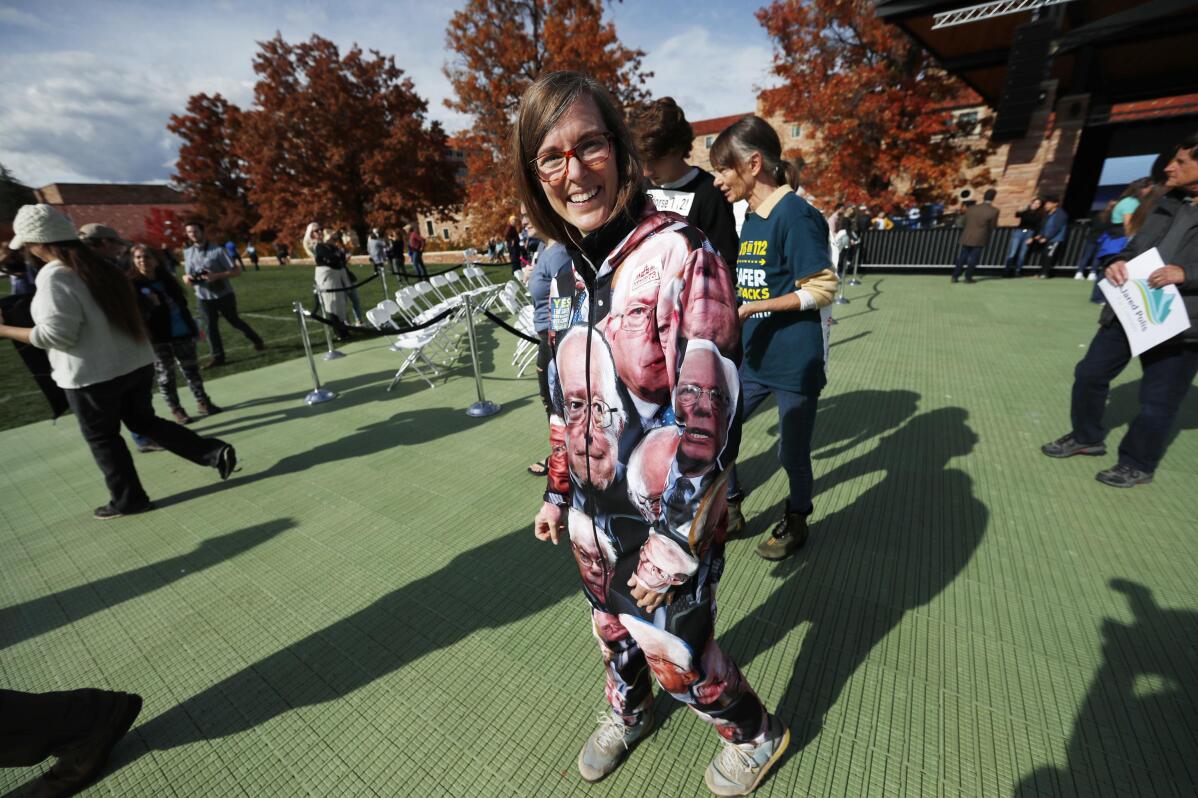 3 of 5

|
Heather McTammany of Evergreen, Colo., wears an outfit that she bought online decorated with the likeness of U.S. Senator Bernie Sanders as he speaks during a rally with young voters on the campus of the University of Colorado Wednesday, Oct. 24, 2018, in Boulder, Colo. Sanders is riding a bus around the state with Democratic candidates to drum up support for them before Election Day. (AP Photo/David Zalubowski)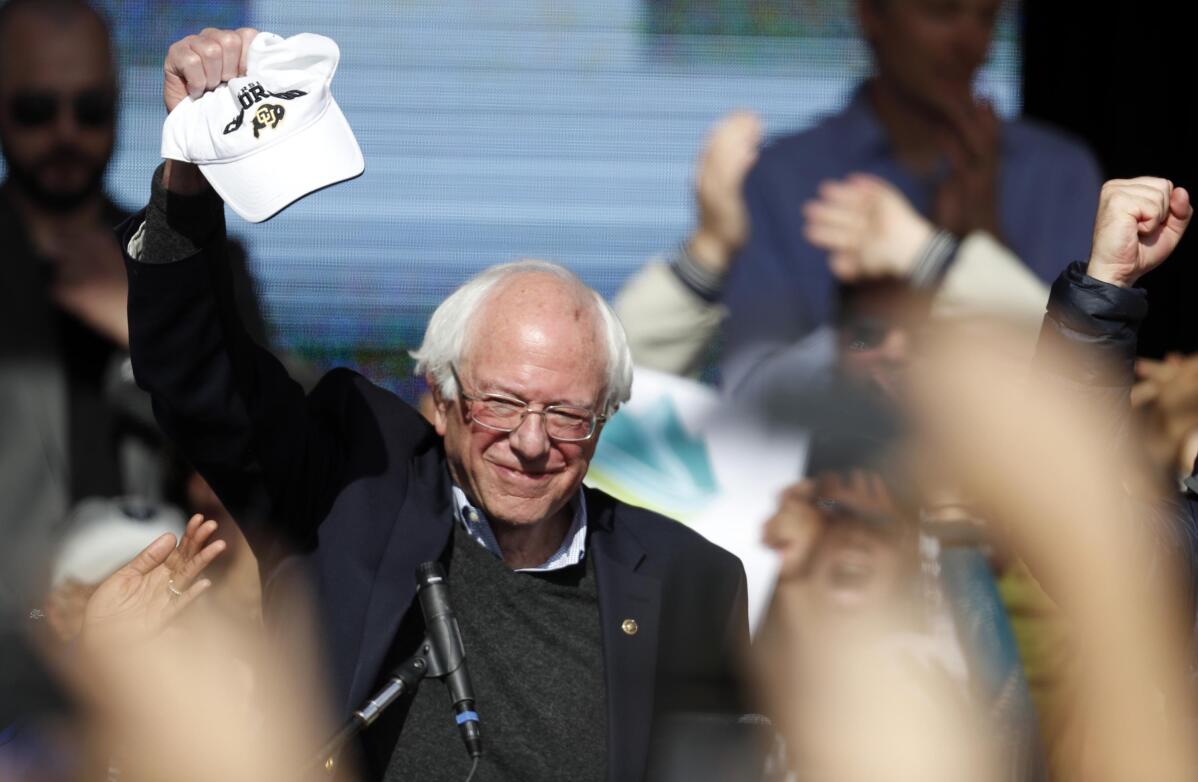 4 of 5

|
U.S. Senator Bernie Sanders speaks during a rally with young voters on the campus of the University of Colorado Wednesday, Oct. 24, 2018, in Boulder, Colo. Sanders is riding a bus around the state with Democratic candidates to drum up support for them before Election Day. (AP Photo/David Zalubowski)
5 of 5

|
A sea of placards swallows up Democratic candidate for Colorado's governorship, Jared Polis, as he takes the stage before U.S. Senator Bernie Sanders speaks during a rally with young voters on the campus of the University of Colorado Wednesday, Oct. 24, 2018, in Boulder, Colo. Sanders is riding a bus around the state with Democratic candidates to drum up support for them before Election Day. (AP Photo/David Zalubowski)
Bernie Sanders stumps for Democrat Polis in Colorado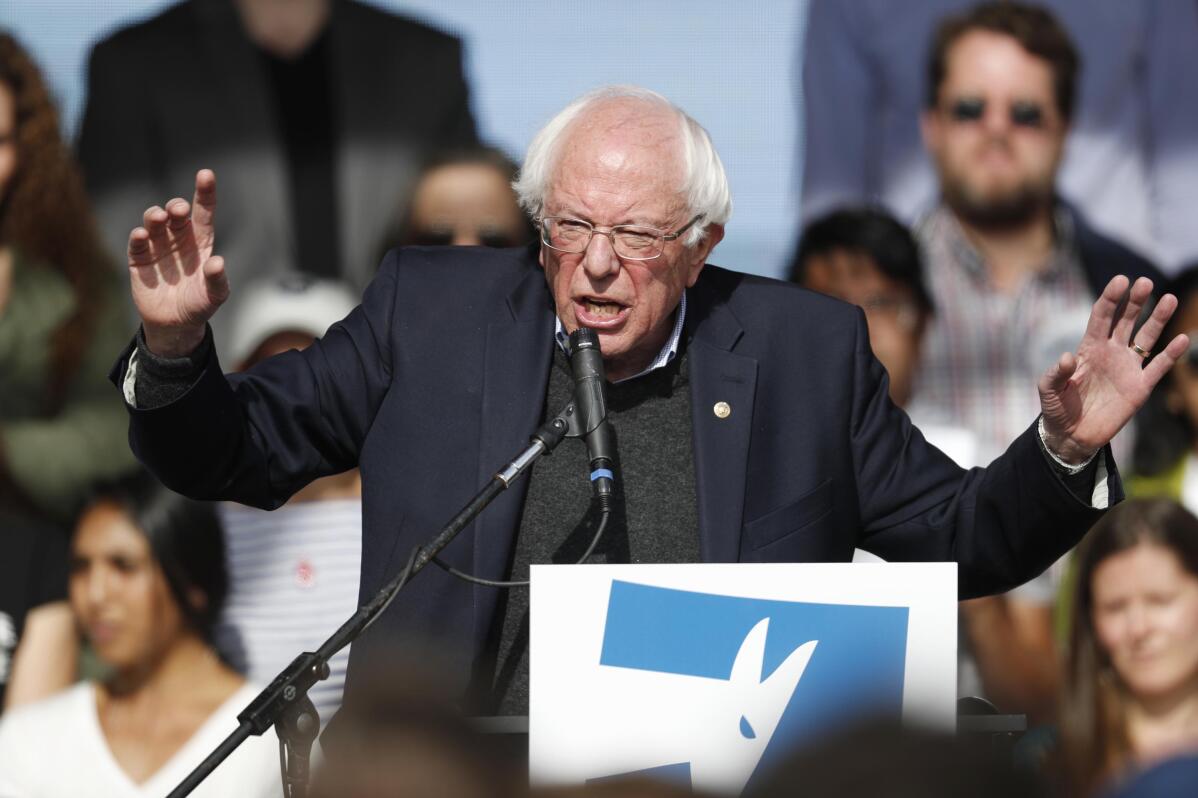 1 of 5

|
U.S. Senator Bernie Sanders speaks during a rally with young voters on the campus of the University of Colorado Wednesday, Oct. 24, 2018, in Boulder, Colo. Sanders is riding a bus around the state with Democratic candidates to drum up support for them before Election Day. (AP Photo/David Zalubowski)
1 of 5
U.S. Senator Bernie Sanders speaks during a rally with young voters on the campus of the University of Colorado Wednesday, Oct. 24, 2018, in Boulder, Colo. Sanders is riding a bus around the state with Democratic candidates to drum up support for them before Election Day. (AP Photo/David Zalubowski)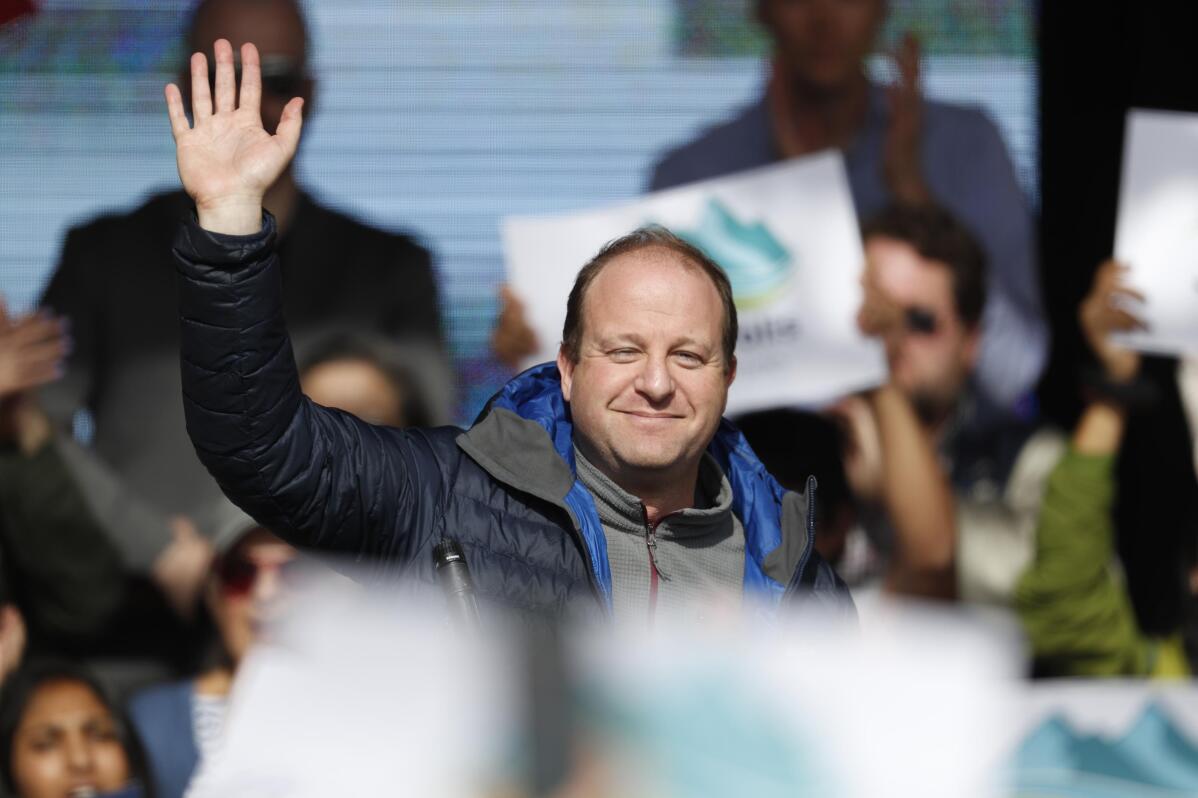 2 of 5

|
Jared Polis, Colorado's Democratic candidate for governor, waves to the crowd before U.S. Senator Bernie Sanders speaks during a rally with young voters on the campus of the University of Colorado Wednesday, Oct. 24, 2018, in Boulder, Colo. Sanders is riding a bus around the state with Democratic candidates to drum up support for them before Election Day. (AP Photo/David Zalubowski)
2 of 5
Jared Polis, Colorado's Democratic candidate for governor, waves to the crowd before U.S. Senator Bernie Sanders speaks during a rally with young voters on the campus of the University of Colorado Wednesday, Oct. 24, 2018, in Boulder, Colo. Sanders is riding a bus around the state with Democratic candidates to drum up support for them before Election Day. (AP Photo/David Zalubowski)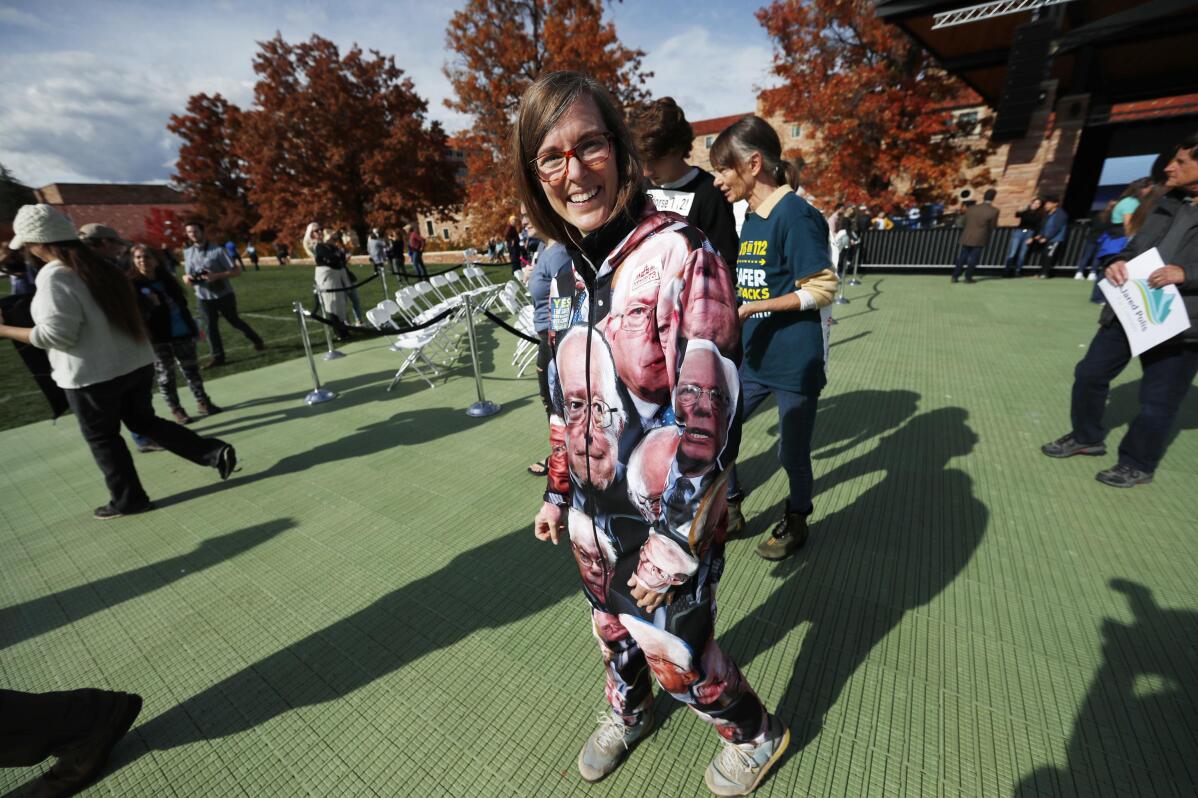 3 of 5

|
Heather McTammany of Evergreen, Colo., wears an outfit that she bought online decorated with the likeness of U.S. Senator Bernie Sanders as he speaks during a rally with young voters on the campus of the University of Colorado Wednesday, Oct. 24, 2018, in Boulder, Colo. Sanders is riding a bus around the state with Democratic candidates to drum up support for them before Election Day. (AP Photo/David Zalubowski)
3 of 5
Heather McTammany of Evergreen, Colo., wears an outfit that she bought online decorated with the likeness of U.S. Senator Bernie Sanders as he speaks during a rally with young voters on the campus of the University of Colorado Wednesday, Oct. 24, 2018, in Boulder, Colo. Sanders is riding a bus around the state with Democratic candidates to drum up support for them before Election Day. (AP Photo/David Zalubowski)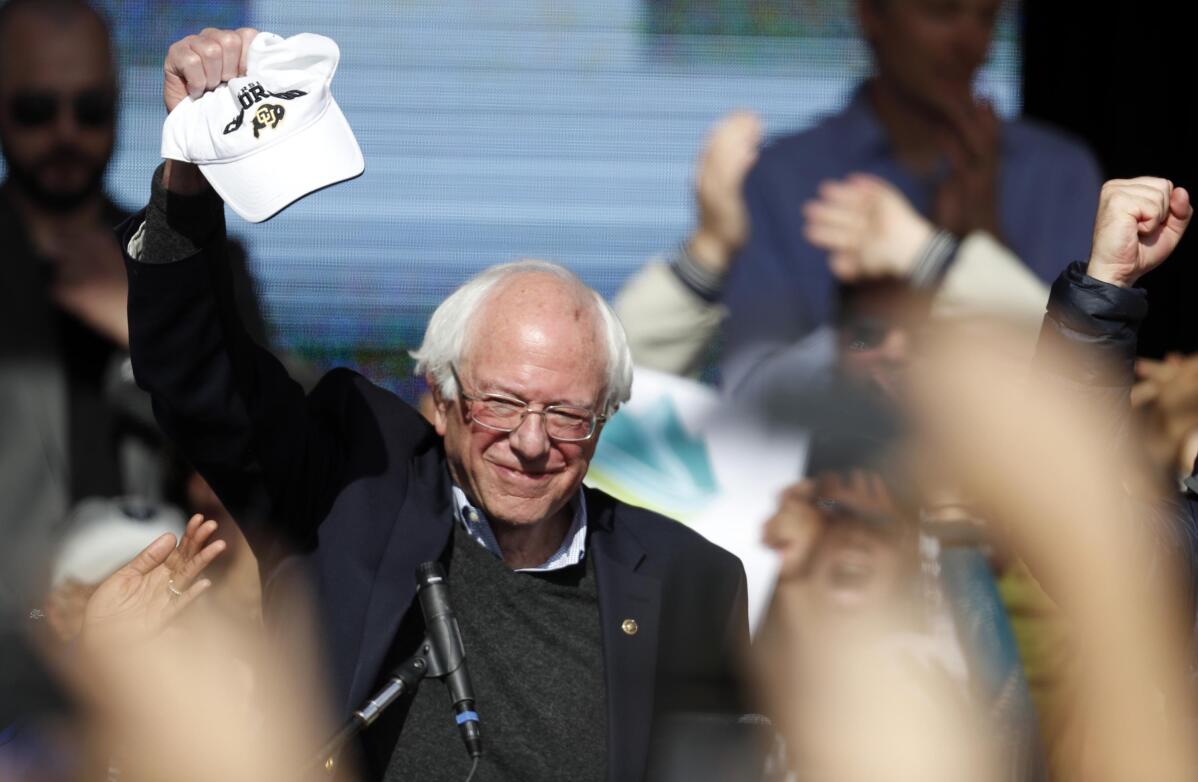 4 of 5

|
U.S. Senator Bernie Sanders speaks during a rally with young voters on the campus of the University of Colorado Wednesday, Oct. 24, 2018, in Boulder, Colo. Sanders is riding a bus around the state with Democratic candidates to drum up support for them before Election Day. (AP Photo/David Zalubowski)
4 of 5
U.S. Senator Bernie Sanders speaks during a rally with young voters on the campus of the University of Colorado Wednesday, Oct. 24, 2018, in Boulder, Colo. Sanders is riding a bus around the state with Democratic candidates to drum up support for them before Election Day. (AP Photo/David Zalubowski)
5 of 5

|
A sea of placards swallows up Democratic candidate for Colorado's governorship, Jared Polis, as he takes the stage before U.S. Senator Bernie Sanders speaks during a rally with young voters on the campus of the University of Colorado Wednesday, Oct. 24, 2018, in Boulder, Colo. Sanders is riding a bus around the state with Democratic candidates to drum up support for them before Election Day. (AP Photo/David Zalubowski)
5 of 5
A sea of placards swallows up Democratic candidate for Colorado's governorship, Jared Polis, as he takes the stage before U.S. Senator Bernie Sanders speaks during a rally with young voters on the campus of the University of Colorado Wednesday, Oct. 24, 2018, in Boulder, Colo. Sanders is riding a bus around the state with Democratic candidates to drum up support for them before Election Day. (AP Photo/David Zalubowski)
BOULDER, Colo. (AP) — U.S. Sen. Bernie Sanders headlined a get-out-the-vote rally in friendly and familiar territory Wednesday, praising Colorado's Democratic gubernatorial candidate, Rep. Jared Polis, at the University of Colorado in Boulder.
Sanders urged a crowd of about 2,000 to vote for Polis and other progressive candidates and check what he called President Donald Trump's broken promises on health care and myriad other issues.
"What this election will come down to is one word, and that is turnout," Sanders said. "In 2018, with your help, we're going to have the highest voter turnout in American history."
Boulder was a Sanders stronghold during the early stages of the 2016 presidential campaign, in which he defeated Hillary Clinton in Colorado's non-binding presidential caucuses. Sanders later returned to the campus to rally on behalf of Clinton, who won the state.
Polis has taken pains to distinguish his health care proposals from Sanders' blanket government-paid coverage for all. Polis seeks a single-payer system, suggesting a collaborative market with neighboring states to lower insurance premiums and ensure universal coverage.
Republican candidate Walker Stapleton's campaign sought to portray Sanders' endorsement as proof the liberal Polis is "too extreme" for Colorado.
The Nov. 6 election is "about a president who has tried to rip health care from Colorado families," Polis told Wednesday's rally, set on a central campus green. "We can either elect a Donald Trump yes-man like Walker Stapleton, or somebody who always puts Colorado first — and I always will."
Sanders took on Trump on a number of issues, ranging from immigration to what he called broken promises on delivering health care for all that Trump made during the 2016 campaign. He cited Trump's pledges to lower prescription drug prices — then lambasted the president's efforts to try to dismantle the Affordable Care Act.
"The president of the United States is a pathological liar who will say anything, at any time, to win votes — but the next day will do the very opposite," Sanders said.
Health care is a top issue in Colorado. One in four residents are on Medicaid. Those in eastern and western sections of the state as well as many Rocky Mountain communities pay some of the nation's highest premiums and have few insurer options under the Affordable Care Act that Republicans failed to repeal.
Stapleton has said Polis' universal coverage goal would bankrupt the state by raising taxes and, erroneously, he's equated it with what he calls "Berniecare" options that were found to be too expensive in Sanders' home state of Vermont. Like some other Republican candidates across the nation, Stapleton advocates defending a federally-funded Medicaid expansion enacted under the Barack Obama administration but insists private markets can do the work best.
Polis has called for tax increases, among them on the top 5 percent of income earners, to help pay for his plan. A universal health care initiative supported by Sanders failed on the Colorado ballot in 2016.
"The Bernie-Polis tour spreading socialism across Colorado kicks off today, but Colorado does not want a socialist for governor," Stapleton said in a statement.
Also at Wednesday's rally were Joe Neguse, a Democratic attorney, former university regent and co-founder of a voter registration group who's seeking to replace Polis in the 2nd Congressional District that includes Boulder; and Democratic U.S. Sen. Michael Bennet.
Sanders, an independent, was attending rallies at Colorado State University in Fort Collins later Wednesday. He has been holding rallies in other battleground states as he considers another run for president in 2020.