Merkel: Europe must stay united in face of ally uncertainty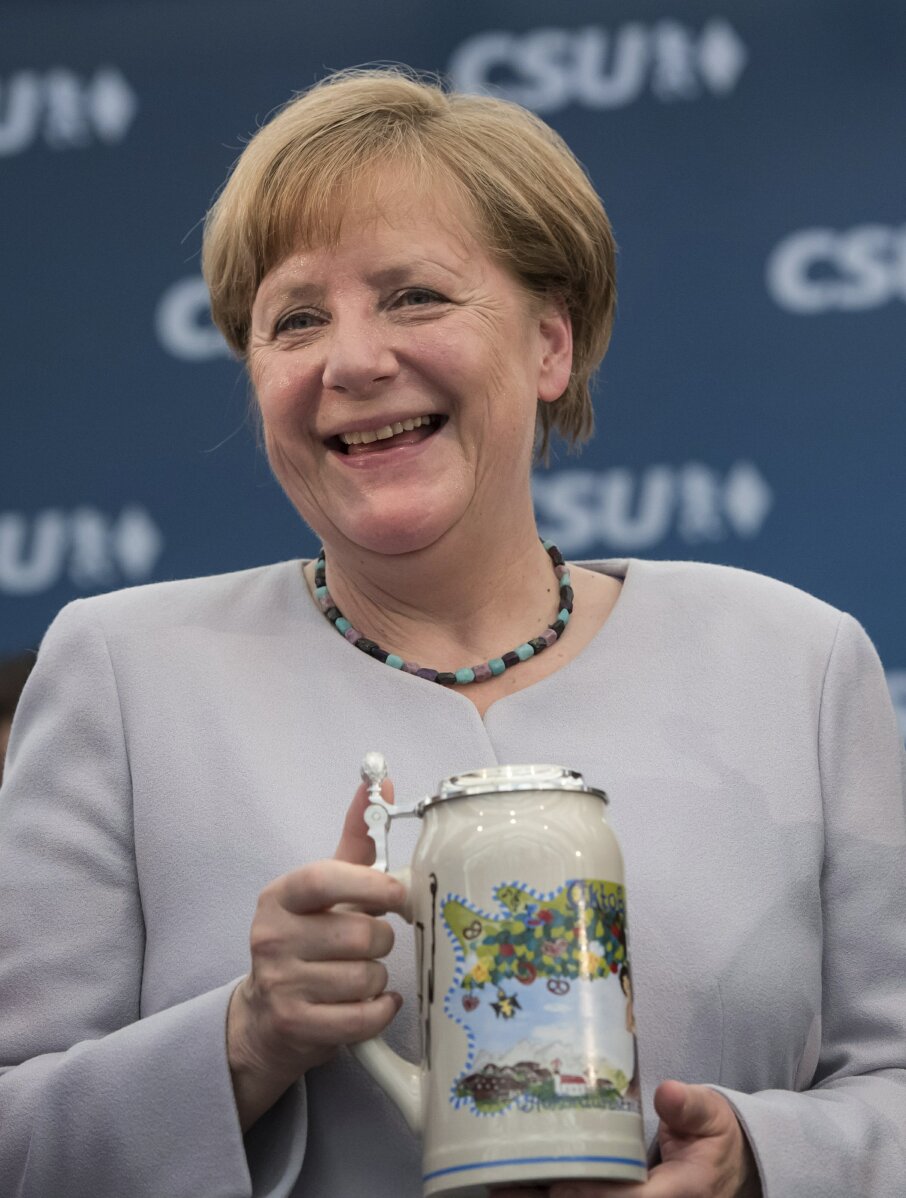 1 of 2

|
German Chancellor Angela Merkel holds a beer mug she received as a present during an election campaign of her Christian Democratic Union, CDU, and the Christian Social Union, CSU, in Munich, southern Germany, Sunday, May 28, 2017. A poll of German voters shows Chancellor Merkel's conservative bloc's lead widening as the main challenger Social Democrats continue to lose support. (Sven Hoppe/dpa via AP)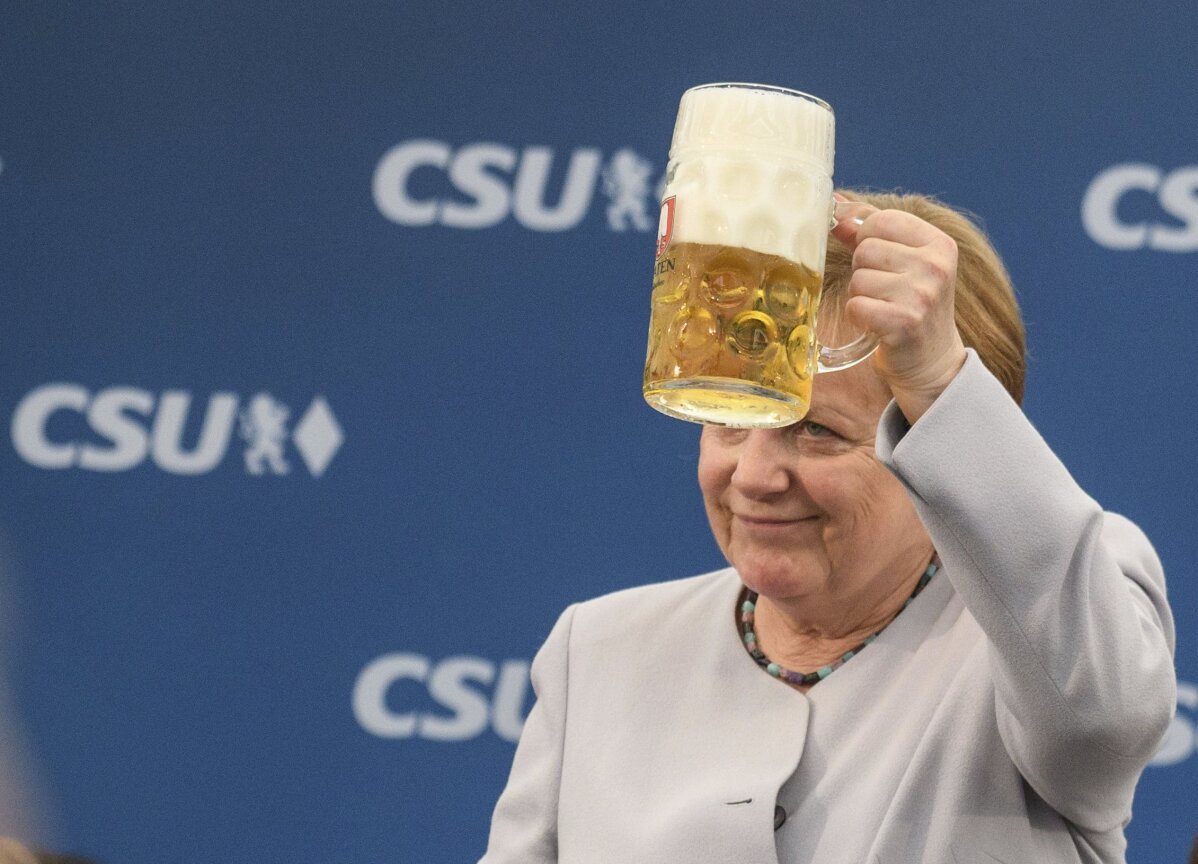 2 of 2

|
German Chancellor Angela Merkel lifts a glass of beer during an election campaign of her Christian Democratic Union, CDU, and the Christian Social Union, CSU, in Munich, southern Germany, Sunday, May 28, 2017. A poll of German voters shows Chancellor Merkel's conservative bloc's lead widening as the main challenger Social Democrats continue to lose support. (Matthias Balk/dpa via AP)
Merkel: Europe must stay united in face of ally uncertainty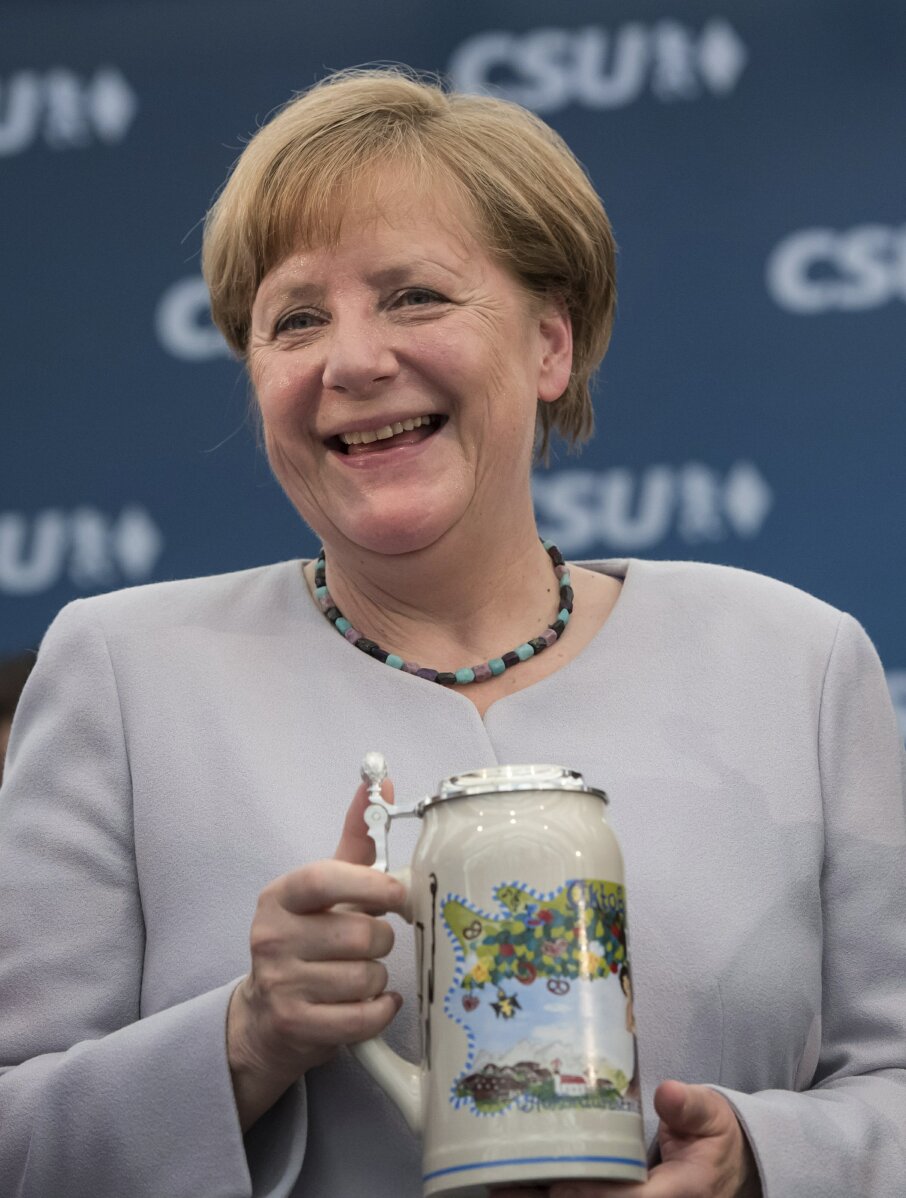 1 of 2

|
German Chancellor Angela Merkel holds a beer mug she received as a present during an election campaign of her Christian Democratic Union, CDU, and the Christian Social Union, CSU, in Munich, southern Germany, Sunday, May 28, 2017. A poll of German voters shows Chancellor Merkel's conservative bloc's lead widening as the main challenger Social Democrats continue to lose support. (Sven Hoppe/dpa via AP)
1 of 2
German Chancellor Angela Merkel holds a beer mug she received as a present during an election campaign of her Christian Democratic Union, CDU, and the Christian Social Union, CSU, in Munich, southern Germany, Sunday, May 28, 2017. A poll of German voters shows Chancellor Merkel's conservative bloc's lead widening as the main challenger Social Democrats continue to lose support. (Sven Hoppe/dpa via AP)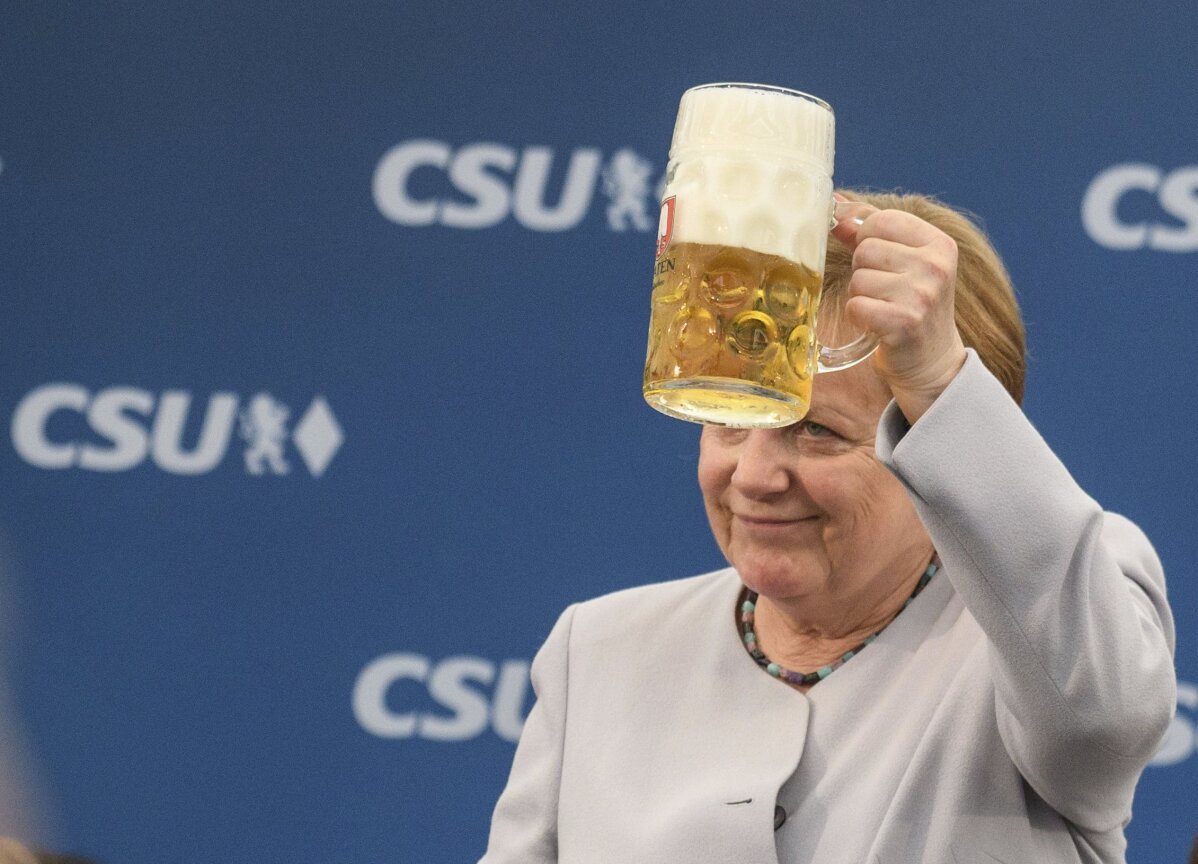 2 of 2

|
German Chancellor Angela Merkel lifts a glass of beer during an election campaign of her Christian Democratic Union, CDU, and the Christian Social Union, CSU, in Munich, southern Germany, Sunday, May 28, 2017. A poll of German voters shows Chancellor Merkel's conservative bloc's lead widening as the main challenger Social Democrats continue to lose support. (Matthias Balk/dpa via AP)
2 of 2
German Chancellor Angela Merkel lifts a glass of beer during an election campaign of her Christian Democratic Union, CDU, and the Christian Social Union, CSU, in Munich, southern Germany, Sunday, May 28, 2017. A poll of German voters shows Chancellor Merkel's conservative bloc's lead widening as the main challenger Social Democrats continue to lose support. (Matthias Balk/dpa via AP)
BERLIN (AP) — German Chancellor Angela Merkel on Sunday urged European Union nations to stick together in the face of emerging policy divisions with the U.S., Britain's decision to leave the bloc and other challenges.
Speaking at a campaign event held in a Bavarian beer tent, Merkel suggested that the G-7 summit in Italy that ended Saturday had served as something of a wakeup call. G-7 leaders were unable to reach unanimous agreement on climate change after U.S. President Donald Trump said he needed more time to decide whether to back a key climate accord.
"The times in which we can fully count on others are somewhat over, as I have experienced in the past few days," Merkel told the crowd of some 2,500 that gathered to hear her and Bavarian governor Horst Seehofer.
"And so all I can say is that we Europeans must really take our destiny into our own hands," she said, according to the dpa news agency.
Merkel emphasized the need for continued friendly relations with the U.S. and Britain and also stressed the importance of being good neighbors "wherever that is possible, including with Russia, but also with others."
"But we need to know we must fight for our own future, as Europeans, for our destiny," she said.
Despite the Trump administration's talk of an "America first" policy and ongoing criticism of Germany for its massive trade surplus, the G-7 leaders in Sicily did vow to fight protectionism, reiterating "a commitment to keep our markets open."
They also agreed to step up pressure on North Korea, to forge closer cooperation in the fight against terrorism, on the possibility of imposing more sanctions on Russia over role in the conflict in Ukraine.
But while six of the seven G-7 nations agreed to stick with their commitment to implement the 2015 Paris Agreement that aims to slow global warming, Trump said he needed more time to decide if the U.S. would abandon the accord.
His administration has argued that U.S. emissions standards are tougher than those set by China, India and others, and therefore have put American businesses at a disadvantage.
After the summit, Merkel called the climate talks "very difficult, if not to say, very unsatisfactory."