Trump indictment live updates: Latest news, developments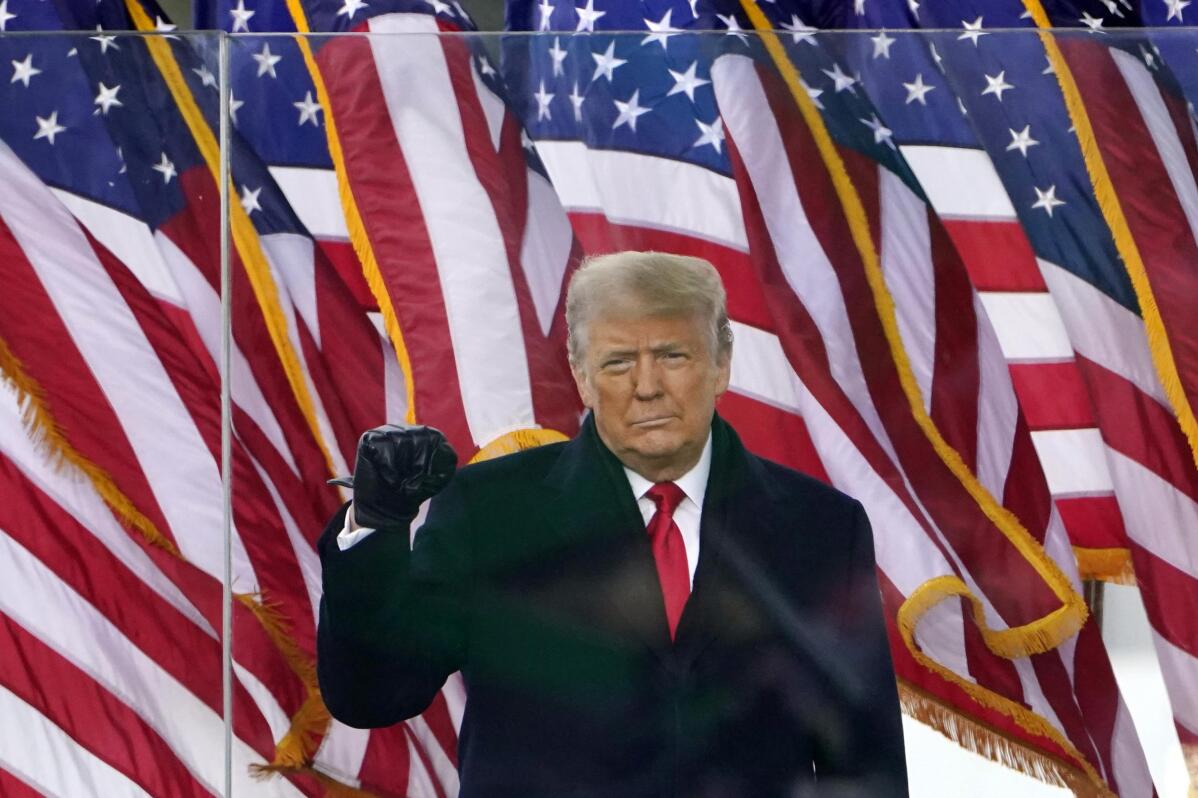 1 of 2

|
FILE - President Donald Trump gestures as he arrives to speak at a rally in Washington, Jan. 6, 2021. A lawyer for Trump said Thursday, March 30, 2023, that he has been told that the former president has been indicted in New York on charges involving payments made during the 2016 presidential campaign to silence claims of an extramarital sexual encounter. (AP Photo/Jacquelyn Martin, File)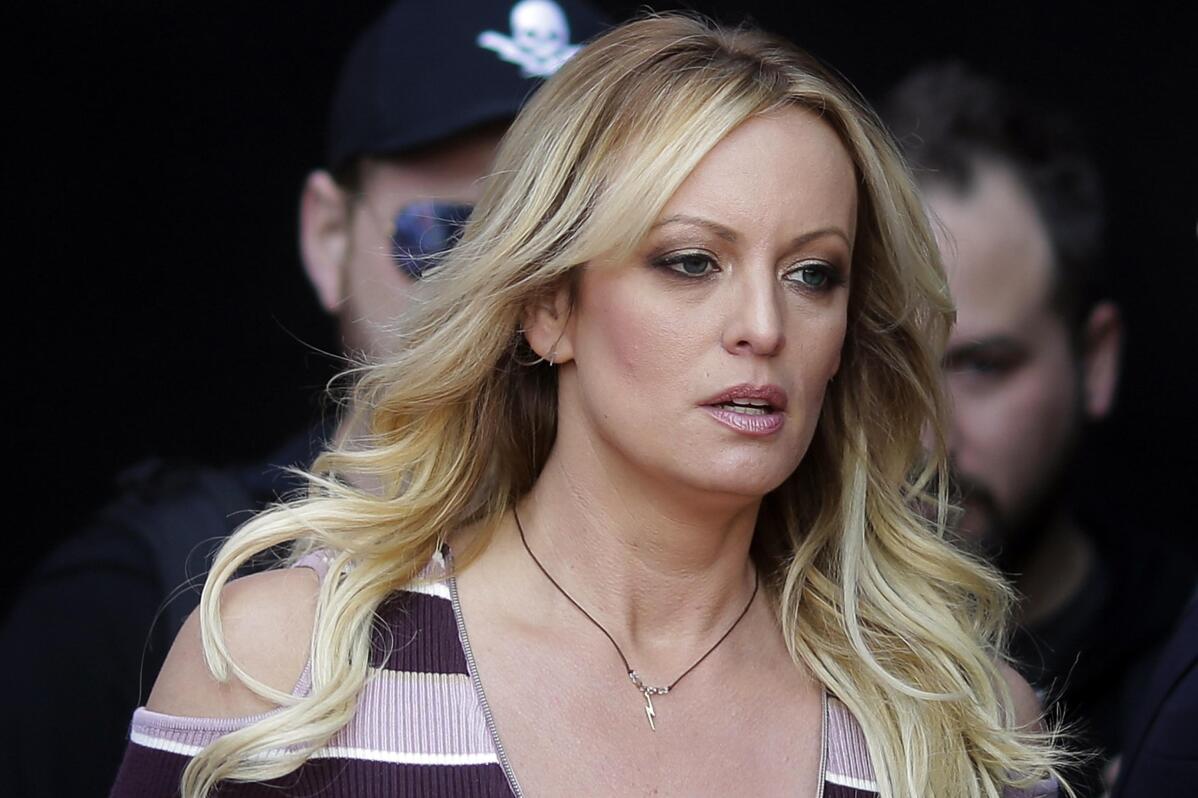 2 of 2

|
FILE - Adult film actress Stormy Daniels arrives for the opening of the adult entertainment fair Venus in Berlin, Oct. 11, 2018. A lawyer for Donald Trump said Thursday, March 30, 2023, that he has been told that the former president has been indicted in New York on charges involving payments to Daniels made during the 2016 presidential campaign to silence claims of an extramarital sexual encounter. (AP Photo/Markus Schreiber, File)
Trump indictment live updates: Latest news, developments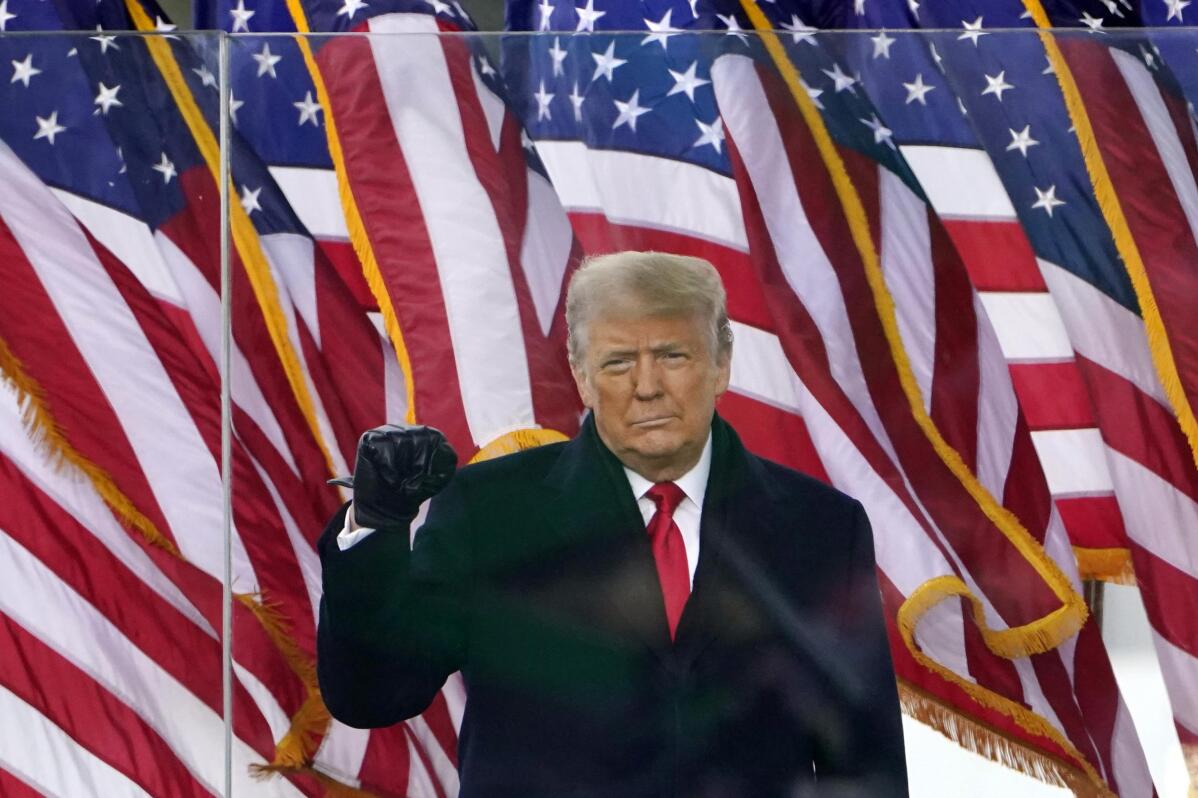 1 of 2

|
FILE - President Donald Trump gestures as he arrives to speak at a rally in Washington, Jan. 6, 2021. A lawyer for Trump said Thursday, March 30, 2023, that he has been told that the former president has been indicted in New York on charges involving payments made during the 2016 presidential campaign to silence claims of an extramarital sexual encounter. (AP Photo/Jacquelyn Martin, File)
1 of 2
FILE - President Donald Trump gestures as he arrives to speak at a rally in Washington, Jan. 6, 2021. A lawyer for Trump said Thursday, March 30, 2023, that he has been told that the former president has been indicted in New York on charges involving payments made during the 2016 presidential campaign to silence claims of an extramarital sexual encounter. (AP Photo/Jacquelyn Martin, File)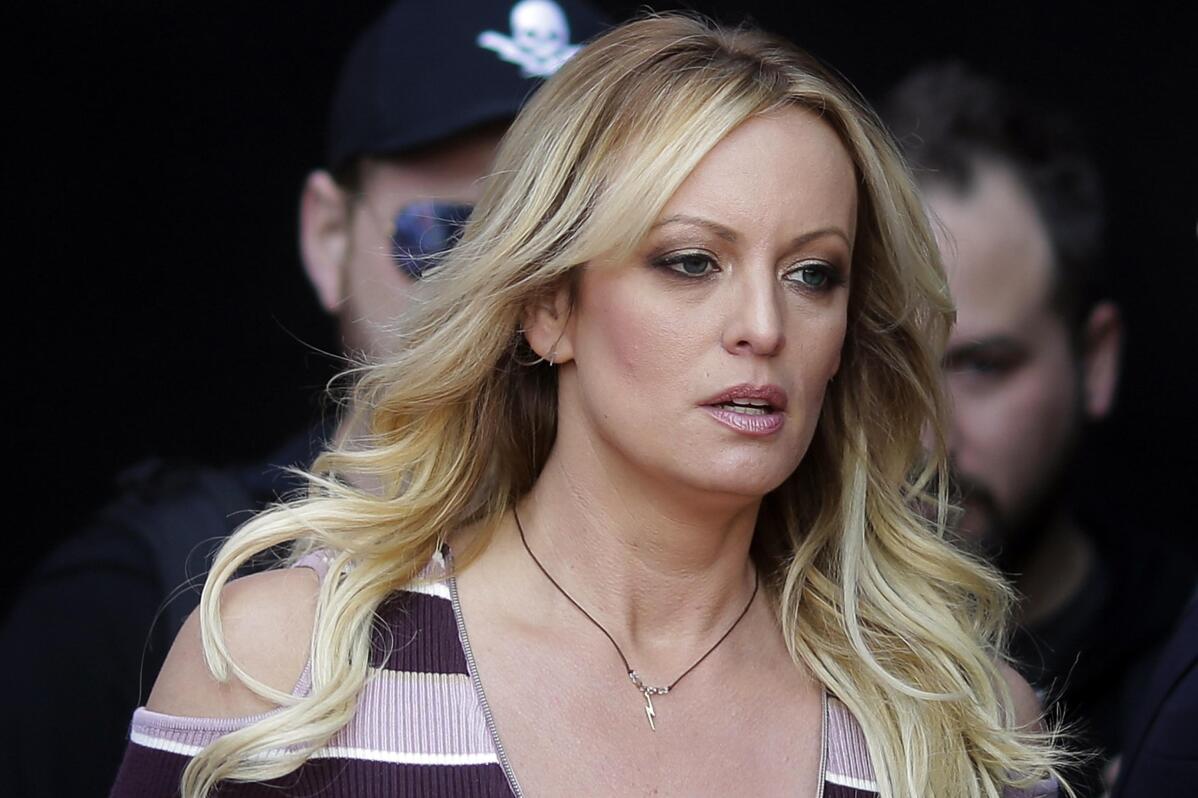 2 of 2

|
FILE - Adult film actress Stormy Daniels arrives for the opening of the adult entertainment fair Venus in Berlin, Oct. 11, 2018. A lawyer for Donald Trump said Thursday, March 30, 2023, that he has been told that the former president has been indicted in New York on charges involving payments to Daniels made during the 2016 presidential campaign to silence claims of an extramarital sexual encounter. (AP Photo/Markus Schreiber, File)
2 of 2
FILE - Adult film actress Stormy Daniels arrives for the opening of the adult entertainment fair Venus in Berlin, Oct. 11, 2018. A lawyer for Donald Trump said Thursday, March 30, 2023, that he has been told that the former president has been indicted in New York on charges involving payments to Daniels made during the 2016 presidential campaign to silence claims of an extramarital sexual encounter. (AP Photo/Markus Schreiber, File)
WASHINGTON (AP) — In the first criminal case against a former president, Donald Trump has been indicted on charges involving payments made during the 2016 campaign to silence claims of an extramarital sexual encounter.
Trump is facing multiple charges of falsifying business records, including at least one felony offense, in the indictment handed down against him by a New York grand jury, two people familiar with the matter have told The Associated Press. They were not authorized to discuss details that aren't yet public and requested anonymity.
Prosecutors in New York investigated money paid to porn actor Stormy Daniels and ex-Playboy model Karen McDougal to keep the women from going public with claims that they had sex with him.
Trump, who's running for the White House again in 2024, called the decision by a Manhattan grand jury to indict him "political persecution and election interference at the highest level."
At least one former federal prosecutor, though, said the Manhattan DA and other investigators wouldn't move forward with such a case unless they feel confident of a conviction.
___
WILL NEW YORK CASE OVERSHADOW OTHER LEGAL THREATS?
Former President Donald Trump faces multiple investigations related to his refusal to accept his loss of the 2020 presidential election.
Some legal experts worry that Trump's indictment this week in New York involving a hush money payment in 2016 could jeopardize public trust in the election-related cases.
The indictment itself has remained sealed, which is standard in New York until an arraignment.
Trump has long argued that the investigations in New York and elsewhere are politically motivated and ramped up those accusations without evidence after Thursday's indictment.
___
LITTLE SIGNS OF LARGE PROTEST IN NEW YORK, ELSEWHERE
Though the streets outside the Manhattan courthouse were bustling Friday, there was no sign of any large-scale protests. A few Trump supporters passed by, quickly posing for photos while police officers and reporters lined the sidewalks.
In Florida, about a dozen Trump supporters stood alongside the road leading to Mar-a-Lago, the former president's Palm Beach residence and resort Friday morning. They waved "Trump Nation" and "Keep America Great" flags at motorists.
Kevin Hulbert, a retired outdoor educator from Maryland, waved an American flag as he called the indictment "a disgrace."
"We have to use our First Amendment rights to demonstrate how unhappy we are that something like this would happen," Hulbert said.
In Boston, several people rallied outside the Massachusetts Statehouse to support letting the legal process play out.
Laurie Woodward-Garcia, 56, of Westborough, said she was not there to celebrate and defended Trump's right to have his day in court.
"I think it's important that whoever you are, whatever position you hold, the message is clear: No one is above the law," she said.
___
WILL TRUMP TRY TO TURN MUG SHOT INTO A TOOL?
Former President Donald Trump is expected to go through the same process as anyone turning him or herself in on criminal charges, including fingerprinting and a mug shot.
Recent history offers examples of political figures who tried to turn arrest photos into a tool, including former Texas Gov. Rick Perry and former House Majority Leader Tom DeLay.
New York law discourages the release of mug shots in most cases, though some have leaked in the past. It's unclear whether Trump would try to have the picture released himself, for political or other reasons.
But his presidential campaign and other political groups quickly used word of his indictment in fundraising messages. The National Republican Congressional Committee titled an email sent to supporters Friday: "Trump IN HANDCUFFS!?"
___
BIDEN ADMINISTRATION STAYS MUM ON CASE
President Joe Biden set the tone for his administration's approach to former President Donald Trump's indictment Friday with a firm refusal to comment on the case.
Vice President Kamala Harris and White House press secretary Karine Jean-Pierre separately refused. Both told reporters that the decision is tied to the ongoing nature of the case against Trump.
"Look, we're just not going to comment on any ongoing case, and I will just leave it there," Jean-Pierre told reporters on Air Force One en route to Mississippi, where the president toured recent storm damage.
___
BRAGG'S OFFICE DEFENDS INQUIRY
Manhattan District Attorney Alvin Bragg's office is defending the unprecedented criminal case against Trump in a letter to House Republicans, calling their repeated criticism of the investigation "unnecessary and unjustified."
The letter, the only substantial public comment on the case to come from Bragg's office since Thursday's indictment, is the latest back-and-forth between Trump's allies in Congress and the prosecutor leading the Manhattan case.
"Even worse, based on your reportedly close collaboration with Mr. Trump in attacking this Office and the grand jury process, it appears you are acting more like criminal defense counsel trying to gather evidence for a client than a legislative body seeking to achieve a legitimate legislative objective," general counsel Leslie Dubeck wrote to three Republican chairmen in a letter obtained Friday by The Associated Press.
Reps. Jim Jordan, James Comer and Bryan Steil have criticized the grand jury investigation as an "unprecedented abuse of prosecutorial authority."
The chairmen had requested testimony as well as documents and copies of any communications with the Justice Department.
Bragg did not answer reporters' questions on the indictment against Trump on Friday morning after he attended a high-profile sentencing hearing in an unrelated case.