Singapore Postcard: Trouble with doubles and media frenzy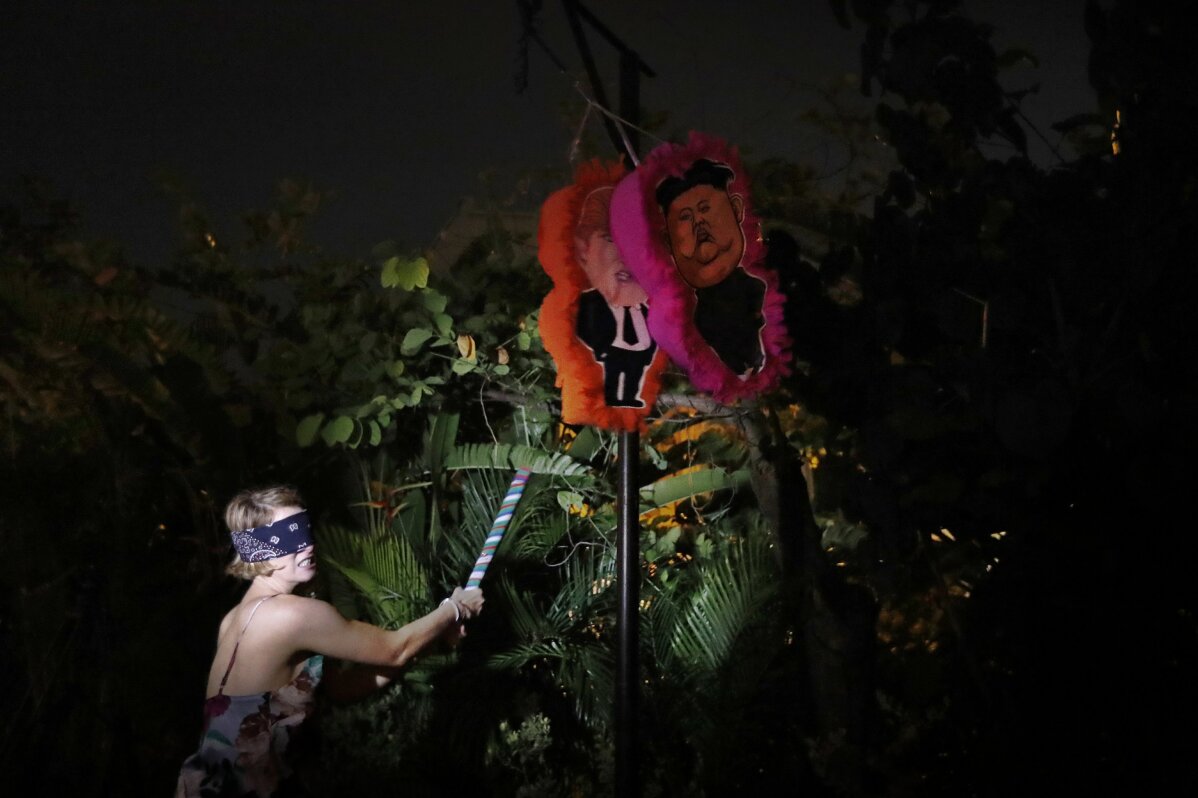 1 of 5

|
In this June, 8, 2018, photo, a woman hits custom-made pinatas which has photographs of U.S. President Donald Trump and North Korean leader Kim Jong Un at a Mexican restaurant in Singapore. Trump and North Korean leader Kim Jong Un will meet at a luxury resort in Singapore next week for nuclear talks, the White House said Tuesday. (AP Photo/Wong Maye-E)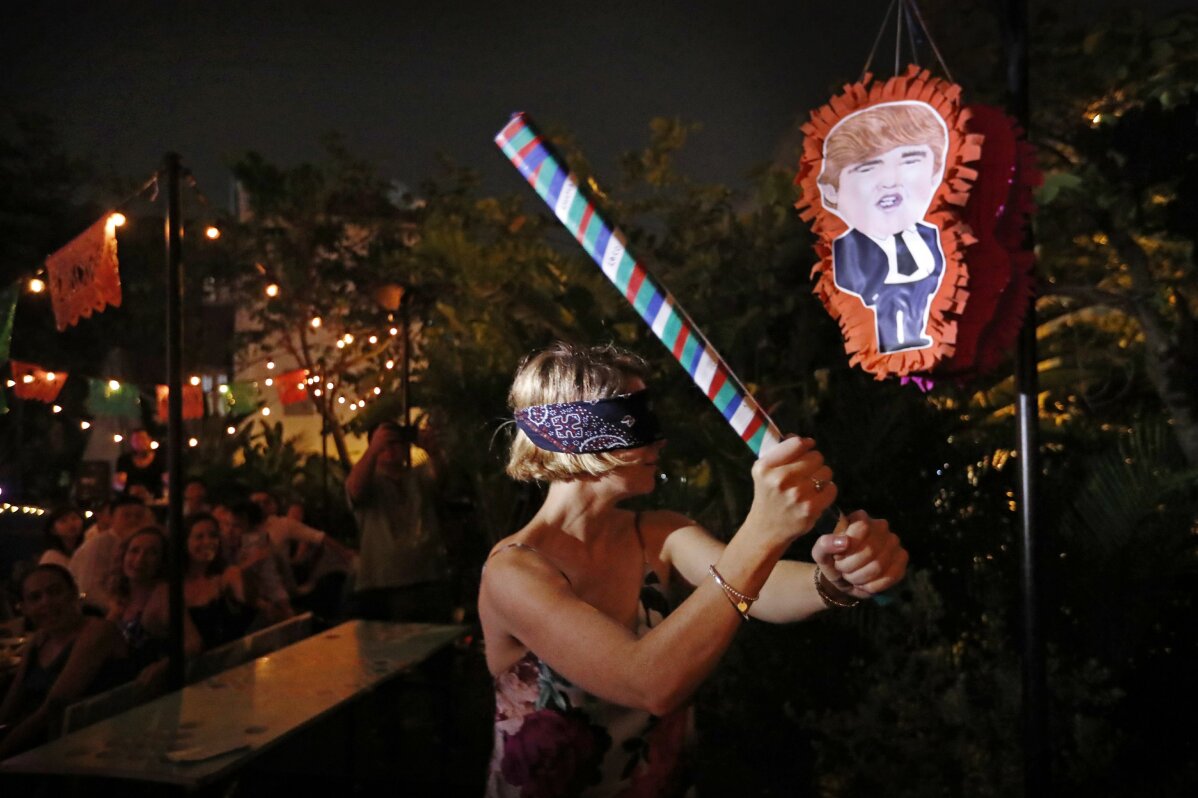 2 of 5

|
In this June, 8, 2018, photo, a woman hits a custom-made pinata which has a photo of U.S. President Donald Trump at a Mexican restaurant in Singapore. Trump and North Korean leader Kim Jong Un will meet at a luxury resort in Singapore next week for nuclear talks, the White House said Tuesday. (AP Photo/Wong Maye-E)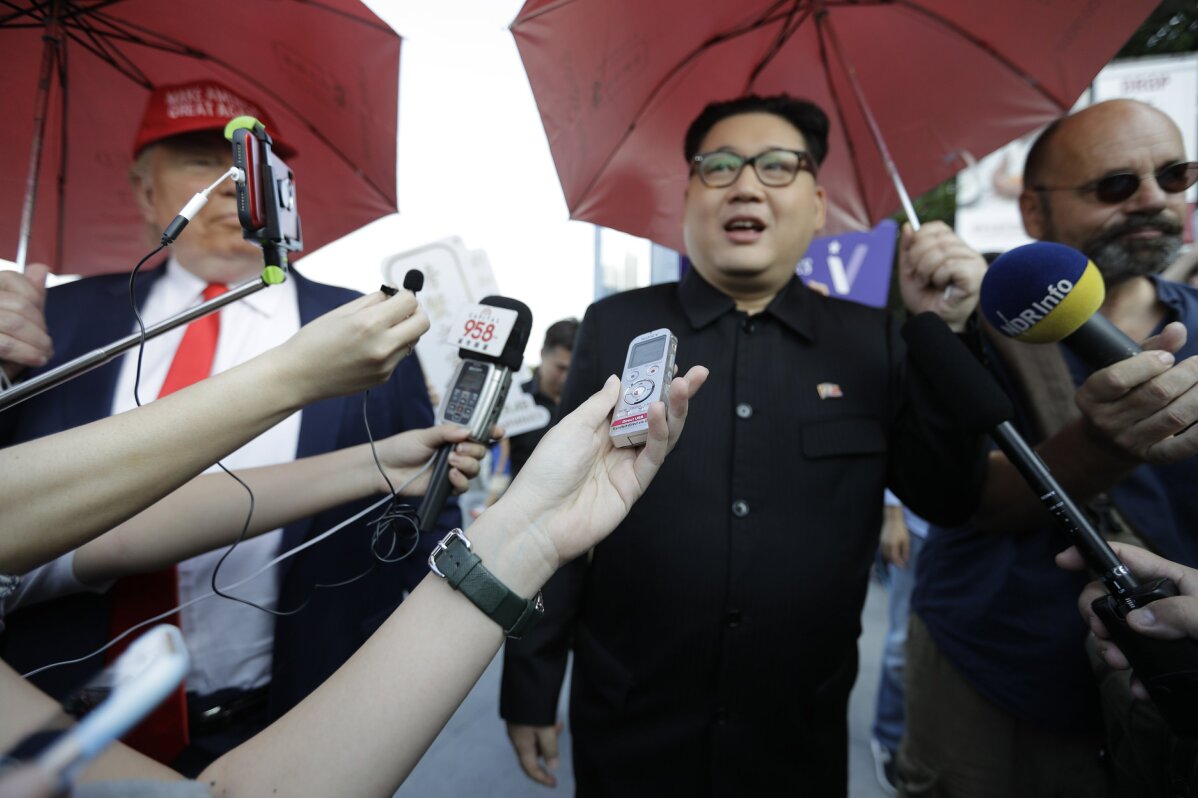 3 of 5

|
In this June 8, 2018, photo, Kim Jong Un and Donald Trump impersonators, are swamped by members of the media and curious onlookers as they visited the Merlion Park, a popular tourist destination in Singapore. The small island nation of Singapore, which prides itself on law and order, is feeling the pressure of more than 3,000 members of the press arriving for a historic summit between President Donald Trump and North Korean leader Kim Jong Un. Apart from journalists, authorities also have to contend with Kim and Trump impersonators. (AP Photo/Wong Maye-E)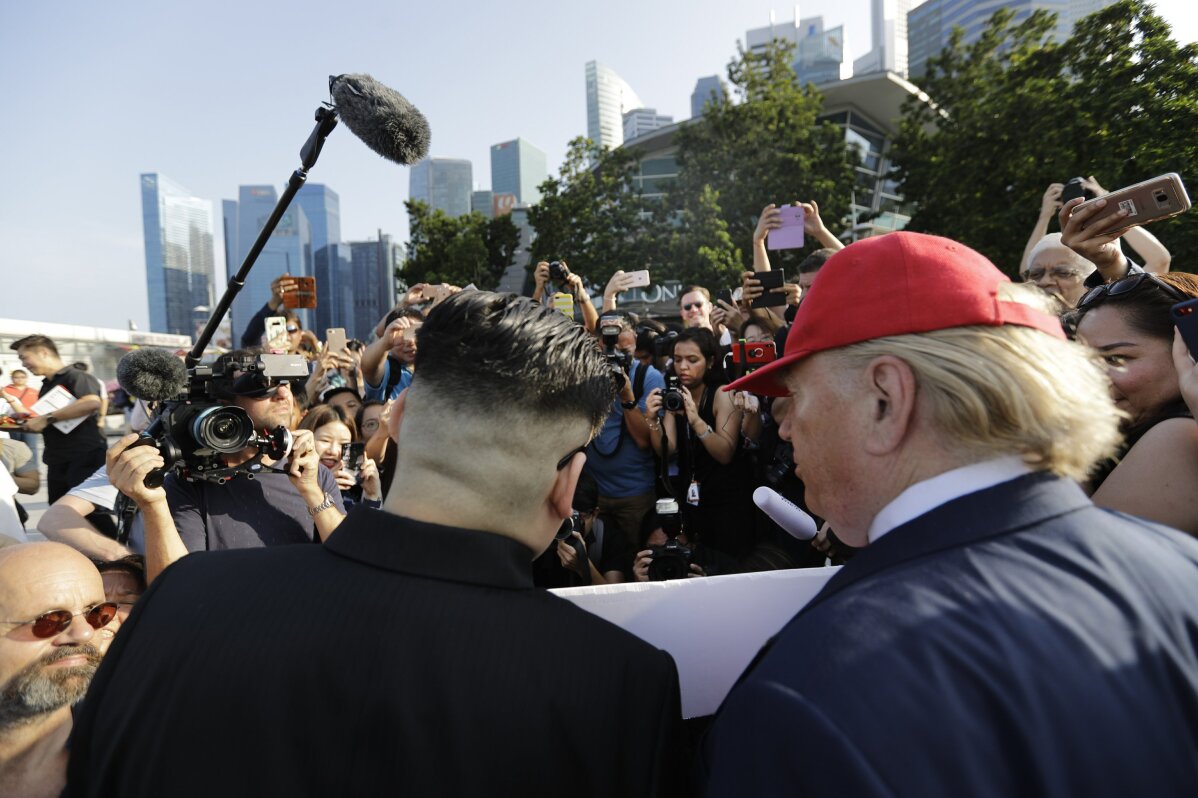 4 of 5

|
In this June 8, 2018, photo, Kim Jong Un and Donald Trump impersonators, are swamped by members of the media and curious onlookers as they visited the Merlion Park, a popular tourist destination in Singapore. The small island nation of Singapore, which prides itself on law and order, is feeling the pressure of more than 3,000 members of the press arriving for a historic summit between President Donald Trump and North Korean leader Kim Jong Un. Apart from journalists, authorities also have to contend with Kim and Trump impersonators. (AP Photo/Wong Maye-E)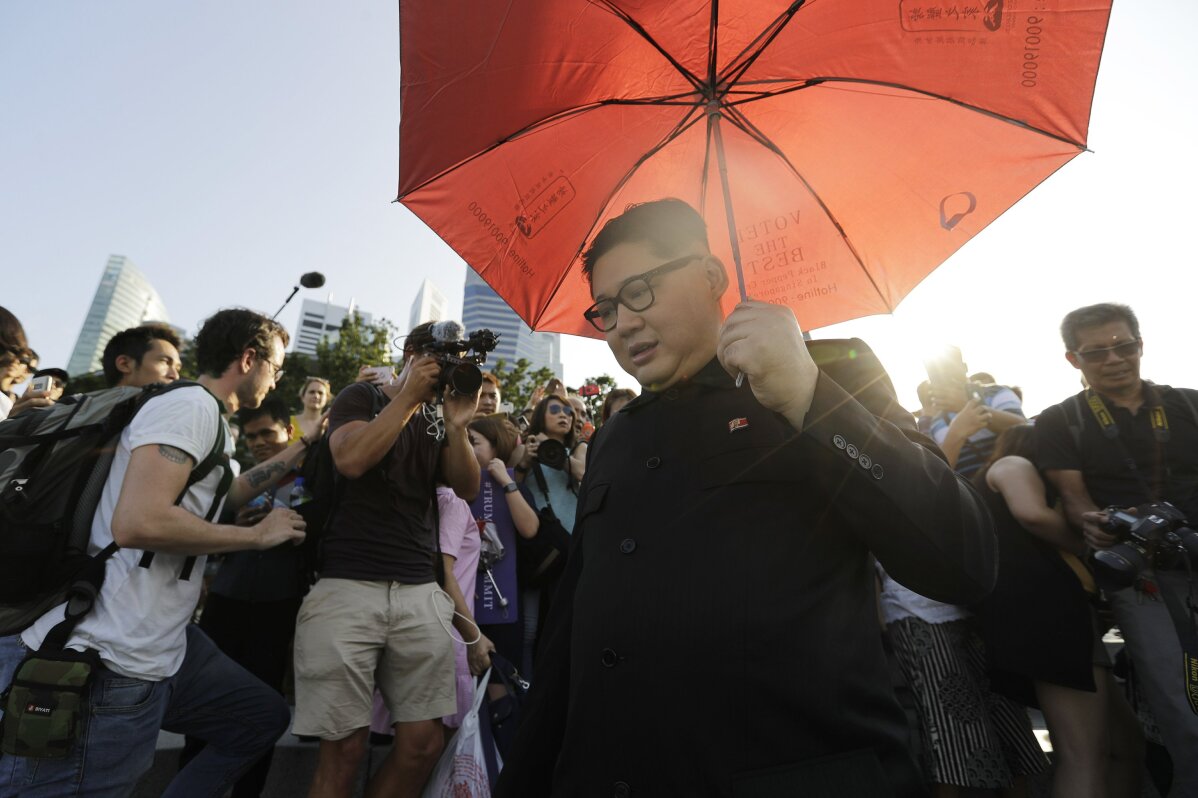 5 of 5

|
In this June 8, 2018, photo, Kim Jong Un impersonator, Howard X, who was questioned by police when he arrived at Singapore's Changi Airport is swamped by members of the media and curious onlookers as he visited the Merlion Park, a popular tourist destination in Singapore. The small island nation of Singapore, which prides itself on law and order, is feeling the pressure of more than 3,000 members of the press arriving for a historic summit between President Donald Trump and North Korean leader Kim Jong Un. Apart from journalists, authorities also have to contend with Kim and Trump impersonators. (AP Photo/Wong Maye-E)
Singapore Postcard: Trouble with doubles and media frenzy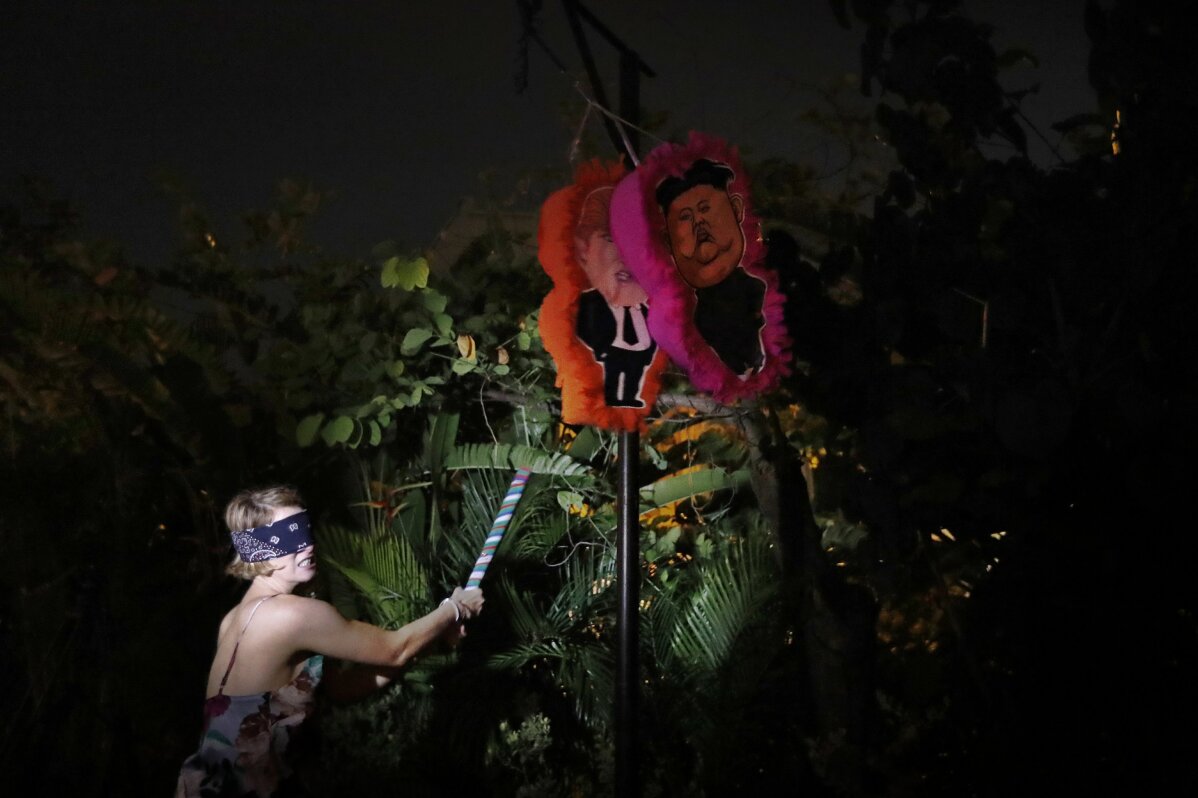 1 of 5

|
In this June, 8, 2018, photo, a woman hits custom-made pinatas which has photographs of U.S. President Donald Trump and North Korean leader Kim Jong Un at a Mexican restaurant in Singapore. Trump and North Korean leader Kim Jong Un will meet at a luxury resort in Singapore next week for nuclear talks, the White House said Tuesday. (AP Photo/Wong Maye-E)
1 of 5
In this June, 8, 2018, photo, a woman hits custom-made pinatas which has photographs of U.S. President Donald Trump and North Korean leader Kim Jong Un at a Mexican restaurant in Singapore. Trump and North Korean leader Kim Jong Un will meet at a luxury resort in Singapore next week for nuclear talks, the White House said Tuesday. (AP Photo/Wong Maye-E)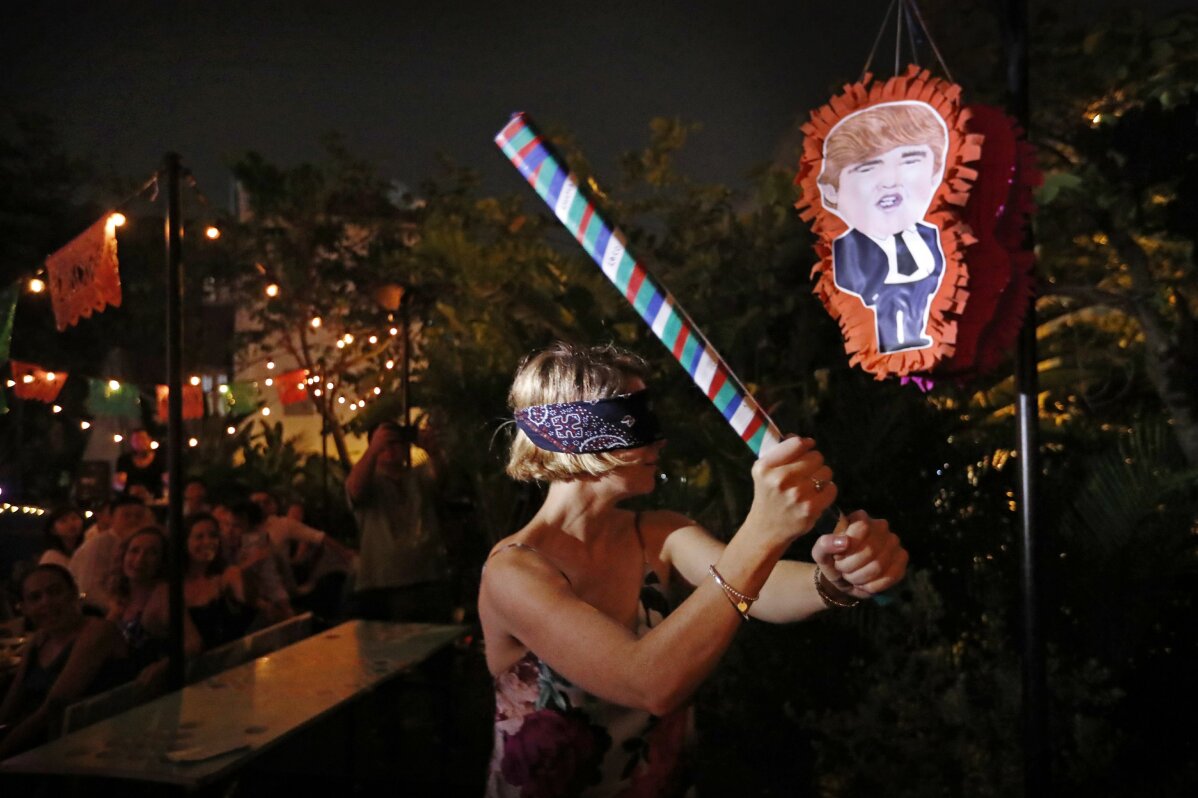 2 of 5

|
In this June, 8, 2018, photo, a woman hits a custom-made pinata which has a photo of U.S. President Donald Trump at a Mexican restaurant in Singapore. Trump and North Korean leader Kim Jong Un will meet at a luxury resort in Singapore next week for nuclear talks, the White House said Tuesday. (AP Photo/Wong Maye-E)
2 of 5
In this June, 8, 2018, photo, a woman hits a custom-made pinata which has a photo of U.S. President Donald Trump at a Mexican restaurant in Singapore. Trump and North Korean leader Kim Jong Un will meet at a luxury resort in Singapore next week for nuclear talks, the White House said Tuesday. (AP Photo/Wong Maye-E)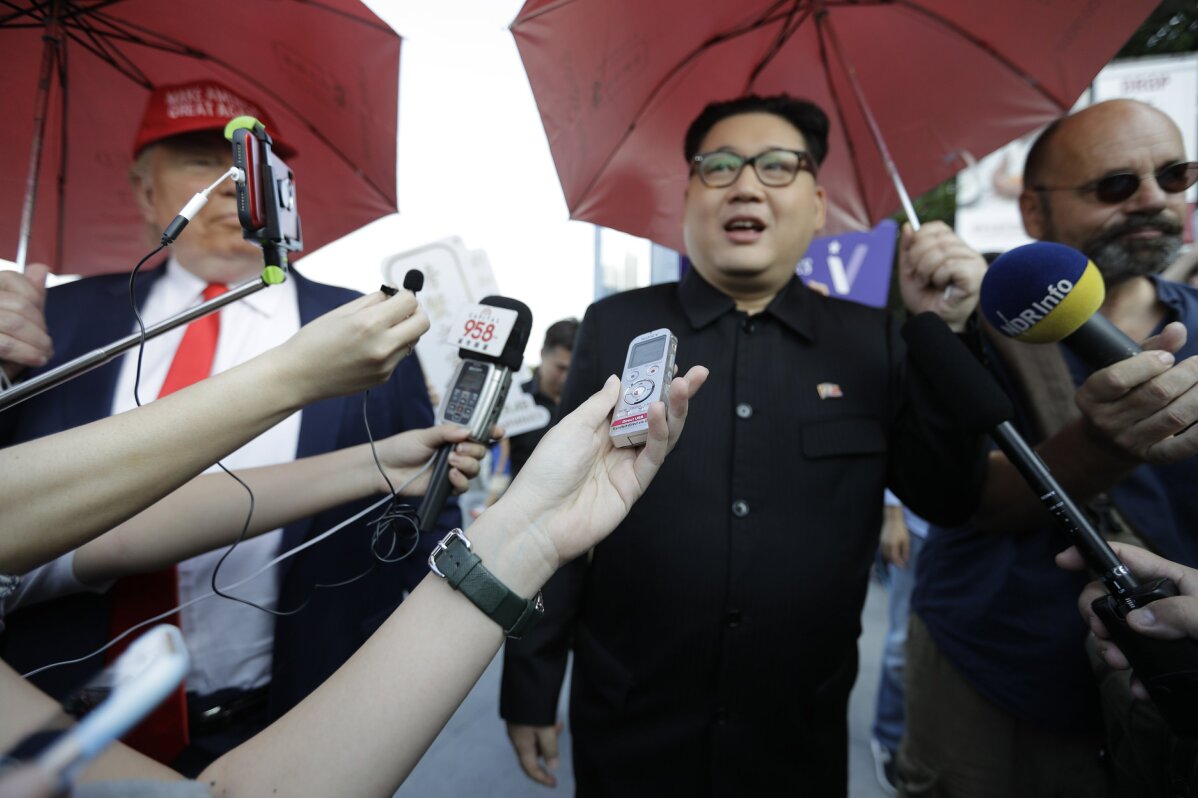 3 of 5

|
In this June 8, 2018, photo, Kim Jong Un and Donald Trump impersonators, are swamped by members of the media and curious onlookers as they visited the Merlion Park, a popular tourist destination in Singapore. The small island nation of Singapore, which prides itself on law and order, is feeling the pressure of more than 3,000 members of the press arriving for a historic summit between President Donald Trump and North Korean leader Kim Jong Un. Apart from journalists, authorities also have to contend with Kim and Trump impersonators. (AP Photo/Wong Maye-E)
3 of 5
In this June 8, 2018, photo, Kim Jong Un and Donald Trump impersonators, are swamped by members of the media and curious onlookers as they visited the Merlion Park, a popular tourist destination in Singapore. The small island nation of Singapore, which prides itself on law and order, is feeling the pressure of more than 3,000 members of the press arriving for a historic summit between President Donald Trump and North Korean leader Kim Jong Un. Apart from journalists, authorities also have to contend with Kim and Trump impersonators. (AP Photo/Wong Maye-E)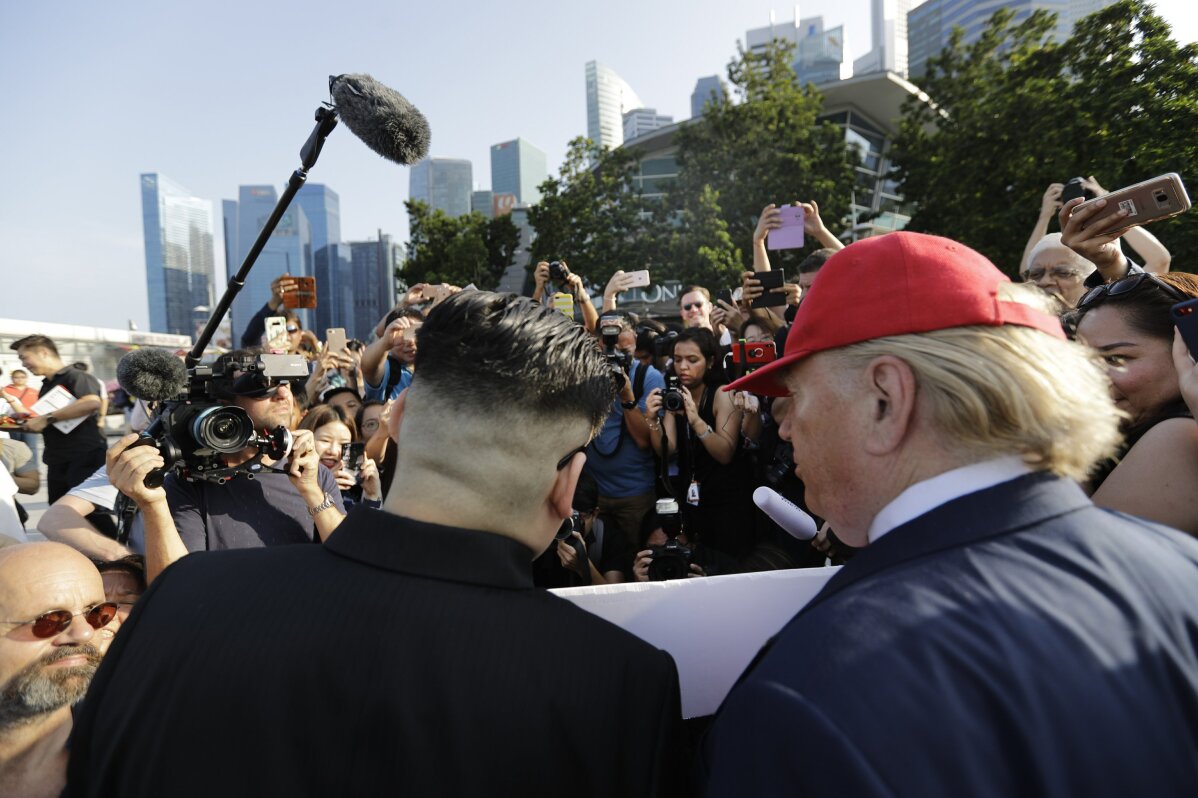 4 of 5

|
In this June 8, 2018, photo, Kim Jong Un and Donald Trump impersonators, are swamped by members of the media and curious onlookers as they visited the Merlion Park, a popular tourist destination in Singapore. The small island nation of Singapore, which prides itself on law and order, is feeling the pressure of more than 3,000 members of the press arriving for a historic summit between President Donald Trump and North Korean leader Kim Jong Un. Apart from journalists, authorities also have to contend with Kim and Trump impersonators. (AP Photo/Wong Maye-E)
4 of 5
In this June 8, 2018, photo, Kim Jong Un and Donald Trump impersonators, are swamped by members of the media and curious onlookers as they visited the Merlion Park, a popular tourist destination in Singapore. The small island nation of Singapore, which prides itself on law and order, is feeling the pressure of more than 3,000 members of the press arriving for a historic summit between President Donald Trump and North Korean leader Kim Jong Un. Apart from journalists, authorities also have to contend with Kim and Trump impersonators. (AP Photo/Wong Maye-E)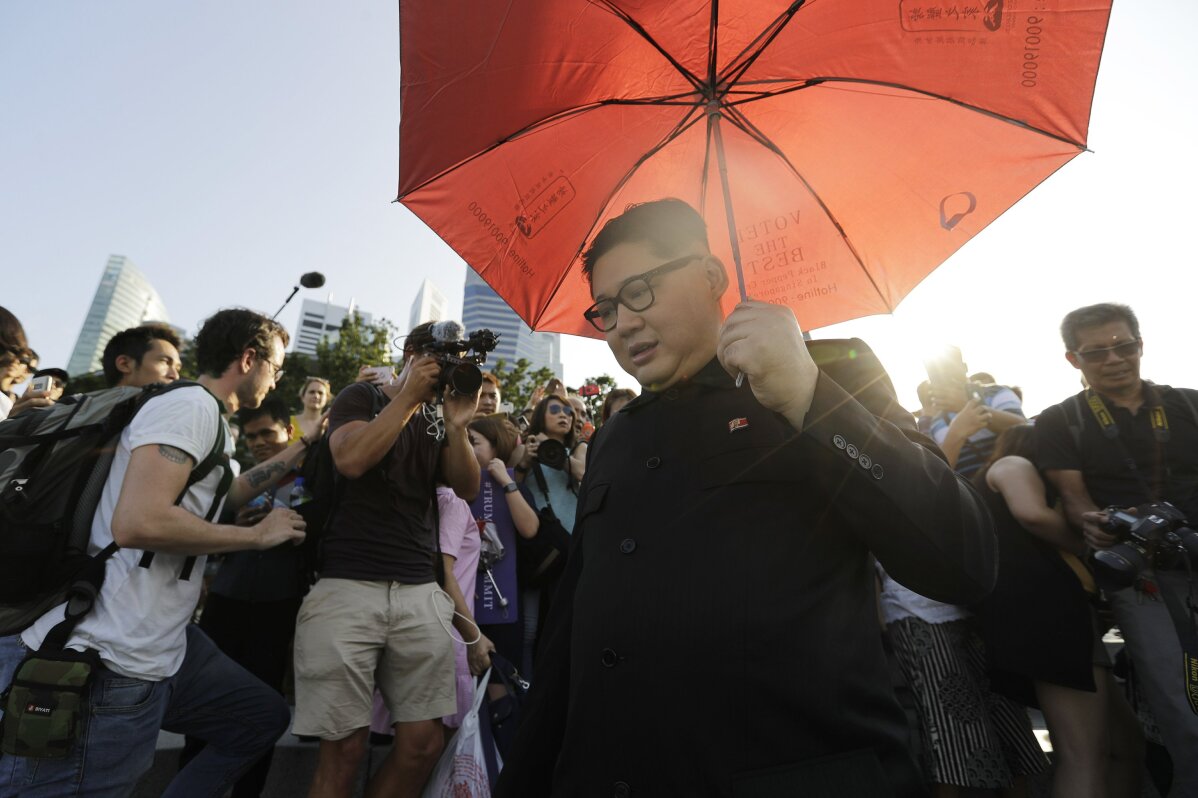 5 of 5

|
In this June 8, 2018, photo, Kim Jong Un impersonator, Howard X, who was questioned by police when he arrived at Singapore's Changi Airport is swamped by members of the media and curious onlookers as he visited the Merlion Park, a popular tourist destination in Singapore. The small island nation of Singapore, which prides itself on law and order, is feeling the pressure of more than 3,000 members of the press arriving for a historic summit between President Donald Trump and North Korean leader Kim Jong Un. Apart from journalists, authorities also have to contend with Kim and Trump impersonators. (AP Photo/Wong Maye-E)
5 of 5
In this June 8, 2018, photo, Kim Jong Un impersonator, Howard X, who was questioned by police when he arrived at Singapore's Changi Airport is swamped by members of the media and curious onlookers as he visited the Merlion Park, a popular tourist destination in Singapore. The small island nation of Singapore, which prides itself on law and order, is feeling the pressure of more than 3,000 members of the press arriving for a historic summit between President Donald Trump and North Korean leader Kim Jong Un. Apart from journalists, authorities also have to contend with Kim and Trump impersonators. (AP Photo/Wong Maye-E)
SINGAPORE (AP) — The small island nation of Singapore, which prides itself on law and order, is feeling the pressure of more than 3,000 members of the press arriving for a historic summit between President Donald Trump and North Korean leader Kim Jong Un.
The heavy media presence along with stringent security measures for the summit Tuesday has added to the frenzy unusual for the laid-back tropical state.
For over a week, journalists have been staking out Singapore's luxury hotels, airports and government buildings to catch a glimpse of officials involved in summit preparations.
Unruly ones have already crossed red lines. Police said Friday they arrested two South Korean journalists from the national broadcaster KBS suspected of trespassing in the residence of the North Korean ambassador.
Another KBS journalist and an interpreter were also under investigation.
Responding to the arrests, South Korean presidential spokesman Kim Eui-kyeom urged journalists from his country, where the free-wheeling press is a norm, to behave. He reminded them that Singapore exercises "very strict government power," which may not bend to diplomatic pleas.
KBS apologized for the incident in their Friday evening newscast.
The city-state is not used to a rowdy press. Most of the mainstream media are controlled by government-linked companies and independent news websites are wary of strict defamation laws that government leaders have used to silence critics.
Apart from journalists, authorities also have to contend with Kim and Trump impersonators.
On Friday, Kim impersonator Lee Howard Ho Wun was questioned by police when he arrived at Singapore's Changi Airport. Lee, who also uses the name Howard X, said he was told to stay away from Sentosa Island, where the summit will be held, and around Shangri-La Hotel, where Trump is expected to stay. Police banned loud-hailers, flags or banners over a meter (yard) long or wide in the two "special event areas."
Lee said the police asked if he had been involved in protests around the world, including those by pro-democracy activists in Hong Kong, where he lives.
"I've never encountered this at any other country. I guess they could have deported me, but then the headline the next day would read 'Kim Jong Un gets deported from Singapore,' which I'm sure they wouldn't want," Lee said.
Singapore's Immigration and Checkpoints Authority said that all travelers could be subjected to additional interviews and checks.
Later Friday, Lee was spotted at Merlion Park, a popular tourist spot, with Trump impersonator Dennis Alan. They were mobbed by passers-by and a group of around 25 journalists.
As the cameras clicked, the impersonators promoted a restaurant's chili-and-black pepper crabs and held up advertisements for an app — all within the sight of plainclothes police.
At the Mexican restaurant Lucha Loco, diners took a swing at Trump and Kim-shaped pinatas, which were filled with sweets.
Executive chef Nelson Burgos said the restaurant meant no harm. "We felt that it was a wonderful opportunity to get a little bit creative and have a little bit of fun," he said.
Some enterprising Singaporeans came up with risk-free ways to commemorate the meeting.
Caleb Lin, the co-founder of Miniature Stories, is selling T-shirts featuring Trump and Kim taking a selfie against the city's iconic skyline.
"Singaporeans are not known for being super crazy, so we thought it'd be quite fun to do a tongue-in-cheek T-shirt for the event," he said.