Records: Student-loan forgiveness has halted under Trump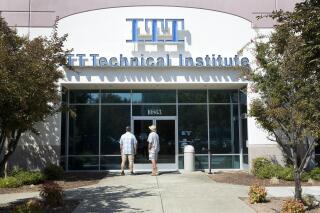 The U.S. Education Department has not approved any applications for student-loan forgiveness in cases of possible fraud since President Donald Trump took office, according to records sent to an Illinois senator.
Democratic Sen. Richard Durbin released those records Wednesday and blasted the department for its inaction and for a June decision to delay and rewrite Obama-era rules that would have made it easier for students to get loans forgiven if they were deceived by their schools.
"This response shows that while the Department of Education has illegally delayed the new borrower defense rule, it has also stopped processing federal student loan relief under current regulations for tens of thousands of defrauded borrowers," Durbin said in a statement. "The department can't ignore these borrowers any longer."
Department officials did not immediately respond to a request for comment.
Durbin and four other Democratic senators sent a series of questions to the department on May 17 amid concerns that the pipeline to student-loan forgiveness had stalled under the Trump administration. Also signing the letter were Sen. Patty Murray of Washington, Sen. Chuck Schumer of New York, Sen. Sherrod Brown of Ohio, and Sen. Elizabeth Warren of Massachusetts.
Under President Barack Obama, the department approved more than 28,000 claims for loan forgiveness from former students of Corinthian Colleges, a chain of for-profit colleges that closed in 2015 amid accusations that it falsified job-placement data and altered student grades. Those claims topped $558 million.
But in the letter responding to Durbin's questions, Acting Under Secretary James Manning wrote that "no borrower defense applications have been approved between Jan. 20, 2017, and today."
The records also revealed that the department has continued to receive new applications from borrowers who say they were victims of fraud. In total, the department said it received nearly 15,000 applications between Jan. 20 and July 5, mostly from Corinthian borrowers and from former students of ITT Technical Institute, a chain that closed last year.
The number of new applications is likely to swell even further, experts say, amid a campaign by many state attorneys general to notify students who might be eligible for loan relief.
Overall, the department said there are more than 65,000 pending claims for relief. Although most come from Corinthian and ITT students, others are from people who attended schools that are still in operation, including DeVry University and the University of Phoenix.
Many advocacy groups and some Democrats in Congress have urged the department to clear the backlog, saying the delay has left thousands of borrowers strapped with debt that's eligible to be erased under existing federal rules.
In June, Education Secretary Betsy DeVos said that "promises made to students under the current rule will be promises kept" and added that her office was working to discharge more than 16,000 loans that were previously approved to be erased under Obama.
But in the same announcement, DeVos unveiled plans to rewrite an Obama-era regulation known as the borrower defense to repayment rule, which aimed to quicken the path to loan forgiveness when schools commit fraud, and to hold those schools financially responsible. DeVos called it "a muddled process that's unfair to students and schools."
Since then, the department has released little information about its progress, and questions sent to a spokeswoman have gone unanswered.
Even top officials in the department aren't being briefed on the progress, according to the records sent to Durbin.
The letter from Manning says that while the department "is in the process of establishing reports including borrower defense information, there are currently no regularly produced reports provided to senior officials. Information is provided upon request."
Borrowers who are awaiting a decision from the department have continued to accrue loan interest, which the department revealed amounts to $143 million. And while most borrowers are given a grace period from their loan payments while they wait, the department said it has expired for "fewer than 50 borrowers" and that "these are exceptions." But over the next six months, the period is set to expire for 31,000 borrowers. Manning wrote that those borrowers "could have their forbearances extended if their applications are still pending."
___
Find Collin Binkley on Twitter at @cbinkley.