UK travelers face hours-long waits for ferries to France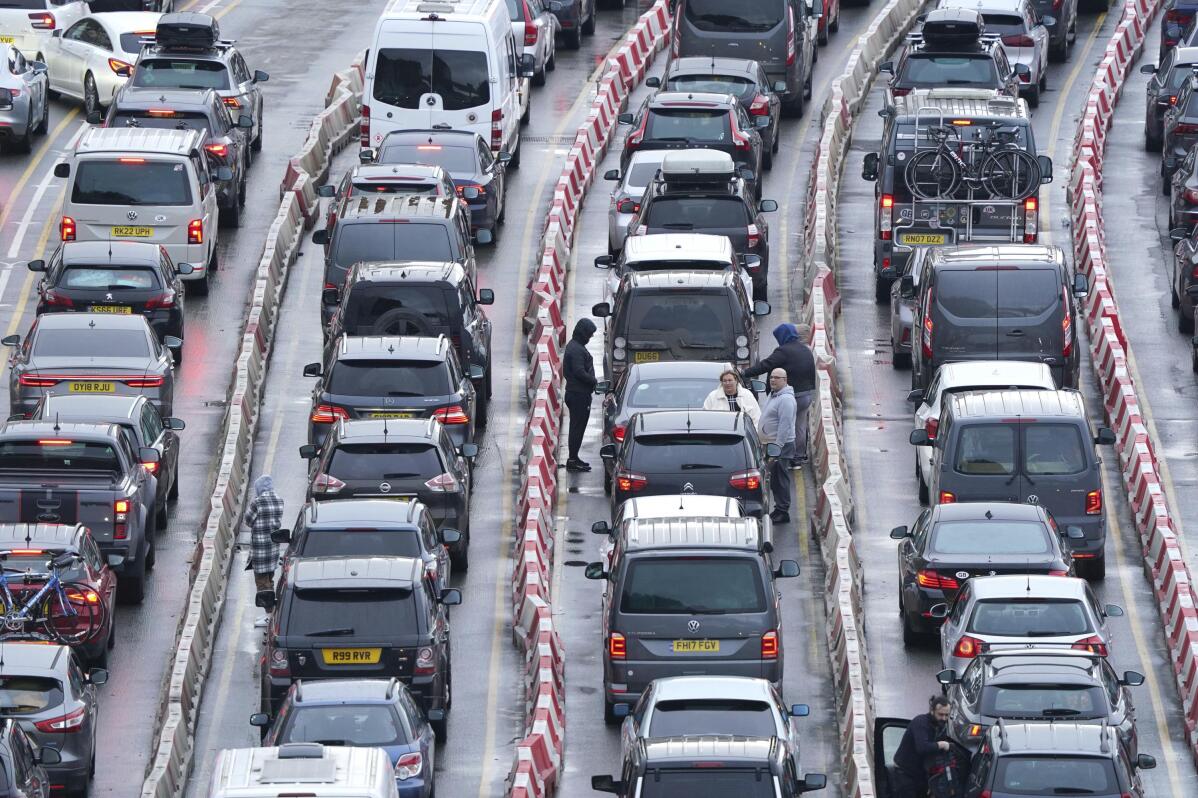 1 of 4

|
People stand by their cars as traffic is jammed at the Port of Dover as the Easter getaway begins, in Kent, England, Saturday April 1, 2023. The Port of Dover declared a critical incident as high levels of traffic caused coach passengers to experience lengthy delays. (Gareth Fuller/PA via AP)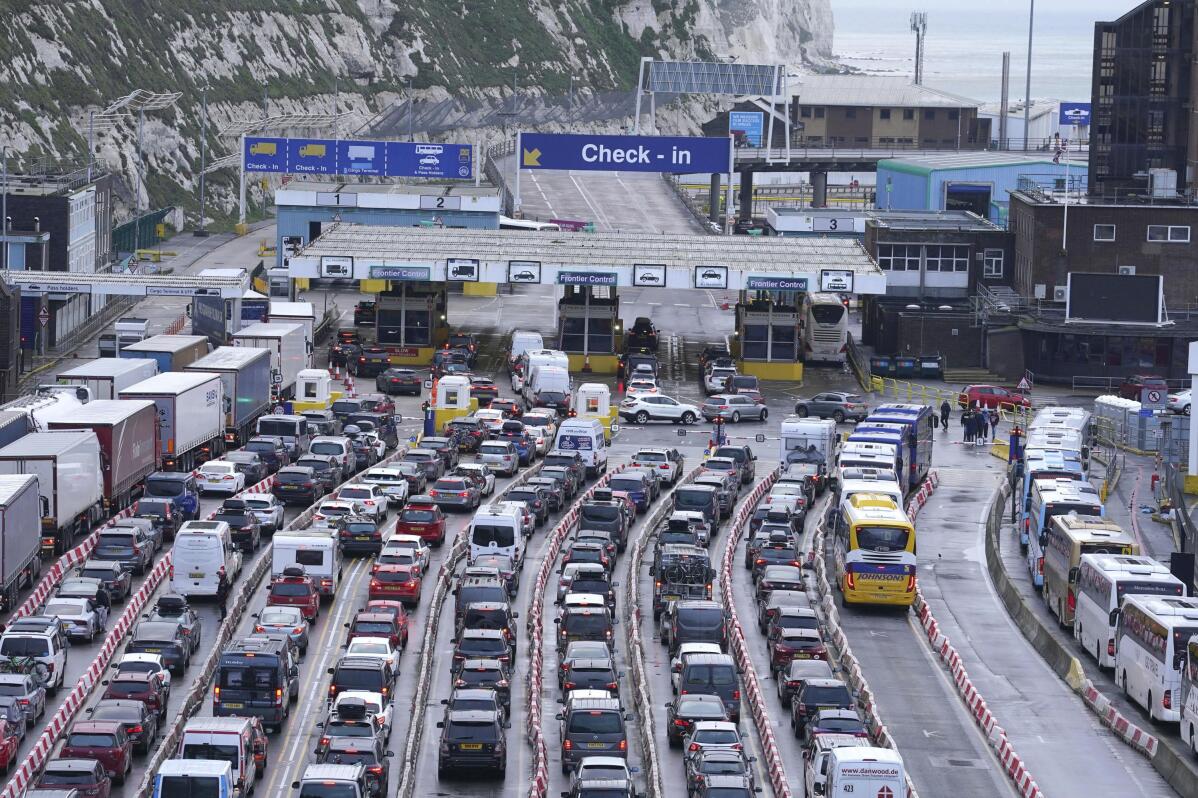 2 of 4

|
Traffic at the Port of Dover as the Easter getaway begins, in Kent England, Saturday April 1, 2023. The Port of Dover declared a critical incident as high levels of traffic caused coach passengers to experience lengthy delays. (Gareth Fuller/PA via AP)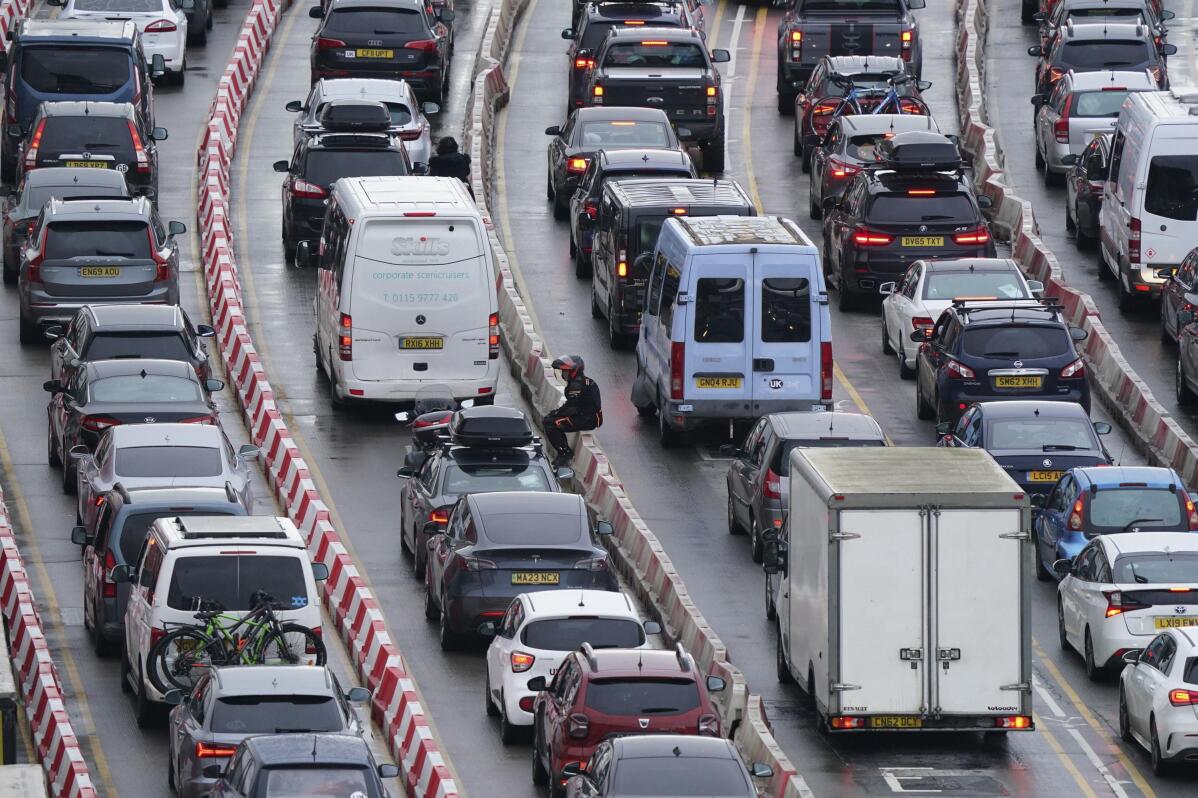 3 of 4

|
Traffic at the Port of Dover as the Easter getaway begins, in Kent, England, Saturday April 1, 2023. The Port of Dover declared a critical incident as high levels of traffic caused coach passengers to experience lengthy delays. (Gareth Fuller/PA via AP)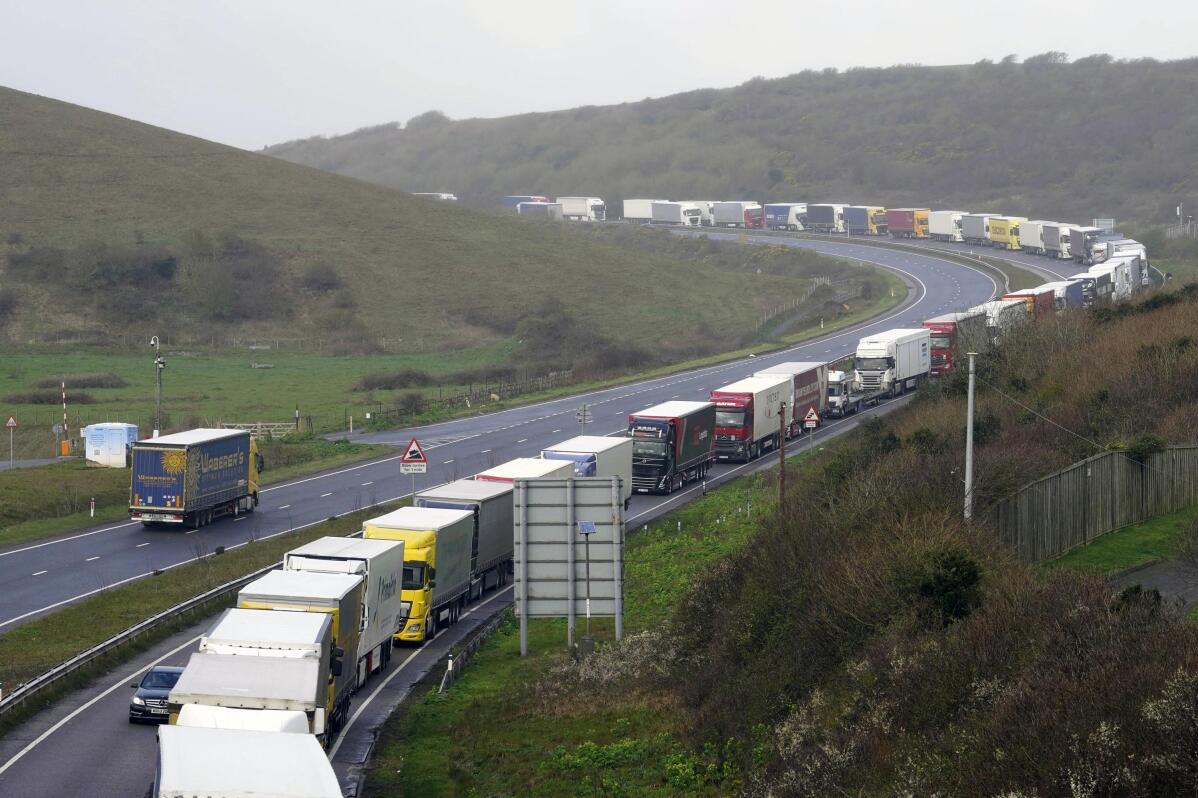 4 of 4

|
Lorries queue on the A20 to get to the Port of Dover in Kent, England, as the Easter getaway begins on Saturday April 1, 2023. The Port of Dover declared a critical incident as high levels of traffic caused coach passengers to experience lengthy delays. (Gareth Fuller/PA via AP)
UK travelers face hours-long waits for ferries to France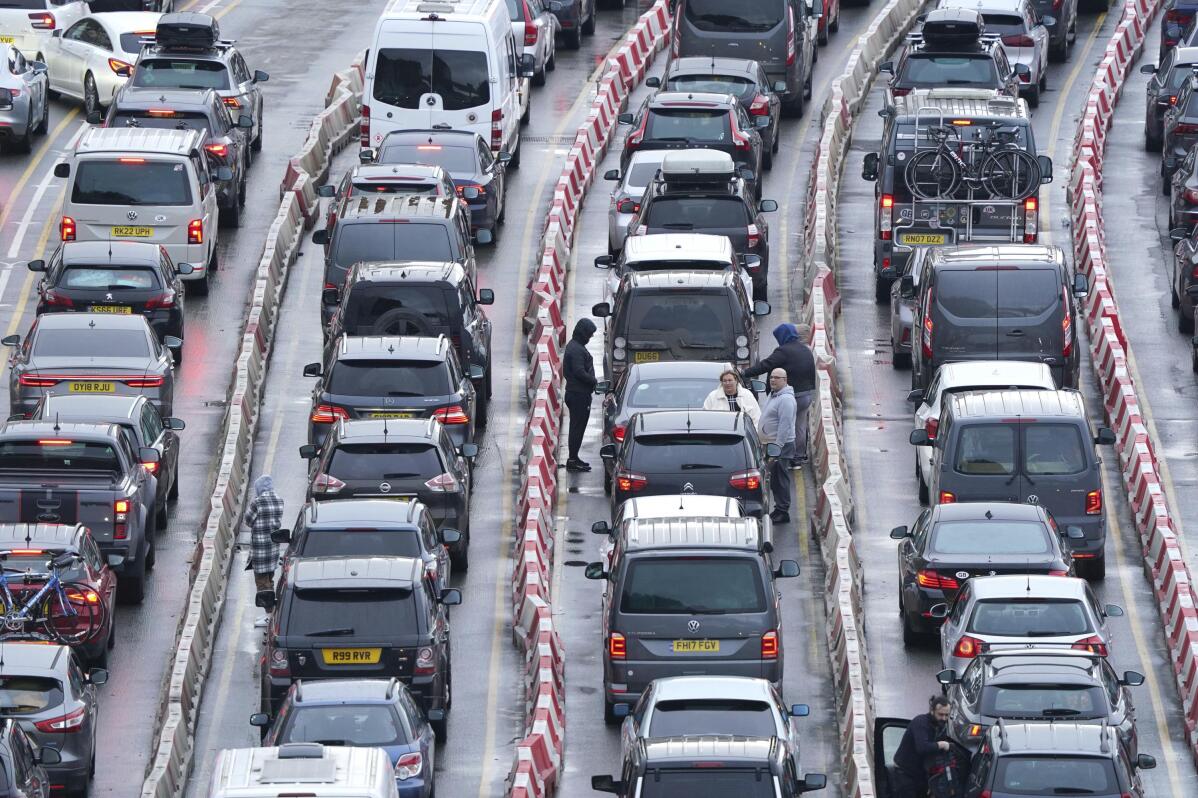 1 of 4

|
People stand by their cars as traffic is jammed at the Port of Dover as the Easter getaway begins, in Kent, England, Saturday April 1, 2023. The Port of Dover declared a critical incident as high levels of traffic caused coach passengers to experience lengthy delays. (Gareth Fuller/PA via AP)
1 of 4
People stand by their cars as traffic is jammed at the Port of Dover as the Easter getaway begins, in Kent, England, Saturday April 1, 2023. The Port of Dover declared a critical incident as high levels of traffic caused coach passengers to experience lengthy delays. (Gareth Fuller/PA via AP)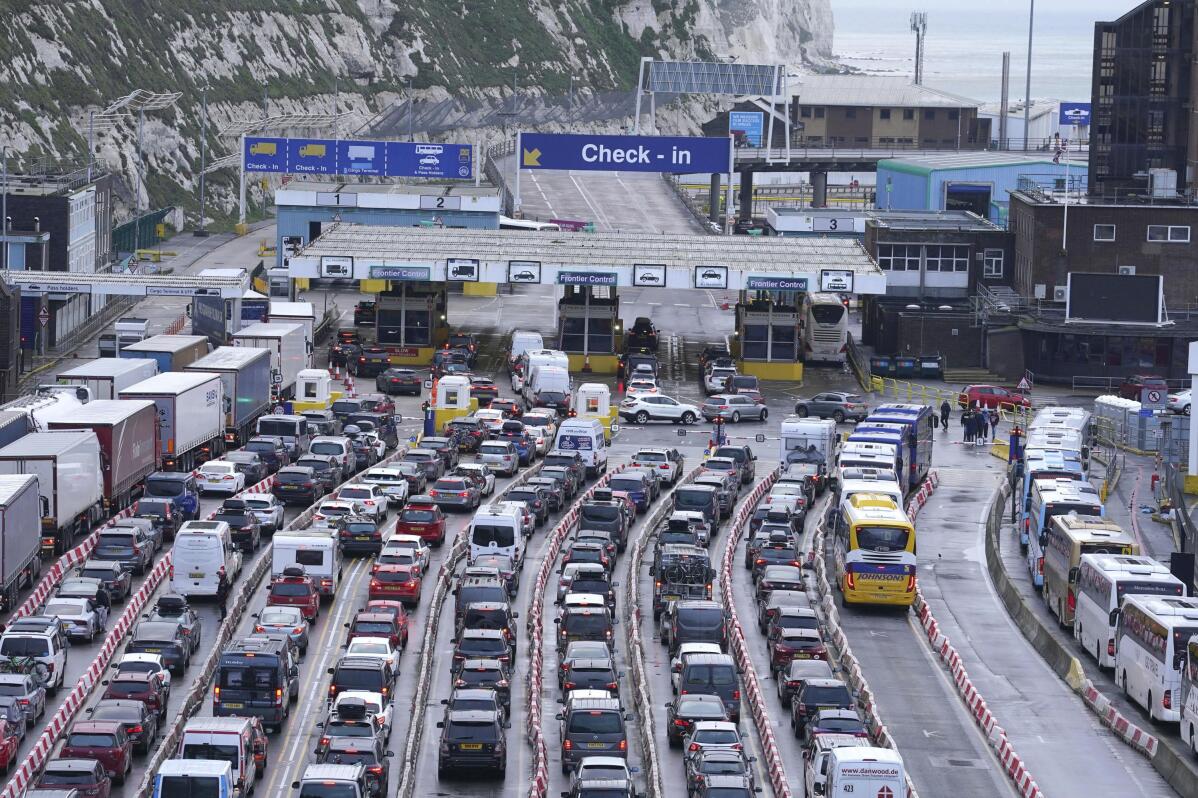 2 of 4

|
Traffic at the Port of Dover as the Easter getaway begins, in Kent England, Saturday April 1, 2023. The Port of Dover declared a critical incident as high levels of traffic caused coach passengers to experience lengthy delays. (Gareth Fuller/PA via AP)
2 of 4
Traffic at the Port of Dover as the Easter getaway begins, in Kent England, Saturday April 1, 2023. The Port of Dover declared a critical incident as high levels of traffic caused coach passengers to experience lengthy delays. (Gareth Fuller/PA via AP)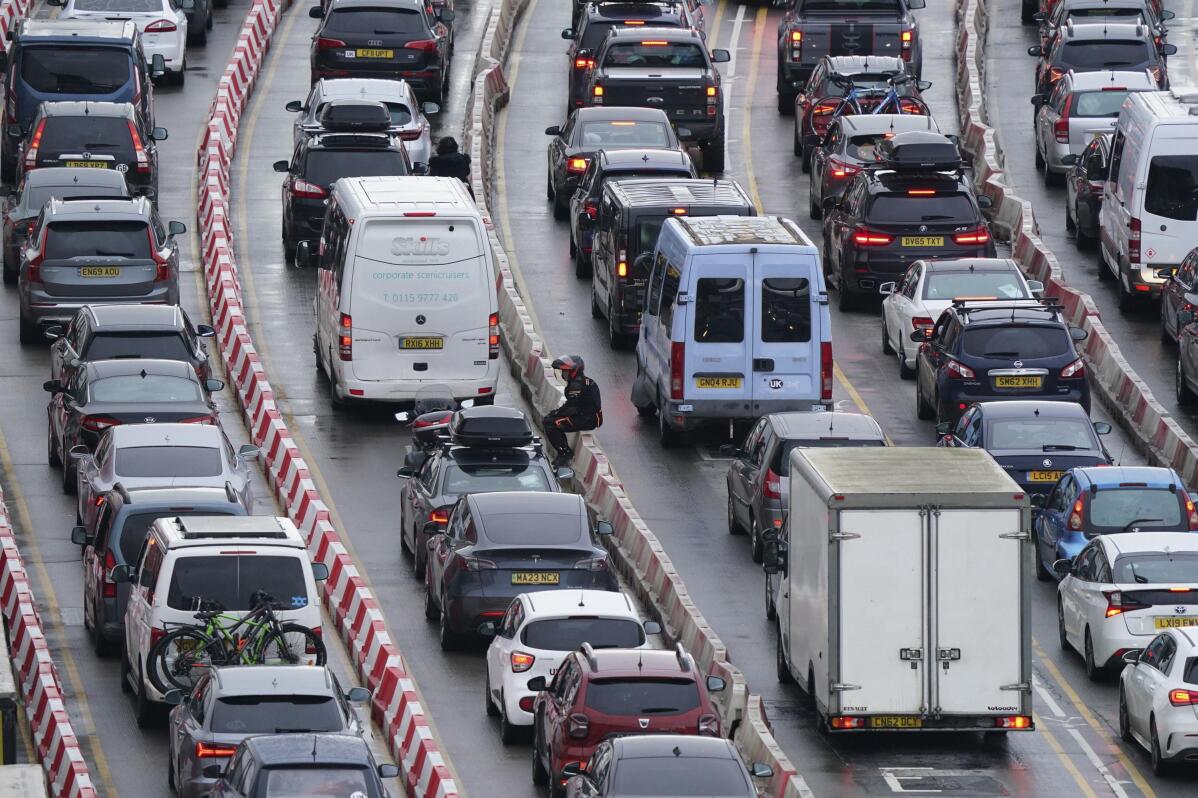 3 of 4

|
Traffic at the Port of Dover as the Easter getaway begins, in Kent, England, Saturday April 1, 2023. The Port of Dover declared a critical incident as high levels of traffic caused coach passengers to experience lengthy delays. (Gareth Fuller/PA via AP)
3 of 4
Traffic at the Port of Dover as the Easter getaway begins, in Kent, England, Saturday April 1, 2023. The Port of Dover declared a critical incident as high levels of traffic caused coach passengers to experience lengthy delays. (Gareth Fuller/PA via AP)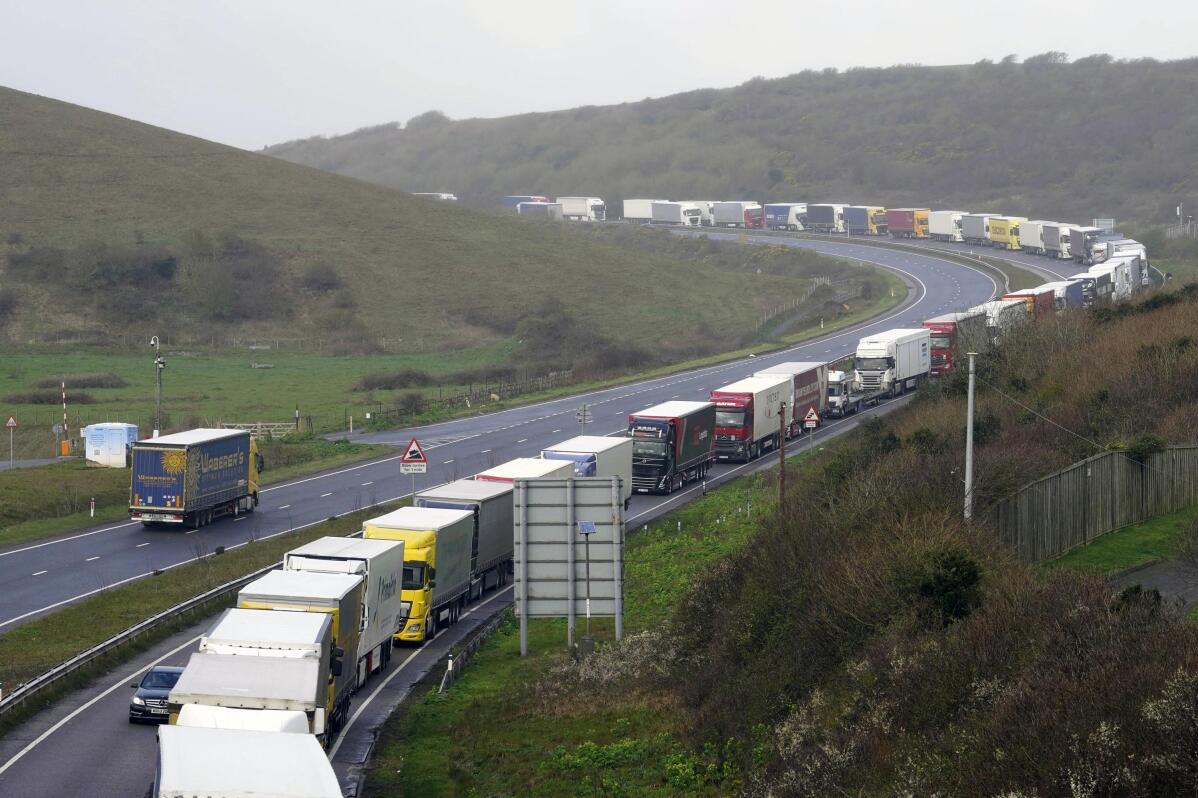 4 of 4

|
Lorries queue on the A20 to get to the Port of Dover in Kent, England, as the Easter getaway begins on Saturday April 1, 2023. The Port of Dover declared a critical incident as high levels of traffic caused coach passengers to experience lengthy delays. (Gareth Fuller/PA via AP)
4 of 4
Lorries queue on the A20 to get to the Port of Dover in Kent, England, as the Easter getaway begins on Saturday April 1, 2023. The Port of Dover declared a critical incident as high levels of traffic caused coach passengers to experience lengthy delays. (Gareth Fuller/PA via AP)
LONDON (AP) — British vacation travelers were stuck in hours-long lines as they tried to cross the English Channel on Saturday, with the Port of Dover in England blaming the delays on bad weather, heavy traffic and processing delays by French authorities.
The port warned ferry passengers of severe delays and said it was "deeply frustrated" by the situation, which has become a regular feature of cross-channel travel since Britain's exit from the European Union. Saturday was the first day of a two-week spring vacation for most schools in Britain.
While the port said bus passengers faced the longest delays, local media reports showed long lines of cars and trucks as well. Ferry operator DFDS said that due to the heavy traffic, it was offering a "shuttle service" that would put passengers on the next available ship as soon as they check in.
"Whilst freight and car traffic was processed steadily regardless of the additional challenging weather conditions and high seasonal volumes, coach traffic suffered significant delays due to lengthy French border processes and sheer volume," the port said in a statement.