California GOP ponders way forward after stunning losses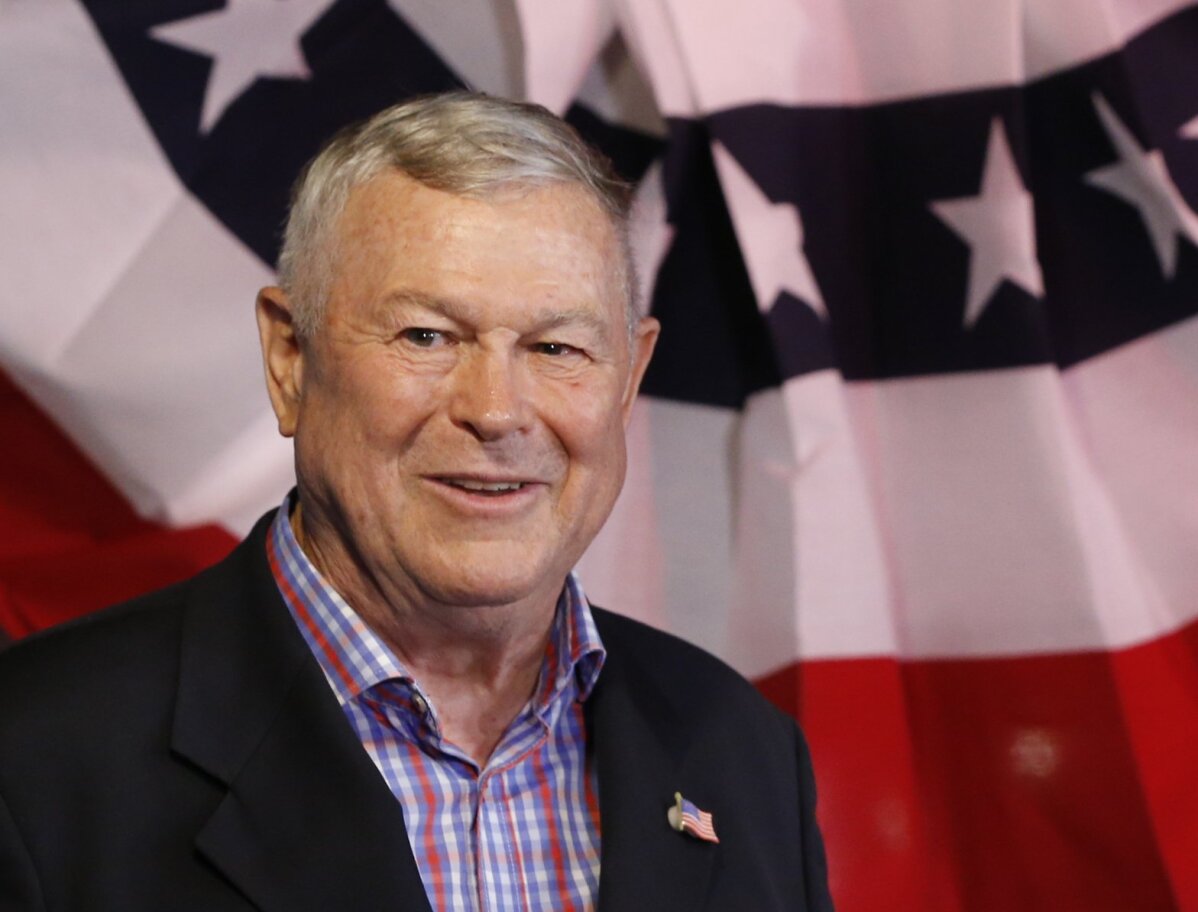 1 of 5

|
FILE - In this Tuesday, Nov. 6, 2018 file photo, U.S. Rep. Dana Rohrabacher, R-Costa Mesa, addresses members of the media and supporters waiting for elections results at the Skosh Monahan's Irish Pub in Costa Mesa, Calif. A string of losses has set off a fresh round of Republican soul-searching in California, where the party has been drifting toward irrelevance for years. Along with Republican U.S. Rep. Mimi Walters' loss on Thursday, Nov. 15, 2018, in Orange County, 15-term Rep. Rohrabacher was ousted from his nearby district. (AP Photo/Damian Dovarganes, File)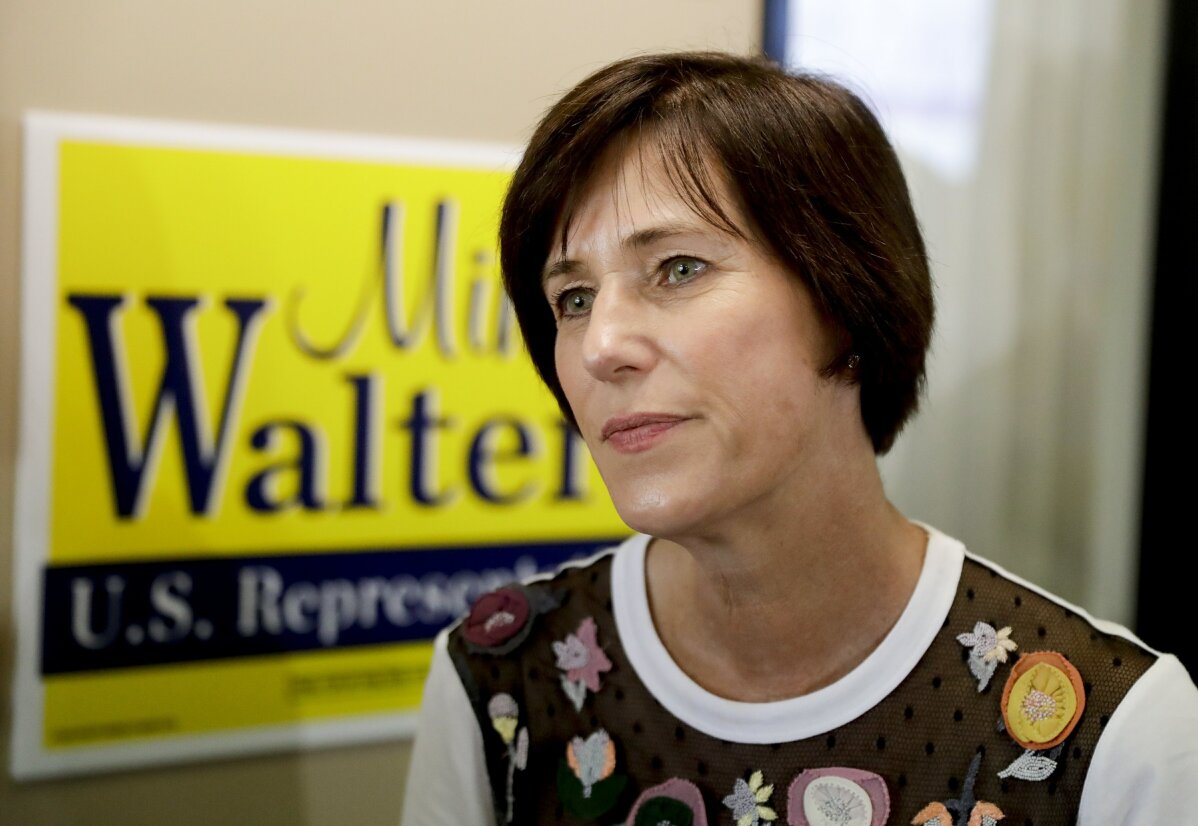 2 of 5

|
FILE - In this Tuesday, Nov. 6, 2018 file photo, U.S. Rep. Mimi Walters, R-Calif., talks to supporters at her campaign office in Irvine, Calif. A string of stunning losses has set off a fresh round of Republican soul-searching in California, where the party has been drifting toward irrelevance for years. Republican Rep. Walters was defeated Thursday, Nov. 15, 2018, in the heart of Orange County, once a nationally known Republican stronghold. (AP Photo/Chris Carlson, File)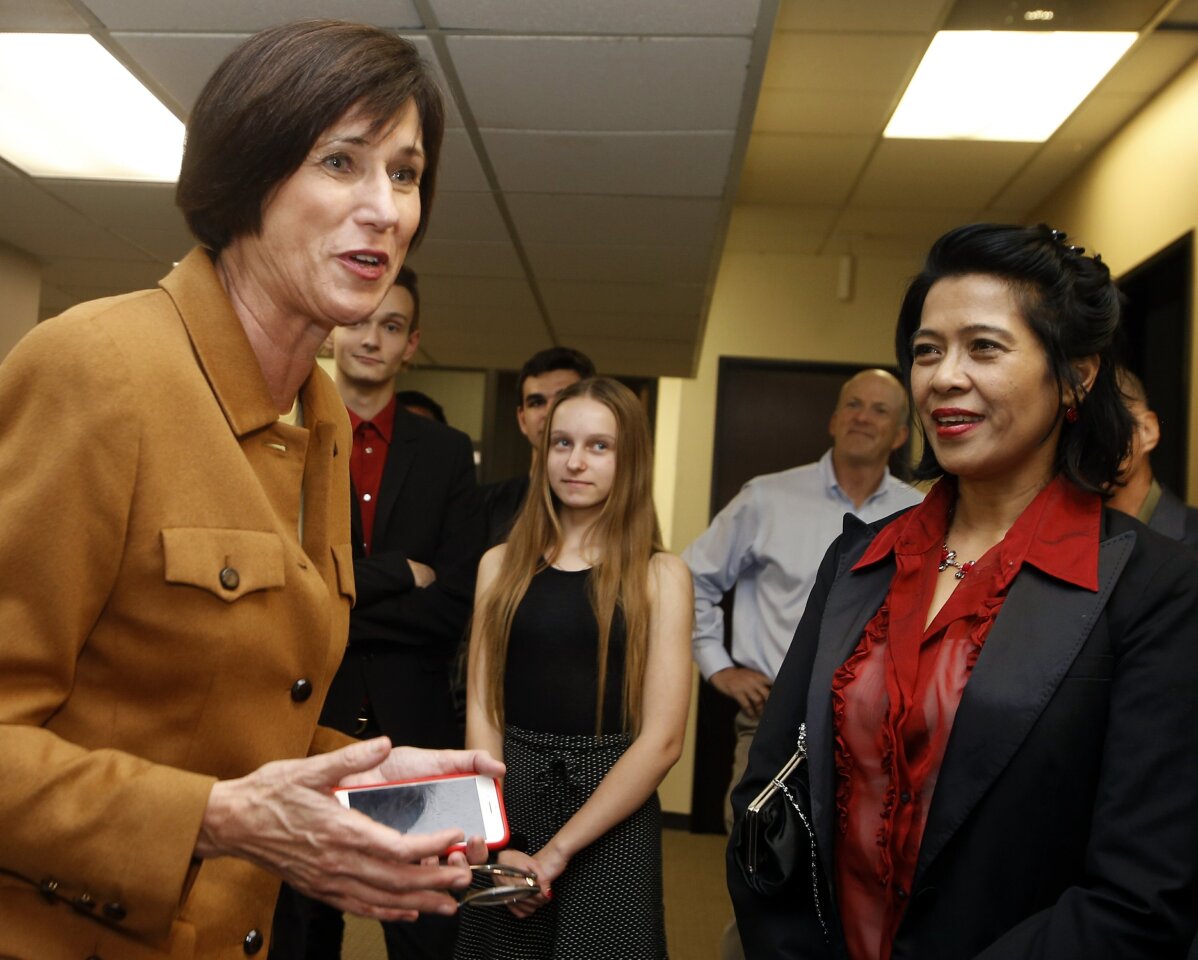 3 of 5

|
FILE - In this Tuesday, Nov. 6, 2018 file photo, U.S. Rep. Mimi Walters, R-Calif., left, thanks supporters as results from the early votes have her in the lead in Irvine, Calif. A string of stunning losses has set off a fresh round of Republican soul-searching in California, where the party has been drifting toward irrelevance for years. Walters was defeated Thursday, Nov. 15, 2018, in the heart of Orange County, once a nationally known Republican stronghold. (AP Photo/Alex Gallardo, File)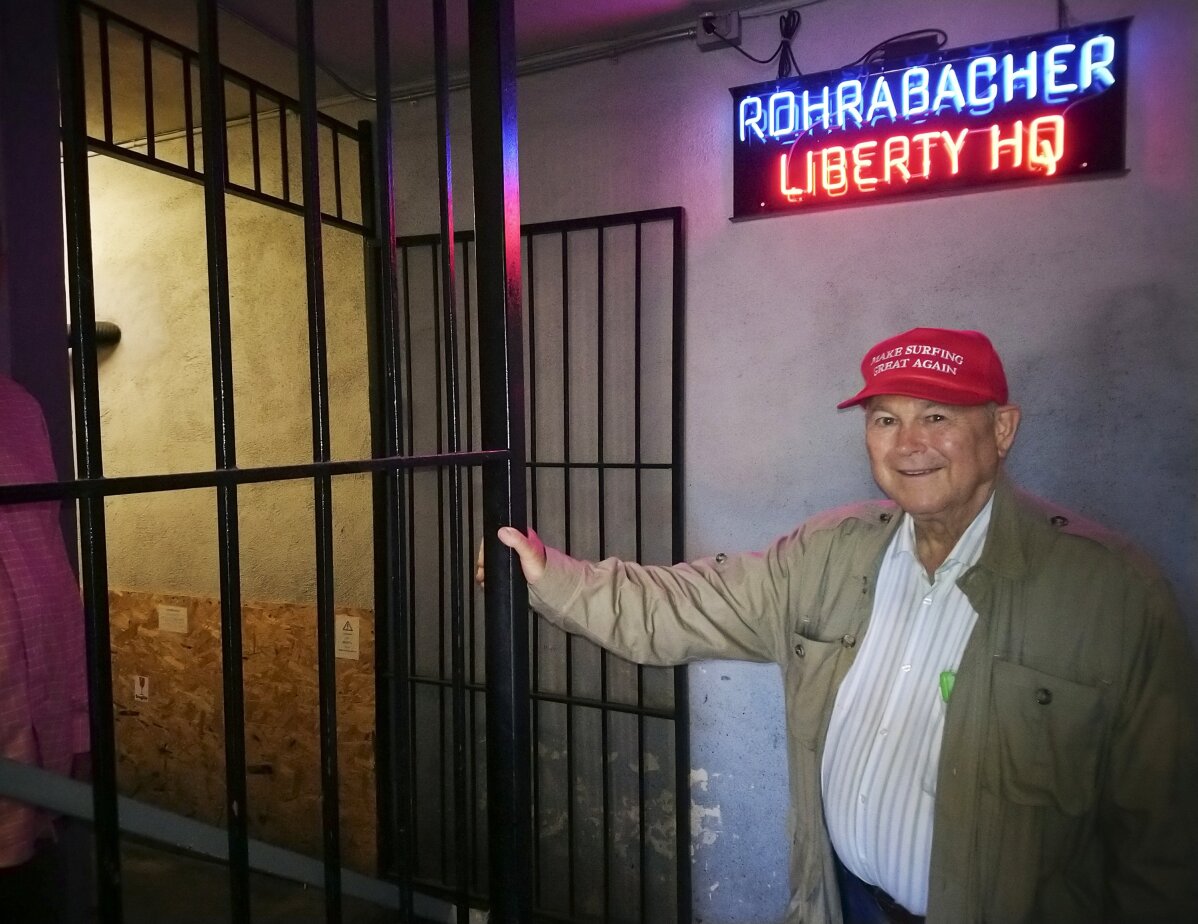 4 of 5

|
FILE - In this Tuesday, Nov. 6, 2018 file photo, U.S. Rep. Dana Rohrabacher, R-Costa Mesa, leaves the Rohrabacher's "Liberty Headquarters" set upstairs of the Skosh Monahan's Irish Pub in Costa Mesa, Calif. Along with Republican U.S. Rep. Mimi Walters loss Thursday, Nov. 15, 2018, in Orange County, 15-term Rep. Rohrabacher was ousted from his nearby district. The seat held by retiring Republican Rep. Darrell Issa, which cuts across the southern part of the county, was taken by Democrat Mike Levin, an environmental attorney. (AP Photo/Damian Dovarganes, File)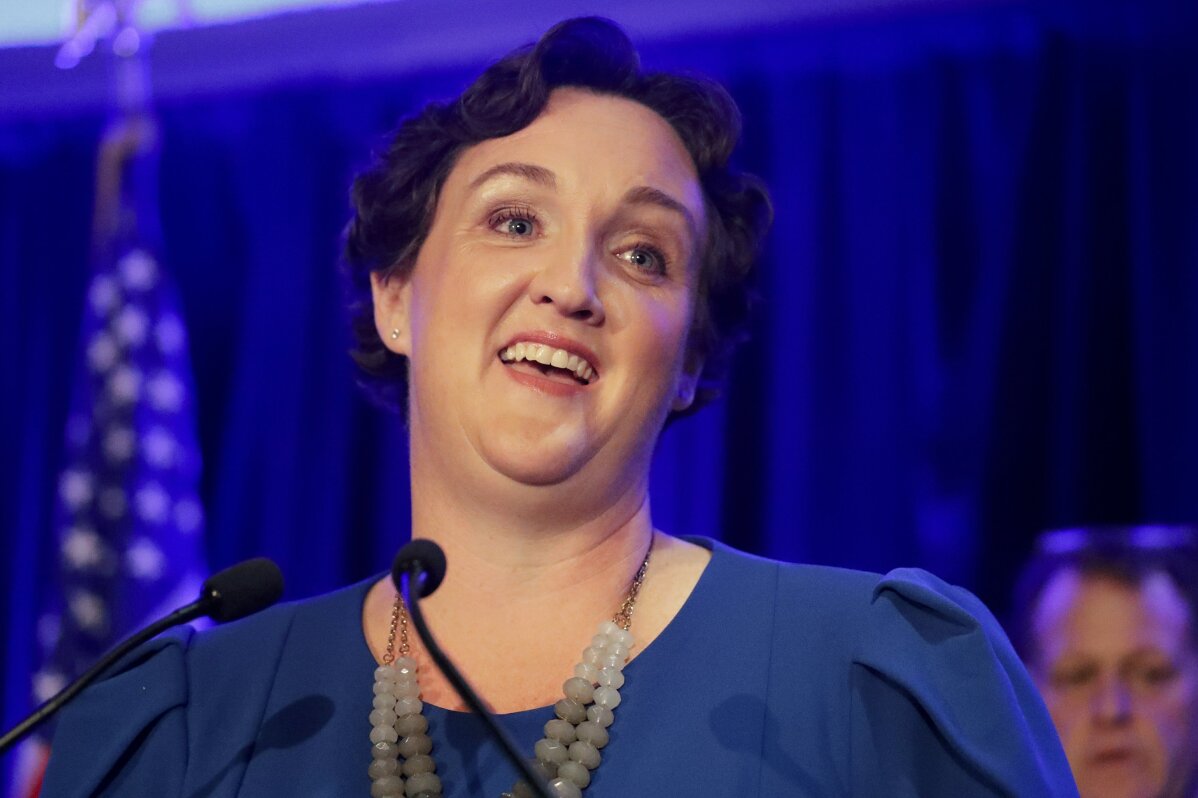 5 of 5

|
FILE - In this Tuesday, Nov. 6, 2018 file photo, Democratic congressional candidate Katie Porter speaks during an election night event in Tustin, Calif. Republican U.S. Rep. Mimi Walters was defeated Thursday, Nov. 15, 2018, in the heart of Orange County, once a nationally known Republican stronghold. With Walters' loss to newcomer Porter, Democrats will hold a 44-9 edge in U.S. House seats, with another Orange County GOP seat in peril. (AP Photo/Chris Carlson, File)
California GOP ponders way forward after stunning losses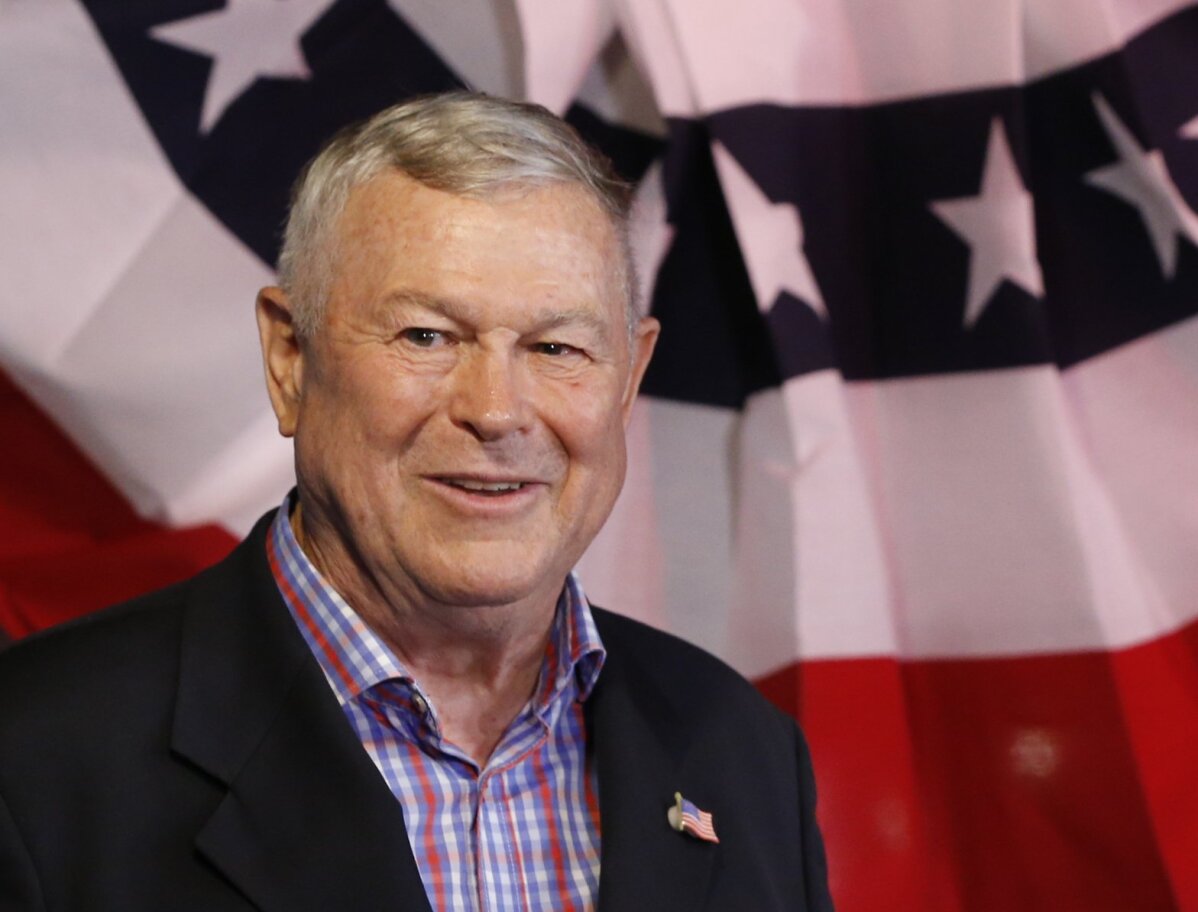 1 of 5

|
FILE - In this Tuesday, Nov. 6, 2018 file photo, U.S. Rep. Dana Rohrabacher, R-Costa Mesa, addresses members of the media and supporters waiting for elections results at the Skosh Monahan's Irish Pub in Costa Mesa, Calif. A string of losses has set off a fresh round of Republican soul-searching in California, where the party has been drifting toward irrelevance for years. Along with Republican U.S. Rep. Mimi Walters' loss on Thursday, Nov. 15, 2018, in Orange County, 15-term Rep. Rohrabacher was ousted from his nearby district. (AP Photo/Damian Dovarganes, File)
1 of 5
FILE - In this Tuesday, Nov. 6, 2018 file photo, U.S. Rep. Dana Rohrabacher, R-Costa Mesa, addresses members of the media and supporters waiting for elections results at the Skosh Monahan's Irish Pub in Costa Mesa, Calif. A string of losses has set off a fresh round of Republican soul-searching in California, where the party has been drifting toward irrelevance for years. Along with Republican U.S. Rep. Mimi Walters' loss on Thursday, Nov. 15, 2018, in Orange County, 15-term Rep. Rohrabacher was ousted from his nearby district. (AP Photo/Damian Dovarganes, File)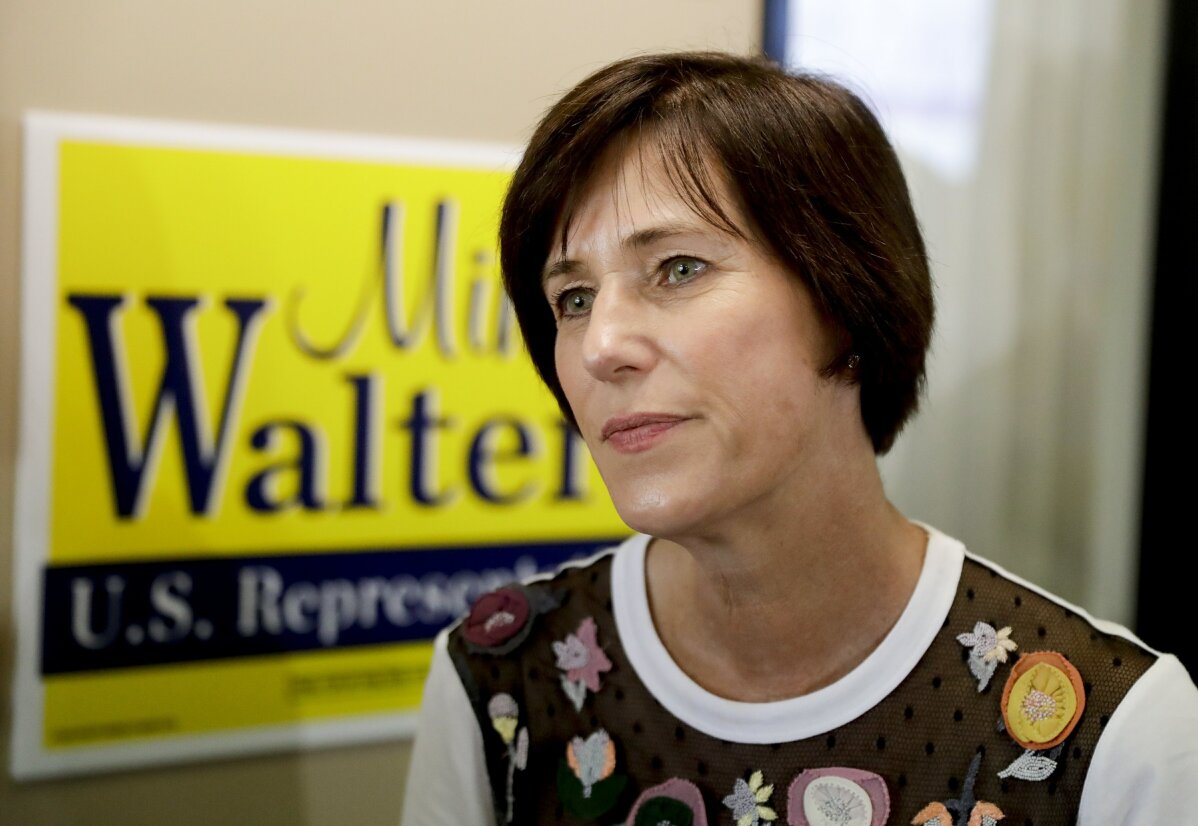 2 of 5

|
FILE - In this Tuesday, Nov. 6, 2018 file photo, U.S. Rep. Mimi Walters, R-Calif., talks to supporters at her campaign office in Irvine, Calif. A string of stunning losses has set off a fresh round of Republican soul-searching in California, where the party has been drifting toward irrelevance for years. Republican Rep. Walters was defeated Thursday, Nov. 15, 2018, in the heart of Orange County, once a nationally known Republican stronghold. (AP Photo/Chris Carlson, File)
2 of 5
FILE - In this Tuesday, Nov. 6, 2018 file photo, U.S. Rep. Mimi Walters, R-Calif., talks to supporters at her campaign office in Irvine, Calif. A string of stunning losses has set off a fresh round of Republican soul-searching in California, where the party has been drifting toward irrelevance for years. Republican Rep. Walters was defeated Thursday, Nov. 15, 2018, in the heart of Orange County, once a nationally known Republican stronghold. (AP Photo/Chris Carlson, File)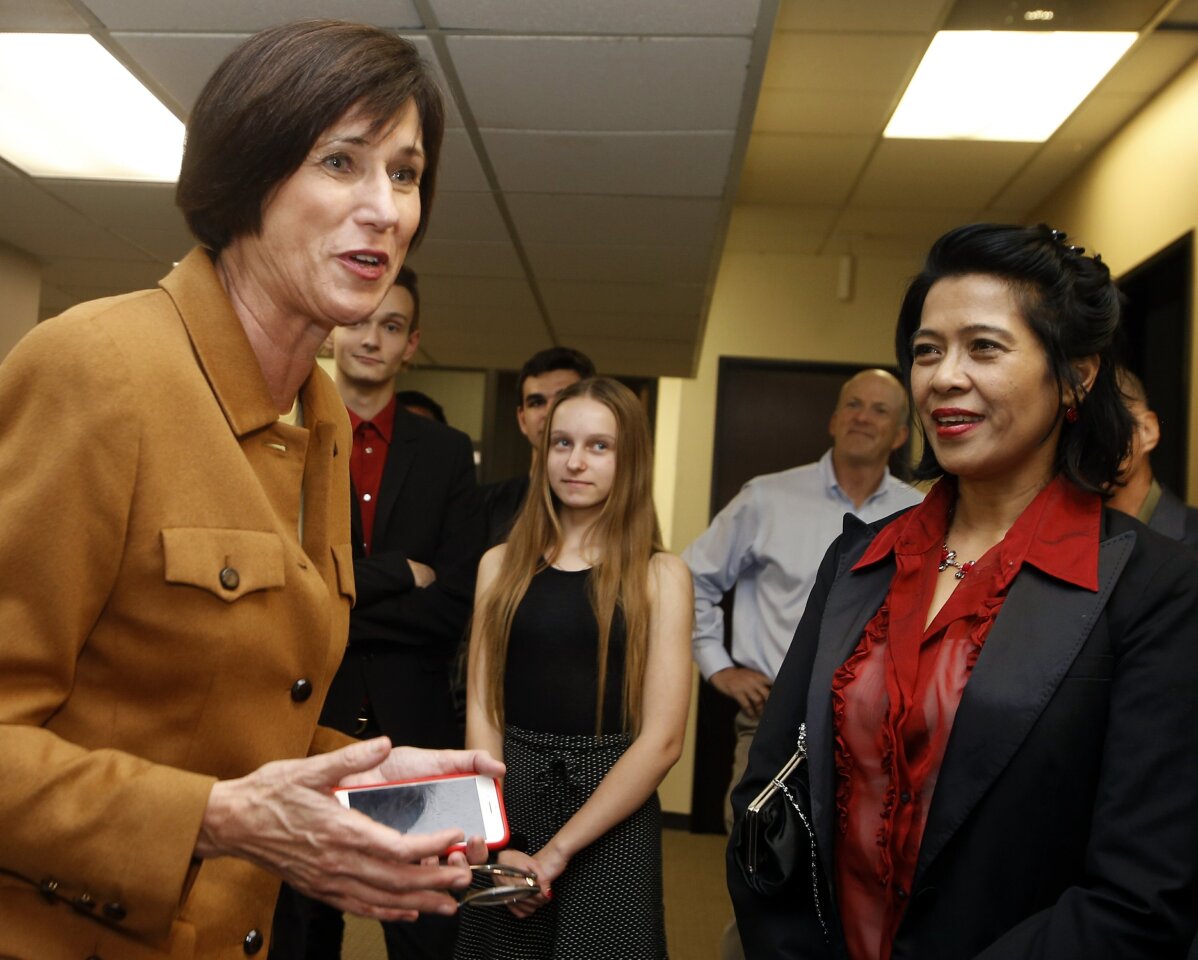 3 of 5

|
FILE - In this Tuesday, Nov. 6, 2018 file photo, U.S. Rep. Mimi Walters, R-Calif., left, thanks supporters as results from the early votes have her in the lead in Irvine, Calif. A string of stunning losses has set off a fresh round of Republican soul-searching in California, where the party has been drifting toward irrelevance for years. Walters was defeated Thursday, Nov. 15, 2018, in the heart of Orange County, once a nationally known Republican stronghold. (AP Photo/Alex Gallardo, File)
3 of 5
FILE - In this Tuesday, Nov. 6, 2018 file photo, U.S. Rep. Mimi Walters, R-Calif., left, thanks supporters as results from the early votes have her in the lead in Irvine, Calif. A string of stunning losses has set off a fresh round of Republican soul-searching in California, where the party has been drifting toward irrelevance for years. Walters was defeated Thursday, Nov. 15, 2018, in the heart of Orange County, once a nationally known Republican stronghold. (AP Photo/Alex Gallardo, File)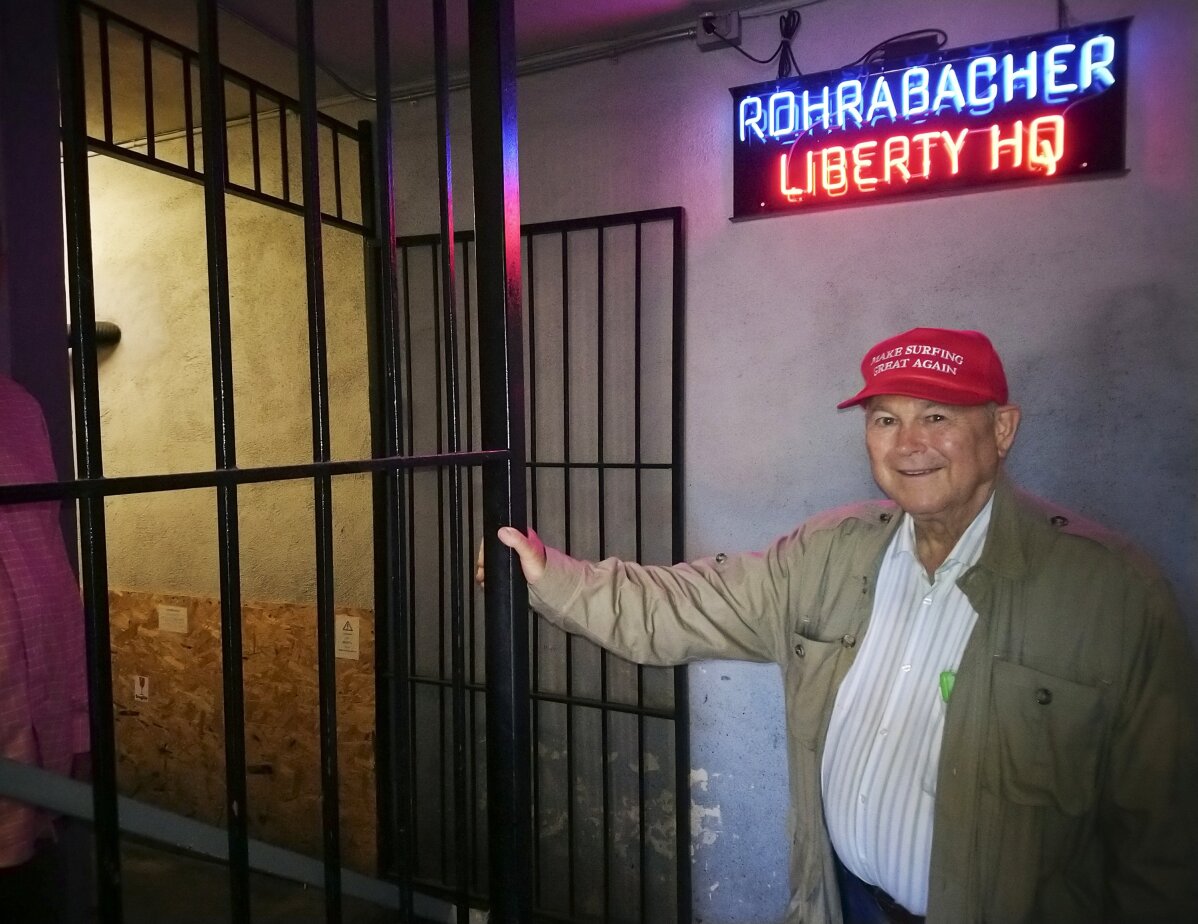 4 of 5

|
FILE - In this Tuesday, Nov. 6, 2018 file photo, U.S. Rep. Dana Rohrabacher, R-Costa Mesa, leaves the Rohrabacher's "Liberty Headquarters" set upstairs of the Skosh Monahan's Irish Pub in Costa Mesa, Calif. Along with Republican U.S. Rep. Mimi Walters loss Thursday, Nov. 15, 2018, in Orange County, 15-term Rep. Rohrabacher was ousted from his nearby district. The seat held by retiring Republican Rep. Darrell Issa, which cuts across the southern part of the county, was taken by Democrat Mike Levin, an environmental attorney. (AP Photo/Damian Dovarganes, File)
4 of 5
FILE - In this Tuesday, Nov. 6, 2018 file photo, U.S. Rep. Dana Rohrabacher, R-Costa Mesa, leaves the Rohrabacher's "Liberty Headquarters" set upstairs of the Skosh Monahan's Irish Pub in Costa Mesa, Calif. Along with Republican U.S. Rep. Mimi Walters loss Thursday, Nov. 15, 2018, in Orange County, 15-term Rep. Rohrabacher was ousted from his nearby district. The seat held by retiring Republican Rep. Darrell Issa, which cuts across the southern part of the county, was taken by Democrat Mike Levin, an environmental attorney. (AP Photo/Damian Dovarganes, File)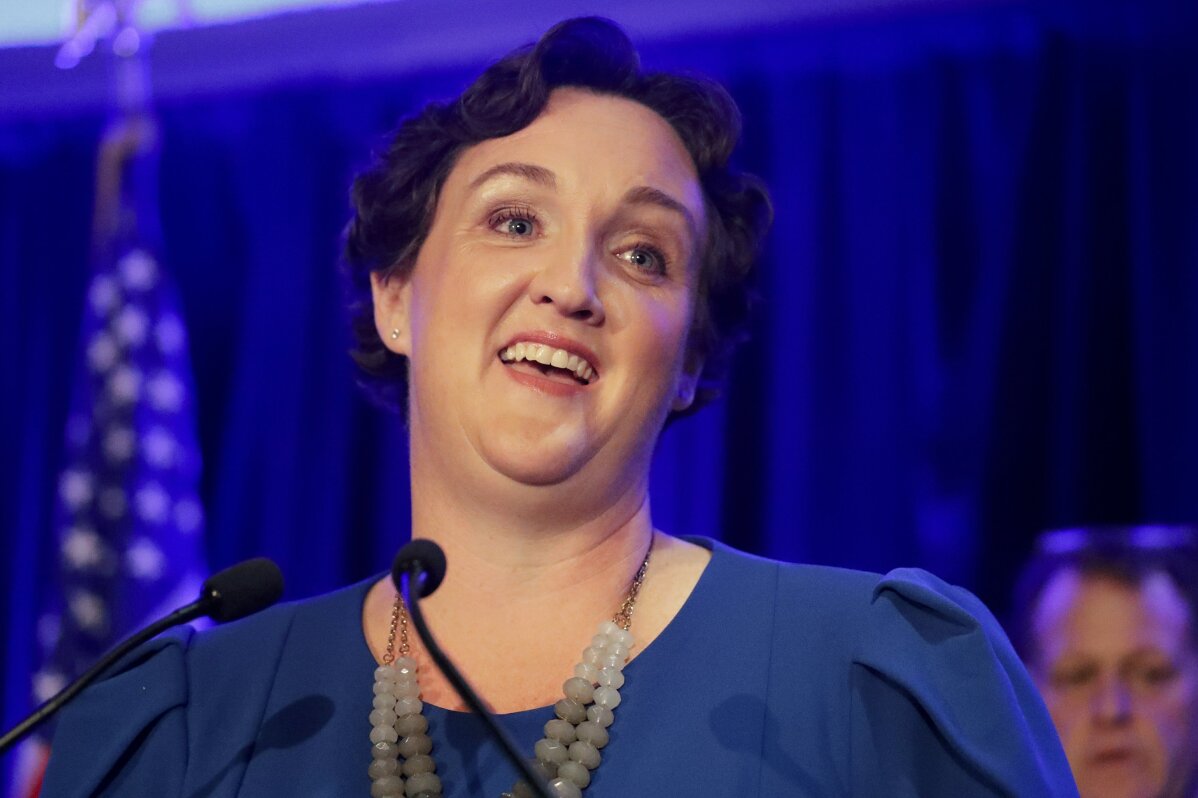 5 of 5

|
FILE - In this Tuesday, Nov. 6, 2018 file photo, Democratic congressional candidate Katie Porter speaks during an election night event in Tustin, Calif. Republican U.S. Rep. Mimi Walters was defeated Thursday, Nov. 15, 2018, in the heart of Orange County, once a nationally known Republican stronghold. With Walters' loss to newcomer Porter, Democrats will hold a 44-9 edge in U.S. House seats, with another Orange County GOP seat in peril. (AP Photo/Chris Carlson, File)
5 of 5
FILE - In this Tuesday, Nov. 6, 2018 file photo, Democratic congressional candidate Katie Porter speaks during an election night event in Tustin, Calif. Republican U.S. Rep. Mimi Walters was defeated Thursday, Nov. 15, 2018, in the heart of Orange County, once a nationally known Republican stronghold. With Walters' loss to newcomer Porter, Democrats will hold a 44-9 edge in U.S. House seats, with another Orange County GOP seat in peril. (AP Photo/Chris Carlson, File)
LOS ANGELES (AP) — In a speech to fellow Republicans in May, U.S. Rep. Mimi Walters issued an ominous warning about the coming election — California Democrats, she said, were "coming for all of us."
She was right.
The congresswoman's stunning defeat Thursday in the heart of Orange County, once a nationally known Republican stronghold, extended a Democratic rout that has seen five GOP-held House seats fall in the state, with another one threatened.
Last week's election delivered mixed results around the U.S. — Republicans held the Senate, Democrats seized the House — but in California voters turned the state an even deeper shade of Democratic blue.
With Walters' loss to newcomer Katie Porter, Democrats will hold a 44-9 edge in U.S. House seats, with another Orange County GOP seat in peril. The county was once home to President Richard Nixon and was considered a foundation of the modern conservative movement, gaining the moniker "Reagan country."
Democrats are on track to hold every statewide office — again. And there wasn't even a Republican on the ballot for U.S. Senate.
"The California Republican Party isn't salvageable at this time," concluded Kristin Olsen, a former Republican leader in the state Assembly.
"The Grand Old Party is dead — partly because it has failed to separate itself from today's toxic, national brand of Republican politics," she wrote in a column on the website CALmatters.
Shawn Steel, one of California's two Republican National Committee members, said the state party has "reached the point of desperation."
"The party's problems have been around longer and run much deeper than any one person. From money to grassroots organization, California Republicans are completely outmatched," Steel wrote on the Washington Examiner website.
A generation ago, the state was once a reliable win for the GOP in presidential elections. And in Orange County, largely white, conservative homeowners delivered winning margins for Republicans year after year.
But a surge in immigrants transformed the state and its voting patterns. The number of Hispanics, blacks and Asians has outnumbered whites since 1998. And many of those new voters lean Democratic. The number of registered Republicans has been in a freefall for years — even independents outnumber them.
In a sign of what was to come, Hillary Clinton carried Orange County in the 2016 presidential election, the first Democrat to do so since the Depression era.
A stronger tack leftward has now dramatically arrived.
Walters' loss was a shock. By elevating Porter, the conservative-leaning district with a 7-point Republican registration edge embraced a protégé of Democratic Massachusetts Sen. Elizabeth Warren, a liberal favorite.
Along with her loss in Orange County, 15-term Rep. Dana Rohrabacher was ousted from his nearby district. The seat held by retiring Republican Rep. Darrell Issa, which cuts across the southern part of the county, was taken by Democrat Mike Levin, an environmental attorney.
The 39th District, anchored in the northern part of the county, remains undecided in a contest between Republican Young Kim and Democrat Gil Cisneros. In returns Friday, Cisneros extended his lead to about 3,000 votes in a district held by retiring Republican Rep. Ed Royce. Thousands of ballots remain uncounted.
Meanwhile, Democrat Josh Harder seized the seat of Republican Rep. Jeff Denham in the farm belt, while Democrat Katie Hill took Republican Rep. Steve Knight's seat north of Los Angeles.
Clearly, President Donald Trump was a factor.
He lost California by over 4 million votes in 2016 and has remained unpopular, and many voters saw an opportunity to send a message to Washington. Walters and Rohrabacher, for example, were closely tied to the president, while Democratic candidates campaigned openly against Trump's agenda.
But demographic changes have also helped Democrats, and in key congressional races they fielded a group of fresh faces, not career politicians.
Steel, the GOP committeeman, noted that Democrats raised more money and did a better job registering voters and using social media.
The state GOP has debated for years whether the party needs to turn to the political center, or right. As far back as 2007, Republican Gov. Arnold Schwarzenegger warned the party was "dying at the box office" and needed to claim issues usually associated with the Democratic agenda, including climate change and health care reform.
The latest setbacks have set off a fresh round of Republican soul-searching. Travis Allen, a former GOP candidate for governor and ardent Trump supporter, said Thursday he was entering the race to be the state party leader. The party, he said, is at the "lowest point it's been since the 1880s."