Twitter CEO Jack Dorsey keeps his cool before Congress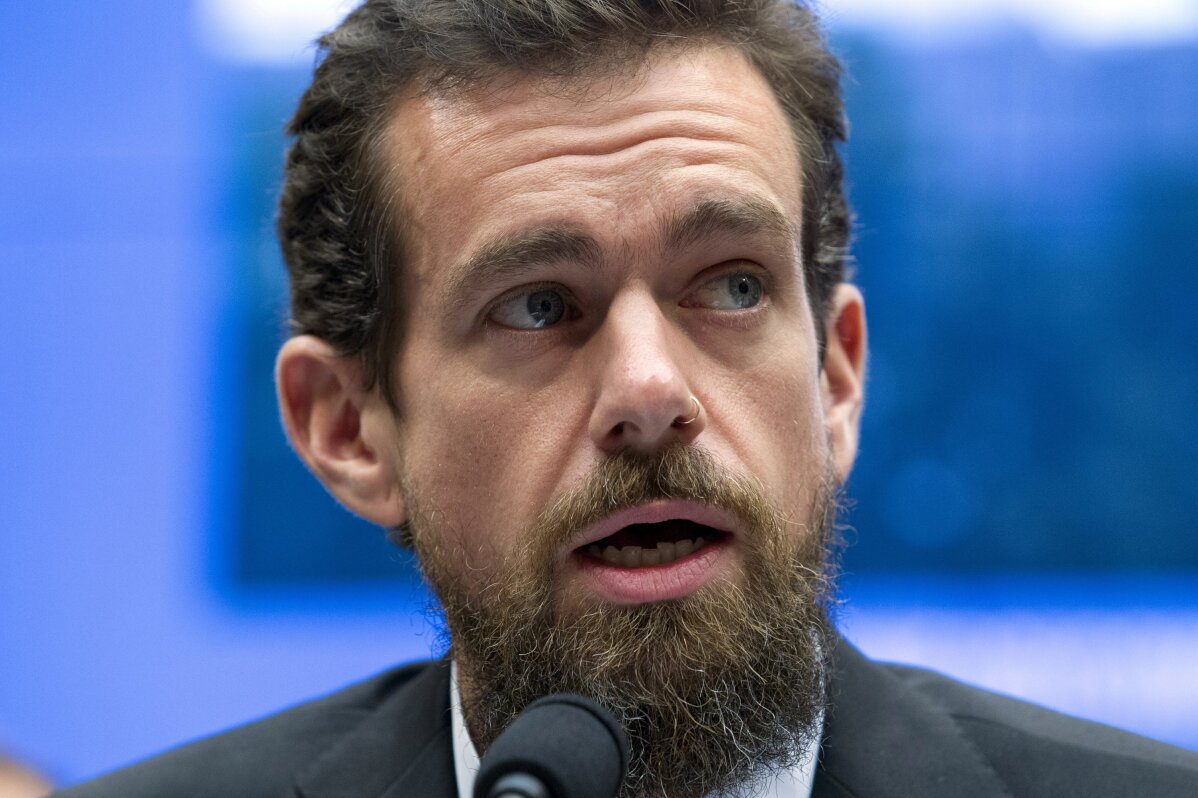 1 of 19

|
Twitter CEO Jack Dorsey testifies before the House Energy and Commerce Committee on Capitol Hill, Wednesday, Sept. 5, 2018, in Washington. Lawmakers have sparred over whether a now-reversed change to auto-suggestions on Twitter had unfairly hurt Democrats or Republicans more. Dorsey isn't saying which, but tells lawmakers he'll follow up. (AP Photo/Jose Luis Magana)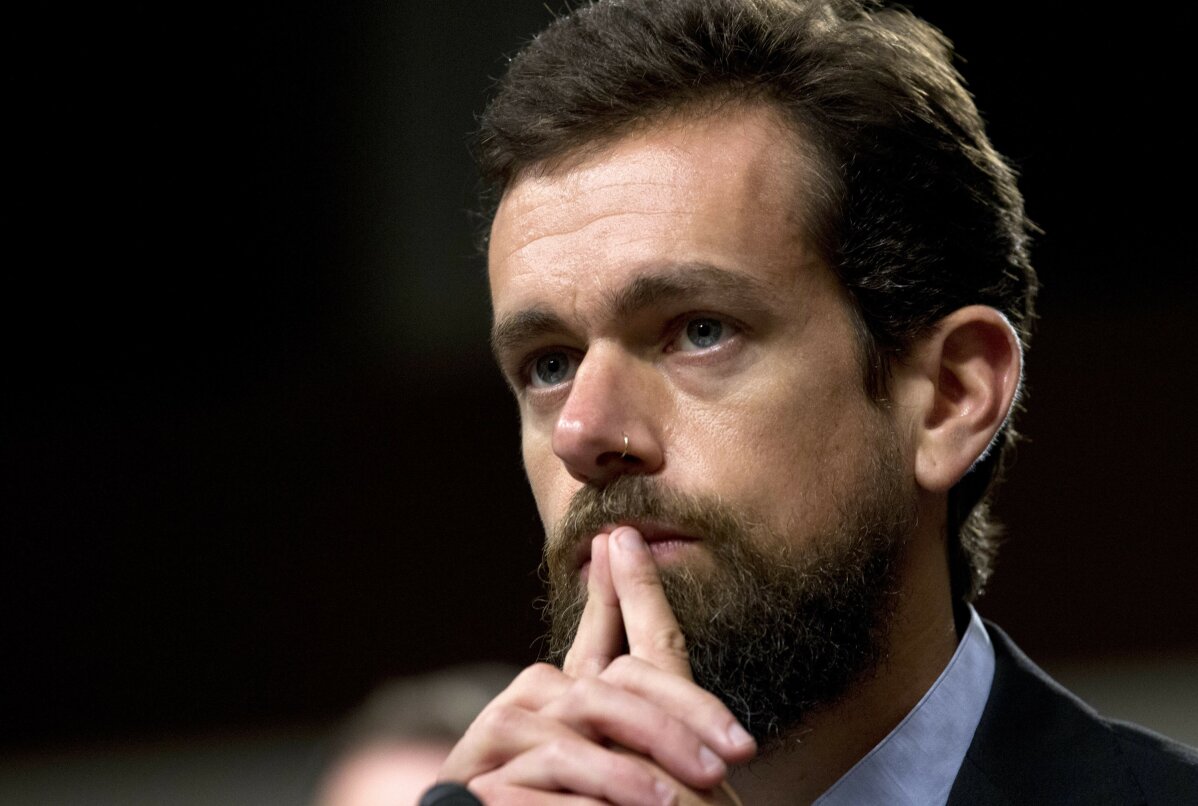 2 of 19

|
Twitter CEO Jack Dorsey testifies before the Senate Intelligence Committee hearing on 'Foreign Influence Operations and Their Use of Social Media Platforms' on Capitol Hill, Wednesday, Sept. 5, 2018, in Washington. (AP Photo/Jose Luis Magana)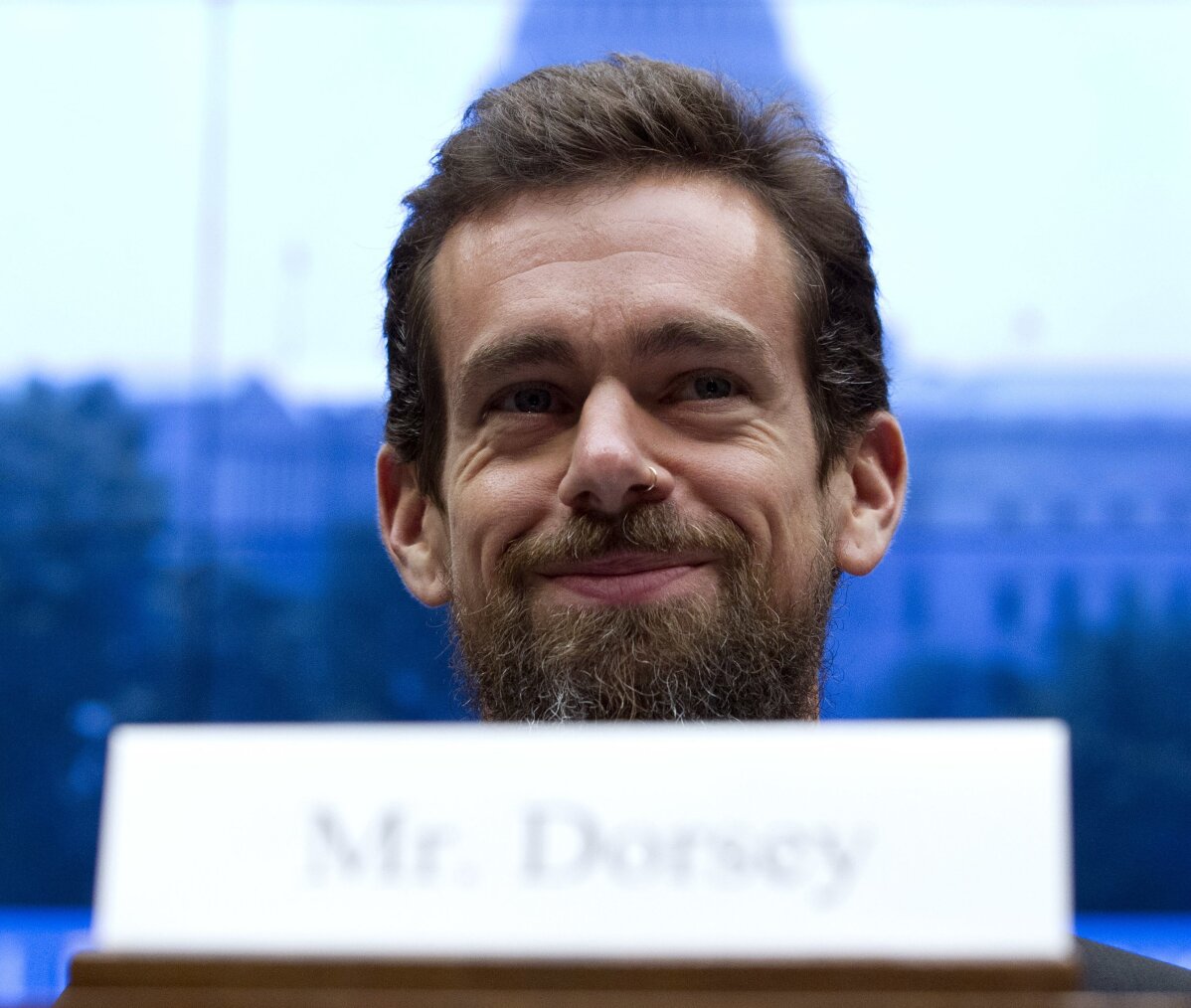 3 of 19

|
Twitter CEO Jack Dorsey testifies before the House Energy and Commerce Committee on Capitol Hill, Wednesday, Sept. 5, 2018, in Washington. Lawmakers have sparred over whether a now-reversed change to auto-suggestions on Twitter had unfairly hurt Democrats or Republicans more. Dorsey isn't saying which, but tells lawmakers he'll follow up. (AP Photo/Jose Luis Magana)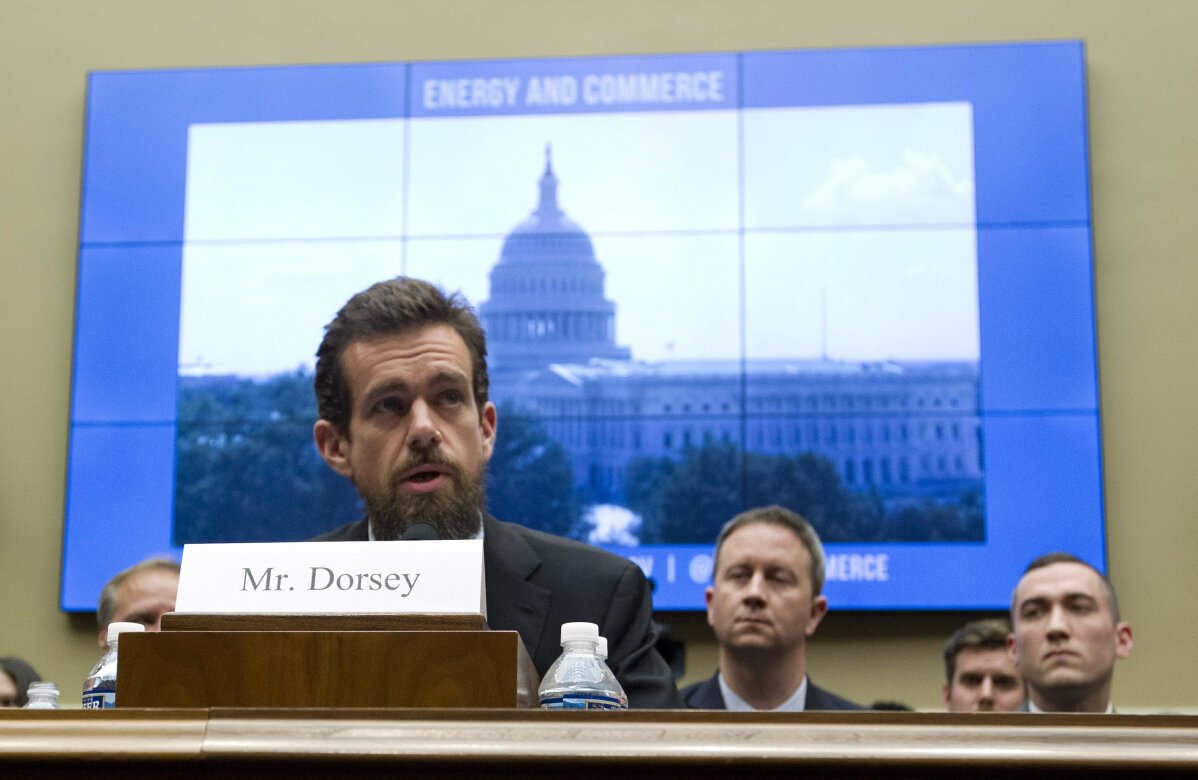 4 of 19

|
Twitter CEO Jack Dorsey testifies before the House Energy and Commerce Committee on Capitol Hill, Wednesday, Sept. 5, 2018, in Washington. Lawmakers have sparred over whether a now-reversed change to auto-suggestions on Twitter had unfairly hurt Democrats or Republicans more. (AP Photo/Jose Luis Magana)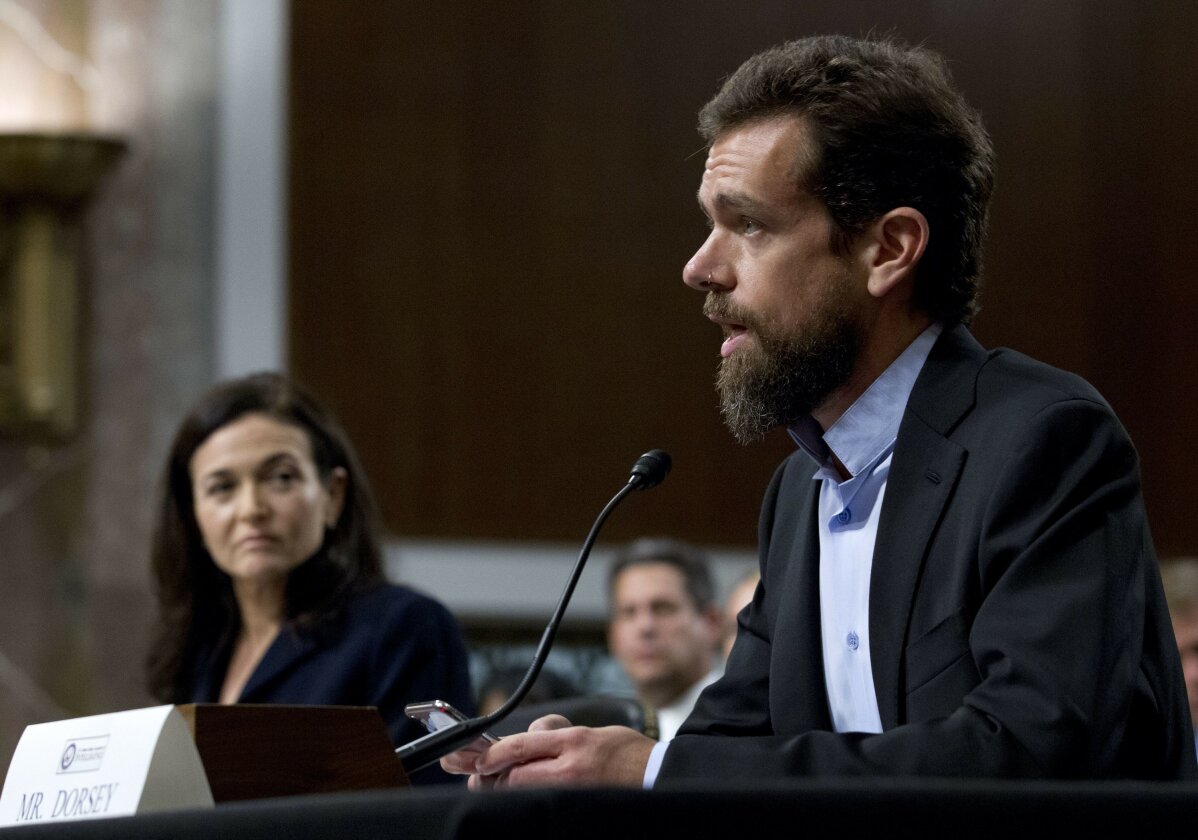 5 of 19

|
Twitter CEO Jack Dorsey, accompanied by Facebook COO Sheryl Sandberg, testify before the Senate Intelligence Committee hearing on 'Foreign Influence Operations and Their Use of Social Media Platforms' on Capitol Hill, Wednesday, Sept. 5, 2018, in Washington. (AP Photo/Jose Luis Magana)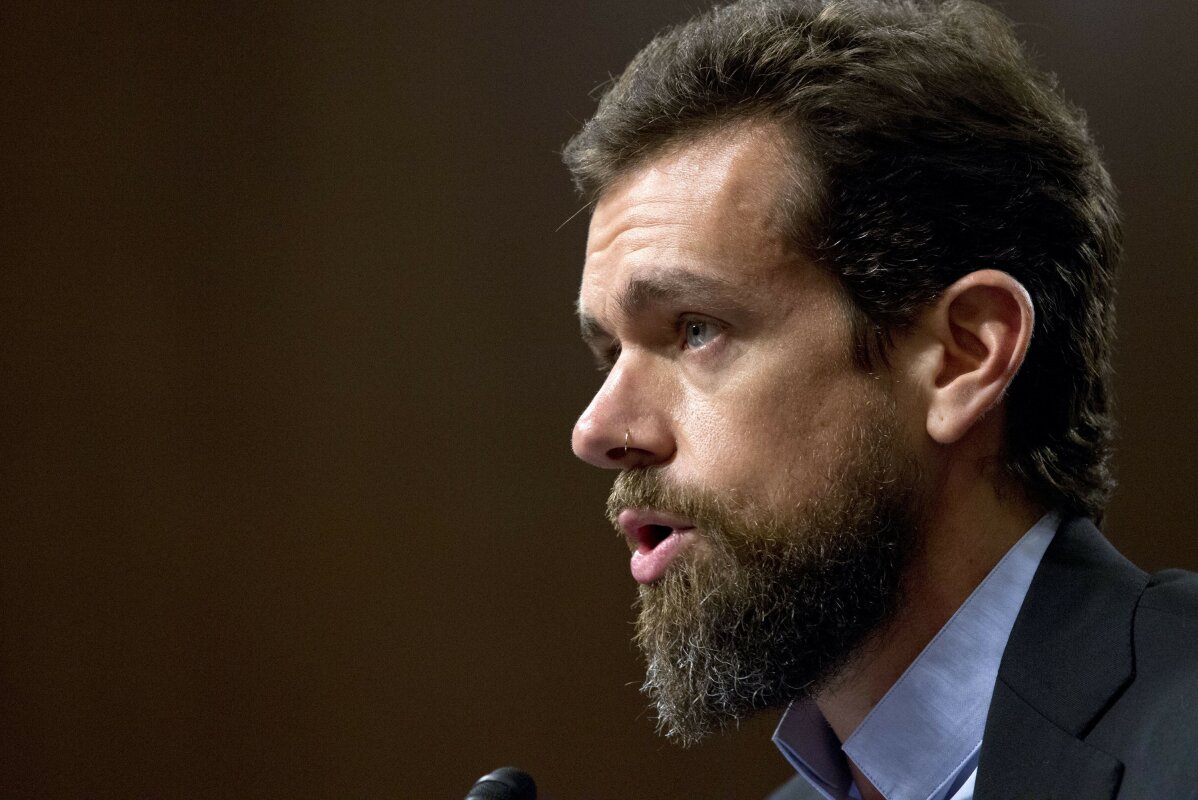 6 of 19

|
Twitter CEO Jack Dorsey testifies before the Senate Intelligence Committee hearing on 'Foreign Influence Operations and Their Use of Social Media Platforms' on Capitol Hill, Wednesday, Sept. 5, 2018, in Washington. (AP Photo/Jose Luis Magana)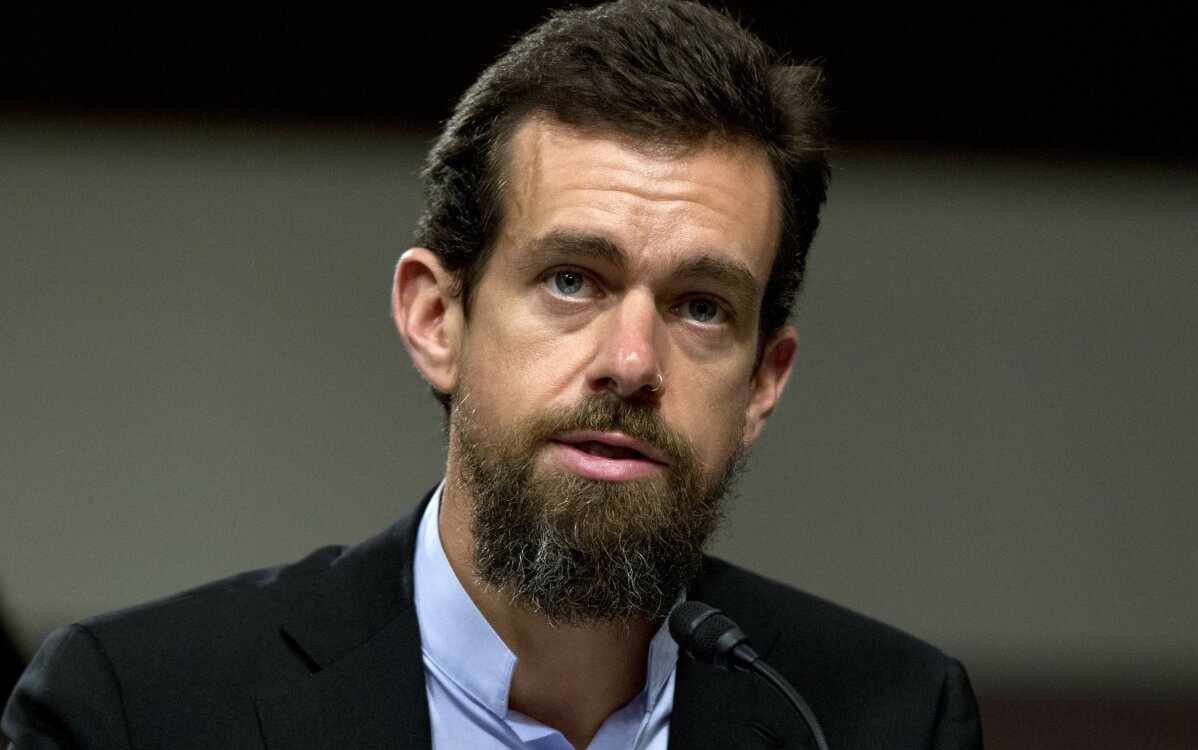 7 of 19

|
Twitter CEO Jack Dorsey testifies before the Senate Intelligence Committee hearing on 'Foreign Influence Operations and Their Use of Social Media Platforms' on Capitol Hill, Wednesday, Sept. 5, 2018, in Washington. (AP Photo/Jose Luis Magana)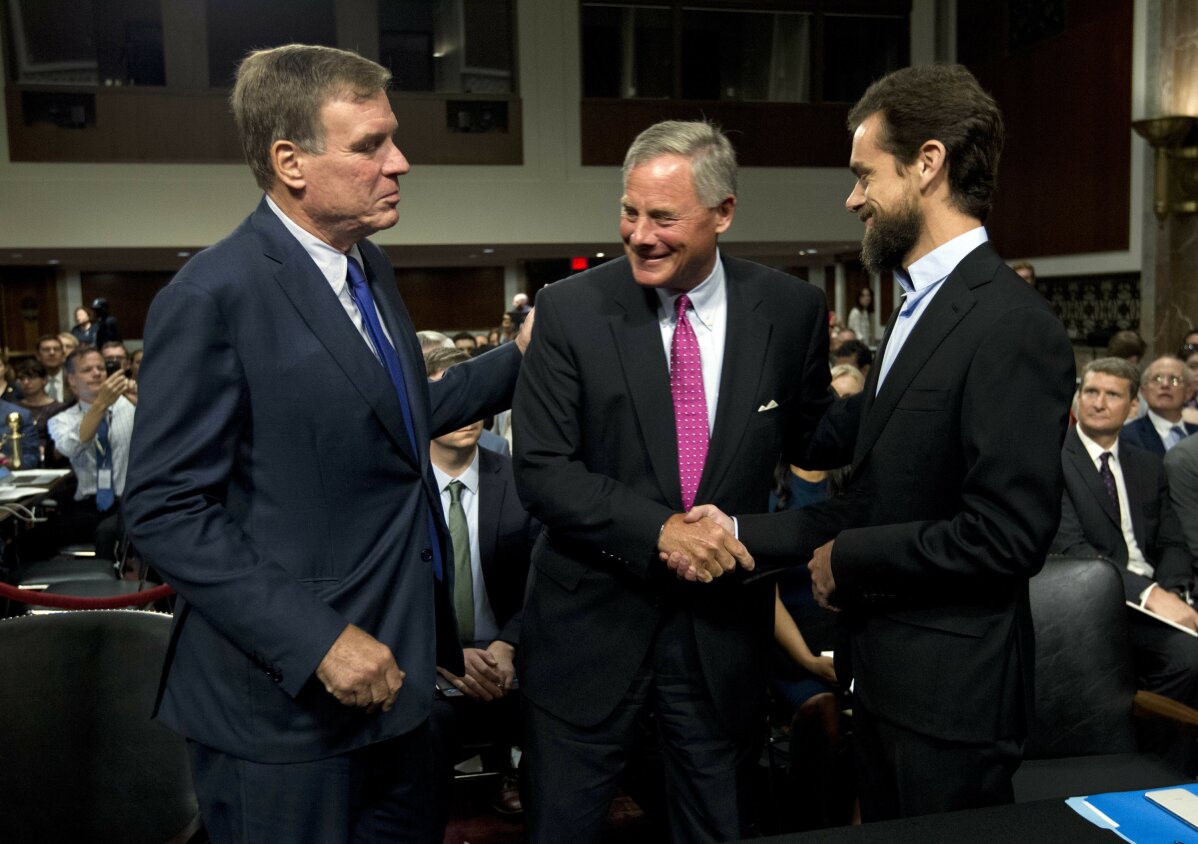 8 of 19

|
Senate Intelligence Committee Vice Chairman Mark Warner, D-Va., left, and Chairman Sen. Richard Burr, R-N.C., center, greet Twitter CEO Jack Dorsey before he testifies before the Senate Intelligence Committee hearing on 'Foreign Influence Operations and Their Use of Social Media Platforms' on Capitol Hill, Wednesday, Sept. 5, 2018, in Washington. (AP Photo/Jose Luis Magana)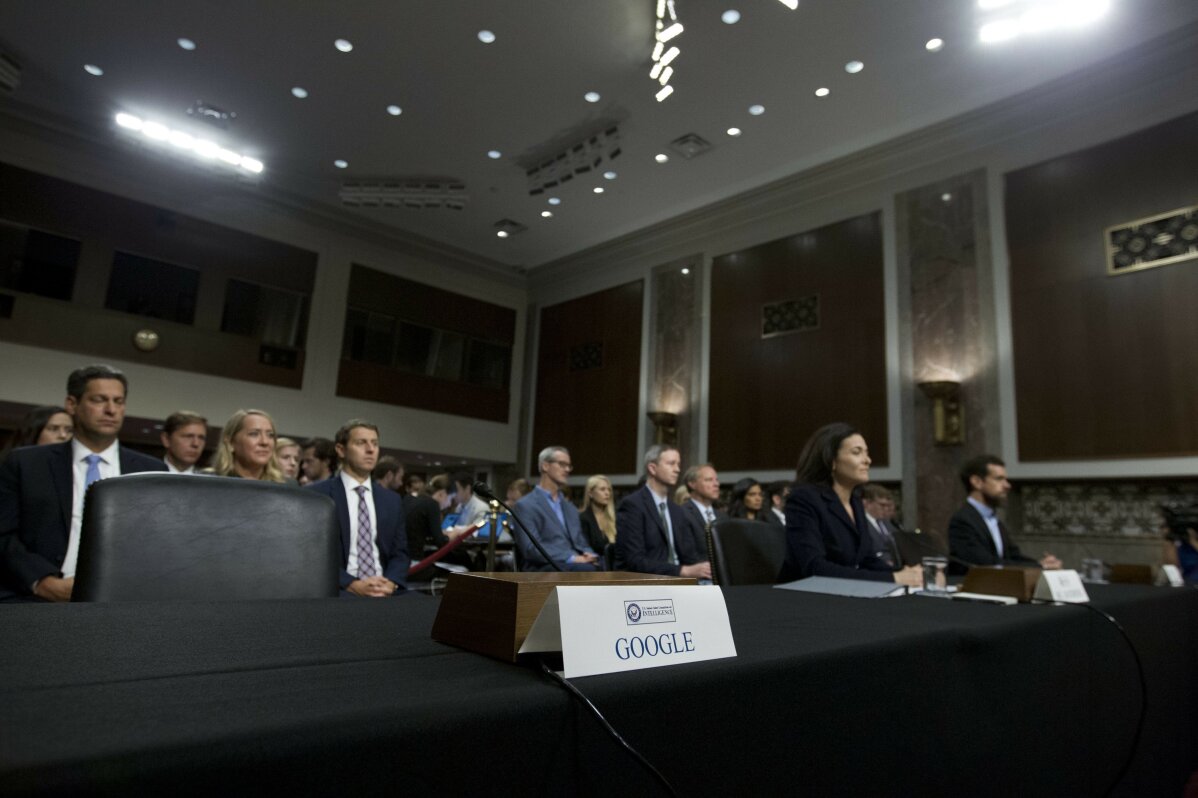 9 of 19

|
An empty chair reserved for Google's parent Alphabet, which refused to send its top executive, is seen as Facebook COO Sheryl Sandberg accompanied by Twitter CEO Jack Dorsey testify before the Senate Intelligence Committee hearing on 'Foreign Influence Operations and Their Use of Social Media Platforms' on Capitol Hill, Wednesday, Sept. 5, 2018, in Washington. Google CEO did not show for the hearing. (AP Photo/Jose Luis Magana)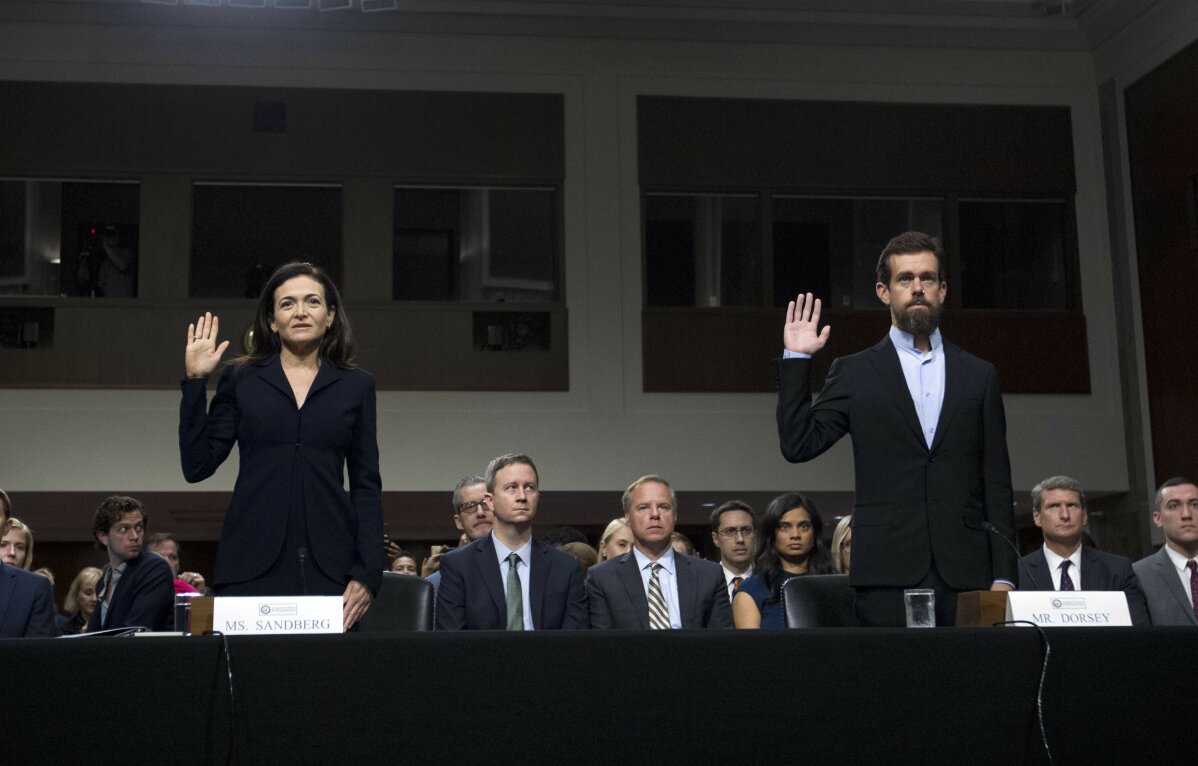 10 of 19

|
Facebook COO Sheryl Sandberg, left, accompanied by Twitter CEO Jack Dorsey are sworn in before the Senate Intelligence Committee hearing on 'Foreign Influence Operations and Their Use of Social Media Platforms' on Capitol Hill, Wednesday, Sept. 5, 2018, in Washington. (AP Photo/Jose Luis Magana)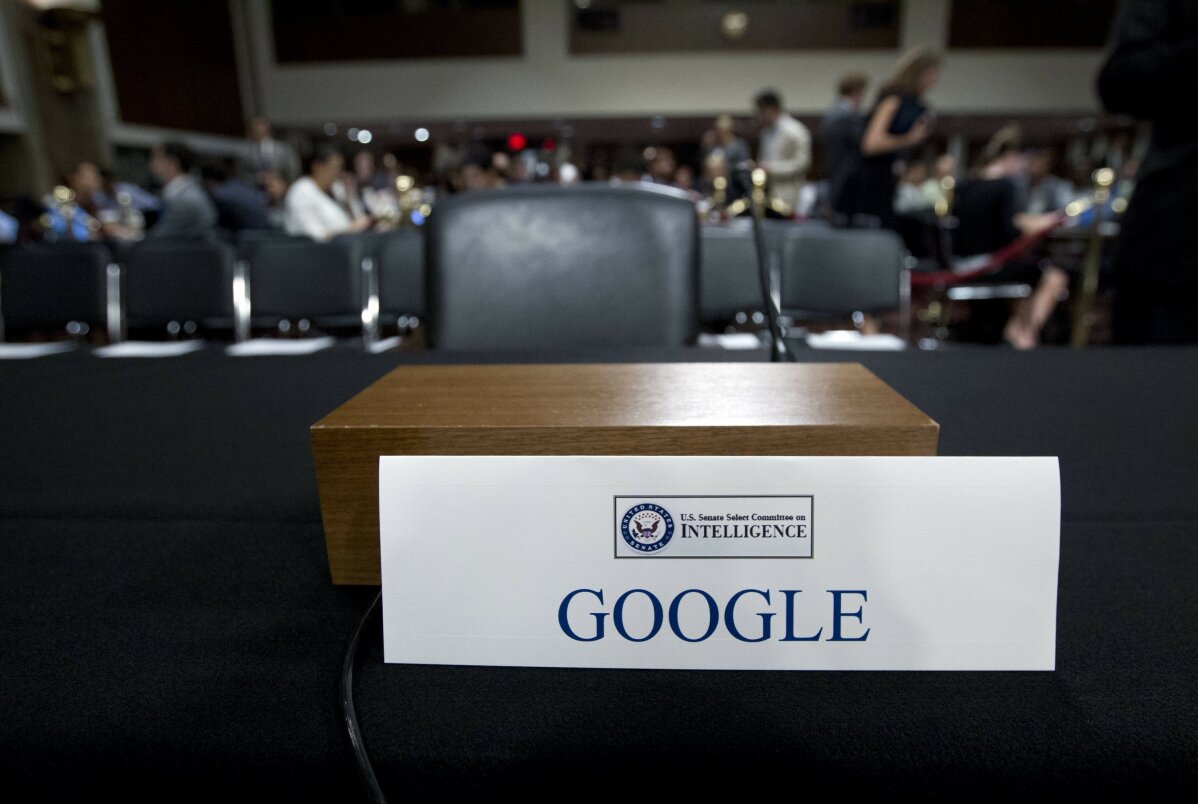 11 of 19

|
An empty chair reserved for Google's parent Alphabet, which refused to send its top executive, is seen as Facebook COO Sheryl Sandberg accompanied by Twitter CEO Jack Dorsey testify before the Senate Intelligence Committee hearing on 'Foreign Influence Operations and Their Use of Social Media Platforms' on Capitol Hill, Wednesday, Sept. 5, 2018, in Washington. Google CEO did not show for the hearing. (AP Photo/Jose Luis Magana)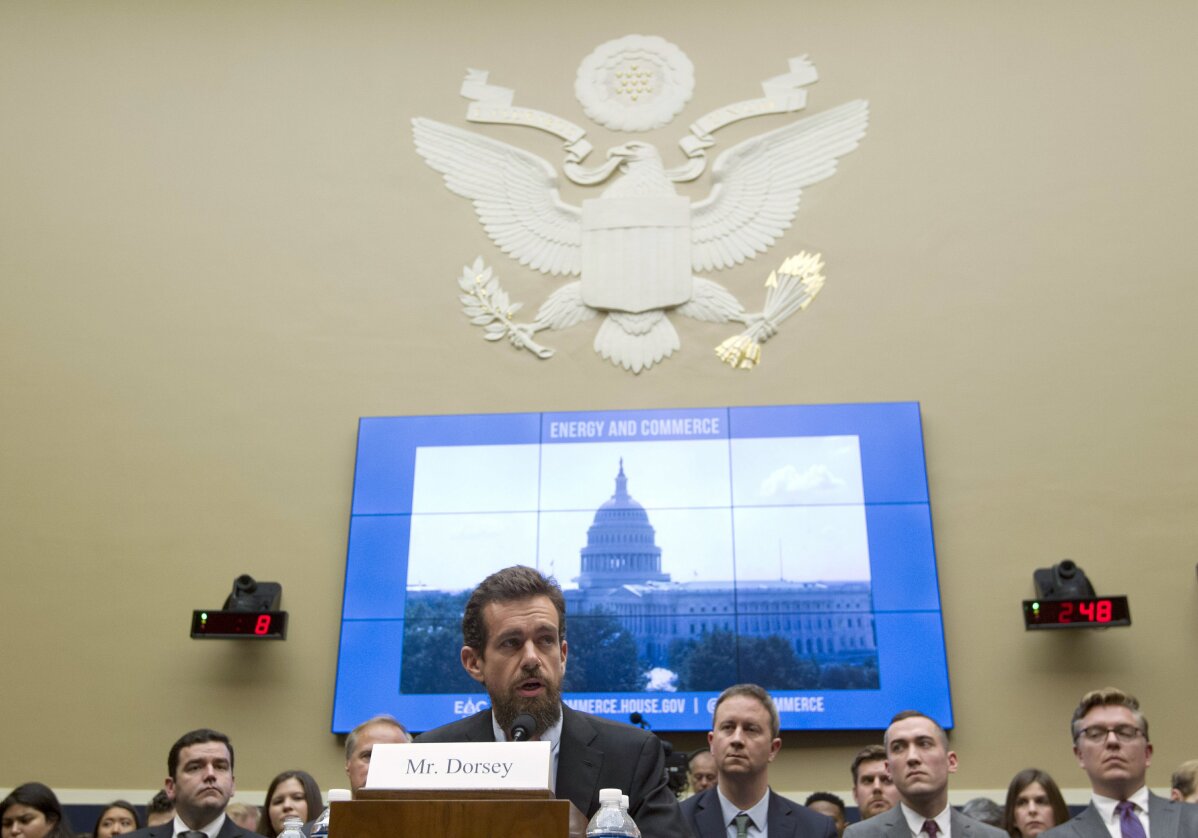 12 of 19

|
Twitter CEO Jack Dorsey testifies before the House Energy and Commerce Committee on Capitol Hill, Wednesday, Sept. 5, 2018, in Washington. Lawmakers have sparred over whether a now-reversed change to auto-suggestions on Twitter had unfairly hurt Democrats or Republicans more. (AP Photo/Jose Luis Magana)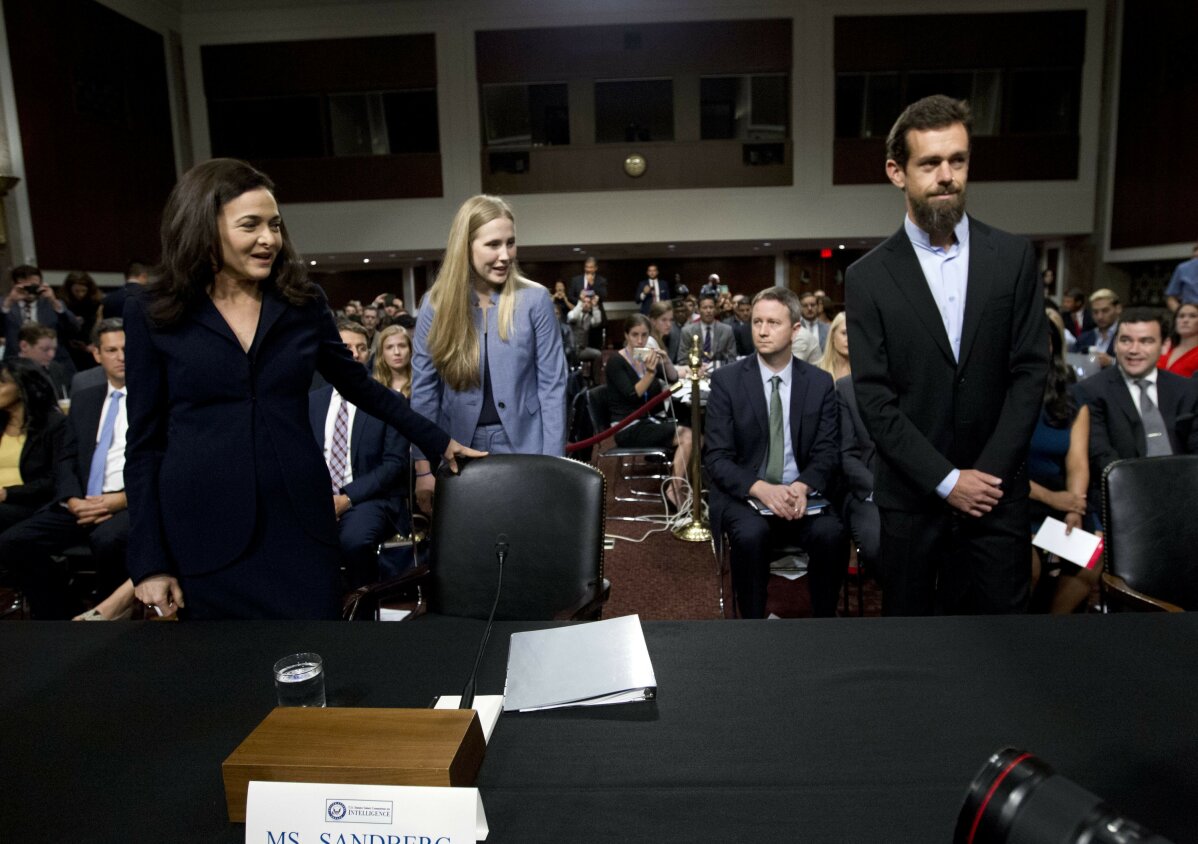 13 of 19

|
Facebook COO Sheryl Sandberg, left, accompanied byTwitter CEO Jack Dorsey arrive to the Senate Intelligence Committee hearing on 'Foreign Influence Operations and Their Use of Social Media Platforms' on Capitol Hill, Wednesday, Sept. 5, 2018, in Washington. (AP Photo/Jose Luis Magana)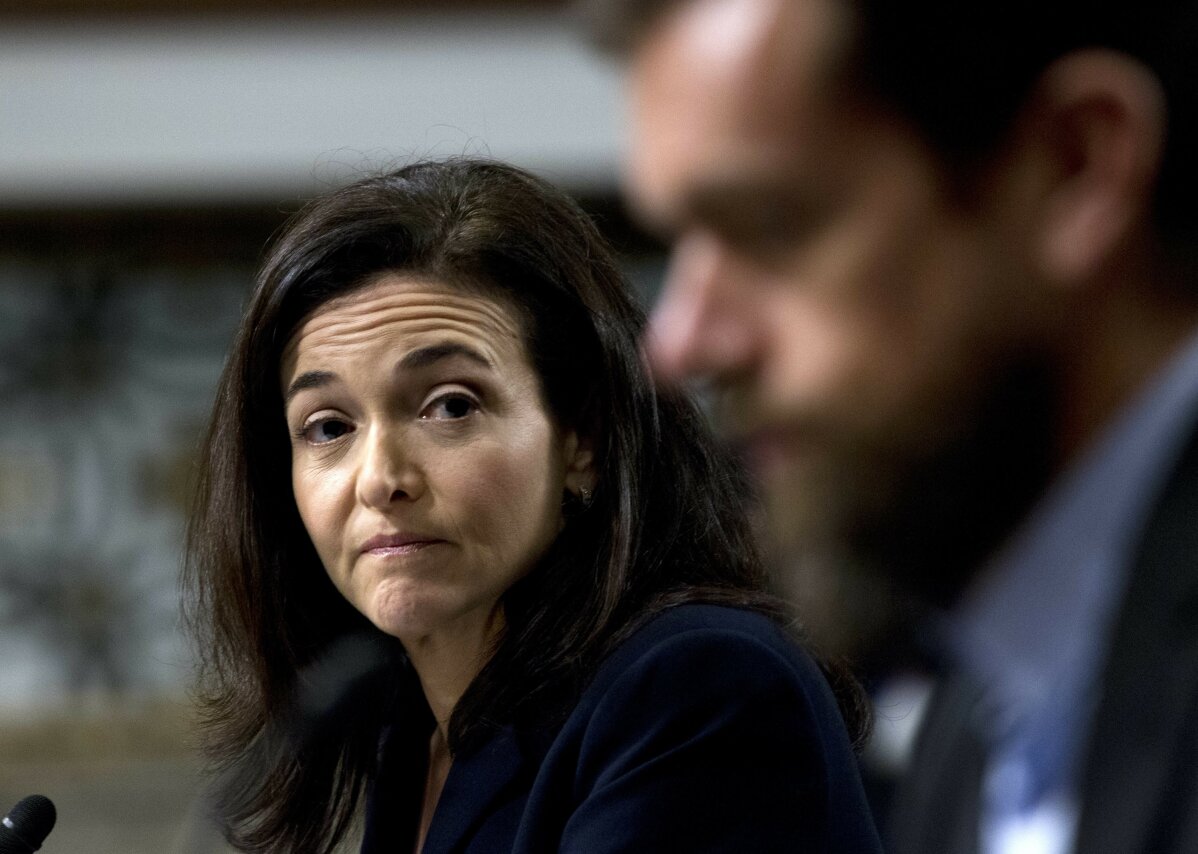 14 of 19

|
Facebook COO Sheryl Sandberg accompanied by Twitter CEO Jack Dorsey, right, before the Senate Intelligence Committee hearing on 'Foreign Influence Operations and Their Use of Social Media Platforms' on Capitol Hill, Wednesday, Sept. 5, 2018, in Washington. Google CEO did not show for the hearing. (AP Photo/Jose Luis Magana)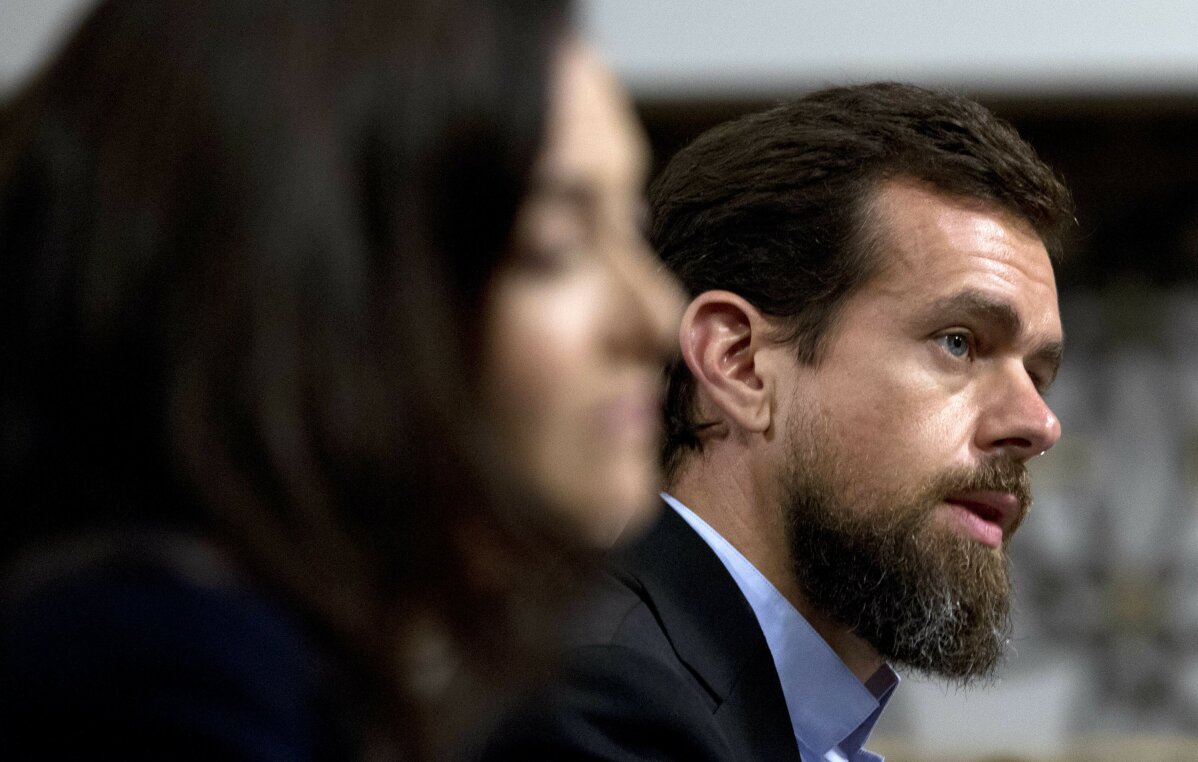 15 of 19

|
Twitter CEO Jack Dorsey accompanied by Facebook COO Sheryl Sandberg, left, testify before the Senate Intelligence Committee hearing on 'Foreign Influence Operations and Their Use of Social Media Platforms' on Capitol Hill, Wednesday, Sept. 5, 2018, in Washington. (AP Photo/Jose Luis Magana)
16 of 19

|
Twitter CEO Jack Dorsey testifies before the House Energy and Commerce Committee Wednesday, Sept. 5, 2018, in Washington. Lawmakers have sparred over whether a now-reversed change to auto-suggestions on Twitter had unfairly hurt Democrats or Republicans more. Dorsey isn't saying which, but tells lawmakers he'll follow up. (AP Photo/Jose Luis Magana)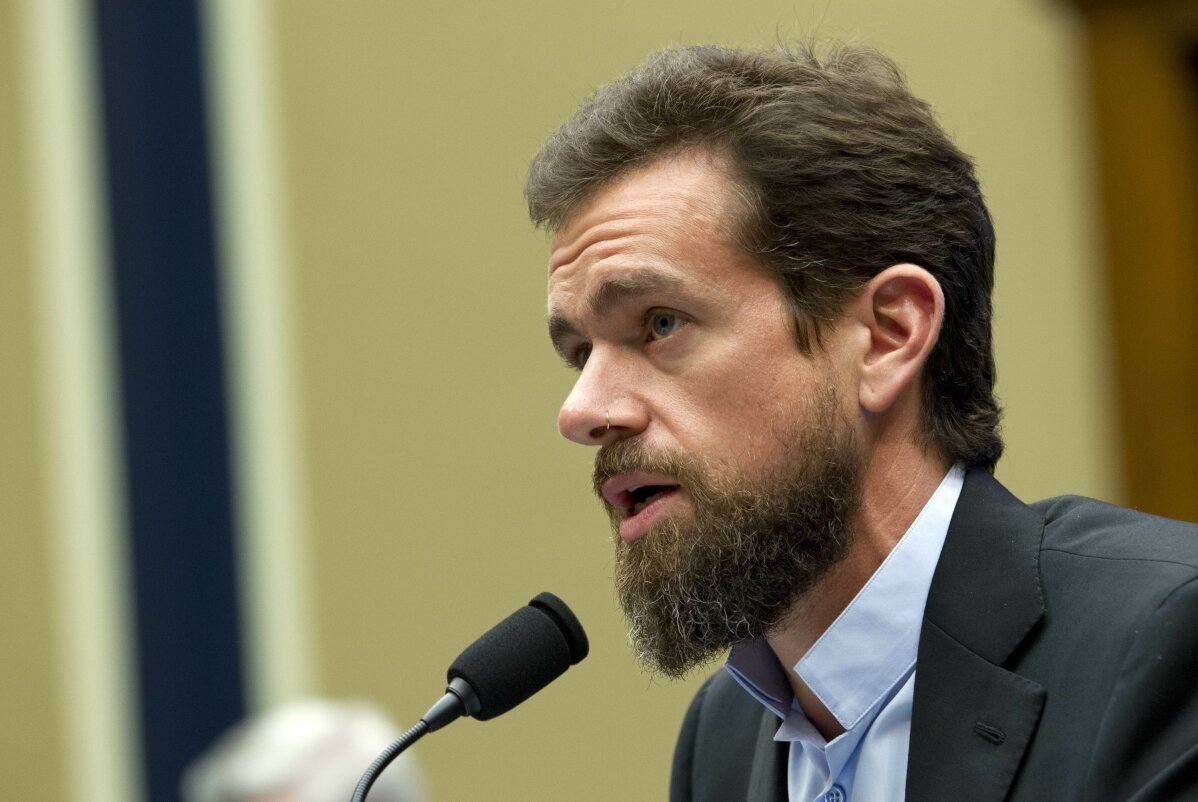 17 of 19

|
Twitter CEO Jack Dorsey testifies before the House Energy and Commerce Committee Wednesday, Sept. 5, 2018, in Washington. Lawmakers have sparred over whether a now-reversed change to auto-suggestions on Twitter had unfairly hurt Democrats or Republicans more. Dorsey isn't saying which, but tells lawmakers he'll follow up. (AP Photo/Jose Luis Magana)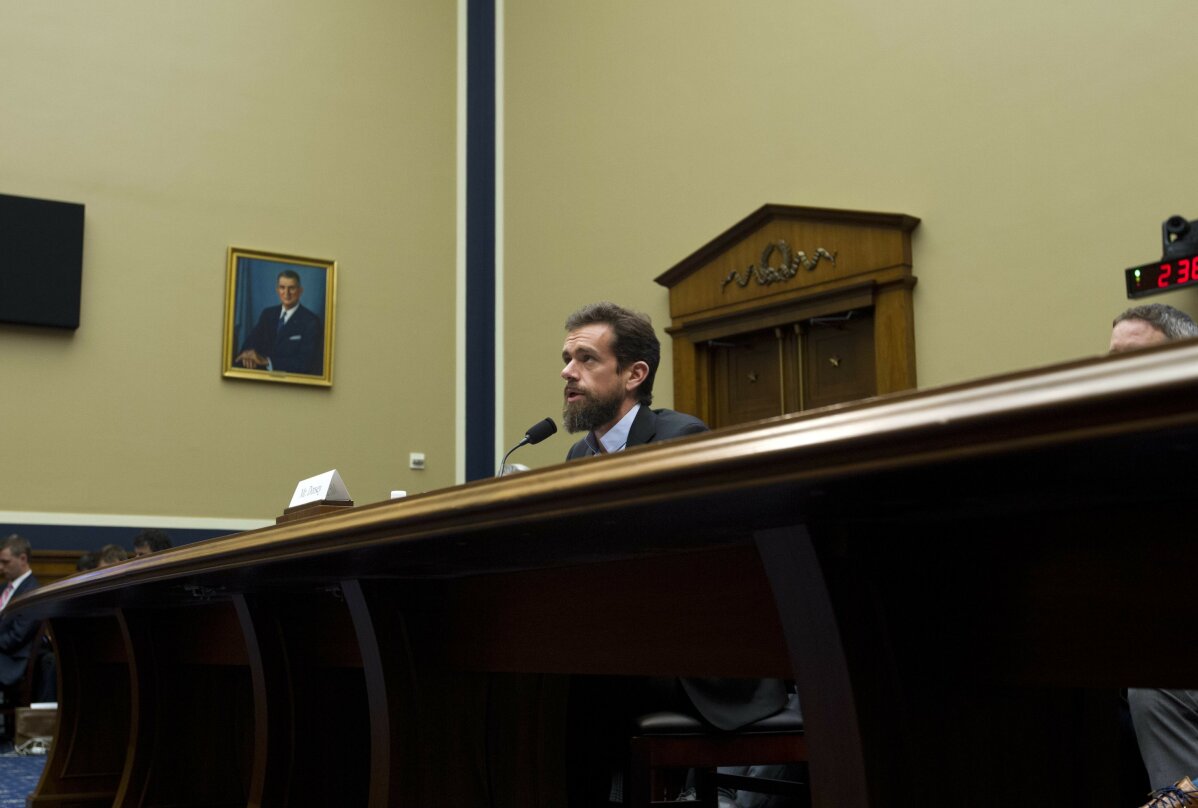 18 of 19

|
Twitter CEO Jack Dorsey testifies before the House Energy and Commerce Committee on Capitol Hill, Wednesday, Sept. 5, 2018, in Washington. Lawmakers have sparred over whether a now-reversed change to auto-suggestions on Twitter had unfairly hurt Democrats or Republicans more. (AP Photo/Jose Luis Magana)
19 of 19

|
Twitter CEO Jack Dorsey testifies before the Senate Intelligence Committee hearing on 'Foreign Influence Operations and Their Use of Social Media Platforms' on Capitol Hill, Wednesday, Sept. 5, 2018, in Washington. (AP Photo/Jose Luis Magana)
Twitter CEO Jack Dorsey keeps his cool before Congress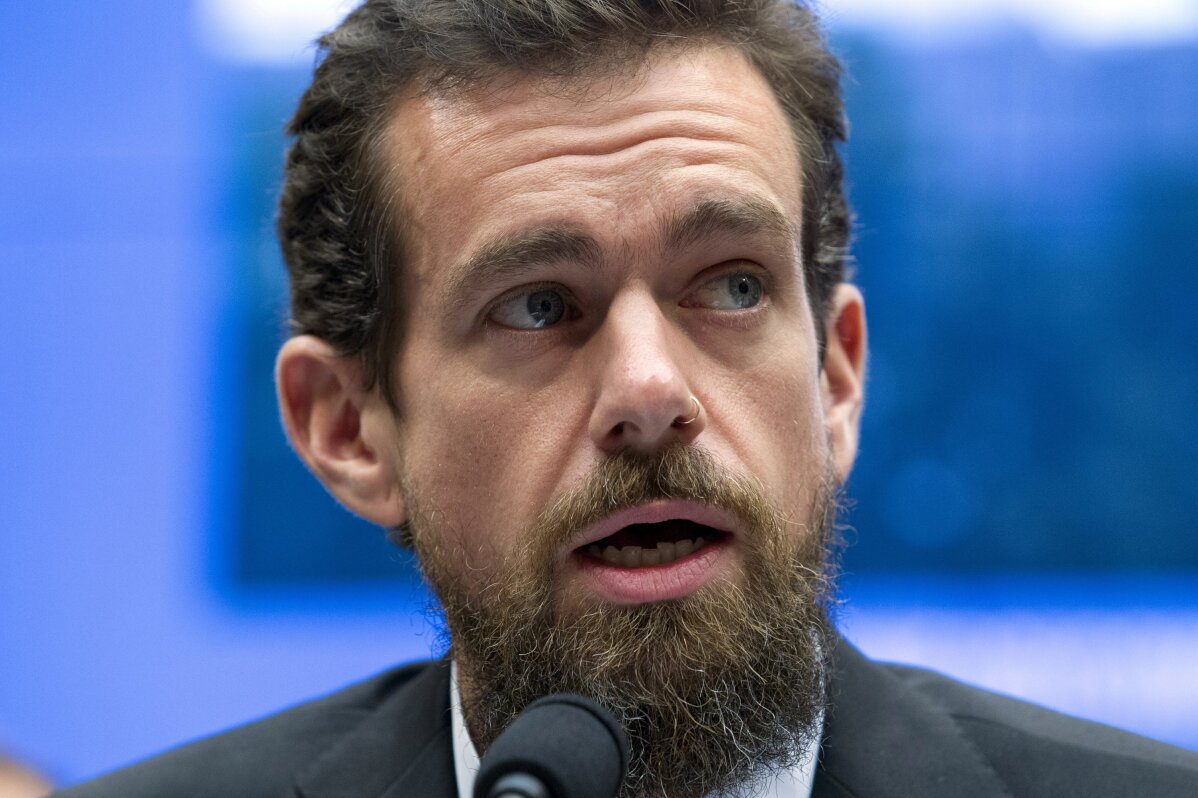 1 of 19

|
Twitter CEO Jack Dorsey testifies before the House Energy and Commerce Committee on Capitol Hill, Wednesday, Sept. 5, 2018, in Washington. Lawmakers have sparred over whether a now-reversed change to auto-suggestions on Twitter had unfairly hurt Democrats or Republicans more. Dorsey isn't saying which, but tells lawmakers he'll follow up. (AP Photo/Jose Luis Magana)
1 of 19
Twitter CEO Jack Dorsey testifies before the House Energy and Commerce Committee on Capitol Hill, Wednesday, Sept. 5, 2018, in Washington. Lawmakers have sparred over whether a now-reversed change to auto-suggestions on Twitter had unfairly hurt Democrats or Republicans more. Dorsey isn't saying which, but tells lawmakers he'll follow up. (AP Photo/Jose Luis Magana)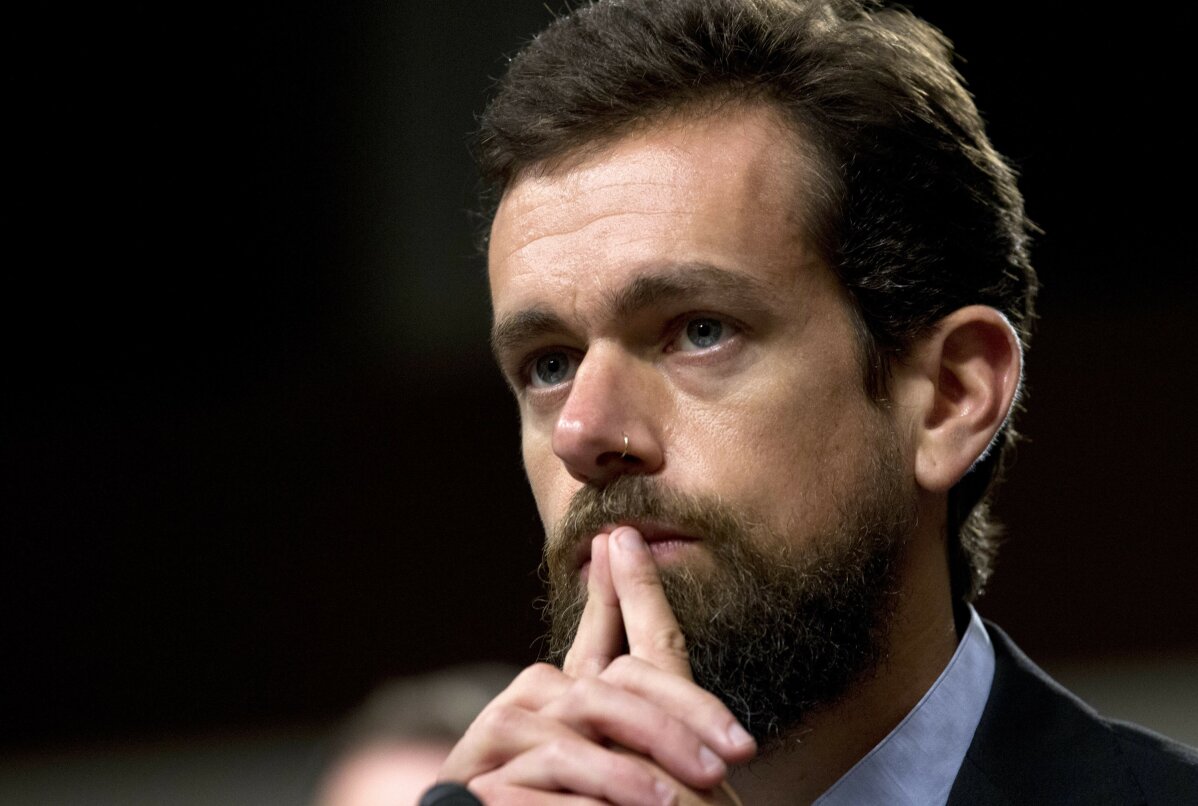 2 of 19

|
Twitter CEO Jack Dorsey testifies before the Senate Intelligence Committee hearing on 'Foreign Influence Operations and Their Use of Social Media Platforms' on Capitol Hill, Wednesday, Sept. 5, 2018, in Washington. (AP Photo/Jose Luis Magana)
2 of 19
Twitter CEO Jack Dorsey testifies before the Senate Intelligence Committee hearing on 'Foreign Influence Operations and Their Use of Social Media Platforms' on Capitol Hill, Wednesday, Sept. 5, 2018, in Washington. (AP Photo/Jose Luis Magana)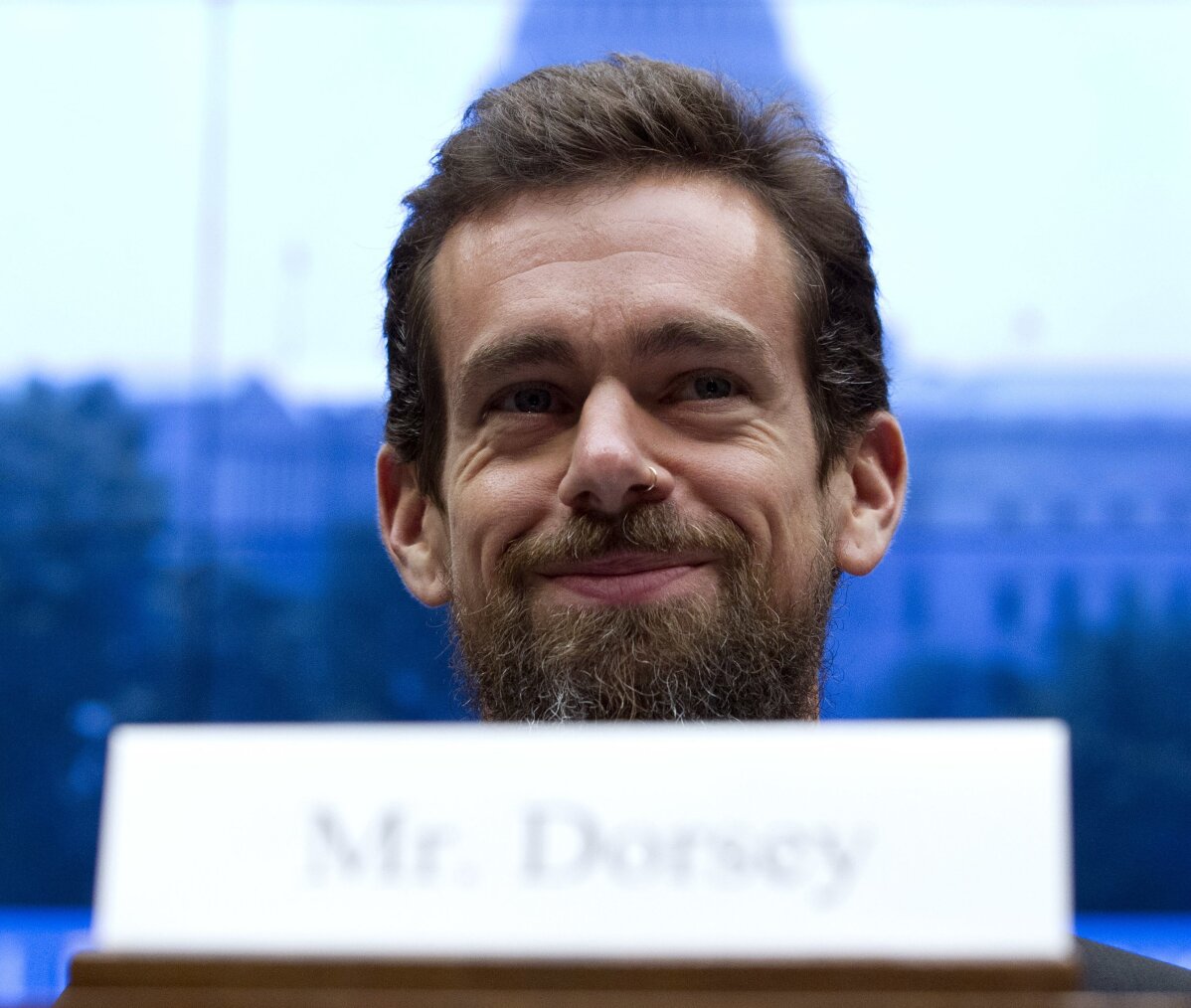 3 of 19

|
Twitter CEO Jack Dorsey testifies before the House Energy and Commerce Committee on Capitol Hill, Wednesday, Sept. 5, 2018, in Washington. Lawmakers have sparred over whether a now-reversed change to auto-suggestions on Twitter had unfairly hurt Democrats or Republicans more. Dorsey isn't saying which, but tells lawmakers he'll follow up. (AP Photo/Jose Luis Magana)
3 of 19
Twitter CEO Jack Dorsey testifies before the House Energy and Commerce Committee on Capitol Hill, Wednesday, Sept. 5, 2018, in Washington. Lawmakers have sparred over whether a now-reversed change to auto-suggestions on Twitter had unfairly hurt Democrats or Republicans more. Dorsey isn't saying which, but tells lawmakers he'll follow up. (AP Photo/Jose Luis Magana)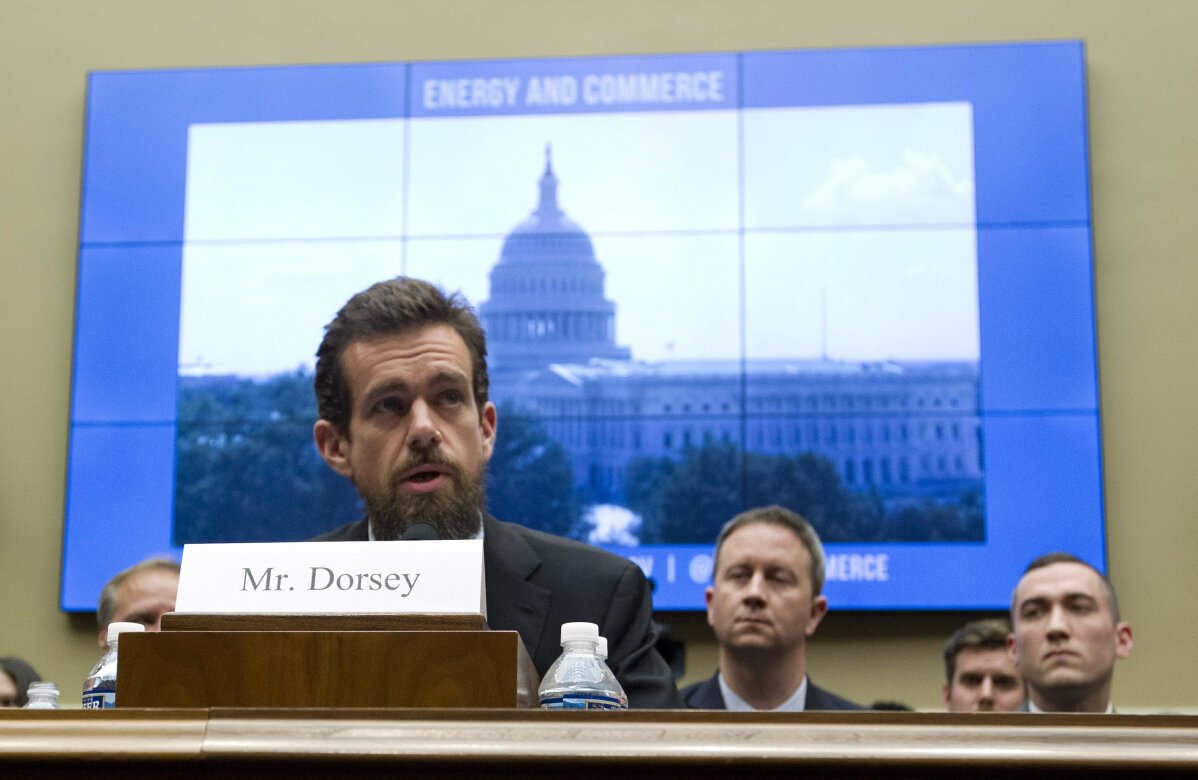 4 of 19

|
Twitter CEO Jack Dorsey testifies before the House Energy and Commerce Committee on Capitol Hill, Wednesday, Sept. 5, 2018, in Washington. Lawmakers have sparred over whether a now-reversed change to auto-suggestions on Twitter had unfairly hurt Democrats or Republicans more. (AP Photo/Jose Luis Magana)
4 of 19
Twitter CEO Jack Dorsey testifies before the House Energy and Commerce Committee on Capitol Hill, Wednesday, Sept. 5, 2018, in Washington. Lawmakers have sparred over whether a now-reversed change to auto-suggestions on Twitter had unfairly hurt Democrats or Republicans more. (AP Photo/Jose Luis Magana)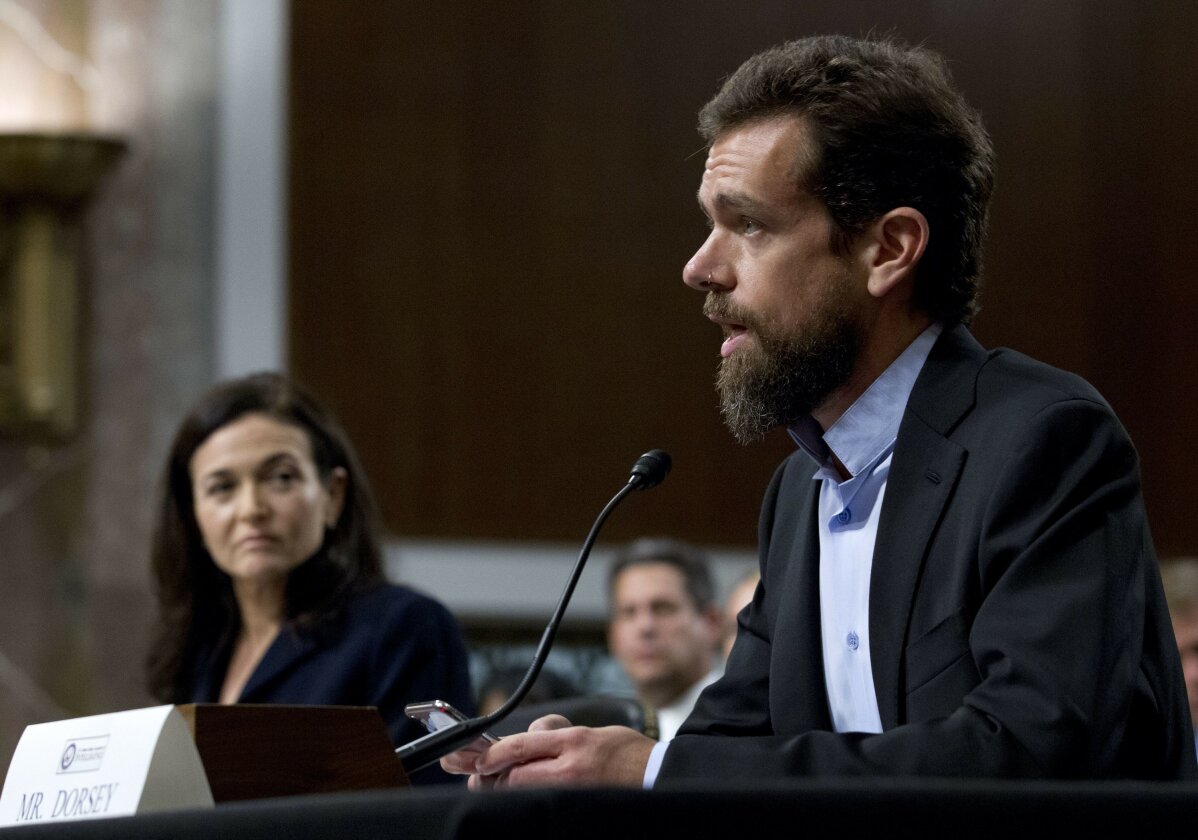 5 of 19

|
Twitter CEO Jack Dorsey, accompanied by Facebook COO Sheryl Sandberg, testify before the Senate Intelligence Committee hearing on 'Foreign Influence Operations and Their Use of Social Media Platforms' on Capitol Hill, Wednesday, Sept. 5, 2018, in Washington. (AP Photo/Jose Luis Magana)
5 of 19
Twitter CEO Jack Dorsey, accompanied by Facebook COO Sheryl Sandberg, testify before the Senate Intelligence Committee hearing on 'Foreign Influence Operations and Their Use of Social Media Platforms' on Capitol Hill, Wednesday, Sept. 5, 2018, in Washington. (AP Photo/Jose Luis Magana)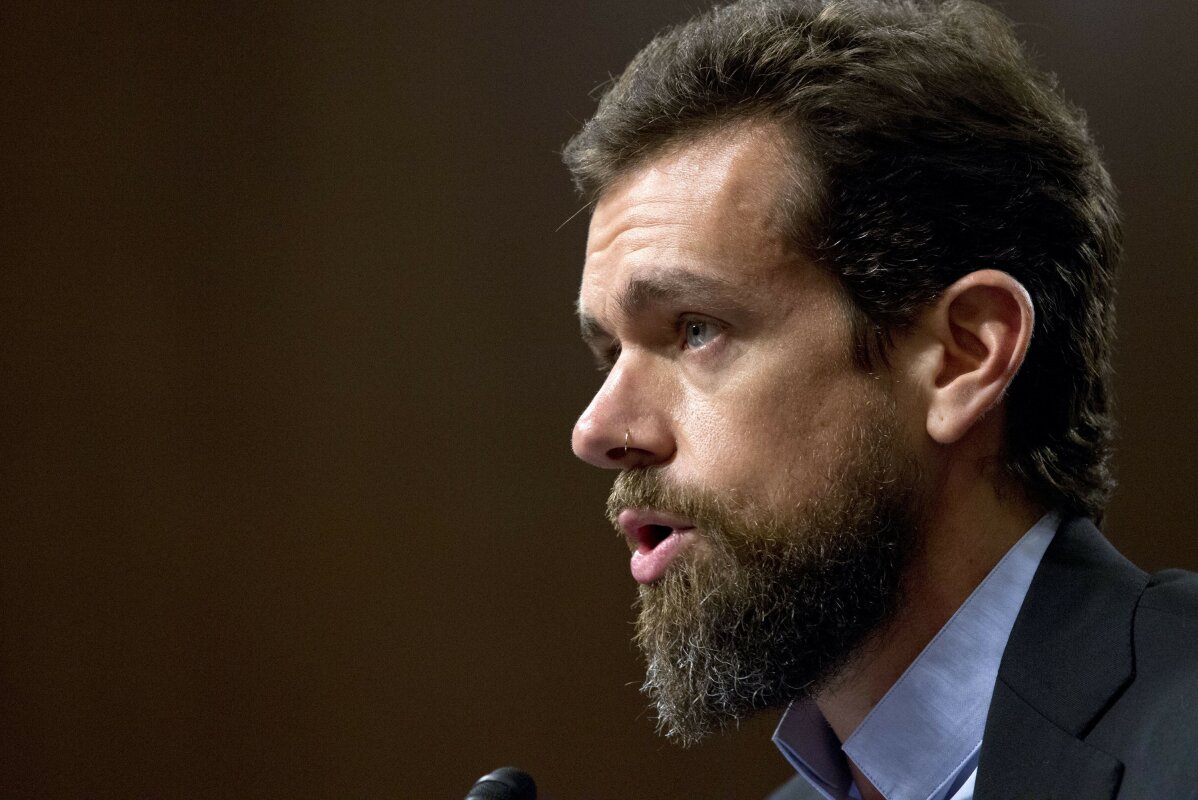 6 of 19

|
Twitter CEO Jack Dorsey testifies before the Senate Intelligence Committee hearing on 'Foreign Influence Operations and Their Use of Social Media Platforms' on Capitol Hill, Wednesday, Sept. 5, 2018, in Washington. (AP Photo/Jose Luis Magana)
6 of 19
Twitter CEO Jack Dorsey testifies before the Senate Intelligence Committee hearing on 'Foreign Influence Operations and Their Use of Social Media Platforms' on Capitol Hill, Wednesday, Sept. 5, 2018, in Washington. (AP Photo/Jose Luis Magana)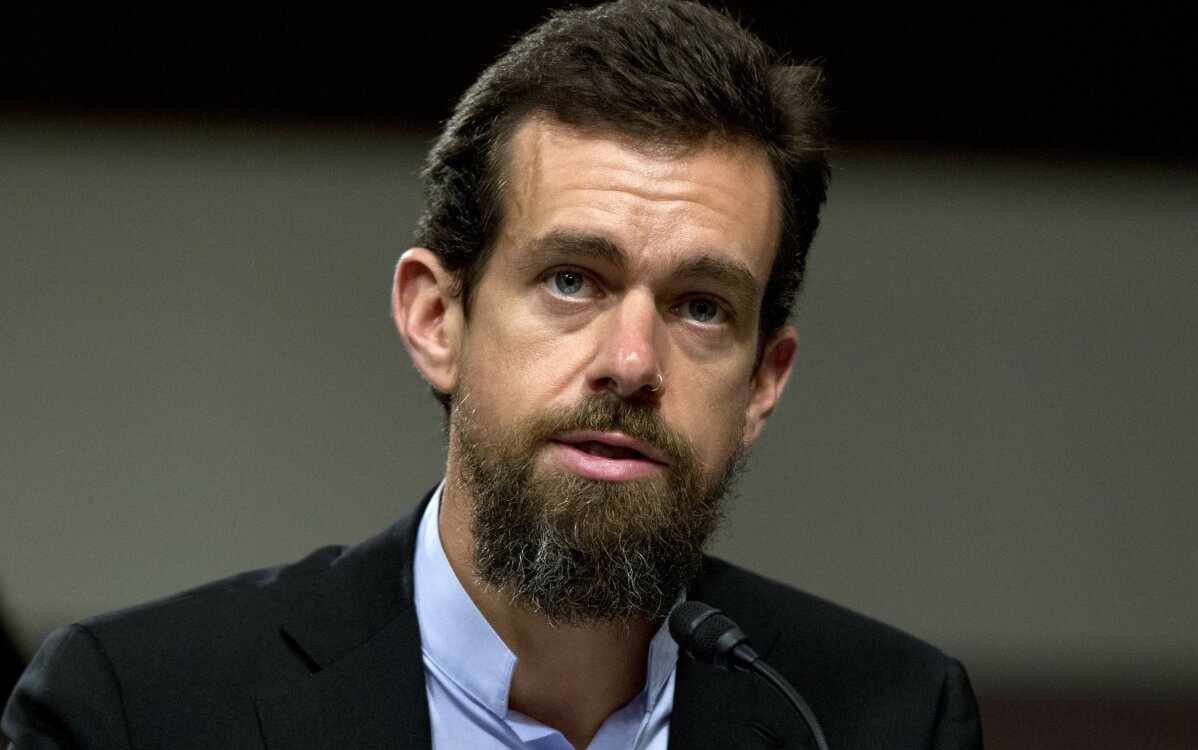 7 of 19

|
Twitter CEO Jack Dorsey testifies before the Senate Intelligence Committee hearing on 'Foreign Influence Operations and Their Use of Social Media Platforms' on Capitol Hill, Wednesday, Sept. 5, 2018, in Washington. (AP Photo/Jose Luis Magana)
7 of 19
Twitter CEO Jack Dorsey testifies before the Senate Intelligence Committee hearing on 'Foreign Influence Operations and Their Use of Social Media Platforms' on Capitol Hill, Wednesday, Sept. 5, 2018, in Washington. (AP Photo/Jose Luis Magana)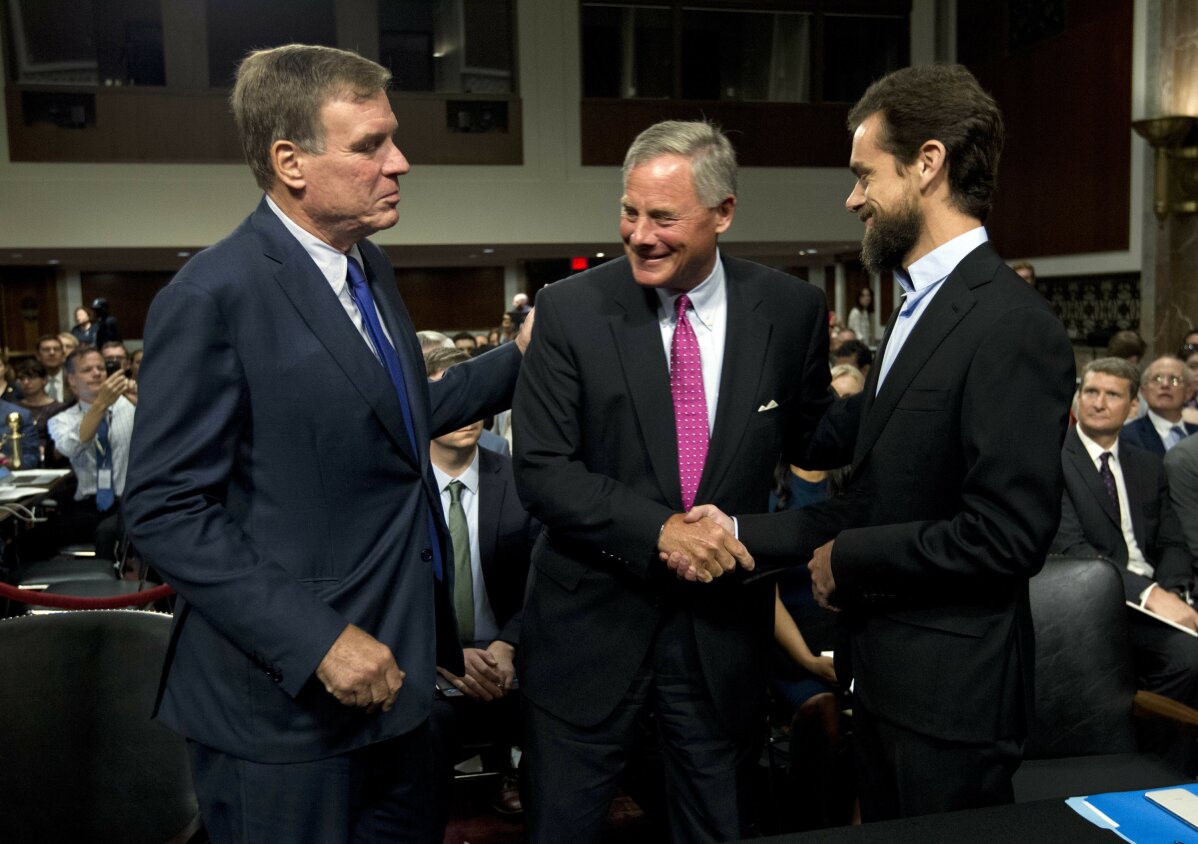 8 of 19

|
Senate Intelligence Committee Vice Chairman Mark Warner, D-Va., left, and Chairman Sen. Richard Burr, R-N.C., center, greet Twitter CEO Jack Dorsey before he testifies before the Senate Intelligence Committee hearing on 'Foreign Influence Operations and Their Use of Social Media Platforms' on Capitol Hill, Wednesday, Sept. 5, 2018, in Washington. (AP Photo/Jose Luis Magana)
8 of 19
Senate Intelligence Committee Vice Chairman Mark Warner, D-Va., left, and Chairman Sen. Richard Burr, R-N.C., center, greet Twitter CEO Jack Dorsey before he testifies before the Senate Intelligence Committee hearing on 'Foreign Influence Operations and Their Use of Social Media Platforms' on Capitol Hill, Wednesday, Sept. 5, 2018, in Washington. (AP Photo/Jose Luis Magana)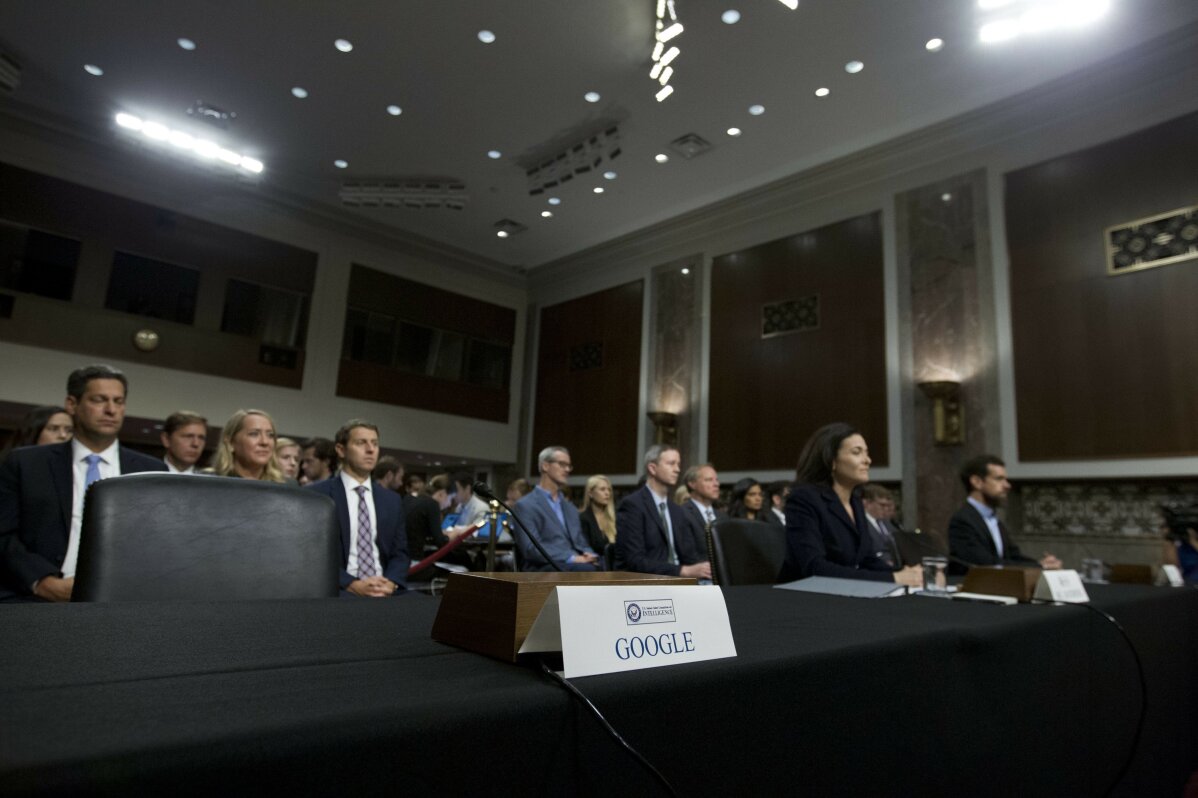 9 of 19

|
An empty chair reserved for Google's parent Alphabet, which refused to send its top executive, is seen as Facebook COO Sheryl Sandberg accompanied by Twitter CEO Jack Dorsey testify before the Senate Intelligence Committee hearing on 'Foreign Influence Operations and Their Use of Social Media Platforms' on Capitol Hill, Wednesday, Sept. 5, 2018, in Washington. Google CEO did not show for the hearing. (AP Photo/Jose Luis Magana)
9 of 19
An empty chair reserved for Google's parent Alphabet, which refused to send its top executive, is seen as Facebook COO Sheryl Sandberg accompanied by Twitter CEO Jack Dorsey testify before the Senate Intelligence Committee hearing on 'Foreign Influence Operations and Their Use of Social Media Platforms' on Capitol Hill, Wednesday, Sept. 5, 2018, in Washington. Google CEO did not show for the hearing. (AP Photo/Jose Luis Magana)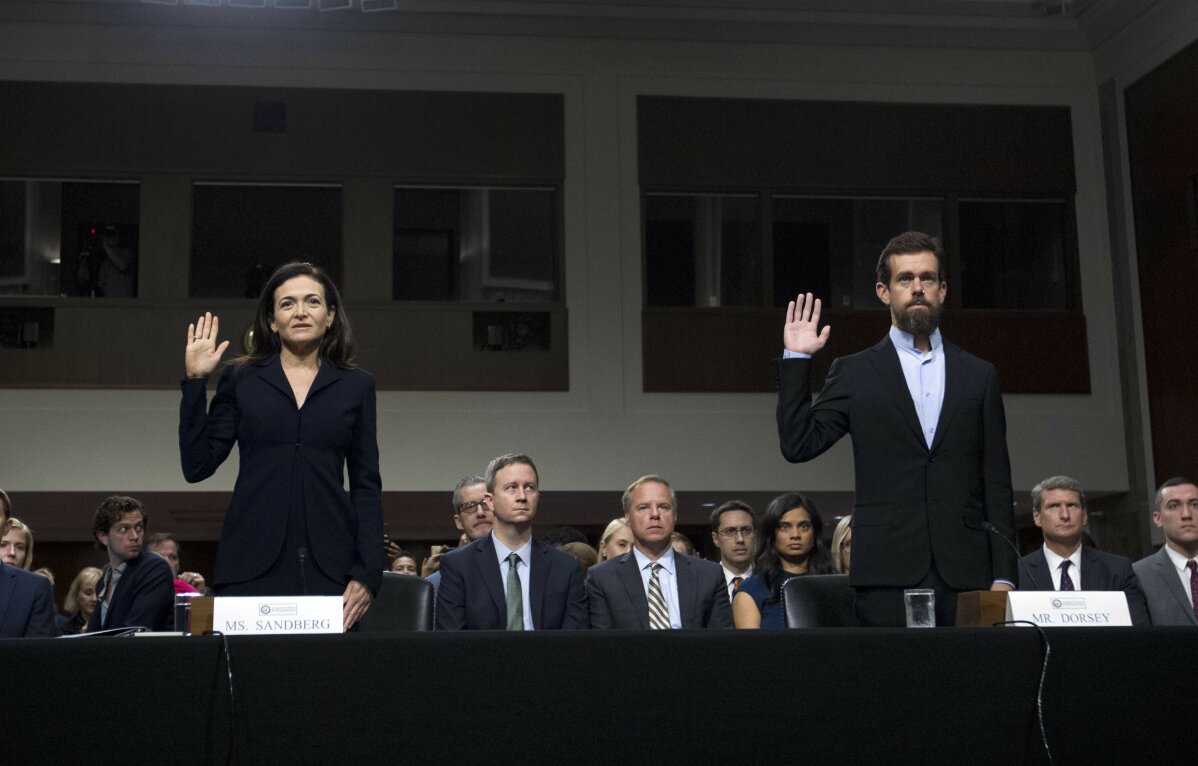 10 of 19

|
Facebook COO Sheryl Sandberg, left, accompanied by Twitter CEO Jack Dorsey are sworn in before the Senate Intelligence Committee hearing on 'Foreign Influence Operations and Their Use of Social Media Platforms' on Capitol Hill, Wednesday, Sept. 5, 2018, in Washington. (AP Photo/Jose Luis Magana)
10 of 19
Facebook COO Sheryl Sandberg, left, accompanied by Twitter CEO Jack Dorsey are sworn in before the Senate Intelligence Committee hearing on 'Foreign Influence Operations and Their Use of Social Media Platforms' on Capitol Hill, Wednesday, Sept. 5, 2018, in Washington. (AP Photo/Jose Luis Magana)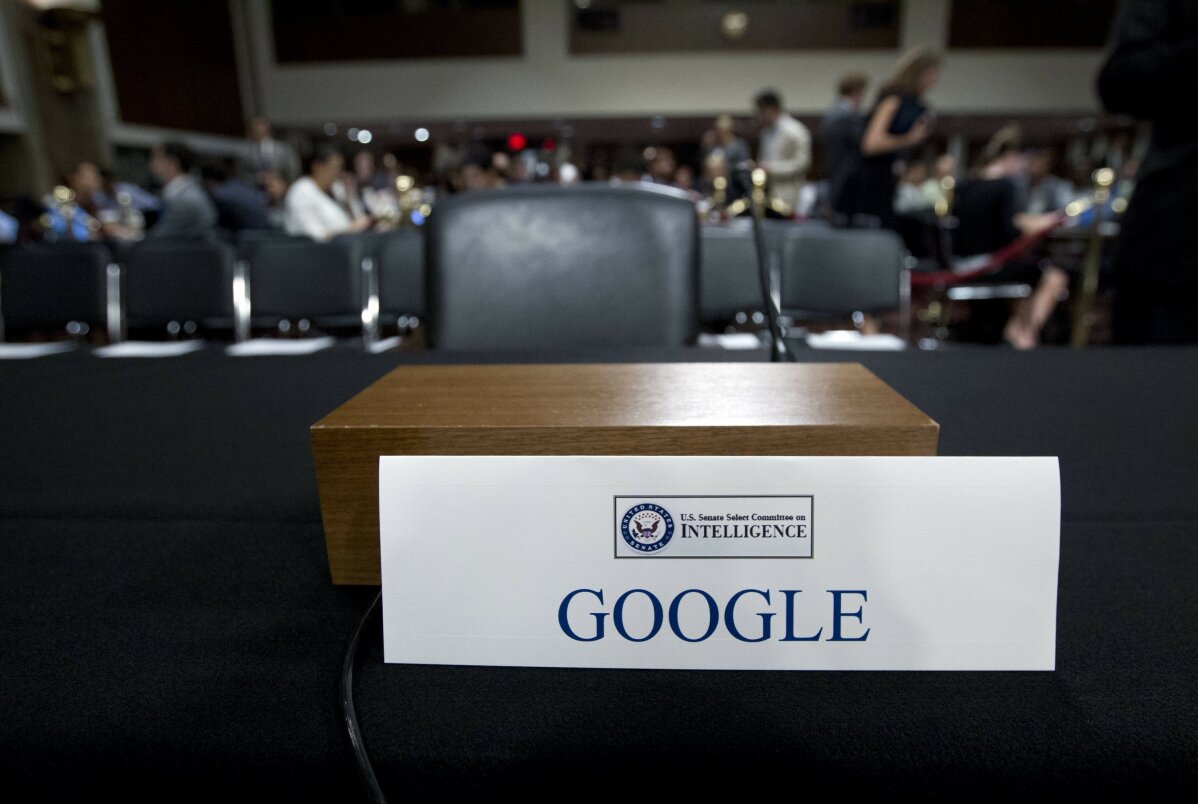 11 of 19

|
An empty chair reserved for Google's parent Alphabet, which refused to send its top executive, is seen as Facebook COO Sheryl Sandberg accompanied by Twitter CEO Jack Dorsey testify before the Senate Intelligence Committee hearing on 'Foreign Influence Operations and Their Use of Social Media Platforms' on Capitol Hill, Wednesday, Sept. 5, 2018, in Washington. Google CEO did not show for the hearing. (AP Photo/Jose Luis Magana)
11 of 19
An empty chair reserved for Google's parent Alphabet, which refused to send its top executive, is seen as Facebook COO Sheryl Sandberg accompanied by Twitter CEO Jack Dorsey testify before the Senate Intelligence Committee hearing on 'Foreign Influence Operations and Their Use of Social Media Platforms' on Capitol Hill, Wednesday, Sept. 5, 2018, in Washington. Google CEO did not show for the hearing. (AP Photo/Jose Luis Magana)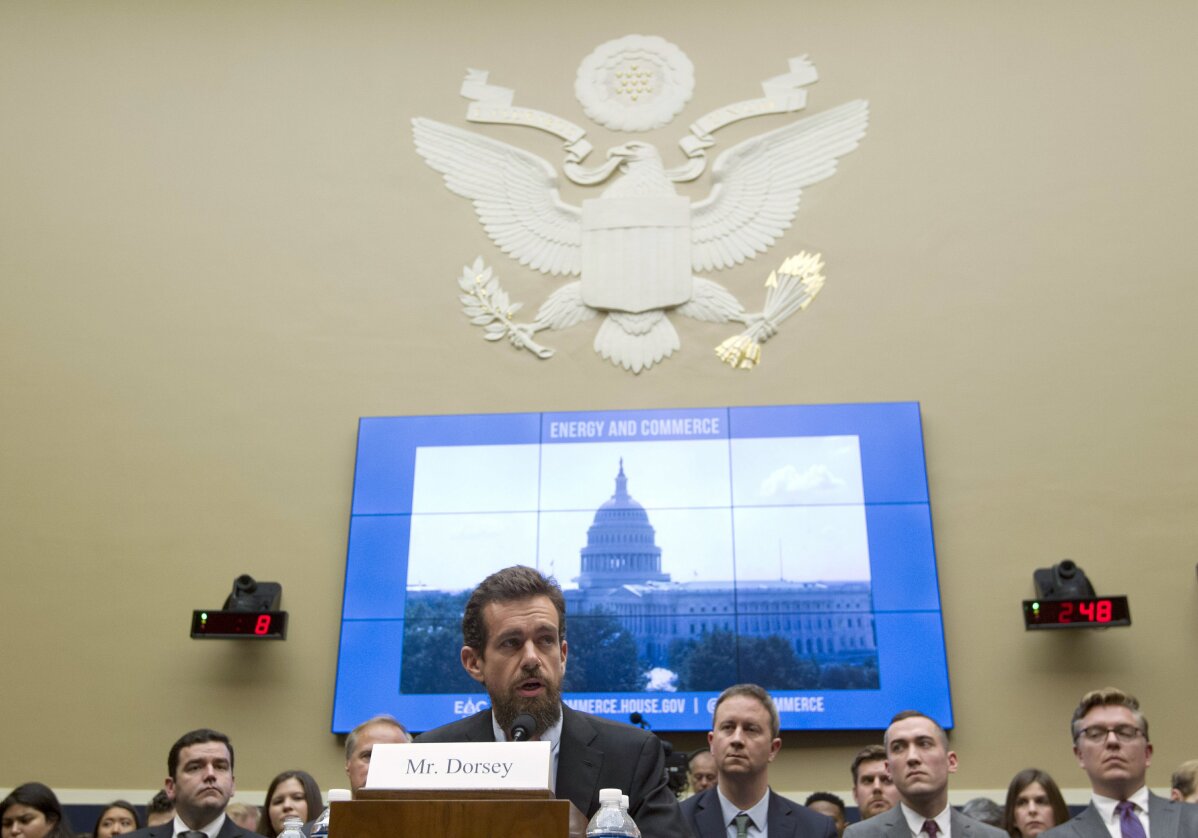 12 of 19

|
Twitter CEO Jack Dorsey testifies before the House Energy and Commerce Committee on Capitol Hill, Wednesday, Sept. 5, 2018, in Washington. Lawmakers have sparred over whether a now-reversed change to auto-suggestions on Twitter had unfairly hurt Democrats or Republicans more. (AP Photo/Jose Luis Magana)
12 of 19
Twitter CEO Jack Dorsey testifies before the House Energy and Commerce Committee on Capitol Hill, Wednesday, Sept. 5, 2018, in Washington. Lawmakers have sparred over whether a now-reversed change to auto-suggestions on Twitter had unfairly hurt Democrats or Republicans more. (AP Photo/Jose Luis Magana)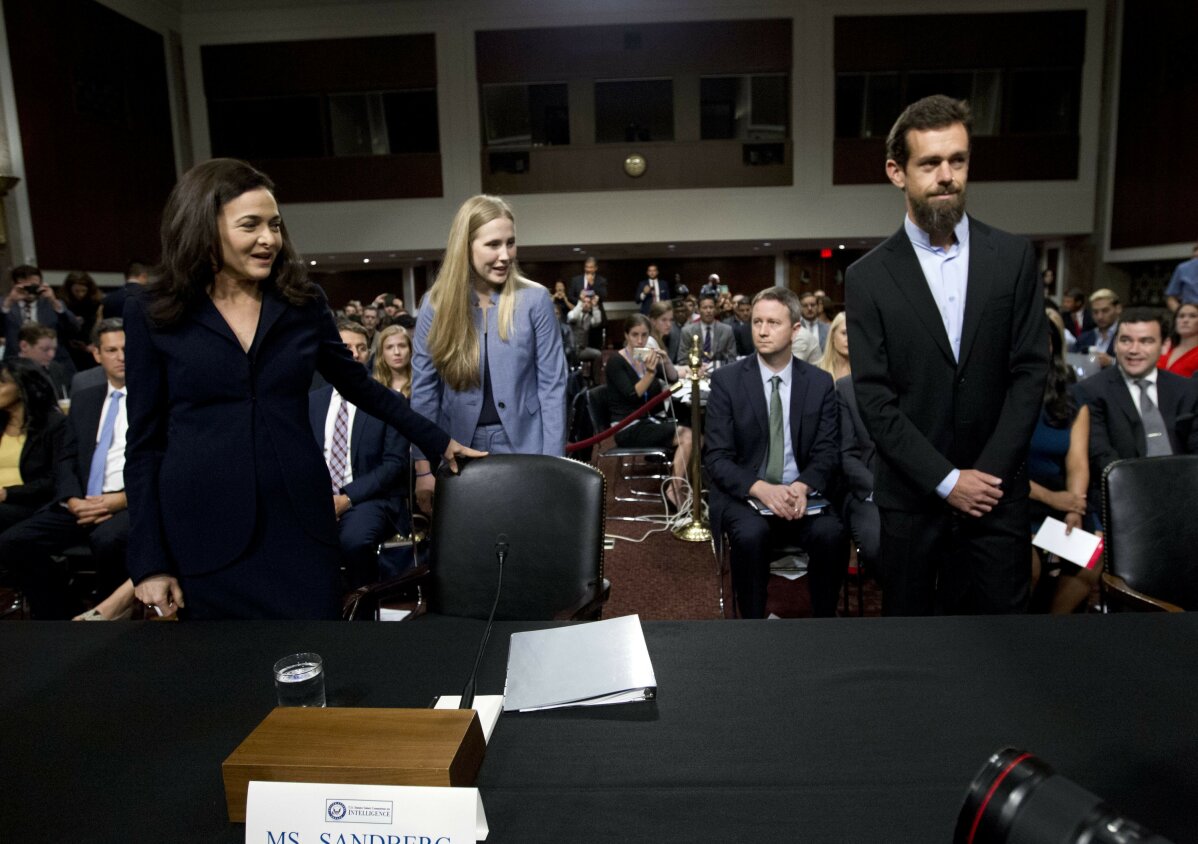 13 of 19

|
Facebook COO Sheryl Sandberg, left, accompanied byTwitter CEO Jack Dorsey arrive to the Senate Intelligence Committee hearing on 'Foreign Influence Operations and Their Use of Social Media Platforms' on Capitol Hill, Wednesday, Sept. 5, 2018, in Washington. (AP Photo/Jose Luis Magana)
13 of 19
Facebook COO Sheryl Sandberg, left, accompanied byTwitter CEO Jack Dorsey arrive to the Senate Intelligence Committee hearing on 'Foreign Influence Operations and Their Use of Social Media Platforms' on Capitol Hill, Wednesday, Sept. 5, 2018, in Washington. (AP Photo/Jose Luis Magana)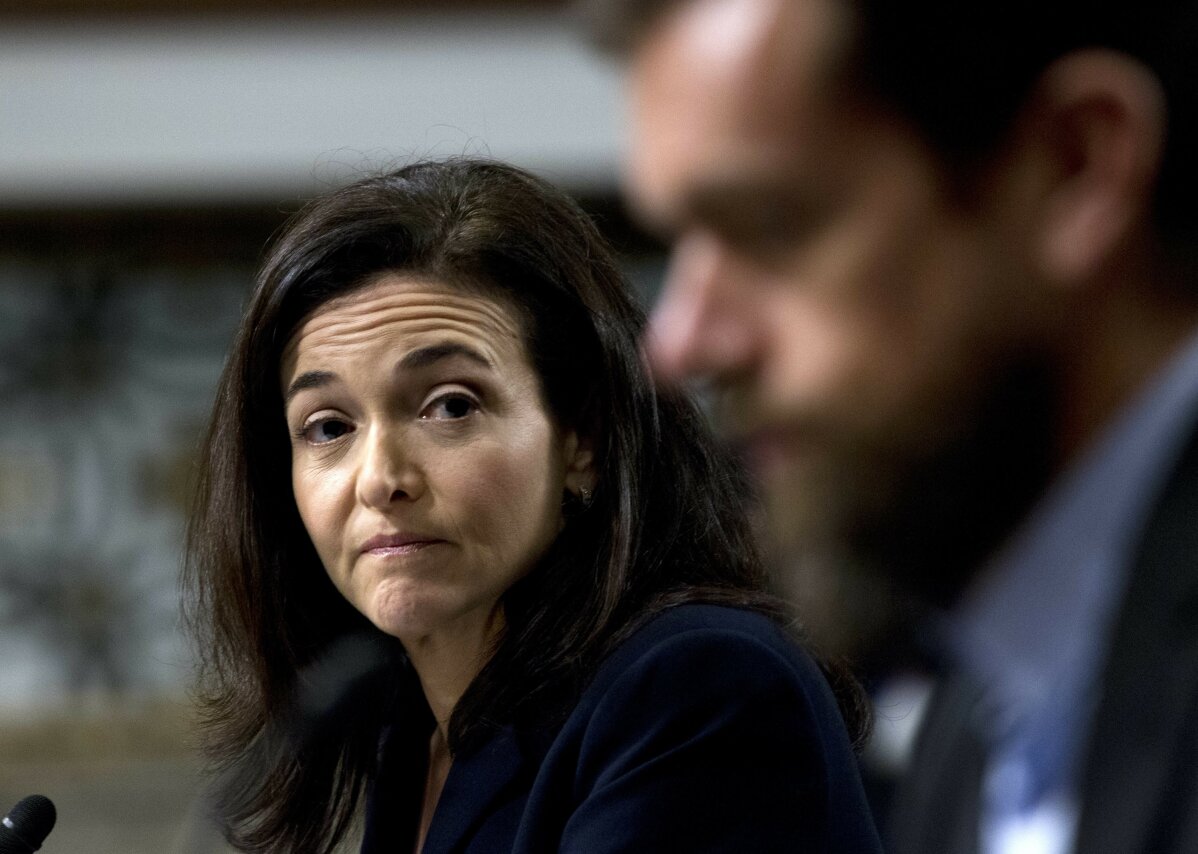 14 of 19

|
Facebook COO Sheryl Sandberg accompanied by Twitter CEO Jack Dorsey, right, before the Senate Intelligence Committee hearing on 'Foreign Influence Operations and Their Use of Social Media Platforms' on Capitol Hill, Wednesday, Sept. 5, 2018, in Washington. Google CEO did not show for the hearing. (AP Photo/Jose Luis Magana)
14 of 19
Facebook COO Sheryl Sandberg accompanied by Twitter CEO Jack Dorsey, right, before the Senate Intelligence Committee hearing on 'Foreign Influence Operations and Their Use of Social Media Platforms' on Capitol Hill, Wednesday, Sept. 5, 2018, in Washington. Google CEO did not show for the hearing. (AP Photo/Jose Luis Magana)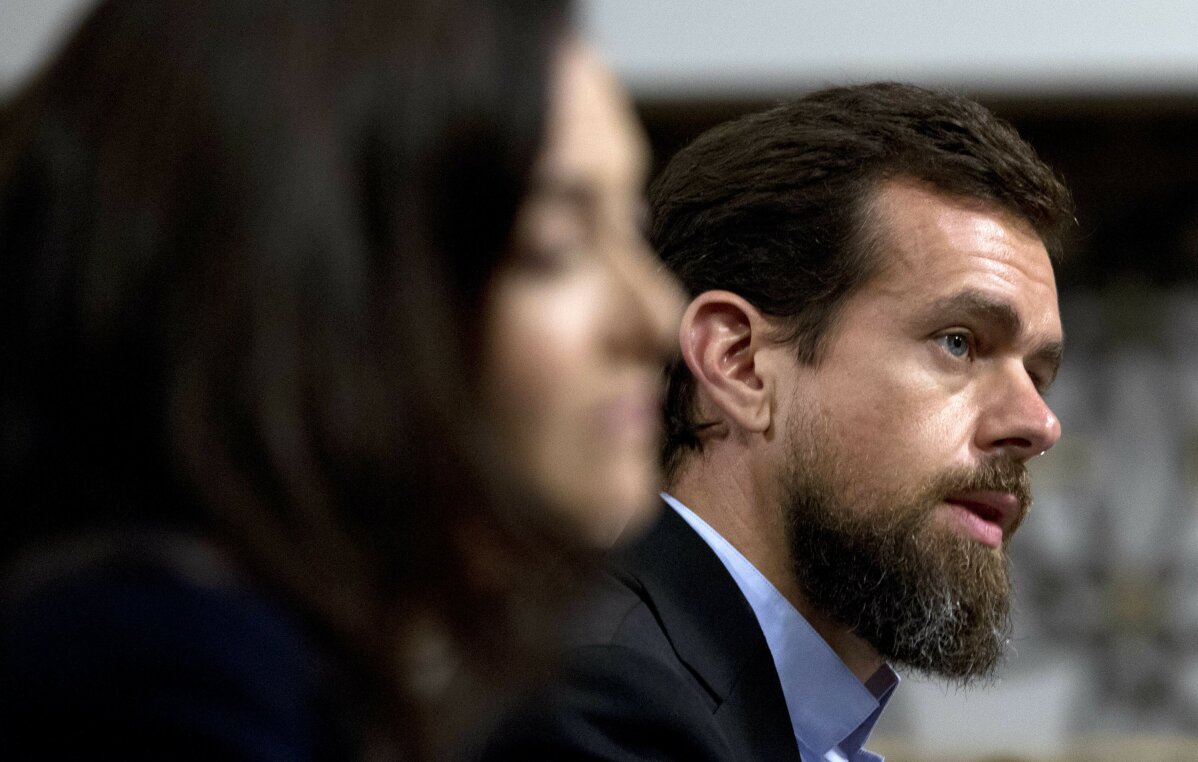 15 of 19

|
Twitter CEO Jack Dorsey accompanied by Facebook COO Sheryl Sandberg, left, testify before the Senate Intelligence Committee hearing on 'Foreign Influence Operations and Their Use of Social Media Platforms' on Capitol Hill, Wednesday, Sept. 5, 2018, in Washington. (AP Photo/Jose Luis Magana)
15 of 19
Twitter CEO Jack Dorsey accompanied by Facebook COO Sheryl Sandberg, left, testify before the Senate Intelligence Committee hearing on 'Foreign Influence Operations and Their Use of Social Media Platforms' on Capitol Hill, Wednesday, Sept. 5, 2018, in Washington. (AP Photo/Jose Luis Magana)
16 of 19

|
Twitter CEO Jack Dorsey testifies before the House Energy and Commerce Committee Wednesday, Sept. 5, 2018, in Washington. Lawmakers have sparred over whether a now-reversed change to auto-suggestions on Twitter had unfairly hurt Democrats or Republicans more. Dorsey isn't saying which, but tells lawmakers he'll follow up. (AP Photo/Jose Luis Magana)
16 of 19
Twitter CEO Jack Dorsey testifies before the House Energy and Commerce Committee Wednesday, Sept. 5, 2018, in Washington. Lawmakers have sparred over whether a now-reversed change to auto-suggestions on Twitter had unfairly hurt Democrats or Republicans more. Dorsey isn't saying which, but tells lawmakers he'll follow up. (AP Photo/Jose Luis Magana)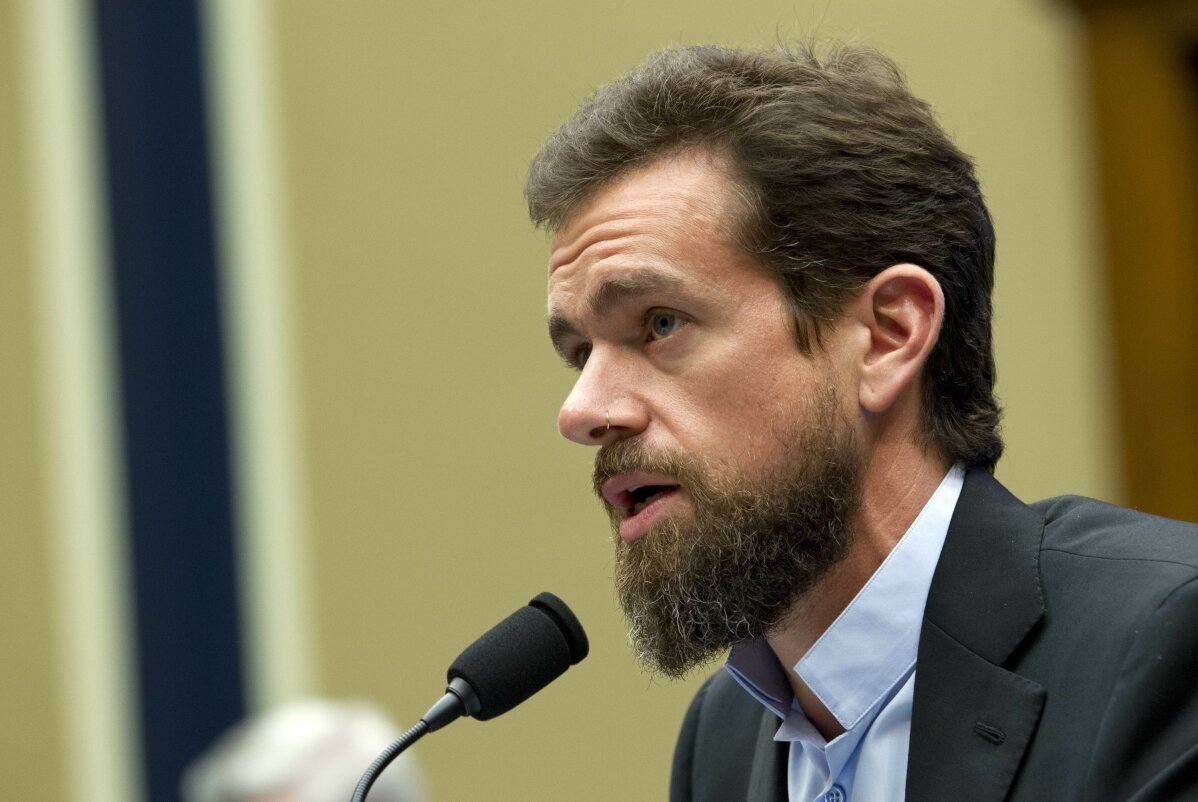 17 of 19

|
Twitter CEO Jack Dorsey testifies before the House Energy and Commerce Committee Wednesday, Sept. 5, 2018, in Washington. Lawmakers have sparred over whether a now-reversed change to auto-suggestions on Twitter had unfairly hurt Democrats or Republicans more. Dorsey isn't saying which, but tells lawmakers he'll follow up. (AP Photo/Jose Luis Magana)
17 of 19
Twitter CEO Jack Dorsey testifies before the House Energy and Commerce Committee Wednesday, Sept. 5, 2018, in Washington. Lawmakers have sparred over whether a now-reversed change to auto-suggestions on Twitter had unfairly hurt Democrats or Republicans more. Dorsey isn't saying which, but tells lawmakers he'll follow up. (AP Photo/Jose Luis Magana)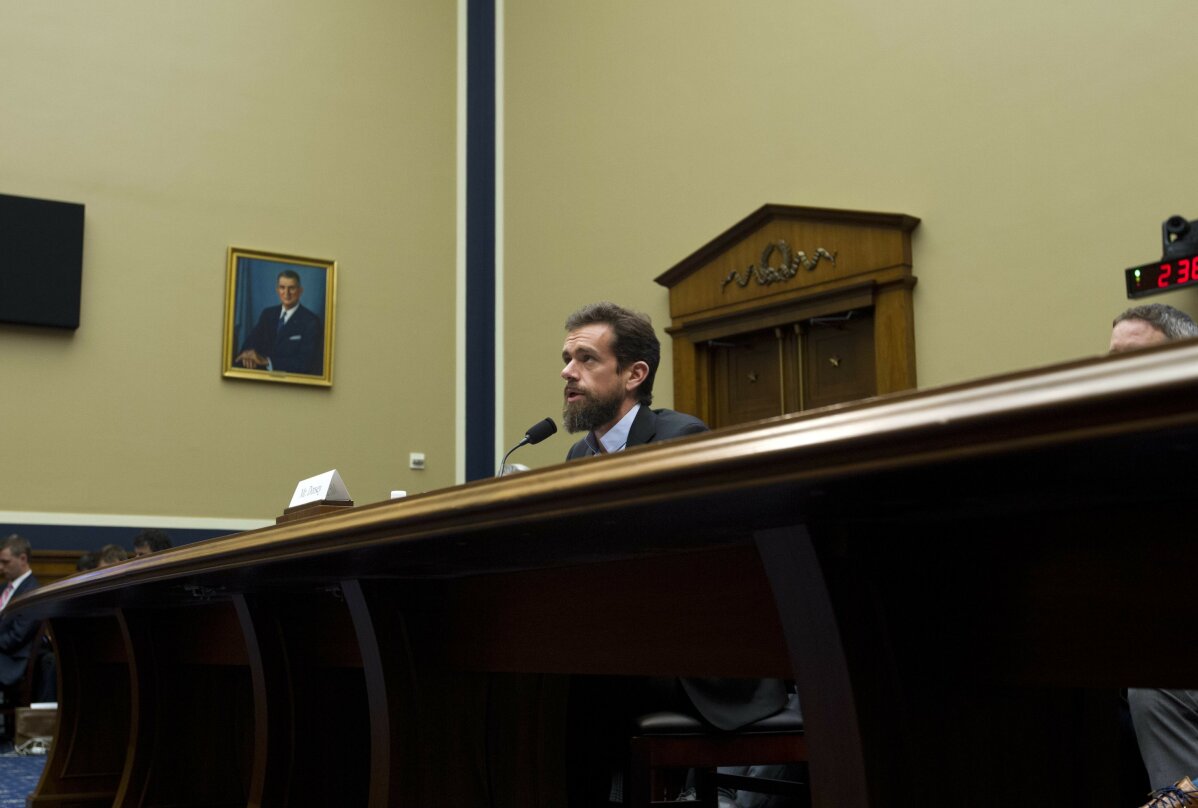 18 of 19

|
Twitter CEO Jack Dorsey testifies before the House Energy and Commerce Committee on Capitol Hill, Wednesday, Sept. 5, 2018, in Washington. Lawmakers have sparred over whether a now-reversed change to auto-suggestions on Twitter had unfairly hurt Democrats or Republicans more. (AP Photo/Jose Luis Magana)
18 of 19
Twitter CEO Jack Dorsey testifies before the House Energy and Commerce Committee on Capitol Hill, Wednesday, Sept. 5, 2018, in Washington. Lawmakers have sparred over whether a now-reversed change to auto-suggestions on Twitter had unfairly hurt Democrats or Republicans more. (AP Photo/Jose Luis Magana)
19 of 19

|
Twitter CEO Jack Dorsey testifies before the Senate Intelligence Committee hearing on 'Foreign Influence Operations and Their Use of Social Media Platforms' on Capitol Hill, Wednesday, Sept. 5, 2018, in Washington. (AP Photo/Jose Luis Magana)
19 of 19
Twitter CEO Jack Dorsey testifies before the Senate Intelligence Committee hearing on 'Foreign Influence Operations and Their Use of Social Media Platforms' on Capitol Hill, Wednesday, Sept. 5, 2018, in Washington. (AP Photo/Jose Luis Magana)
A chill, bearded and nose-ringed Jack Dorsey appeared unflappable as he faced hours of questioning from members of Congress Wednesday on issues as wide-ranging as political bias, hate speech, school safety and election manipulation.
At 9:30 a.m., he began at the Senate intelligence committee, alongside Facebook's practiced and polished chief operating officer Sheryl Sandberg and an empty chair in place of the absent Google co-founder Larry Page. In the afternoon, a 1:30 hearing featured a solo Dorsey before the 54-member House Energy and Commerce Committee.
Dorsey, who meditates regularly, live-tweeted his opening statement and answered questions in a low, measured tone. He repeatedly declined to rise to the bait offered by sometimes scathing legislators, instead holding forth as the nerdy and earnest CEO who just wants to improve his company and its role in the world.
When Arkansas Republican Sen. Tom Cotton pressed Dorsey on Twitter's allegiance to the U.S., Dorsey steered a serene middle course. Asked if he saw a difference between cooperating with the U.S. government and the Russian or Chinese governments, Dorsey demurred. "Not sure what you mean," he said.
"Are you an American company?" Cotton asked.
"We are an American company," answered Dorsey, who at 41 is the same age as Cotton.
"Do you prefer to see America remain the world's dominant global superpower?"
"I prefer that we continue to help everywhere to serve," Dorsey replied, going on to affirm the importance of adhering to Twitter's terms of service, protecting its users from 24/7 surveillance and, eventually, helping intelligence agencies when given a "proper legal order."
And so it unrolled, hour after hour, from one side of Capitol Hill to the other.
While Dorsey deferred some questions for follow-up, it wasn't the constant refrain for him that it was for Mark Zuckerberg during his own marathon congressional testimony back in April. That performance, in which the Facebook CEO skidded through the sometimes uninformed questions from members of Congress, helped Zuckerberg close the door on his company's privacy scandal — but also prompted an avalanche of online memes depicting him as an alien robot.
Dorsey, meanwhile, got high marks from Rep. Billy Long, a Missouri Republican and former auctioneer, who earlier in the hearing had drowned out a loud, conspiracy-minded protester with his old auction chant until security arrived.
"A lot of people come into these hearings and they practice and they coach them and they tell them how to act," Long said. "It's obvious that no one did that for you. You are who you are."
Though who knows. There are also people who spend hours picking out clothes and trying out hairstyles to appear effortlessly unkempt. Twitter did not respond to questions Wednesday about Dorsey's preparation for the hearings.
Compared to Zuckerberg, Dorsey "came across as more mature and more comfortable," said Richard Levick, founder and CEO of public-relations firm Levick. "His answers are thoughtful and you can see that he is really thinking about it."
Facebook's Sandberg also seemed to get a warmer reception than her boss had a few months earlier. A former Washington insider, Sandberg answered many questions directly and deflected others with little noticeable effort. But even she stumbled a bit, at one point telling senators that Facebook aims to present users with "alternative facts" when they come across fake news stories, inadvertently echoing an infamous formulation from Trump adviser Kellyanne Conway.
Sandberg most likely meant that Facebook tries to present people with factual stories that provide more reliable information than disputed articles. And her overall performance earned points.
She no longer appeared dismissive, as Zuckerberg had been early on, about the prospect of foreign elections meddling. And she no longer insisted that Facebook was merely a neutral tech company that hires engineers and not journalists, as she did less than a year ago.
"They are realizing that they are (one of the) most powerful platforms of information," Levick said. "And they have more responsibility than the Wild West."