Sweden's ruling party hits election low as far right grows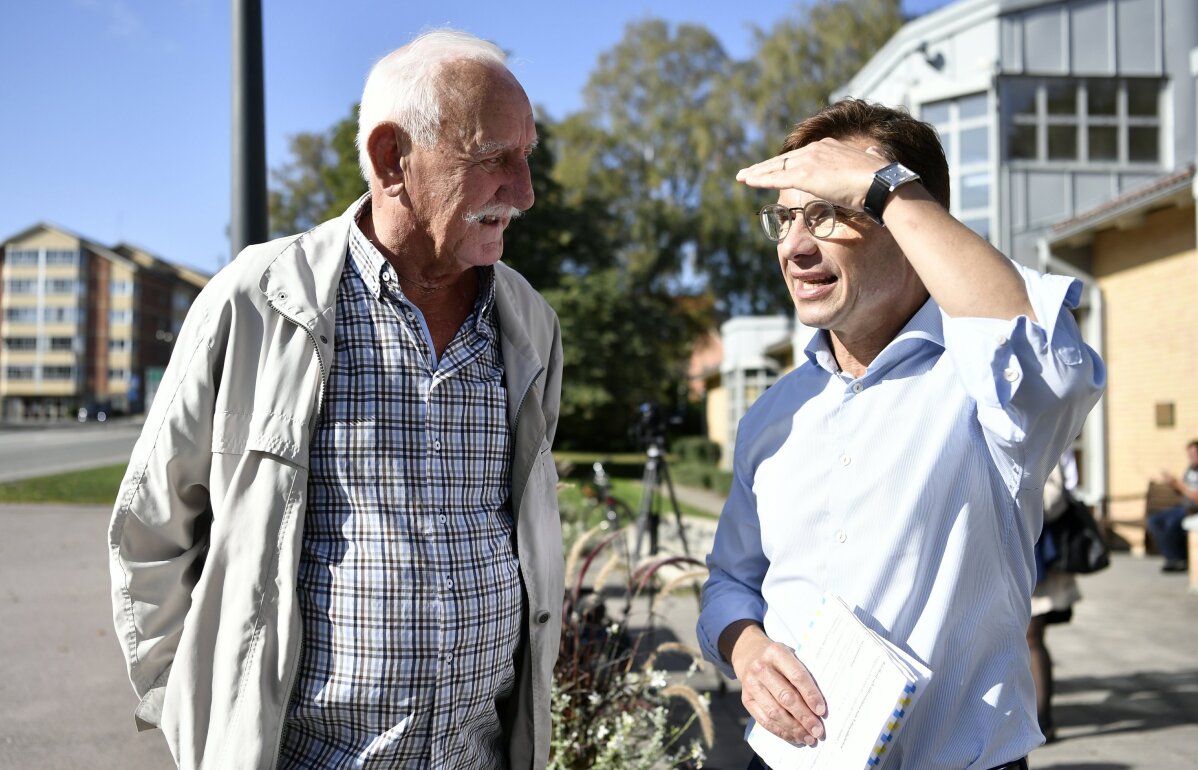 1 of 24

|
Ulf Kristersson, leader of the Moderate Party, right, speaks with a voter on election day in Strangnas, Sweden, Sunday Sept. 9, 2018. Polls have opened in Sweden's general election in what is expected to be one of the most unpredictable and thrilling political races in Scandinavian country for decades amid heated discussion around top issue immigration. (Erik Simander/TT via AP)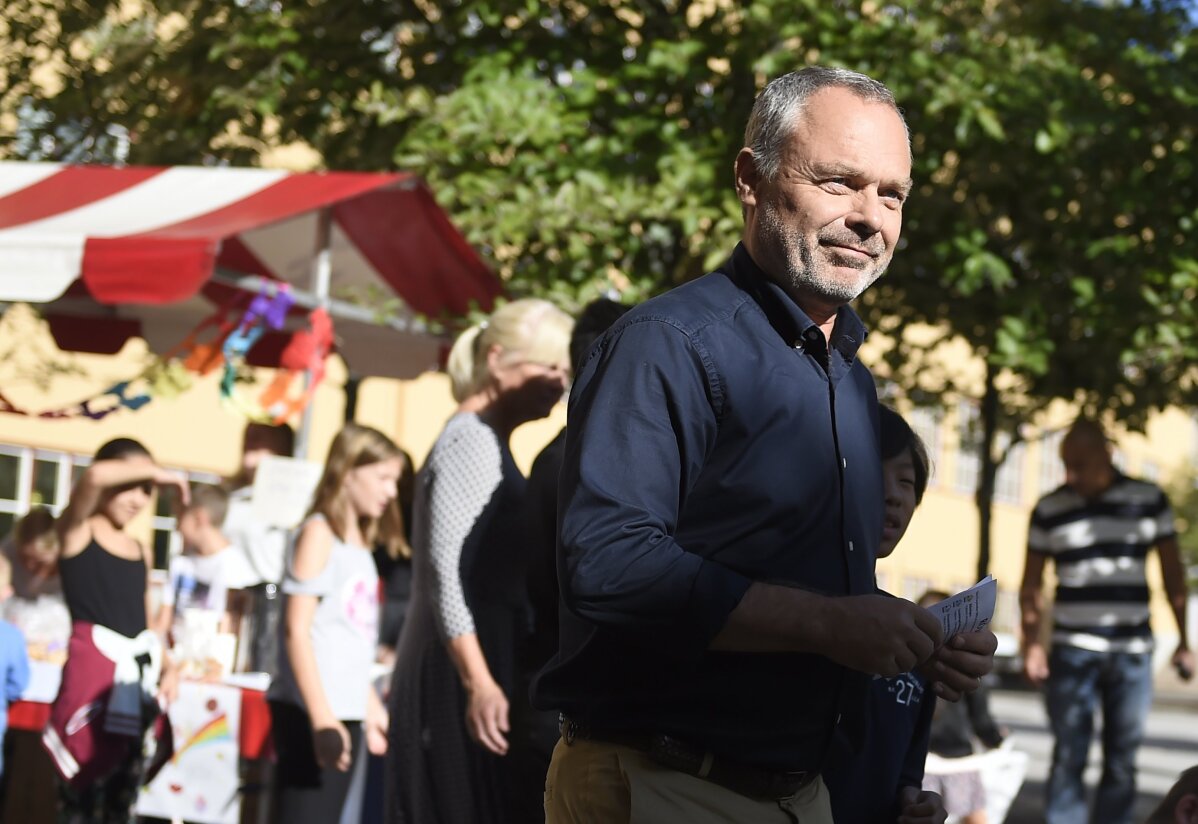 2 of 24

|
Jan Bjorklund, leader of the Liberal Party, arrives at a polling station in Stockholm, Sweden, Sunday Sept. 9, 2018. Polls have opened in Sweden's general election in what is expected to be one of the most unpredictable and thrilling political races in Scandinavian country for decades amid heated discussion around top issue immigration. (Hanna Franzen/TT via AP)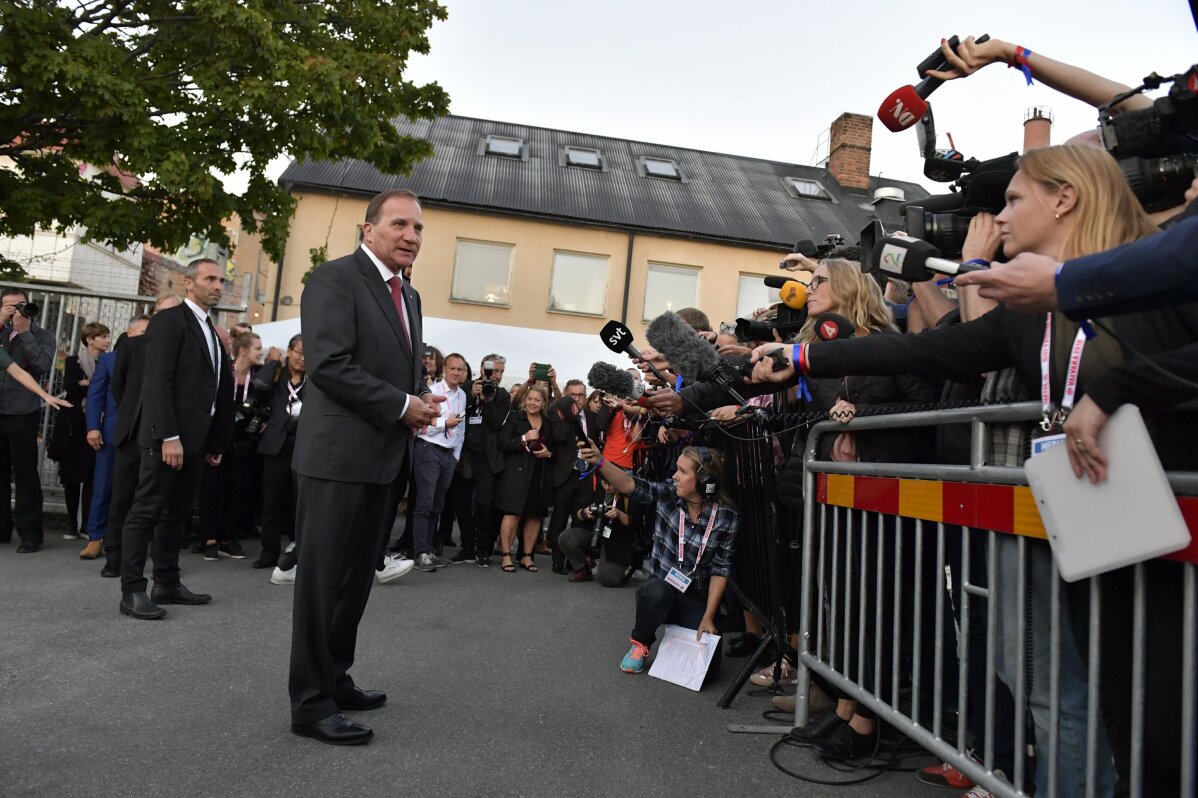 3 of 24

|
Swedish Prime Minister Stefan Lofven talks to media in Stockholm, Sweden, Sunday Sept. 9, 2018. Polls have opened in Sweden's general election in what is expected to be one of the most unpredictable and thrilling political races in Scandinavian country for decades amid heated discussion around top issue immigration. (Jonas Ekstromer/TT via AP)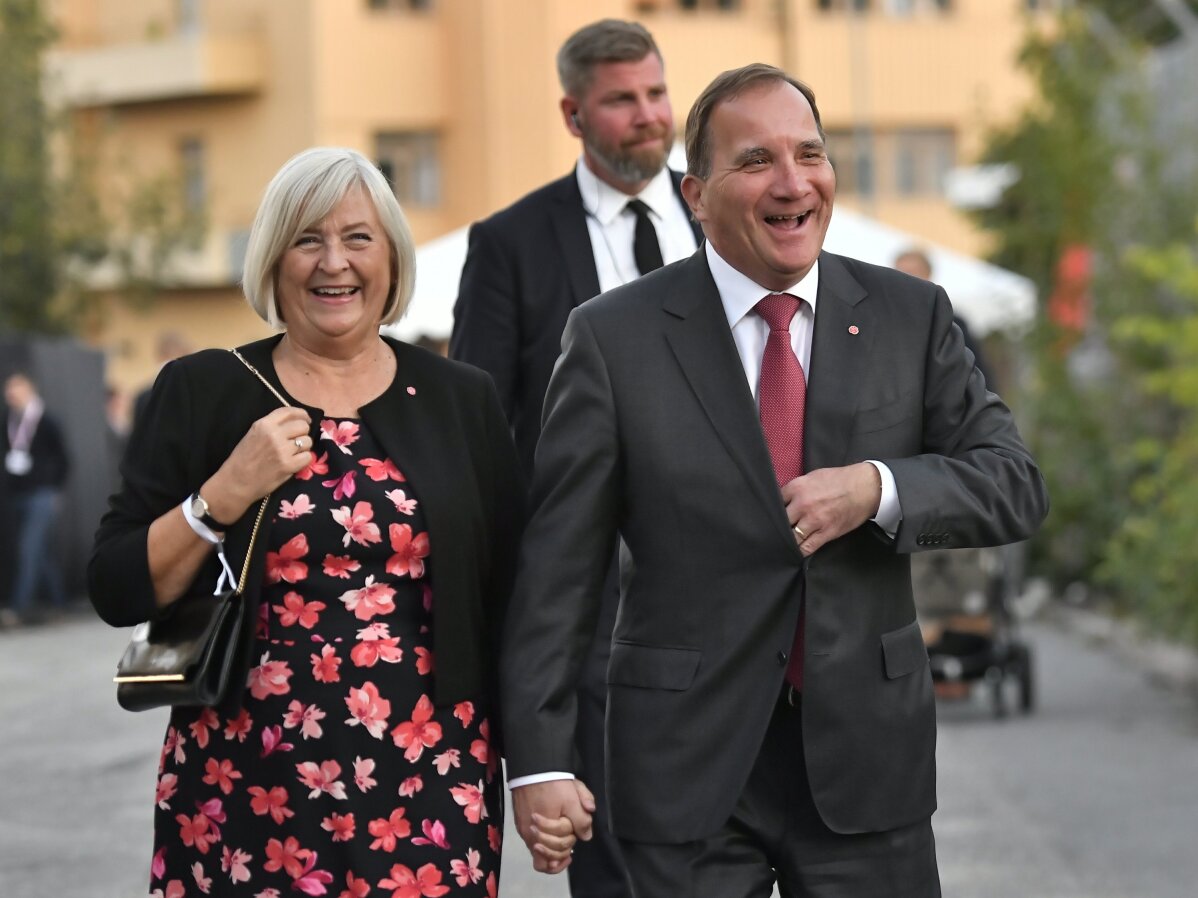 4 of 24

|
Swedish Prime Minister Stefan Lofven and his wife Ulla Lofven in Stockholm, Sweden, Sunday Sept. 9, 2018. An exit poll indicated that Sweden's first general election since the Scandinavian country accepted a significant number of asylum-seekers was likely to have the center-left party governing now as its winner, but an anti-immigrant party with white supremacist roots placing second in balloting Sunday. (Jonas Ekstromer/TT via AP)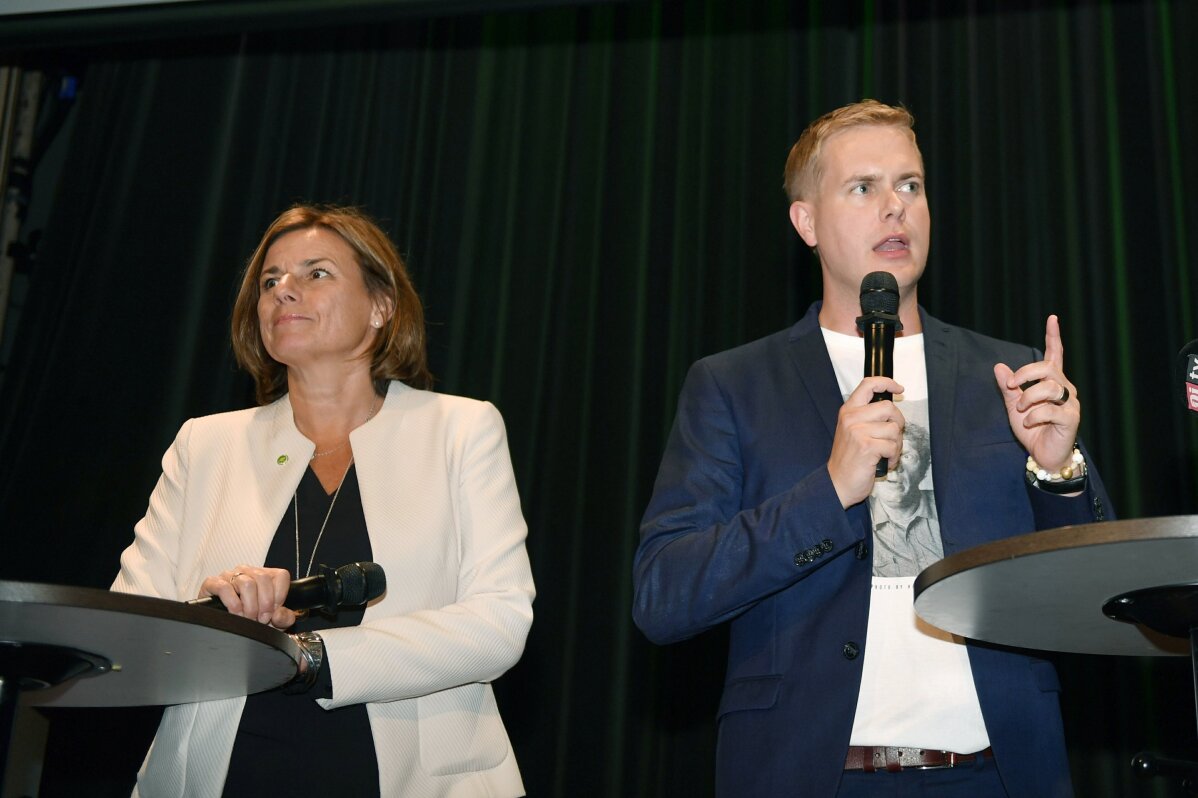 5 of 24

|
Isabella Lovin, left, and Gustav Fridolin at the Miljöpartiet election party in Stockholm, Sweden, Sunday Sept. 9, 2018. Polls have opened in Sweden's general election in what is expected to be one of the most unpredictable and thrilling political races in Scandinavian country for decades amid heated discussion around top issue immigration. (Maja Suslin/TT via AP)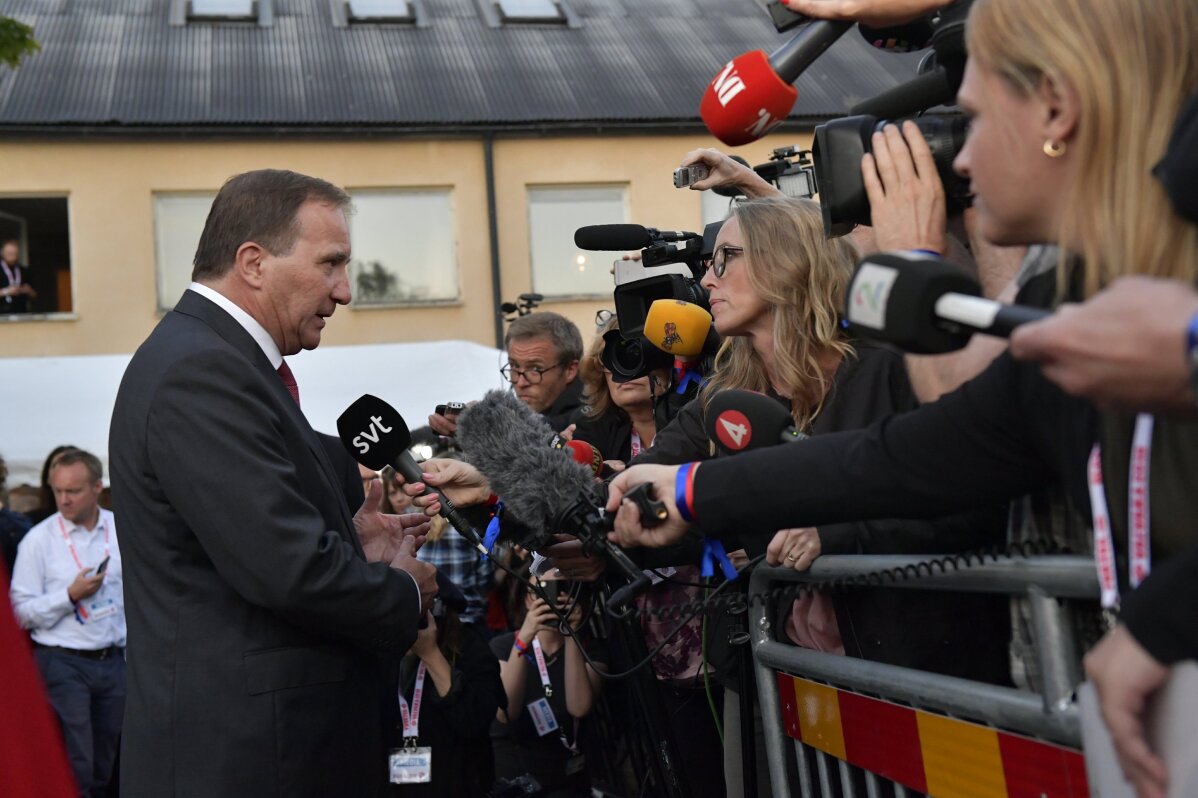 6 of 24

|
Swedish Prime Minister Stefan Lofven talks to media in Stockholm, Sweden, Sunday Sept. 9, 2018. Polls have opened in Sweden's general election in what is expected to be one of the most unpredictable and thrilling political races in Scandinavian country for decades amid heated discussion around top issue immigration. (Jonas Ekstromer/TT via AP)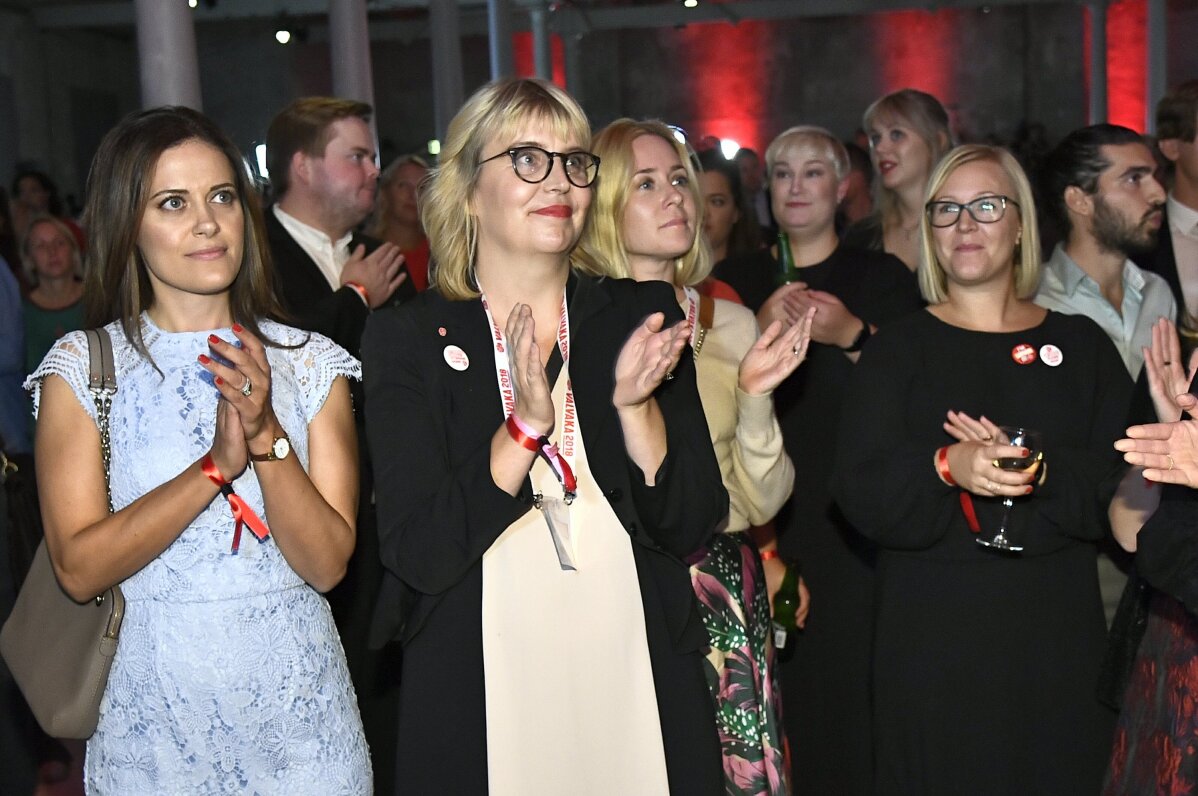 7 of 24

|
Supporters at the Social Democratic Party's election party in Stockholm in Stockholm, Sweden, Sunday Sept. 9, 2018. Polls have opened in Sweden's general election in what is expected to be one of the most unpredictable and thrilling political races in Scandinavian country for decades amid heated discussion around top issue immigration. (Claudio Bresciani/TT via AP)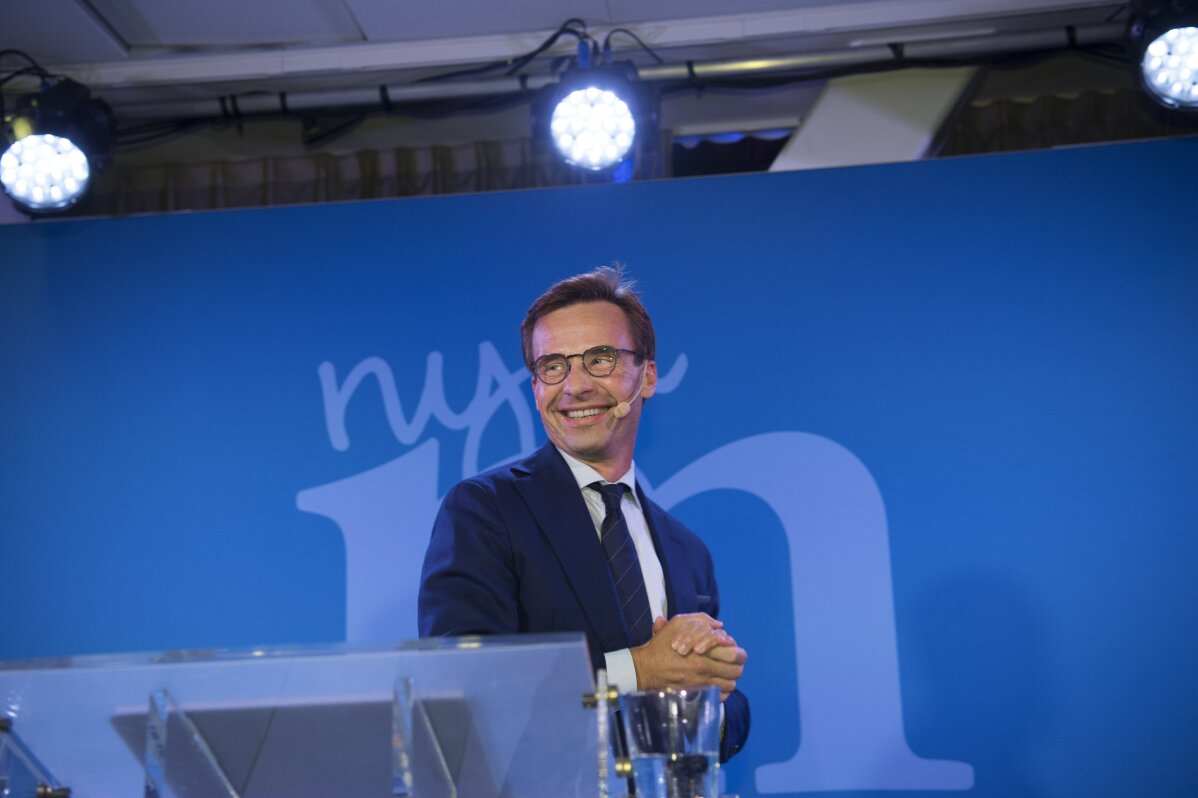 8 of 24

|
The Moderates party leader Ulf Kristersson speaks at an election party in Stockholm, Sweden, Sunday, Sept. 9, 2018. Kristersson, the head of the Moderates, told supporters on Sunday night that a four-party opposition alliance in parliament "is clearly the largest and the government should resign." (Henrik Montgomery/TT via AP)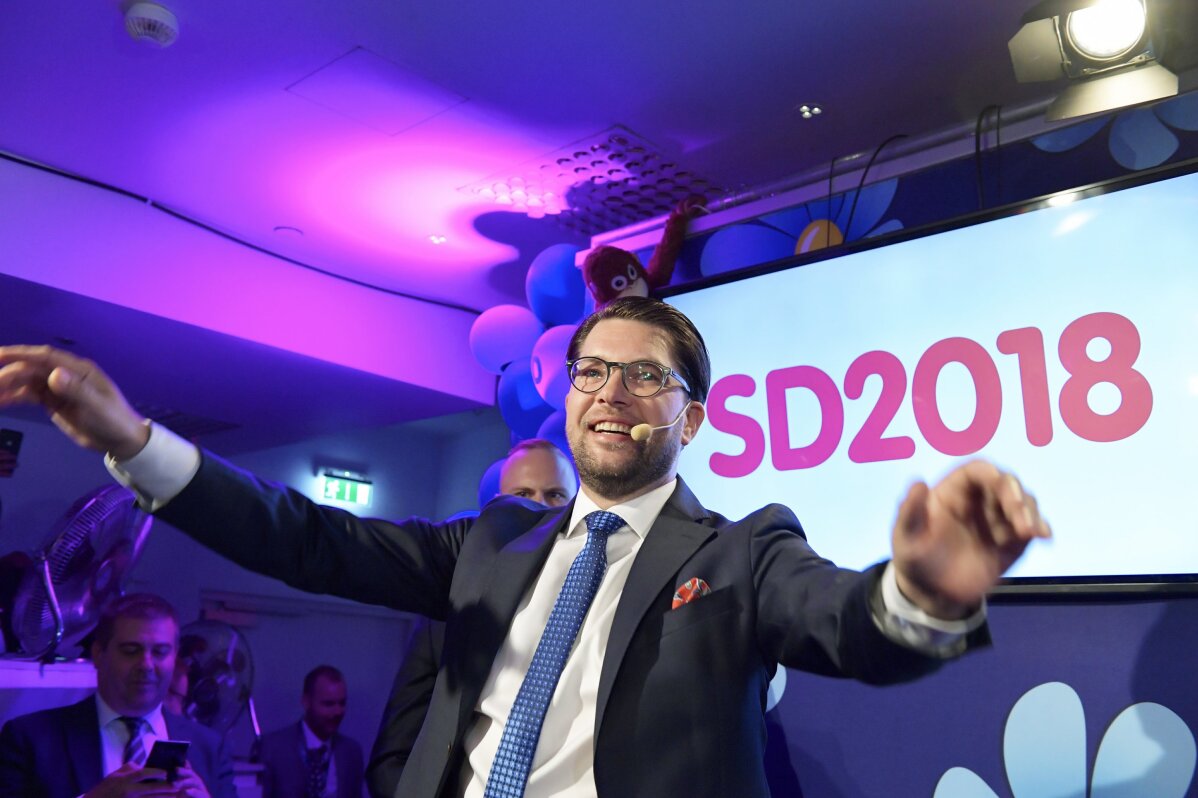 9 of 24

|
Sweden Democrats party leader Jimmie Åkesson speaks at the election party in Stockholm, Sweden, Sunday, Sept. 9, 2018. Returns reported by the Scandinavian country's election commission showed the Sweden Democrats placing third in the parliamentary election held Sunday. Addressing supporters after more than four-fifths of ballots were counted, Akesson said the victory was in the number of seats the party gained in the national assembly, the Riksdagen.(Anders Wiklund /TT via AP)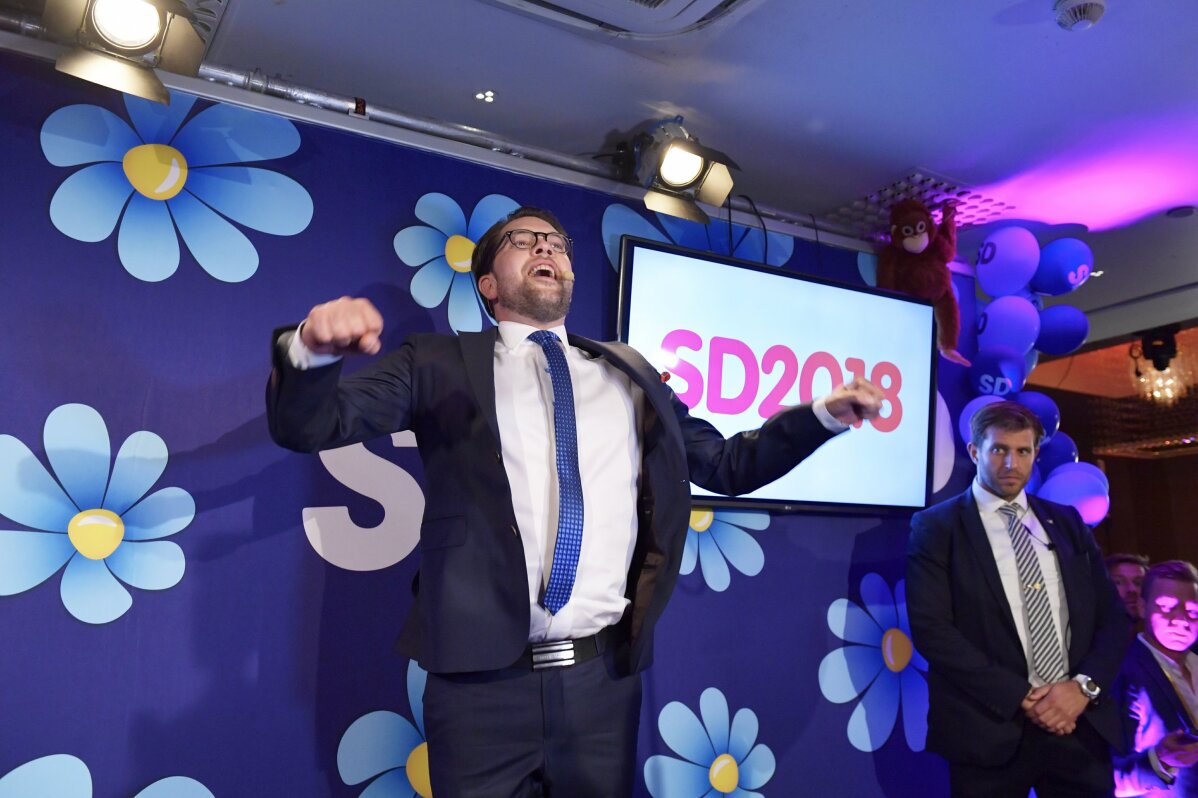 10 of 24

|
Sweden Democrats party leader Jimmie Åkesson speaks at the election party in Stockholm, Sweden, Sunday, Sept. 9, 2018. Returns reported by the Scandinavian country's election commission showed the Sweden Democrats placing third in the parliamentary election held Sunday. Addressing supporters after more than four-fifths of ballots were counted, Akesson said the victory was in the number of seats the party gained in the national assembly, the Riksdagen.(Anders Wiklund /TT via AP)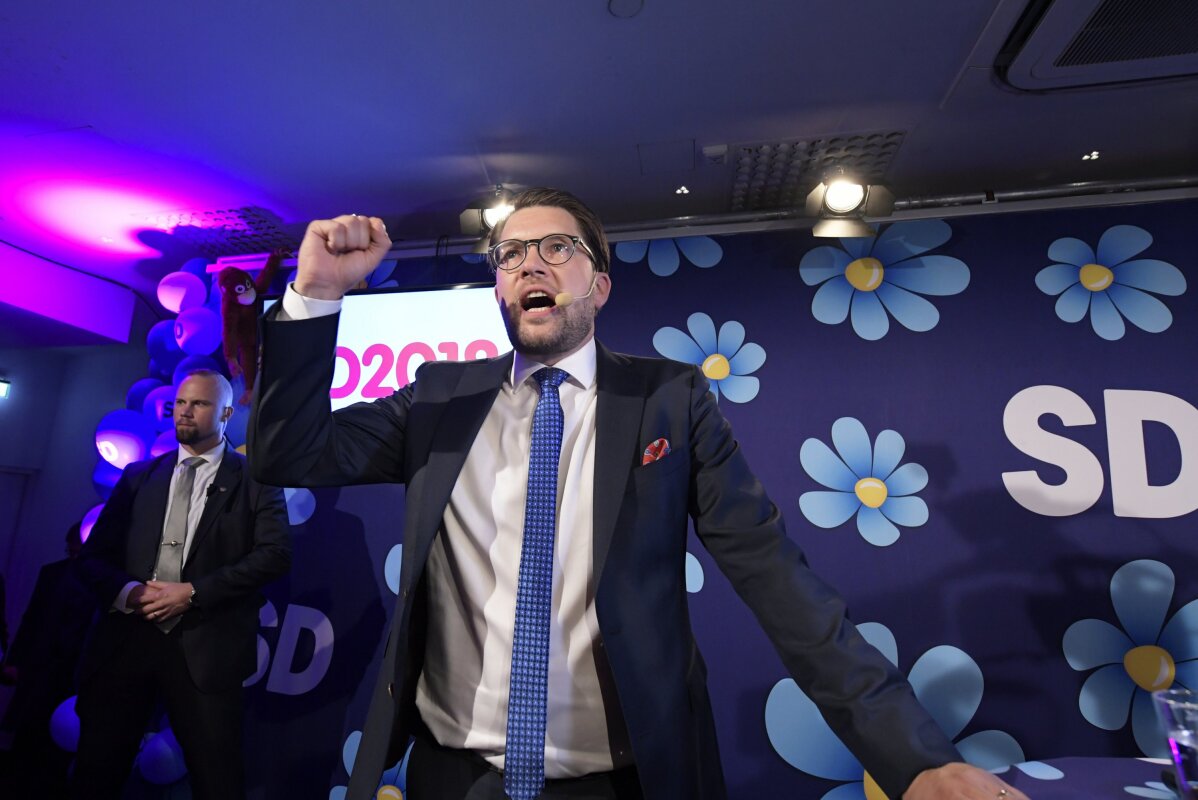 11 of 24

|
Sweden Democrats party leader Jimmie Åkesson speaks at the election party in Stockholm, Sweden, Sunday, Sept. 9, 2018. Returns reported by the Scandinavian country's election commission showed the Sweden Democrats placing third in the parliamentary election held Sunday. Addressing supporters after more than four-fifths of ballots were counted, Akesson said the victory was in the number of seats the party gained in the national assembly, the Riksdagen.(Anders Wiklund /TT via AP)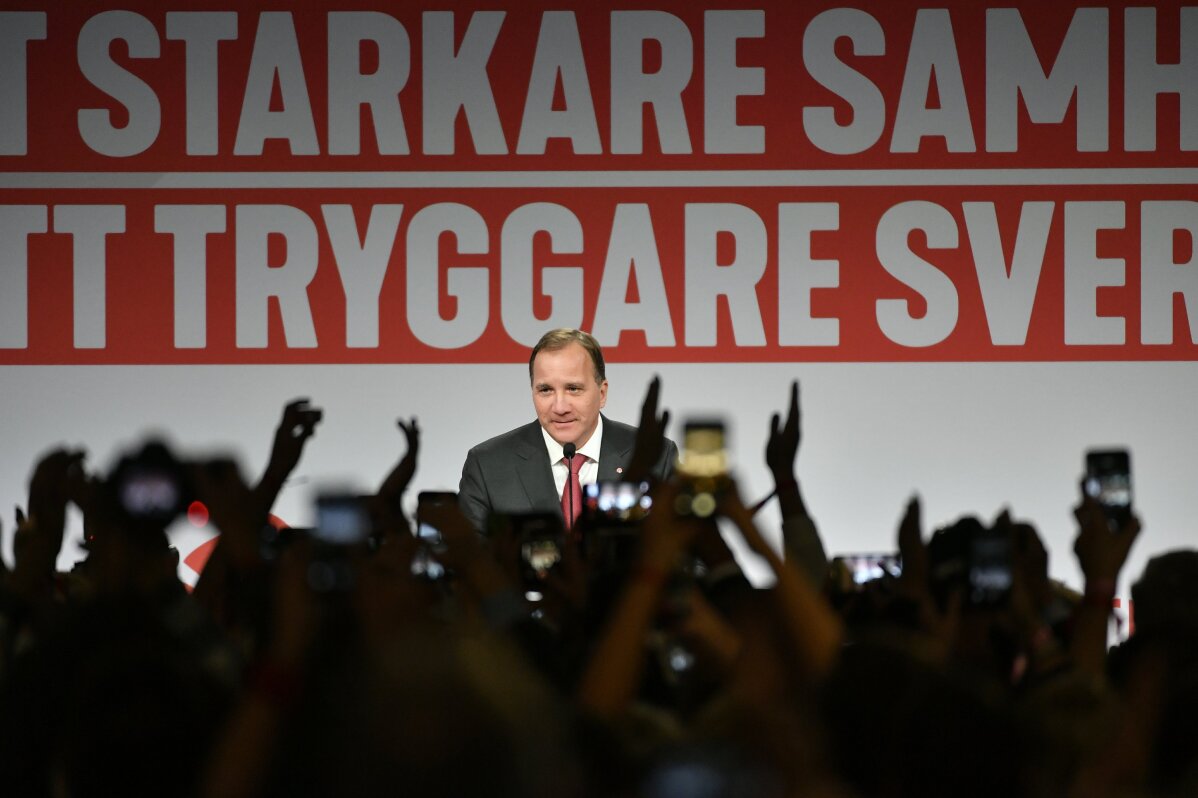 12 of 24

|
Prime minister and party leader of the Social Democrat party Stefan Löfven speaks at an election party in Stockholm, Sweden, Sunday, Sept. 9, 2018. Preliminary results of the 2018 Swedish parliamentary elections showed on Sunday night that Centre-Left bloc of the Social Democratic Party, the Green Party and Left party gained 40.7 percent of votes, narrowly heading in the race. The opposition Center-Right alliance bloc of the Moderate Party, the Centre Party, the Liberal Party and the Christian Democrats gained 40.3 percent votes. Anti-immigration, the far-right Sweden Democrats scored 17.6 percent votes. (Jonas Ekströmer /TT via AP)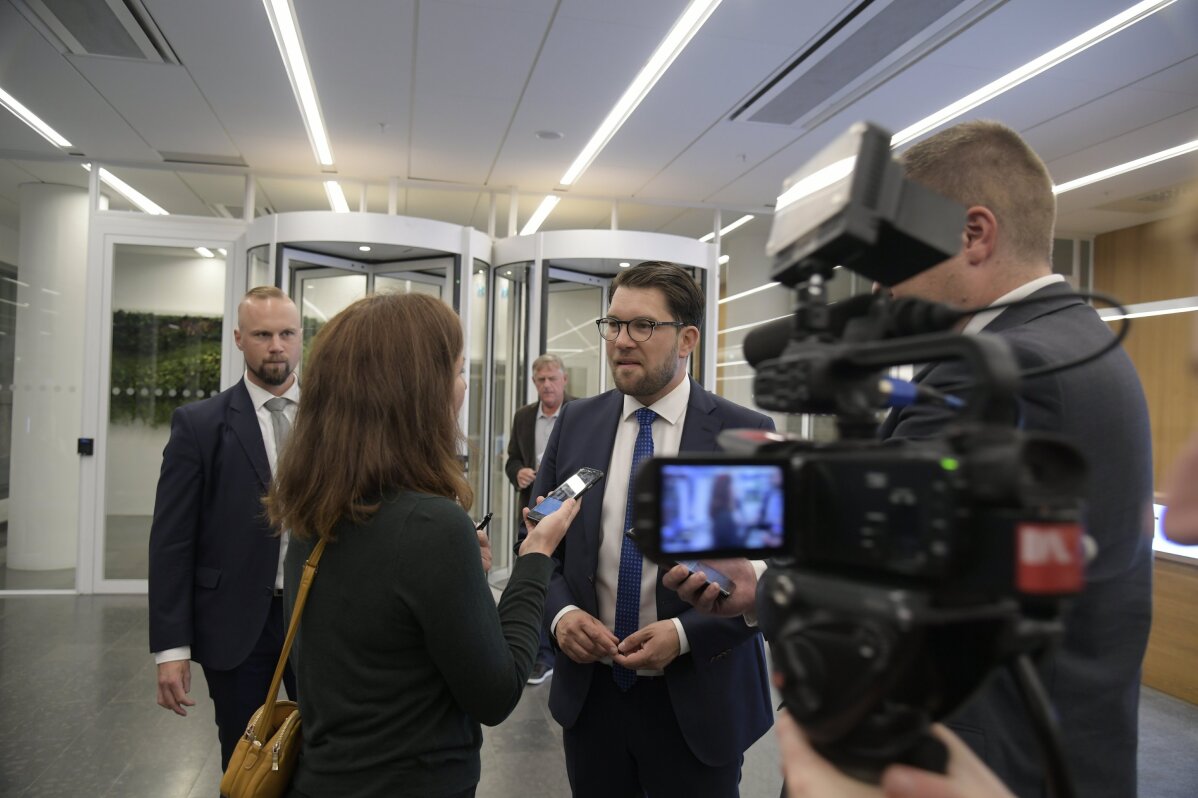 13 of 24

|
Sweden Democrats party leader Jimmie Åkesson is interviewed in Stockholm, Sweden, Sunday, Sept. 9, 2018. Returns reported by the Scandinavian country's election commission showed the Sweden Democrats placing third in the parliamentary election held Sunday. Addressing supporters after more than four-fifths of ballots were counted, Akesson said the victory was in the number of seats the party gained in the national assembly, the Riksdagen.(Anders Wiklund /TT via AP)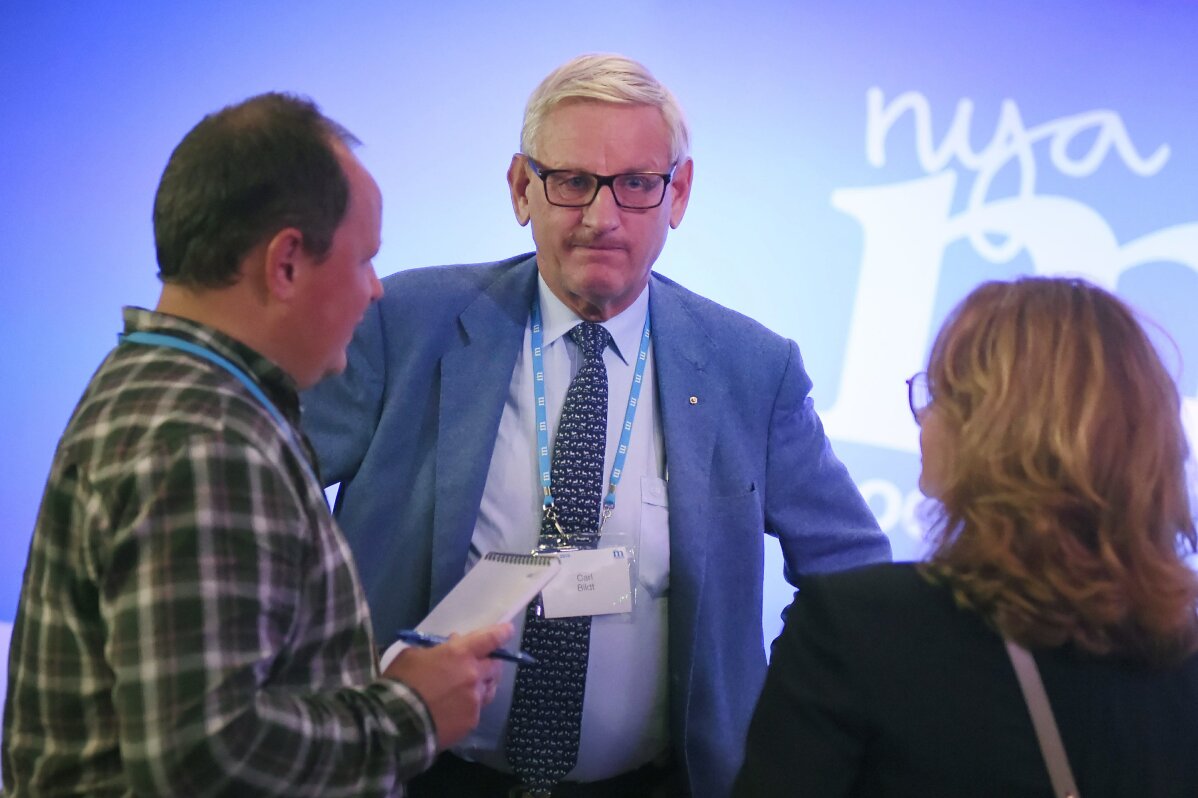 14 of 24

|
Former Swedish Prime Minister Carl Bildt, center, attends the election party of the Moderate Party in Stockholm, Sweden, Sunday Sept. 9, 2018. Polls have opened in Sweden's general election in what is expected to be one of the most unpredictable and thrilling political races in Scandinavian country for decades amid heated discussion around top issue immigration. (Hanna Franzen/TT via AP)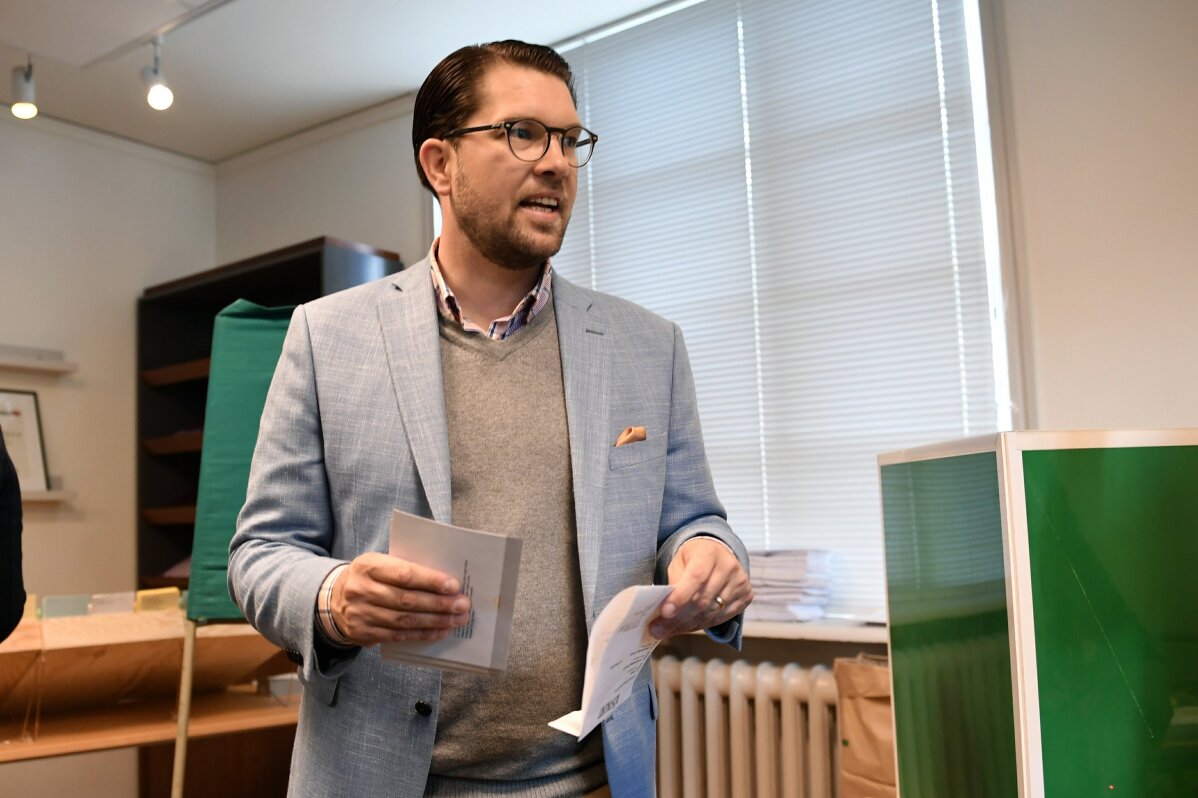 15 of 24

|
Jimmie Akesson, leader of the right-wing nationalist Sweden Democrats party, prepares to vote in Stockholm, Sweden, Sunday Sept. 9, 2018. Polls have opened in Sweden's general election in what is expected to be one of the most unpredictable and thrilling political races in Scandinavian country for decades amid heated discussion around top issue immigration. (Stina Stjernkvist/TT via AP)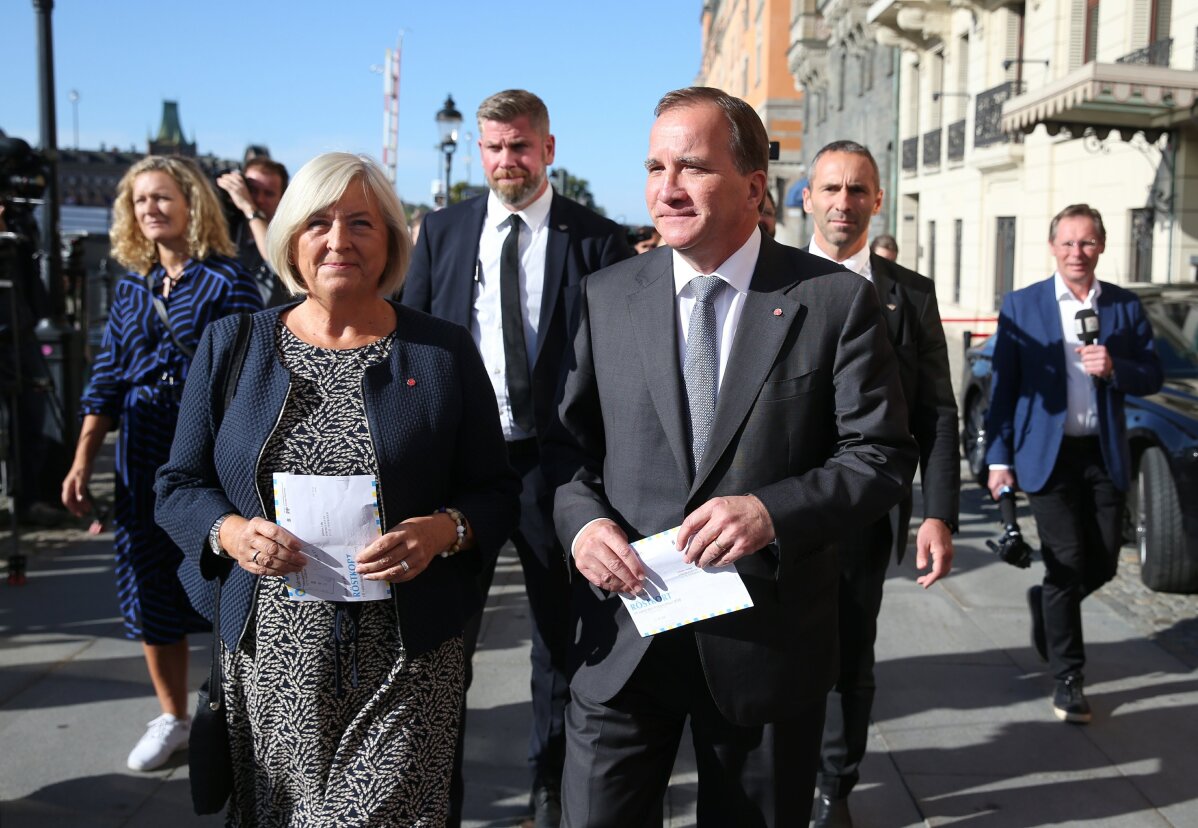 16 of 24

|
Stefan Lofven, leader of the Social Democratic Party and prime minister of Sweden, right, arrives with his wife Ulla to cast their votes in Stockholm, Sweden, Sunday Sept. 9, 2018. Polls have opened in Sweden's general election in what is expected to be one of the most unpredictable and thrilling political races in Scandinavian country for decades amid heated discussion around top issue immigration. (Soren Andersson/TT via AP)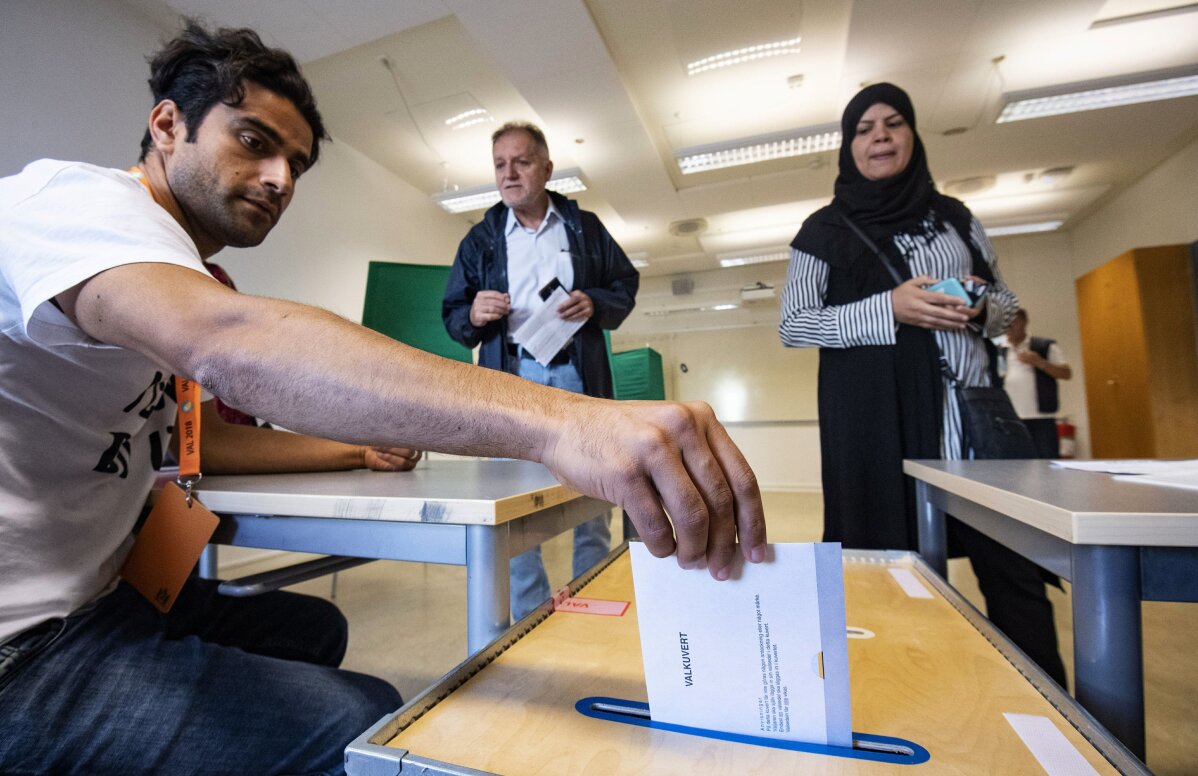 17 of 24

|
An Electoral counselor posts an election envelope in a polling station in Malmo, Sweden, Sunday Sept. 9, 2018. Polls have opened in Sweden's general election in what is expected to be one of the most unpredictable and thrilling political races in Scandinavian country for decades amid heated discussion around top issue immigration. (Johan Nilsson/TT via AP)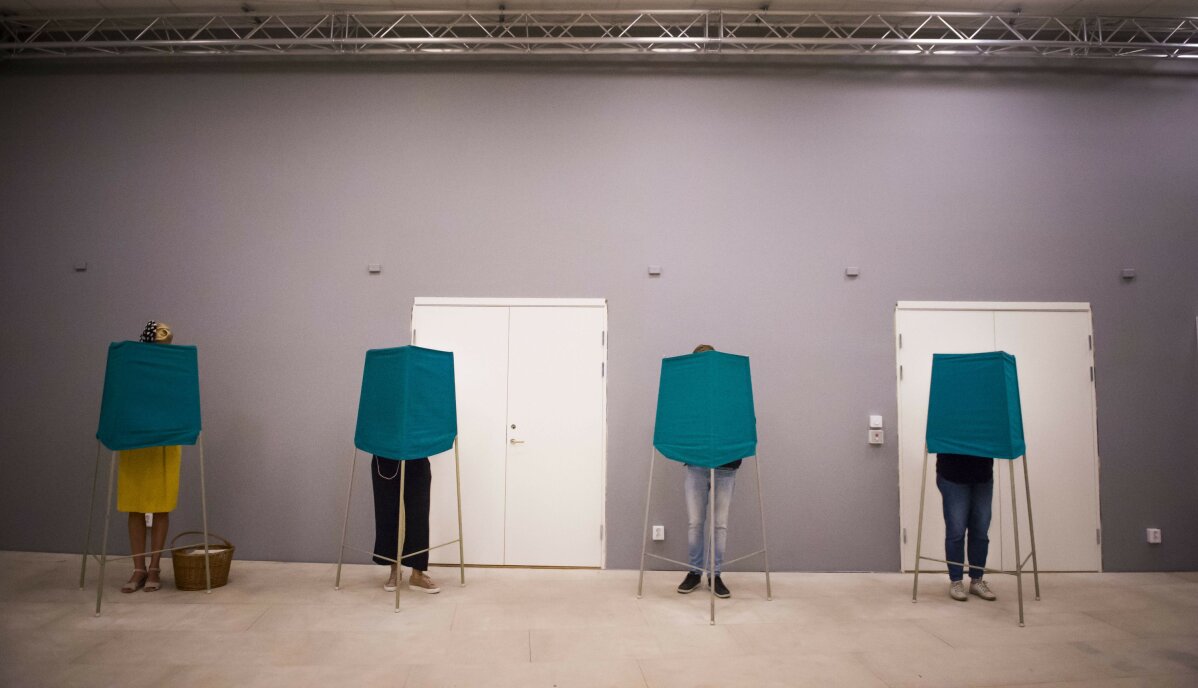 18 of 24

|
People vote in polling booths during election day in Stockholm, Sunday Sept. 9, 2018. Voters in Sweden appear to be split in an unpredictable general election that may turn into one of the most thrilling races in the Scandinavian country's history for decades amid heated debate on immigration. (Hanna Franzen/TT News Agency via AP)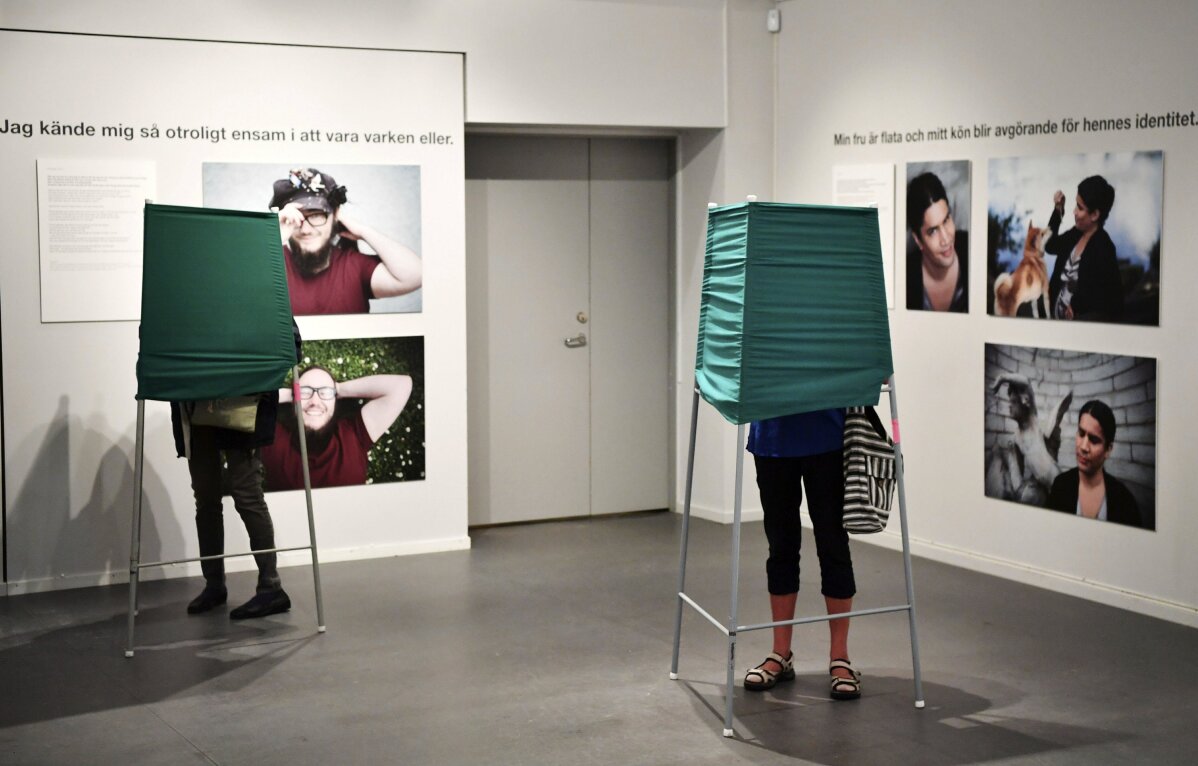 19 of 24

|
People cast their votes in Strangnas, Sweden, Sunday Sept. 9, 2018. Polls have opened in Sweden's general election in what is expected to be one of the most unpredictable and thrilling political races in Scandinavian country for decades amid heated discussion around top issue immigration. (Erik Simander/TT via AP)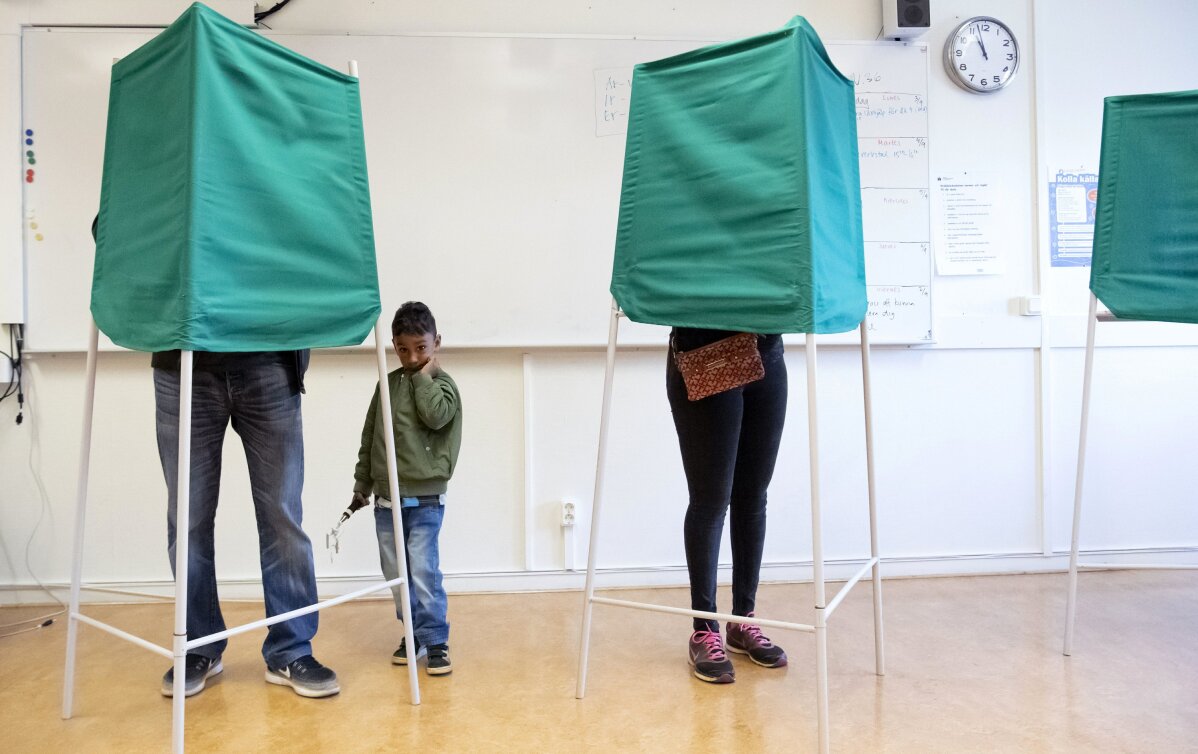 20 of 24

|
A child waits for his father to vote in Malmo, Sweden, Sunday Sept. 9, 2018. Polls have opened in Sweden's general election in what is expected to be one of the most unpredictable and thrilling political races in Scandinavian country for decades amid heated discussion around top issue immigration. ( Johan Nilsson/TT via AP)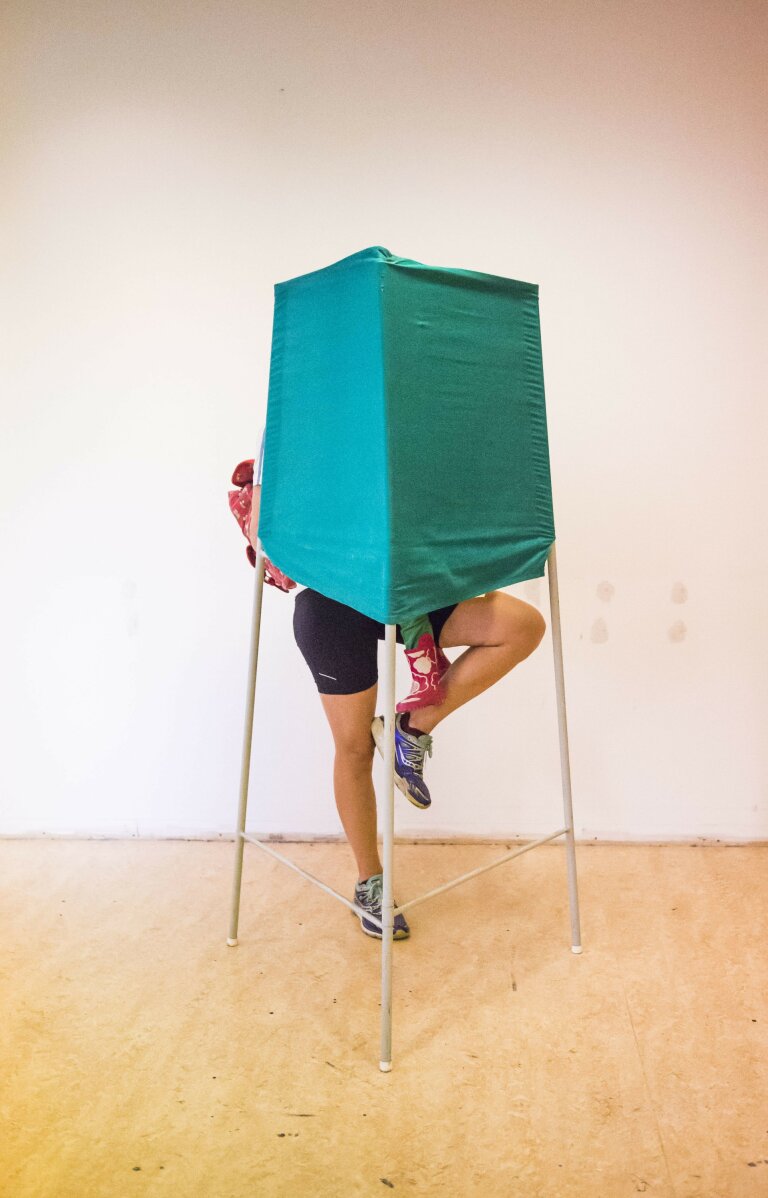 21 of 24

|
People vote in polling booths during election day in Stockholm, Sunday Sept. 9, 2018. Voters in Sweden appear to be split in an unpredictable general election that may turn into one of the most thrilling races in the Scandinavian country's history for decades amid heated debate on immigration. (Hanna Franzen/TT News Agency via AP)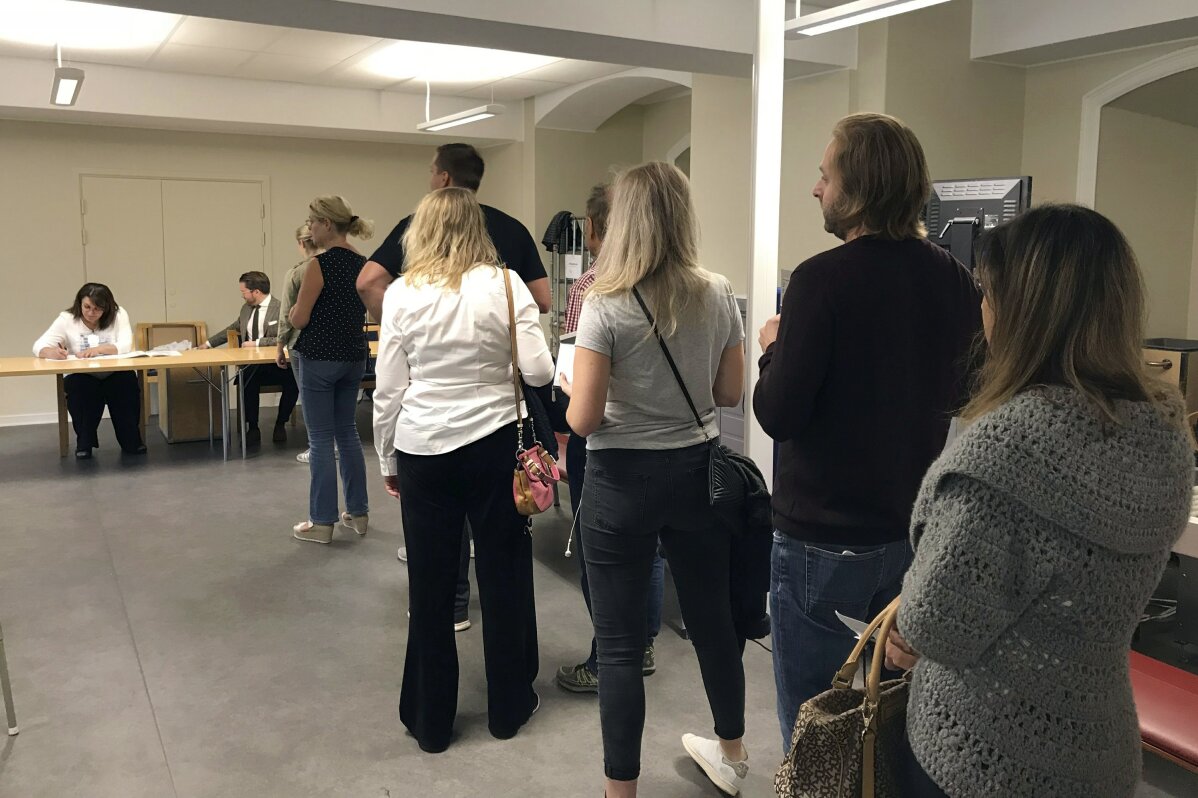 22 of 24

|
People queue up in a polling station to vote in Stockholm, Sweden, Sunday Sept. 9, 2018. Polls have opened in Sweden's general election in what is expected to be one of the most unpredictable and thrilling political races in Scandinavian country for decades amid heated discussion around top issue immigration. (AP Photo/Philipp Jenne)
23 of 24

|
People arrive to cast their votes in Stockholm, Sweden, Sunday Sept. 9, 2018. Polls have opened in Sweden's general election in what is expected to be one of the most unpredictable and thrilling political races in Scandinavian country for decades amid heated discussion around top issue immigration. (AP Photo/Pietro De Cristofaro)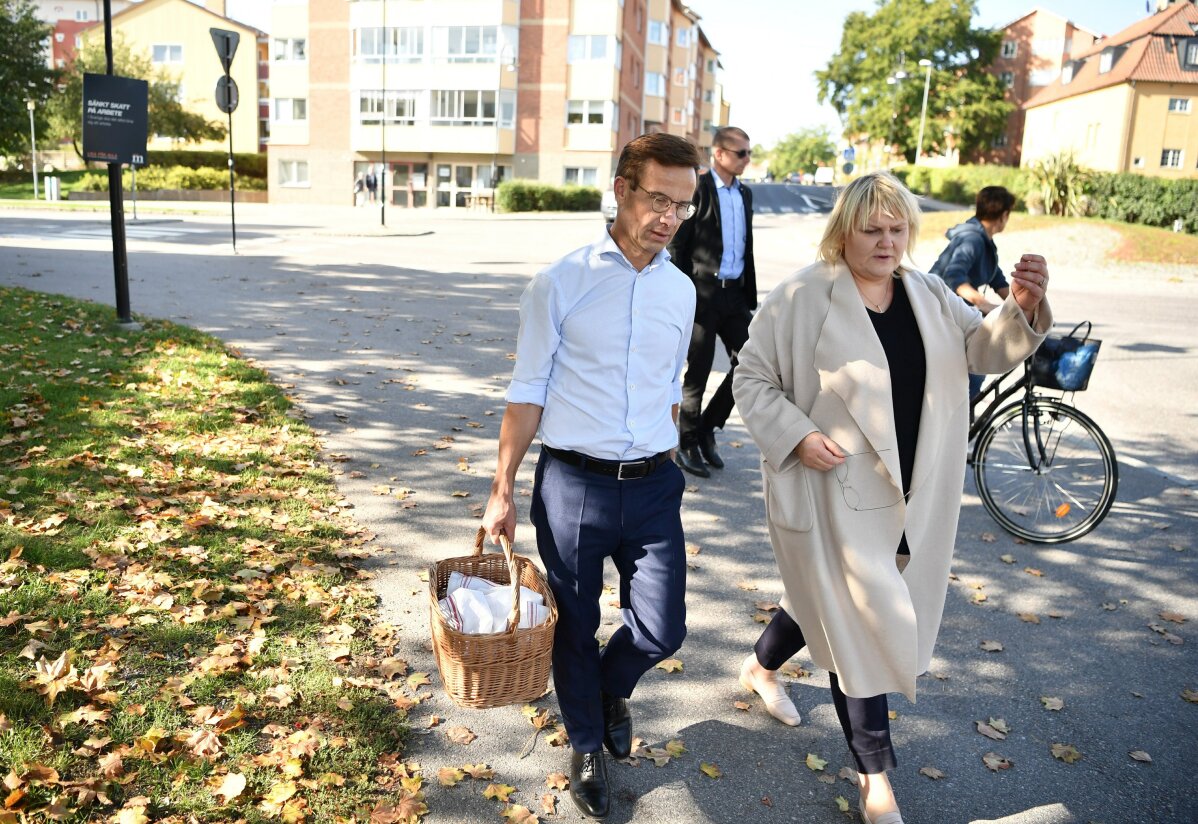 24 of 24

|
Ulf Kristersson, leader of the Moderate Party, walks with his wife Birgitta Ed to cast their votes in Strangnas, Sweden, Sunday Sept. 9, 2018. Polls have opened in Sweden's general election in what is expected to be one of the most unpredictable and thrilling political races in Scandinavian country for decades amid heated discussion around top issue immigration. (Erik Simander/TT via AP)
Sweden's ruling party hits election low as far right grows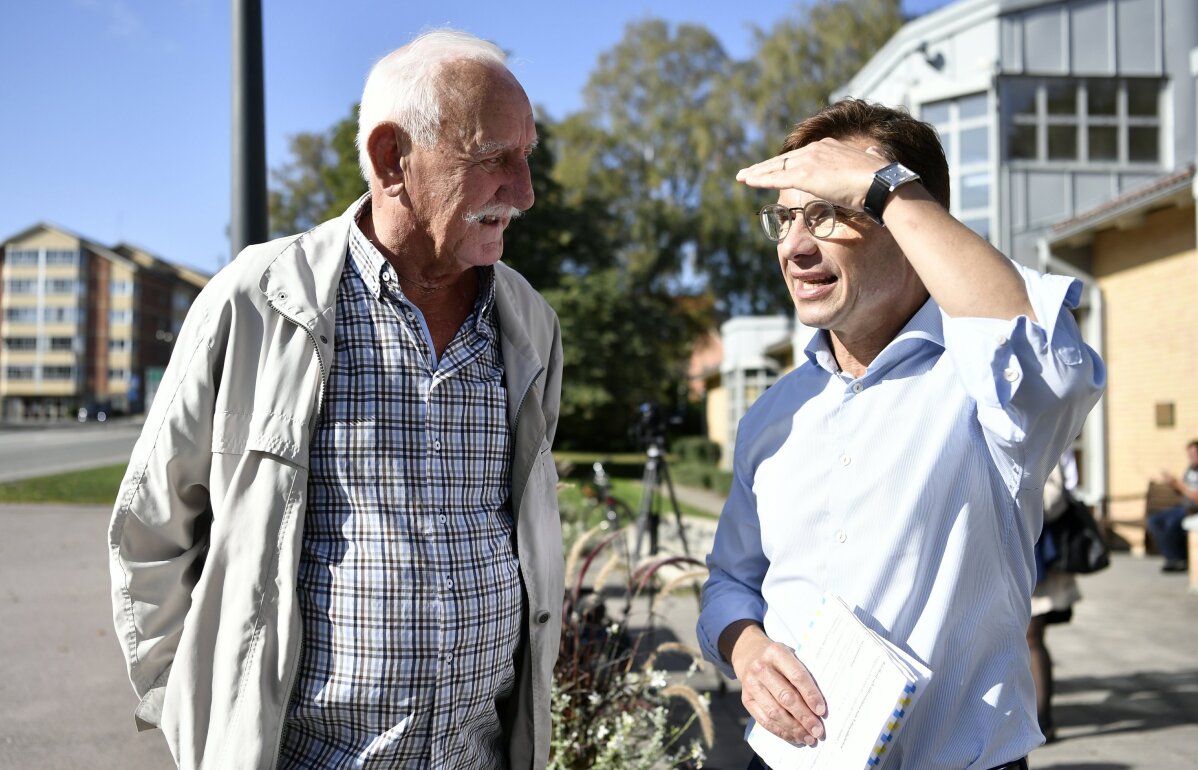 1 of 24

|
Ulf Kristersson, leader of the Moderate Party, right, speaks with a voter on election day in Strangnas, Sweden, Sunday Sept. 9, 2018. Polls have opened in Sweden's general election in what is expected to be one of the most unpredictable and thrilling political races in Scandinavian country for decades amid heated discussion around top issue immigration. (Erik Simander/TT via AP)
1 of 24
Ulf Kristersson, leader of the Moderate Party, right, speaks with a voter on election day in Strangnas, Sweden, Sunday Sept. 9, 2018. Polls have opened in Sweden's general election in what is expected to be one of the most unpredictable and thrilling political races in Scandinavian country for decades amid heated discussion around top issue immigration. (Erik Simander/TT via AP)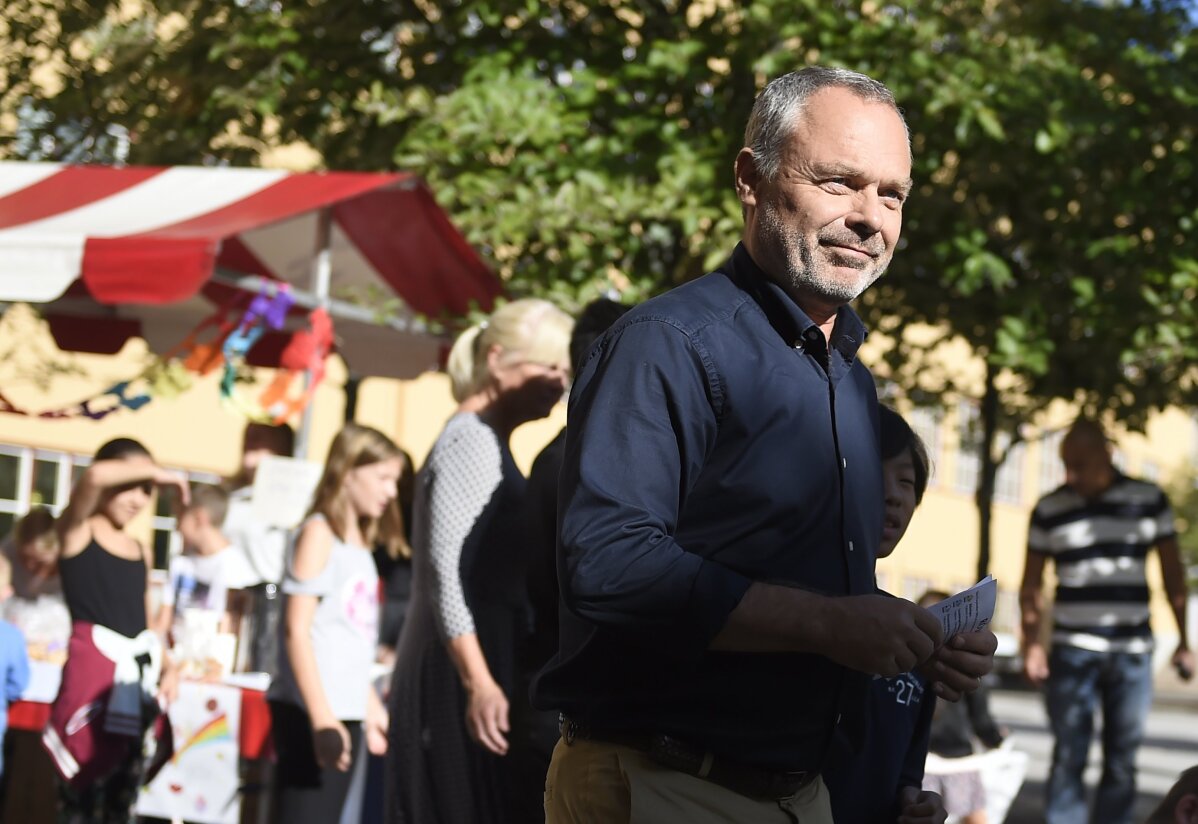 2 of 24

|
Jan Bjorklund, leader of the Liberal Party, arrives at a polling station in Stockholm, Sweden, Sunday Sept. 9, 2018. Polls have opened in Sweden's general election in what is expected to be one of the most unpredictable and thrilling political races in Scandinavian country for decades amid heated discussion around top issue immigration. (Hanna Franzen/TT via AP)
2 of 24
Jan Bjorklund, leader of the Liberal Party, arrives at a polling station in Stockholm, Sweden, Sunday Sept. 9, 2018. Polls have opened in Sweden's general election in what is expected to be one of the most unpredictable and thrilling political races in Scandinavian country for decades amid heated discussion around top issue immigration. (Hanna Franzen/TT via AP)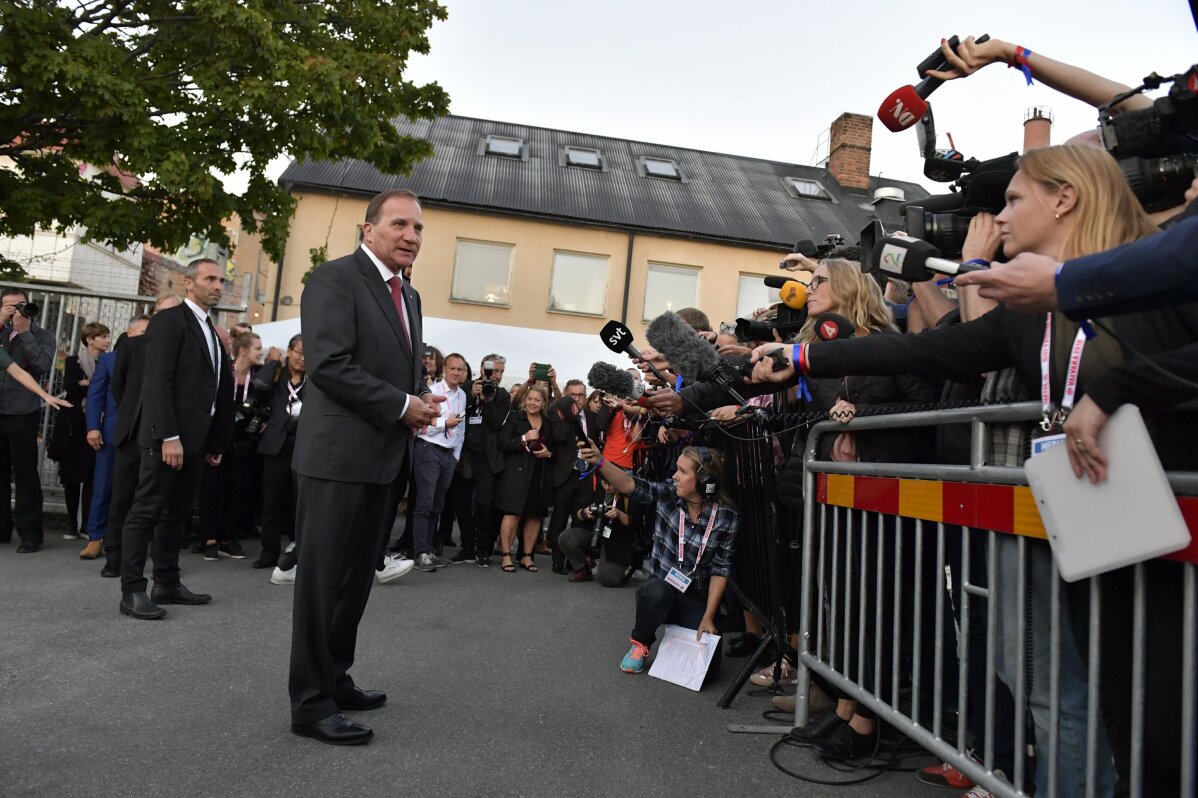 3 of 24

|
Swedish Prime Minister Stefan Lofven talks to media in Stockholm, Sweden, Sunday Sept. 9, 2018. Polls have opened in Sweden's general election in what is expected to be one of the most unpredictable and thrilling political races in Scandinavian country for decades amid heated discussion around top issue immigration. (Jonas Ekstromer/TT via AP)
3 of 24
Swedish Prime Minister Stefan Lofven talks to media in Stockholm, Sweden, Sunday Sept. 9, 2018. Polls have opened in Sweden's general election in what is expected to be one of the most unpredictable and thrilling political races in Scandinavian country for decades amid heated discussion around top issue immigration. (Jonas Ekstromer/TT via AP)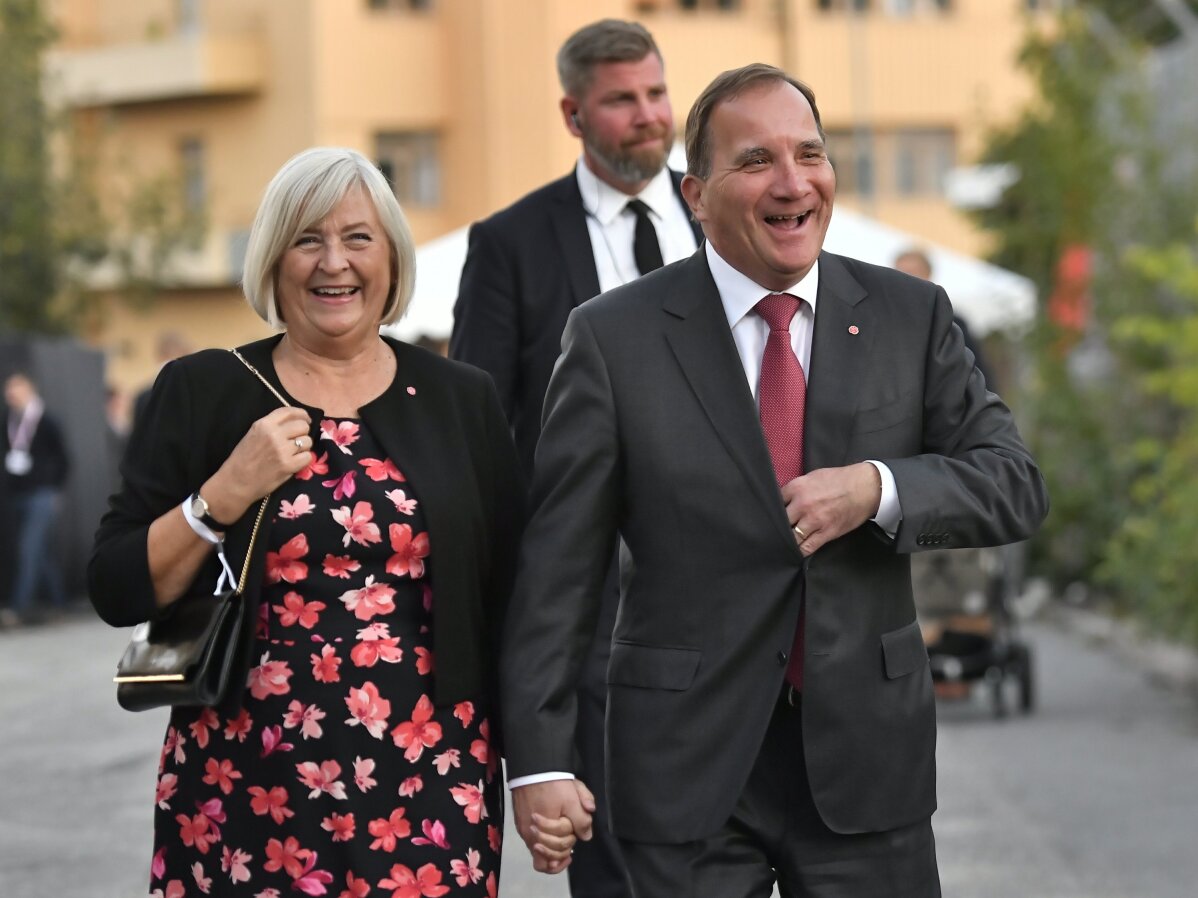 4 of 24

|
Swedish Prime Minister Stefan Lofven and his wife Ulla Lofven in Stockholm, Sweden, Sunday Sept. 9, 2018. An exit poll indicated that Sweden's first general election since the Scandinavian country accepted a significant number of asylum-seekers was likely to have the center-left party governing now as its winner, but an anti-immigrant party with white supremacist roots placing second in balloting Sunday. (Jonas Ekstromer/TT via AP)
4 of 24
Swedish Prime Minister Stefan Lofven and his wife Ulla Lofven in Stockholm, Sweden, Sunday Sept. 9, 2018. An exit poll indicated that Sweden's first general election since the Scandinavian country accepted a significant number of asylum-seekers was likely to have the center-left party governing now as its winner, but an anti-immigrant party with white supremacist roots placing second in balloting Sunday. (Jonas Ekstromer/TT via AP)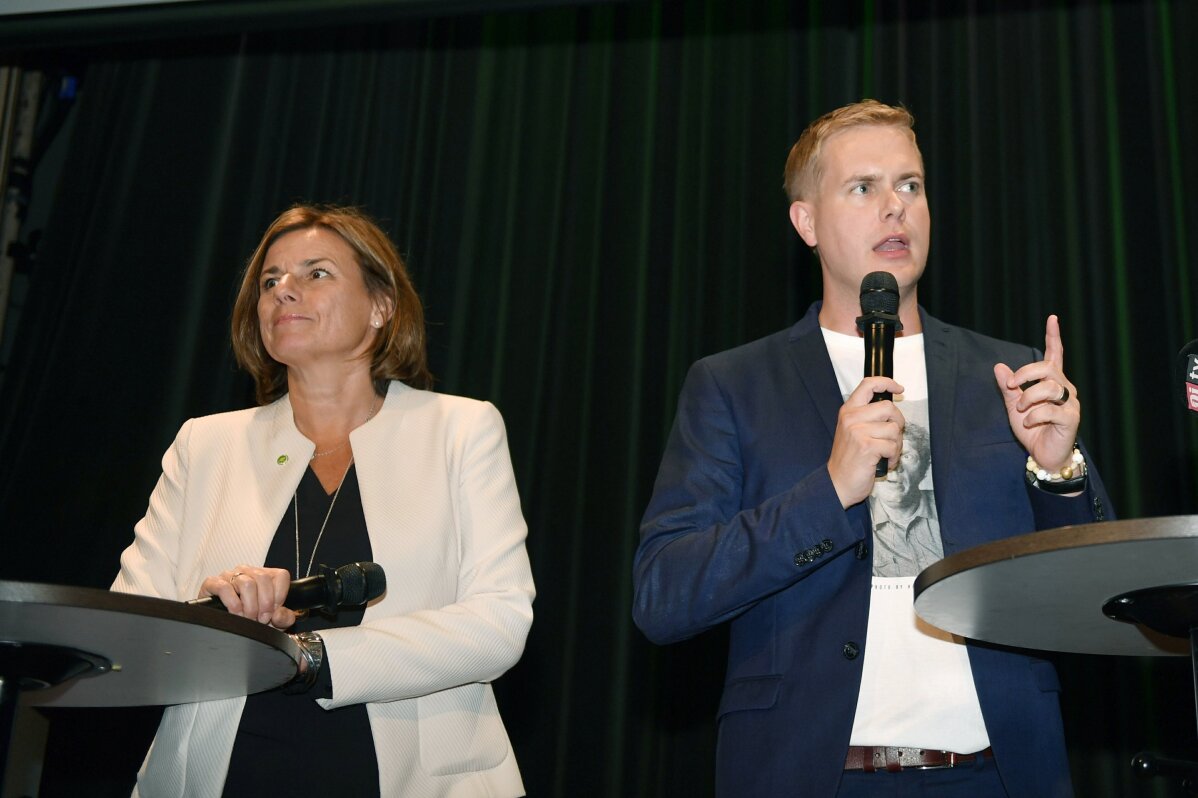 5 of 24

|
Isabella Lovin, left, and Gustav Fridolin at the Miljöpartiet election party in Stockholm, Sweden, Sunday Sept. 9, 2018. Polls have opened in Sweden's general election in what is expected to be one of the most unpredictable and thrilling political races in Scandinavian country for decades amid heated discussion around top issue immigration. (Maja Suslin/TT via AP)
5 of 24
Isabella Lovin, left, and Gustav Fridolin at the Miljöpartiet election party in Stockholm, Sweden, Sunday Sept. 9, 2018. Polls have opened in Sweden's general election in what is expected to be one of the most unpredictable and thrilling political races in Scandinavian country for decades amid heated discussion around top issue immigration. (Maja Suslin/TT via AP)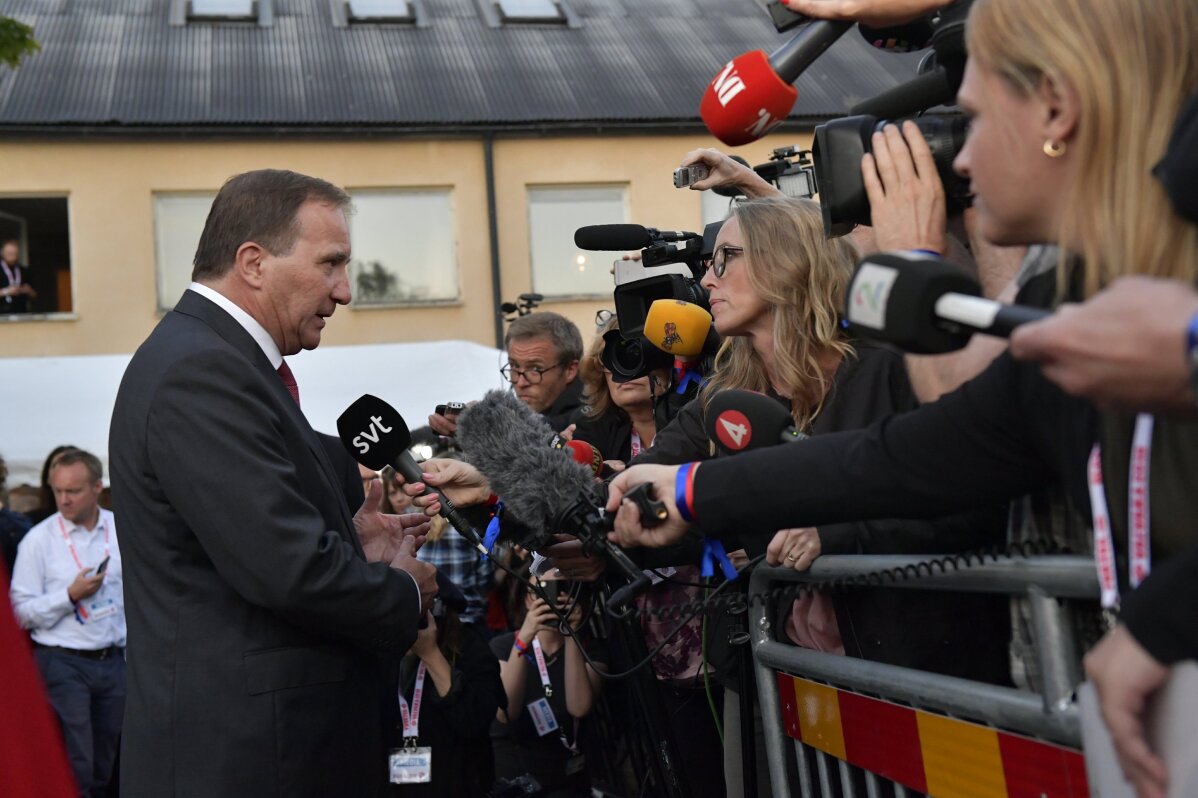 6 of 24

|
Swedish Prime Minister Stefan Lofven talks to media in Stockholm, Sweden, Sunday Sept. 9, 2018. Polls have opened in Sweden's general election in what is expected to be one of the most unpredictable and thrilling political races in Scandinavian country for decades amid heated discussion around top issue immigration. (Jonas Ekstromer/TT via AP)
6 of 24
Swedish Prime Minister Stefan Lofven talks to media in Stockholm, Sweden, Sunday Sept. 9, 2018. Polls have opened in Sweden's general election in what is expected to be one of the most unpredictable and thrilling political races in Scandinavian country for decades amid heated discussion around top issue immigration. (Jonas Ekstromer/TT via AP)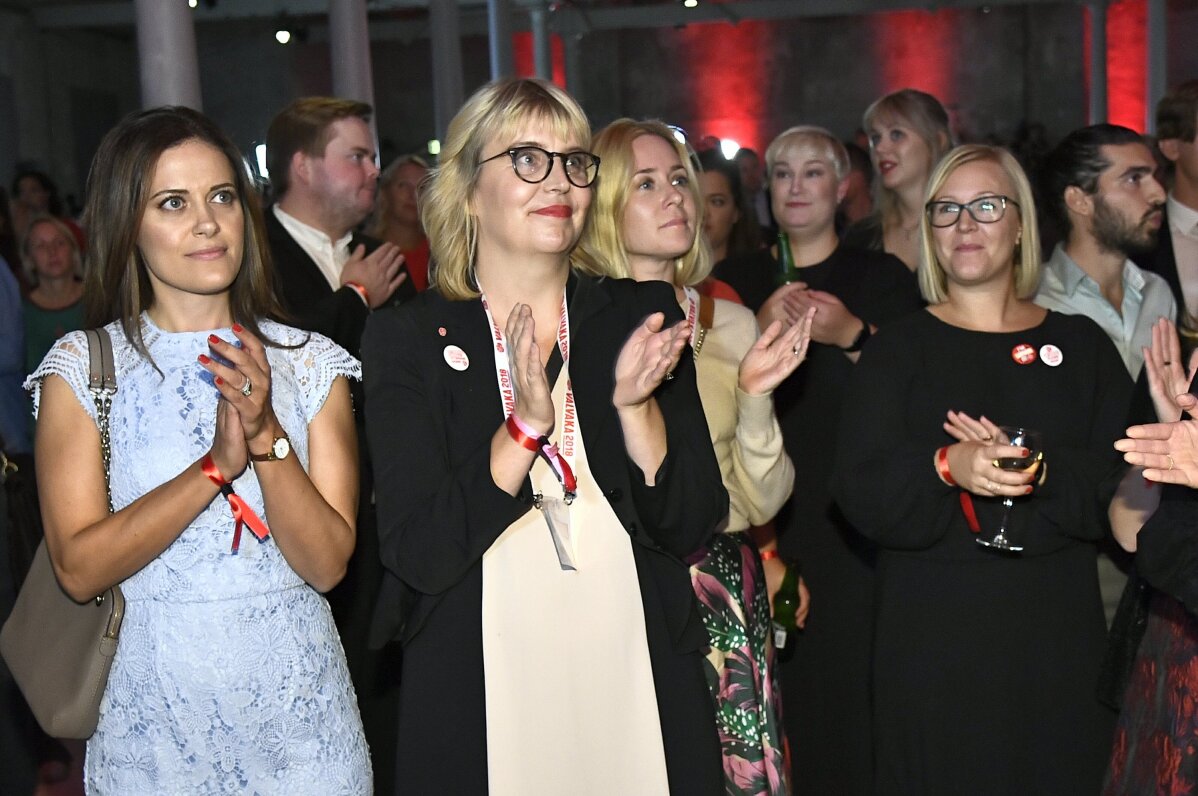 7 of 24

|
Supporters at the Social Democratic Party's election party in Stockholm in Stockholm, Sweden, Sunday Sept. 9, 2018. Polls have opened in Sweden's general election in what is expected to be one of the most unpredictable and thrilling political races in Scandinavian country for decades amid heated discussion around top issue immigration. (Claudio Bresciani/TT via AP)
7 of 24
Supporters at the Social Democratic Party's election party in Stockholm in Stockholm, Sweden, Sunday Sept. 9, 2018. Polls have opened in Sweden's general election in what is expected to be one of the most unpredictable and thrilling political races in Scandinavian country for decades amid heated discussion around top issue immigration. (Claudio Bresciani/TT via AP)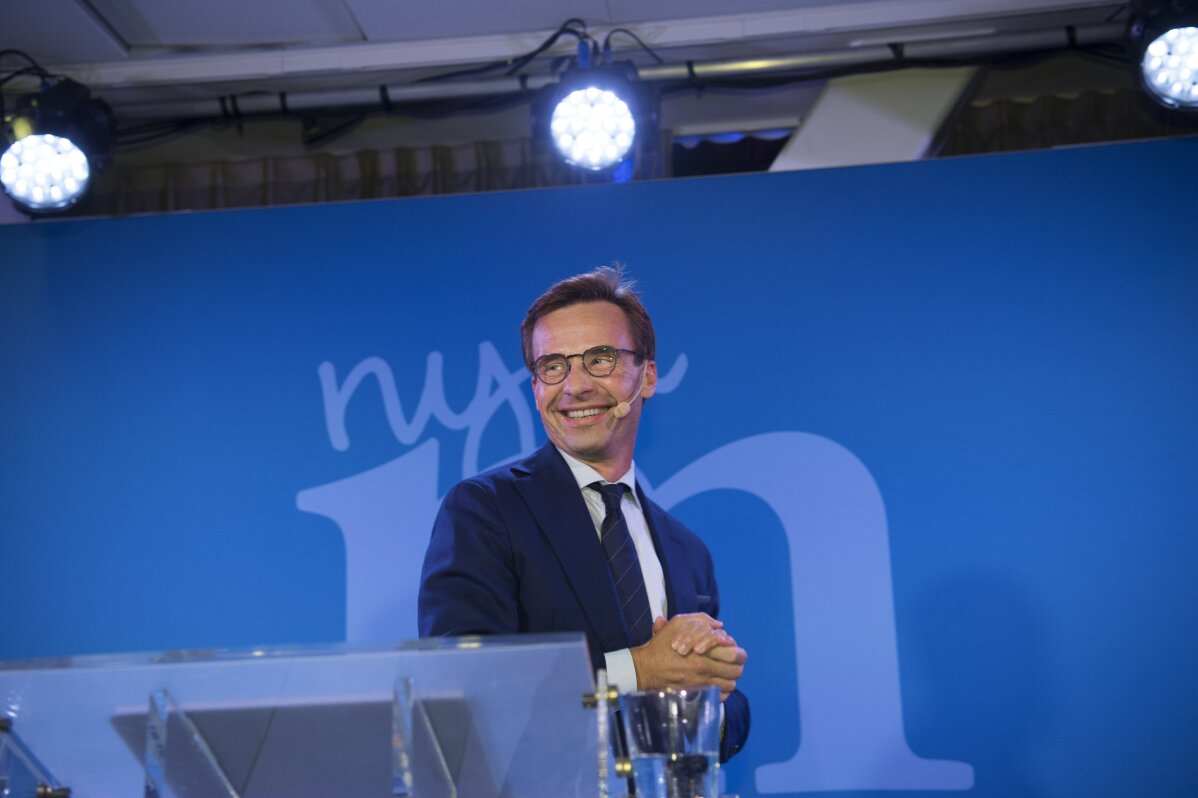 8 of 24

|
The Moderates party leader Ulf Kristersson speaks at an election party in Stockholm, Sweden, Sunday, Sept. 9, 2018. Kristersson, the head of the Moderates, told supporters on Sunday night that a four-party opposition alliance in parliament "is clearly the largest and the government should resign." (Henrik Montgomery/TT via AP)
8 of 24
The Moderates party leader Ulf Kristersson speaks at an election party in Stockholm, Sweden, Sunday, Sept. 9, 2018. Kristersson, the head of the Moderates, told supporters on Sunday night that a four-party opposition alliance in parliament "is clearly the largest and the government should resign." (Henrik Montgomery/TT via AP)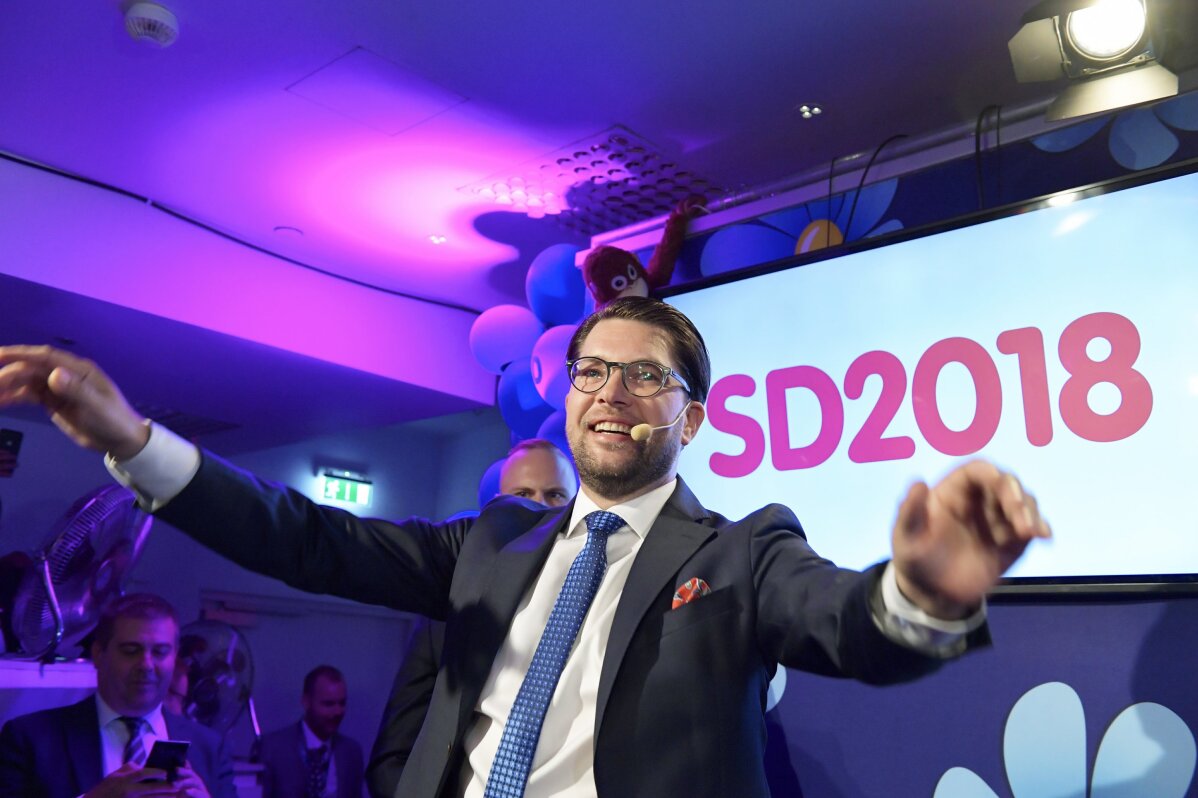 9 of 24

|
Sweden Democrats party leader Jimmie Åkesson speaks at the election party in Stockholm, Sweden, Sunday, Sept. 9, 2018. Returns reported by the Scandinavian country's election commission showed the Sweden Democrats placing third in the parliamentary election held Sunday. Addressing supporters after more than four-fifths of ballots were counted, Akesson said the victory was in the number of seats the party gained in the national assembly, the Riksdagen.(Anders Wiklund /TT via AP)
9 of 24
Sweden Democrats party leader Jimmie Åkesson speaks at the election party in Stockholm, Sweden, Sunday, Sept. 9, 2018. Returns reported by the Scandinavian country's election commission showed the Sweden Democrats placing third in the parliamentary election held Sunday. Addressing supporters after more than four-fifths of ballots were counted, Akesson said the victory was in the number of seats the party gained in the national assembly, the Riksdagen.(Anders Wiklund /TT via AP)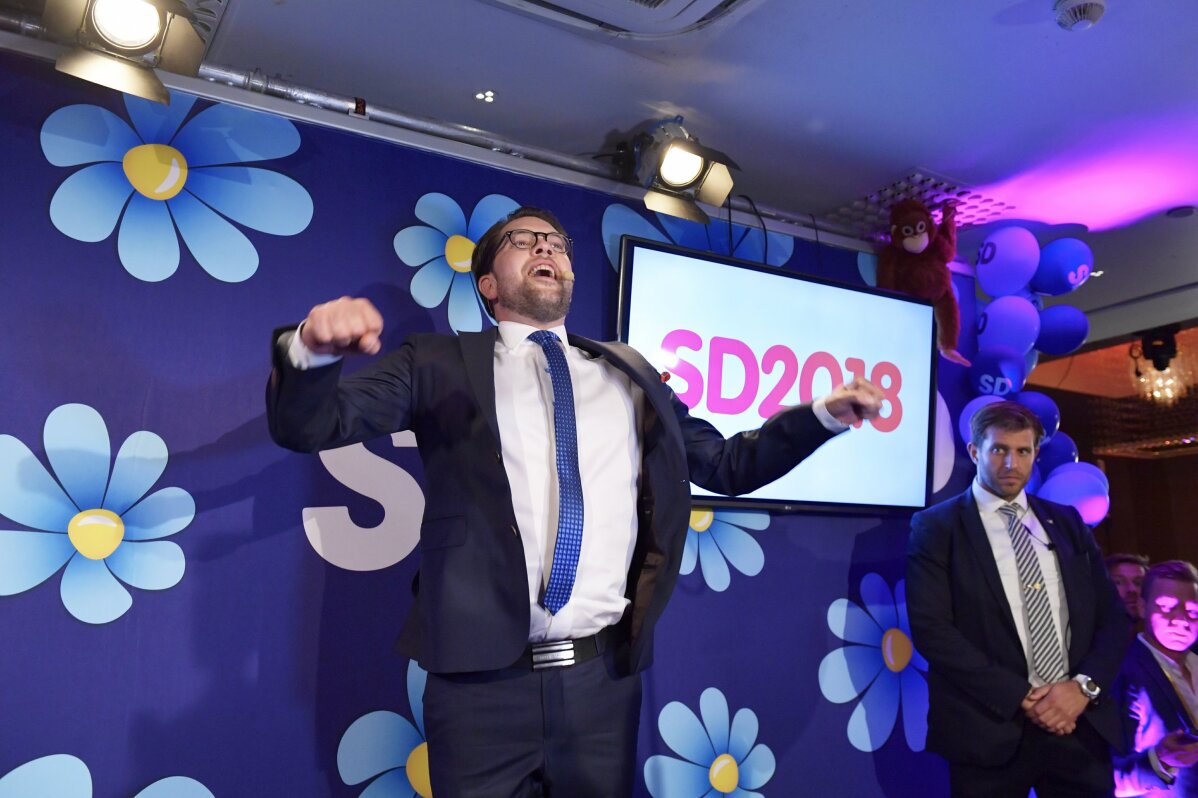 10 of 24

|
Sweden Democrats party leader Jimmie Åkesson speaks at the election party in Stockholm, Sweden, Sunday, Sept. 9, 2018. Returns reported by the Scandinavian country's election commission showed the Sweden Democrats placing third in the parliamentary election held Sunday. Addressing supporters after more than four-fifths of ballots were counted, Akesson said the victory was in the number of seats the party gained in the national assembly, the Riksdagen.(Anders Wiklund /TT via AP)
10 of 24
Sweden Democrats party leader Jimmie Åkesson speaks at the election party in Stockholm, Sweden, Sunday, Sept. 9, 2018. Returns reported by the Scandinavian country's election commission showed the Sweden Democrats placing third in the parliamentary election held Sunday. Addressing supporters after more than four-fifths of ballots were counted, Akesson said the victory was in the number of seats the party gained in the national assembly, the Riksdagen.(Anders Wiklund /TT via AP)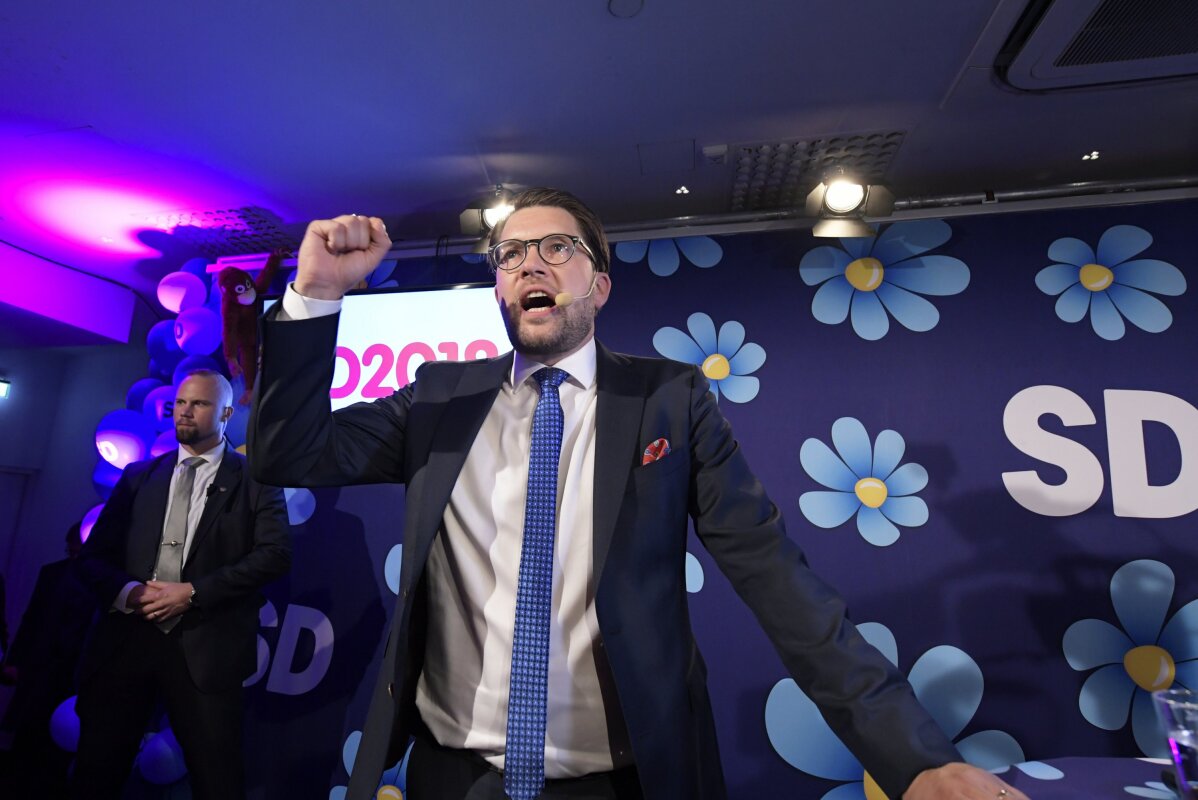 11 of 24

|
Sweden Democrats party leader Jimmie Åkesson speaks at the election party in Stockholm, Sweden, Sunday, Sept. 9, 2018. Returns reported by the Scandinavian country's election commission showed the Sweden Democrats placing third in the parliamentary election held Sunday. Addressing supporters after more than four-fifths of ballots were counted, Akesson said the victory was in the number of seats the party gained in the national assembly, the Riksdagen.(Anders Wiklund /TT via AP)
11 of 24
Sweden Democrats party leader Jimmie Åkesson speaks at the election party in Stockholm, Sweden, Sunday, Sept. 9, 2018. Returns reported by the Scandinavian country's election commission showed the Sweden Democrats placing third in the parliamentary election held Sunday. Addressing supporters after more than four-fifths of ballots were counted, Akesson said the victory was in the number of seats the party gained in the national assembly, the Riksdagen.(Anders Wiklund /TT via AP)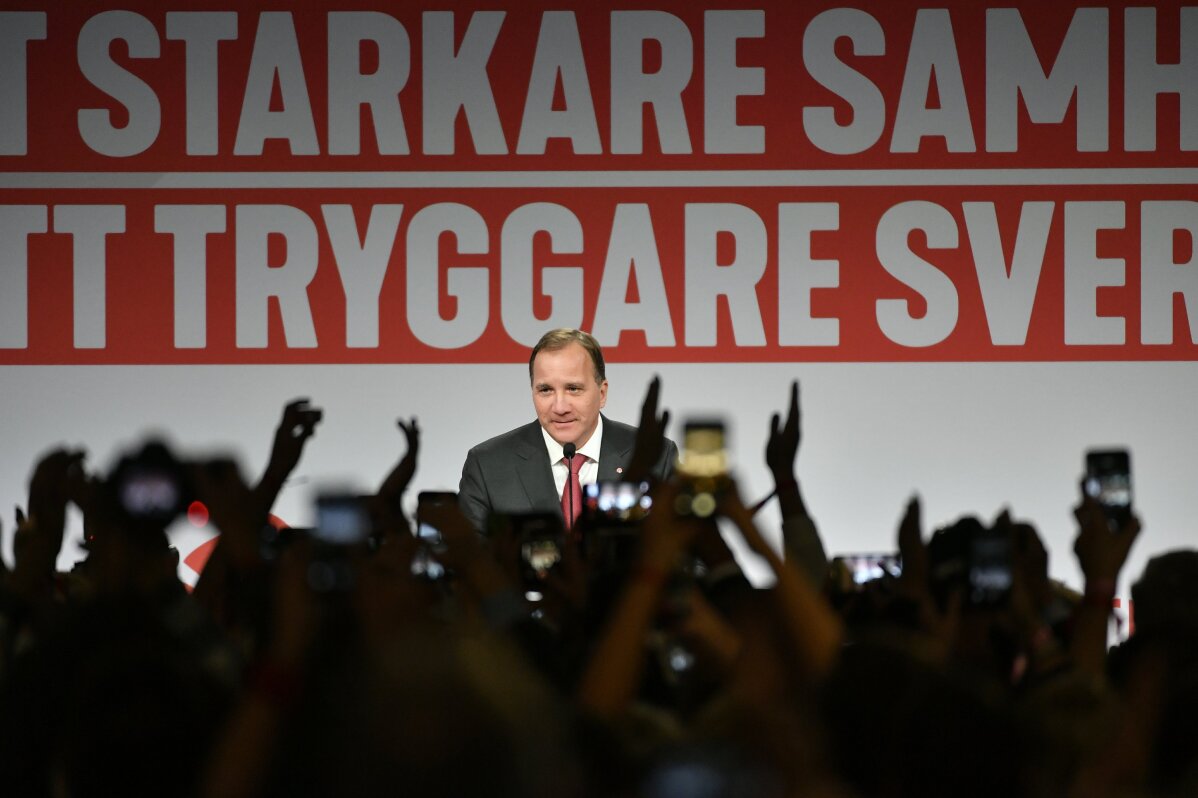 12 of 24

|
Prime minister and party leader of the Social Democrat party Stefan Löfven speaks at an election party in Stockholm, Sweden, Sunday, Sept. 9, 2018. Preliminary results of the 2018 Swedish parliamentary elections showed on Sunday night that Centre-Left bloc of the Social Democratic Party, the Green Party and Left party gained 40.7 percent of votes, narrowly heading in the race. The opposition Center-Right alliance bloc of the Moderate Party, the Centre Party, the Liberal Party and the Christian Democrats gained 40.3 percent votes. Anti-immigration, the far-right Sweden Democrats scored 17.6 percent votes. (Jonas Ekströmer /TT via AP)
12 of 24
Prime minister and party leader of the Social Democrat party Stefan Löfven speaks at an election party in Stockholm, Sweden, Sunday, Sept. 9, 2018. Preliminary results of the 2018 Swedish parliamentary elections showed on Sunday night that Centre-Left bloc of the Social Democratic Party, the Green Party and Left party gained 40.7 percent of votes, narrowly heading in the race. The opposition Center-Right alliance bloc of the Moderate Party, the Centre Party, the Liberal Party and the Christian Democrats gained 40.3 percent votes. Anti-immigration, the far-right Sweden Democrats scored 17.6 percent votes. (Jonas Ekströmer /TT via AP)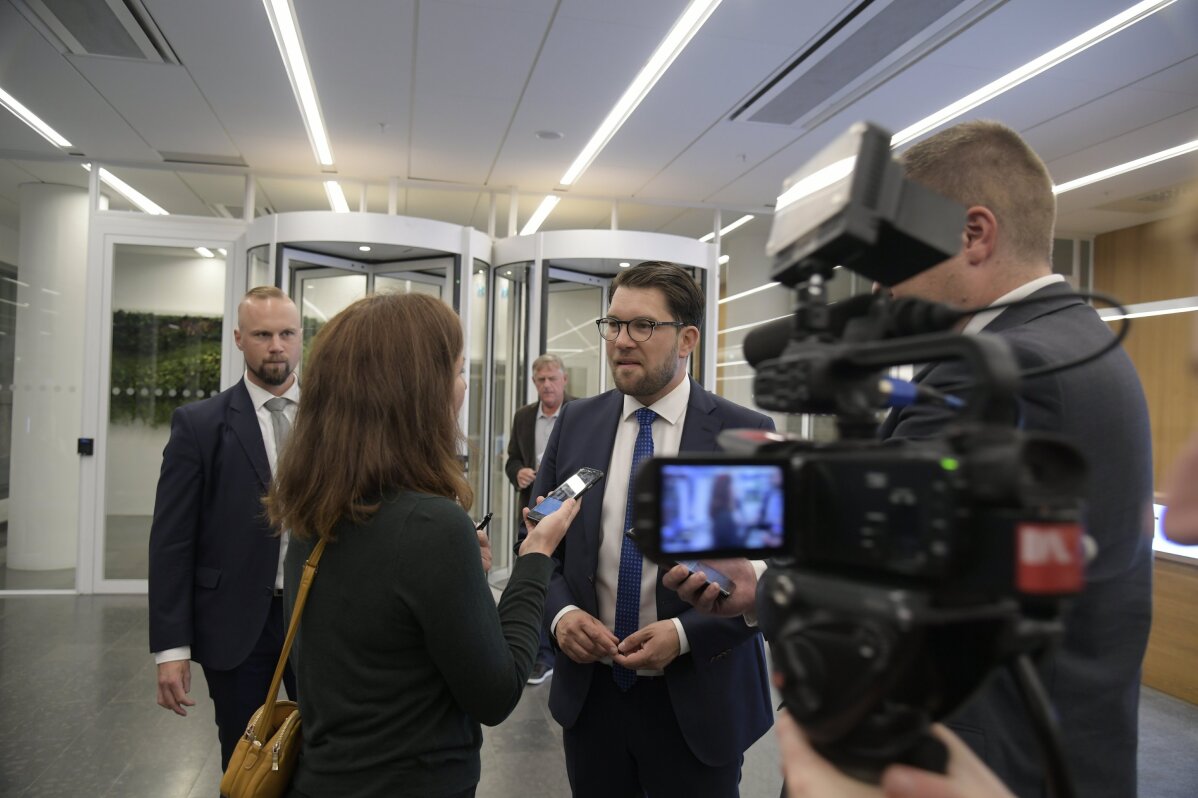 13 of 24

|
Sweden Democrats party leader Jimmie Åkesson is interviewed in Stockholm, Sweden, Sunday, Sept. 9, 2018. Returns reported by the Scandinavian country's election commission showed the Sweden Democrats placing third in the parliamentary election held Sunday. Addressing supporters after more than four-fifths of ballots were counted, Akesson said the victory was in the number of seats the party gained in the national assembly, the Riksdagen.(Anders Wiklund /TT via AP)
13 of 24
Sweden Democrats party leader Jimmie Åkesson is interviewed in Stockholm, Sweden, Sunday, Sept. 9, 2018. Returns reported by the Scandinavian country's election commission showed the Sweden Democrats placing third in the parliamentary election held Sunday. Addressing supporters after more than four-fifths of ballots were counted, Akesson said the victory was in the number of seats the party gained in the national assembly, the Riksdagen.(Anders Wiklund /TT via AP)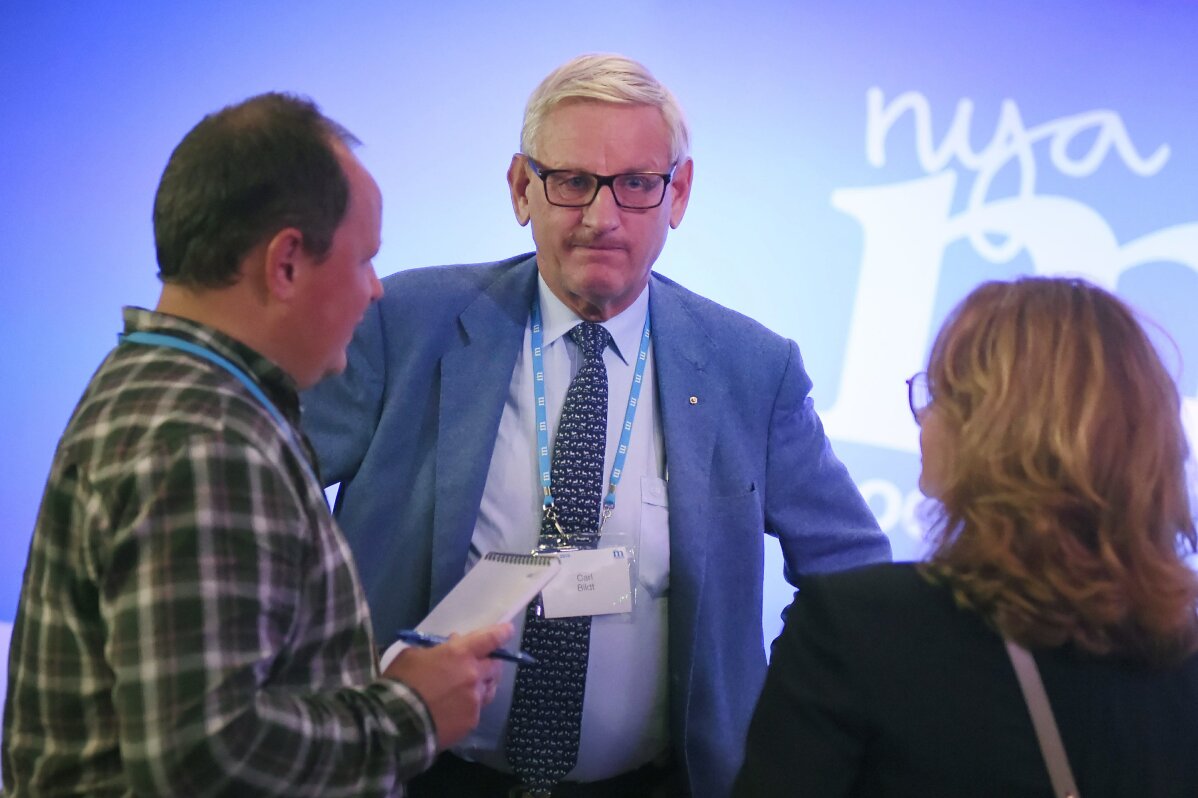 14 of 24

|
Former Swedish Prime Minister Carl Bildt, center, attends the election party of the Moderate Party in Stockholm, Sweden, Sunday Sept. 9, 2018. Polls have opened in Sweden's general election in what is expected to be one of the most unpredictable and thrilling political races in Scandinavian country for decades amid heated discussion around top issue immigration. (Hanna Franzen/TT via AP)
14 of 24
Former Swedish Prime Minister Carl Bildt, center, attends the election party of the Moderate Party in Stockholm, Sweden, Sunday Sept. 9, 2018. Polls have opened in Sweden's general election in what is expected to be one of the most unpredictable and thrilling political races in Scandinavian country for decades amid heated discussion around top issue immigration. (Hanna Franzen/TT via AP)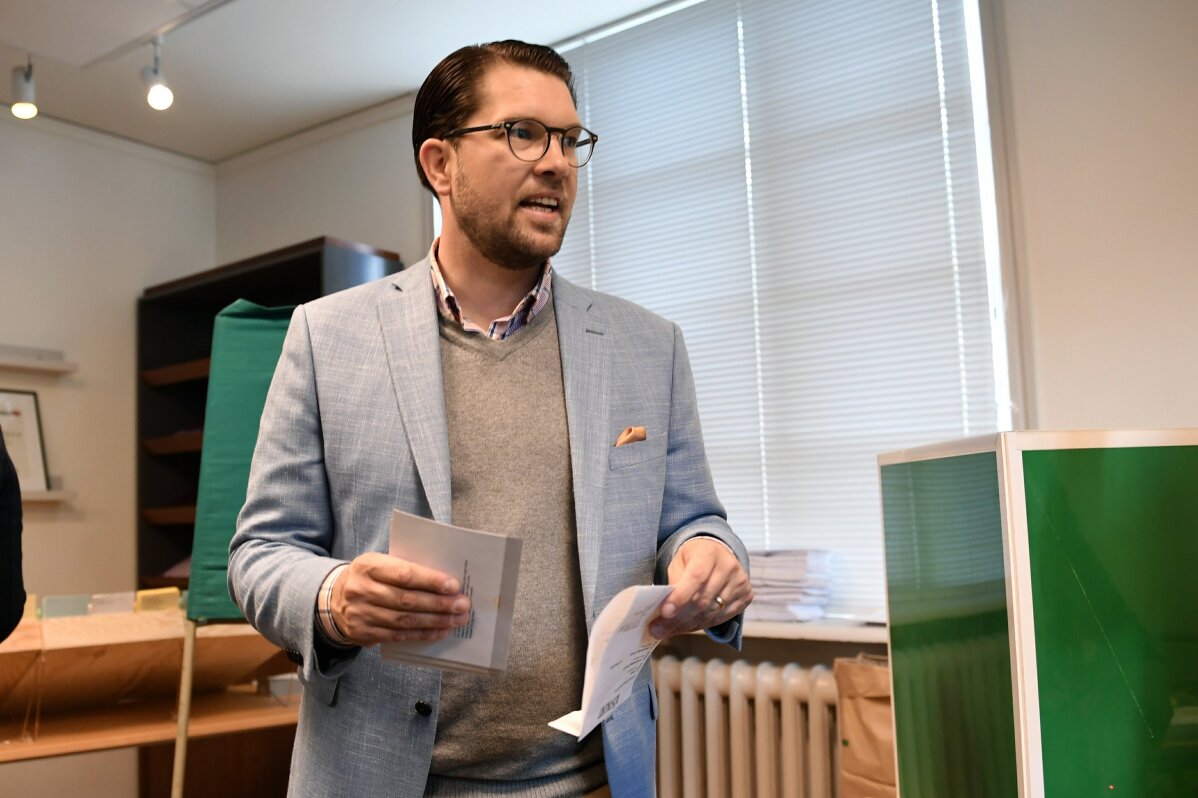 15 of 24

|
Jimmie Akesson, leader of the right-wing nationalist Sweden Democrats party, prepares to vote in Stockholm, Sweden, Sunday Sept. 9, 2018. Polls have opened in Sweden's general election in what is expected to be one of the most unpredictable and thrilling political races in Scandinavian country for decades amid heated discussion around top issue immigration. (Stina Stjernkvist/TT via AP)
15 of 24
Jimmie Akesson, leader of the right-wing nationalist Sweden Democrats party, prepares to vote in Stockholm, Sweden, Sunday Sept. 9, 2018. Polls have opened in Sweden's general election in what is expected to be one of the most unpredictable and thrilling political races in Scandinavian country for decades amid heated discussion around top issue immigration. (Stina Stjernkvist/TT via AP)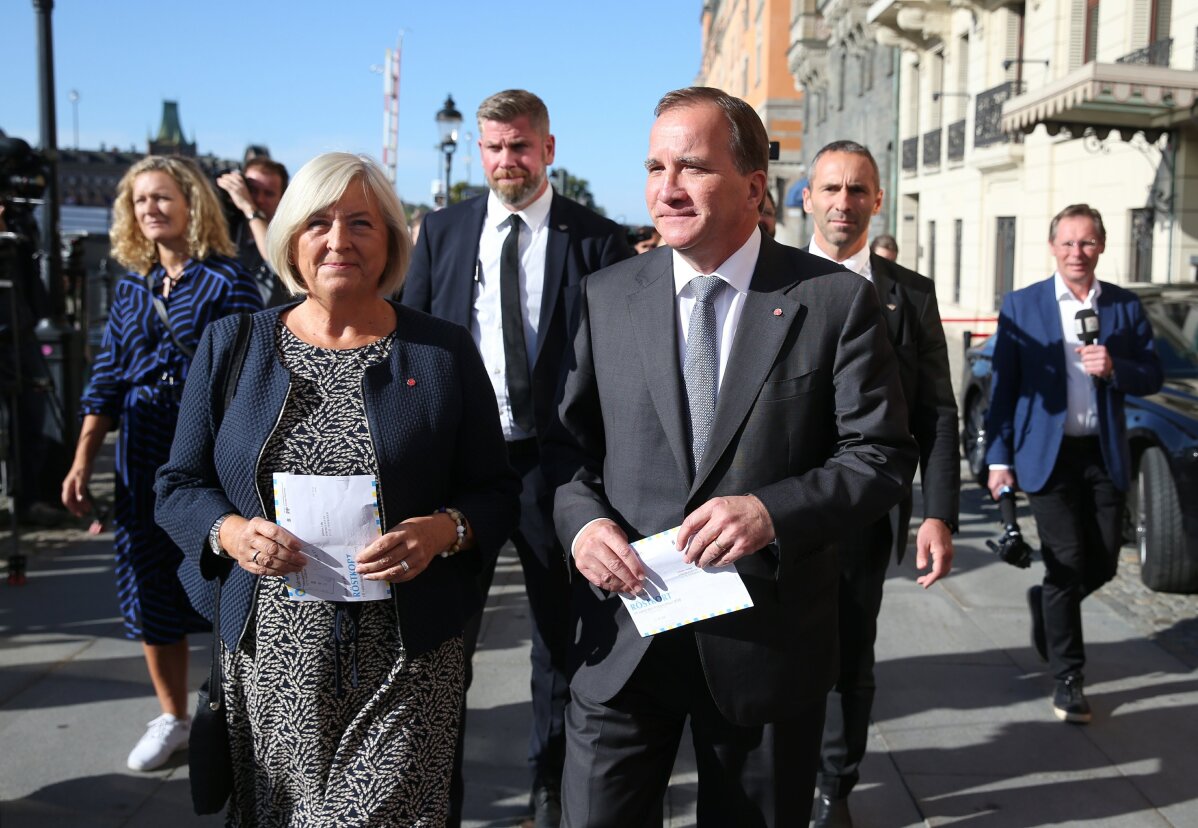 16 of 24

|
Stefan Lofven, leader of the Social Democratic Party and prime minister of Sweden, right, arrives with his wife Ulla to cast their votes in Stockholm, Sweden, Sunday Sept. 9, 2018. Polls have opened in Sweden's general election in what is expected to be one of the most unpredictable and thrilling political races in Scandinavian country for decades amid heated discussion around top issue immigration. (Soren Andersson/TT via AP)
16 of 24
Stefan Lofven, leader of the Social Democratic Party and prime minister of Sweden, right, arrives with his wife Ulla to cast their votes in Stockholm, Sweden, Sunday Sept. 9, 2018. Polls have opened in Sweden's general election in what is expected to be one of the most unpredictable and thrilling political races in Scandinavian country for decades amid heated discussion around top issue immigration. (Soren Andersson/TT via AP)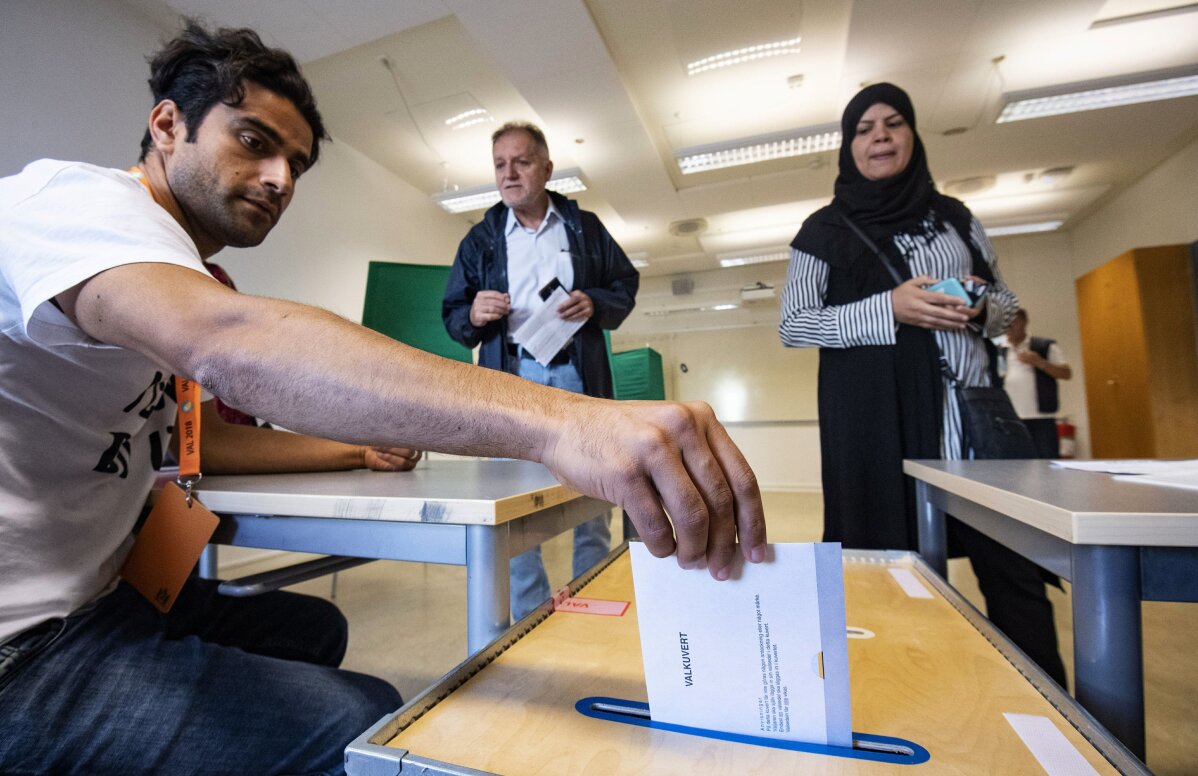 17 of 24

|
An Electoral counselor posts an election envelope in a polling station in Malmo, Sweden, Sunday Sept. 9, 2018. Polls have opened in Sweden's general election in what is expected to be one of the most unpredictable and thrilling political races in Scandinavian country for decades amid heated discussion around top issue immigration. (Johan Nilsson/TT via AP)
17 of 24
An Electoral counselor posts an election envelope in a polling station in Malmo, Sweden, Sunday Sept. 9, 2018. Polls have opened in Sweden's general election in what is expected to be one of the most unpredictable and thrilling political races in Scandinavian country for decades amid heated discussion around top issue immigration. (Johan Nilsson/TT via AP)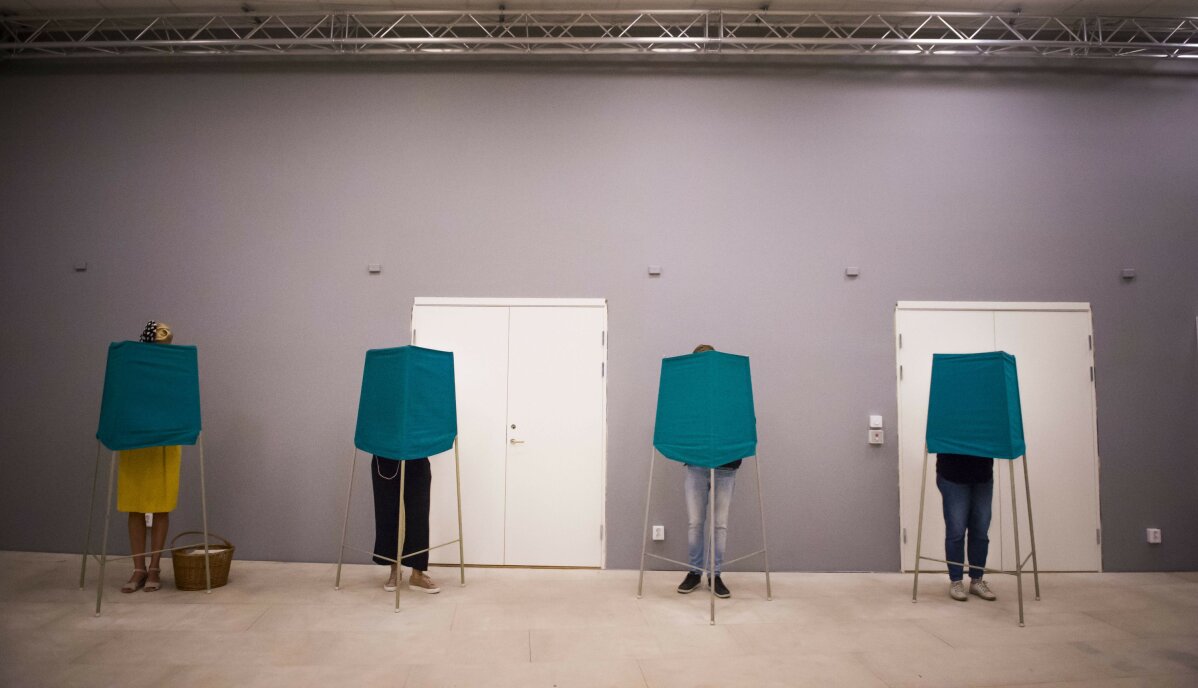 18 of 24

|
People vote in polling booths during election day in Stockholm, Sunday Sept. 9, 2018. Voters in Sweden appear to be split in an unpredictable general election that may turn into one of the most thrilling races in the Scandinavian country's history for decades amid heated debate on immigration. (Hanna Franzen/TT News Agency via AP)
18 of 24
People vote in polling booths during election day in Stockholm, Sunday Sept. 9, 2018. Voters in Sweden appear to be split in an unpredictable general election that may turn into one of the most thrilling races in the Scandinavian country's history for decades amid heated debate on immigration. (Hanna Franzen/TT News Agency via AP)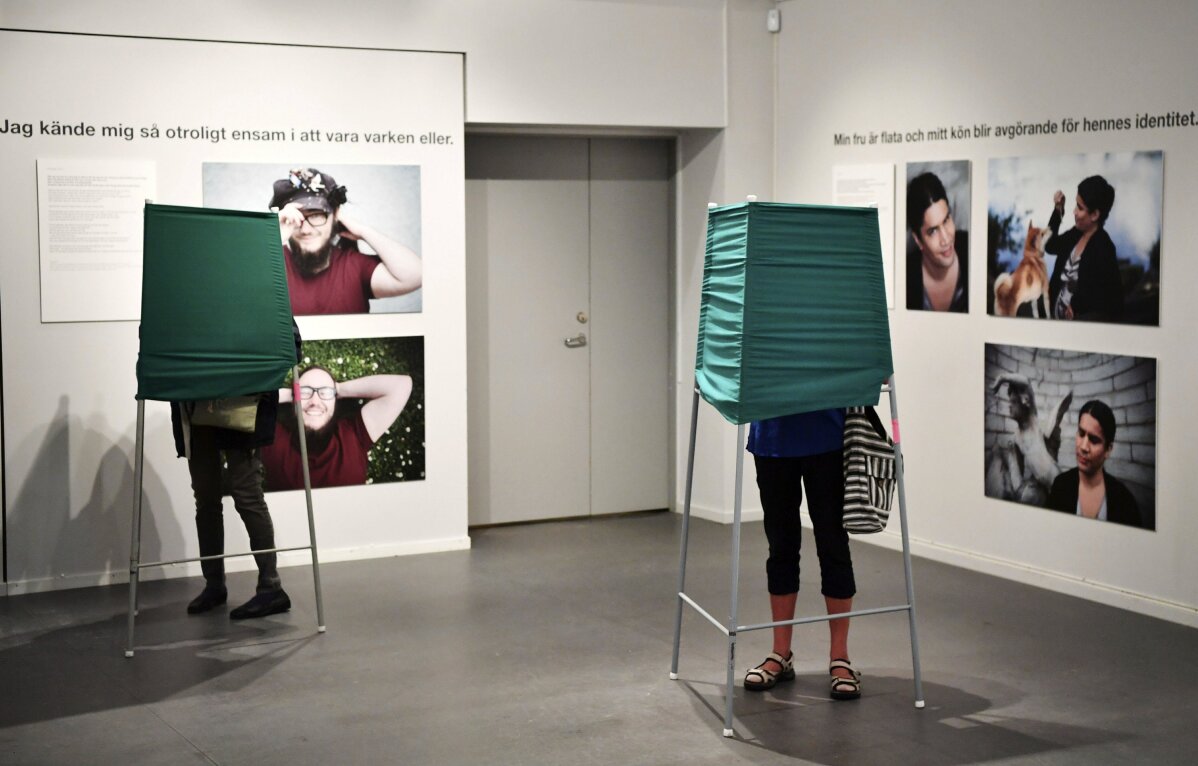 19 of 24

|
People cast their votes in Strangnas, Sweden, Sunday Sept. 9, 2018. Polls have opened in Sweden's general election in what is expected to be one of the most unpredictable and thrilling political races in Scandinavian country for decades amid heated discussion around top issue immigration. (Erik Simander/TT via AP)
19 of 24
People cast their votes in Strangnas, Sweden, Sunday Sept. 9, 2018. Polls have opened in Sweden's general election in what is expected to be one of the most unpredictable and thrilling political races in Scandinavian country for decades amid heated discussion around top issue immigration. (Erik Simander/TT via AP)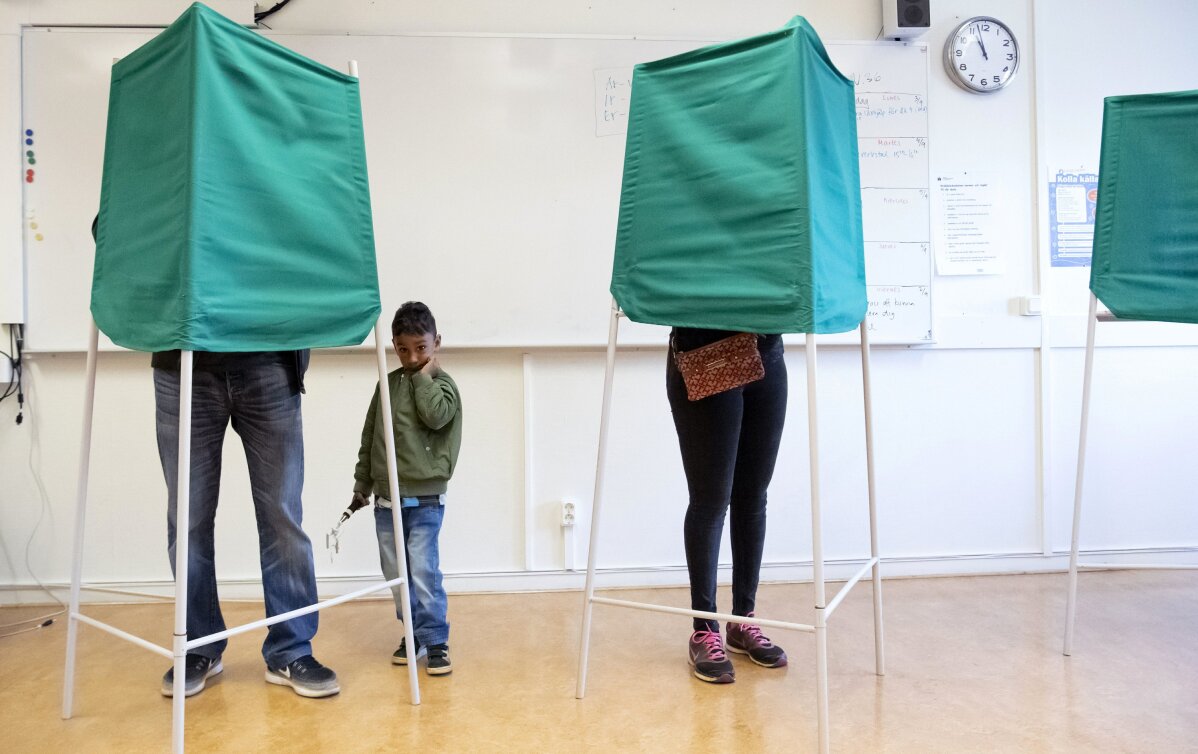 20 of 24

|
A child waits for his father to vote in Malmo, Sweden, Sunday Sept. 9, 2018. Polls have opened in Sweden's general election in what is expected to be one of the most unpredictable and thrilling political races in Scandinavian country for decades amid heated discussion around top issue immigration. ( Johan Nilsson/TT via AP)
20 of 24
A child waits for his father to vote in Malmo, Sweden, Sunday Sept. 9, 2018. Polls have opened in Sweden's general election in what is expected to be one of the most unpredictable and thrilling political races in Scandinavian country for decades amid heated discussion around top issue immigration. ( Johan Nilsson/TT via AP)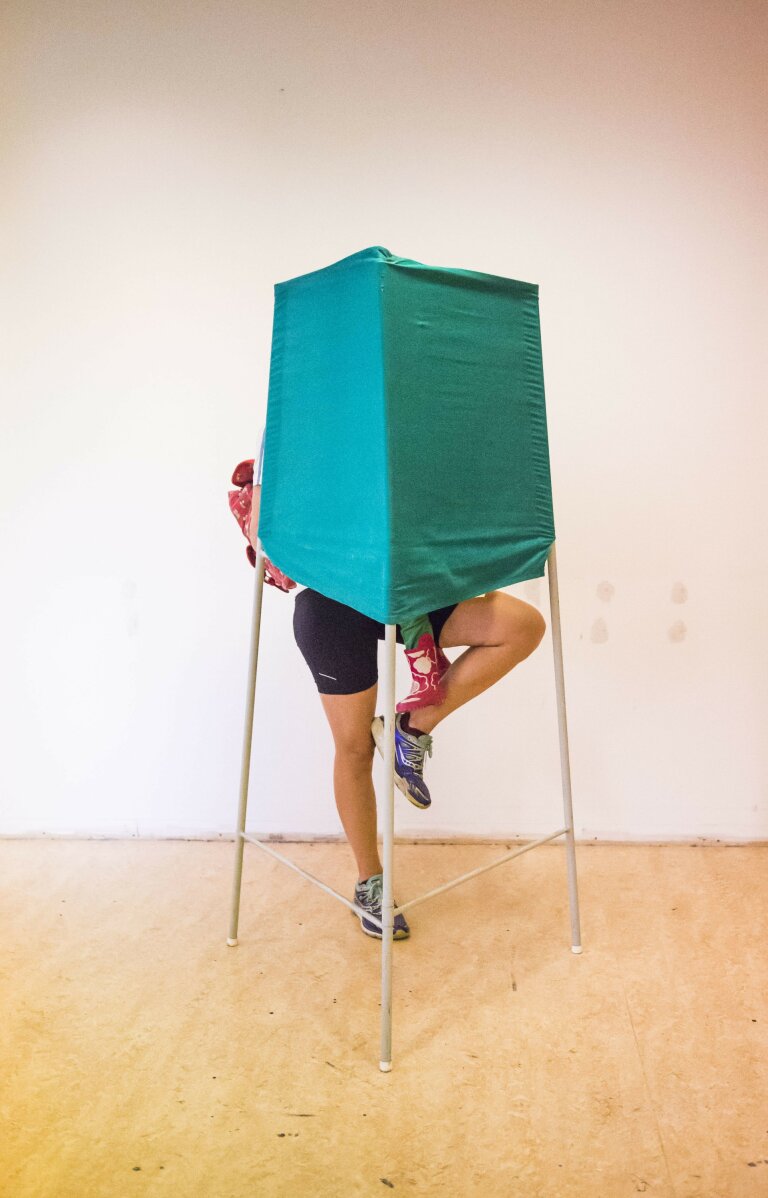 21 of 24

|
People vote in polling booths during election day in Stockholm, Sunday Sept. 9, 2018. Voters in Sweden appear to be split in an unpredictable general election that may turn into one of the most thrilling races in the Scandinavian country's history for decades amid heated debate on immigration. (Hanna Franzen/TT News Agency via AP)
21 of 24
People vote in polling booths during election day in Stockholm, Sunday Sept. 9, 2018. Voters in Sweden appear to be split in an unpredictable general election that may turn into one of the most thrilling races in the Scandinavian country's history for decades amid heated debate on immigration. (Hanna Franzen/TT News Agency via AP)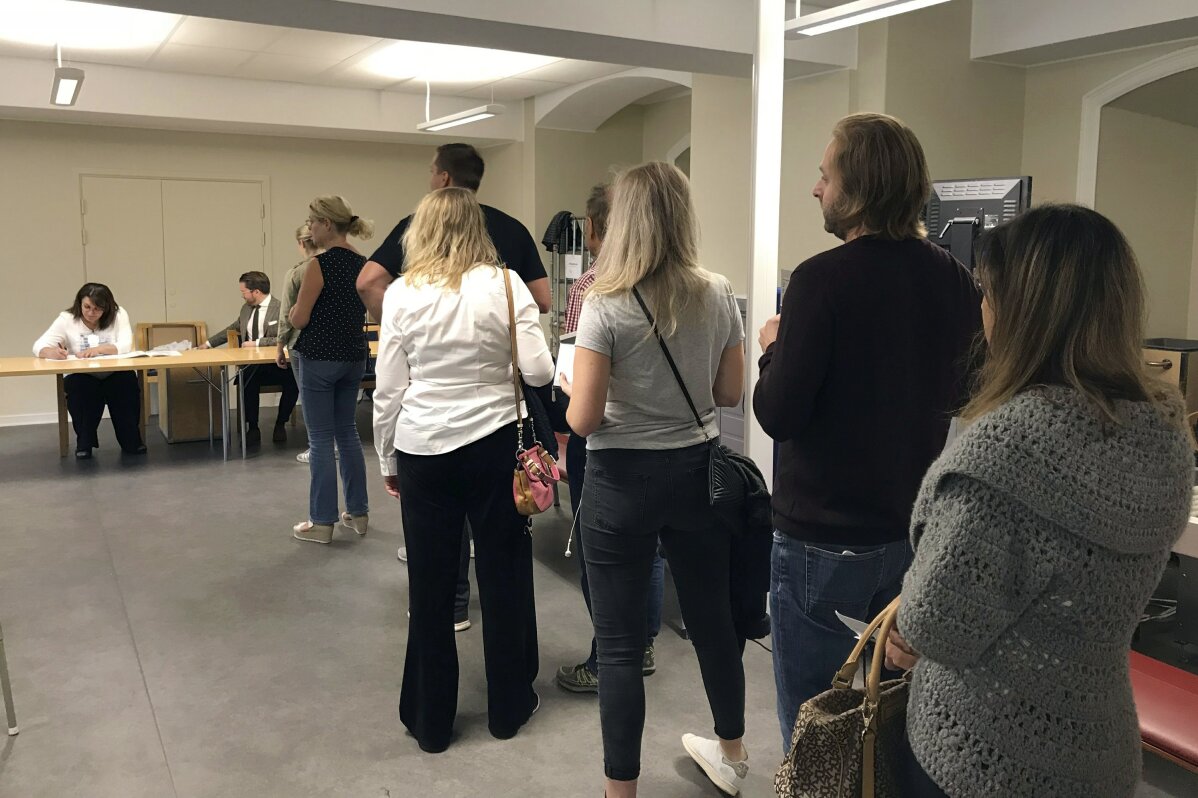 22 of 24

|
People queue up in a polling station to vote in Stockholm, Sweden, Sunday Sept. 9, 2018. Polls have opened in Sweden's general election in what is expected to be one of the most unpredictable and thrilling political races in Scandinavian country for decades amid heated discussion around top issue immigration. (AP Photo/Philipp Jenne)
22 of 24
People queue up in a polling station to vote in Stockholm, Sweden, Sunday Sept. 9, 2018. Polls have opened in Sweden's general election in what is expected to be one of the most unpredictable and thrilling political races in Scandinavian country for decades amid heated discussion around top issue immigration. (AP Photo/Philipp Jenne)
23 of 24

|
People arrive to cast their votes in Stockholm, Sweden, Sunday Sept. 9, 2018. Polls have opened in Sweden's general election in what is expected to be one of the most unpredictable and thrilling political races in Scandinavian country for decades amid heated discussion around top issue immigration. (AP Photo/Pietro De Cristofaro)
23 of 24
People arrive to cast their votes in Stockholm, Sweden, Sunday Sept. 9, 2018. Polls have opened in Sweden's general election in what is expected to be one of the most unpredictable and thrilling political races in Scandinavian country for decades amid heated discussion around top issue immigration. (AP Photo/Pietro De Cristofaro)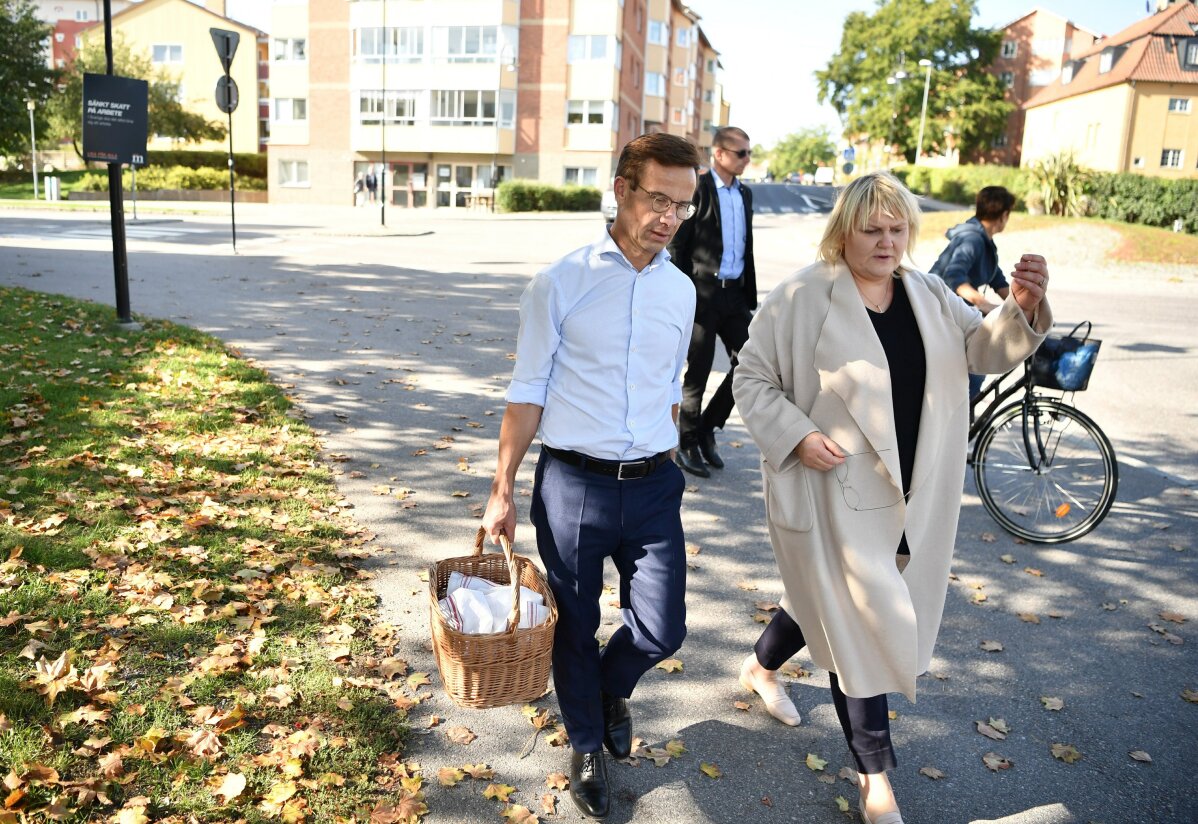 24 of 24

|
Ulf Kristersson, leader of the Moderate Party, walks with his wife Birgitta Ed to cast their votes in Strangnas, Sweden, Sunday Sept. 9, 2018. Polls have opened in Sweden's general election in what is expected to be one of the most unpredictable and thrilling political races in Scandinavian country for decades amid heated discussion around top issue immigration. (Erik Simander/TT via AP)
24 of 24
Ulf Kristersson, leader of the Moderate Party, walks with his wife Birgitta Ed to cast their votes in Strangnas, Sweden, Sunday Sept. 9, 2018. Polls have opened in Sweden's general election in what is expected to be one of the most unpredictable and thrilling political races in Scandinavian country for decades amid heated discussion around top issue immigration. (Erik Simander/TT via AP)
STOCKHOLM (AP) — Voters handed Sweden's ruling party its worst-ever election result Sunday and delivered a parallel lift to a far-right party with white supremacist roots, leaving the ideological outline of the Scandinavian country's next government uncertain.
After a campaign dominated by debates over immigration, the center-left Social Democratic Party emerged with the greatest share of the vote — 28.4 percent as the count neared completion — yet looking at holding fewer parliament seats and having its mandate to govern questioned.
The potential for an immigration backlash to result in a big boost for the far-right Sweden Democrats inspired fear among many Swedes before the election. It received a little more than one in six votes, or 17.6 percent. Its showing was not as strong as the one-in-five polls had predicted, but good for a third-place finish that had the party's leader telling supporters, "We won."
Prime Minister Stefan Lofven, who brought the Social Democrats to power in 2014, said he intended to remain in the job. The leader of the Moderates party that came in second, Ulf Kristersson, already had called on Lofven to resign and claimed the right to form Sweden's next government.
Sounding somber and firm, Lofven told his supporters the election presented "a situation that all responsible parties must deal with," adding that "a party with roots in Nazism" would "never ever offer anything responsible, but hatred."
"We have a moral responsibility. We must gather all forces for good. We won't mourn, we will organize ourselves," he said.
Final election returns were expected later in the week. The preliminary results made it unlikely any party would secure a majority of 175 seats in the 349-seat Riksdag, Sweden's parliament. It could take weeks or months of coalition talks before the next government is formed.
Both the left-leaning bloc led by the Social Democrats and the center-right bloc in which the Moderates is largest of four parties have said they would refuse to consider the Sweden Democrats as a coalition partner.
Sweden — home to the Nobel prizes and militarily neutral for the better part of two centuries — has been known for its comparatively open doors to migrants and refugees. Sunday's general election was the first since the country of 10 million took in a record 163,000 refugees in 2015 as mass migration to Europe rose dramatically.
Lofven eventually said Sweden no longer could cope with the influx and immigration laws were tightened.
Like other far-right parties in Europe, the Sweden Democrats worked to soften its neo-Nazi image in the lead-up to the election. The party symbol was switched from a flaming torch to a flower. Members known for making pro-Third Reich statements were pushed out.
It made its first mark in politics with municipal council seats in 2006, and since then slowly helped revise long-accepted social norms for what Swedes could say openly about foreigners and integration without being considered racist.
At the Swedish Democrat's election eve rally Saturday, party leader Jimmie Akesson criticized Lofven's government for "prioritizing" the needs of new immigrants the ones of Swedish citizens.
Akesson was jubilant as he addressed supporters a day later, declaring the estimated 14 parliament seats the Social Democrats picked up a victory other parties could not ignore in coalition negotiations.
"This party has increased and made the biggest gains. Everything is about us," Akesson said. "I am ready to talk with others"
Turnout in the election was reported at 84.4 percent, up from 83 percent in 2014.
___
Olsen reported from Copenhagen, Denmark. Jeff Schaeffer and Philipp Jenne in Stockholm, Jari Tanner in Helsinki and Vanessa Gera in Warsaw contributed.
___
This version corrects the description of the Sweden Democrats' former party symbol.