East Timor votes in parliamentary election aiming to break political impasse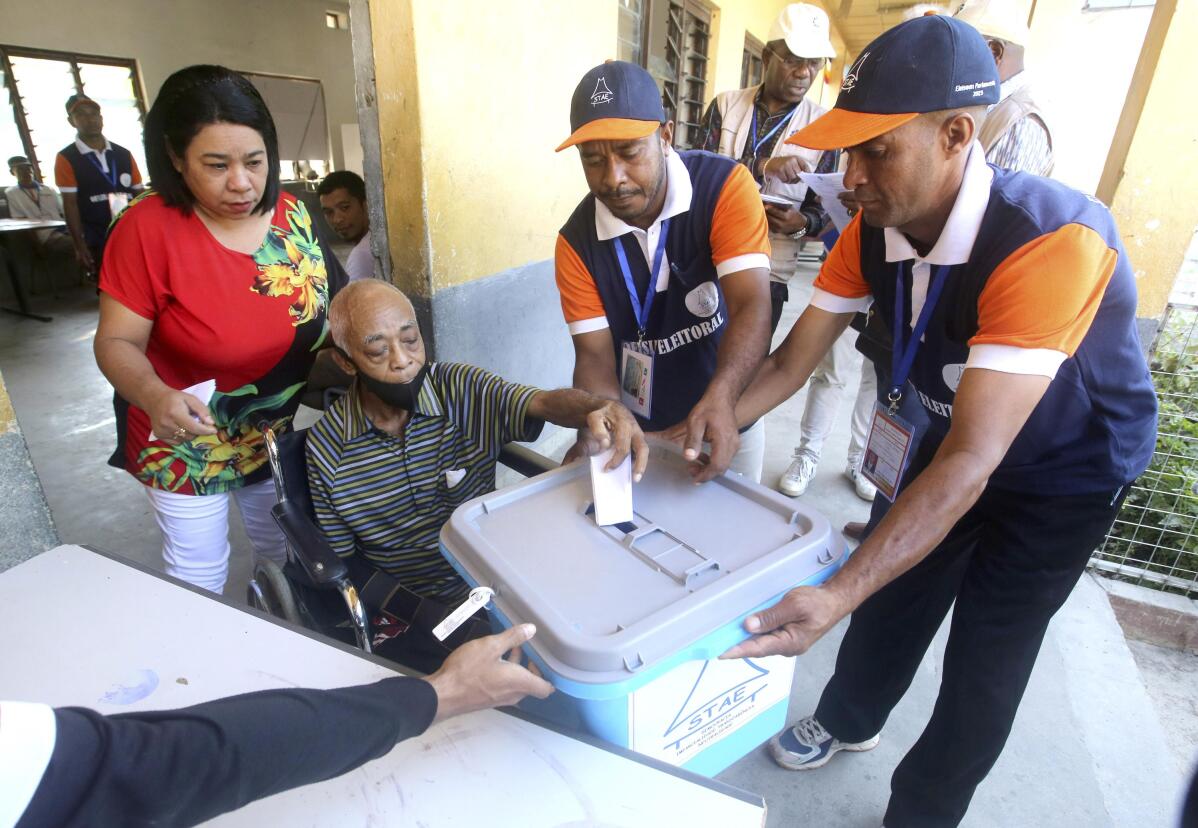 1 of 3

|
Electoral workers assist a man in a wheelchair to cast his ballot at a polling station during the parliamentary election in Dili, East Timor, Sunday, May 21, 2023. East Timor on Sunday held its fifth parliamentary election since gaining its independence in 2002. (AP Photo/Lorenio L.Pereira)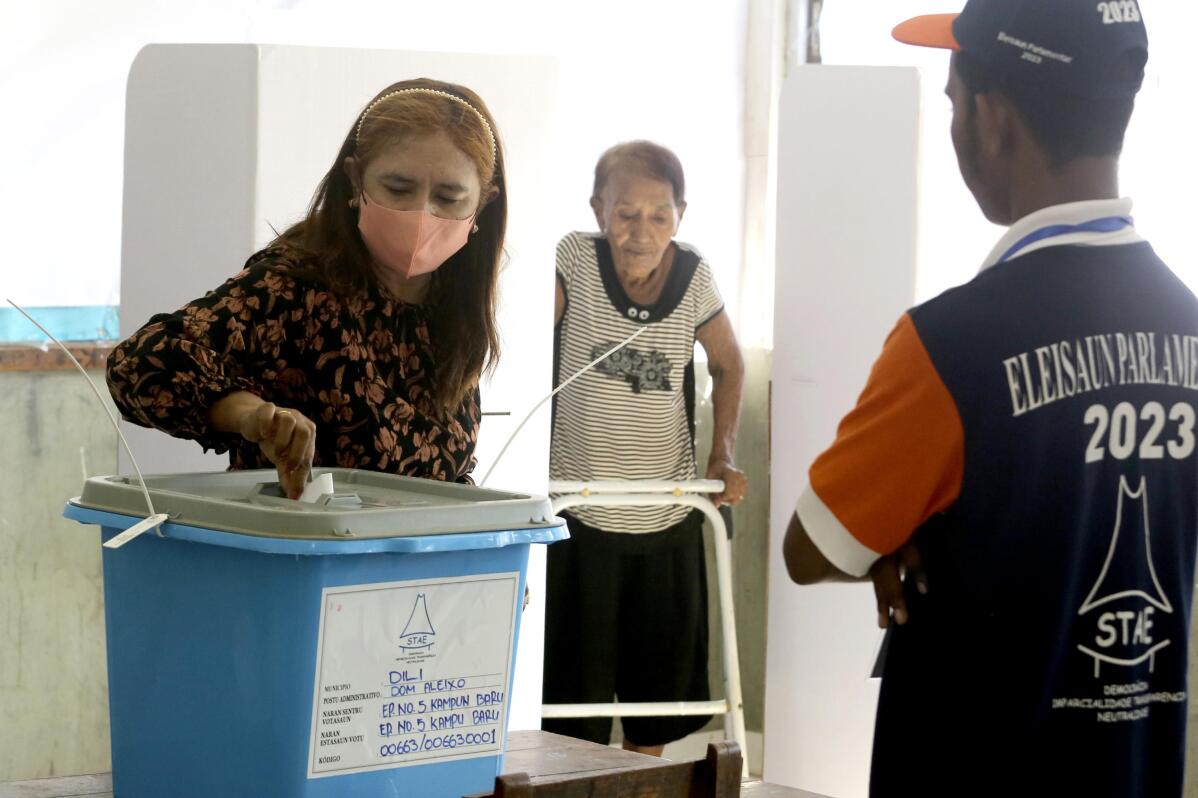 2 of 3

|
A woman casts her ballot at a polling station during the parliamentary election in Dili, East Timor, Sunday, May 21, 2023. East Timor on Sunday held its fifth parliamentary election since gaining its independence in 2002. (AP Photo/Lorenio L.Pereira)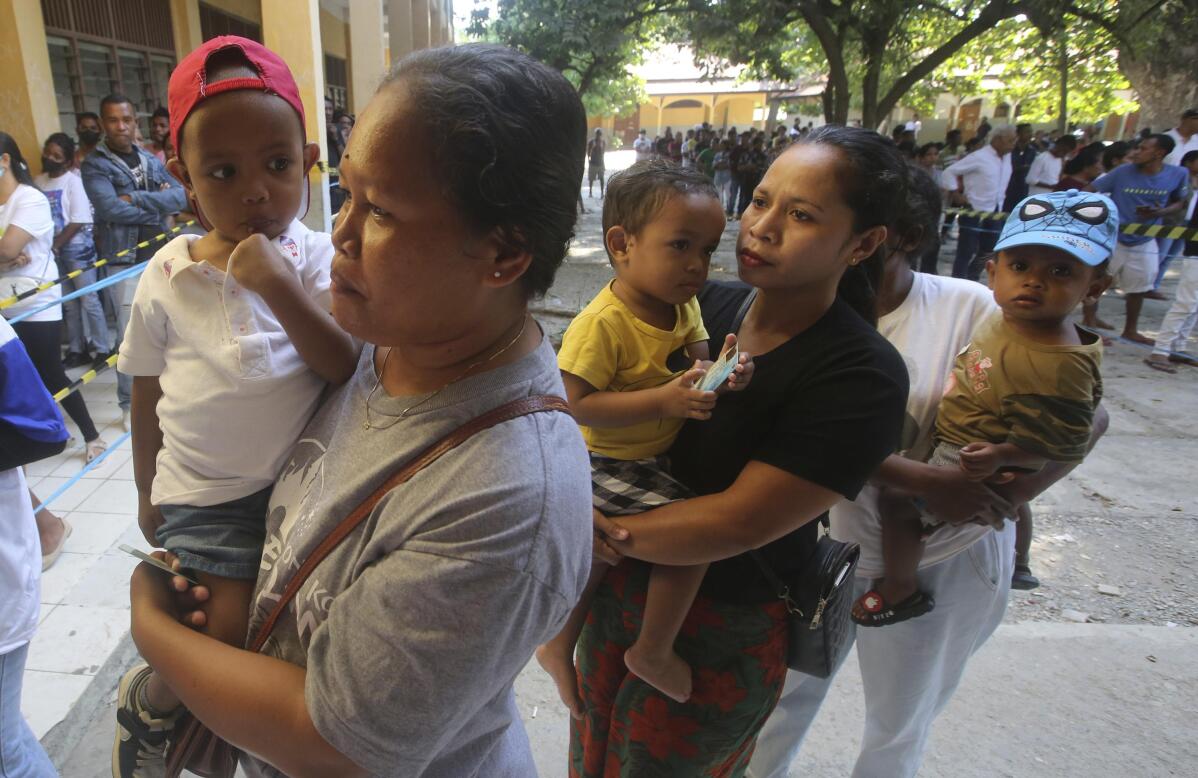 3 of 3

|
People queue up to give their votes during the parliamentary election, at a polling station in Dili, East Timor, Sunday, May 21, 2023. East Timor on Sunday held its fifth parliamentary election since gaining its independence in 2002. (AP Photo/Lorenio L.Pereira)
East Timor votes in parliamentary election aiming to break political impasse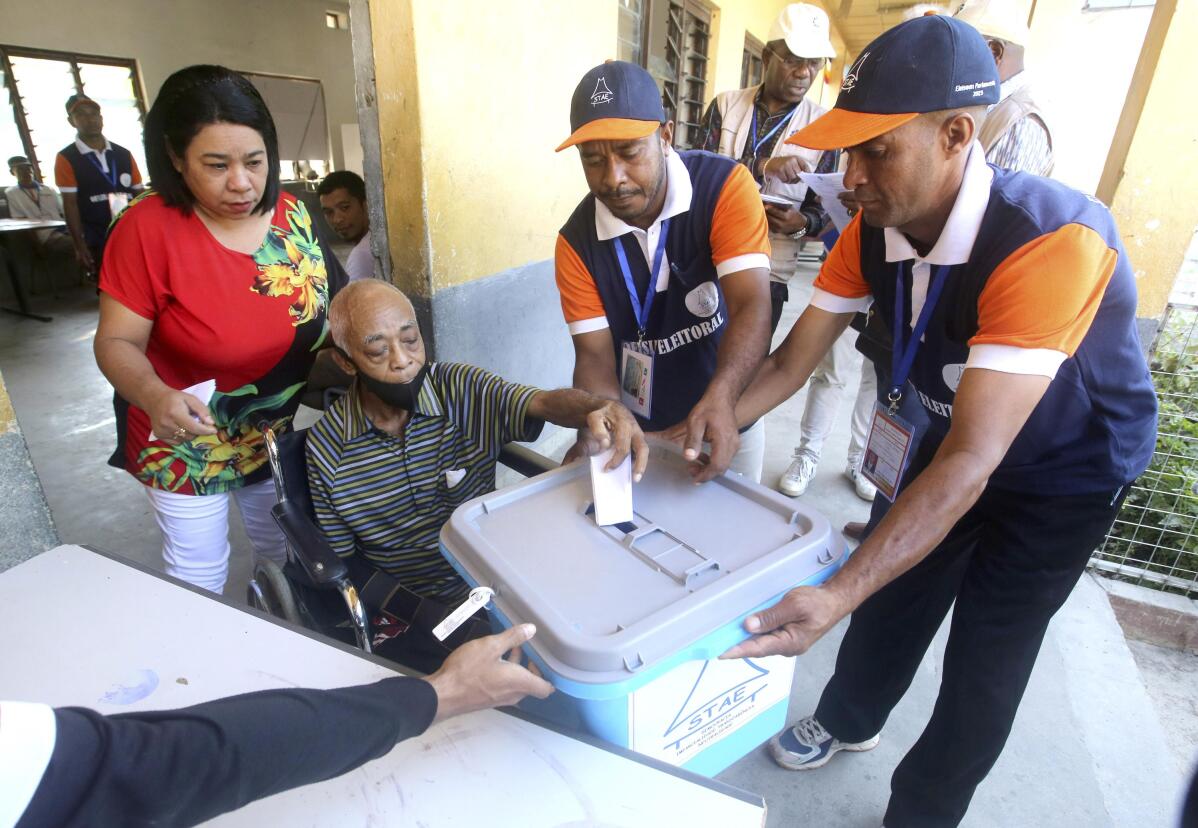 1 of 3

|
Electoral workers assist a man in a wheelchair to cast his ballot at a polling station during the parliamentary election in Dili, East Timor, Sunday, May 21, 2023. East Timor on Sunday held its fifth parliamentary election since gaining its independence in 2002. (AP Photo/Lorenio L.Pereira)
1 of 3
Electoral workers assist a man in a wheelchair to cast his ballot at a polling station during the parliamentary election in Dili, East Timor, Sunday, May 21, 2023. East Timor on Sunday held its fifth parliamentary election since gaining its independence in 2002. (AP Photo/Lorenio L.Pereira)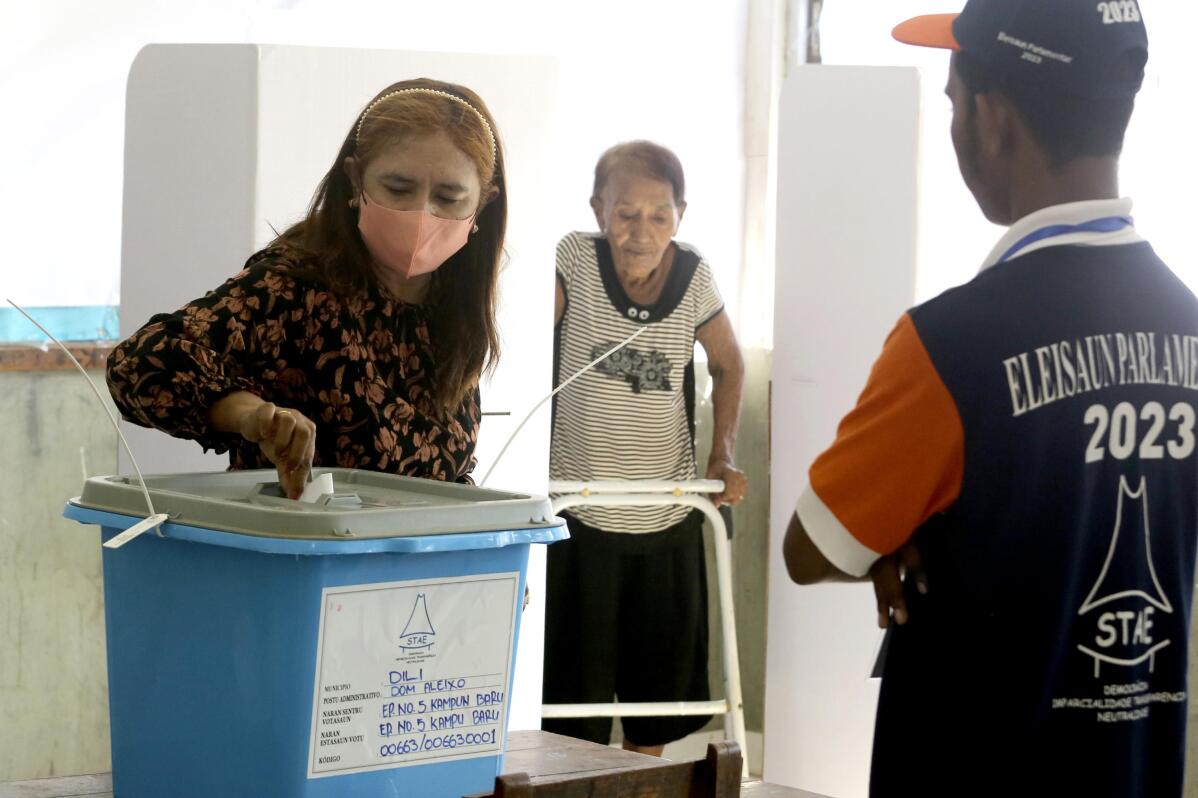 2 of 3

|
A woman casts her ballot at a polling station during the parliamentary election in Dili, East Timor, Sunday, May 21, 2023. East Timor on Sunday held its fifth parliamentary election since gaining its independence in 2002. (AP Photo/Lorenio L.Pereira)
2 of 3
A woman casts her ballot at a polling station during the parliamentary election in Dili, East Timor, Sunday, May 21, 2023. East Timor on Sunday held its fifth parliamentary election since gaining its independence in 2002. (AP Photo/Lorenio L.Pereira)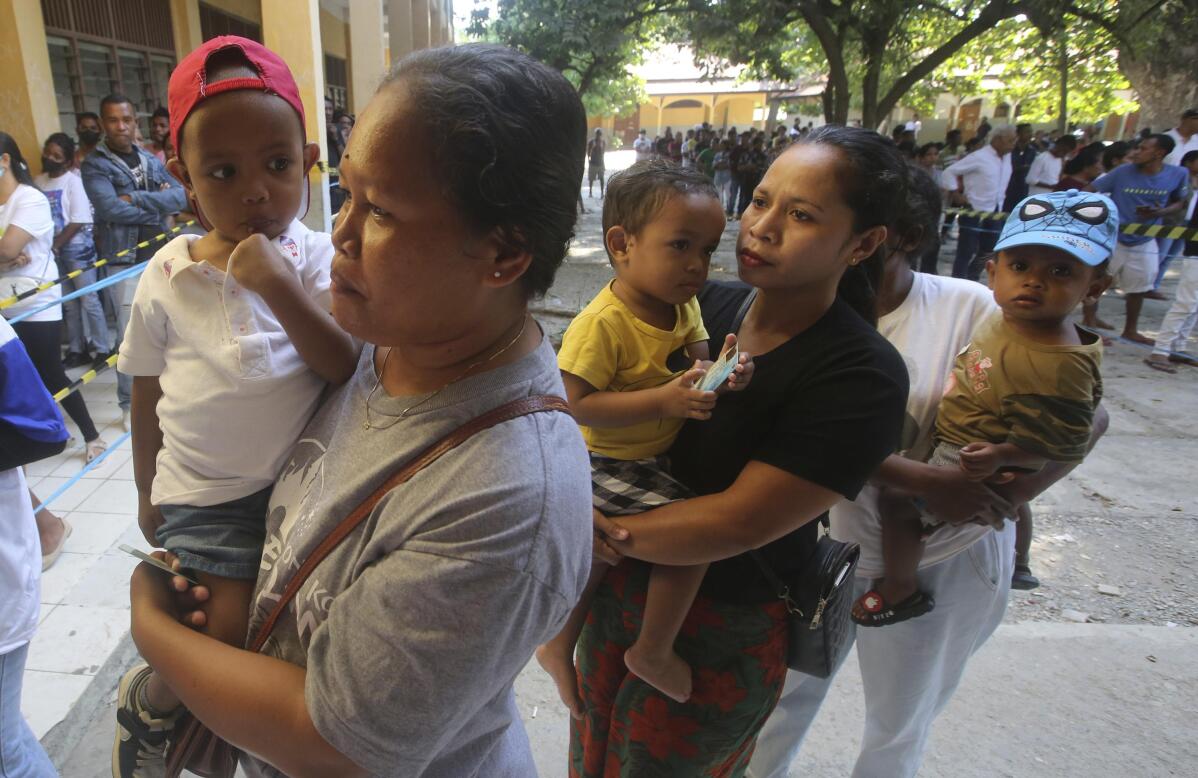 3 of 3

|
People queue up to give their votes during the parliamentary election, at a polling station in Dili, East Timor, Sunday, May 21, 2023. East Timor on Sunday held its fifth parliamentary election since gaining its independence in 2002. (AP Photo/Lorenio L.Pereira)
3 of 3
People queue up to give their votes during the parliamentary election, at a polling station in Dili, East Timor, Sunday, May 21, 2023. East Timor on Sunday held its fifth parliamentary election since gaining its independence in 2002. (AP Photo/Lorenio L.Pereira)
DILI, East Timor (AP) — Vote counting was underway in East Timor's parliamentary election Sunday with two former independence fighters considered for the post of prime minister.
Two main political parties — the incumbent Revolutionary Front for an Independent East Timor, or Fretilin, and opposition National Congress for Timorese Reconstruction, or CNRT — are believed to be in a close race for the 65-seat National Parliament. A total of 17 parties were running.
No parties have formed any pre-election coalitions, but analysts said CNRT, a party led by former prime minister and independence leader Xanana Gusmao, is favored to win following a successful presidential campaign in 2022 that saw its candidate, Nobel Peace Prize laureate Jose Ramos-Horta, back in office.
"I believe the CNRT will win a majority of seats in Parliament this time and I'm ready to be the prime minister for the sake of people's prosperity and justice," Gusmao said after casting his vote in Dili, the capital.
Polls closed at 3 p.m. and vote-counting began at 1,500 polling centers across the small country. Preliminary results may not be known until Wednesday.
"If we win, it is the victory of the people of Timor Leste," said the leader of Fretilin, former Prime Minister Mari Alkatiri. "I call on people to accept whatever the results of this election."
Parties were required to have a woman in at least every third position in their list and seats are allocated using the method with an electoral threshold of 4%.
Fretilin and CNRT have blamed each other for years of political paralysis.
In 2018, then-President Francisco "Lu Olo" Guterres from Fretilin refused to swear in nine Cabinet nominees from CNRT. The impasse led to the resignation of Prime Minister Taur Matan Ruak in February 2020, but he agreed to stay on until a new government is formed.
His governing coalition is currently made up of Fretilin, the People's Liberation Party that he heads, and the rural-based Khunto party.
The former Portuguese colony was occupied by Indonesia for a quarter century and gained independence after a U.N.-sponsored referendum in 1999. Indonesia's military responded with scorched-earth attacks that devastated the East Timorese half of the island of Timor.
The transition to a democracy has been rocky, with leaders battling massive poverty, unemployment and corruption. East Timor's economy is reliant on dwindling offshore oil revenues.
The Association of Southeast Asian Nations this year granted an observer status to East Timor ahead of it becoming the regional bloc's 11th member.
The U.N. estimates that nearly half of East Timor's population lives below the extreme poverty line of $1.90 a day, and that 42 of every 1,000 babies die before their fifth birthday because of malnutrition.
____
Associated Press writer Niniek Karmini in Jakarta, Indonesia, contributed to this report.