Florida jobless claims rise as does anger among unemployed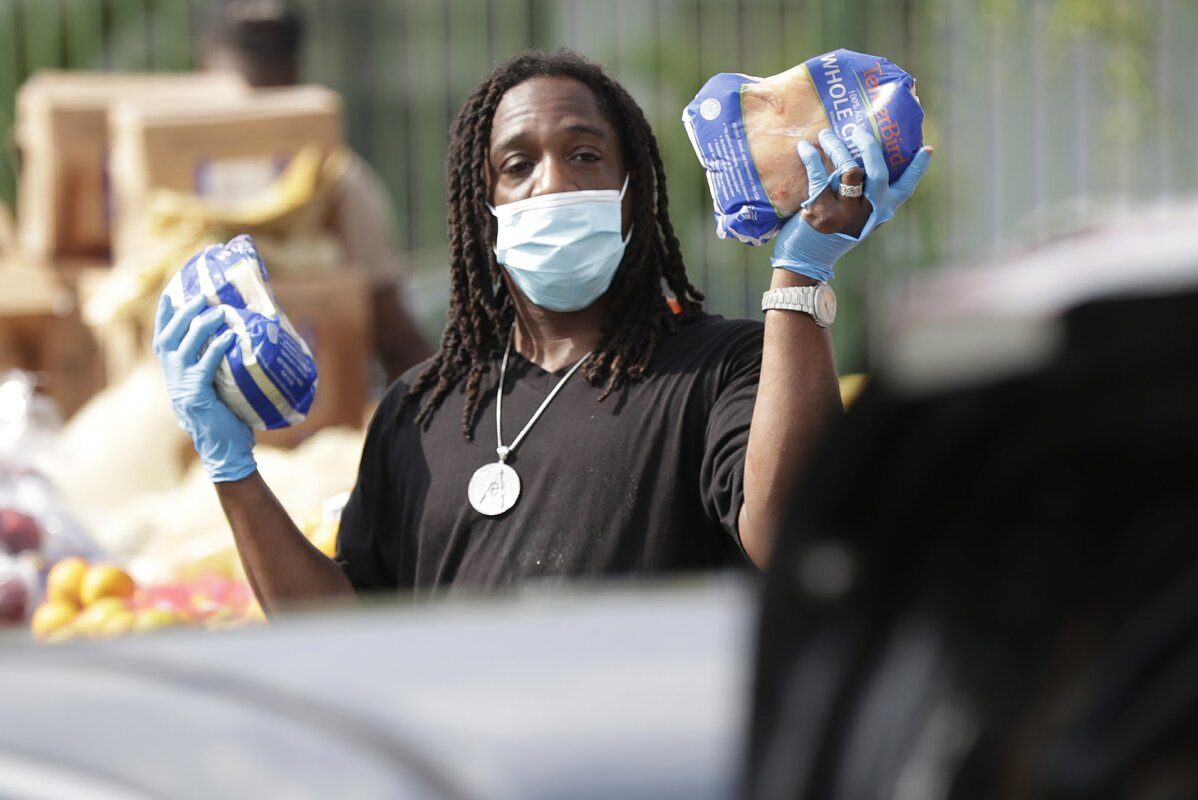 1 of 5

|
Terry Axson Jr., holds up two chickens as he waits for the next car to pass during a food distribution event, Wednesday, April 1, 2020, in the Liberty City neighborhood of Miami. The event was supported by the city, Ark of the City and Farm Share. (AP Photo/Wilfredo Lee)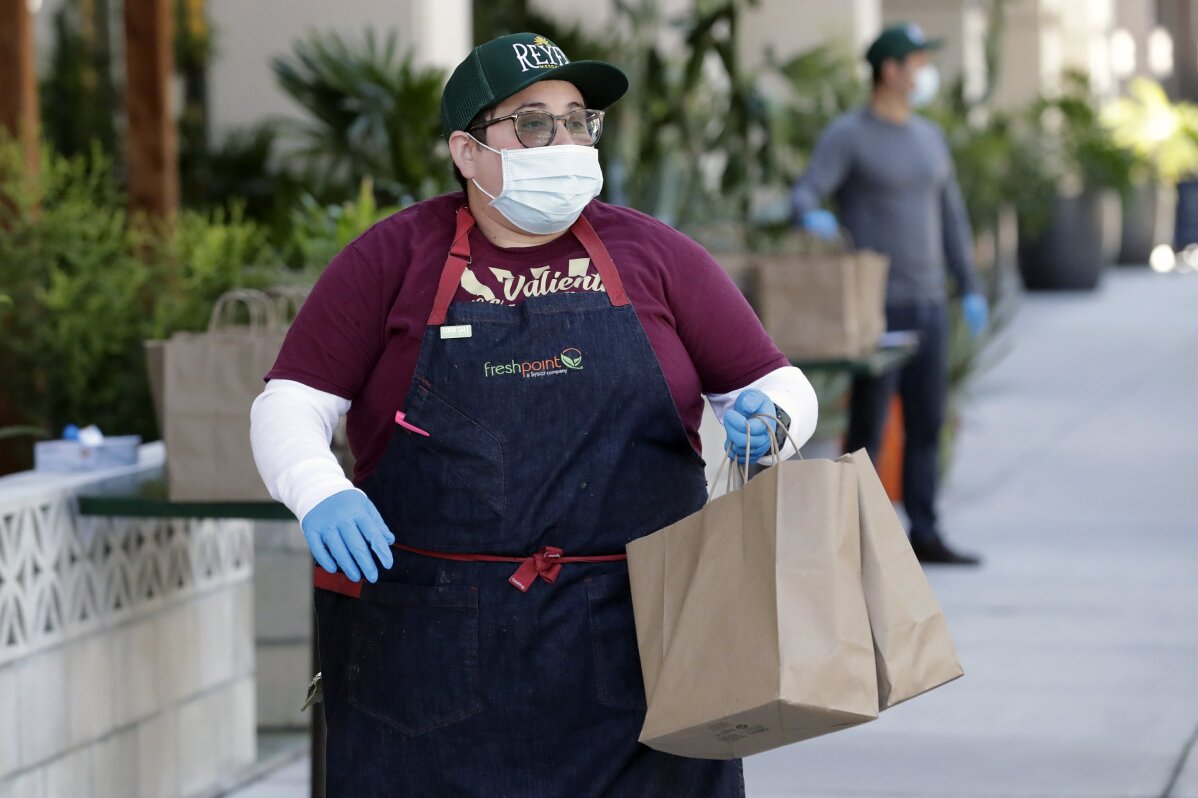 2 of 5

|
Wendy Lopez helps distribute free meals for curbside delivery for residents that signed up online at a restaurant Wednesday, April 1, 2020, in Orlando, Fla. Workers from several restaurants helped give out fresh meals, part of a #ChefsForAmerica event, providing meals to residents today and tomorrow. (AP Photo/John Raoux)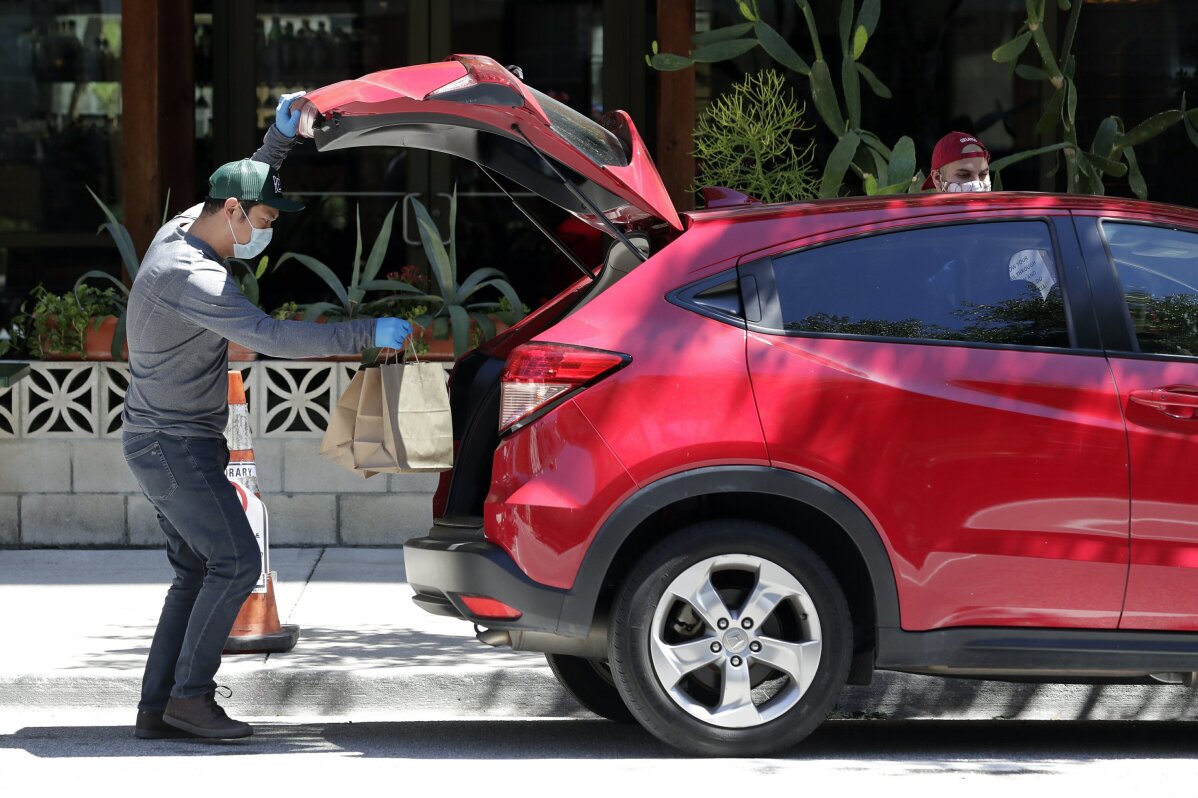 3 of 5

|
A volunteer worker places free meals in a car for residents that signed up online for curbside delivery at a restaurant Wednesday, April 1, 2020, in Orlando, Fla. Workers from several restaurants helped give out fresh meals, part of a #ChefsForAmerica event, providing around 400 meals to residents today and tomorrow. (AP Photo/John Raoux)
4 of 5

|
Rafael Delgado places free meals for residents that signed up online on a table for curbside delivery at a restaurant Wednesday, April 1, 2020, in Orlando, Fla. Workers from several restaurants helped give out fresh meals, part of a #ChefsForAmerica event, providing around 400 meals to residents today and tomorrow. (AP Photo/John Raoux)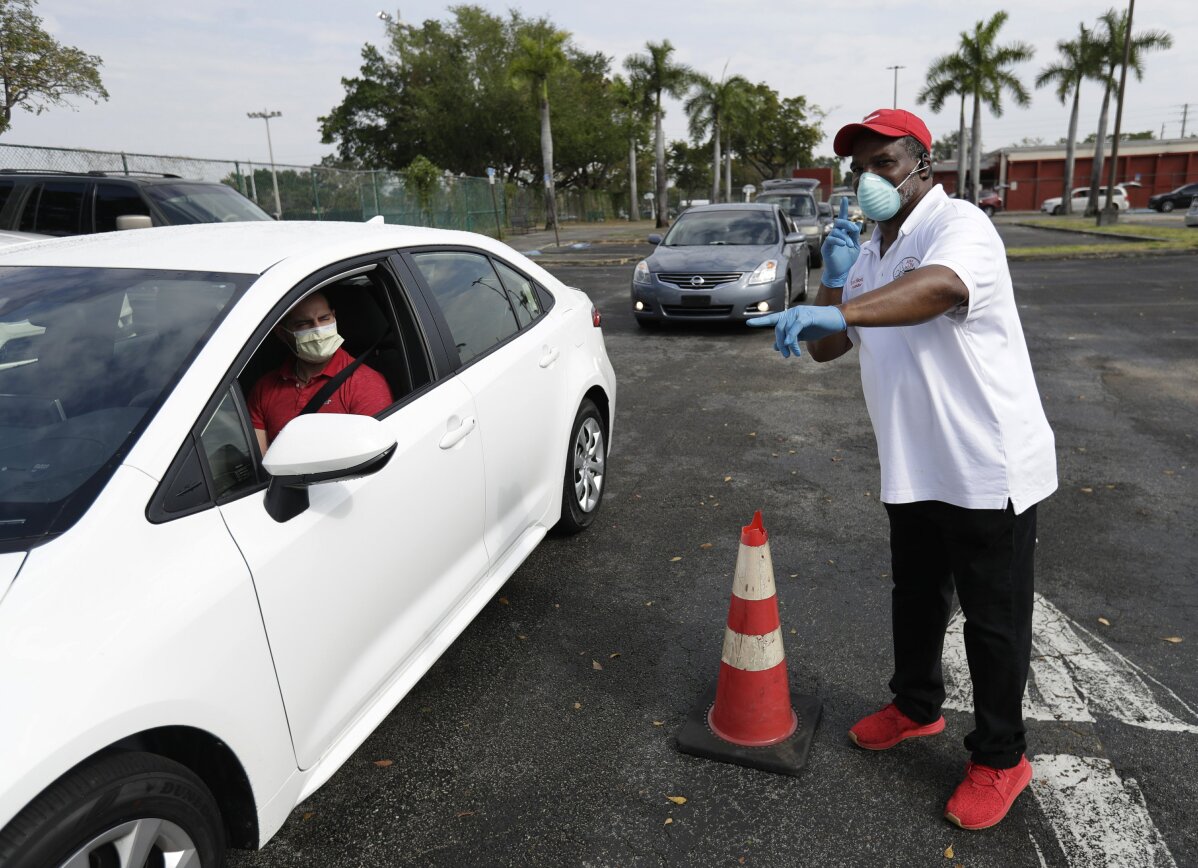 5 of 5

|
Terry Elliott Sr., right, founder of Ark of the City, directs traffic during a food distribution event, Wednesday, April 1, 2020, in the Liberty City neighborhood of Miami. The event was supported by the city, Ark of the City and Farm Share. (AP Photo/Wilfredo Lee)
Florida jobless claims rise as does anger among unemployed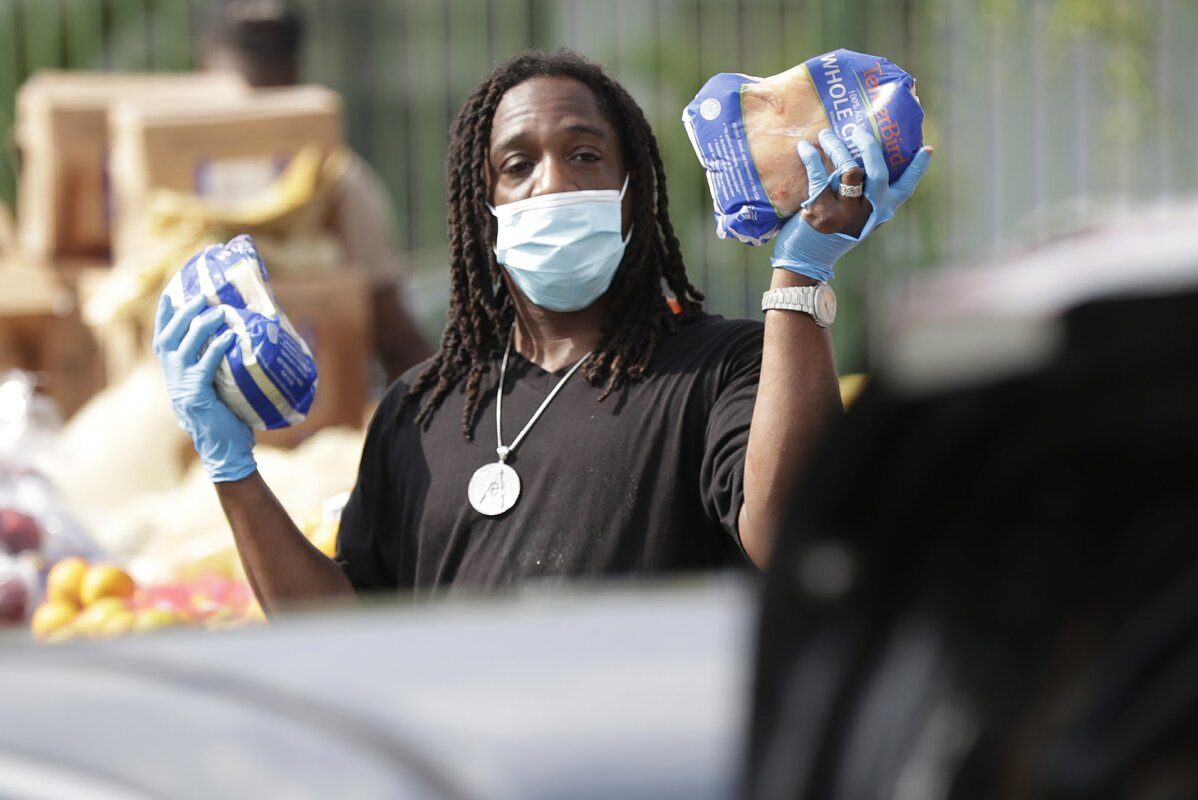 1 of 5

|
Terry Axson Jr., holds up two chickens as he waits for the next car to pass during a food distribution event, Wednesday, April 1, 2020, in the Liberty City neighborhood of Miami. The event was supported by the city, Ark of the City and Farm Share. (AP Photo/Wilfredo Lee)
1 of 5
Terry Axson Jr., holds up two chickens as he waits for the next car to pass during a food distribution event, Wednesday, April 1, 2020, in the Liberty City neighborhood of Miami. The event was supported by the city, Ark of the City and Farm Share. (AP Photo/Wilfredo Lee)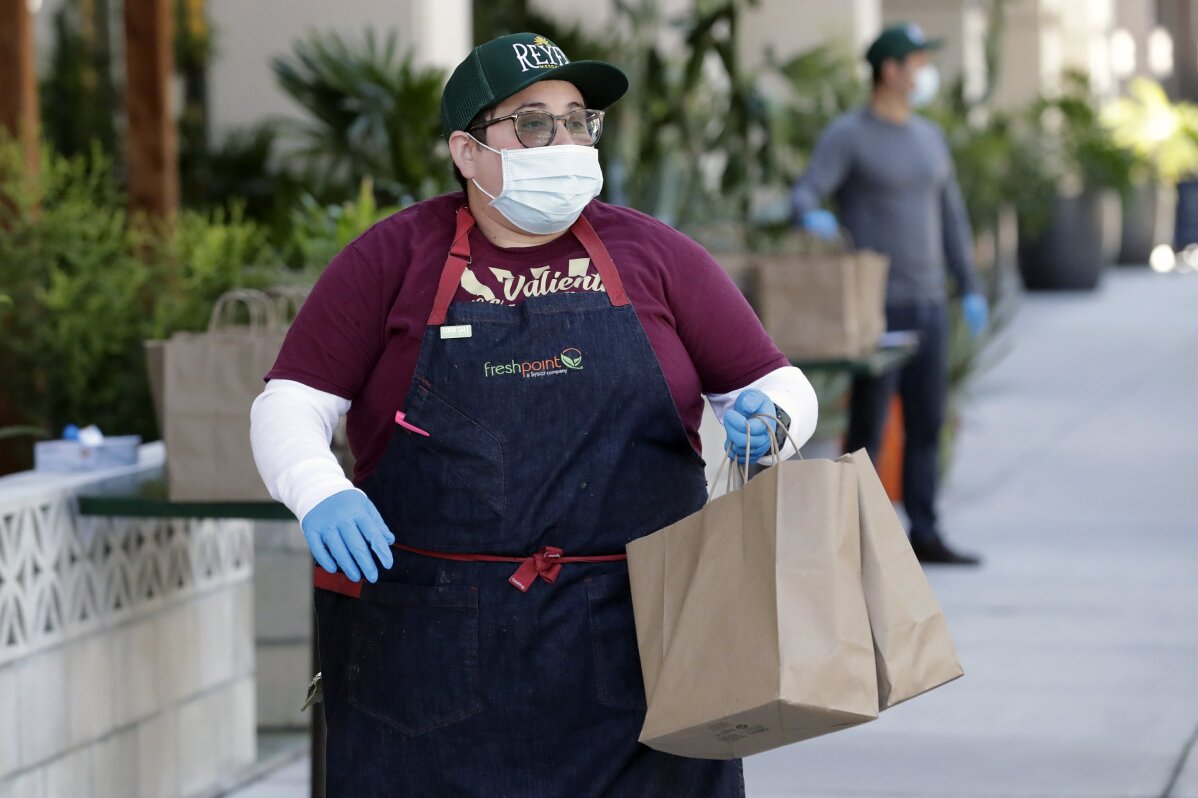 2 of 5

|
Wendy Lopez helps distribute free meals for curbside delivery for residents that signed up online at a restaurant Wednesday, April 1, 2020, in Orlando, Fla. Workers from several restaurants helped give out fresh meals, part of a #ChefsForAmerica event, providing meals to residents today and tomorrow. (AP Photo/John Raoux)
2 of 5
Wendy Lopez helps distribute free meals for curbside delivery for residents that signed up online at a restaurant Wednesday, April 1, 2020, in Orlando, Fla. Workers from several restaurants helped give out fresh meals, part of a #ChefsForAmerica event, providing meals to residents today and tomorrow. (AP Photo/John Raoux)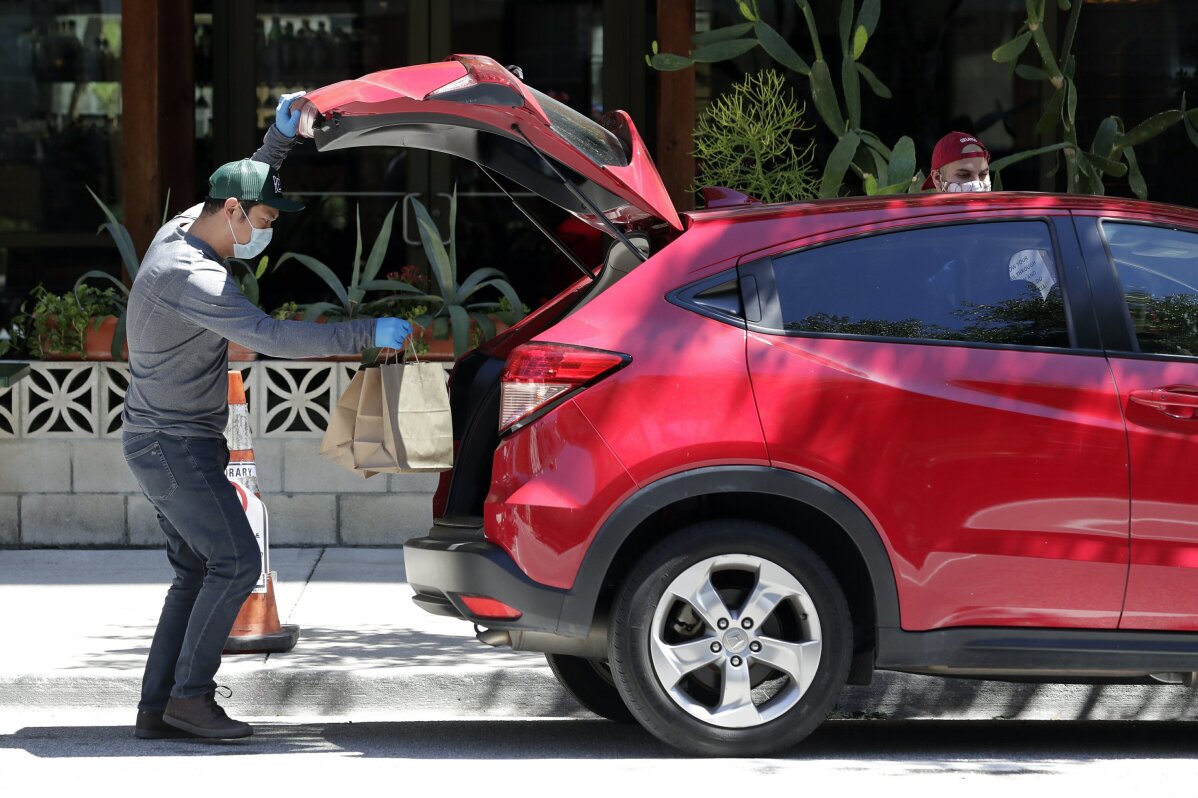 3 of 5

|
A volunteer worker places free meals in a car for residents that signed up online for curbside delivery at a restaurant Wednesday, April 1, 2020, in Orlando, Fla. Workers from several restaurants helped give out fresh meals, part of a #ChefsForAmerica event, providing around 400 meals to residents today and tomorrow. (AP Photo/John Raoux)
3 of 5
A volunteer worker places free meals in a car for residents that signed up online for curbside delivery at a restaurant Wednesday, April 1, 2020, in Orlando, Fla. Workers from several restaurants helped give out fresh meals, part of a #ChefsForAmerica event, providing around 400 meals to residents today and tomorrow. (AP Photo/John Raoux)
4 of 5

|
Rafael Delgado places free meals for residents that signed up online on a table for curbside delivery at a restaurant Wednesday, April 1, 2020, in Orlando, Fla. Workers from several restaurants helped give out fresh meals, part of a #ChefsForAmerica event, providing around 400 meals to residents today and tomorrow. (AP Photo/John Raoux)
4 of 5
Rafael Delgado places free meals for residents that signed up online on a table for curbside delivery at a restaurant Wednesday, April 1, 2020, in Orlando, Fla. Workers from several restaurants helped give out fresh meals, part of a #ChefsForAmerica event, providing around 400 meals to residents today and tomorrow. (AP Photo/John Raoux)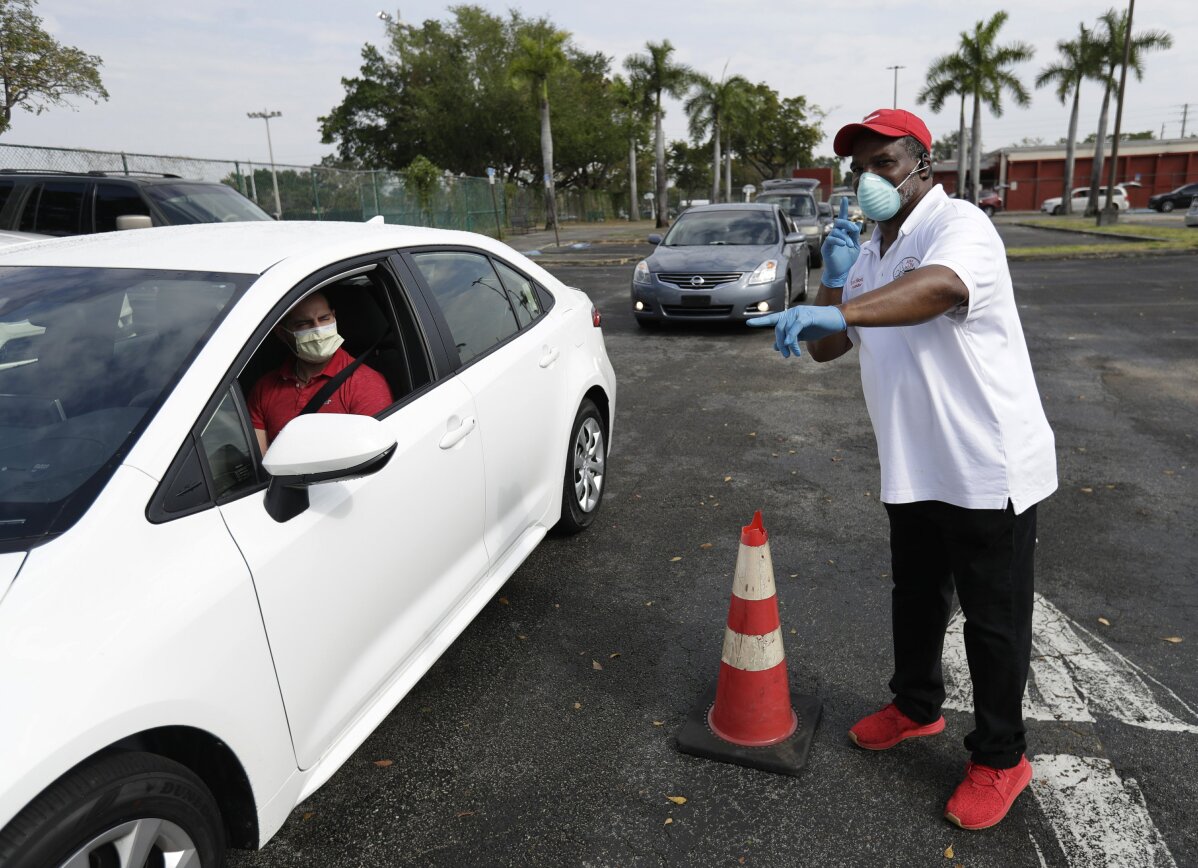 5 of 5

|
Terry Elliott Sr., right, founder of Ark of the City, directs traffic during a food distribution event, Wednesday, April 1, 2020, in the Liberty City neighborhood of Miami. The event was supported by the city, Ark of the City and Farm Share. (AP Photo/Wilfredo Lee)
5 of 5
Terry Elliott Sr., right, founder of Ark of the City, directs traffic during a food distribution event, Wednesday, April 1, 2020, in the Liberty City neighborhood of Miami. The event was supported by the city, Ark of the City and Farm Share. (AP Photo/Wilfredo Lee)
TALLAHASSEE, Fla. (AP) — Unemployment claims in Florida skyrocketed Thursday — as did frustrations among the newly jobless who have struggled for weeks to file for financial relief amid the coronavirus outbreak that has crippled the state's economy and sidelined much of its workforce.
To alleviate the financial suffering, Gov. Ron DeSantis banned evictions and foreclosures for 45 days and ordered other state departments to lend employees to the Department of Economic Opportunity to help it answer phone calls and process unemployment applications. This came after the department's director took the unusual step of publicly apologizing for his agency's failures and the anguish wrought on thousands of Floridians unable to get unemployment benefits.
"From my heart, I apologize for what you're going through," the agency's executive director, Ken Lawson, said during a teleconference hosted by two Democratic lawmakers. Lawson said his office received 1.5 million calls in the past week.
The number of people in Florida filing for unemployment benefits last week tripled from the previous week as the pandemic forced more counties and cities to issue stay-at-home orders. The Department of Labor reported Thursday that 227,000 Floridians initiated unemployment claims last week, up from 74,313 the previous week. Another 56,000 are expected this week as Gov. Ron DeSantis issued a statewide stay-at-home order that takes effect Friday.
In February, the last month before the virus started spreading in Florida, the state's unemployment rate was 2.8%, and 9 million Floridians were in the workforce — but then the state's theme parks and other tourist attractions closed earlier this month and a tsunami swept through the labor force in an attempt to curtail the viral outbreak. As of Thursday evening, the state had more than 9,000 had confirmed infections and 143 people had died.
Among many of Florida's unemployed, staying home is a given. Jay Mendez got laid off from his accounting firm three weeks ago and also lost his part-time restaurant gig. He wakes to an alarm every morning reminding him to call the unemployment office as he hopes this time to successfully file his claim — some days he's had 100 unsuccessful attempts.
"There's no getting through, and to this day I still haven't gotten through," he said. Now without work, he said, "I have nothing else to do."
He could cover this month's $1,450 rent for his one-bedroom apartment, but he said not much else.
"No one wants to use their savings for these things," said Mendez 32.
Prompted by one lawmaker, Lawson said he would allow paper applications to be filed through the mail.
"Maybe sometimes we can get stuck on fixing the technology. What if we also did it the old-fashioned way?" the lawmaker, state Sen. Annette Taddeo, a Miami Democrat, said.
She said working people are being punished through no fault of their own by a "government not functioning and doing its job."
For many without deep savings, a crisis is looming.
Lisa Wright, a 56-year-old newly unemployed software development consultant from Fort Lauderdale, deferred car and mortgage payments and charged her health care premium on her credit card.
"I'm trying to conserve my cash, because I don't know how long this is going to be," she said.
She has been unable to file her unemployment claim, she said, because she's been locked out of the state's website and can't get help.
"This should be so simple," she said. Phone lines have mostly been busy. When she does get through, the call eventually disconnects before she gets help.
"No one can get the benefits if we can't get through," she said.
Also Thursday, DeSantis defended his decision to exempt religious institutions from the statewide ban on large gatherings, saying he didn't think that the government could constitutionally regulate houses of worship under the First Amendment's freedom of religion clause.
However, he said most churches, synagogues and others are using online video conferencing or limiting the number of people they allow inside and spreading out. A Tampa minister who had hundreds at his weekend services was arrested earlier this week for violating Hillsborough County's ban on large gatherings, an ordinance overturned by DeSantis' order.
"We got with the churches and synagogues early and told them that in times like this what you guys are doing is even more important, but we ask that you do it in a way that is conducive to this overall mission," DeSantis said.
___
Associated Press writers Mike Schneider in Orlando, Florida, and Terry Spencer in Fort Lauderdale contributed to this report.
___
Follow AP coverage of the virus outbreak at https://apnews.com/VirusOutbreak and https://apnews.com/UnderstandingtheOutbreak.