The Latest: Mexico to deport migrants who rushed US border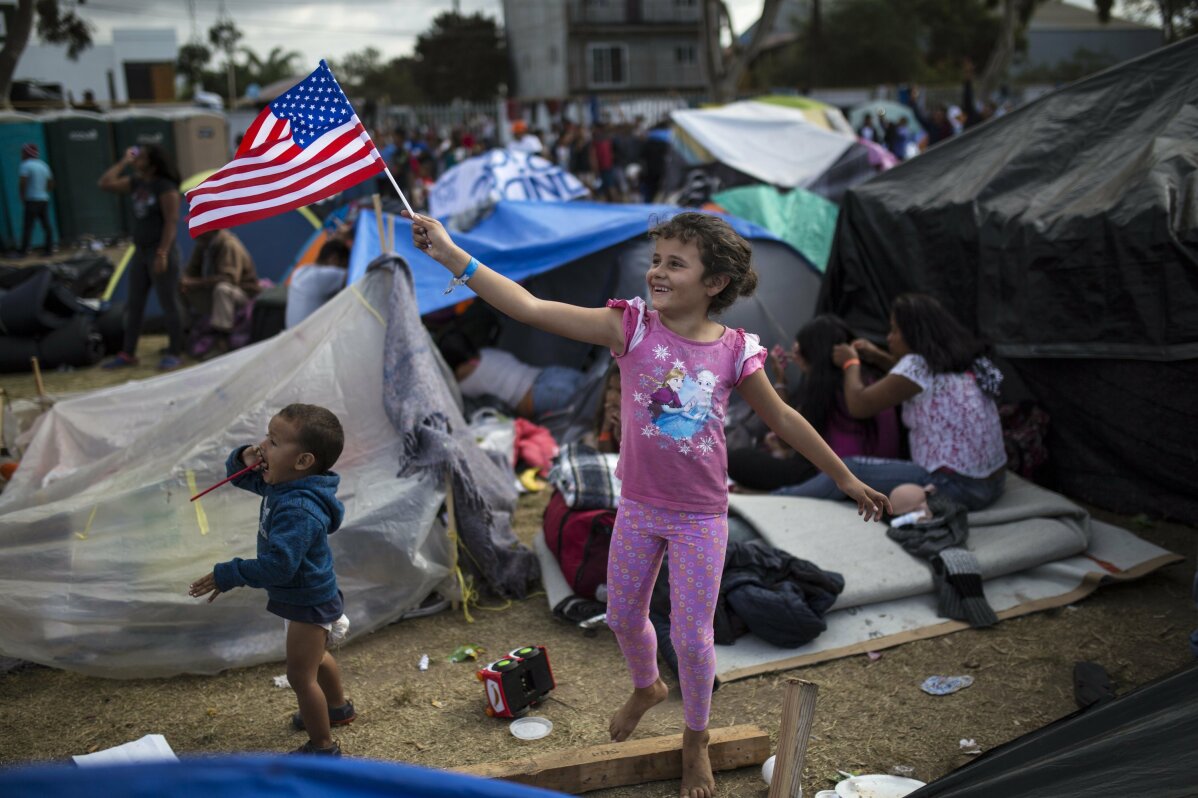 1 of 4

|
Seven-year-old Honduran migrant Genesis Belen Mejia Flores waves an American flag at U.S. border control helicopters flying overhead near the Benito Juarez Sports Center serving as a temporary shelter for Central American migrants, in Tijuana, Mexico, Saturday, Nov. 24, 2018. The mayor of Tijuana has declared a humanitarian crisis in his border city and says that he has asked the United Nations for aid to deal with the approximately 5,000 Central American migrants who have arrived in the city. (AP Photo/Rodrigo Abd)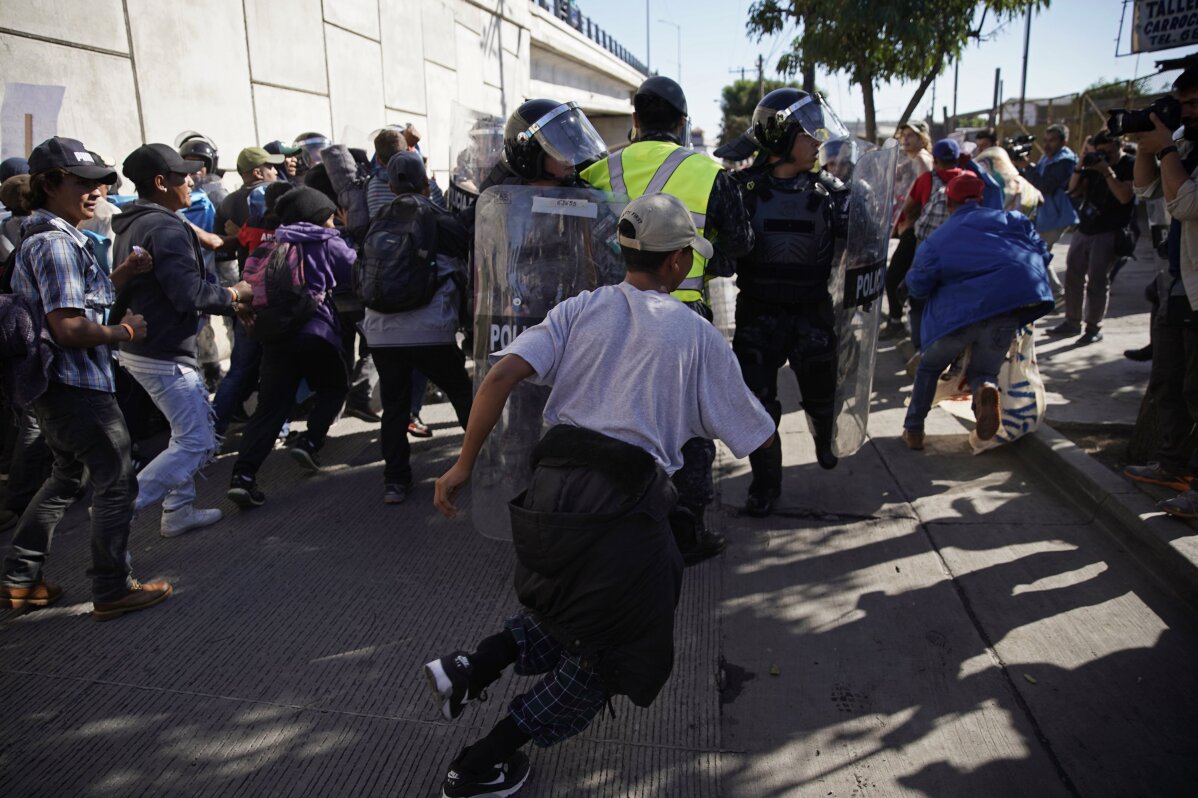 2 of 4

|
Migrants break past a line of police as they run toward the Chaparral border crossing in Tijuana, Mexico, Sunday, Nov. 25, 2018, near the San Ysidro entry point into the U.S. More than 5,000 migrants are camped in and around a sports complex in Tijuana after making their way through Mexico in recent weeks via caravan. (AP Photo/Ramon Espinosa)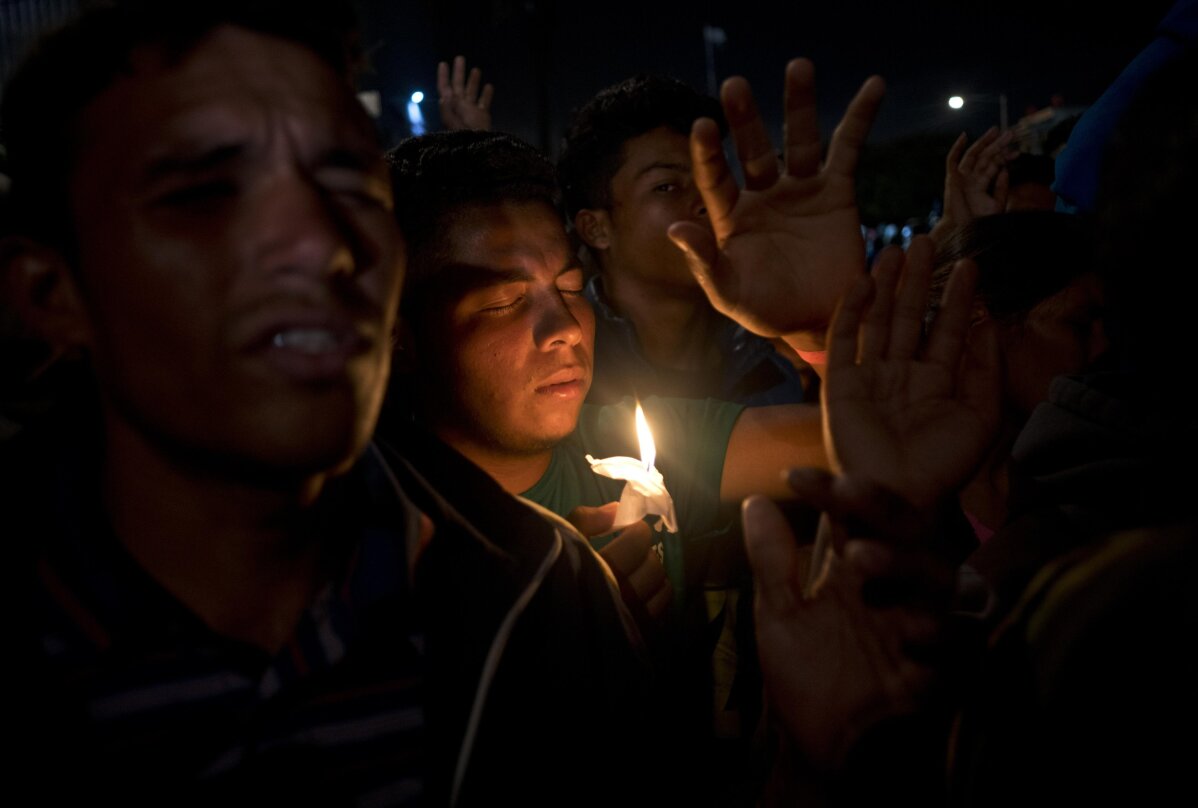 3 of 4

|
Migrants pray during a vigil outside the Benito Juarez Sports Center serving as a temporary shelter for Central American migrants in Tijuana, Mexico, Saturday, Nov. 24, 2018. The mayor of Tijuana has declared a humanitarian crisis in his border city and says that he has asked the United Nations for aid to deal with the approximately 5,000 Central American migrants who have arrived in the city. (AP Photo/Ramon Espinosa)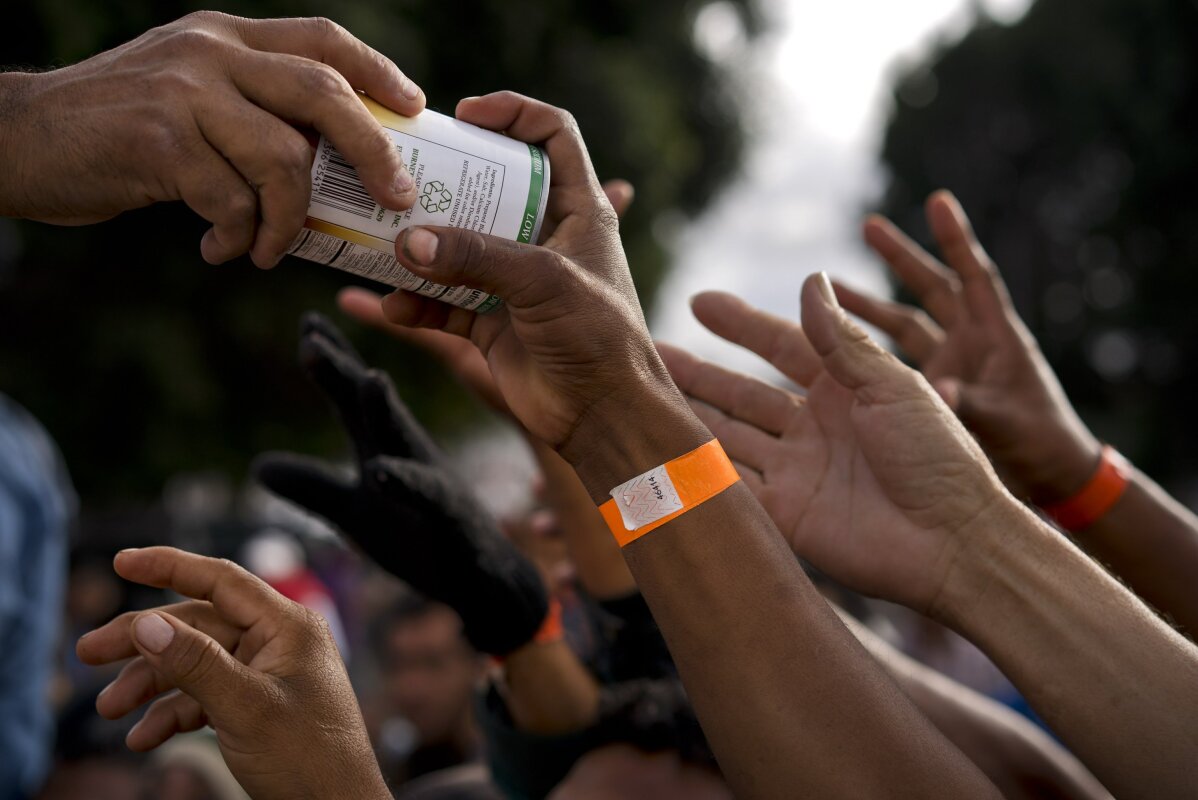 4 of 4

|
A migrant grabs a donated can of food at the Benito Juarez Sports Center serving as a temporary shelter for Central American migrants in Tijuana, Mexico, Saturday, Nov. 24, 2018. The mayor of Tijuana has declared a humanitarian crisis in his border city and says that he has asked the United Nations for aid to deal with the approximately 5,000 Central American migrants who have arrived in the city. (AP Photo/Ramon Espinosa)
The Latest: Mexico to deport migrants who rushed US border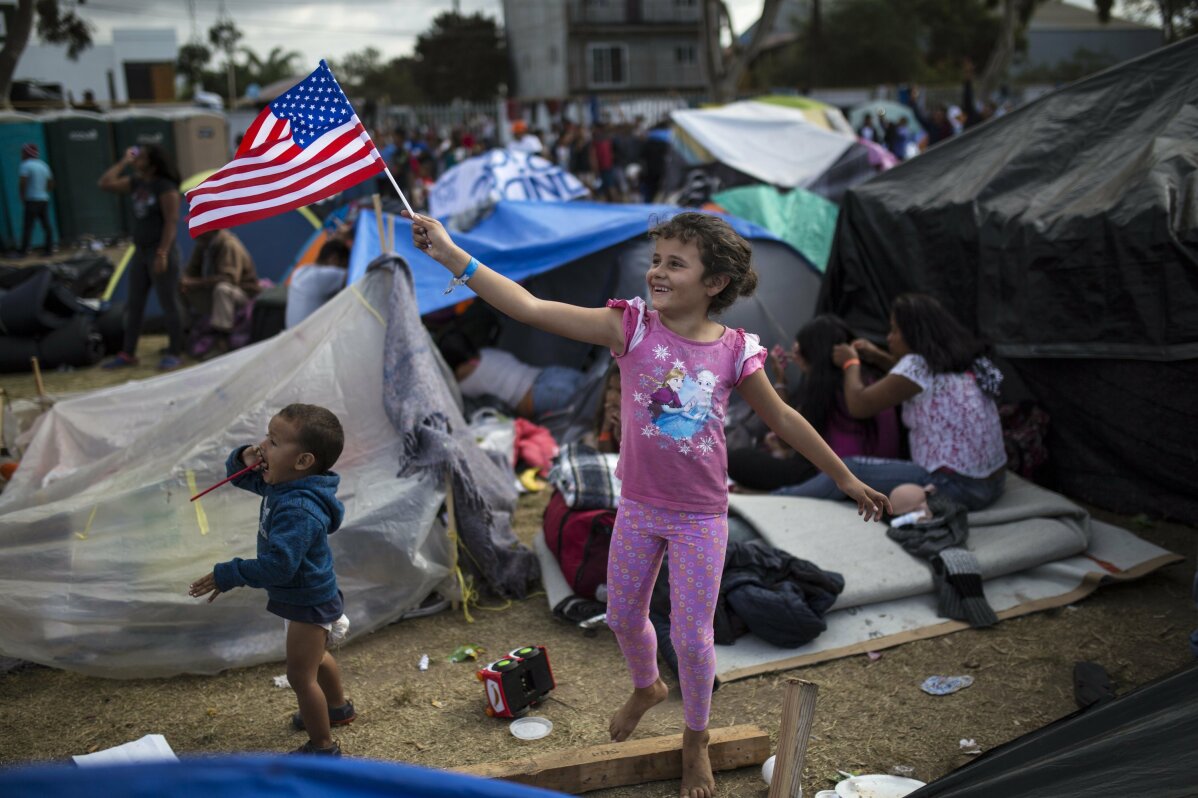 1 of 4

|
Seven-year-old Honduran migrant Genesis Belen Mejia Flores waves an American flag at U.S. border control helicopters flying overhead near the Benito Juarez Sports Center serving as a temporary shelter for Central American migrants, in Tijuana, Mexico, Saturday, Nov. 24, 2018. The mayor of Tijuana has declared a humanitarian crisis in his border city and says that he has asked the United Nations for aid to deal with the approximately 5,000 Central American migrants who have arrived in the city. (AP Photo/Rodrigo Abd)
1 of 4
Seven-year-old Honduran migrant Genesis Belen Mejia Flores waves an American flag at U.S. border control helicopters flying overhead near the Benito Juarez Sports Center serving as a temporary shelter for Central American migrants, in Tijuana, Mexico, Saturday, Nov. 24, 2018. The mayor of Tijuana has declared a humanitarian crisis in his border city and says that he has asked the United Nations for aid to deal with the approximately 5,000 Central American migrants who have arrived in the city. (AP Photo/Rodrigo Abd)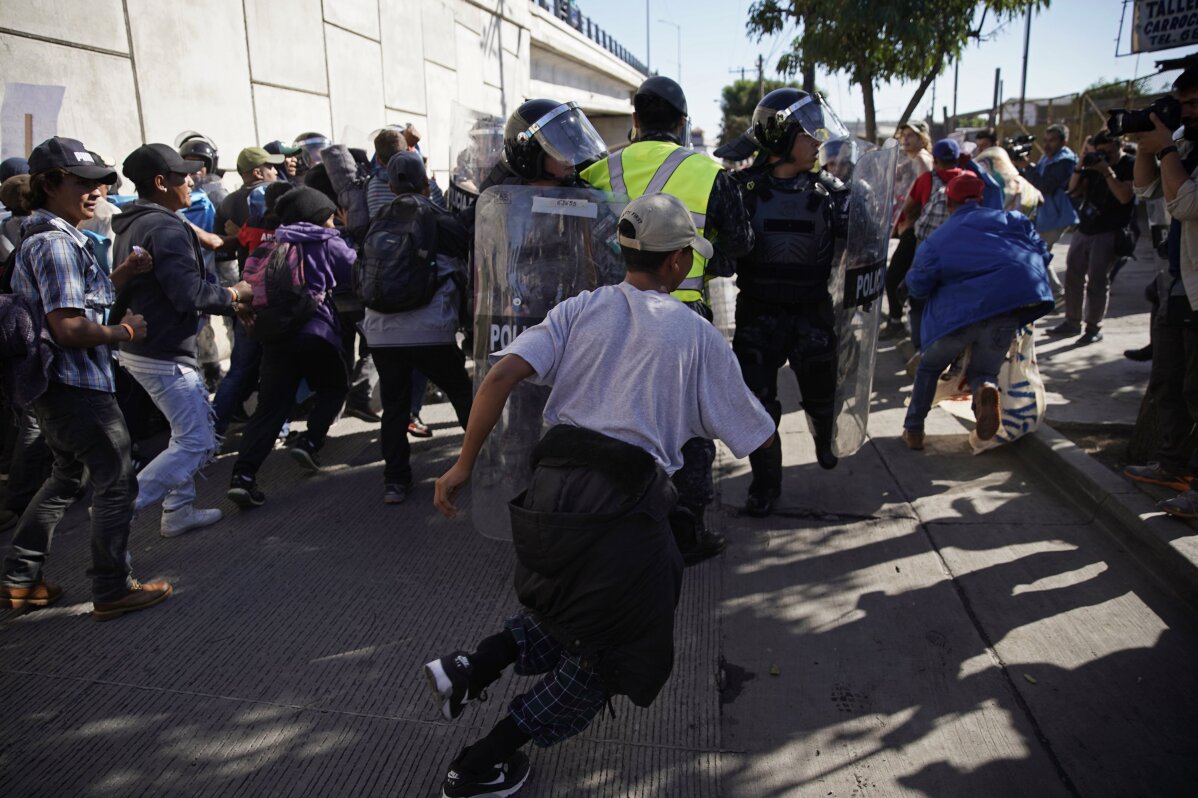 2 of 4

|
Migrants break past a line of police as they run toward the Chaparral border crossing in Tijuana, Mexico, Sunday, Nov. 25, 2018, near the San Ysidro entry point into the U.S. More than 5,000 migrants are camped in and around a sports complex in Tijuana after making their way through Mexico in recent weeks via caravan. (AP Photo/Ramon Espinosa)
2 of 4
Migrants break past a line of police as they run toward the Chaparral border crossing in Tijuana, Mexico, Sunday, Nov. 25, 2018, near the San Ysidro entry point into the U.S. More than 5,000 migrants are camped in and around a sports complex in Tijuana after making their way through Mexico in recent weeks via caravan. (AP Photo/Ramon Espinosa)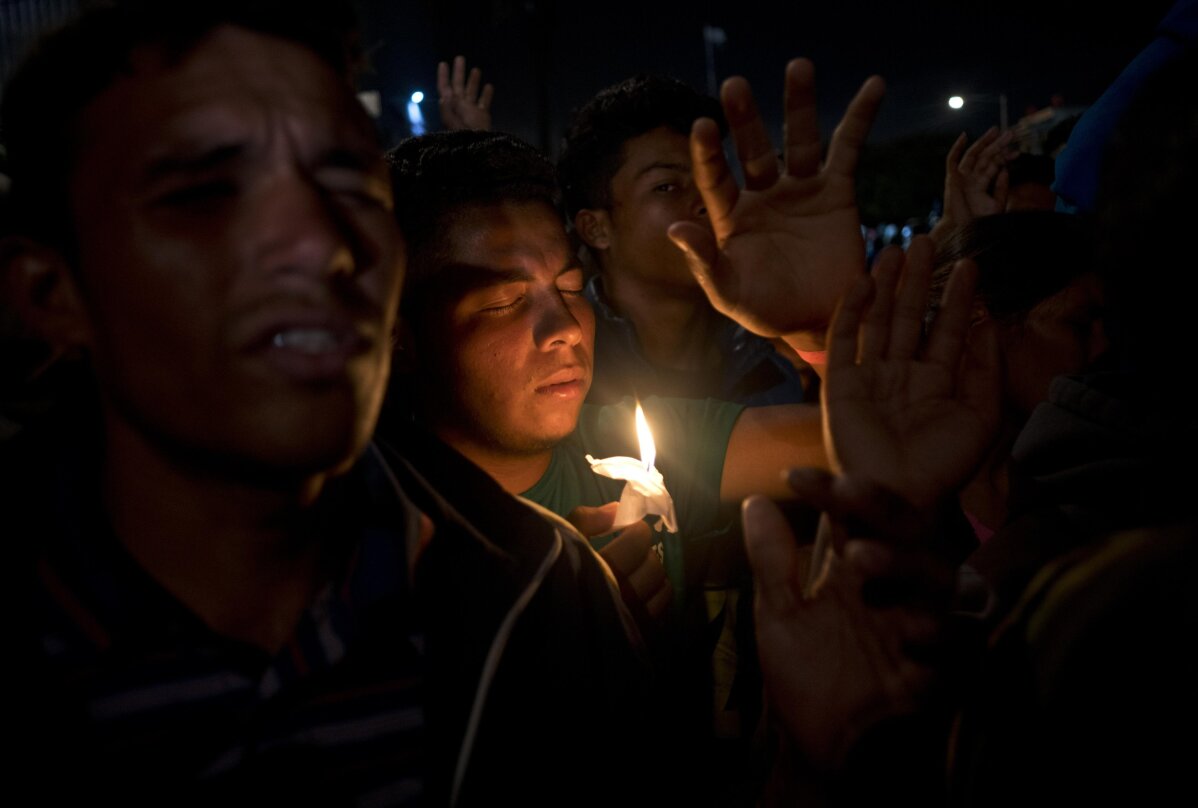 3 of 4

|
Migrants pray during a vigil outside the Benito Juarez Sports Center serving as a temporary shelter for Central American migrants in Tijuana, Mexico, Saturday, Nov. 24, 2018. The mayor of Tijuana has declared a humanitarian crisis in his border city and says that he has asked the United Nations for aid to deal with the approximately 5,000 Central American migrants who have arrived in the city. (AP Photo/Ramon Espinosa)
3 of 4
Migrants pray during a vigil outside the Benito Juarez Sports Center serving as a temporary shelter for Central American migrants in Tijuana, Mexico, Saturday, Nov. 24, 2018. The mayor of Tijuana has declared a humanitarian crisis in his border city and says that he has asked the United Nations for aid to deal with the approximately 5,000 Central American migrants who have arrived in the city. (AP Photo/Ramon Espinosa)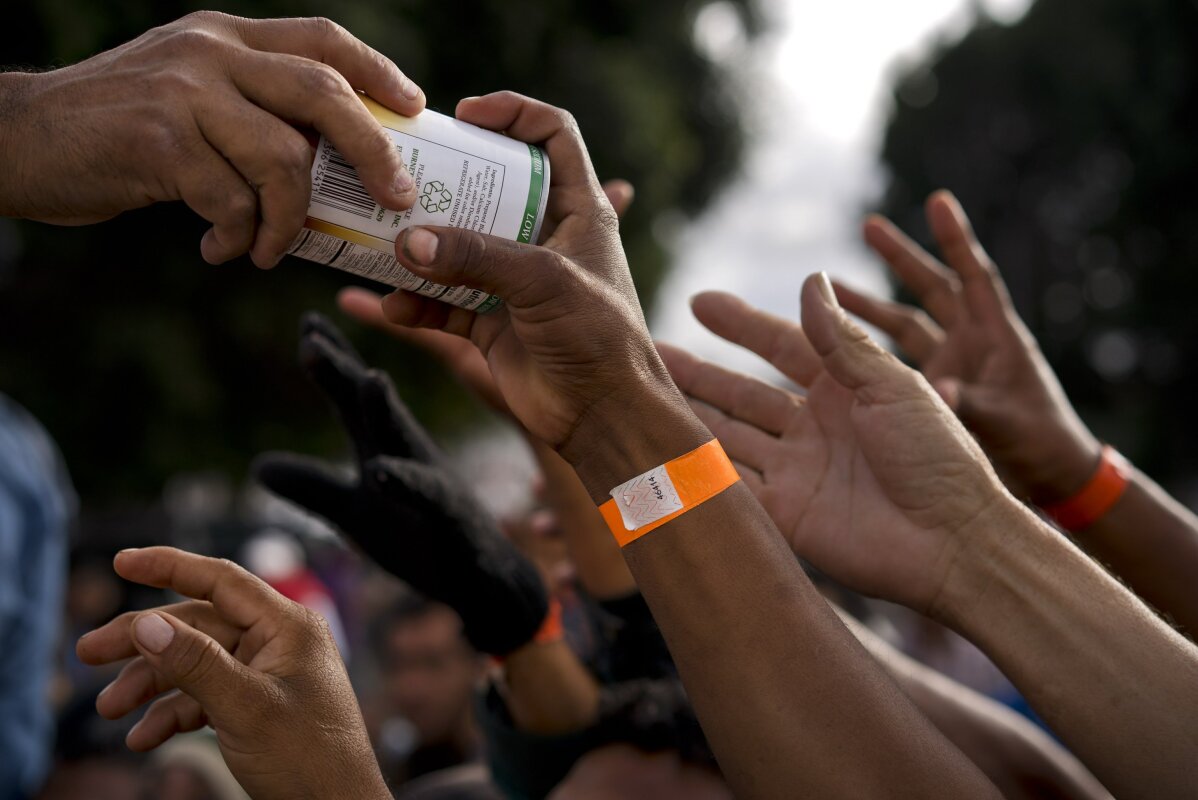 4 of 4

|
A migrant grabs a donated can of food at the Benito Juarez Sports Center serving as a temporary shelter for Central American migrants in Tijuana, Mexico, Saturday, Nov. 24, 2018. The mayor of Tijuana has declared a humanitarian crisis in his border city and says that he has asked the United Nations for aid to deal with the approximately 5,000 Central American migrants who have arrived in the city. (AP Photo/Ramon Espinosa)
4 of 4
A migrant grabs a donated can of food at the Benito Juarez Sports Center serving as a temporary shelter for Central American migrants in Tijuana, Mexico, Saturday, Nov. 24, 2018. The mayor of Tijuana has declared a humanitarian crisis in his border city and says that he has asked the United Nations for aid to deal with the approximately 5,000 Central American migrants who have arrived in the city. (AP Photo/Ramon Espinosa)
TIJUANA, Mexico (AP) — The Latest on the migrant caravan pushing toward the U.S. border (all times local):
4:30 p.m.
The Mexican Interior Ministry has said it would immediately deport Central American migrants who tried to "violently" breach the border with the U.S. just south of California and that it would reinforce the border.
Meanwhile, Homeland Security Secretary Kirstjen Nielsen said Sunday that U.S. authorities will continue to have a "robust" presence along the Southwest border and that they will prosecute anyone who damages federal property or violates U.S. sovereignty.
About 500 migrants who arrived in Tijuana by caravan marched toward the border to plead for the U.S. to speed processing of asylum requests.
The march, however, was dispersed by tear gas after some in the group tried to force their way into the U.S. The Mexican government described Sunday's events as "acts of provocation" that were "far from helpful" for the migrants' objectives.
___
12:30 p.m.
Migrants approaching the U.S. border from Mexico have been enveloped with tear gas after a few tried to breach the fence separating the two countries.
U.S. agents shot the gas, according to an Associated Press reporter on the scene. Children were screaming and coughing in the mayhem.
On the U.S. side of the fence, shoppers streamed in and out of an outlet mall.
___
12:15 p.m.
Central American migrants, mostly men, appear to be trying to breach the border crossing between Tijuana and California.
U.S. Border Patrol helicopters flew low overhead, while U.S. agents held vigil on foot beyond the wire fence. The Border Patrol office in San Diego said via Twitter that pedestrian crossings have been suspended at the San Ysidro port of entry at both the East and West facilities.
U.S. President Donald Trump took to Twitter again Sunday to express his displeasure with the caravans in Mexico.
"Would be very SMART if Mexico would stop the Caravans long before they get to our Southern Border, or if originating countries would not let them form (it is a way they get certain people out of their country and dump in U.S. No longer)," he wrote.