Photo exhibit for Billie Jean King to open this fall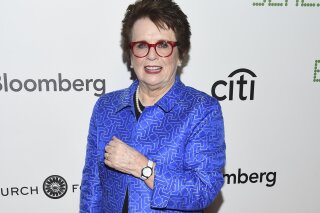 NEW YORK (AP) — A photo exhibit dedicated to Billie Jean King and her 75th birthday will open in New York this fall.
The New-York Historical Society announced Tuesday that "Billie Jean King: The Road to 75" will run from October 19 through January 27, 2019. The exhibit will feature photographs from her storied life and career as player and activist, whether her "Battle of the Sexes" match against Bobby Riggs in 1973, or her efforts to gain equal prize money for female tennis players. King donated her archive to the historical society in 2016.
King turns 75 on November 22. She has won 39 Grand Slam titles and received a Presidential Medal of Freedom in 2009.