Oklahoma leaders reach education deal on voucher-style tax credits, teacher pay hikes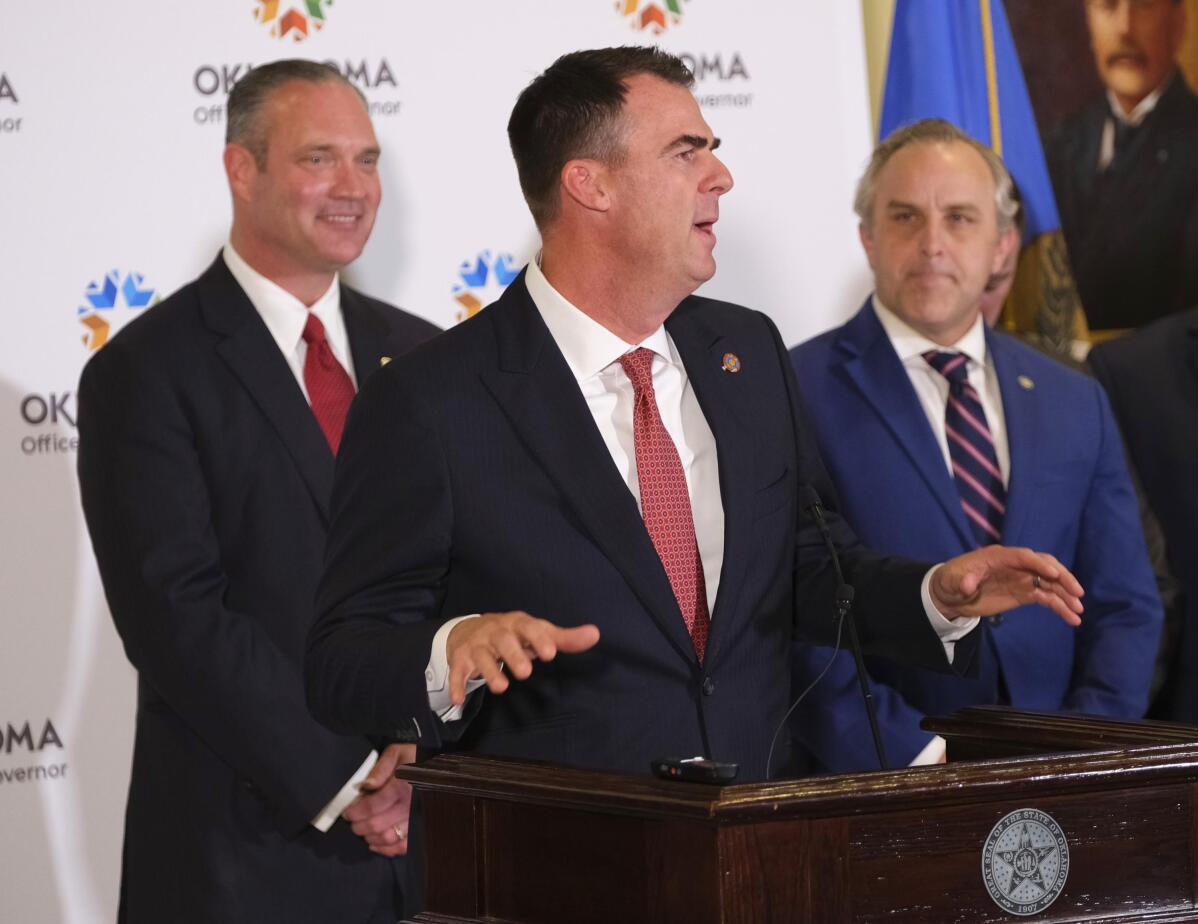 1 of 5

|
Gov. Kevin Stitt, President Pro Tem Greg Treat and Speaker Charles McCall, along with other members from the House and Senate, hold a joint news conference to announce their historic education reform agreement in the Blue Room of the Oklahoma State Capitol, Monday, May 15, 2023. (Doug Hoke/The Oklahoman via AP)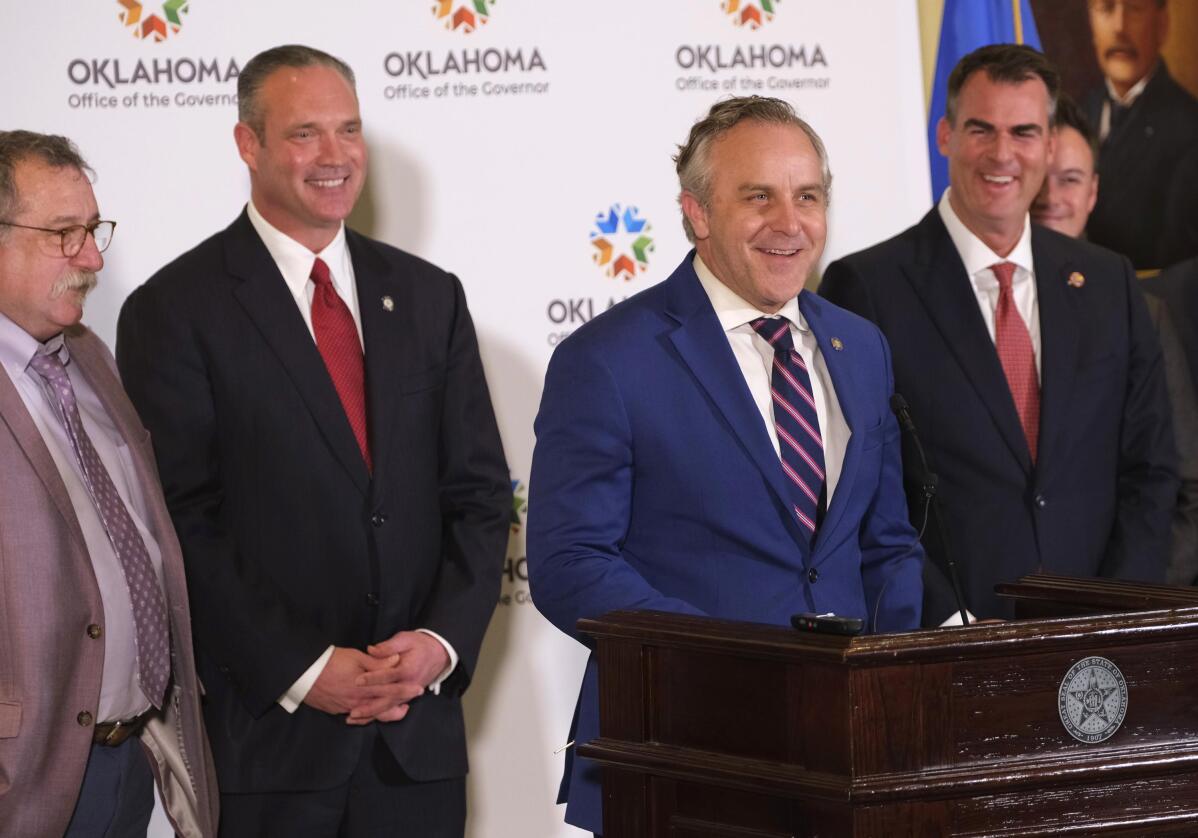 2 of 5

|
President Pro Tem Greg Treat, at podium, Governor Kevin Stitt, right, President Pro Tem Greg Treat, and Speaker Charles McCall, second left, along with other members from the House and Senate, hold a joint press conference to announce their historic education reform agreement in the Blue Room of the Oklahoma State Capitol Monday, May 15, 2023, in Oklahoma City. Republican leaders in Oklahoma have announced a deal that would raise teacher pay and pave the way for a voucher-style tax credit program for parents to send their children to private schools. (Doug Hoke/The Oklahoman via AP)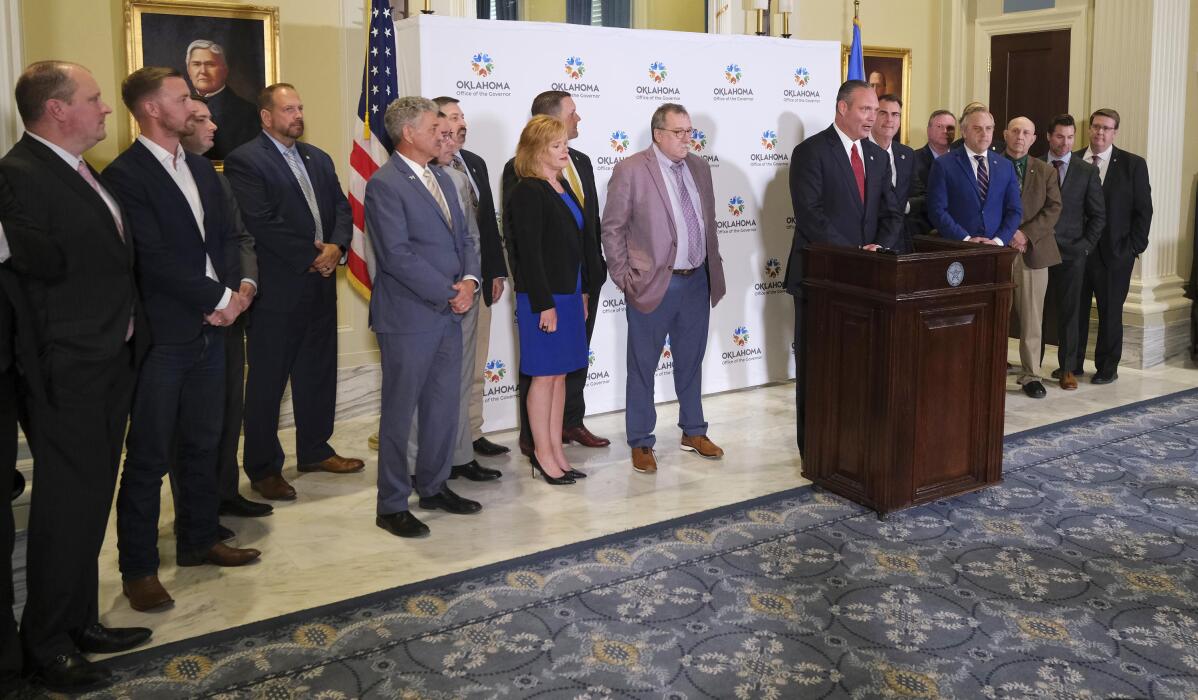 3 of 5

|
Governor Kevin Stitt, to right of podium, President Pro Tem Greg Treat, fourth right, and Speaker Charles McCall, at podium, along with other members from the House and Senate, hold a joint press conference to announce their historic education reform agreement in the Blue Room of the Oklahoma State Capitol Monday, May 15, 2023, in Oklahoma City. Republican leaders in Oklahoma have announced a deal that would raise teacher pay and pave the way for a voucher-style tax credit program for parents to send their children to private schools. (Doug Hoke/The Oklahoman via AP)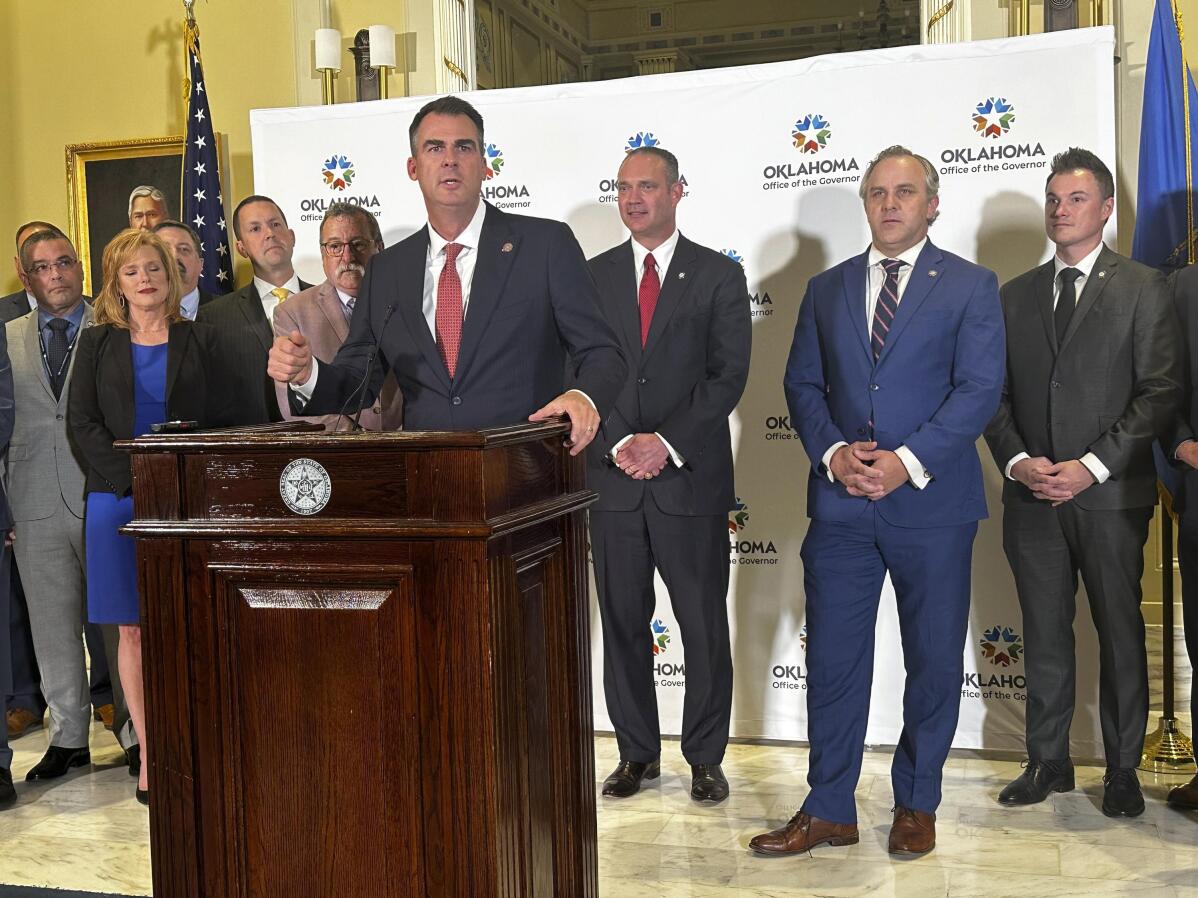 4 of 5

|
Oklahoma Gov. Kevin Stitt, flanked by House Speaker Charles McCall, third right, and Senate President Pro Tempore Greg Treat, second right, announce details of an education funding plan that includes pay hikes for teachers on Monday, May 15, 2023, in Oklahoma City. (AP Photo/Sean Murphy)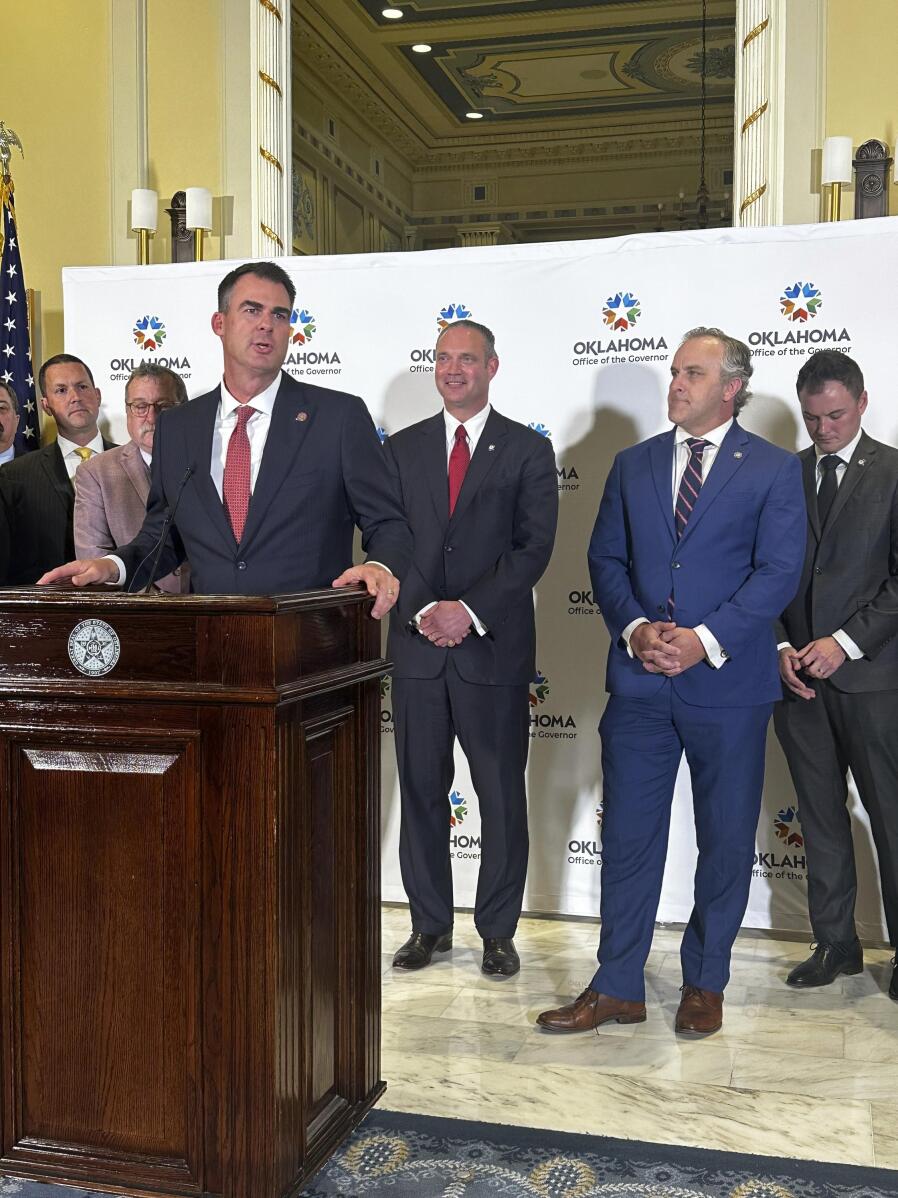 5 of 5

|
Oklahoma Gov. Kevin Stitt, flanked by House Speaker Charles McCall, third right, and Senate President Pro Tempore Greg Treat, second right, announce details of an education funding plan that includes pay hikes for teachers on Monday, May 15, 2023, in Oklahoma City. (AP Photo/Sean Murphy)
Oklahoma leaders reach education deal on voucher-style tax credits, teacher pay hikes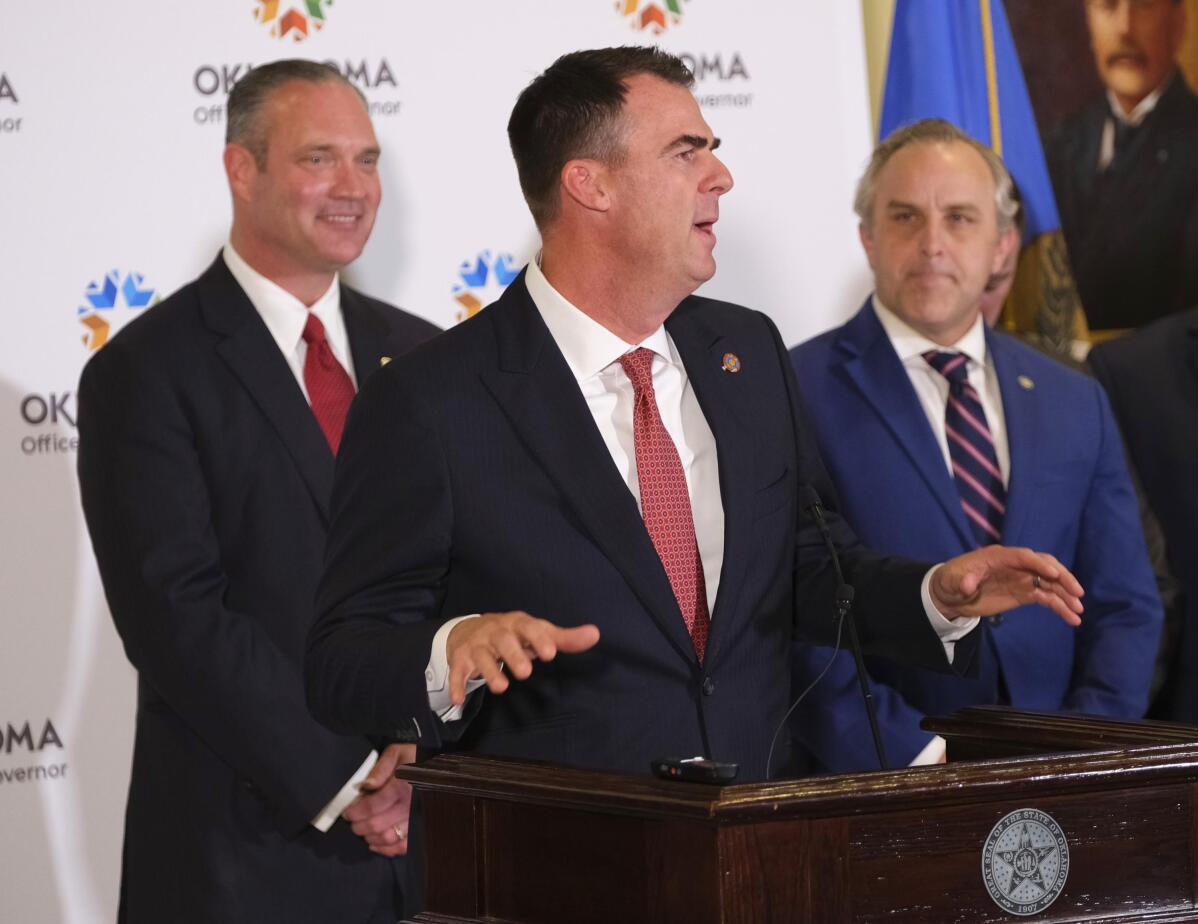 1 of 5

|
Gov. Kevin Stitt, President Pro Tem Greg Treat and Speaker Charles McCall, along with other members from the House and Senate, hold a joint news conference to announce their historic education reform agreement in the Blue Room of the Oklahoma State Capitol, Monday, May 15, 2023. (Doug Hoke/The Oklahoman via AP)
1 of 5
Gov. Kevin Stitt, President Pro Tem Greg Treat and Speaker Charles McCall, along with other members from the House and Senate, hold a joint news conference to announce their historic education reform agreement in the Blue Room of the Oklahoma State Capitol, Monday, May 15, 2023. (Doug Hoke/The Oklahoman via AP)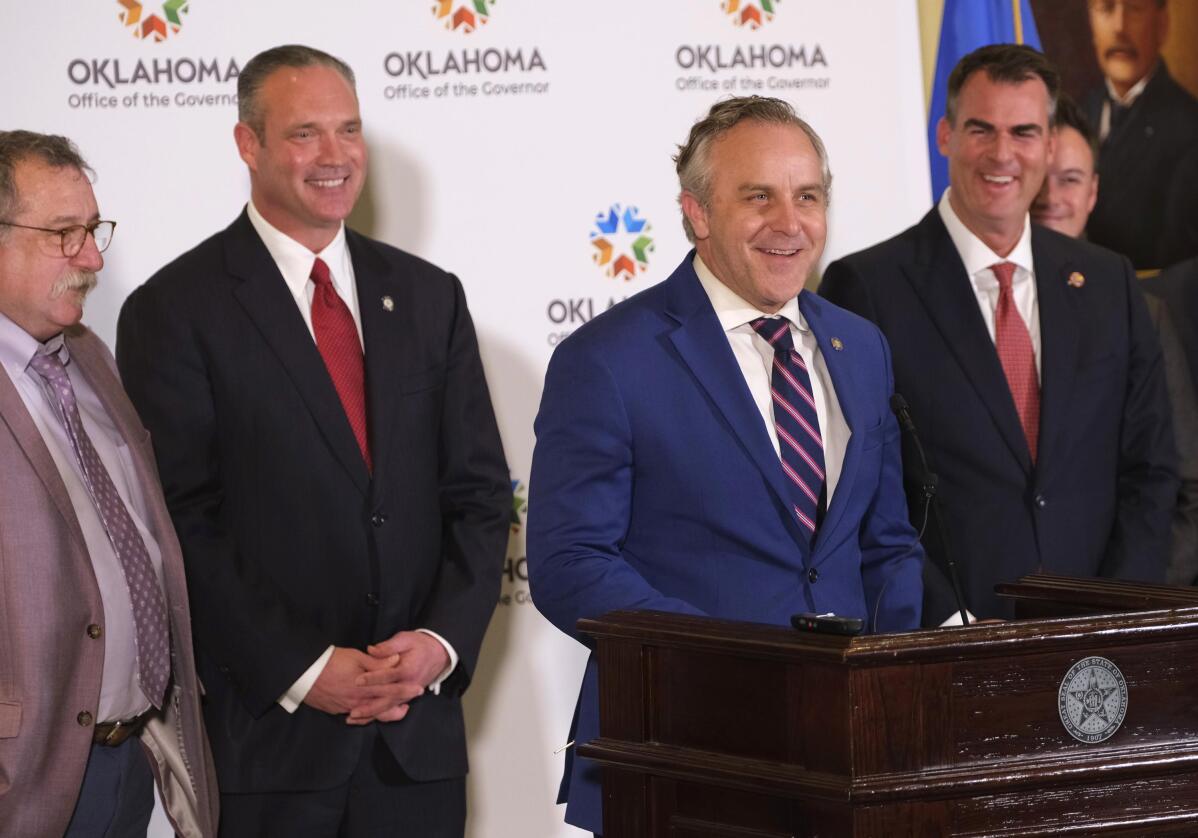 2 of 5

|
President Pro Tem Greg Treat, at podium, Governor Kevin Stitt, right, President Pro Tem Greg Treat, and Speaker Charles McCall, second left, along with other members from the House and Senate, hold a joint press conference to announce their historic education reform agreement in the Blue Room of the Oklahoma State Capitol Monday, May 15, 2023, in Oklahoma City. Republican leaders in Oklahoma have announced a deal that would raise teacher pay and pave the way for a voucher-style tax credit program for parents to send their children to private schools. (Doug Hoke/The Oklahoman via AP)
2 of 5
President Pro Tem Greg Treat, at podium, Governor Kevin Stitt, right, President Pro Tem Greg Treat, and Speaker Charles McCall, second left, along with other members from the House and Senate, hold a joint press conference to announce their historic education reform agreement in the Blue Room of the Oklahoma State Capitol Monday, May 15, 2023, in Oklahoma City. Republican leaders in Oklahoma have announced a deal that would raise teacher pay and pave the way for a voucher-style tax credit program for parents to send their children to private schools. (Doug Hoke/The Oklahoman via AP)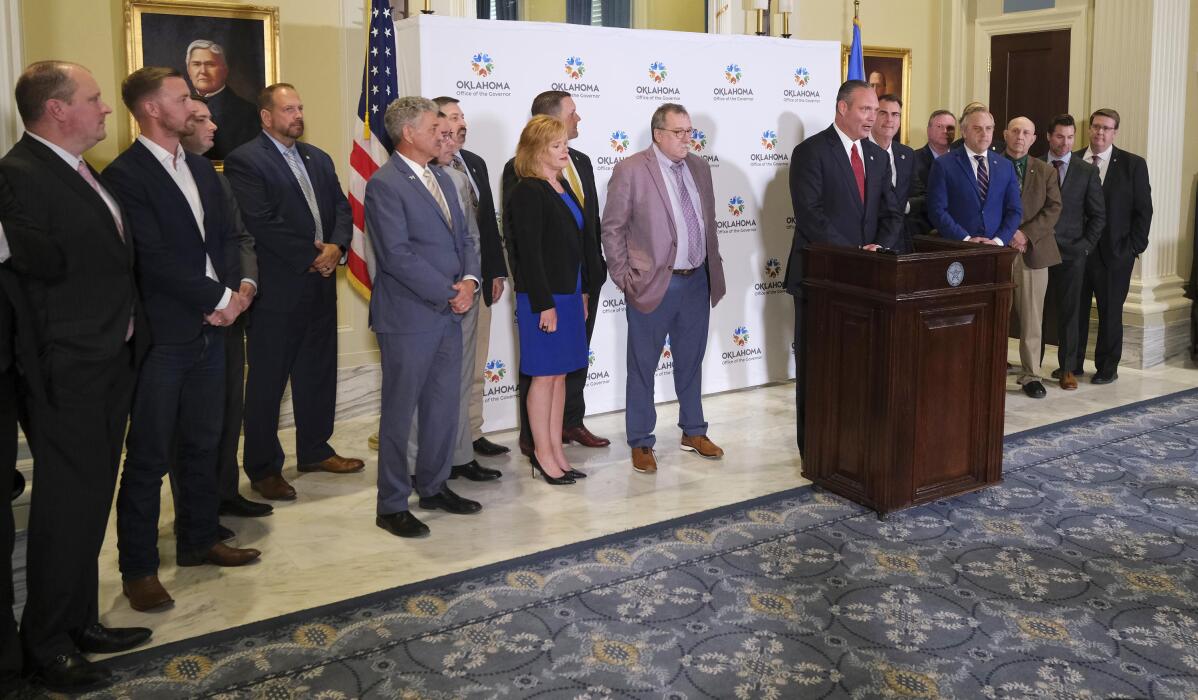 3 of 5

|
Governor Kevin Stitt, to right of podium, President Pro Tem Greg Treat, fourth right, and Speaker Charles McCall, at podium, along with other members from the House and Senate, hold a joint press conference to announce their historic education reform agreement in the Blue Room of the Oklahoma State Capitol Monday, May 15, 2023, in Oklahoma City. Republican leaders in Oklahoma have announced a deal that would raise teacher pay and pave the way for a voucher-style tax credit program for parents to send their children to private schools. (Doug Hoke/The Oklahoman via AP)
3 of 5
Governor Kevin Stitt, to right of podium, President Pro Tem Greg Treat, fourth right, and Speaker Charles McCall, at podium, along with other members from the House and Senate, hold a joint press conference to announce their historic education reform agreement in the Blue Room of the Oklahoma State Capitol Monday, May 15, 2023, in Oklahoma City. Republican leaders in Oklahoma have announced a deal that would raise teacher pay and pave the way for a voucher-style tax credit program for parents to send their children to private schools. (Doug Hoke/The Oklahoman via AP)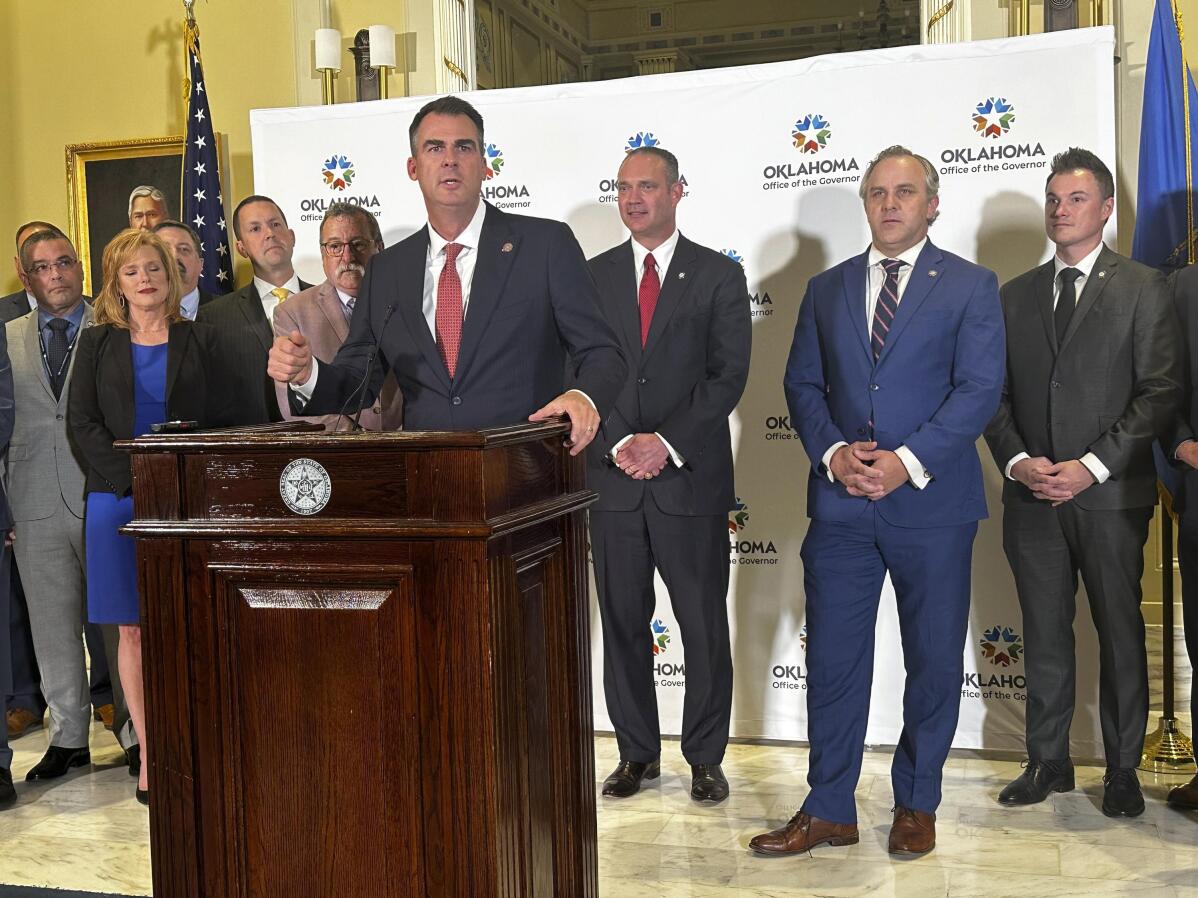 4 of 5

|
Oklahoma Gov. Kevin Stitt, flanked by House Speaker Charles McCall, third right, and Senate President Pro Tempore Greg Treat, second right, announce details of an education funding plan that includes pay hikes for teachers on Monday, May 15, 2023, in Oklahoma City. (AP Photo/Sean Murphy)
4 of 5
Oklahoma Gov. Kevin Stitt, flanked by House Speaker Charles McCall, third right, and Senate President Pro Tempore Greg Treat, second right, announce details of an education funding plan that includes pay hikes for teachers on Monday, May 15, 2023, in Oklahoma City. (AP Photo/Sean Murphy)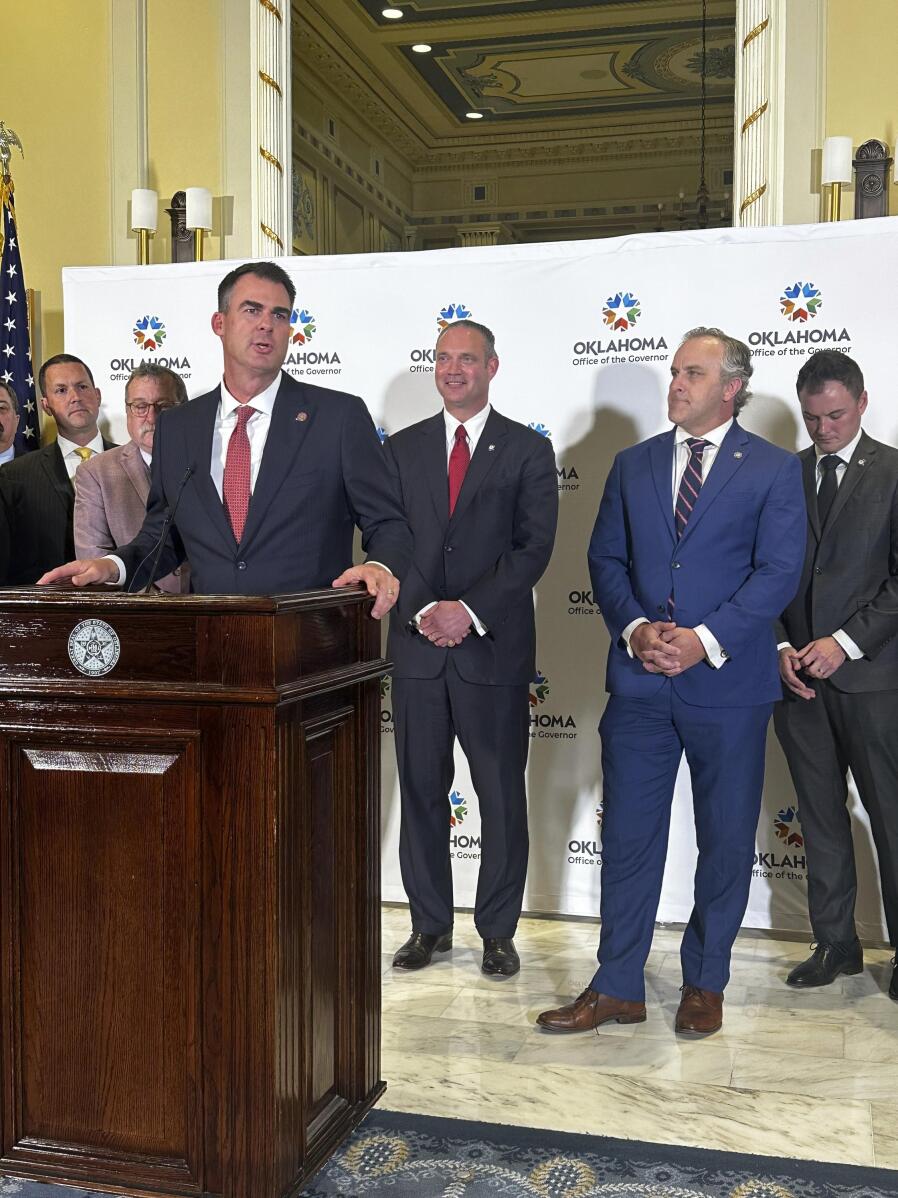 5 of 5

|
Oklahoma Gov. Kevin Stitt, flanked by House Speaker Charles McCall, third right, and Senate President Pro Tempore Greg Treat, second right, announce details of an education funding plan that includes pay hikes for teachers on Monday, May 15, 2023, in Oklahoma City. (AP Photo/Sean Murphy)
5 of 5
Oklahoma Gov. Kevin Stitt, flanked by House Speaker Charles McCall, third right, and Senate President Pro Tempore Greg Treat, second right, announce details of an education funding plan that includes pay hikes for teachers on Monday, May 15, 2023, in Oklahoma City. (AP Photo/Sean Murphy)
Oklahoma City (AP) — Public school teachers across Oklahoma will receive pay raises of up to $6,000 annually under a deal announced by Republican leaders on Monday that also clears the way for a voucher-style tax credit program for families who homeschool their children or send them to private schools.
The package announced by Republican Gov. Kevin Stitt and GOP leaders in the House and Senate includes $625 million in new recurring funding for education and includes six weeks of paid maternity leave for certified school personnel. The details of the plan are expected to easily pass the House and Senate as soon as this week and be signed into law by the governor.
The agreement paves the way for "school choice" plan that already passed the House and Senate that includes a $1,000 per-student tax credit for families who home school their children and a tiered tax credit between $5,000 per student for families earning more than $250,000 per year up to $7,500 per student for families earning $75,000 or less. The tax credits for private school expenses are capped at $150 million in 2024, $200 million in 2025 and $250 million in 2026, with preference given to families with a household income of less than $150,000.
"We believe in putting parents in charge of their kids' education," said Stitt, who has been an outspoken supporter of using taxpayer dollars to help parents pay for private schools, including religious schools.
Seizing off lingering anger from pandemic-era closures and curriculum battles, Republicans have made this a landmark year across the U.S. for school choice battles. But supporters of voucher-style programs have still found victory difficult, even in states with heavy GOP majorities.
In Texas, where rural Republicans for years have held an alliance with Democrats to block voucher programs, Republican Gov. Greg Abbott on Sunday warned lawmakers he would call a special session if a robust voucher program does not makes it to his desk. His threat comes as House Republicans have spent weeks gradually scaling back how many of Texas' 5 million public school students would be eligible for the program.
And in neighboring Kansas, a Democratic governor and a split among GOP legislators doomed a similar proposal in that state.
The tax-credit plan was quickly panned by Democrats in the House and Senate, who don't have the votes to stop it.
"This voucher scheme is a tax shelter for individuals who can already afford private school tuition," said Sen. Carri Hicks, a Democrat from Oklahoma City and a former public school teacher.
The teacher pay raise in Oklahoma, which includes raises for certified personnel like school counselors, speech pathologists, librarians and nurses, would go into effect in the fall. Those raises are tiered with a $3,000 boost for teachers with up to four years of experience, $4,000 for those with five to nine years of experience, $5,000 for 10 to 15 years of experience and $6,000 for those with 15 or more years of experience.
The pay boost was welcome news to Dale Spradlin, the superintendent of Buffalo Public Schools near the Oklahoma Panhandle who says he's been struggling for years with a shortage of teachers.
"If you're next to Arkansas, Texas or Kansas, and they're all paying more than you, you're still going to struggle," Spradlin said. "But sure, I'm not going to turn down $4,000 to $6,000 to give my staff, certainly not. They deserve it."
Additional details of the plan include $125 million into the Redbud Fund that largely benefits rural schools that have lower property tax collections, $150 million for a three-year pilot program for school safety and security and an additional $10 million for a three-year literacy program for districts across the state.
___
Follow Sean Murphy on Twitter: @apseanmurphy