News Guide: Hickenlooper, Biden win in Colorado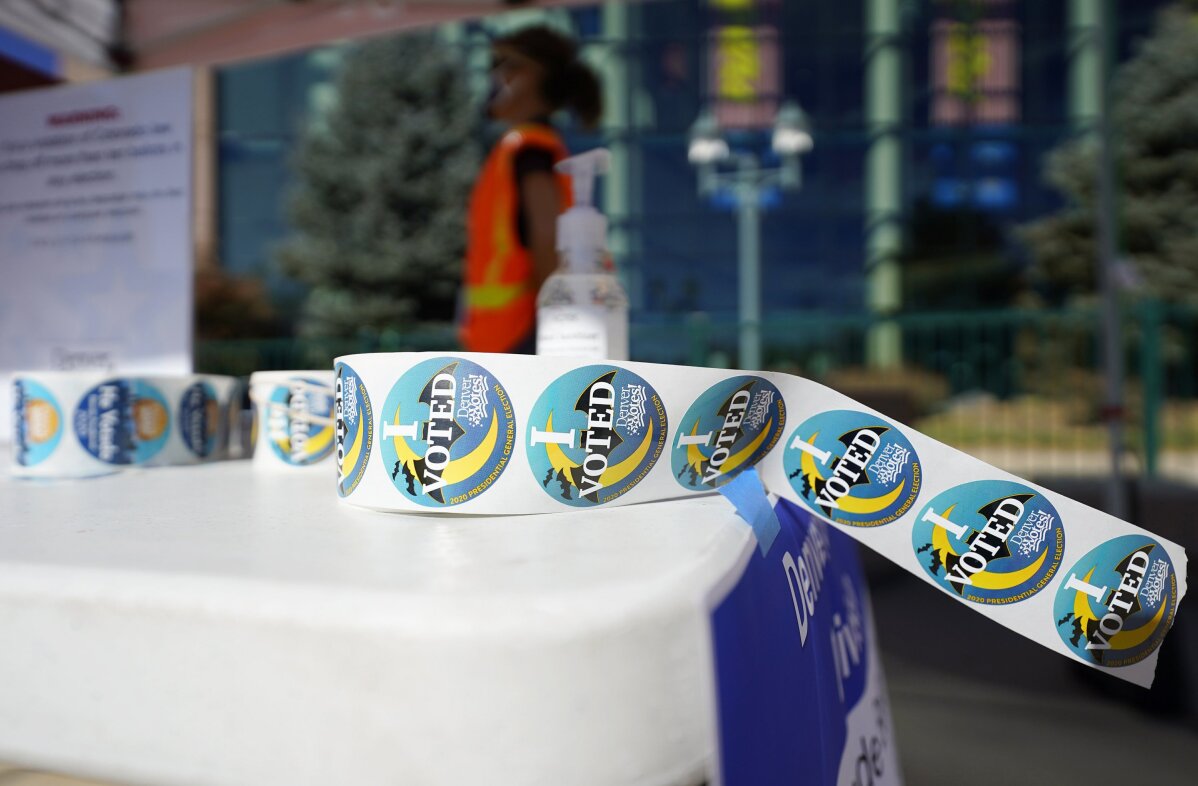 1 of 6

|
FILE—A roll of stickers unfurls on the table of an election judge at a drop-off lane for voters to drop off their ballots outside the Ball Arena, the home of the NBA's Denver Nuggets and the NHL's Colorado Avalanche, Friday, Oct. 30, 2020, in Denver. (AP Photo/David Zalubowski, File)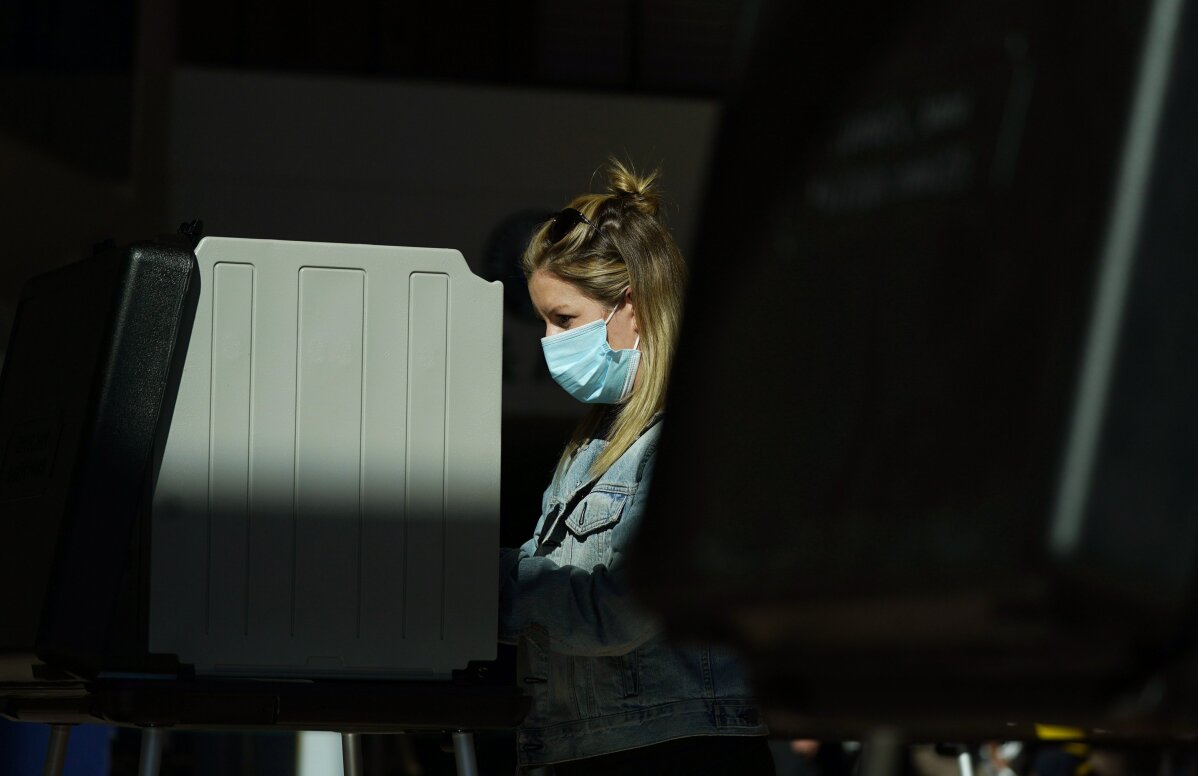 2 of 6

|
FILE - In this Friday, Oct. 30, 2020 file photo, a voter wears a face mask while casting her ballot in the atrium of Ball Arena, the home of the NBA's Denver Nuggets and the NHL's Colorado Avalanche, in Denver. (AP Photo/David Zalubowski, File)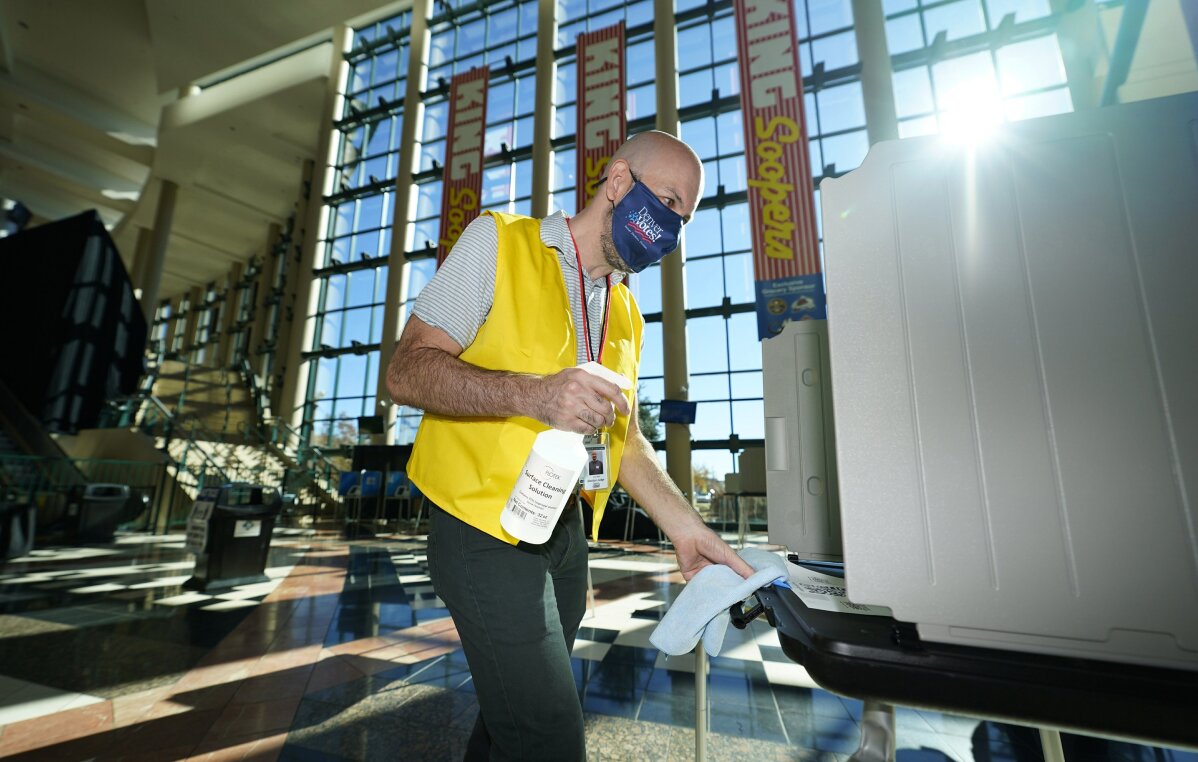 3 of 6

|
FILE—Election judge Chris Mills cleans a booth after a voter cast a ballot in the atrium of Ball Arena, the home of the NBA's Denver Nuggets and the NHL's Colorado Avalanche, Friday, Oct. 30, 2020, in Denver. (AP Photo/David Zalubowski, File)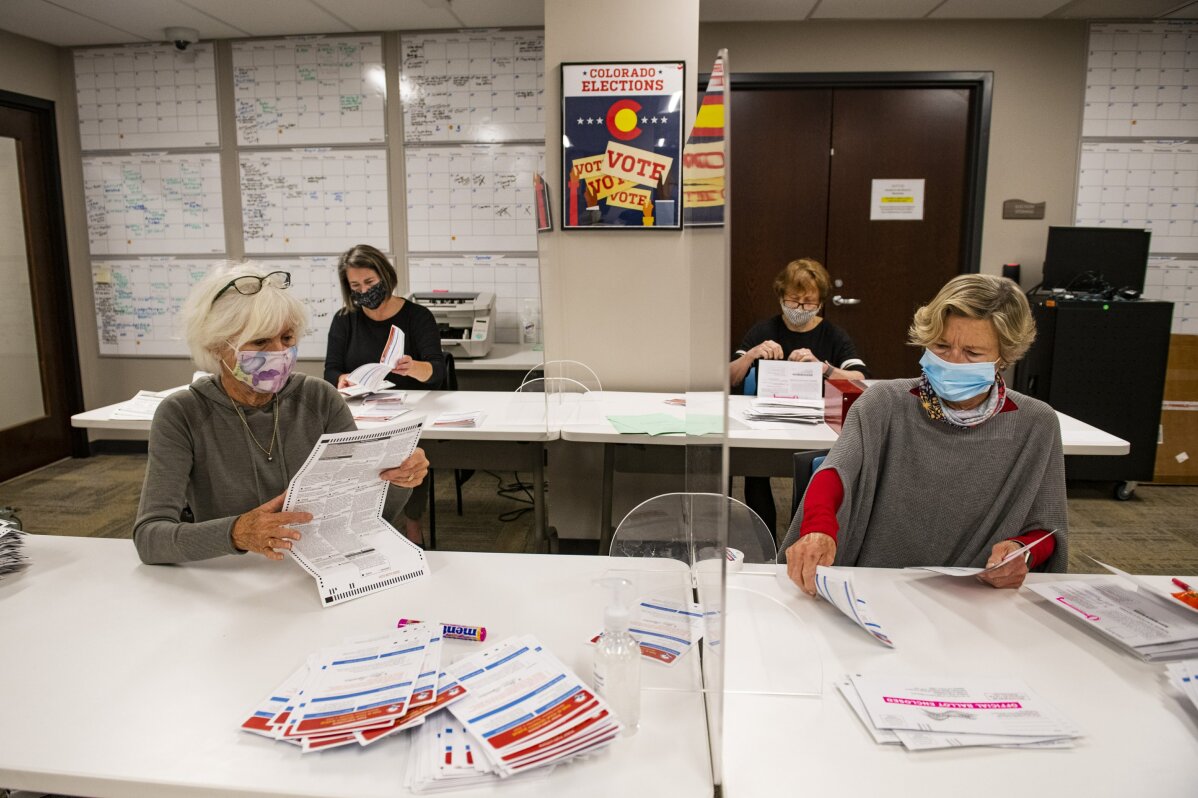 4 of 6

|
Carolyn Fieles, left, Suzy Meredith-Orr, Frieda Wallison, and Judy Dunn open ballots in the Pitkin County Administration Building on Election Day in Aspen, Colo., on Tuesday, Nov. 3, 2020. The volunteers were checking that the ballots weren't stained and that they were labeled as Pitkin County ballots. (Kelsey Brunner/The Aspen Times via AP)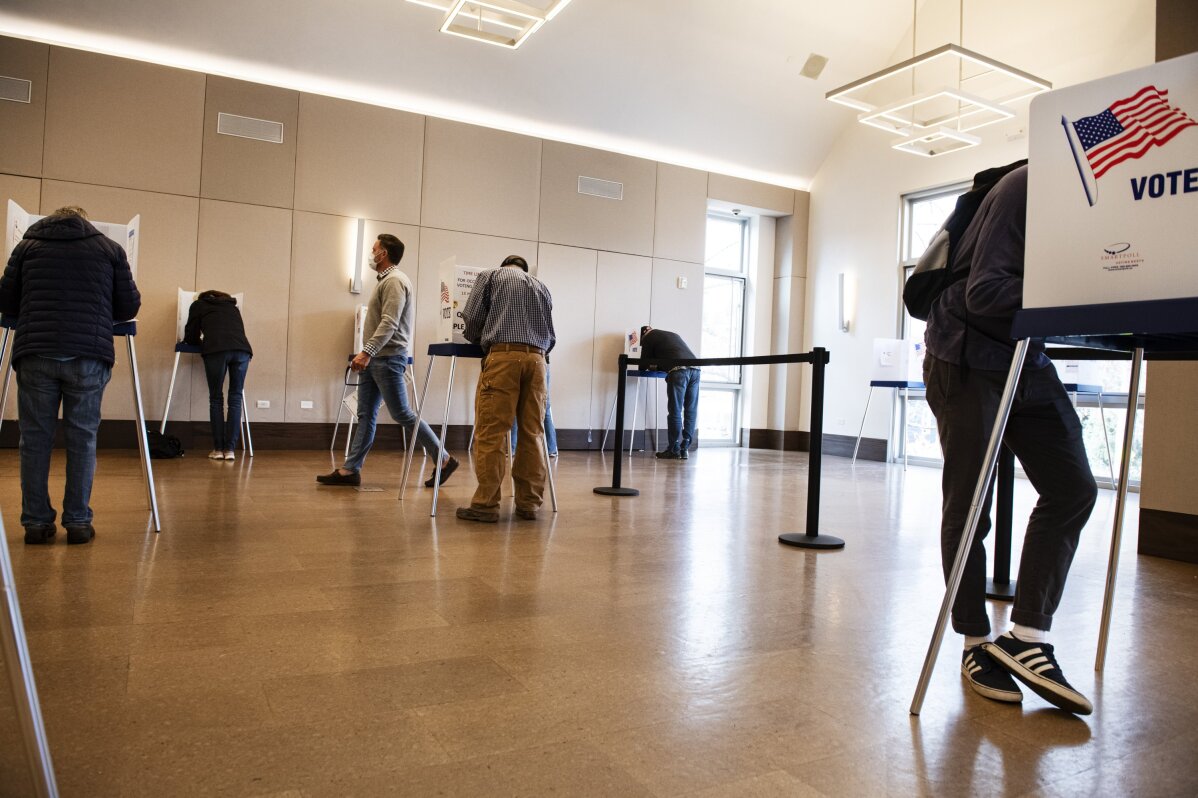 5 of 6

|
Voters fill out their ballots at socially distanced voting booths in the Aspen, Colo., Jewish Community Center on Election Day, Tuesday, Nov. 3, 2020. (Kelsey Brunner/The Aspen Times via AP)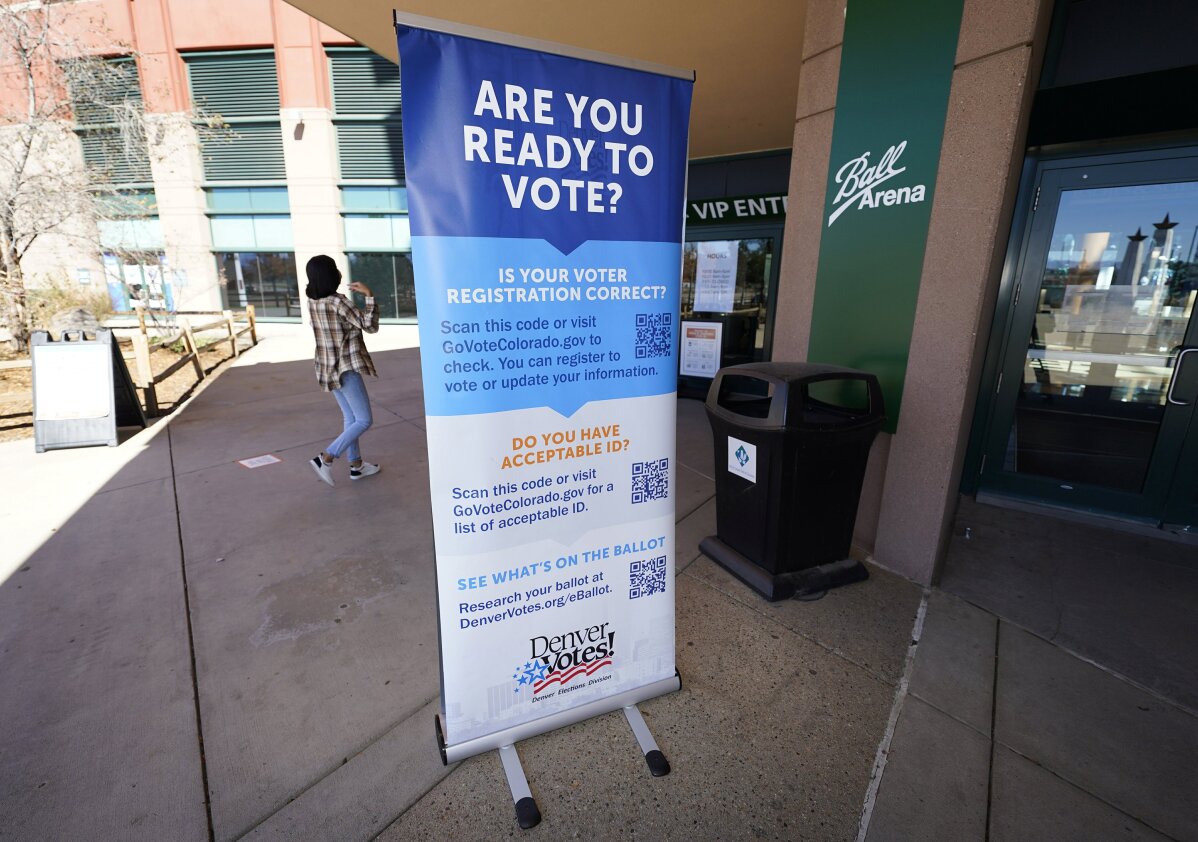 6 of 6

|
FILE—A voter heads into the atrium of Ball Arena, the home of the NBA's Denver Nuggets and the NHL's Colorado Avalanche, to cast a ballot Friday, Oct. 30, 2020, in Denver. (AP Photo/David Zalubowski, File)
News Guide: Hickenlooper, Biden win in Colorado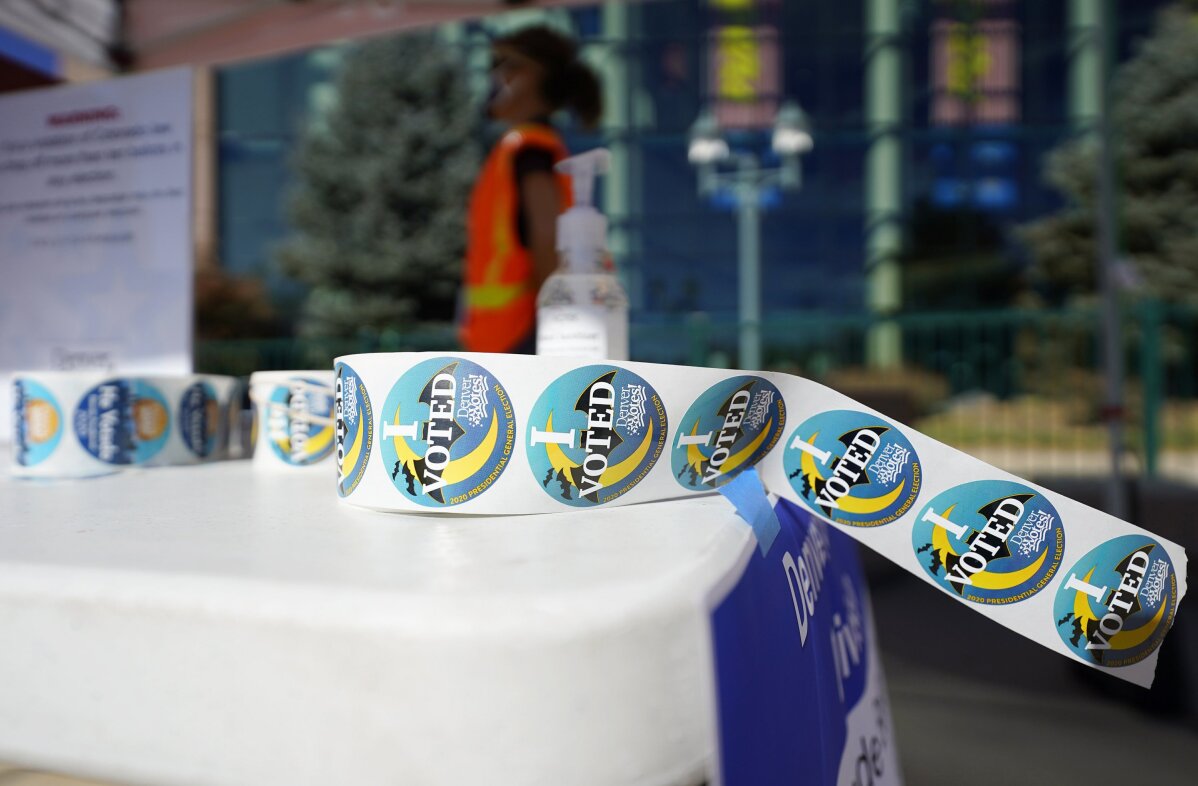 1 of 6

|
FILE—A roll of stickers unfurls on the table of an election judge at a drop-off lane for voters to drop off their ballots outside the Ball Arena, the home of the NBA's Denver Nuggets and the NHL's Colorado Avalanche, Friday, Oct. 30, 2020, in Denver. (AP Photo/David Zalubowski, File)
1 of 6
FILE—A roll of stickers unfurls on the table of an election judge at a drop-off lane for voters to drop off their ballots outside the Ball Arena, the home of the NBA's Denver Nuggets and the NHL's Colorado Avalanche, Friday, Oct. 30, 2020, in Denver. (AP Photo/David Zalubowski, File)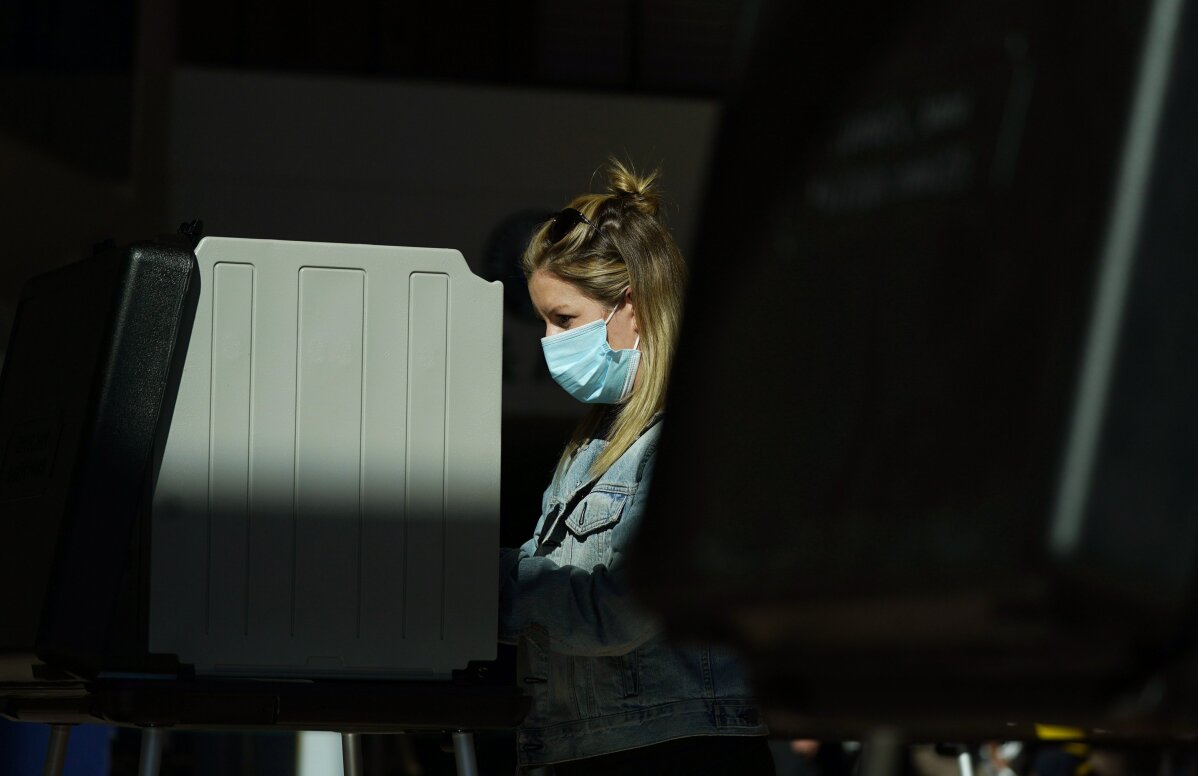 2 of 6

|
FILE - In this Friday, Oct. 30, 2020 file photo, a voter wears a face mask while casting her ballot in the atrium of Ball Arena, the home of the NBA's Denver Nuggets and the NHL's Colorado Avalanche, in Denver. (AP Photo/David Zalubowski, File)
2 of 6
FILE - In this Friday, Oct. 30, 2020 file photo, a voter wears a face mask while casting her ballot in the atrium of Ball Arena, the home of the NBA's Denver Nuggets and the NHL's Colorado Avalanche, in Denver. (AP Photo/David Zalubowski, File)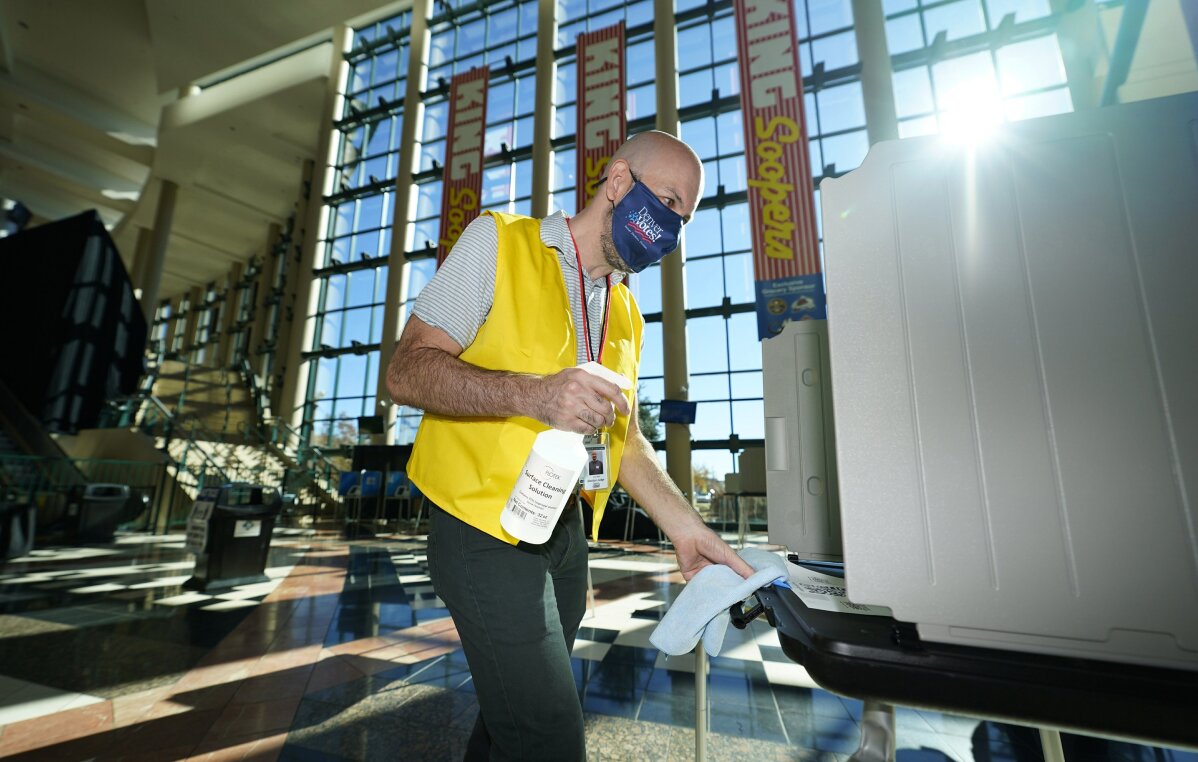 3 of 6

|
FILE—Election judge Chris Mills cleans a booth after a voter cast a ballot in the atrium of Ball Arena, the home of the NBA's Denver Nuggets and the NHL's Colorado Avalanche, Friday, Oct. 30, 2020, in Denver. (AP Photo/David Zalubowski, File)
3 of 6
FILE—Election judge Chris Mills cleans a booth after a voter cast a ballot in the atrium of Ball Arena, the home of the NBA's Denver Nuggets and the NHL's Colorado Avalanche, Friday, Oct. 30, 2020, in Denver. (AP Photo/David Zalubowski, File)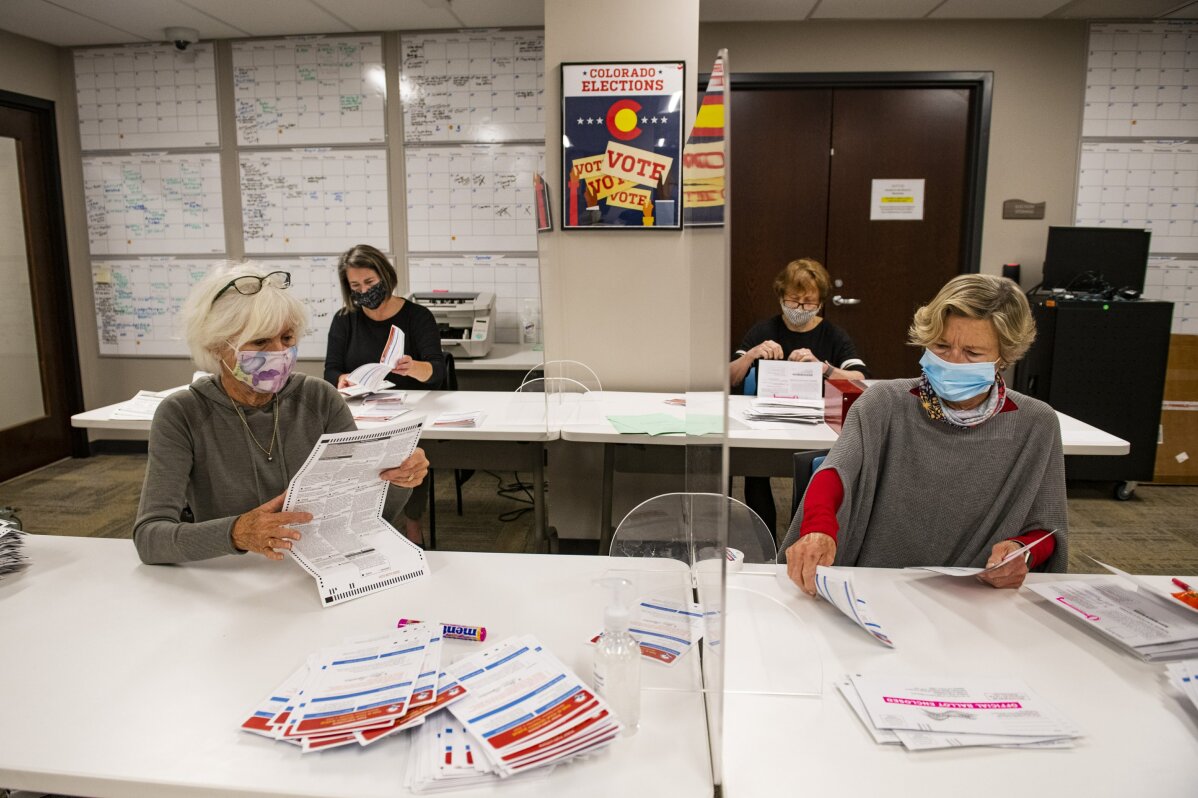 4 of 6

|
Carolyn Fieles, left, Suzy Meredith-Orr, Frieda Wallison, and Judy Dunn open ballots in the Pitkin County Administration Building on Election Day in Aspen, Colo., on Tuesday, Nov. 3, 2020. The volunteers were checking that the ballots weren't stained and that they were labeled as Pitkin County ballots. (Kelsey Brunner/The Aspen Times via AP)
4 of 6
Carolyn Fieles, left, Suzy Meredith-Orr, Frieda Wallison, and Judy Dunn open ballots in the Pitkin County Administration Building on Election Day in Aspen, Colo., on Tuesday, Nov. 3, 2020. The volunteers were checking that the ballots weren't stained and that they were labeled as Pitkin County ballots. (Kelsey Brunner/The Aspen Times via AP)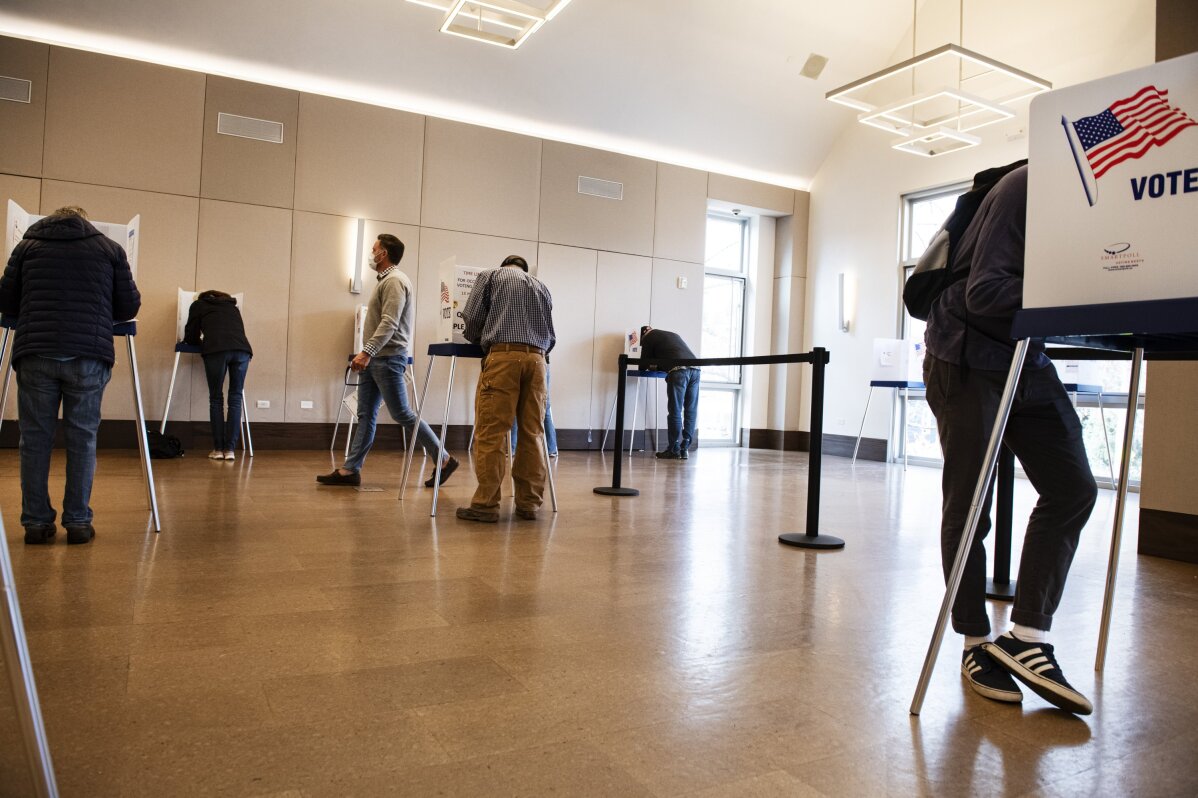 5 of 6

|
Voters fill out their ballots at socially distanced voting booths in the Aspen, Colo., Jewish Community Center on Election Day, Tuesday, Nov. 3, 2020. (Kelsey Brunner/The Aspen Times via AP)
5 of 6
Voters fill out their ballots at socially distanced voting booths in the Aspen, Colo., Jewish Community Center on Election Day, Tuesday, Nov. 3, 2020. (Kelsey Brunner/The Aspen Times via AP)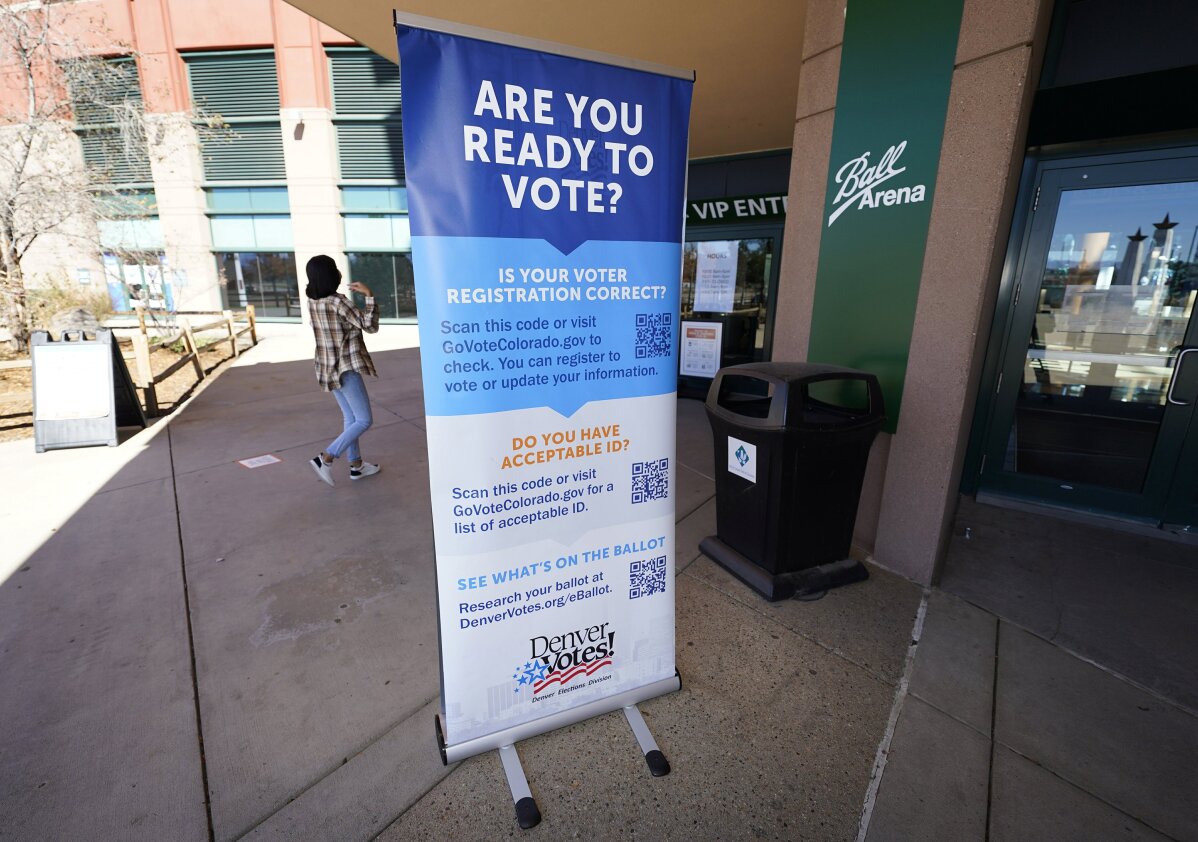 6 of 6

|
FILE—A voter heads into the atrium of Ball Arena, the home of the NBA's Denver Nuggets and the NHL's Colorado Avalanche, to cast a ballot Friday, Oct. 30, 2020, in Denver. (AP Photo/David Zalubowski, File)
6 of 6
FILE—A voter heads into the atrium of Ball Arena, the home of the NBA's Denver Nuggets and the NHL's Colorado Avalanche, to cast a ballot Friday, Oct. 30, 2020, in Denver. (AP Photo/David Zalubowski, File)
DENVER (AP) — Colorado voters elected former Gov. John Hickenlooper to replace Republican U.S. Sen. Cory Gardner in one of the closest-watched Senate races in the nation.
Democrat Joe Biden defeated President Donald Trump to win Colorado's nine electoral votes.
The Senate race topped a slate that included Republican Lauren Boebert's victory over Democrat Diane Mitsch Bush to win the House seat held by five-term GOP Rep. Scott Tipton in the vast 3rd Congressional District.
A look at key races:
U.S. PRESIDENT
Joe Biden won the state of Colorado.
The Democratic presidential nominee is now slated to receive Colorado's nine electoral votes.
For years, Colorado was considered a battleground state in presidential elections. But a fast-growing influx of college-educated and affluent residents has pushed the state towards Democrats, who have won presidential elections here since 2008. In 2016, Hillary Clinton defeated Donald Trump by 5 percentage points. In 2018, Democrats solidified control of the statehouse and won all statewide offices.
President Trump's most recent visit to the state was in February. Both campaigns reserved their spending for battleground states.
___
U.S. SENATE
Hickenlooper, a Democrat, defeated Gardner to prevent the Republican from winning reelection.
Colorado has become reliably Democratic under Trump, and for that reason, Gardner was seen as one of the most vulnerable Republican senators seeking reelection. Trump embraced Gardner as behind him "100%" in February — an endorsement seized by Hickenlooper in his bid to replace Gardner.
Gardner recently sought to distance himself from Trump, focusing instead on his sponsorship of a wildlands protection bill, now law, and two ethics law violations by Hickenlooper, a popular former two-term governor and Denver mayor. Hickenlooper zeroed in on Gardner's efforts to repeal the Affordable Care Act and Gardner's vote for Amy Coney Barrett to the Supreme Court.
___
U.S. HOUSE
Republican Lauren Boebert won the House seat held by five-term GOP Rep. Scott Tipton, defeating Democrat Diane Mitsch Bush, a former state lawmaker and Routt County commissioner.
Boebert, a first-time candidate for public office, pulled off the upset of the summer by soundly defeating Tipton, a co-chair of President Donald Trump's Colorado reelection campaign, in the Republican primary in June.
Boebert closely allied herself to Trump, assailing Democrats on everything from what she called job-killing proposals on fossil fuels to coronavirus restrictions to unrest in Democrat-led cities.
Six Colorado incumbents won reelection.
Democrat Diana DeGette defeated Republican Shane Bolling to win a 13th term in Denver's 1st District. Democrat Jason Crow beat Republican Steve House in the 6th District, and Democrat Joe Neguse defeated Republican Charles Winn in the 2nd District. Democrat Ed Perlmutter won an eighth term, defeating Republican Casper Stockham in the 7th District.
Republican Ken Buck defeated Democrat Isaac McCorkle to win a fourth term representing the 4th District, and Republican Doug Lamborn beat Democrat Jillian Freeland in El Paso County's 5th District to win an eighth term.
___
ABORTION, WOLVES AND OTHER BALLOT QUESTIONS
Colorado voters rejected an initiative that would have banned abortion during the third trimester of pregnancy. The proposed ban after 22 weeks had no exceptions for rape, incest or a diagnosis in which the fetus can't survive outside the womb. Opponents called it another effort by advocates who've repeatedly tried and failed to ban abortion in Colorado.
An initiative that would have the state reintroduce gray wolves on the Western Slope was too close to call as the ballot count continued. Supporters say it's the first time that voters, rather than government scientists, will choose whether to reintroduce the wolf, which once ranged across most of the U.S.
Colorado voters approved a law that would commit the state's presidential electoral votes to the winner of the national popular vote. Proposition 113 marked the first time that a state that has joined the National Popular Vote Interstate Compact had the move challenged at the ballot box. Gov. Jared Polis signed the Democrat-sponsored legislation into law in March 2019. Republicans quickly got a repeal initiative on the ballot. The compact would take effect if states with a collective 270 electoral votes — the number needed to win the presidency — agree to join.
Voters decided to create a state program mandating paid family and medical leave for workers across all industries and income levels. Supporters say the coronavirus pandemic requires such a program; opponents say the pandemic makes it unaffordable.
__
LEGISLATURE
Democrats held on to their large majority in the state House and hoped to expand a three-seat majority in the 35-seat state Senate.
___
Find AP's full election coverage at APNews.com/Election2020.