Biden wins Maine's popular vote, at least 3 electoral votes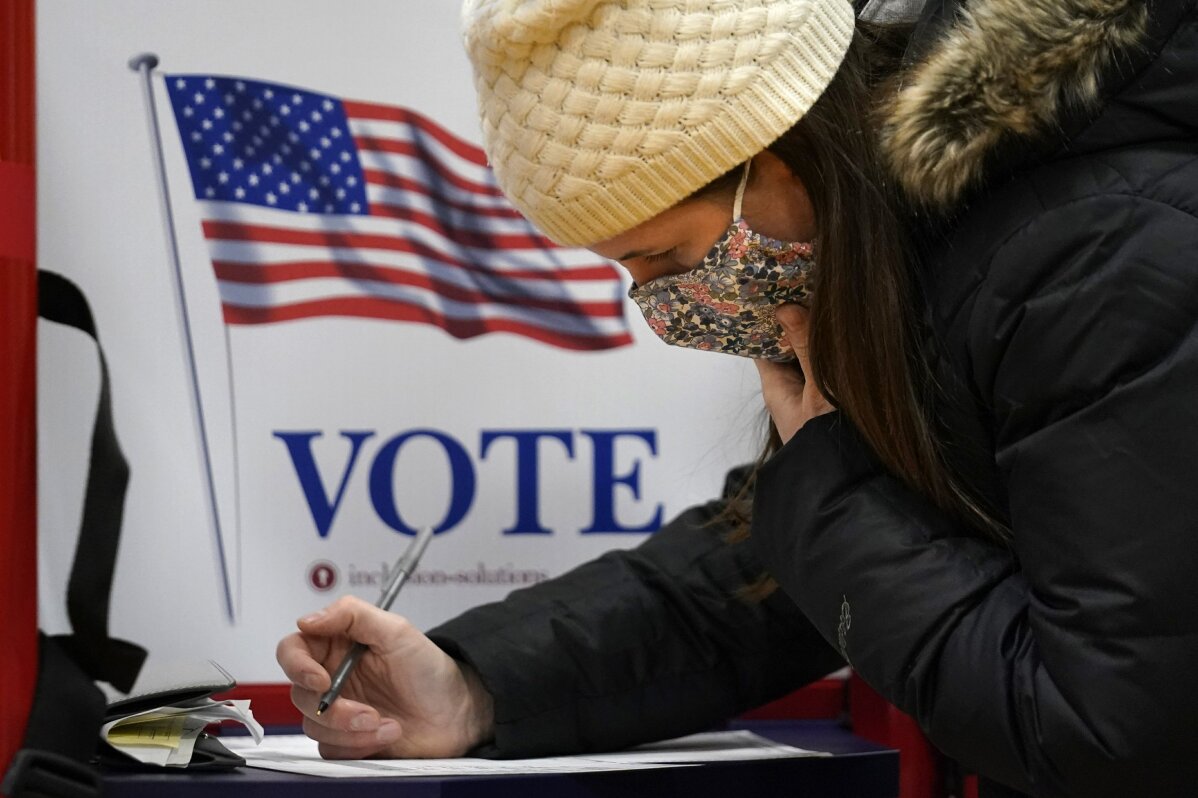 1 of 5

|
Elizabeth Gross votes on Election Day, Tuesday, Nov. 3, 2020, in Portland, Maine.(AP Photo/Robert F. Bukaty)
2 of 5

|
Julian St. Laurent wear a face shield and two face masks to help prevent the spread of the coronavirus as he walks to a voting both to cast his ballot to vote on Election Day Tuesday, Nov. 3, 2020, in Portland, Maine. (AP Photo/Robert F. Bukaty)
3 of 5

|
Caution tape closes off a voting stall to help distance voters to help prevent the spread of the coronavirus during Election Day at the East End School, Tuesday, Nov. 3, 2020, in Portland, Maine. (AP Photo/Robert F. Bukaty)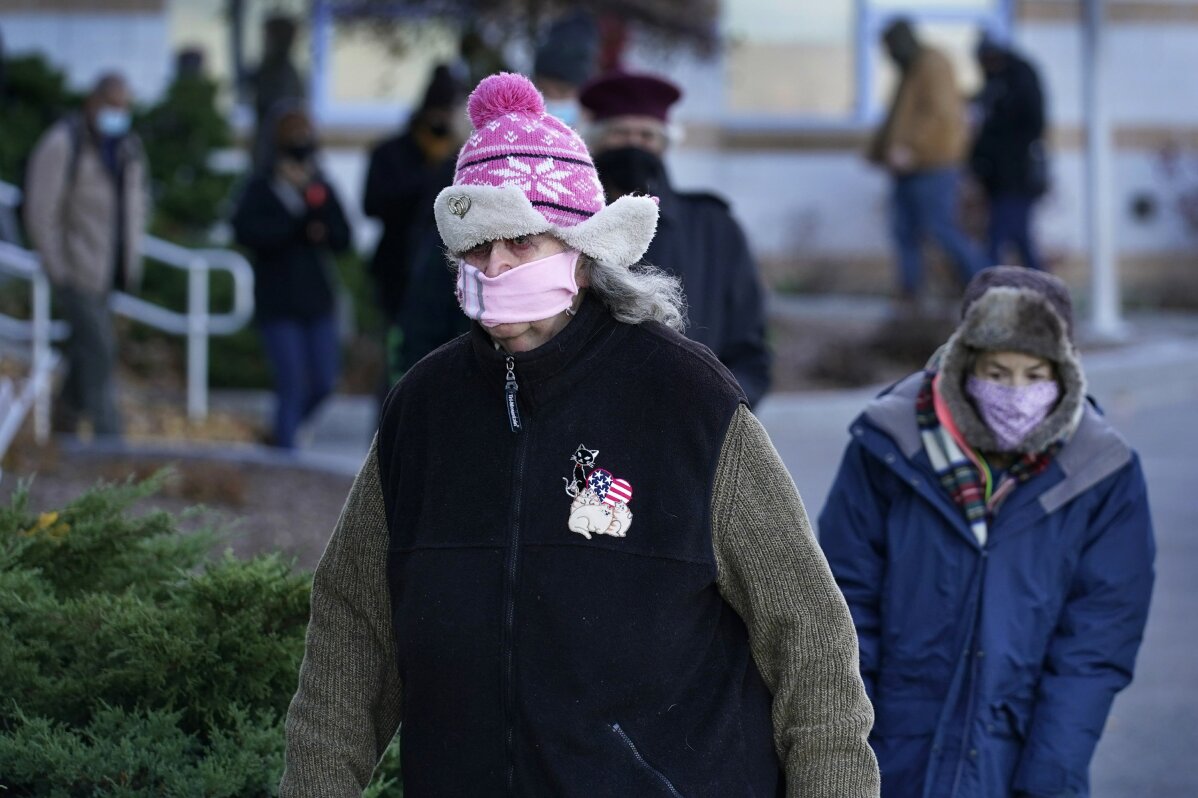 4 of 5

|
Voters brave cold temperatures and strong winds waiting to vote on Election Day Tuesday, Nov. 3, 2020, in Portland, Maine.(AP Photo/Robert F. Bukaty)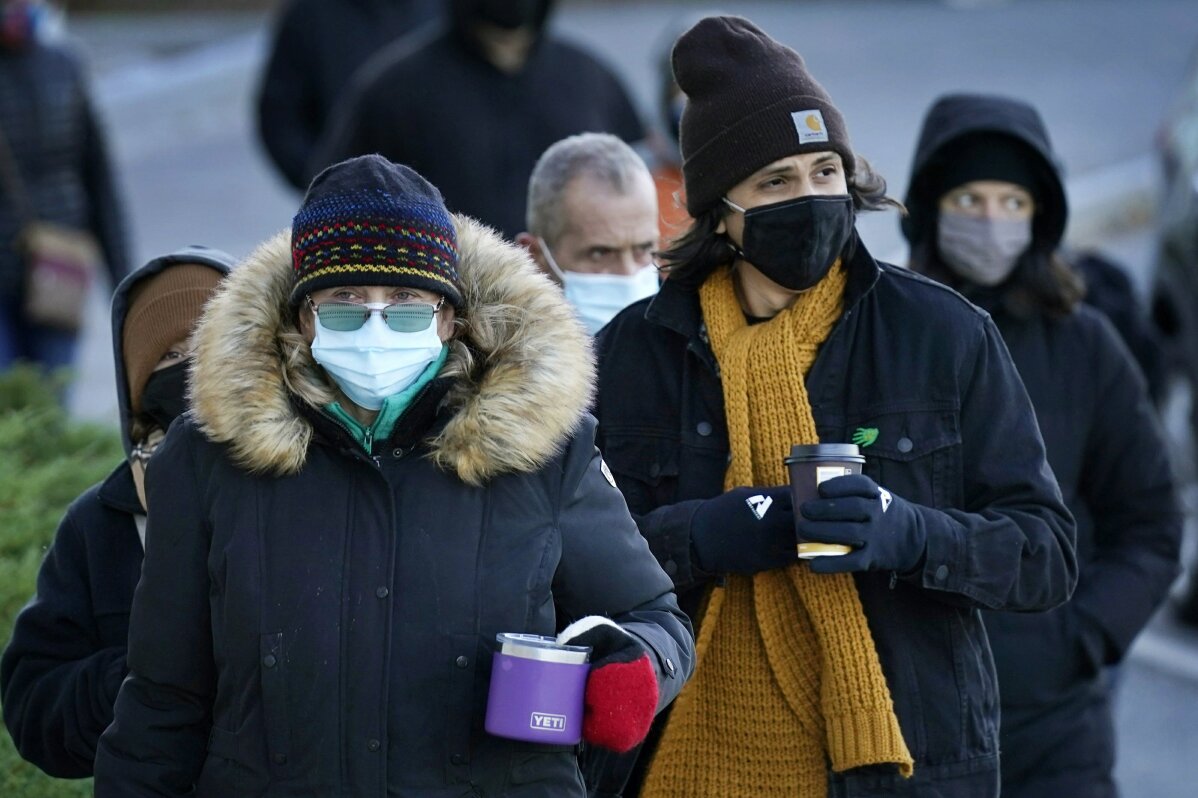 5 of 5

|
Voters wait in the morning cold for the polls to open to vote in the general election, Tuesday, Nov. 3, 2020, in Portland, Maine. (AP Photo/Robert F. Bukaty)
Biden wins Maine's popular vote, at least 3 electoral votes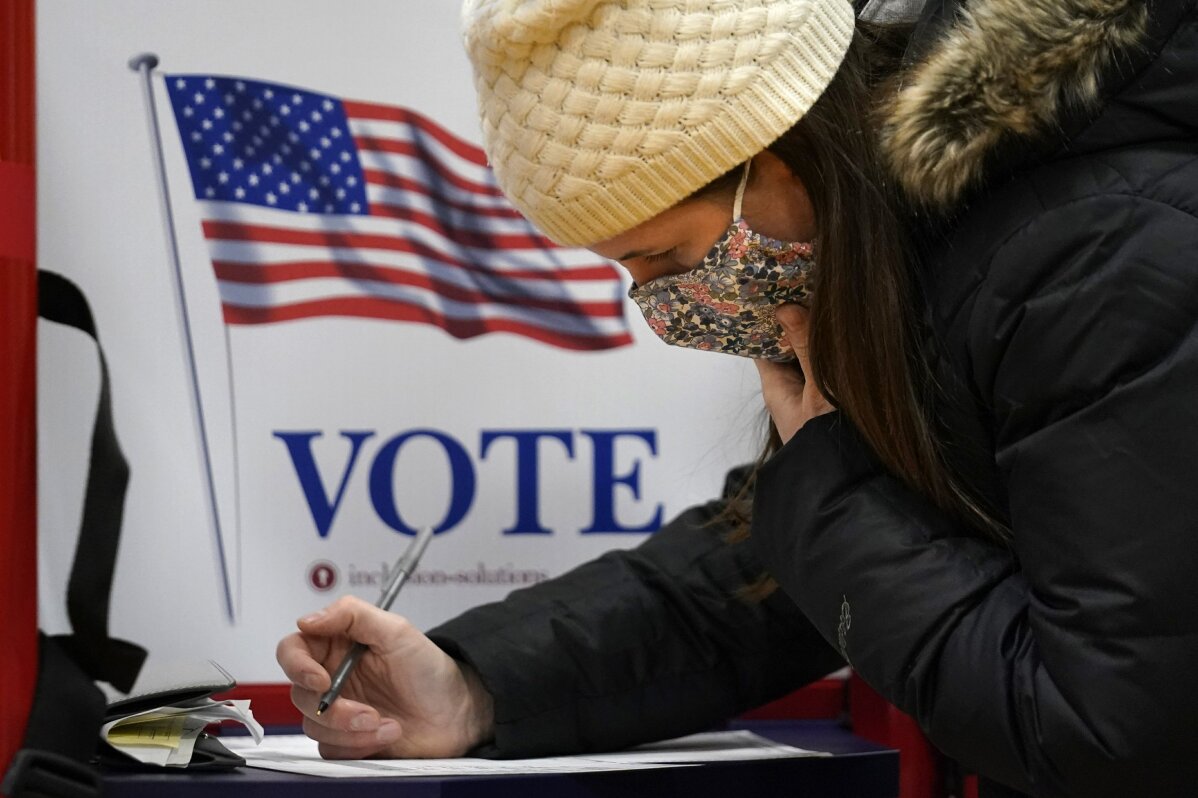 1 of 5

|
Elizabeth Gross votes on Election Day, Tuesday, Nov. 3, 2020, in Portland, Maine.(AP Photo/Robert F. Bukaty)
1 of 5
Elizabeth Gross votes on Election Day, Tuesday, Nov. 3, 2020, in Portland, Maine.(AP Photo/Robert F. Bukaty)
2 of 5

|
Julian St. Laurent wear a face shield and two face masks to help prevent the spread of the coronavirus as he walks to a voting both to cast his ballot to vote on Election Day Tuesday, Nov. 3, 2020, in Portland, Maine. (AP Photo/Robert F. Bukaty)
2 of 5
Julian St. Laurent wear a face shield and two face masks to help prevent the spread of the coronavirus as he walks to a voting both to cast his ballot to vote on Election Day Tuesday, Nov. 3, 2020, in Portland, Maine. (AP Photo/Robert F. Bukaty)
3 of 5

|
Caution tape closes off a voting stall to help distance voters to help prevent the spread of the coronavirus during Election Day at the East End School, Tuesday, Nov. 3, 2020, in Portland, Maine. (AP Photo/Robert F. Bukaty)
3 of 5
Caution tape closes off a voting stall to help distance voters to help prevent the spread of the coronavirus during Election Day at the East End School, Tuesday, Nov. 3, 2020, in Portland, Maine. (AP Photo/Robert F. Bukaty)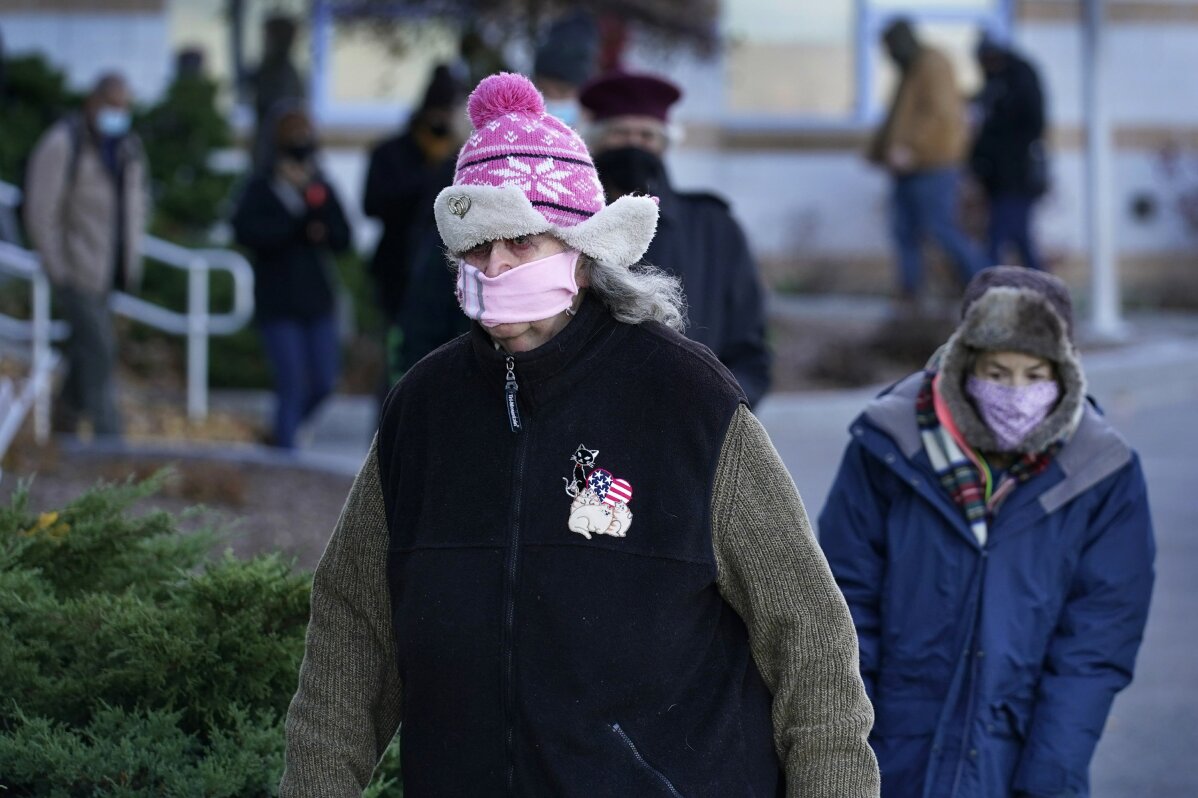 4 of 5

|
Voters brave cold temperatures and strong winds waiting to vote on Election Day Tuesday, Nov. 3, 2020, in Portland, Maine.(AP Photo/Robert F. Bukaty)
4 of 5
Voters brave cold temperatures and strong winds waiting to vote on Election Day Tuesday, Nov. 3, 2020, in Portland, Maine.(AP Photo/Robert F. Bukaty)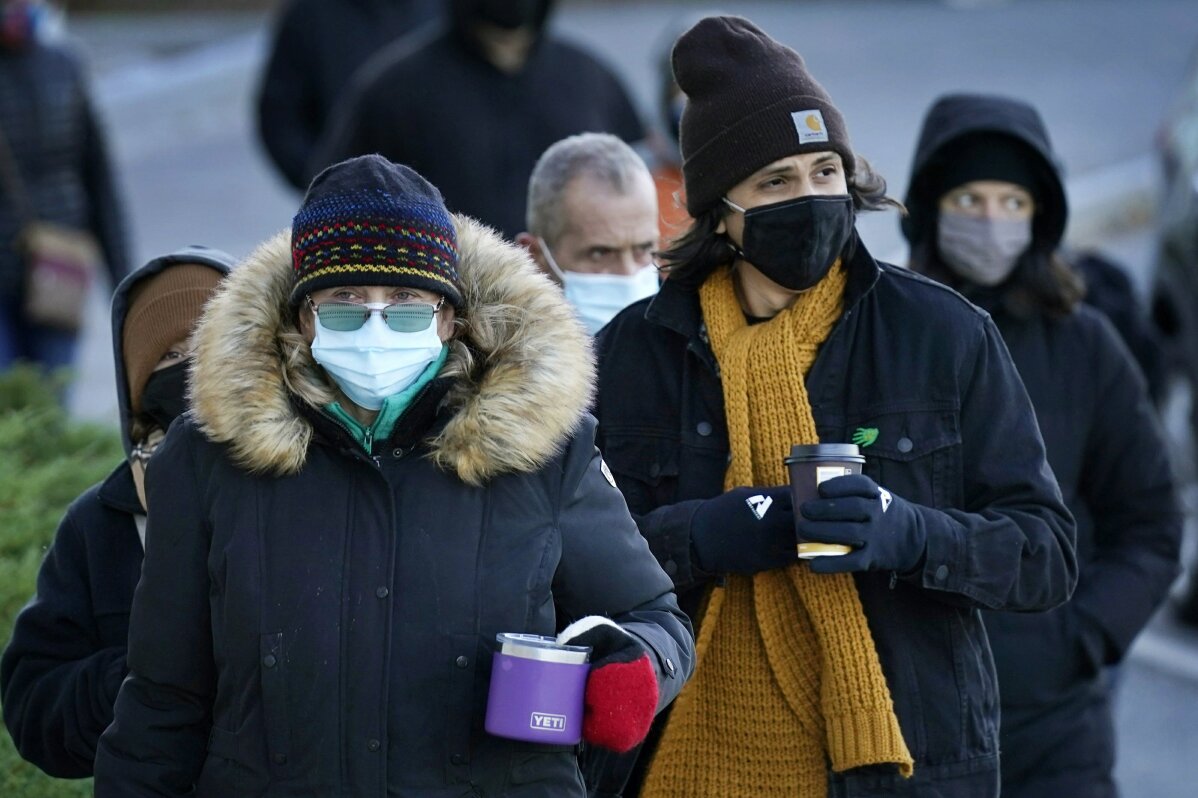 5 of 5

|
Voters wait in the morning cold for the polls to open to vote in the general election, Tuesday, Nov. 3, 2020, in Portland, Maine. (AP Photo/Robert F. Bukaty)
5 of 5
Voters wait in the morning cold for the polls to open to vote in the general election, Tuesday, Nov. 3, 2020, in Portland, Maine. (AP Photo/Robert F. Bukaty)
PORTLAND, Maine (AP) — Democrat Joe Biden surged to a statewide victory in Maine early Wednesday, winning at least three of the state's four electoral votes in his bid to unseat President Donald Trump.
Biden collected a majority of first-place votes in the 1st Congressional District and in the statewide tally, good for three electoral votes. It was too early to call the winner of the 2nd Congressional District's electoral vote. The count went on to Wednesday after Tuesday's Election Day.
Four years ago, Maine split its electoral votes, when Trump also was awarded one vote to Hillary Clinton's three after he won the rural, conservative district. The 2016 election marked the first time in state history that Maine divided its electoral votes.
At a polling place in Portland, voter Abdishakur Ali Artan said he voted for Biden because felt felt the former vice president wold be a better leader for immigrants in Maine and around the country.
"For immigrants, for Muslims," Artan said. "I want to give Mr. Biden my vote."
Maine is one of only two states that divide their electoral votes. The other is Nebraska.
The race marked the first time ranked choice voting was used in a presidential contest. But the election system's provisions — for additional voting rounds, last-place candidate eliminations and reallocations of votes to ensure a majority winner — didn't come into play this time in the statewide vote.
Ranked choice voting, approved by Maine voters in 2016, is often called an "instant runoff" since the goal is to achieve a majority winner without a second, runoff election.
But there's nothing instant about the process in Maine. If there's no majority winner, then all of the ballots will be shipped to Augusta and entered into a computer for additional tabulations. That process takes about a week.
The voting system has become partisan in Maine, especially after 2018, when Republican U.S. Rep. Bruce Poliquin was ousted in Maine's 2nd Congressional District under the system, even though he had the most first-round votes.
The Maine Republican Party launched a petition drive aimed at stopping the expansion of the voting system to the presidential contest through a "People's Veto" referendum.
The GOP unsuccessfully sued after coming up shy of the necessary signatures, and was rejected twice by the Maine Supreme Judicial Court and once by the U.S. Supreme Court. The final rejection came after the first votes already had been cast.
Maine is the only state to approve ranked voting for statewide races, and its constitutionality has twice been upheld by a federal judge in Maine.
It was used for the first time in U.S. House and U.S. Senate races in 2018 in Maine. But it isn't used in state gubernatorial or legislative races because of concerns that it runs afoul of the Maine Constitution.
In other Maine races, Democratic Rep. Chellie Pingree withstood a challenge from Republican Jay Allen. It was too early to call the race for Senate, which featured Republican Sen. Susan Collins and Democratic Maine House Speaker Sara Gideon. It was also too early to call the race between Democratic U.S. Rep. Jared Golden and Republican challenger Dale Crafts in the 2nd Congressional District.
___
Find AP's full election coverage at APNews.com/Election2020.