West Virginia AG Patrick Morrisey announces bid for governor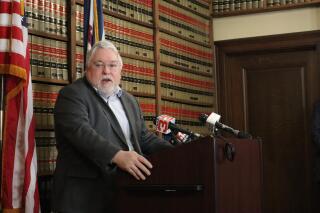 CHARLESTON, W.Va. (AP) — Three-term West Virginia Attorney General Patrick Morrisey on Tuesday announced his candidacy for governor next year, joining a crowded field that already includes seven other Republicans.
After making the announcement during an event in Harpers Ferry, Morrisey embarked on a three-day statewide tour that included stops in seven other cities.
Other Republicans have filed precandidacy papers with the secretary of state's office in the governor's race, including state Delegate Moore Capito, the grandson of the late three-term Gov. Arch A. Moore Jr. and the son of current two-term U.S. Sen. Shelley Moore Capito. Moore Capito's campaign already has raised more than $530,000, more than any other announced candidate.
Other GOP candidates who are running include Secretary of State Mac Warner and Chris Miller, who is a car dealer and the son of U.S. Rep. Carol Miller.
No Democrats have entered the race.
Filing precandidacy papers allows campaigns to start fundraising and requires them to file campaign finance reports. A candidate isn't officially in the race until they file a separate certificate of announcement and pay a $1,500 filing fee. The official filing period is next January.
"This is not an entry-level job," Morrisey said. "West Virginia needs a proven and accomplished conservative leader, fighter and winner in the governor's office."
Republican Gov. Jim Justice is prohibited by law from seeking a third consecutive term.
During his second term as attorney general, Morrisey lost to Democrat Joe Manchin in the 2018 U.S. Senate race. Morrisey, a New Jersey native who calls himself a true conservative, went on to win a third term in 2020.
Morrisey, 55, has past lobbying ties to the pharmaceutical industry. West Virginia leads the nation by far in the rate of overdose deaths from prescription pain pills. The state has sued major pharmaceuticals, distributors and pharmacy chains including Walgreens and CVS over the opioid epidemic's impact in the state and has brought in more than $950 million in settlements.
The attorney general led a coalition of states in challenging the broad authority of the Environmental Protection Agency to curb greenhouse gas emissions from the nation's power plants. Last June, the U.S. Supreme Court ruled that Congress, not the EPA, has the authority under the Clean Air Act to regulate the emissions that contribute to global warming.
Morrisey also asked the U.S. Supreme Court to allow the state to enforce its law barring transgender women and girls from competing in female sports while a lawsuit over the law continues. A decision in that case could come soon. He also fought attempts to block public charter schools and sparred with West Virginia's only abortion clinic before lawmakers passed an abortion ban last year, forcing the clinic to suspend abortions.
"I'm the only proven conservative running with a record of taking on the far left, the political elites and anyone else who threatens our way of life. And we win," Morrisey said. "No one else can say that. We can have it all. We can be that shining state in the mountains. A place where freedom lives, our jobs are plentiful and our culture remains rich. But you need a governor who understands that threats are happening at this point of time in our republic and the stakes involved in taking those threats down."
A staunch supporter of now-indicted former President Donald Trump, Morrisey called the New York investigation against Trump "a political witch hunt and a political prosecution. It's wrong and all of us should stand strongly against it."