White woman whose claim caused Emmett Till murder has died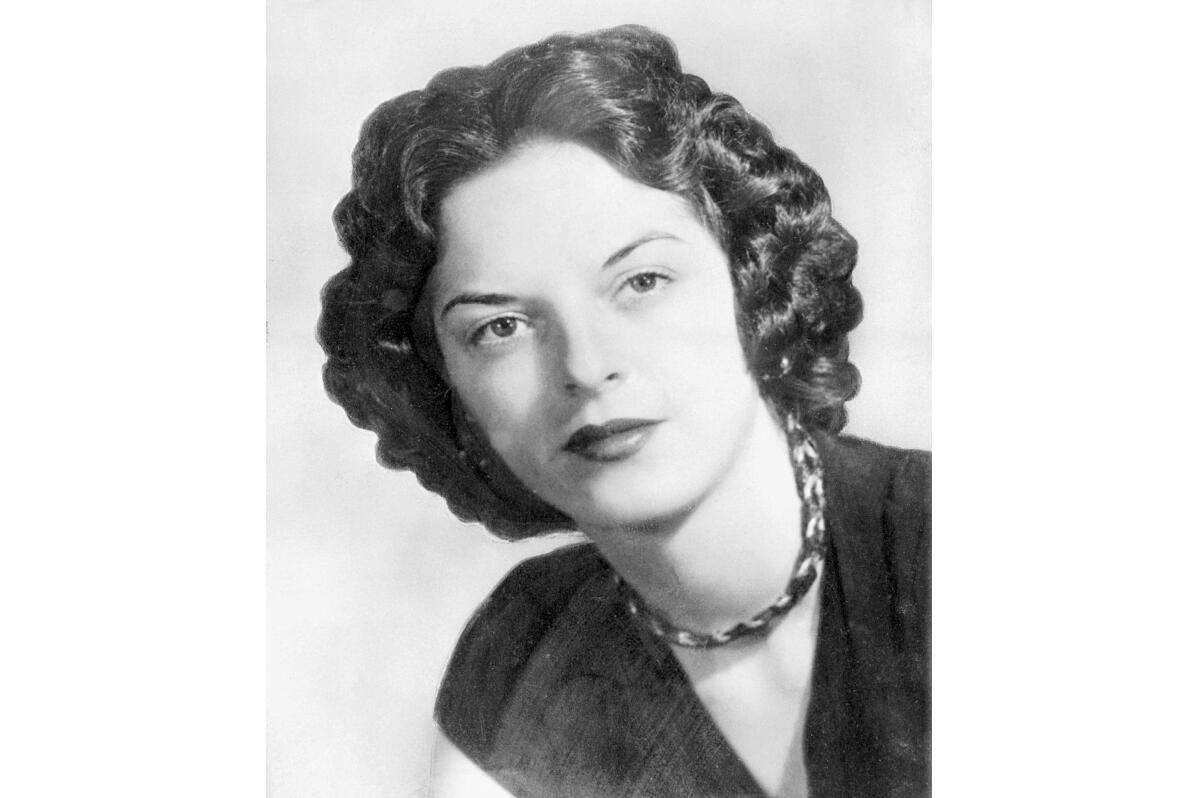 1 of 9

|
FILE - This 1955 file photo shows Carolyn Bryant. Carolyn Bryant Donham, the white woman who accused Black teenager Emmett Till of making improper advances before he was lynched in Mississippi in 1955 has died Tuesday night, April 25, in hospice care in Louisiana, according to a death report filed Thursday, April 27, 2023, in Calcasieu Parish Coroner's Office in Louisiana. She was 88. (AP Photo/Gene Herrick, File)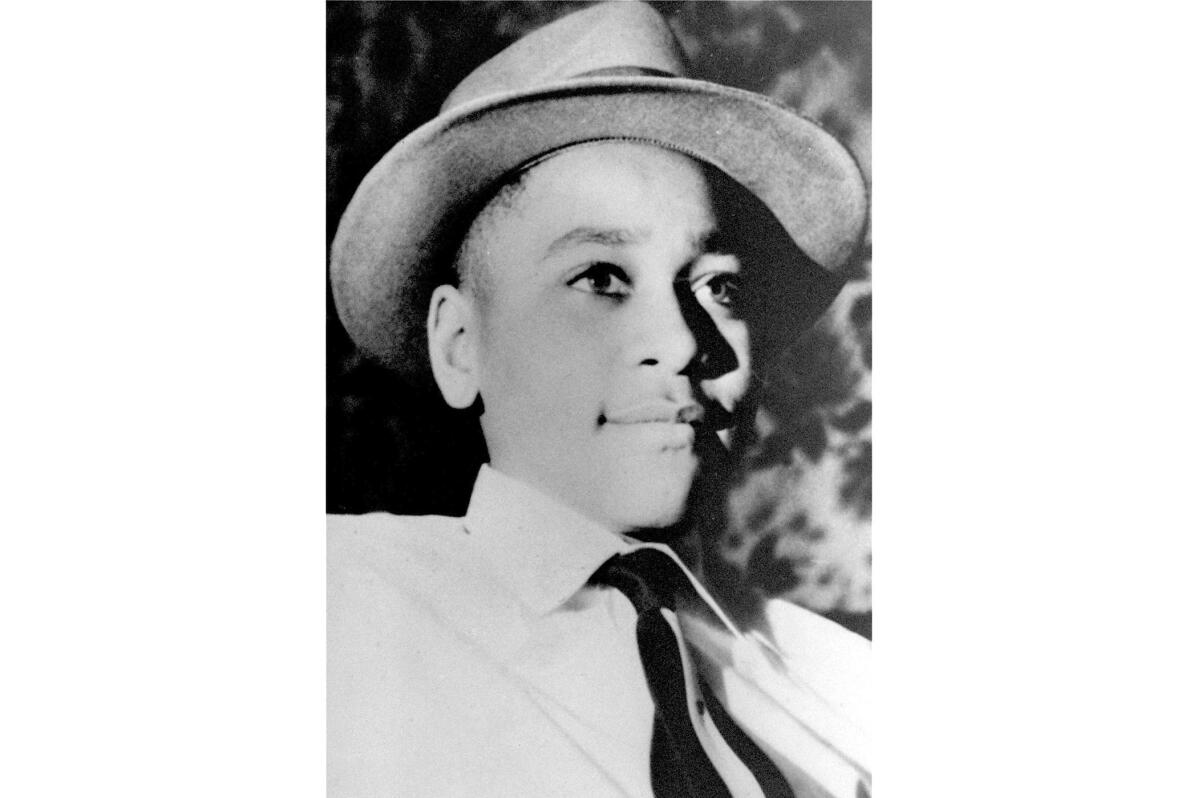 2 of 9

|
FILE - This undated photo shows Emmett Louis Till, who was kidnapped, tortured and killed in the Mississippi Delta in August 1955 after witnesses claimed he whistled at a white woman working in a store. Carolyn Bryant Donham, the white woman who accused Black teenager Emmett Till of making improper advances before he was lynched in Mississippi in 1955 has died Tuesday night, April 25, in hospice care in Louisiana, according to a death report filed Thursday, April 27, 2023, in Calcasieu Parish Coroner's Office in Louisiana. She was 88. (AP Photo/File)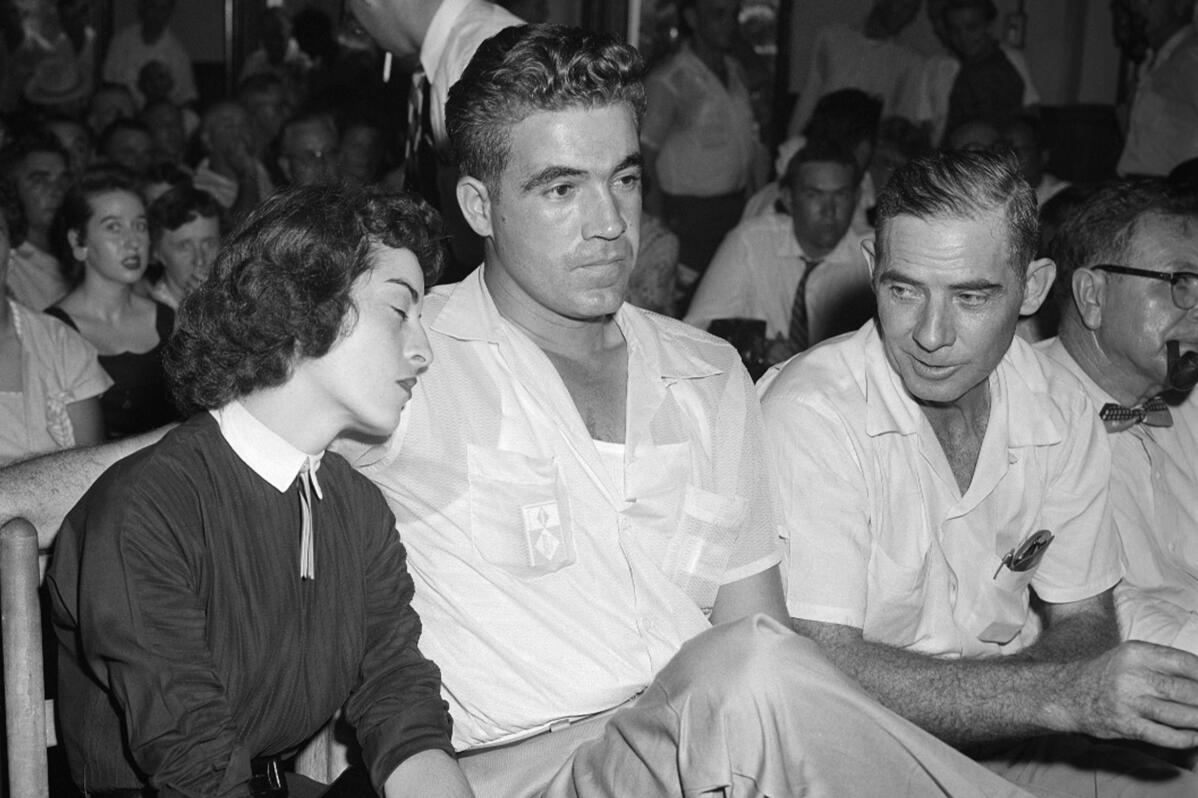 3 of 9

|
FiLE - In this Sept. 22. 1955 photo, Carolyn Bryant, left, rests her head on her husband Roy Bryant's shoulder after she testified in court about the murder of Emmett Till in Sumner, Miss. Carolyn Bryant Donham, the white woman who accused Black teenager Emmett Till of making improper advances before he was lynched in Mississippi in 1955 has died Tuesday night, April 25, in hospice care in Louisiana, according to a death report filed Thursday, April 27, 2023, in Calcasieu Parish Coroner's Office in Louisiana. She was 88. (AP Photo/File)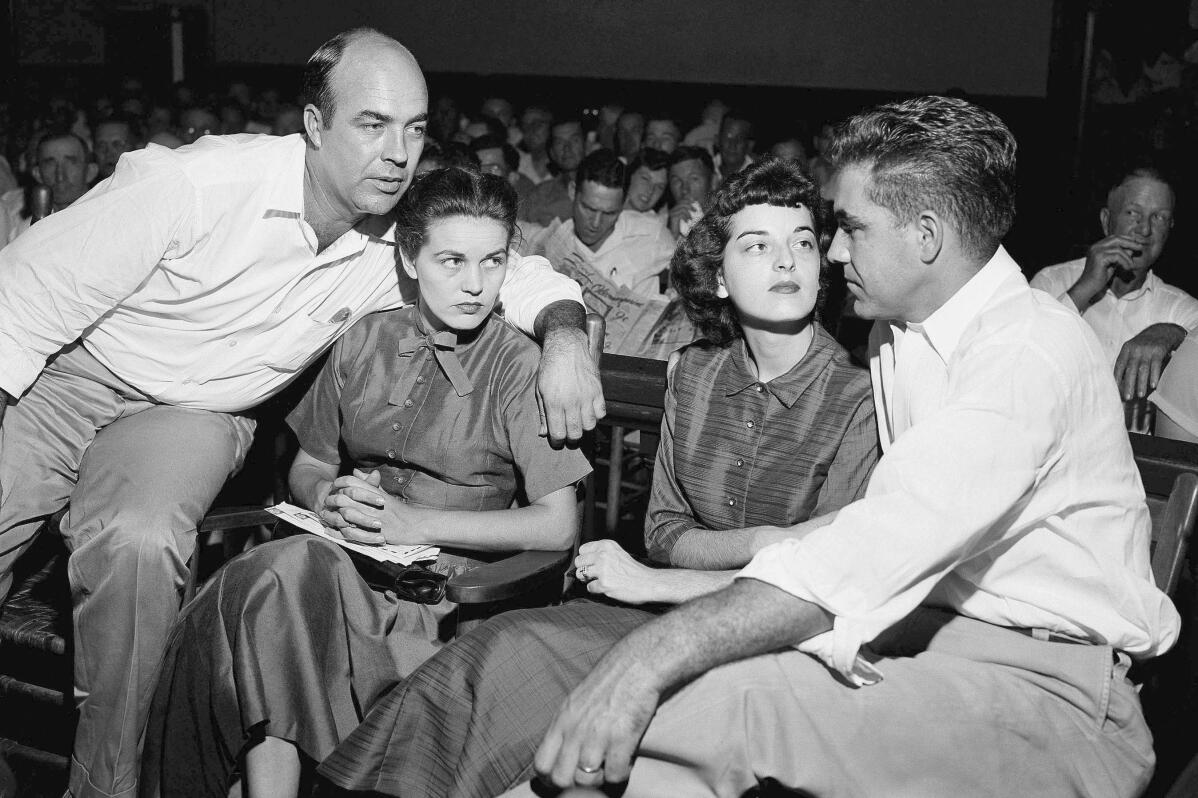 4 of 9

|
FILE - In this Sept. 23, 1955, file photo, J.W. Milam, left, his wife, second from left, Roy Bryant, far right, and his wife, Carolyn Bryant, sit together in a courtroom in Sumner, Miss. Carolyn Bryant Donham, the white woman who accused Black teenager Emmett Till of making improper advances before he was lynched in Mississippi in 1955 has died Tuesday night, April 25, in hospice care in Louisiana, according to a death report filed Thursday, April 27, 2023, in Calcasieu Parish Coroner's Office in Louisiana. She was 88. (AP Photo/File)
5 of 9

|
FILE - This undated photo shows Emmett Louis Till, who was kidnapped, tortured and killed in the Mississippi Delta in August 1955 after witnesses claimed he whistled at a white woman working in a store. A cousin of Till filed a federal lawsuit on Feb. 7, 2023, seeking to compel the current Leflore County, Miss., sheriff, Ricky Banks, to serve an arrest warrant on Carolyn Bryant in the kidnapping that led to the brutal lynching of Till. She has since remarried and is named Carolyn Bryant Donham. In April 2023, Banks responded to the lawsuit by saying the arrest warrant is moot because a Mississippi grand jury declined to indict Donham in 2022; he also asked a judge to dismiss the suit. (AP Photo/File)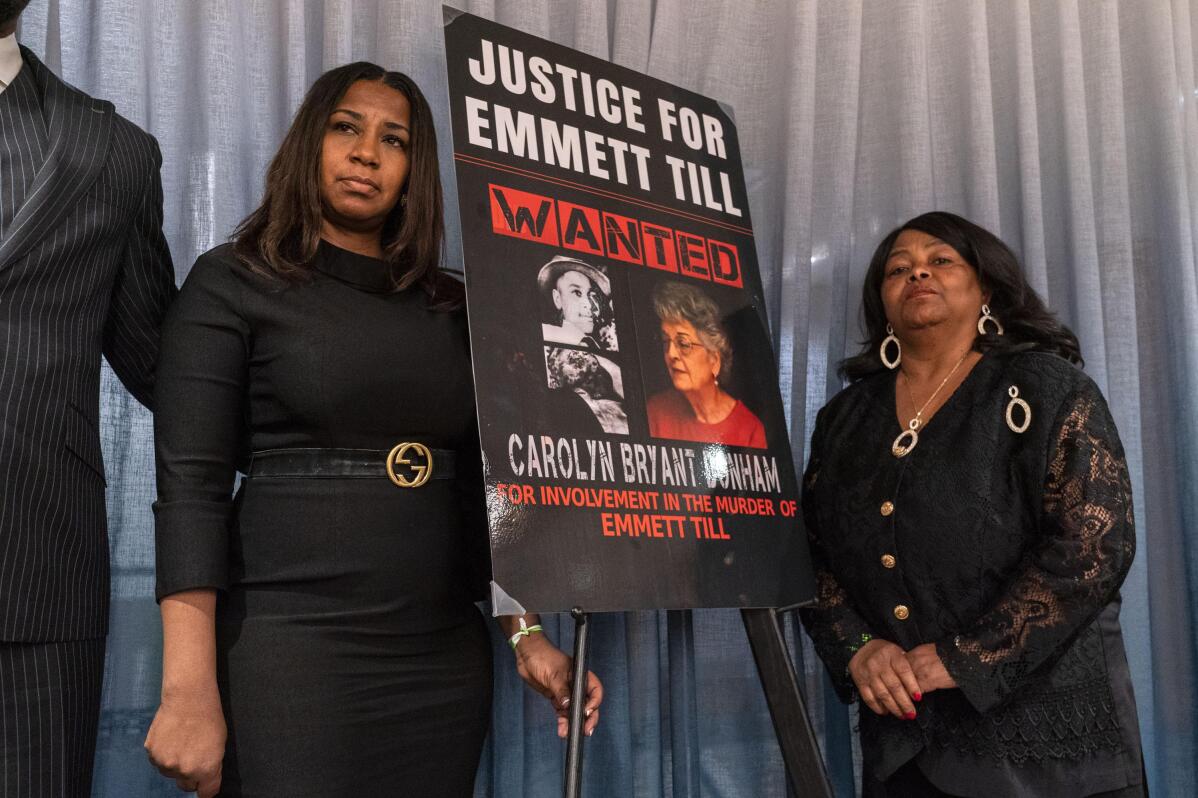 6 of 9

|
FILE - Priscilla Sterling, left, of Jackson, Miss., and Anna Laura Cush Williams, right, of Port Gibson, Miss., both cousins of Emmett Till, attend a news conference, Feb. 16, 2023, in Washington about their hope to have a 1955 arrest warrant served on Carolyn Bryant Donham in the kidnapping that led to Till's brutal lynching. In April 2023, a Mississippi sheriff asked a judge to dismiss Sterling's lawsuit that seeks to compel him to serve the warrant. (AP Photo/Jacquelyn Martin, File)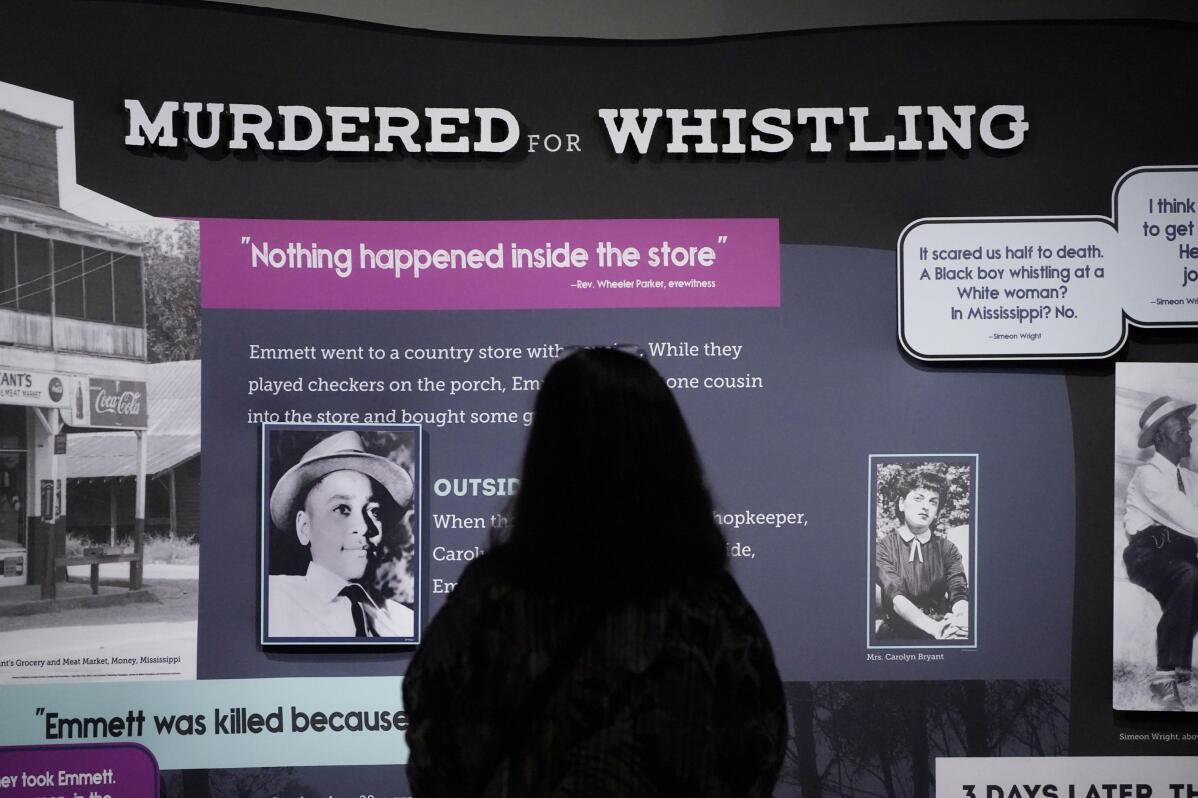 7 of 9

|
Lotte Dula of Denver, Colo., examines a panel of the "Emmett Till and Mamie Till-Mobley Let The World See" exhibit with photographs of a young Till, left, and a photograph of Carolyn Bryant, the white woman who accused the teenager of making improper advances before he was lynched in Mississippi in 1955, Thursday, April 27, 2023, at the Two Mississippi Museums in Jackson, Miss. Carolyn Bryant Donham died Tuesday, April 25 in hospice care in Louisiana. She was 88. (AP Photo/Rogelio V. Solis)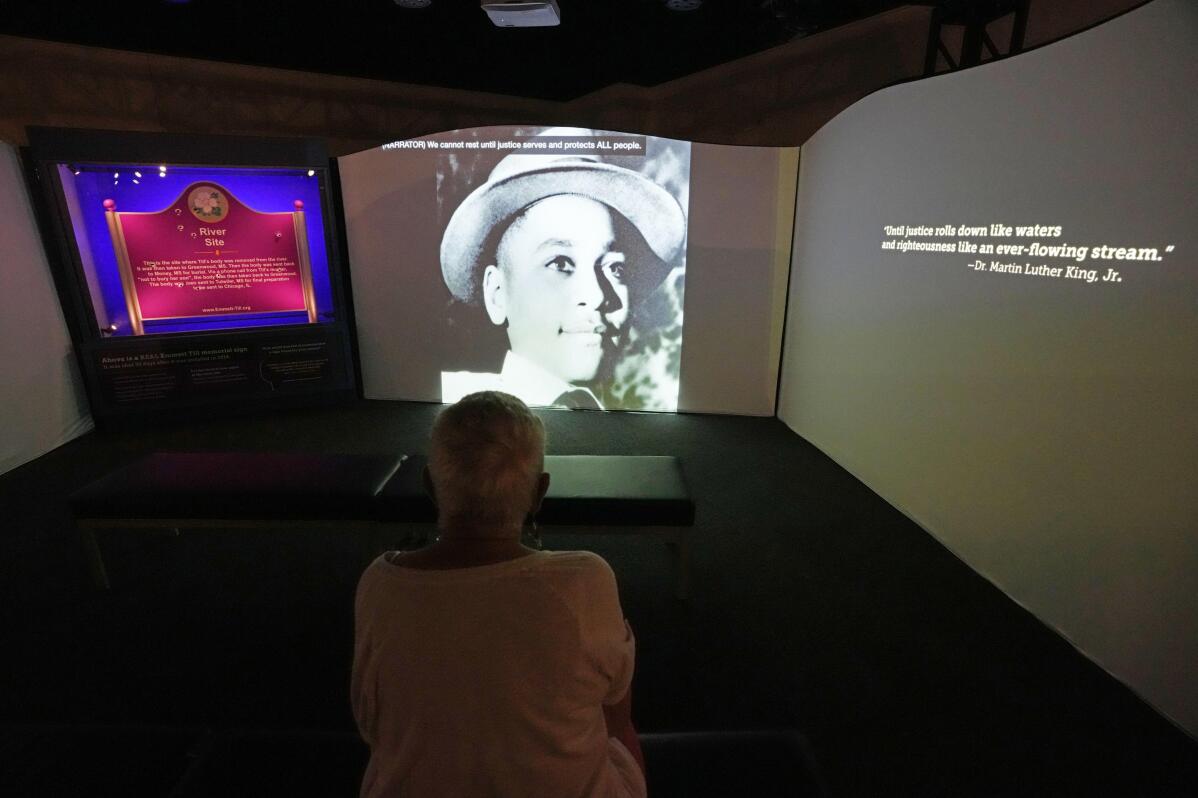 8 of 9

|
A visitor to the Two Mississippi Museums watches a video in the "Emmett Till and Mamie Till-Mobley Let The World See" exhibit that examines the story of Black teenager Emmett Till who was accused by Carolyn Bryant of making improper advances before he was lynched in Mississippi in 1955, Thursday, April 27, 2023, in Jackson, Miss. Till's kidnapping and killing became a catalyst for the civil rights movement when his mother insisted on an open-casket funeral in their hometown of Chicago after his brutalized body was pulled from a river in Mississippi. Carolyn Bryant Donham died, Tuesday, April 25, in hospice care in Louisiana. She was 88. (AP Photo/Rogelio V. Solis)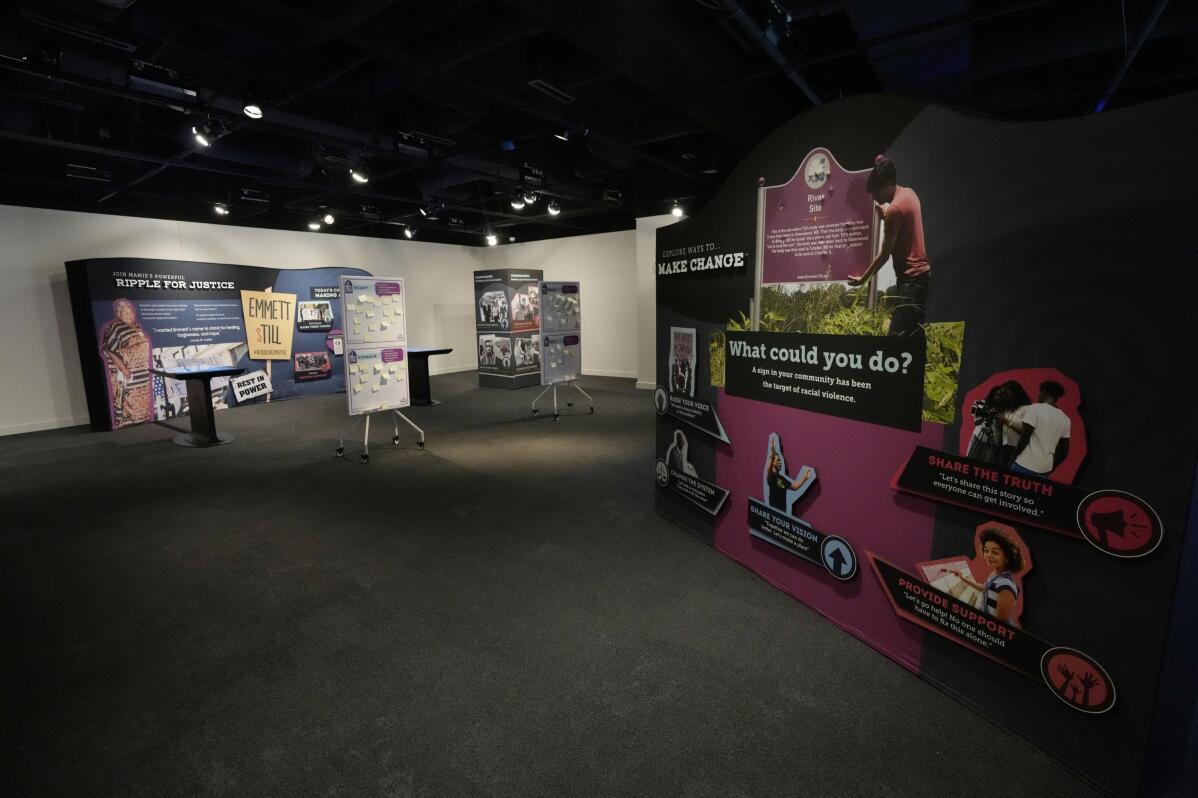 9 of 9

|
Visitors to the Two Mississippi Museums can see the "Emmett Till and Mamie Till-Mobley Let The World See" exhibit that examines the story of Black teenager Emmett Till who was accused by Carolyn Bryant of making improper advances before he was lynched in Mississippi in 1955, Thursday, April 27, 2023, in Jackson, Miss. Carolyn Bryant Donham died, Tuesday, April 25, in hospice care in Louisiana. She was 88. (AP Photo/Rogelio V. Solis)
White woman whose claim caused Emmett Till murder has died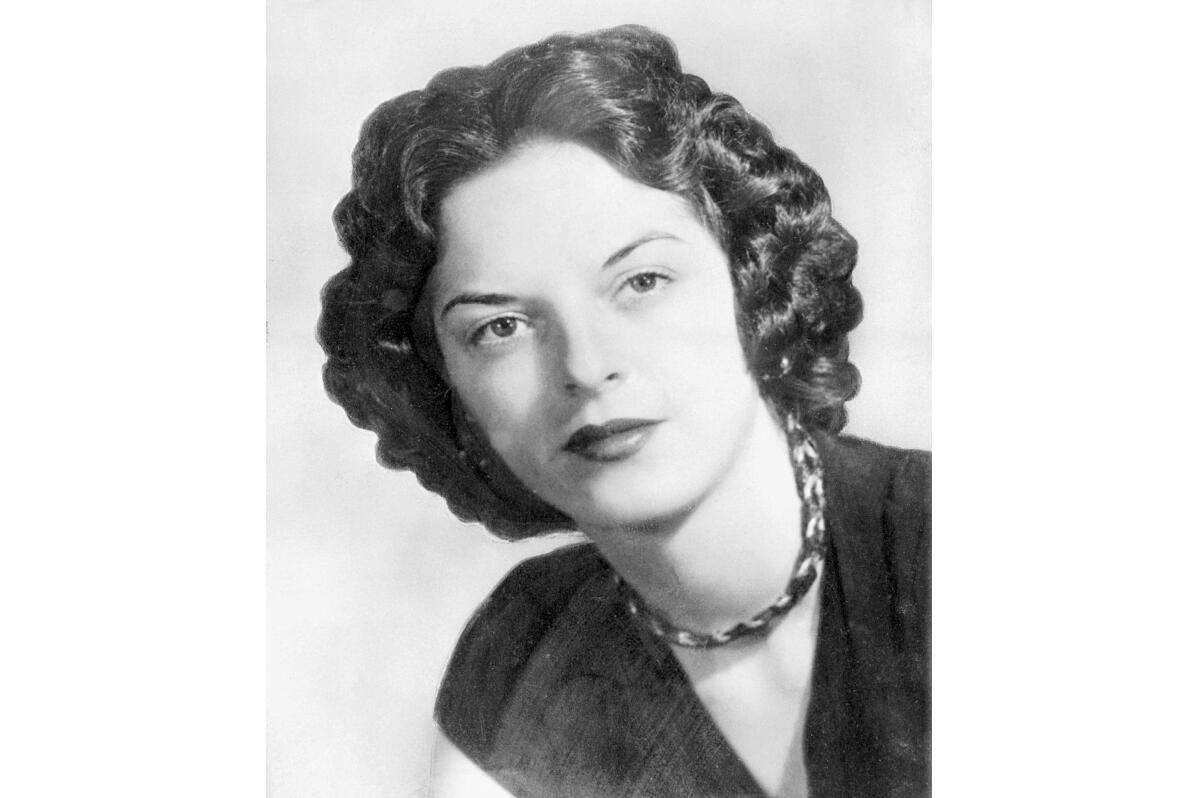 1 of 9

|
FILE - This 1955 file photo shows Carolyn Bryant. Carolyn Bryant Donham, the white woman who accused Black teenager Emmett Till of making improper advances before he was lynched in Mississippi in 1955 has died Tuesday night, April 25, in hospice care in Louisiana, according to a death report filed Thursday, April 27, 2023, in Calcasieu Parish Coroner's Office in Louisiana. She was 88. (AP Photo/Gene Herrick, File)
1 of 9
FILE - This 1955 file photo shows Carolyn Bryant. Carolyn Bryant Donham, the white woman who accused Black teenager Emmett Till of making improper advances before he was lynched in Mississippi in 1955 has died Tuesday night, April 25, in hospice care in Louisiana, according to a death report filed Thursday, April 27, 2023, in Calcasieu Parish Coroner's Office in Louisiana. She was 88. (AP Photo/Gene Herrick, File)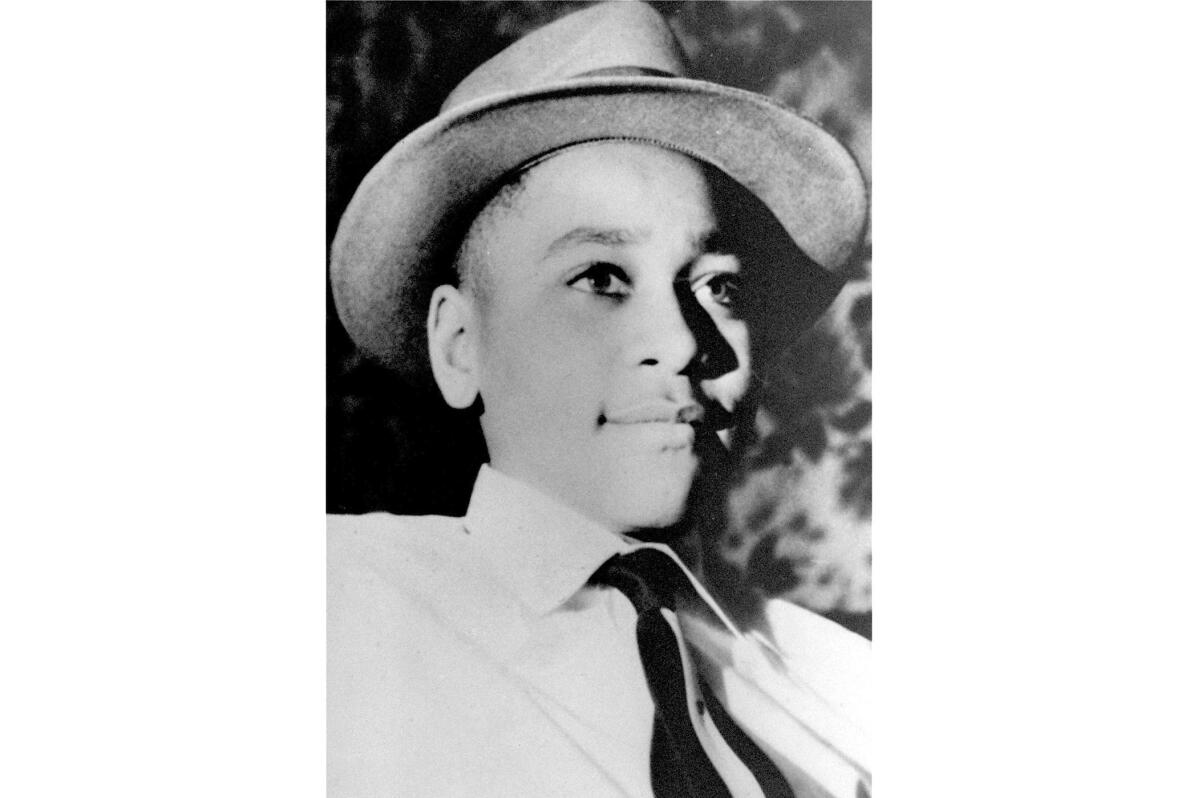 2 of 9

|
FILE - This undated photo shows Emmett Louis Till, who was kidnapped, tortured and killed in the Mississippi Delta in August 1955 after witnesses claimed he whistled at a white woman working in a store. Carolyn Bryant Donham, the white woman who accused Black teenager Emmett Till of making improper advances before he was lynched in Mississippi in 1955 has died Tuesday night, April 25, in hospice care in Louisiana, according to a death report filed Thursday, April 27, 2023, in Calcasieu Parish Coroner's Office in Louisiana. She was 88. (AP Photo/File)
2 of 9
FILE - This undated photo shows Emmett Louis Till, who was kidnapped, tortured and killed in the Mississippi Delta in August 1955 after witnesses claimed he whistled at a white woman working in a store. Carolyn Bryant Donham, the white woman who accused Black teenager Emmett Till of making improper advances before he was lynched in Mississippi in 1955 has died Tuesday night, April 25, in hospice care in Louisiana, according to a death report filed Thursday, April 27, 2023, in Calcasieu Parish Coroner's Office in Louisiana. She was 88. (AP Photo/File)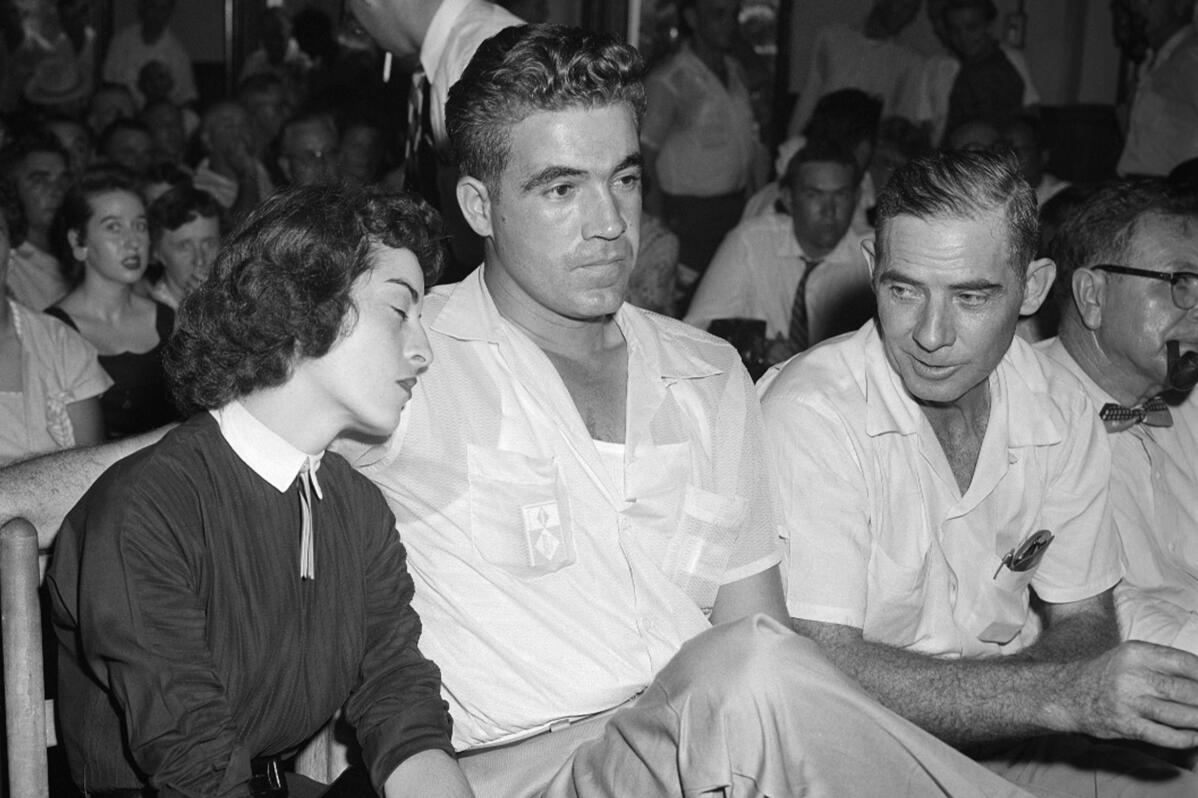 3 of 9

|
FiLE - In this Sept. 22. 1955 photo, Carolyn Bryant, left, rests her head on her husband Roy Bryant's shoulder after she testified in court about the murder of Emmett Till in Sumner, Miss. Carolyn Bryant Donham, the white woman who accused Black teenager Emmett Till of making improper advances before he was lynched in Mississippi in 1955 has died Tuesday night, April 25, in hospice care in Louisiana, according to a death report filed Thursday, April 27, 2023, in Calcasieu Parish Coroner's Office in Louisiana. She was 88. (AP Photo/File)
3 of 9
FiLE - In this Sept. 22. 1955 photo, Carolyn Bryant, left, rests her head on her husband Roy Bryant's shoulder after she testified in court about the murder of Emmett Till in Sumner, Miss. Carolyn Bryant Donham, the white woman who accused Black teenager Emmett Till of making improper advances before he was lynched in Mississippi in 1955 has died Tuesday night, April 25, in hospice care in Louisiana, according to a death report filed Thursday, April 27, 2023, in Calcasieu Parish Coroner's Office in Louisiana. She was 88. (AP Photo/File)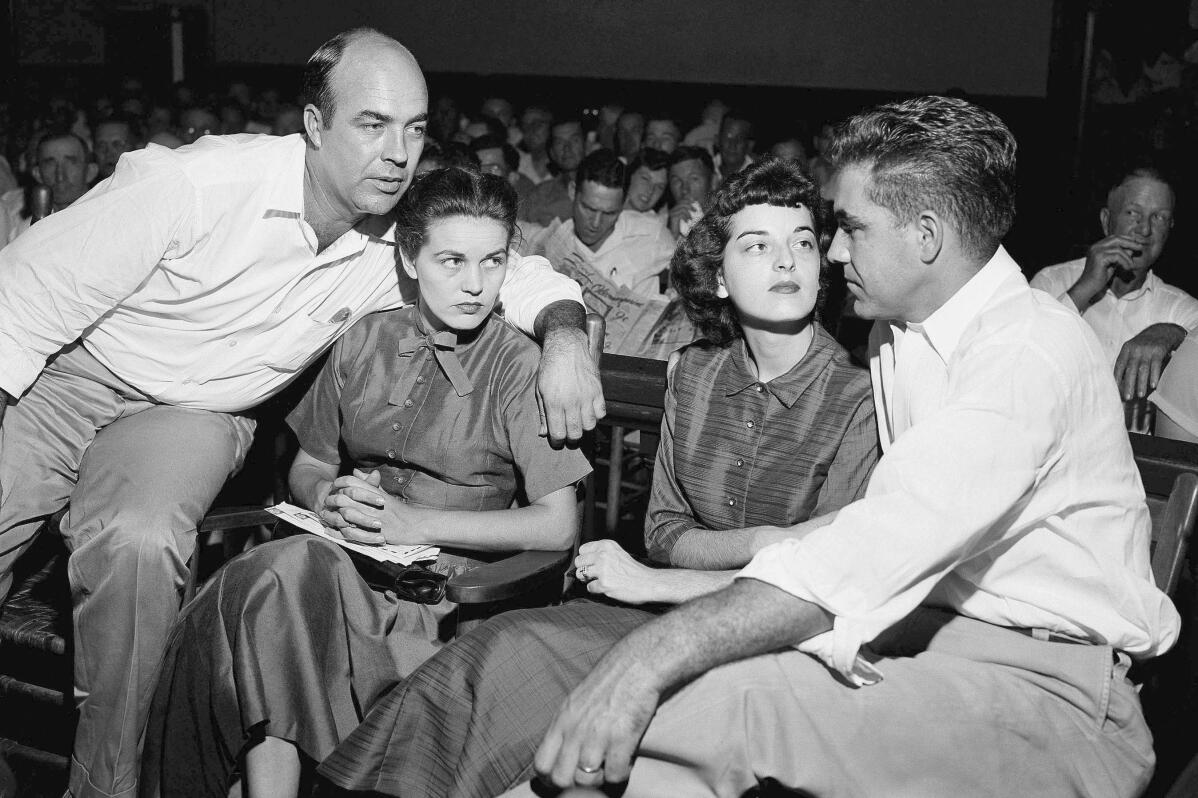 4 of 9

|
FILE - In this Sept. 23, 1955, file photo, J.W. Milam, left, his wife, second from left, Roy Bryant, far right, and his wife, Carolyn Bryant, sit together in a courtroom in Sumner, Miss. Carolyn Bryant Donham, the white woman who accused Black teenager Emmett Till of making improper advances before he was lynched in Mississippi in 1955 has died Tuesday night, April 25, in hospice care in Louisiana, according to a death report filed Thursday, April 27, 2023, in Calcasieu Parish Coroner's Office in Louisiana. She was 88. (AP Photo/File)
4 of 9
FILE - In this Sept. 23, 1955, file photo, J.W. Milam, left, his wife, second from left, Roy Bryant, far right, and his wife, Carolyn Bryant, sit together in a courtroom in Sumner, Miss. Carolyn Bryant Donham, the white woman who accused Black teenager Emmett Till of making improper advances before he was lynched in Mississippi in 1955 has died Tuesday night, April 25, in hospice care in Louisiana, according to a death report filed Thursday, April 27, 2023, in Calcasieu Parish Coroner's Office in Louisiana. She was 88. (AP Photo/File)
5 of 9

|
FILE - This undated photo shows Emmett Louis Till, who was kidnapped, tortured and killed in the Mississippi Delta in August 1955 after witnesses claimed he whistled at a white woman working in a store. A cousin of Till filed a federal lawsuit on Feb. 7, 2023, seeking to compel the current Leflore County, Miss., sheriff, Ricky Banks, to serve an arrest warrant on Carolyn Bryant in the kidnapping that led to the brutal lynching of Till. She has since remarried and is named Carolyn Bryant Donham. In April 2023, Banks responded to the lawsuit by saying the arrest warrant is moot because a Mississippi grand jury declined to indict Donham in 2022; he also asked a judge to dismiss the suit. (AP Photo/File)
5 of 9
FILE - This undated photo shows Emmett Louis Till, who was kidnapped, tortured and killed in the Mississippi Delta in August 1955 after witnesses claimed he whistled at a white woman working in a store. A cousin of Till filed a federal lawsuit on Feb. 7, 2023, seeking to compel the current Leflore County, Miss., sheriff, Ricky Banks, to serve an arrest warrant on Carolyn Bryant in the kidnapping that led to the brutal lynching of Till. She has since remarried and is named Carolyn Bryant Donham. In April 2023, Banks responded to the lawsuit by saying the arrest warrant is moot because a Mississippi grand jury declined to indict Donham in 2022; he also asked a judge to dismiss the suit. (AP Photo/File)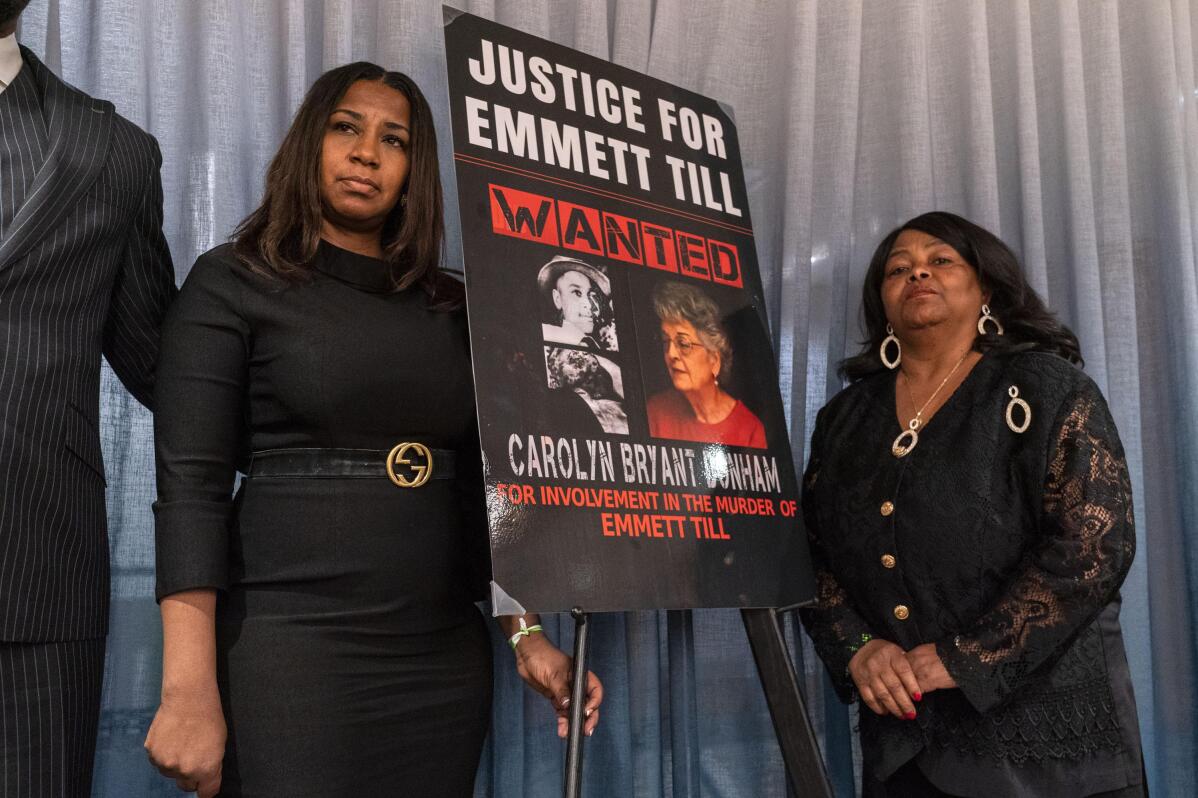 6 of 9

|
FILE - Priscilla Sterling, left, of Jackson, Miss., and Anna Laura Cush Williams, right, of Port Gibson, Miss., both cousins of Emmett Till, attend a news conference, Feb. 16, 2023, in Washington about their hope to have a 1955 arrest warrant served on Carolyn Bryant Donham in the kidnapping that led to Till's brutal lynching. In April 2023, a Mississippi sheriff asked a judge to dismiss Sterling's lawsuit that seeks to compel him to serve the warrant. (AP Photo/Jacquelyn Martin, File)
6 of 9
FILE - Priscilla Sterling, left, of Jackson, Miss., and Anna Laura Cush Williams, right, of Port Gibson, Miss., both cousins of Emmett Till, attend a news conference, Feb. 16, 2023, in Washington about their hope to have a 1955 arrest warrant served on Carolyn Bryant Donham in the kidnapping that led to Till's brutal lynching. In April 2023, a Mississippi sheriff asked a judge to dismiss Sterling's lawsuit that seeks to compel him to serve the warrant. (AP Photo/Jacquelyn Martin, File)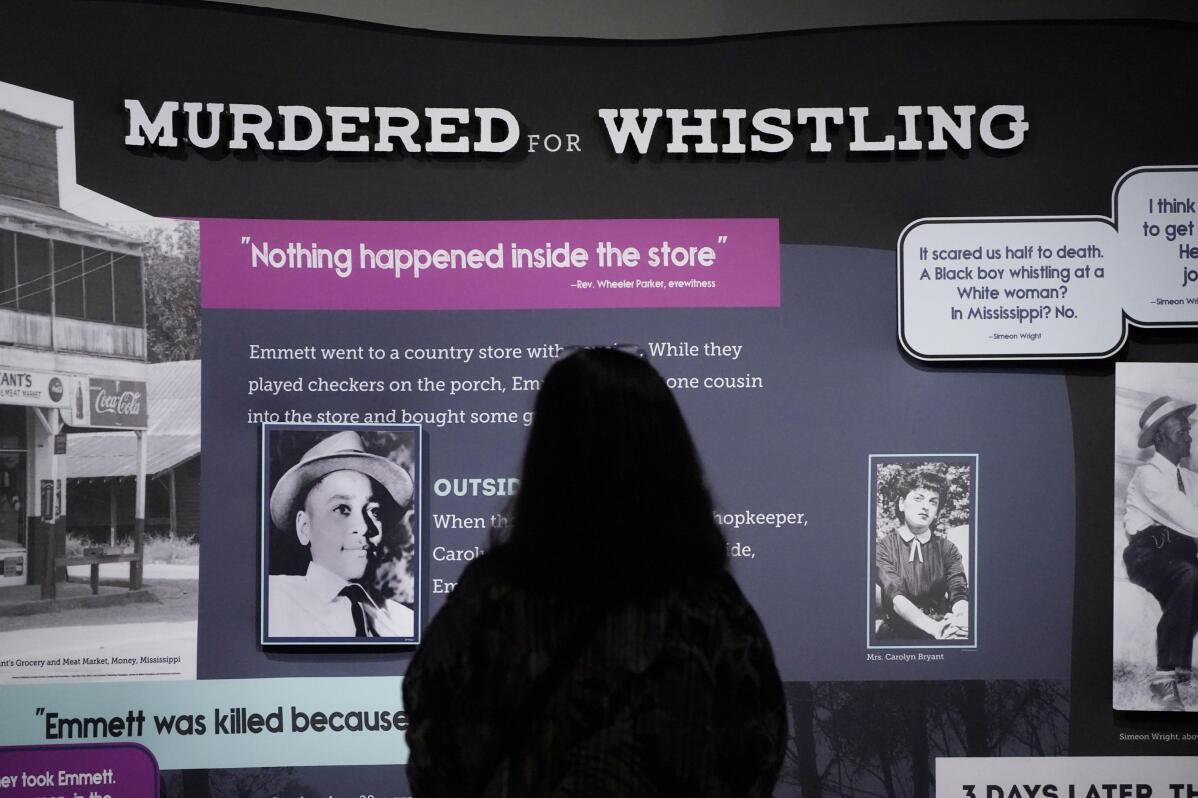 7 of 9

|
Lotte Dula of Denver, Colo., examines a panel of the "Emmett Till and Mamie Till-Mobley Let The World See" exhibit with photographs of a young Till, left, and a photograph of Carolyn Bryant, the white woman who accused the teenager of making improper advances before he was lynched in Mississippi in 1955, Thursday, April 27, 2023, at the Two Mississippi Museums in Jackson, Miss. Carolyn Bryant Donham died Tuesday, April 25 in hospice care in Louisiana. She was 88. (AP Photo/Rogelio V. Solis)
7 of 9
Lotte Dula of Denver, Colo., examines a panel of the "Emmett Till and Mamie Till-Mobley Let The World See" exhibit with photographs of a young Till, left, and a photograph of Carolyn Bryant, the white woman who accused the teenager of making improper advances before he was lynched in Mississippi in 1955, Thursday, April 27, 2023, at the Two Mississippi Museums in Jackson, Miss. Carolyn Bryant Donham died Tuesday, April 25 in hospice care in Louisiana. She was 88. (AP Photo/Rogelio V. Solis)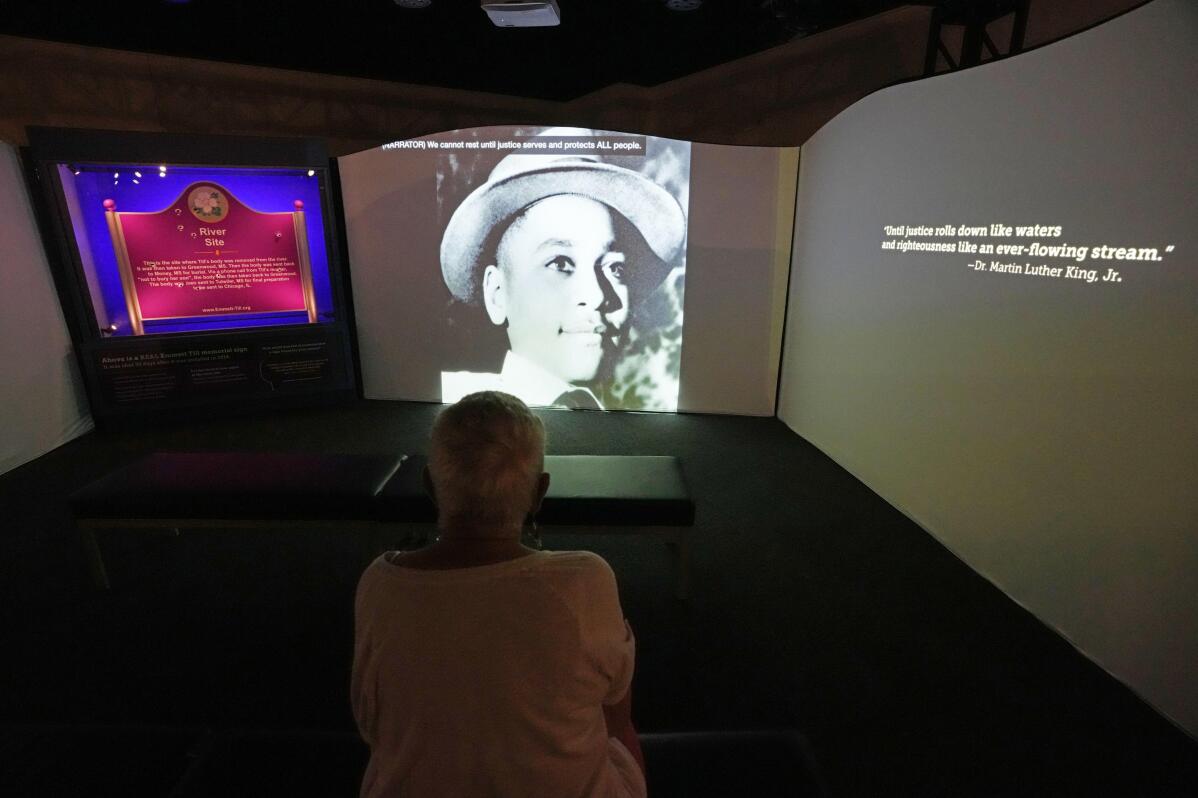 8 of 9

|
A visitor to the Two Mississippi Museums watches a video in the "Emmett Till and Mamie Till-Mobley Let The World See" exhibit that examines the story of Black teenager Emmett Till who was accused by Carolyn Bryant of making improper advances before he was lynched in Mississippi in 1955, Thursday, April 27, 2023, in Jackson, Miss. Till's kidnapping and killing became a catalyst for the civil rights movement when his mother insisted on an open-casket funeral in their hometown of Chicago after his brutalized body was pulled from a river in Mississippi. Carolyn Bryant Donham died, Tuesday, April 25, in hospice care in Louisiana. She was 88. (AP Photo/Rogelio V. Solis)
8 of 9
A visitor to the Two Mississippi Museums watches a video in the "Emmett Till and Mamie Till-Mobley Let The World See" exhibit that examines the story of Black teenager Emmett Till who was accused by Carolyn Bryant of making improper advances before he was lynched in Mississippi in 1955, Thursday, April 27, 2023, in Jackson, Miss. Till's kidnapping and killing became a catalyst for the civil rights movement when his mother insisted on an open-casket funeral in their hometown of Chicago after his brutalized body was pulled from a river in Mississippi. Carolyn Bryant Donham died, Tuesday, April 25, in hospice care in Louisiana. She was 88. (AP Photo/Rogelio V. Solis)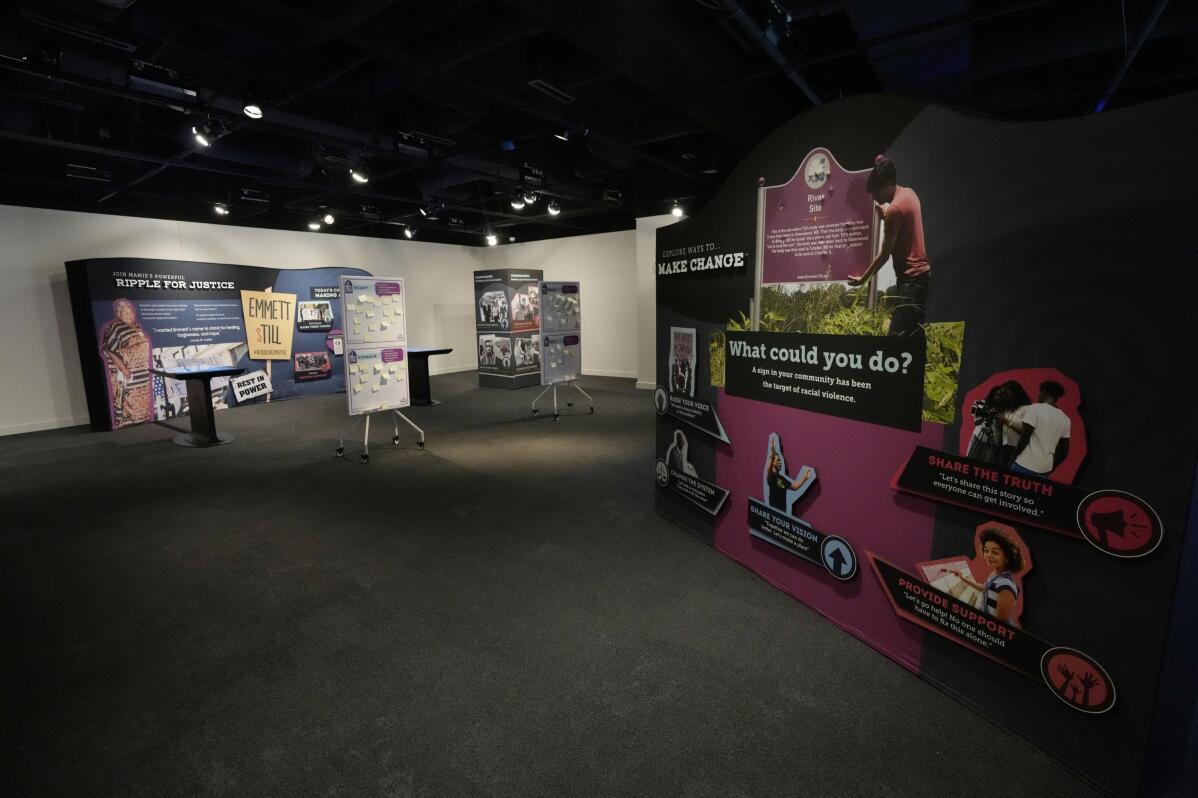 9 of 9

|
Visitors to the Two Mississippi Museums can see the "Emmett Till and Mamie Till-Mobley Let The World See" exhibit that examines the story of Black teenager Emmett Till who was accused by Carolyn Bryant of making improper advances before he was lynched in Mississippi in 1955, Thursday, April 27, 2023, in Jackson, Miss. Carolyn Bryant Donham died, Tuesday, April 25, in hospice care in Louisiana. She was 88. (AP Photo/Rogelio V. Solis)
9 of 9
Visitors to the Two Mississippi Museums can see the "Emmett Till and Mamie Till-Mobley Let The World See" exhibit that examines the story of Black teenager Emmett Till who was accused by Carolyn Bryant of making improper advances before he was lynched in Mississippi in 1955, Thursday, April 27, 2023, in Jackson, Miss. Carolyn Bryant Donham died, Tuesday, April 25, in hospice care in Louisiana. She was 88. (AP Photo/Rogelio V. Solis)
JACKSON, Miss. (AP) — The white woman who accused Black teenager Emmett Till of whistling at and accosting her in Mississippi in 1955 — causing his lynching, which galvanized a generation of activists to rise up in the Civil Rights Movement — has died at 88.
Carolyn Bryant Donham died in hospice care Tuesday night in Westlake, Louisiana, according to a death report filed Thursday in the Calcasieu Parish Coroner's Office.
Her death marks the last chance for anyone to be held accountable for the kidnapping and murder that shocked the world.
Till's mother, Mamie Till Mobley, insisted on an open-casket funeral in their hometown of Chicago so the world could see her 14-year-old son's mutilated body, which was pulled from a river in Mississippi. Jet magazine published photos.
In August 1955, Till had traveled from Chicago to visit relatives in Mississippi. Donham — then 21 and named Carolyn Bryant — accused him of making improper advances on her at a grocery store where she was working in the small community of Money. The Rev. Wheeler Parker, a cousin of Till who was there, has said Till whistled at the woman, an act that flew in the face of Mississippi's racist social codes of the era.
Evidence indicates a woman identified Till to Donham's then-husband Roy Bryant and his half-brother J.W. Milam, who killed the teenager. An all-white jury acquitted the two white men in the killing, but the men later confessed in an interview with Look magazine.
When Till disappeared in Mississippi, Ollie Gordon — one of Till's cousins — was 7 years old and living in the Chicago home with Till's mother and family. Gordon told The Associated Press on Thursday that in the days after he went missing, the home was full of fear, because people knew there was a strong likelihood he had been killed.
Gordon said she had mixed emotions about Donham's death.
"She was never tried in the court of man," Gordon said. "But I think she was judged by God, and his wrath is more punitive than any judgment or penalty she could have gotten in a courtroom. I don't think she had a pleasant or happy life."
Parker is the last living witness to Till's abduction. He has said in interviews and speeches that he heard Till whistle at the woman working behind the counter at Bryant's Grocery and Meat Market.
Days later, Parker saw men kidnap Till in the dark of night from their uncle's home in Mississippi, where the teenagers were staying. Parker said Thursday that his heart goes out to Donham.
"As a person of faith for more than 60 years, I recognize that any loss of life is tragic and don't have any ill will or animosity toward her," Parker said in a statement. "Even though no one now will be held to account for the death of my cousin and best friend, it is up to all of us to be accountable to the challenges we still face in overcoming racial injustice."
White House Press Secretary Karine Jean-Pierre said Thursday that President Joe Biden was proud to sign the Emmett Till Anti-Lynching Act last year to make lynching a federal crime.
"The president is committed to ... dealing with racial hatred," Jean-Pierre said.
In an unpublished memoir obtained by The AP in 2022, Donham said she was unaware of what would happen to Till. Historian and author Timothy Tyson of Durham, North Carolina, provided a copy of the 99-page manuscript, "I Am More Than A Wolf Whistle," to AP. He said he received it from Donham while interviewing her in 2008.
Tyson had placed the manuscript in an archive at the University of North Carolina with the agreement that it not be made public for decades, though he said he gave it to the FBI during an investigation the agency concluded in 2021. A campus spokesperson said Thursday that the university returned Tyson's materials to him in 2022 because they did not agree on open access to the information.
Tyson said in 2022 that he decided to release the memoir to news outlets after some of Till's relatives and other people doing research at the Leflore County, Mississippi, courthouse in June 2022 found an arrest warrant on kidnapping charges that was issued for "Mrs. Roy Bryant" in 1955 but never served.
Tyson said in a statement Thursday that Donham's precise role in the killing of Till remains murky, but it's clear she was involved.
"It has comforted America to see this as merely a story of monsters, her among them," Tyson said. "What this narrative keeps us from seeing is the monstrous social order that cared nothing for the life of Emmett Till nor thousands more like him. Neither the federal government nor the government of Mississippi did anything to prevent or punish this murder. Condemning what Donham did is easier than confronting what America was — and is."
Joe Stidhum was born two years after Till, his cousin, was killed. Stidhum said that older family members protected him and his siblings, and didn't tell them about Till's lynching until they were teenagers.
Stidhum said he wishes he knew how Donham reckoned with her own conscience.
"What did she take with her that no one would know, other than her and her maker?" Stidhum told AP on Thursday. "I just hope that no one ever has to go through the pain that our family has endured, mostly the elderly family" members who have died.
In October, a bronze statue of Till was unveiled in Greenwood, Mississippi, just miles from his uncle's home.
Also last year, members of the New Black Panther Party and other activists began showing up at addresses associated with Donham, including in North Carolina and Kentucky. They were there to serve unofficial "warrants" for her arrest and trial.
Weeks after the unserved arrest warrant was found, the office of Mississippi Attorney General Lynn Fitch said there was no new evidence to pursue a criminal case against Donham. In August, a district attorney said a Leflore County grand jury declined to indict Donham.
Till's cousin, Priscilla Sterling, filed a federal lawsuit against the current Leflore County Sheriff, Ricky Banks, on Feb. 7, seeking to compel him to serve the 1955 warrant on Donham. In a response April 13, Banks' attorney said there was no point serving the warrant because the grand jury did not indict Donham last year.
Malik Z. Shabazz, one of the attorneys in the lawsuit against Banks, said it's tragic that Mississippi never held Donham accountable.
"Carolyn Bryant's legacy will be one of dishonesty and injustice," Shabazz said. "A legacy that verifies that Mississippi coddles and protects white supremacy."
___
Associated Press writers Allen G. Breed in Wake Forest, North Carolina, and Colleen Long in Washington contributed to this report.