A look at Presidential Medal of Freedom recipients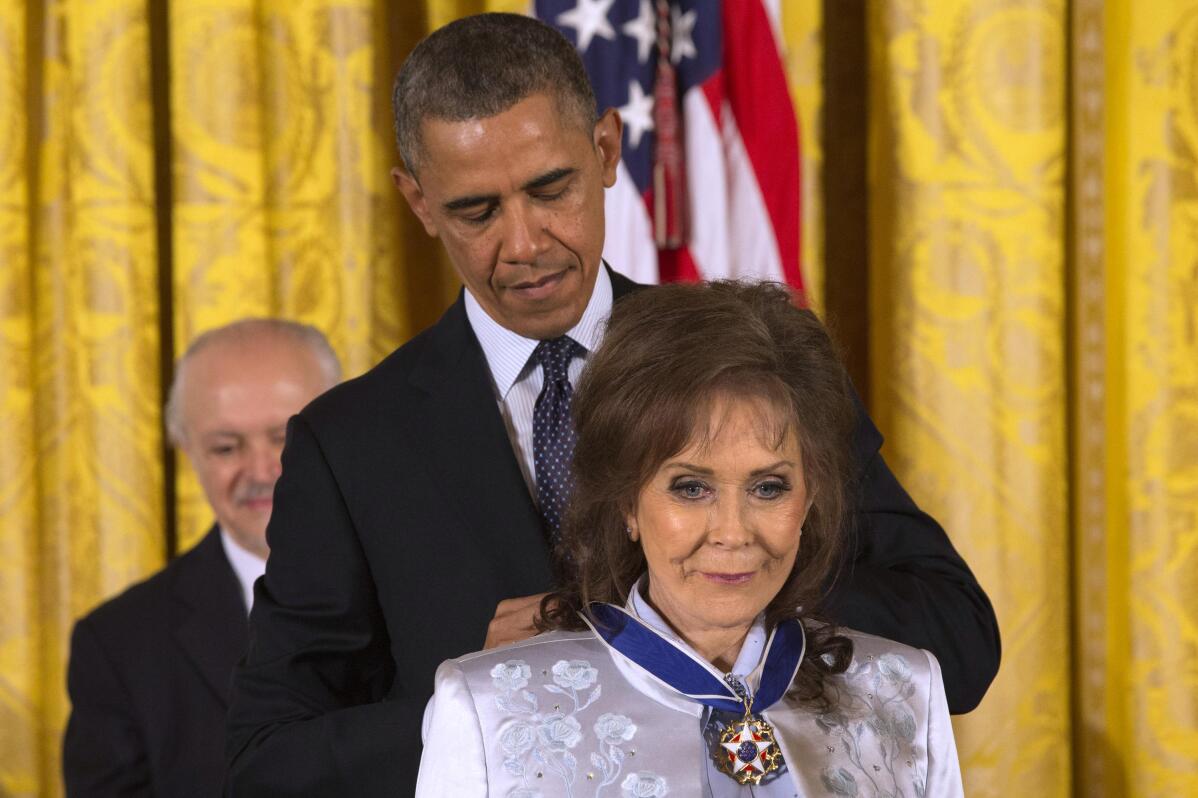 1 of 3

|
President Barack Obama awards country music legend Loretta Lynn with the Presidential Medal of Freedom, Wednesday, Nov. 20, 2013, during a ceremony in the East Room of the White House in Washington. (AP Photo/Jacquelyn Martin)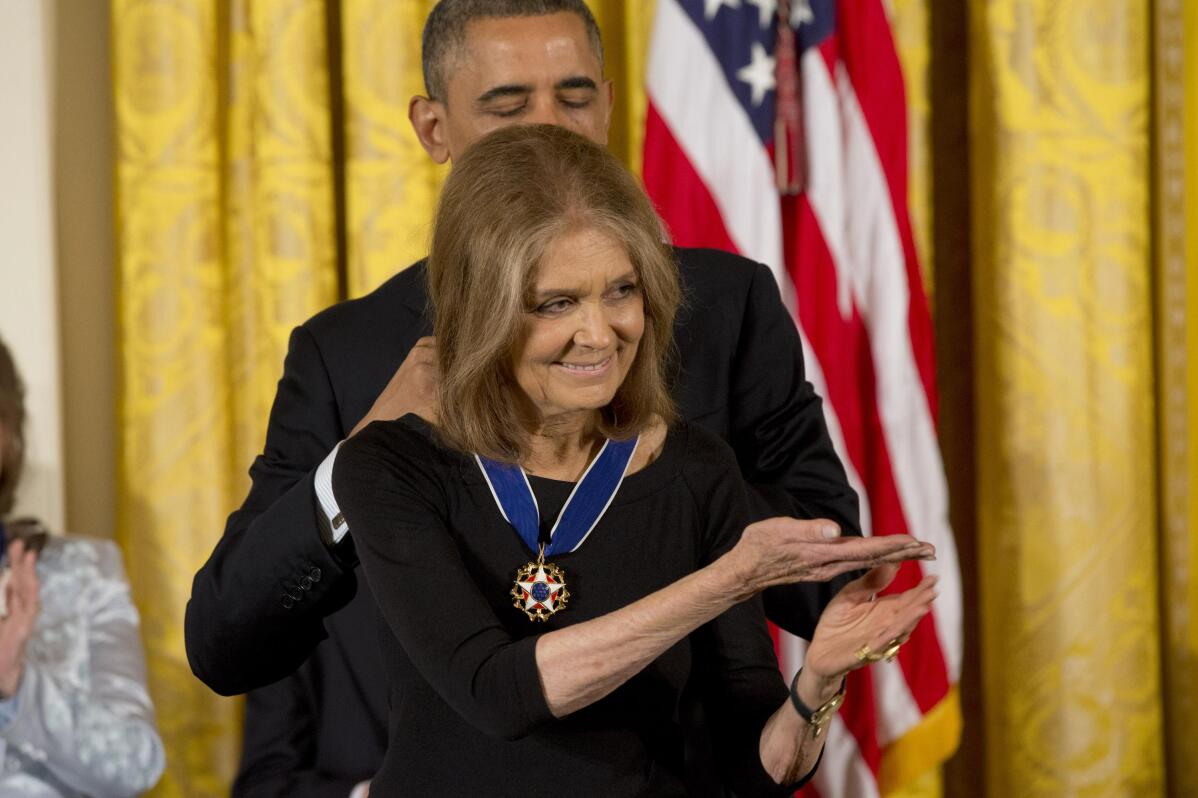 2 of 3

|
Women's rights activist Gloria Steinem gestures as President Barack Obama awards her with the Presidential Medal of Freedom, Wednesday, Nov. 20, 2013, during a ceremony in the East Room of the White House in Washington. (AP Photo/Jacquelyn Martin)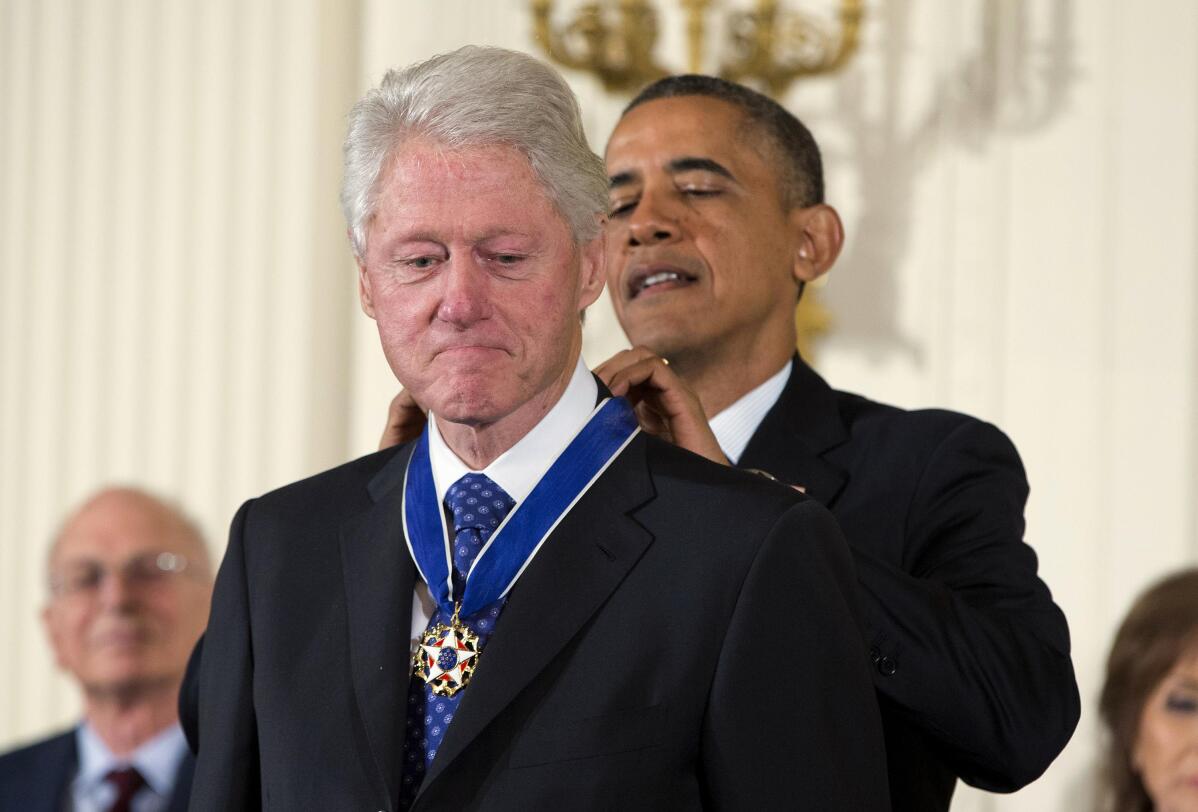 3 of 3

|
President Barack Obama awards former President Bill Clinton with the Presidential Medal of Freedom, Wednesday, Nov. 20, 2013, during a ceremony in the East Room of the White House in Washington. (AP Photo/ Evan Vucci)
A look at Presidential Medal of Freedom recipients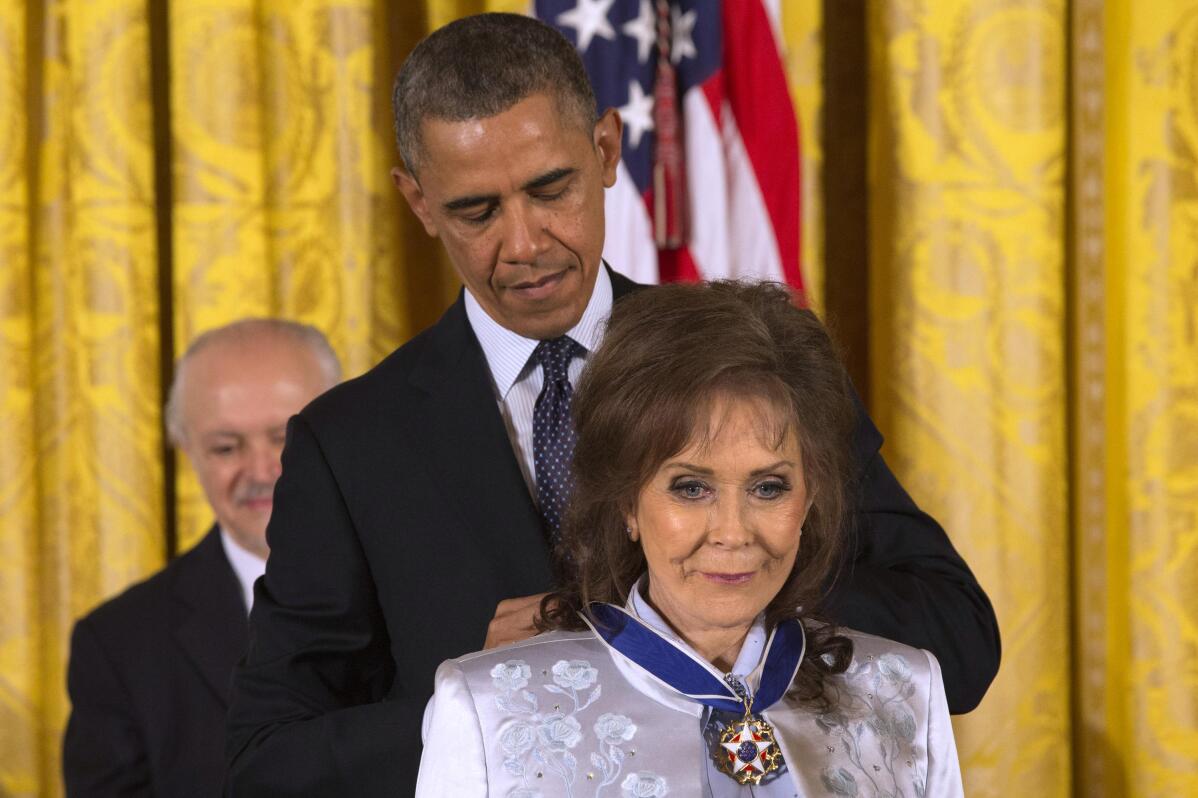 1 of 3

|
President Barack Obama awards country music legend Loretta Lynn with the Presidential Medal of Freedom, Wednesday, Nov. 20, 2013, during a ceremony in the East Room of the White House in Washington. (AP Photo/Jacquelyn Martin)
1 of 3
President Barack Obama awards country music legend Loretta Lynn with the Presidential Medal of Freedom, Wednesday, Nov. 20, 2013, during a ceremony in the East Room of the White House in Washington. (AP Photo/Jacquelyn Martin)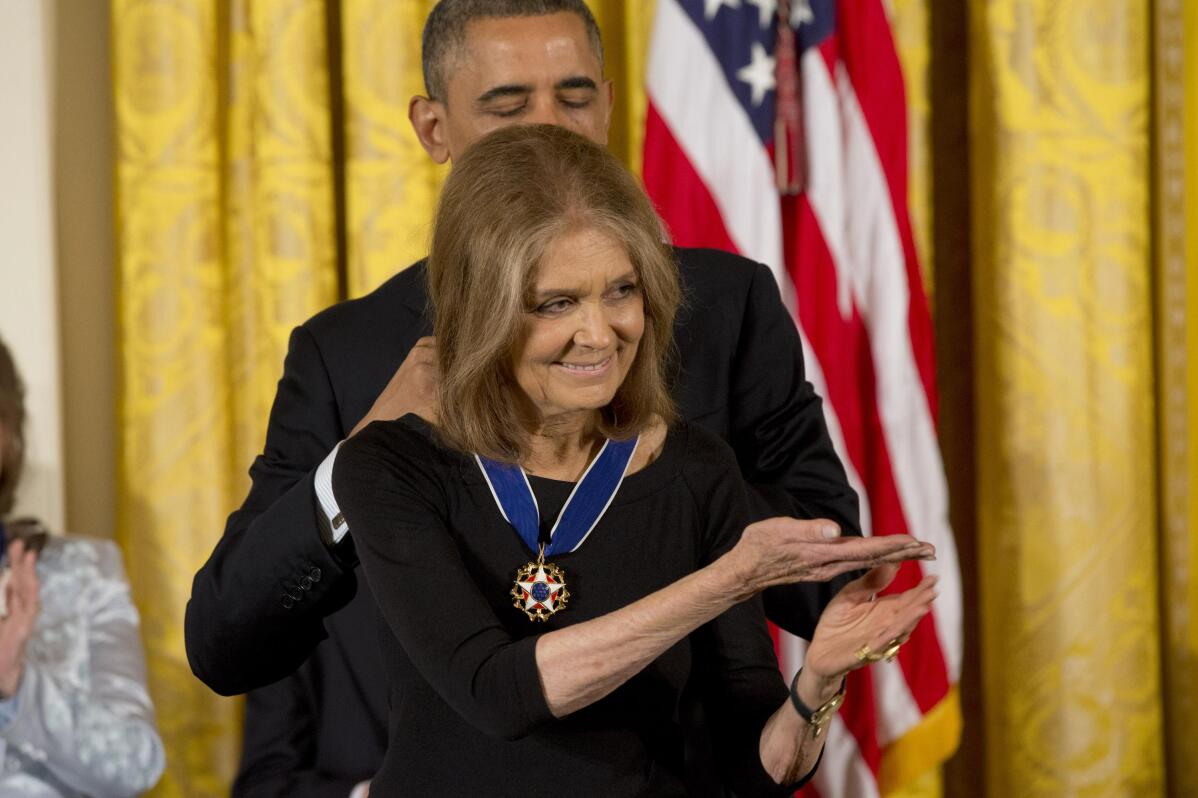 2 of 3

|
Women's rights activist Gloria Steinem gestures as President Barack Obama awards her with the Presidential Medal of Freedom, Wednesday, Nov. 20, 2013, during a ceremony in the East Room of the White House in Washington. (AP Photo/Jacquelyn Martin)
2 of 3
Women's rights activist Gloria Steinem gestures as President Barack Obama awards her with the Presidential Medal of Freedom, Wednesday, Nov. 20, 2013, during a ceremony in the East Room of the White House in Washington. (AP Photo/Jacquelyn Martin)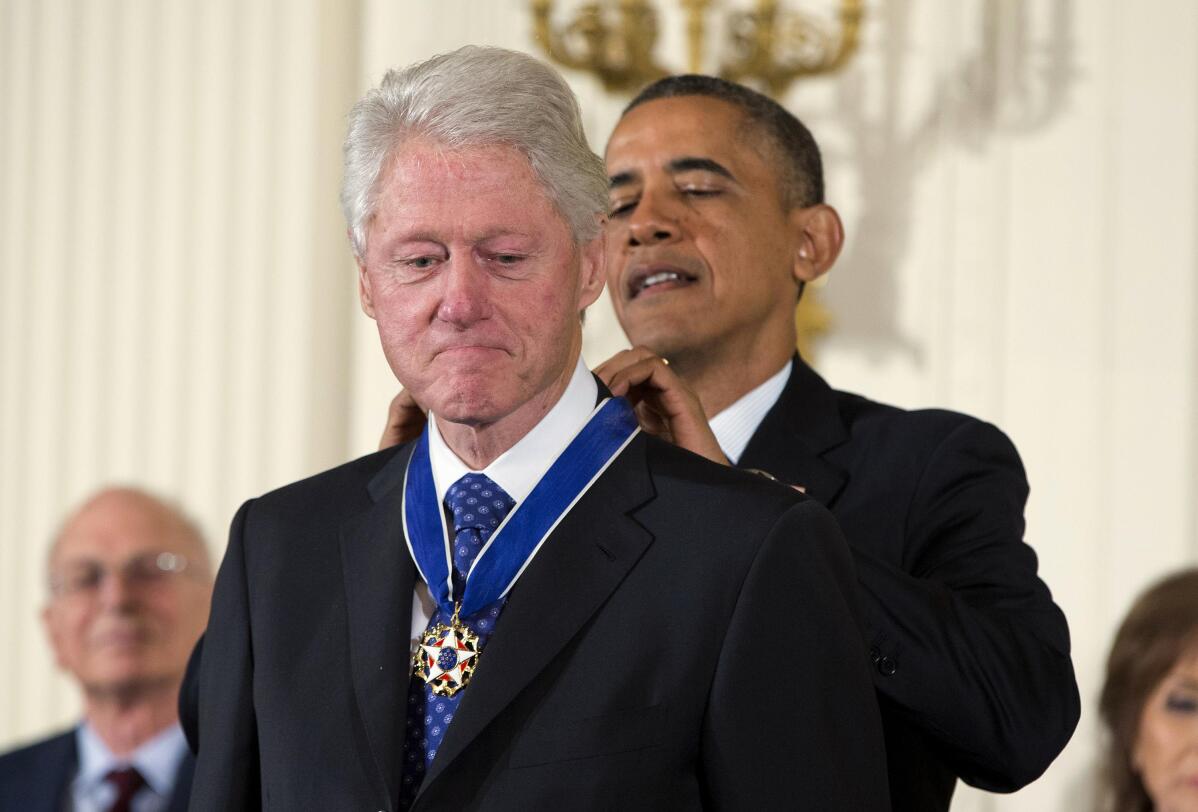 3 of 3

|
President Barack Obama awards former President Bill Clinton with the Presidential Medal of Freedom, Wednesday, Nov. 20, 2013, during a ceremony in the East Room of the White House in Washington. (AP Photo/ Evan Vucci)
3 of 3
President Barack Obama awards former President Bill Clinton with the Presidential Medal of Freedom, Wednesday, Nov. 20, 2013, during a ceremony in the East Room of the White House in Washington. (AP Photo/ Evan Vucci)
President Barack Obama honored 16 prominent Americans Wednesday with the Presidential Medal of Freedom, the highest award the U.S. gives a civilian. The ceremony at the White House opened a day of tributes to former President John F. Kennedy, who established the modern version of the medal but was assassinated 50 years ago this week as the first award ceremony neared.
A look at the individuals receiving the medal:
— Bill Clinton, the 42nd president and former Arkansas governor, who was also recognized for his post-presidency humanitarian work.
—Oprah Winfrey, broadcaster, actress, activist and philanthropist, who was an early supporter of Obama's first presidential campaign.
—Daniel Inouye, former senator from Hawaii, World War II veteran and the first Japanese American in Congress. Inouye received the award posthumously.
—Ben Bradlee, former executive editor of the Washington Post who oversaw the newspaper's coverage of Watergate.
—Sally Ride, the first American woman to fly in space. Ride received the award posthumously.
—Richard Lugar, former senator from Indiana who worked to reduce the global nuclear threat.
—Gloria Steinem, writer and prominent women's rights activist.
—Ernie Banks, baseball player who hit more than 500 home runs and played 19 seasons with the Chicago Cubs.
—Bayard Rustin, civil and gay rights activist and adviser to Martin Luther King Jr. Rustin received the award posthumously.
—Daniel Kahneman, psychologist who won the Nobel Prize in Economics.
—Loretta Lynn, country music singer.
—Maria Molina, chemist and environmental scientist who won the Nobel Prize in chemistry.
—Arturo Sandoval, Grammy-winning jazz musician who was born in Cuba and defected to the U.S.
—Dean Smith, head coach of University of North Carolina's basketball team for 36 years.
—Patricia Wald, first woman appointed to U.S. Circuit Court of Appeals for the District of Columbia and became the court's chief judge.
—C.T. Vivian, civil rights leader and minister.