Colombian rocker Juanes writes 1st English song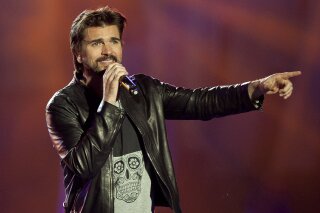 NEW YORK (AP) — With the help of hitmaking songwriter-producer PooBear, Colombian rock star Juanes wrote "Goodbye For Now," his first song in English.
The song is part of his anticipated visual album, "Mis planes son amarte," to be released in the next few months.
"Four or five years ago I started recording in English, but honestly I find it very difficult," Juanes told The Associated Press in a recent presentation of his new production in New York.
"I did a few experiments and they didn't come out very well, until finally this time, after several years living here in this country and knowing the language better, I felt more comfortable doing it," he said.
Last May, Juanes posted on Instagram a black-and-white photo of him with PooBear seemingly working in Los Angeles. "Making magic," he wrote.
PooBear, the co-writer of R&B hits like Usher's "Caught Up" and Chris Brown's "She Ain't You, "is an incredible songwriter," Juanes said. "We sat there and talked about feelings and things and he would choose the right words."
"Working with Juanes was a dream come true for me!! Juanes is a living legend, so being able to write his first English record was an absolute honor," PooBear, who is American, said Wednesday in an email. "He is also one of the most talented and humble superstars that I've ever had the pleasure of working with!!"
"To me this is something very hard to do in English," Juanes said, "but I really had the desire to try."
The result is "Goodbye For Now," a piece that fits in the album's story line about a time traveler astronaut who lands in present time in search of an indigenous goddess who is the love of his life.
"Let's say goodbye for now/ And go our separate ways/ It hurts down to my soul watching us go/ It will hurt more if we stay," Juanes sings in his distinctive mix of Colombian rhythms. "Doesn't mean I don't love you/ Doesn't mean you lose my security/ Doesn't mean you can't love me/ Doesn't mean we will never speak."
Juanes has sung in English in concert — often something by Bob Marley — and at special events like the Eagles tribute ("Hotel California") and John Lennon's 75th Birthday Concert ("Woman"). He also sang in English with Tony Bennett in a duet of "The Shadow Of Your Smile" and included the words "It's Time to Change" in his hit's "Odio por amor" title and refrain. But "Goodbye For Now" is his first original song recorded entirely in English.
It's the only English song on "Mis planes son amarte" ("My Plans Are to Love You"), which also features his singles "Fuego" and "Hermosa ingrata."
_____
Follow Sigal Ratner-Arias on Twitter at https://twitter.com/sigalratner
_____
Online: